The Chinese fishing nets in Kochi are pretty much an icon in Kerala and a favourite spot for tourists to visit when they arrive here.
But, there are quite a few things you need to know before you decide to visit them!
Personally, I had no idea what to expect. I innocently thought that this was a business and that the fisherman in the area traded the fish caught from here each day.
However, what I found was a gimmick, a tourist trap. With no fish caught from them at all really.
Later, when I found out why, I felt bad and I understood a lot more about the dark side of this picturesque harbour town.
These are all the important things you need to know before you visit the Chinese fishing nets in Kochi.
Top tips before you visit Kochi and Kerala
I flew to Kerala from Delhi via a 3-hour domestic Vistara flight for less than $50! Skyscanner is my go-to for checking cheap flight prices.
In Kerala the locals speak Malayalam, they even have their own songs and films that have been recorded in the language. As one of the most literate states, they speak excellent Hindi and English
Kerala is a politically appointed Communist state, so you'll see lots of communist flags and artwork around the area.
Getting around Kerala can be quite a minefield with public transport. But, there are buses and trains. I would personally recommend a hire car for your time here.
You'll need travel insurance, I always choose World Nomads for their flexible policies.
I stayed connected with my Keepgo WiFi Hotspot, these kept my mobile roaming charges capped! But, getting a SIM card in Delhi is also a great option that provides you with 1GB per day for 30 days.
In Kerala they use the rupee, I always found that State Bank of India (SBI) was the best as they take foreign cards as they don't charge you extra for withdrawals.
Kerala is a little more conservative than its neighbour Goa, but not as conservative as Delhi, so make sure that you dress appropriately. But, it's not uncommon for tourists to wear strappy tops, dresses that show your legs and shorts either.
8 things you must know before you visit the Chinese fishing nets in Kochi
1. No one really knows the exact history of the Chinese fishing nets
So, how did these Chinese fishing nets make their way over from China to Kochi in India?
Well, some say that traders from the court of the Mongolian Kublai Khan introduced these around 1350 and 1450.
There is also a theory that the nets were transported from a Portuguese colony in Macau during the time of Vasco De Gama. Kochi was a Portuguese settlement at that time, so it does make sense.
But, the most popular theory is that a guy named Zhang He introduced these nets to Kochi around 500 years ago!
He was a famous Chinese explorer and the nets have stayed here long after he left.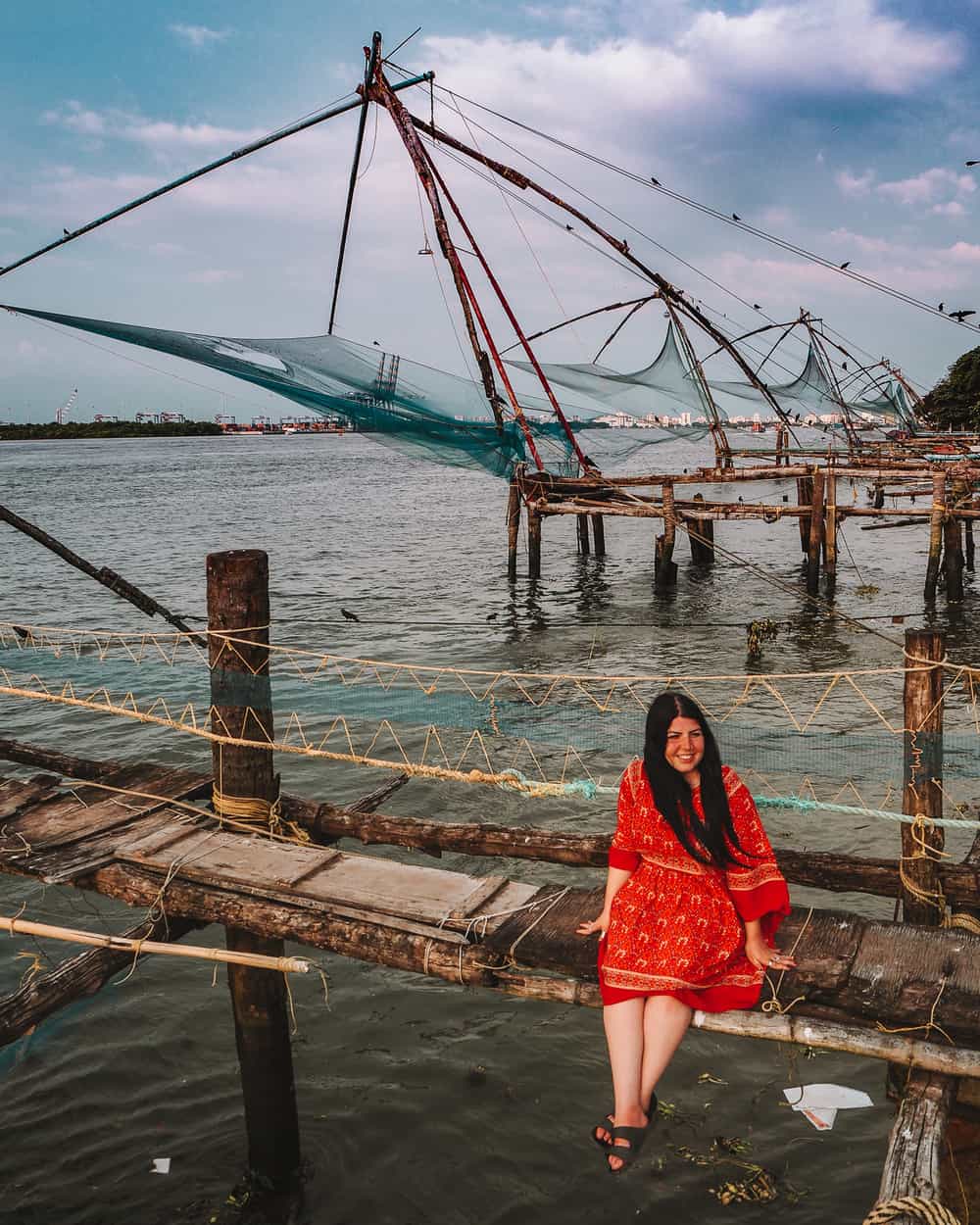 2. They are now an icon of Kochi and Kerala
Locally known in Malayalam as "Cheena Vala", these wooden stationery lifts have wowed tourists for hundreds of years.
This is because they are not only beautiful to look at but you will be amazed by the way they use them to fish!
Today, there are sadly less than 10 Chinese fishing nets along the Fort Kochi shoreline. This is due to the fact they cost so much to maintain. However, they are still an iconic part of Kerala tourism.
Most of the time, people are taking photos of these nets from afar, rather than buying any fish. So, I'll go through some top tips for photography below.
3. The best photo spot for the nets can be found on Vasco De Gama Square
Did you know that these fishing nets are the most photographed attraction in the whole of Kerala?
So, you'll see hundreds of tourists all taking selfies and photos on the shorelines to try and get the best shot.
The best time for this would be either at sunrise or sunset. At this time the lighting is perfect and, if you're lucky, you'll be treated to a beautiful Malayali sunset in all different colours!
Now, where you go at sunset is up to you. But, I think the best view of the Chinese fishing nets can be found on the boardwalk near Vasco De Gama Square.
It will be really busy at this time, but the photo spot is perfect as you can see all of the nets hanging over the sparkling sea!
But, if you want to get a closer shot of the fishing nets, you'll need to climb aboard! Which will cost you a few pennies, but I think it's totally worth it and you get to help out!
4. What the guidebooks don't tell you is the fisherman are not paid well here
When I mentioned the Chinese fishing nets at my homestay, the owner mentioned that it was a sad story about the fishermen here in Kochi. Naturally, It piqued my interest and I wanted to know more.
The Chinese fishing nets need at least 4 or 5 men to lift the net and see what has been caught throughout the day. So, it's a shared enterprise.
The market sellers buy the fish in bulk from the fishermen. Then the restaurants buy the fish from the market who add on commission. The restaurant then charges 4x the price of what the fish is worth for the dishes they cook.
So, the fishermen have to share that small wage between them which isn't much at all. All the while the restaurant owners and market sellers make quite a profit.
In fact, the fishermen could catch more on a single boat rather than use these huge fishing nets that require lots of manpower and are expensive to maintain.
As sad as it sounds, this is the way that Kochi has been for centuries and it isn't going to change anytime soon.
Personally, this changed my whole perspective on the way the fishermen make a living around here. You may call it a tourist trap or money-grabbing but, can you blame them?
For some, this is the only way they make enough money for their families. So, I would go with an open mind before you completely write it off.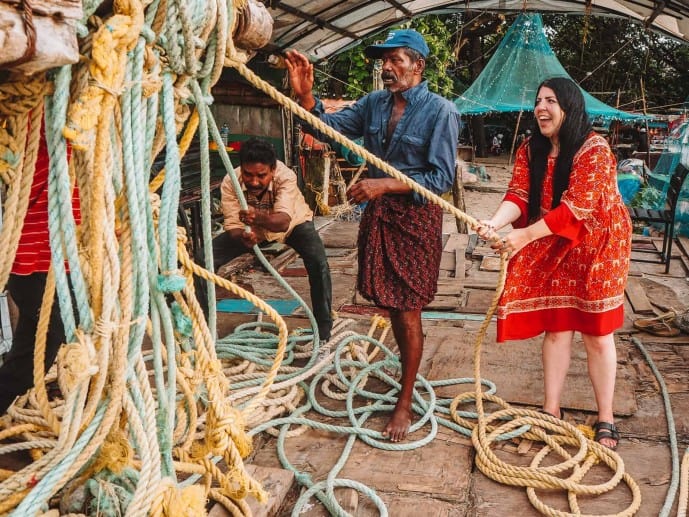 5. Visiting the Chinese fishing nets in Kochi can be a bit of a gimmick…
I knew before I even arrived I wanted to learn more about these fishing nets. But, I was a little put off at first.
As I said, I really didn't know what to expect and I just thought you climbed on and learned about fishing… how naive I was!
So, when I saw the fishermen heckling people to come on board, I instantly knew something was a little suss about it.
Then, when I saw a couple of tourists pay the fishermen, I realised that the photos and joining them to reel the fish in were something you had to shell out for.
But, knowing the story my homestay owner told me I just threw caution to the wind and decided to pay. I mean, you only live once right?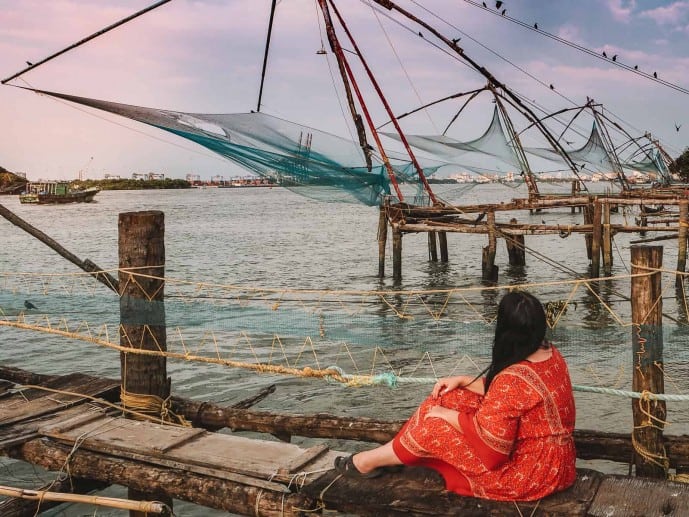 6. …But, it also makes a great photo opportunity and story to tell!
I actually ended up loving it, if I'm being honest. The photos I got from onboard here were some of my favourites from my trip to Kerala.
Plus, the fishermen make it super fun to join them in bringing in the fish by lifting up the nets.
They quickly explain to you how the fishing nets work and then you can join them by pulling on a rope to lift up the net! You sing a song with them and it's a good laugh. It was actually really cool to try it out for yourself.
I knew I had to pay a tip. The only thing that was a little cheeky though is the fact that there were 5 of them and they were all asking for individual tips.
My advice would be to tip what you feel and stick your heels in. Dig deep but don't bankrupt yourself for a few photos! You'll be just one of the dozens of tourists that do this each day. So, they will make some good money.
7. You can actually buy fish and get it cooked for dinner
Beyond a gimmick, the fishermen here do actually use these nets to catch fish too every day. So, you can ask if they have any fish to sell.
Most of the time, these will already be on display on ice in the little hut by the fishing net. Or, in a bucket. Then, you can negotiate the price based on the weight of that fish.
Once you've bought it, you can take it to the stalls near Vasco De Gama square who will cook it for you and add rice or side dishes alongside it for dinner.
So, you can enjoy a fish supper at sunset by the sea, under the Malayali skies – how romantic!
8. If you want to see less touristy fishing nets, head to Vypeen Island
The fishing nets on the shores of Fort Kochi are a bit of a trap. But, if you wanted to see some real ones in action that aren't flooded with tourists I'd recommend heading to Vypeen island.
It costs 3 rupees to take the local passenger ferry and the whole journey will take you around 10 minutes. You may even spot some dolphins on your way over.
Once you're on the island, you'll be dead opposite Fort Kochi and you can completely escape the crowds!
Head along Vypeen shoreline and you'll find some more laid-back fishermen, catching fish in their nets.
While I was here, I got to talk to some of the fishermen without them hounding me for cash and they showed me their catch of the day.
It was a really nice experience which showed me some of the local customs here, without them asking for tips.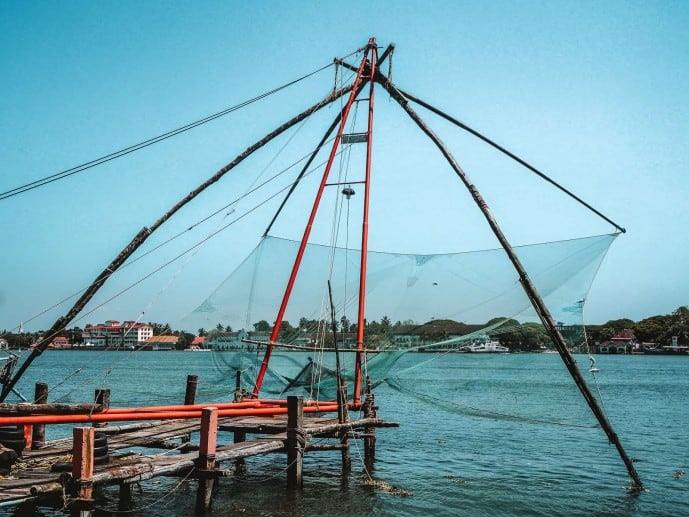 Things to do around the Chinese Fishing Nets in Kochi
Of course, the Chinese fishing nets in Kochi aren't the only thing to do around here. Fort Kochi has so much to offer tourists who visit Kerala
For such a quaint fishing village it's a powerhouse of history and a lot of the culture that we see today is a legacy of what was left behind.
Here are some of the top attractions in Fort Kochi to visit!
Read more – the top attractions in Fort Kochi
Head down to Fort Kochi Beach
Once you're finished snapping up the fishing nets, I would carry on your stroll along the shoreline towards Fort Kochi beach.
Here, you can get great views of the beach, the waves crashing on the shore, and swaying palm trees in the distance.
This was one of my favourite things to do in Fort Kochi and it's even better at sunset when the weather is cooler.
The sun can be incredibly harsh during the day, but once the sun sets, the crowds come out and it makes a lovely atmosphere.
There are some great street food stalls lined up, as well as places selling toys, souvenirs, and even an option to weigh yourself! Any takers?
Go temple and palace hopping
Due to the colourful colonial history in Fort Kochi, there is a wide range of historic buildings along with temples from all cultures and religions.
So, you could easily spend a whole day hopping from palaces to churches, synagogues, and Hindu temples.
Here are some of my favourite stops below;
St Francis' Church
This was one of the first-ever Portuguese churches that were built after Vasco De Gama arrived on Malayali shores in 1501.
After a rather risky trade-off with the Rajah of Kochi, he agreed that in exchange for defeating the King of Calicut, the Portuguese could build in the area.
So, in 1503, the St Francis' Church was built in the area. Today, you can go inside and see the tomb of Vasco De Gama. But, his body was moved to Portugal years ago.
Mattancherry Palace
Also known as the Dutch Palace, this building was originally gifted to the King of Cochin from the Portuguese in 1555.
But, once the Dutch took over, they decided to make significant improvements to the palace, and therefore it is now nicknamed the Dutch Palace.
Inside you can see fantastic 16th-century paintings of the Ramayan, displays of the Mattancherry royal family, and learn about the colonial history here.
They are extremely strict about what you can and cannot take photos of here. So, be careful!
Jew Town and the Paradesi Synagogue
One of the most popular areas for tourists to visit in Kochi is Jew Town. This is a shopping area in Mattancherry that used to be home to the Jewish community.
As well as shopping for artworks, antiques, clothes, and souvenirs, you can also visit the Old Jewish Synagogue here too.
It's over 400 years old and was built on permission by the King of Mattancherry. Unfortunately, over time there are now only 6 Paradesi Jews here. If you want to know more, read this article by the BBC.
The entrance to the synagogue is only 5 rupees and it's beautiful inside!
Santa Cruz Basilica
This is seen as one of the finest examples of a Catholic church in India, so it's worth putting on your list.
Originally built by the Portuguese in 1505, it is still delivering mass daily and tourists flock from all over the world to see it.
I would highly recommend visiting and going inside, but just beware you cannot enter during a service. These happen at 5 am, 6 am, 8 am, 9 am, and 4 pm!
Make sure you pop along here at night time as the church will be covered in dazzling blue lights.
Watch a Kathakali Dance Performance
This is a bucket list item for anyone visiting Kerala, but especially in Fort Kochi. Kathakali is an ancient dance practice based on the Hindu epic the Ramayan.
Dancers take years to study the art in order to perform it and you can learn all about it in one of the performances that are put on each evening.
In the first half, you will watch the actors prepare makeup, then you will watch the dancing which is the best part.
Instead of communicating to each other by talking, they communicate with thousands of movements and actions made with their body. Including their eyes, cheeks, hands, and face muscles! The rest of the narration is made by the musicians and singers.
It's a must-do in my opinion. I watched mine at the Kathakali cultural centre, tickets cost 350 INR.
Click here to read my top tips on how to watch a cultural show in Kerala
Where to stay in Fort Kochi
I organised my Kerala trip through India Someday who booked me into the wonderful Delight Homestay.
It is a family-run homestay that is the oldest in Fort Kochi. The building is from the Portuguese era and is hundreds of years old. So, you really felt part of the history while you were here!
Inside the homestay was a gorgeous garden where they grew their own herbs, fruits, and vegetables. So, you know when breakfast was served it was all organic.
My room was clean, spacious, and had fantastic air conditioning which was perfect for the sweltering temperatures in October.
Read my full review of Delight Homestay here
Looking for more inspiration for Kerala?
If you're looking for further ideas on where to head while you're in Kerala, make sure you check out my 7 day Itinerary which includes the beautiful Munnar and Alleppey.
Read more: the very best places to visit in Munnar
Or, check out my top tips for visiting Munnar in these articles;
You complete road trip to Munnar guide
Tea fields in Munnar here
A complete Lakkam Falls guide
Eravikulam National Park: Why it is a must-visit!
Top Station: is the drive worth it?
Like it? Pin it!