For me, Chitwan was like Christmas morning. Every day at sunrise, without fail, I'd wake up to wildlife roaming free in the beautiful Chitwan national park.
Wild rhinos, elephants, deers, crocodiles and supposedly there's even a tiger (which no one ever sees). It was like my dream destination.
It ended up being my favourite place in Nepal, even over Pokhara. This was due to its laid back lifestyle and the friendly locals who reside here.
Plus, it's not every day you can stay opposite a National Wildlife Park and have a guarantee of seeing animals.
I would highly recommend you spend at least 3/4 days here to get the very best out of Chitwan.
Because the longer you stay, the more wildlife you'll get to see! So let's start the ultimate Chitwan National Park travel guide.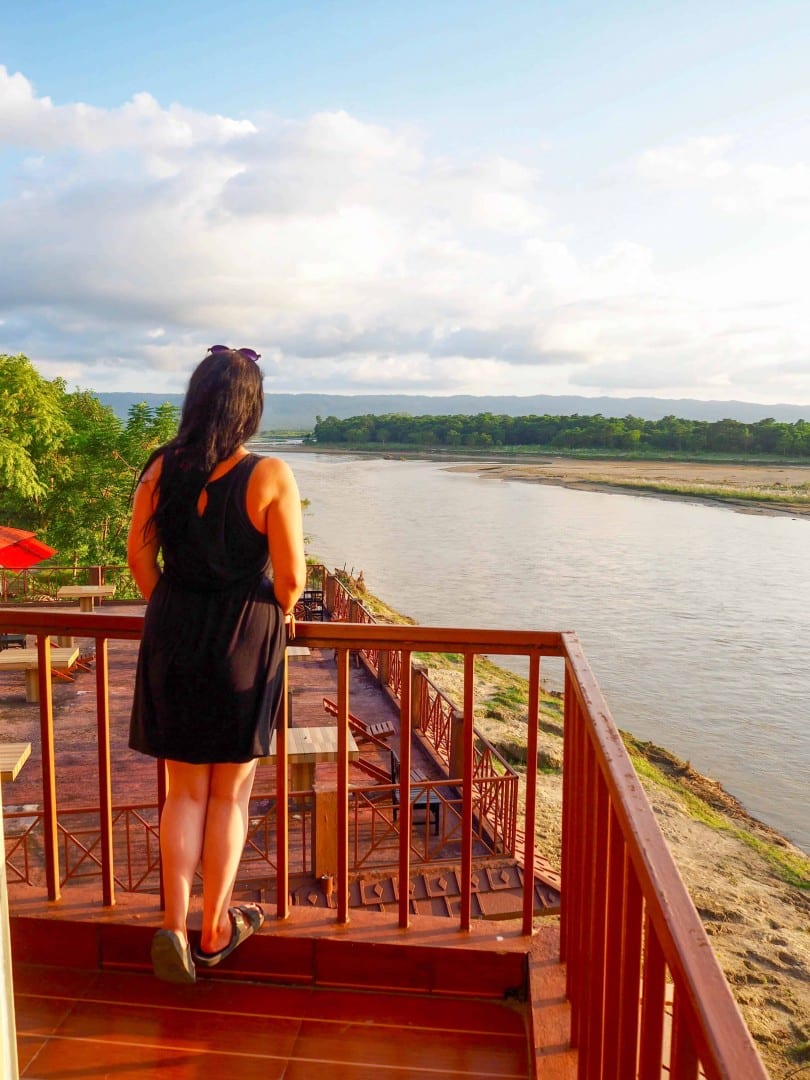 How to get to Chitwan National Park
Kathmandu, Pokhara and Chitwan are all part of the 'tourist triangle' in Nepal and it doesn't really matter what order you visit them in!
They are all around 6/7hours distance of each other (depending on traffic) via the tourist buses which run daily.
Most travel offices in Kathmandu or Pokhara will have buses that run to Chitwan and it should cost no more than $8-$15 USD (800-1500 Nepalese rupees) depending on what bus company you choose and if it includes lunch.
Blue Sky Travels, Mountain Overland and Greenline were the popular choices and recommended in Lonely Planet.
But, there are many companies which go the same route, you're really just paying for the bus quality.
For some reason, all buses seemed to leave at the same time of 7 am to the popular tourist destinations in Kathmandu, Pokhara and Chitwan.
If you wanted to avoid commission fees you could just turn up at the bus stand and pay on the bus. But, you're not guaranteed to find a bus with a seat available. Obviously, it's good to check when and where the buses go from.
For more detailed information on bus travel, you can see my post guide on transport in Nepal here.
Chitwan National Park hotels in Sauraha
Although the buses all say Chitwan and it's called Chitwan National Park all the tourists stay in the town which is slap bang opposite Sauraha.
This is also where you'll stay if you've booked a tour.
I didn't personally book a tour as I felt it was too rushed and expensive, so I booked and arranged transport/hotels/safaris myself.
You cannot stay inside Chitwan National Park and so Sauraha is the closest you'll get to it apart from the overnight stay in the Jungle Tower. Which technically isn't in the park either.
This tower stay is great if you want to spot animals. But, you need to trek to get to it and I heard it's pretty grotty. So I didn't opt-in for the stay.
The best hotels in Chitwan National Park are located on the banks of the Rapti river.
This river splits Sauraha from Chitwan National park and you may see wildlife crossing the river into the town every day (how cool?!).
My tour guide told me it used to happen a lot more but since it's so busy with tourists in the town the animals get distressed and so don't come as often.
Luckily, after my horrendous bus journey from Pokhara, I had a free transfer from my hotel and I was so surprised and happy to see my name on a sign!
Jungle Wildlife Camp
I stayed at Jungle Wildlife Camp while I was here.
This is not to be confused with Wildlife camp or Jungle camp or any other hotel which has a variety of the same words haha.
So, be careful when finding your hotel and show the taxi driver the EXACT name before you head off.
I booked a deluxe room that had the perfect view of the Rapti river from my balcony.
This was $35 USD (£26) a night, had air conditioning (much needed), a comfy double bed and a yummy buffet breakfast each morning.
To check available dates and rates for Jungle Wildlife Camp click here.
For a two-star hotel, I feared the worst but it was a beautiful surprise.
Spotlessly clean, quiet, comfortable and the best service from the owners. I can't recommend it enough.
The dining area was very close to the river too and you could watch the animals and canoes which were heading off for their safaris.
Sometimes, if you're lucky, the animals come right up to the hotel while you're eating breakfast – how wonderful!
Things to do in Chitwan National Park
Obviously, a lot of the attractions are all centred around wildlife and Chitwan National Park.
Make sure you get up early to spot animals and beat the heat on safari tours (especially walking ones).
I did a lot of research before I booked my safaris to make sure I was going to get a good deal and experienced guides.
Some tour offices would put a big markup on tour prices. So, it's worth price comparing around a few and seeing what packages are available.
I booked through the United Jungle Guide Service as they have a reputation of not ripping tourists off and were number 2 on Tripadvisor when I was there with raving reviews.
There are a few offices scattered around the town. They all charge the same prices.
A canoe ride, a walking safari for 3 hours and a jeep safari for 3 hours plus my park fee cost around £45 (6500 Nepalese rupees or $65 USD).
The most important factor for me was they didn't encourage or endorse elephant safaris due to the bad treatment by the riders.
That totally tells you something about the treatment of the elephants here. The tour guides at United make big money on elephant tourism, but, they would rather a loss than support the abuse. Amazing.
Chitwan National Park permit fees
To stay in Sauraha, you don't need to buy a Chitwan National Park permit. You only need to buy a permit for the days that you are going to be doing a safari in the National Park.
So, if you're on a budget, it may be worth doing safaris and activities all in one day as you need to pay a daily permit fee.
When I was there, the National park suffered a flood and so jeep safaris and elephant safaris were only visiting the Buffer zone or the community forest.
I had to do a walking safari to enter the main park itself. You still need to buy a permit for the Buffer zone and 20,000 lakes.
The only part of the park where you don't need a permit or tour is the Elephant Breeding Centre which I'll cover below.
Park permits for foreign visitors in 2017 were 1695 rupees. For Indian or SAARC countries it's 850. Check the official website for the latest rates.
Look out for wildlife on Rapti beach & the dam side
My favourite part of staying in Sauraha was spotting wildlife. It was like playing a real-life game of Where's Wally? but it was Where's Rhino? lol.
There are many places where you can relax, eat food and even drink a beer and wait for wildlife.
Rapti 'beach' was one of these places with beach hut bars set up along the river.
But, no one is sunbathing or swimming on this 'beach' as you could get eaten by a croc (not kidding) or meet your wild animal neighbours coming for a drink in the river.
The other is Dam side which looks like you're heading into the National Park but you're not.
You don't need a permit or a guide to visit and every evening after sunset the wild rhinos would come to take a bath in the river.
One evening, not one but three all came out to play! It was amazing seeing them roaming free in the wild. It was a magical moment I'll treasure for a lifetime.
I can't even believe I'm writing this but don't enter the river to try and get photos.
One evening, a teenage boy attempted this, slipped and the rhino snorted, jumped up in the river and got really angry.
Although they look slow, they can charge in a matter of seconds and that horn will go right through you.
Their eyesight isn't very good hence why everyone usually just observes from the banks where it's safe. But, their hearing and sense of smell is on point and can sense when someone is in or close to the water's edge.
It's just not worth it for a selfie, could put others in danger and it's distressing for the animals! Don't do it.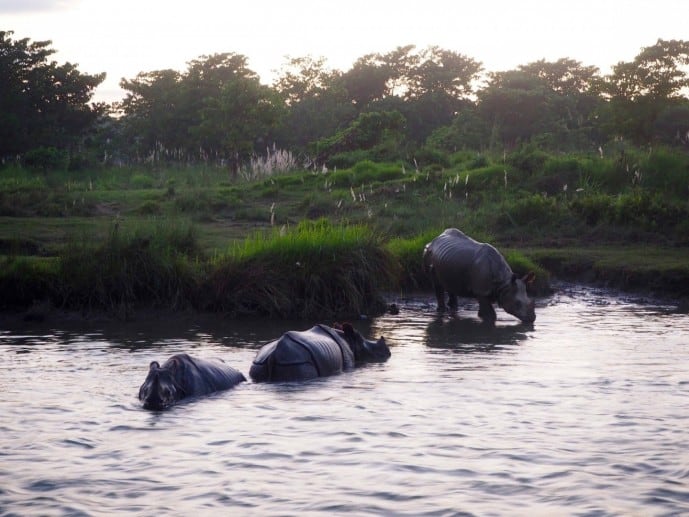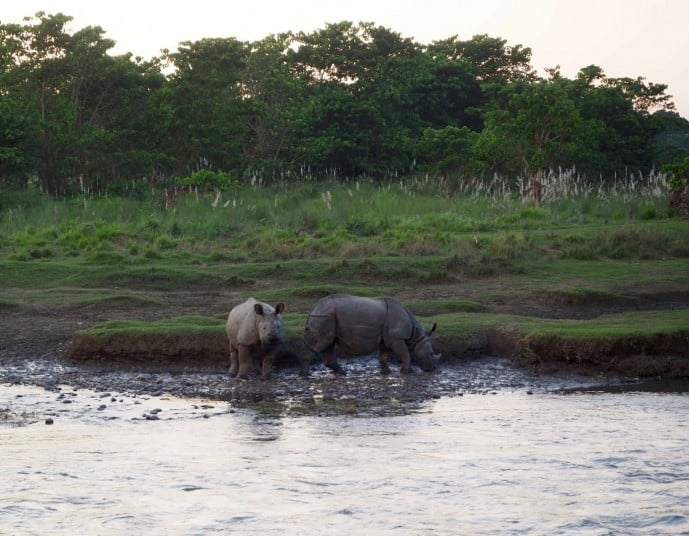 Take a canoe ride on Rapti river
We opted to do a scenic canoe ride on the Rapti river starting early at 7 am. It was a hair raising hour ride where you can come up close to crocodiles swimming beside you!
This was also a way to cross the river and start our walking safari in the National Park afterwards.
The canoe is extremely narrow and long and if you're sharing there will be around 10 of you – it gets extremely wobbly!
It goes very deep in the water and requires balance to keep afloat. At some point, I genuinely thought we were going to go over.
Every time I saw a water pocket, bubble or leaf I kept thinking it was a crocodile.
But, actually, they don't come so close.
I saw a 'leafodile' according to my guide haha. Apparently, tourists wrongly think they've spotted crocs all the time.
We did see crocodiles bathing in the sun, lifting their heads and beady eyes out of the water, a snake swimming and loads of birds.
Your tour guide should have binoculars to get a closer look! Bring a good camera lens with zoom to ensure you get the best shots.
Our sharing boat ride cost 500 Nepalese rupees each for one hour. A private tour for 2/3 hours will cost 2500/3000 Nepalese rupees or $25/30.
Take a walking safari
This was the absolute highlight of my safari tours in Chitwan National Park.
At first, I flat out refused to do a walking safari as it seemed risky. I was going to be walking amongst wild animals…with no transport out if anything happened. Oh my gosh!
But, a walking safari was the only way I would be able to enter the actual National Park due to the floods.
So, I booked a half-day trek which was 3 hours. That way I could limit the risk of animal attack (haha, I was honestly a bit scared) and the exposure to the heat.
Chitwan National Park in early October was sweltering. So, a whole day and I think I would have passed out. That being said, bring bottled water with you!
We even got a brief of what to do in those situations. For a rhino or elephant, you run zig-zag into the jungle and not in a wide-open space. For a sloth bear you have to become big, shout, be intimidating and even hit it on the nose and for a tiger…well, it's game over.
The track was very dirty, and rough and you had to walk through lots of jungle foliage. So wear clothes which cover you.
I only had sandals as I have a small backpack and survived, but he did tell me to check my feet for leeches (ew!).
Also, there are loads of red/black bugs that are everywhere on the floor. My feet killed afterwards too, so don't make my mistake and wear comfy closed shoes.
Whilst here we saw a wild rhino eating his breakfast. It was exhilarating coming so close to a rhino here. It was frightening but awesome at the same time.
After that, we didn't see much. Lots of tiger tracks, smelt tiger pee (but no tiger), no sloth bears (boo) or elephants.
A lot of people get disappointed not seeing a tiger but I'm not sure how I would feel coming face to face with a tiger anyway.
You would have no vehicle to escape in. It isn't Disneyland!
Also, my guide said it's spotted something like 2/3 times a year, so don't get too let down if you don't see one.
Our private walking safari with two guides costs 2800 NPR $28 USD. It's important to note if you're travelling solo you'll still have to pay for two guides and it may get expensive so find a buddy!
To read more about a walking safari through Chitwan National Park, see here.
Go on a Chitwan National Park Jeep safari
Although the jeep safari was the most expensive, I found it disappointing.
It's typically overcrowded with so many jeeps in the park making noise you wouldn't have a hope of seeing wildlife.
Although it's safer, they get too scared to come near. Plus loads of tourists make noise, throw rubbish and the jeeps are bad for the environment. I wouldn't do it next time as it felt wrong.
A private jeep safari for two with one guide was 5000 Nepalese rupees ($50), for sharing you would pay a lot less but it's good to note they cram people in and it may be uncomfortable.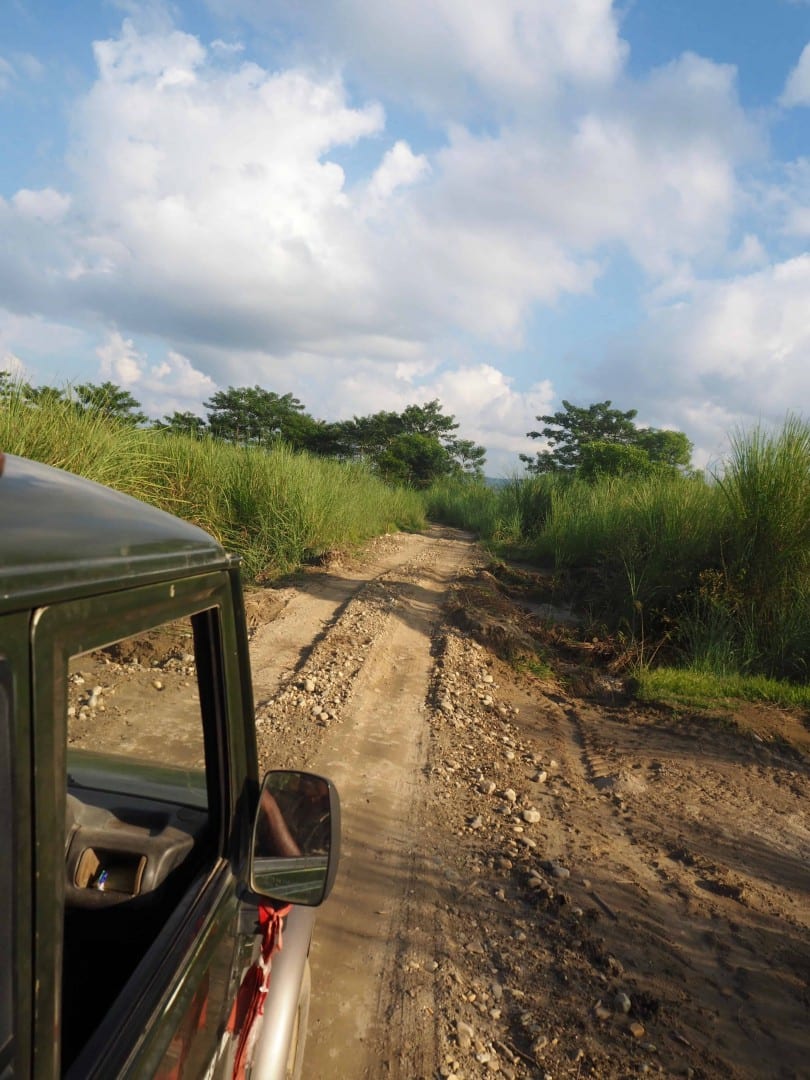 Elephant Breeding Centre
The elephant breeding centre was a rollercoaster of mixed emotions for me.
On the one hand, I saw beautiful baby elephants and it was amazing to see so many in one place!
But on the other, I saw the mothers chained up away from their babies. The babies were chained up too.
On the surface, it looked barbaric. I was pretty much ready to leave. But it was explained that it's for their protection.
The elephant's protection in Chitwan is a very complex issue and cannot just get discarded from the offset.
These elephants are at risk of extinction and poaching. For their care, they're kept in the centre. Many elephant owners and the government are well aware that chains are not good for elephants.
Some places are putting in electric fences as an alternative. But, male elephants come into the pen to breed then the females flee and it ends up causing more harm than good.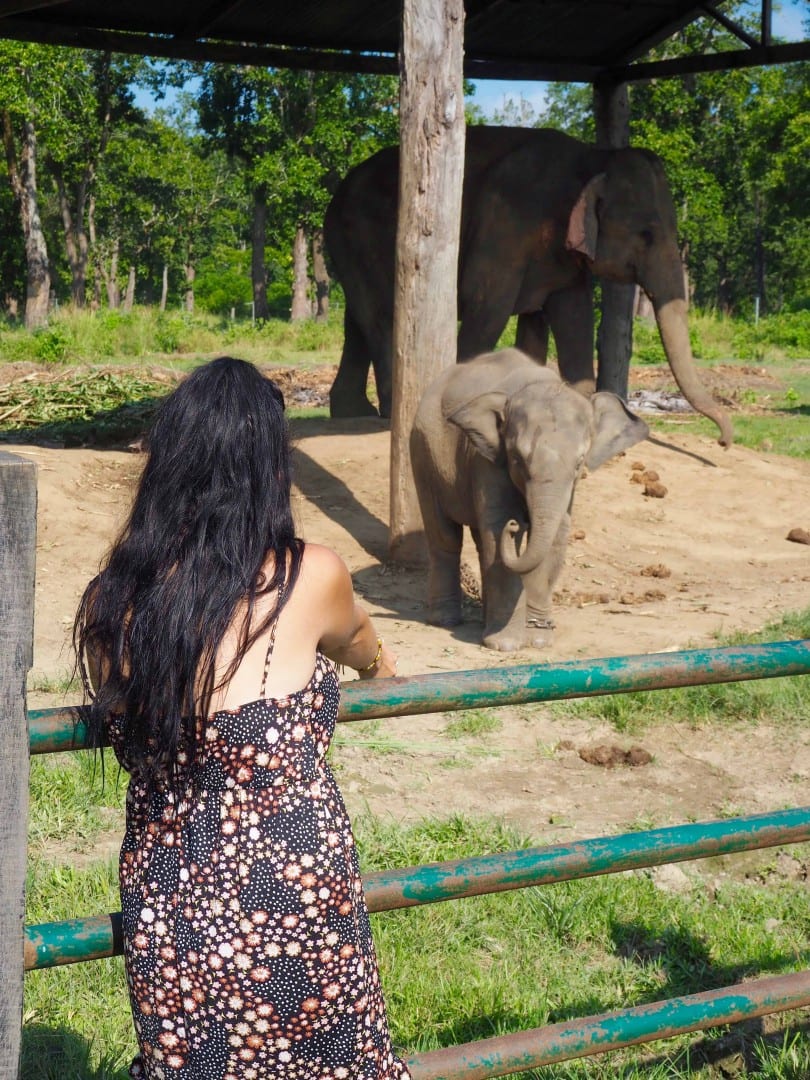 Visiting here is not as bad as riding the elephants as this is where the 'responsible tourism' is questioned.
Elephants work long hours here, with four people at a time and bullhooks are used.
For me, this made me feel really uncomfortable and I felt like they were being exploited. So, I guess if the centre is protecting them and they're not being ridden it's a necessary evil.
To me, I'm not sure if I should recommend this place. On the one hand, the donations contribute to their care and keep them safe.
On the other, I hate to think they're distressed. I would do some research first and decide if you want to contribute.
Park entrance was 50 rupees which directly contributes to the centre and you had to cross by boat. The boat fee was 'as you like'. Do not wander into the National Park alone and without a guide.
To read more about responsible elephant tourism in Chitwan, see here.
Tharu Cultural Centre
In the evenings, you can't miss a visit to the Tharu cultural house for it's a great opportunity to watch a show and learn about Tharu culture.
In Nepal, the Tharu people are recognised as an official nationality and are an ethnic group indigenous to the Himalayas.
I didn't opt for the cultural village tour as I hate 'people safari' type things and the show was a colourful enough picture for me.
They will take you through songs, comedy, fire dances and the famous peacock dance which was my favourite part. In the end, the peacock gave a rose as a gift to an audience member!
Tickets were 200 rupees per foreigner, it had nice air conditioning in the room and free wifi too!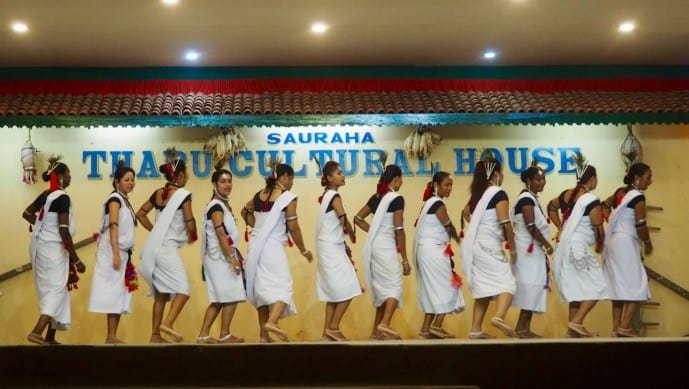 Where to eat in Chitwan National Park (Sauraha)
Sauraha is a small town but there are a few places to get some awesome food.
They are easy to find as they are all on the main strip of Hatti Chowk. The number one choice for most travellers was KC's Garden Restaurant, a little on the pricey side but had a massive International menu.
Their garden was really relaxing with some cute Nepalese music.
Chitwan Bar & Restaurant was also a good option and served up some great fresh BBQ dishes and the Rapti Beach Bar & Restaurant was awesome as you could eat by candlelight at sunset and see wildlife.
The Himalaya Gurkha Coffee was a personal favourite if you're missing decent coffee in your veins! It was also pretty much the only coffee place with air conditioning too.
Final words on Chitwan National Park
Chitwan truly stole my heart in Nepal. Seeing all the wildlife, walking in the national park and those magical moments of seeing the rhinos every evening made my heart sing.
I loved every minute and didn't want to leave! I would highly recommend you add Chitwan to your Nepal travel itinerary.
Heading to Nepal? Read more of my posts!
The ultimate Kathmandu Bucket List
What to expect at Pashupatinath Temple
A guide for Garden of Dreams in Kathmandu
Everest Flight from Kathmandu – is it safe?
How to get from Kathmandu to Pokhara
My top travel tips for visiting the Birthplace of Buddha
Travelling overland from Nepal to India