One of the highlights of visiting Morocco is buying some amazing leather products. But, do you know how all that colourful leather is made and, more importantly, what it is made from?!
A great way to see this process in motion is to visit a tannery in Morocco.
One of the most famous is the oldest and largest Fez Tannery, locally known as Chouara Tannery.
This ancient outdoor workshop has been around for 1000 years! You'll find hundreds of colourful pools, like an artist's paint palette, with men busy at work in the sun.
Although this rainbow of colour makes an incredible photo location, travellers may be shocked to learn what actually goes inside these stone pits.
Plus, finding the Fez tanneries alone can be quite a challenge with lots of tourist scams at play. It's not as easy as just following your nose.
Here is a complete guide for visiting the famous Chouara Tannery in Morocco with the history, what to expect, and scams to watch out for!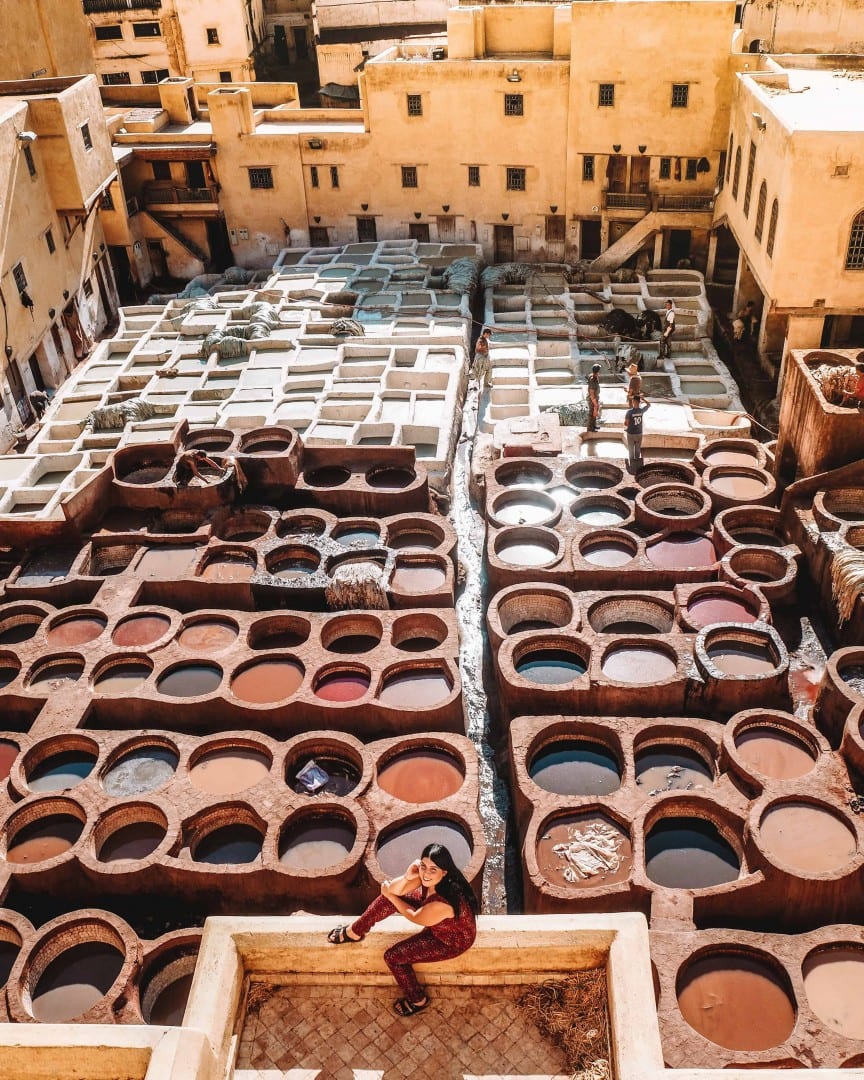 First of all, what is a tannery in Morocco?
A tannery in Morocco is a place where animal skins and hides are processed in order to make leather.
Unlike Medieval Europe where tanneries were usually located on the outskirts of town and inside caves due to the stench. The persistent sunlight and heat in Morocco meant that a lot of the tanneries were established outside and within the Medinas themselves.
The tannery is where animal skins are stripped of hair, degreased, salted, and soaked in order to stop decomposition.
Then, they are further processed and dyed to create leather for those amazing bags, shoes, and jackets in shops.
The tannery workshop consists of huge stone vessels or pots, that carry water and a mix of ingredients or natural dye. Also, there are large areas and drying racks in order to dry out the skins.
Today, there are still many ancient tanneries that exist in Morocco. They still use the same traditional methods to process skins and hides for leather as when it first began.
The history of Chouara Tannery in Fes
There are three main tanneries located in the city of Fes, but the largest and most famous of these is Chouara Tannery.
It was founded all the way back in the 11th century and is now the largest tannery in the city!
It's located within the oldest area of the Medina, Fes el Bali, and this area was chosen as it was close to the Saffarin Madrasa and the river.
The close access to the river came in handy as it provided a lot of the water needed to work the leather.
The remarkable thing about Chouara Tannery today is that the structure has largely remained unchanged since its humble beginnings. This makes it well over 1000 years old!
Another amazing thing is that the process of making leather in Morocco is also the same as it was back then.
It largely relies on manual labour and they also use natural ingredients for their processing methods and dyes.
What is Moroccan leather made from?
I think this part of the leather-making process is the most shocking and it may certainly make you feel differently about leather in the future!
Firstly, it should come as no surprise to you that leather is made from animal skins and hides. In Morocco, these are commonly camels, cows, goats, and sheep.
They are then soaked in vessels containing a mixture of liquids to prepare the skin for processing.
These liquids contain a mixture of cows' urine, pigeon poop, quicklime, salt, and water! So, you can see why this place is known for being smelly.
The mixture is used to stop the decomposition of the skin and to soften it in order to be processed further and dyed.
The dying solutions are completely natural in Morocco. You'll find that red dye is made of poppies, indigo for blue, and henna for orange.
How do they make leather in Fez Tannery?
The traditional process of making leather for trade is quite remarkable. It takes days, sometimes weeks, to produce leather for products in Chouara Tannery.
There is no machinery involved or factories at all. It's all done through manual labour;
First of all, the animal is skinned before the heat has had a chance to leave the tissue. Most tanners will obtain skins and hides at the slaughterhouse. It is then cured with salt to remove hair.
The animal skin is then left to soak in the vats of liquid. This will be that lovely mix of urine, poop, lime, salt and water! Yummy. They are left for 2 – 3 days.
Once the hide or skin is properly softened. The skin will then enter the vat of dye for colouring and left to set.
Finally, the hides are left to dry out in the sun.
Then, the tanners will sell these hides to craftsmen who get busy to work. They will shape the leather into shoes, bags, pouffes, jackets and handicrafts to sell to you! They also ship these products all around the world.
The process of preparing the leather varies and the methods depend on the type of animal skin or colour etc.
So, this is why you'll see some leather prices vary massively in the shops. It depends on the product preparation and skill of the craftwork.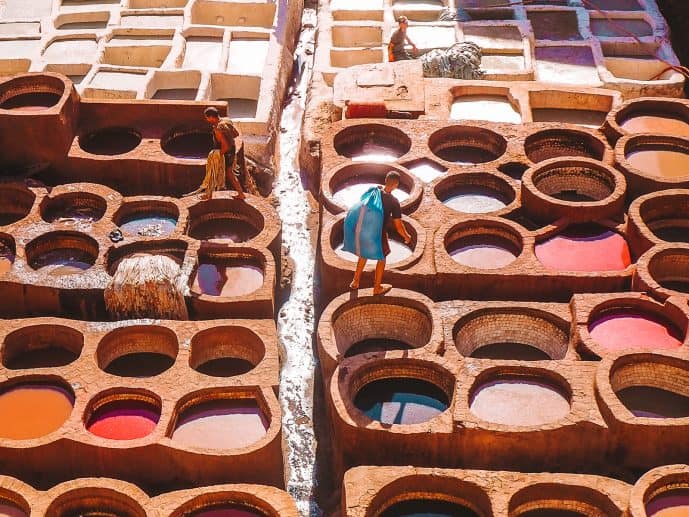 Where is the Chouara Tannery in Fes & How to get there?
The Chouara Tannery is located in the Fes el Bali quarter of the Medina. However, although you may be able to smell it well before you arrive, they are hidden away.
You'll find at the Fez Tanneries that the shops and the tannery work together to produce and sell leather products to tourists.
The Chouara Tannery is therefore surrounded by many leather shops. In order to see the Fes Tanneries at work, you must access the viewpoint through one of them.
Of course, to help you find the tanneries, there are plenty of touts that will insist on showing you how to find the 'best view'.
They will say 'no money, I'm not a guide' and 'looking is free'. But, you will have to pay a tip.
It's almost like an enter/exit through the gift shop kind of deal and the touts work with the shops on commission!
This is why there are Fes tannery scams to be aware of. Also, you'll find that there are a lot of aggressive sales techniques.
I'll cover more about these scams and how to avoid them below.
When is Chouara Tannery open & what is the entry fee?
The Chouara Tannery is open daily from around 8 am – 7 pm in the evening. This largely depends on the shops being open.
You may find that on Fridays, which are holy days in Morocco, the shops may be closed at certain hours for prayer.
There is no official cost to enter the tanneries as it isn't a government tourist attraction. However, I wouldn't arrive with the expectation of paying absolutely nothing!
Many touts and guides will charge you a fee for them to show you 'the best view'. Also, you may end up purchasing some of the leather goods in the shops.
You should expect to pay around 20 – 50 MAD for a tour. I ended up paying 20 MAD for my tour and photos (£4/$5). But, some touts were quoting 200 MAD! That's ridiculous.
Fez Tannery scams to watch out for
As one of the highlight tourist attractions in Fes, unfortunately, this does bring with it a lot of scams on unsuspecting visitors. It's well known as a bit of a tourist trap.
Before you even approach the tanneries, you'll usually have people approach you asking if you wish to see them.
A lot of them will say 'I'm not a guide', 'looking is free'. But, you will be expected to pay.
The best way to tackle this would be to barter on a price and agree on this before you go inside a shop or get shown around the tannery.
I would try to negotiate somewhere between the 20-50 MAD mark. Anything over 100 and it's far too much.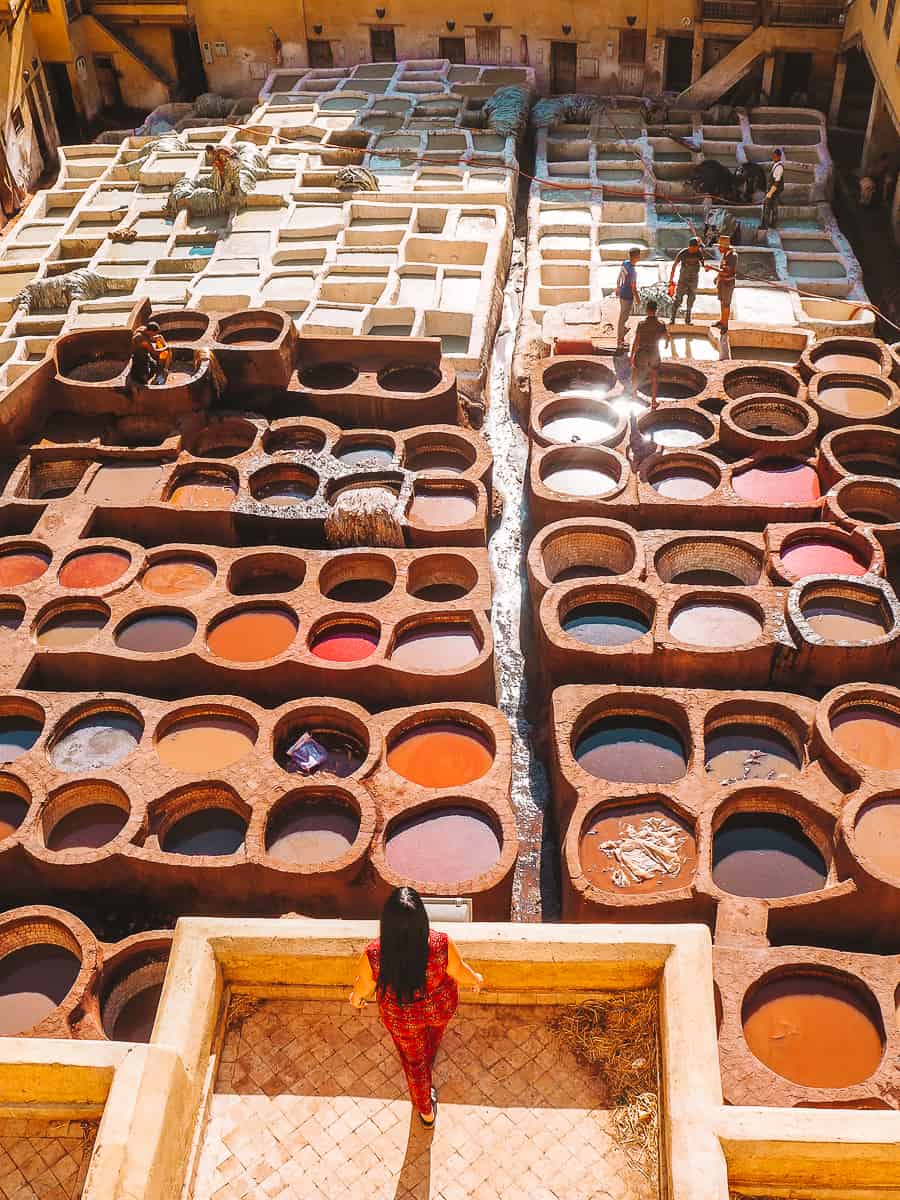 What is the best viewpoint of Fez Tannery?
It's not really possible to see the tanneries from above without going inside one of the leather shops. The tannery is surrounded by them.
So, in order to try and avoid the Fez tannery scam and touts, it may be better to research which shop you would like to enter in order to see the view.
This could help you massively when you politely decline the offer from one of these 'tour guides'. They are expecting you to not have a clue about where you would like to go and use that to their advantage.
There are plenty of leather shops around so, you could go into one randomly. But, I always think it's best to enter one of the higher stores in order to get a good view for photography.
The best view of Chouara Tannery for photos, in my opinion, can be found at Shop Number 10. But, Number 64 also has an incredible view.
So, when you arrive at Fes el Bali, you can look for these numbers on the walls. Go up the stairs and you'll be able to find the view!
However, you won't be able to avoid a 'guide' tip or aggressive selling techniques as you enter the shop.
Just agree to pay a small fee to the guide and politely decline the offer of purchasing leather goods if you don't want to buy!
Can you go inside the tannery?
Yes, if you would rather not see the tanneries from above and you wanted to get a closer look at the process by entering the tannery itself. You could opt for a guided tour of the tannery.
If this is what you would rather do, I would avoid entering any of the leather shops surrounding it and follow one of these 'guides' who will direct you down a small alleyway to the tanneries.
They will then show you around the workshop, explain the process and even let you climb on top of some of the tannery pools if you wanted to!
Here, you can see the men entering the dying vats and working the leather for processing. This is what I did and I got to get some great photos that way.
It is really hot and sweaty work and it must be quite tough to be in amongst that smell all day.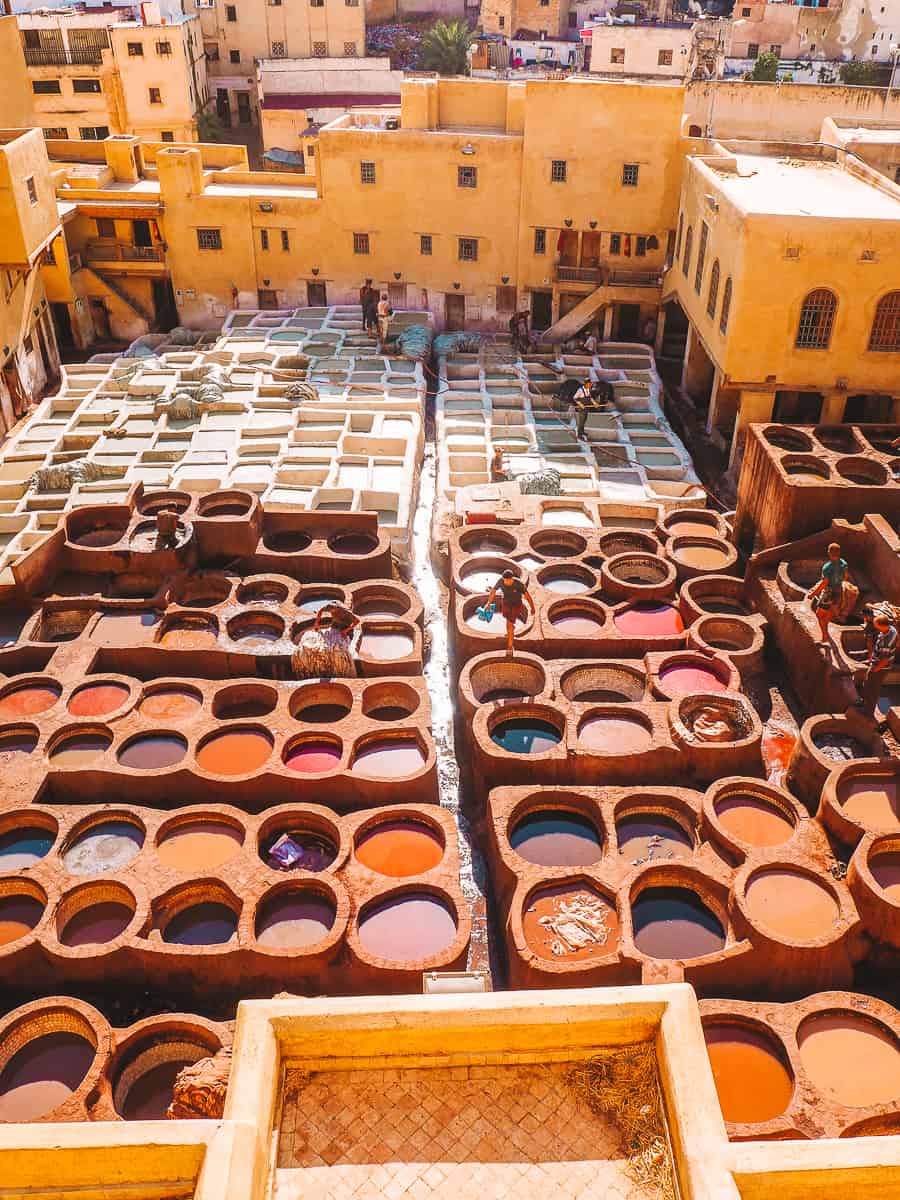 Does the Fez Tannery smell really bad?
I'm not going to lie to you, you can smell these tanneries long before you find them. I mean the mix of pee, poop and rotting animal flesh in the heat has that kind of effect!
But, it's really not as bad as you think. You get used to the smell after the first five minutes of being there.
If you're really worried or have a sensitive stomach for smells, I would come armed with a sprig of mint to guard your nose against the stench. Some guides will even help you with that as an added bonus!
However, I would highly not recommend you visit if you are a vegan, vegetarian, or are sensitive to the death of animals being used for animal products.
It's not a pretty process but it makes you appreciate the hard work and effort that goes into creating leather!
Buying Moroccan Leather at Chouara Tannery
An exciting part of visiting Morocco is buying those lovely leather goods.
After your visit to the tanneries, you'll learn and see for yourself the effort that goes into making them!
Fes is known for its leather and most of the products you see in the bazaars of Meknes or Chefchaouen will have been imported from Fes. This is a good thing as you can expect cheap prices due to no import costs.
The shops around the tanneries showcase the craftsmanship of the leather that's made there. So, it's a great place to purchase some souvenirs to take home.
However, when buying leather in these shops, it's important that you negotiate on prices!
You have to remember that the guides/touts will gain commission from your purchase, so the shops will bump prices to compensate for that.
On the other hand, you'll see for yourself the hours of hard work these guys do just to create them.
If you fancy purchasing something, great. If you don't just politely decline. If the shop starts to get aggressive on you buying something just be firm about it and leave.
Most traders in Morocco worth their salt take the purchasing part very seriously and don't harass their customers. It would involve their famous hospitality in offering you mint tea and having a discussion.
It's actually meant to be a quite relaxing experience. So, if it turns nasty, they are no good. Just leave as fast as you can.
Looking for more things to do in Fes?
Fes is not as glamorous as Marrakesh but it is richer in so many ways as you can get far more cultural experiences, like this one.
There are plenty of attractions hidden away in the Medina and beyond you could visit next.
Some of my favourite places were the Bou Inania Madrassa, The Royal Palace, and the viewpoint you can find in the Marinid Tombs.
Also, if you're looking for some amazing places to eat, you can start off at the famous Café Clock who are known for their camel burgers!
Click here to read my complete Fes guide with more things to do!
The best place to stay in Fes
Fes is full of riads and hotels and it can be hard to know what to book as it seems there is an endless choice!
But, there are a few I would highly recommend you check out;
Dar Seffarine – This family-run property used to be a palace that went into ruin. Now, it's been restored back to its former glory! It has some incredible boutique rooms and their homemade tagines at dinner are to die for. They also have a gorgeous view from their rooftop! Click here to read my full review or click here to check dates and rates.
Riad Fes – Relais & Châteaux – This is one of the most high-end hotels in the city. This 5* property has jaw-dropping decor and another incredible view from the rooftop. You can enjoy cocktails overlooking the view, swim in their pool or eat at their fine dining restaurant. Click here to read my review or book your stay here.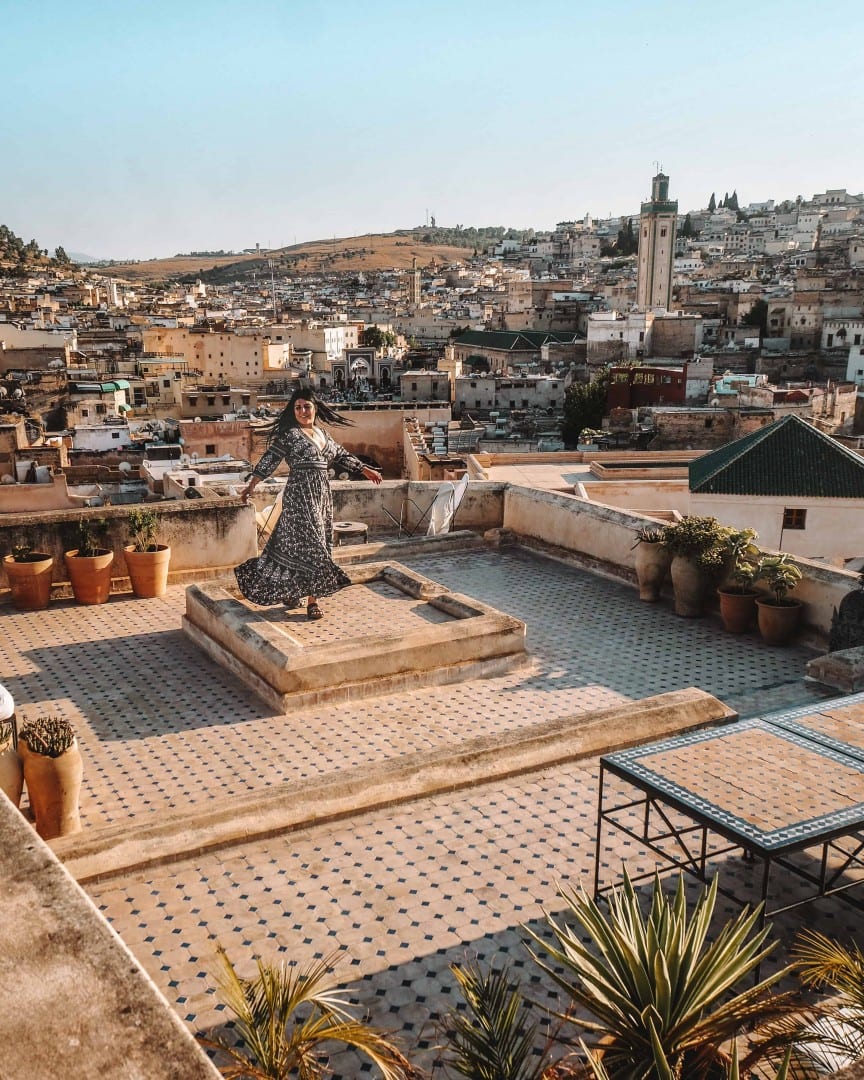 Heading to Morocco? Read more of my articles!
The ultimate 2 weeks in Morocco itinerary
The top things I wish I knew before travelling to Morocco
What to wear in Morocco as a woman
Solo female travel tips for Morocco
Taking a Sahara Desert Tour from Marrakesh
Top places to visit in Chefchaouen
Save this Chouara Tannery post for later!