Circus Lane Edinburgh is, without a doubt, one of the quaintest streets in the whole of Edinburgh.
So, is it any wonder that it's a favourite amongst photographers and Instagrammers?
I had never heard of this magical street before until I saw shots on Instagram and Pinterest. Suddenly, my pinboards and saved images were full of it!
So, when I visited in real life, I was worried that it wouldn't be as fab as the photos.
I was completely wrong. Although it is just a lane, I was so blown away by the cobbled streets.
There were Mews houses, flowers growing everywhere, and church steeples from above. It really is a gorgeous spot for photographs.
But, what is the reality behind visiting here? There's so much more to a location than the photos show.
So, in this guide, I'll take you through how to visit and what to expect while you're here.
Here's my complete guide to Circus Lane Edinburgh with some handy photography tips!
The History of Circus Lane
Circus Lane in Edinburgh is located in the historic Stockbridge area and was built when the New Town was being extended in the 1760s.
In the Georgian period, straight grid-like streets went out of fashion and curved streets were now all the rage.
Circus Lane sits right behind the Royal Circus which is a fine example of a row of regal Georgian Residences.
In those times, only the rich and wealthy could afford a house of that magnitude in this area.
Many of these well-off residents had horses and carriages and that's where Circus Lane comes in.
This lane was where the stables for the horses were, the carriages were stored and the staff lived.
As you walk around you can still see the remains of where the stables were all those years ago.
Where is Circus Lane in Edinburgh and how to get there?
Circus Lane is located near the Stockbridge area of Edinburgh. You can get here easily on foot, by public transport or by taxi!
Here are some useful directions;
Circus Lane on Foot: Circus Lane is easy to locate on foot while you're in Stockbridge. If you head along Kerr street and then take a left onto Circus Lane before Circus Place.
Circus Lane by bus: The Lothian Buses number 42 stops right outside Circus Lane heading to Longstone or Gyle Centre. The walk will be less than a minute from the stop.
By Car/Taxi: Uber works in the city or you can go local and hire Edinburgh City Cabs. There is free parking in Royal Circus before 8 am and after 6 pm. During this time it's residents only.
Nearest train station to Circus Lane: The nearest train station is Edinburgh Waverley. It's then a twenty-minute walk from the station to Circus Lane via Frederick Street.
Make sure to use Travel Line Scotland to plan your journey.
The best time to visit Circus Lane for photos
It's always a good call to visit photography locations early morning to beat crowds and get the best lighting.
But, just remember this is a residential area. So you'll find many will be off to work or school on the weekdays.
Also, sunrises in Scotland are around 4 am in summer! As I couldn't face an early morning, I waited until the evening for some good lighting as it was a sunny day.
I found that visiting around the late afternoon or sunset (8/9 pm in summer) was a quiet time too if you can't face an early morning.
How long is a visit to Circus Lane?
You'll only need around 15 minutes to visit here.
There isn't anything else 'to do' in the area. But, if you're a photographer you could find plenty of photography angles!
Photography tips for Circus Lane Edinburgh
It's impossible to take a bad photo of Circus Lane, really. The street is effortlessly picturesque.
But, here are some handy photography tips;
I'd say if you're visiting for photos you could walk the whole lane in around 5 minutes. So, you'll need 10-15 minutes tops to snap up your photos. But, if you're into photography there are so many unique angles and cute corners to this place. So, you could take longer.
Remember, that as well as a photo location it's a housing estate. So, try not to disturb the neighbours in this area.
The best photo spot (in my opinion) is the angle with St Stephen's Clock Tower in the backdrop. This is located on a nice bend where you'll get a good mix of houses, flowers, and cobbles too.
There are cars that come down this road but they should be going slowly, so mind out to protect you and your camera on a tripod, etc.!
Things to do around Circus Lane Edinburgh
So, once you're done snapping every photo angle imaginable in Circus Lane. You're probably wondering – what to do next?
Well, there are a couple of bits that you can get up to in the local area;
Admire Royal Circus – If you want to see how the other half lives, take a walk around the beautiful Royal Circus. It's a gorgeous row of regal houses built by William Henry Playfair and it is spectacular! It will transport you to the time of Robbie Burns.
St Stephen Church – Built in 1827, this is another triumph by William Henry Playfair. St Stephen's is an A listed building. The clocktower you can see from Circus Lane is 162 metres high and is supposed to contain the longest pendulum in Europe. Today, it's a community arts venue.
Grab a coffee or Brunch in The Pantry – If you want to pop into a café for a spot of brunch or afternoon tea, The Pantry is just nearby. There are fry ups, avo on toast, waffles, and flatbreads. Click here to see their food menu.
Have lunch in the Scran and Scallie – if you want something a bit more traditional for dinner then pop into the Scran and Scallie over the road. It's extremely popular and they serve up a wholesome Scottish menu with Haggis, Neeps and Tatties, Steak pies, and mouthwatering puds. See their menu here.
Can you stay in Circus Lane?
YES! Many of the residents open up their houses for guests along Circus Lane.
If you want to have a little mooch, check out this gorgeous Mews Apartment you can book for the night, here! Or, there is a property nearby on Royal Circus too.
Hotels near Circus Lane:
The Intercontinental Edinburgh The George
Where to visit after Circus Lane for photos
Stockbridge and/or Dean Village
If you're on a photography mission or trying to find the best Instagram spots, there are a few popular locations nearby that you can walk to after Circus Lane.
This will make your journey a lot more worthwhile as you're here in this part of town. So, make sure that you save these spots for later;
Old Stockbridge Arch
Stockbridge is a historic area of Edinburgh and is famous for the Stockbridge Market that happens on a Sunday.
But, did you know that there was an Old Stockbridge Market that was around in the 19th century?
That's right and you can find the Old Stockbridge Archway, built by Archibald Scott in 1825, on St Stephen's Street. Don't put in Stockbridge Market as it's nowhere near it.
The exact location is on St Stephen's Place, a little side street and it's only a 2-minute walk from Circus Lane!
Click here to read my Stockbridge guide with directions on how to find it
Dean Village and the Water of Leith
Dean Village is somewhere that looks like you've escaped the Gothic city of Edinburgh and walked through something out of a storybook.
This village used to be called the Water of Leith village years ago and has been a milling site for over 800 years.
Although it's now part of the wider city, it hasn't lost its village charm and I would recommend you stop by for a coffee or some pictures.
The best photo spot can be found by the Water of Leith. You'll find a small metal bridge crossing which is the most photogenic spot.
It's around a 15-minute walk out of Circus Lane and cannot be missed on your trip!
Click here to read my complete Dean Village visitor guide with essential tips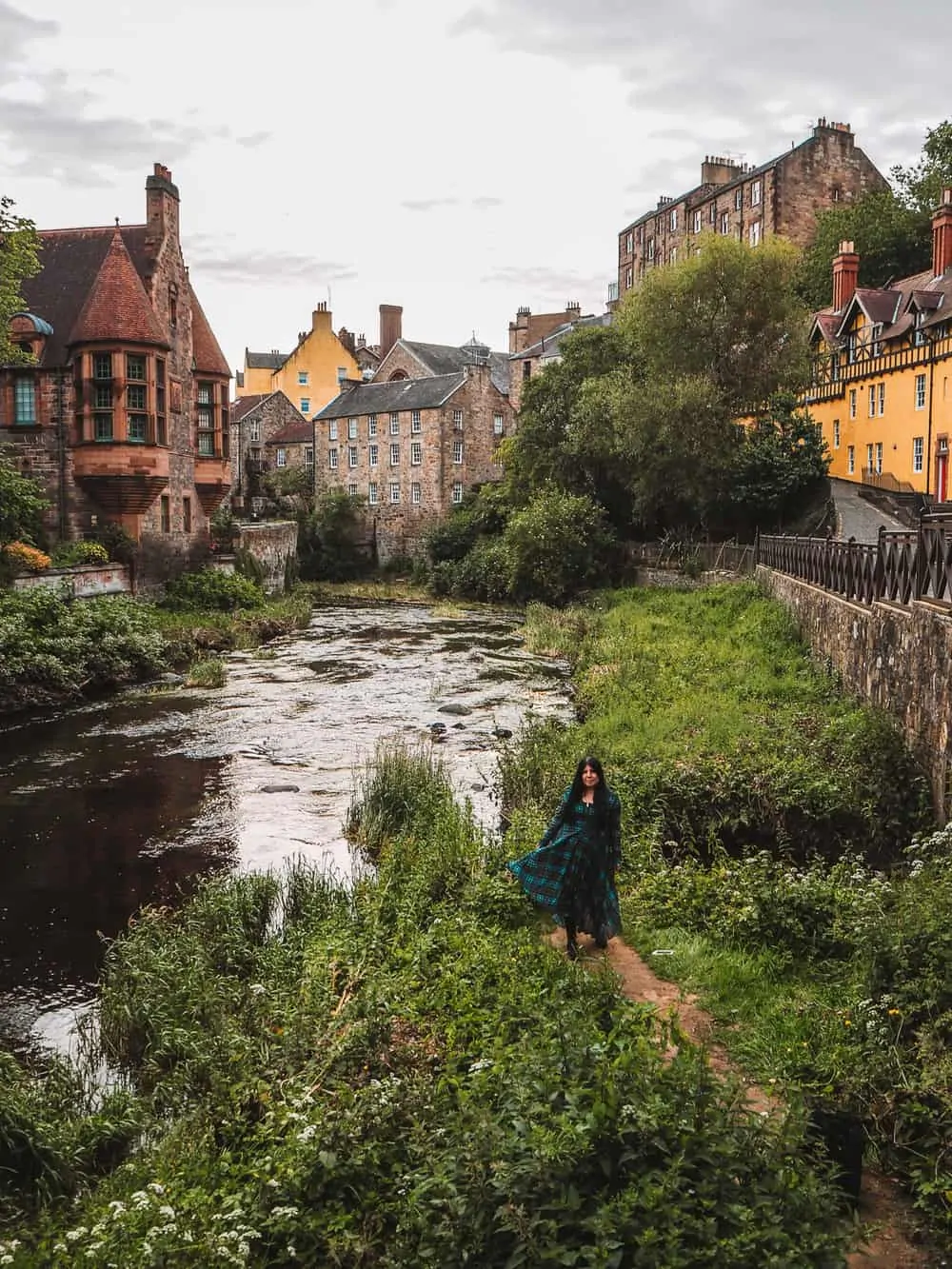 Looking for more Instagrammable places in Edinburgh?
If you want a comprehensive list of all the Instagrammable locations in Edinburgh, I have the perfect post for you.
I have visited Edinburgh plenty of times and have visited many of these locations before there was even such thing as an Instagram app. This includes the amazing Vennel steps that you can read about here.
In this guide, I cover fairytale castles, hidden courtyards, alleyways, palaces, ruins, cliffs, and even an extinct volcano!
So, make sure you read my Instagram guide to Edinburgh so you don't miss out.
Oh, and finally don't forget to read my big FAT bucket list!
Of course, Edinburgh is SO much more than just photo locations.
It's the friendly people, the lively bars, the delectable food, the stiff drams of whisky, jagged cliffs and historical castles – it's really the stuff of fairytales!
This city is an incredible introduction to Scottish culture. So, there are some important experiences that every tourist must have while visiting.
Make sure you read my ultimate guide of things to do in Edinburgh if it's your first time visiting.
Read more of my Edinburgh travel guides
The mystery of the Burke and Hare Coffin Dolls
Queen Mary's Bath House in Edinburgh
All the Outlander locations in Edinburgh
Harry Potter locations in Edinburgh
How to visit the Harry Potter graveyard
A complete guide for Armchair Books
Why you must visit Dean Village
How to find Bakehouse Close from Outlander
The hidden gem of Whitehorse Close
Signet Library Afternoon Tea review
Why you must visit the World's End
Discover Liberton Kirk in Autumn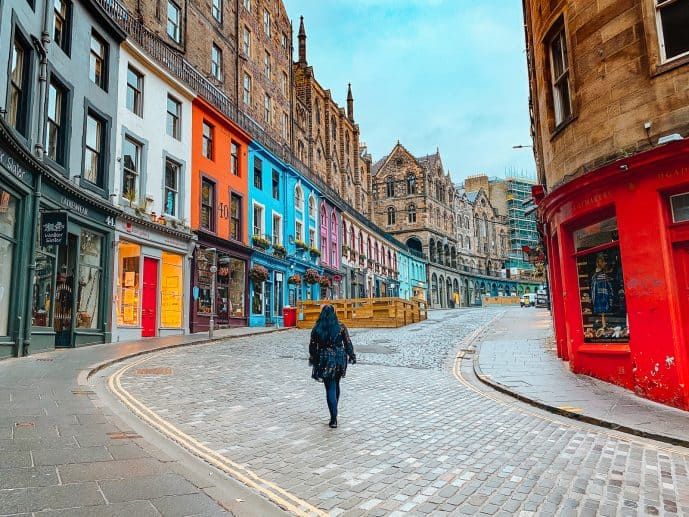 Read more of my posts on Scotland
Where is the pink castle in Scotland?
Why you must visit the Kelpies
A complete list of Outlander filming locations in Scotland
Cove Beach on the Scottish Borders
How to find the Devil's Pulpit
All the Harry Potter filming locations in Scotland
Scottish National Portrait Gallery review
Save this Circus Lane Edinburgh guide for later!