Claife Viewing Station has been a popular attraction and viewpoint for centuries in the Lake District.
It was previously a Gothic tower built during the Picturesque movement where wealthy tourists would admire the views or attend dinner dances.
Eventually, it fell into ruin and today it's a viewpoint that is owned and protected by the National Trust.
Many people see Claife Viewing Station on a Windermere Lake Cruise and make a note to visit. But, not many know how to find it on Windermere's west shore.
Here is how to visit Claife Viewing Station in the Lake District, the best viewpoint of Windermere!
Claife Viewing Station history
Before the 1700s, the Lake District was seen as an uncivilised and baron wilderness that people wanted to avoid.
That was until Thomas West published a guidebook to the Lakes in 1778 during the Picturesque movement.
People were looking for an alternative to the 'Grand Tour' of Europe, due to the Napoleonic Wars, and so turned to beautiful places in Britain.
Viewing stations started popping up all over the country, like the Wye Valley, and Claife Viewing Station was built in 1790 for wealthy tourists visiting Cumbria.
The land was owned by Reverend William Braithwaite and he commissioned the architect John Carr to build a Gothic Pavilion and summer house here.
It was inspired by Greek and Roman architecture that was popular in the Picturesque movement. Later, it was a dancing hall and people would attend social events at Claife.
The area was lit with Chinese lanterns and the wealthy would arrive by carriage in their finest dress. They would walk through 'pleasure grounds' to reach the top.
By the end of the 19th century, Claife had fallen out of favour and the building eventually fell into disrepair.
Today, it is a ruin that is owned and protected by the National Trust and a popular viewpoint to visit in Windermere!
Did you know? People in the 1700s used to be so awe-inspired by a beautiful view that they would faint! As a solution, tourists would use a 'Claude glass' (almost like a compact mirror) to see a view in the reflection to stop the swooning.
How to find Claife Viewing Station in the Lake District
Claife Viewing Station can be found on the west shore of Lake Windermere close to Hawkshead village and Far Sawrey. Click here for a Google Pin!
It is just a few minutes' walk from the Windermere Ferry station on the opposite side of Bowness.
There are many ways that you can visit Claife Viewing Station while in the Lake District;
Claife Viewing Station walk – The easiest way to visit is to take the passenger ferry from Bowness and then walk there. But, you can walk to the viewpoint from Hill Top, Hawkshead, Near Sawrey, and even Wray Castle.
Windermere ferry from Bowness – You can take the Windermere car or passenger ferry from Ferry House to Ferry Nab. Windermere has a train station and is accessible by many bus links in the Lake District.
Drive to Claife viewing station – You can drive to Claife Viewing Station from Wray Castle, Ambleside, and Hawkshead. Head to the National Trust Harrowslack car park.
Note that the drive to get to Harrowslack is very narrow with limited passing places. Drive with care!
Claife Viewing Station opening times and prices
Claife Viewing Station on Windermere's West Shore is open 24 hours a day all year, you can visit at any time.
I would say that the best time to visit is on a sunny day in the afternoon or around sunset. It will be a bit quieter this way too.
Claife Viewing Station is also completely FREE to visit in the Lake District!
Claife Viewing Station parking
The nearest car parking to Claife Viewing Station is National Trust's Harrowslack parking area there is also parking at Ash Landing Nature Reserve.
This is a 5-minute walk to the viewpoint on the roadside along Windermere's west shore.
Parking is FREE for National Trust members but non-members have to pay for parking.
Harrowslack parking prices are 2 hours for £5, 2-4 hours is £6.50 and you can pay £7.50 for all-day parking.
Harrowslack car park address is LA22 0LR. Click here for a Google Pin!
How to find Claife Viewing Station
The walk over to Claife Viewing Station & courtyard is only 5-10 minutes from the Harrowslack Car Park.
Exit the car park and take a right alongside Windermere shore. You'll be walking on the road to the viewing station so always keep a look out for vehicles.
As soon as you reach the end of the road, you'll see the folly gate for Claife Viewing Station directly ahead of you.
Enter the central courtyard which has Joey's Café and sun terrace. You can enjoy a drink before or after your visit.
In the courtyard, you'll find some National Trust information boards about the history of the viewing station. I would recommend reading these before you head up.
When you're ready, you can then walk straight up the hillside and loop around to the viewpoint! Note that the walk through the woodland is quite steep in parts.
Exploring the viewpoint station
When you reach the top of the hill, you'll see the ruins of Claife Tower. It's strange to think that a little over two hundred years ago this was a building where people would attend dinners and dance.
Today, it's a ruin and you'll see two floors. The bottom is undercover and you'll get a view of Windermere out of the three gaps in the wall.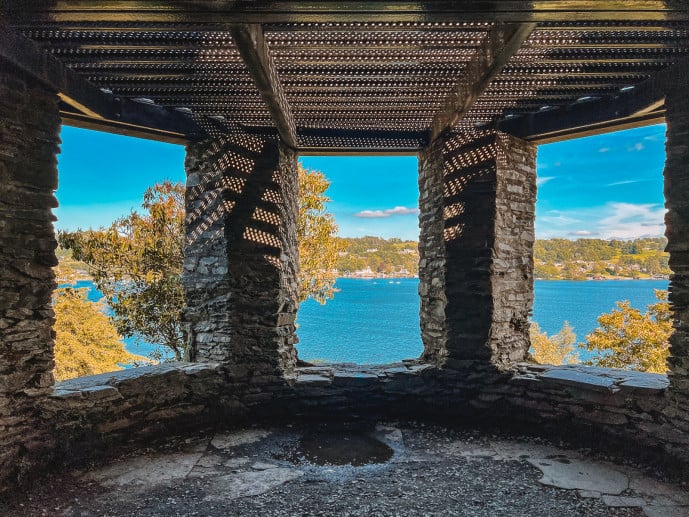 If you take the spiral staircase to the top of Claife Viewing Station this is where you can see unobstructed views of Windermere!
There is a central platform as well as windows on either side. You'll notice that these are lined with stained glass.
A sensory experience: Claife stained glass
Back when the viewing station was a Gothic tower, the first floor had a three-sided bay window with stained glass to create a sensory experience for visitors.
It was used to help those looking at the view to imagine the scene in different seasons, daylight, and weather scenarios.
They would often accompany this viewing with the Aeolian harp to enhance their senses.
Today, the National Trust carries on this tradition and you can look through the different coloured glass to imagine the scene.
Here is what each stained glass window means;
Yellow – to provoke thoughts of Summer
Orange – to provoke thoughts of Autumn
Light Green – to provoke thoughts of Spring
Light Blue – to provoke thoughts of Winter
Dark Blue – to imagine the scene in Moonlight
Lilac – to imagine the view in a thunderstorm (this was my favourite one)!
Red – the sign didn't say what this meant but it looked like watching the view in a scary vampire or zombie movie as the view turned a blood-curdling red
Why not take a look through all of them and see if it changes your perspective on the view?
The best viewpoint of Windermere
The Claife Viewing Station is, in my opinion, the best view of Windermere in the Lake District.
I couldn't believe how easy it was to find from the car park and you get unobstructed views of the water.
There aren't many places on Windermere where you can get this high without a significant hike and so it was really great to enjoy the views from up here.
I would definitely suggest visiting on a sunny day as you can see for miles. You watch the boats sailing and bobbing in the harbour, picturesque cottages, islands and hilly peaks for miles!
Make a stop at Joey's Café at Claife
After you're finished admiring the view, you must make a stop at Joey's Café at Claife in the courtyard.
The cottage in the Claife courtyard has been here since the tower but it used to be called 'Station Cottage'. It used to be home to a lady who would greet visitors heading up to the tower. William Wordsworth even enjoyed a tour!
It eventually became a Victorian tea garden and today Joey's Café carries on the tradition of a café on Windermere's west shore.
Joey's serves a selection of teas, coffees, cold drinks, freshly made cakes, and light lunches. You can sit in the courtyard or on their sun terrace!
Joey's Café at Claife opening times are typically 10 am – 4 pm daily
Where to next in the Lake District?
If you wanted to explore more of Windermere, then I would highly recommend taking a Windermere Lake Cruise.
That way, you can see incredible locations like Bowness-on-Windermere, Windermere Jetty, Museum, Ambleside Pier, Ferry House, Brockhole, and Wray Castle!
From Ambleside Pier, you can easily take a bus or walk to the town and amazing places like Grasmere and Rydal.
From Windermere's west shore, you could head to Ash Landing Nature Reserve or drive further inland to places like Beatrix Potter's cottage Hill Top, Hawkshead Village, and Coniston Water.
Read more of my Lake District guides
Amazing places to visit in Grasmere
Why you must visit Grasmere Gingerbread
A complete guide for the Allan Bank
Places to visit on a Windermere Lake Cruise
How to find Rydal Hall Waterfall
Best things to do in Ambleside
How to visit Hodge Close Quarry
Witcher filming locations in the Lake District
Save how to visit Claife Viewing Station for later!