Did you know that Clava Cairns prehistoric stone circle in Inverness was the inspiration for Craigh Na Dun in the Outlander novel and series?!
The great news for Outlander fans is you can visit the stone circle for yourself and recreate the scenes from the story.
However, no time travel back to Jacobite Scotland or meeting any red-haired Highlanders is guaranteed. I know, Sigh!
In this complete Clava Cairns Outlander guide, I'm going to give you all the information you need about Clava Cairns, how to visit the site and what to look out for.
Maybe it will be you that turns out to be the lass that is gone from the songs. Only visiting will tell!
What is Craigh Na Dun in Outlander
I'm pretty sure you'll already know Craigh Na Dun if you're a fan of Outlander but just so we're singing from the same hymn sheet, I'll put a little recap in for good measure.
In the Outlander novel and series, Craigh Na Dun is a pre-historic stone circle near Inverness.
It's where Claire Randall, Beauchamp (and later Fraser) travels through the stones from 1945 to two centuries earlier and ends up in 18th century Jacobite Scotland!
Craigh Na Dun is where the Outlander stories began and they also appear throughout the tale at different stages. But, I don't want to give too much away if you're new. So, I'll leave it at that.
Clava Cairns Outlander location: the inspiration for Craigh Na Dun
I'm sorry to burst your bubble now but Craigh Na Dun is a fictitious place. There is no such place with that name in Scotland.
But, the lasting legacy of prehistoric stone circles is something that is factual in British history.
There are many stone circles that have stood the test of time in the UK, we're almost famous for it! The most famous is Stone Henge in England.
In Scotland, there is Clava Cairns in Inverness.
Of course, there are many more throughout the Scottish Highlands. But, in Outlander, the story starts in Inverness. So, Clava Cairns is a great candidate for being the inspiration for the famous Craigh Na Dun.
The stone circle doesn't look exactly the same as the series. In fact, it's only one standing stone at the site you can visit to re-enact the scene for a photo opportunity.
That doesn't seem to stop Outlander fans though and ever since it has been attracting visitors in the bucket load to get a snap with the stone, including me!
I had an awesome time here getting some shots and even created a little video of me disappearing for fun haha.
Just remember that this is a historic attraction and not to damage the area or litter. It's a protected site!
The history of Clava Cairns in Scotland
Beyond an Outlander location, there is so much more to offer in a visit to Clava Cairns.
As a certified history geek, I am in love with places that make me feel like I've travelled through time!
Even though I'm from Wiltshire in England, the HOME of Stone Circles, they still fascinate me all the time.
Clava Cairns is a Bronze age burial and religious site dating back some 4,000 years that comprises two tombs or Cairns; Balnuaran of Clava and Milton of Clava.
Balnuaran of Clava has two passage graves, a kerb ring cairn and a central ring cairn with the standing stones close by.
This is the site that you will most likely visit as it's closest to the car park and has the Outlander stone in it for a time travel selfie!
The Milton of Clava has the remains of a medieval chapel, another cairn, and some more standing stones.
This is a smaller site that sits in a field a little further along. When I got here it was torrential rain and so I decided not to venture further.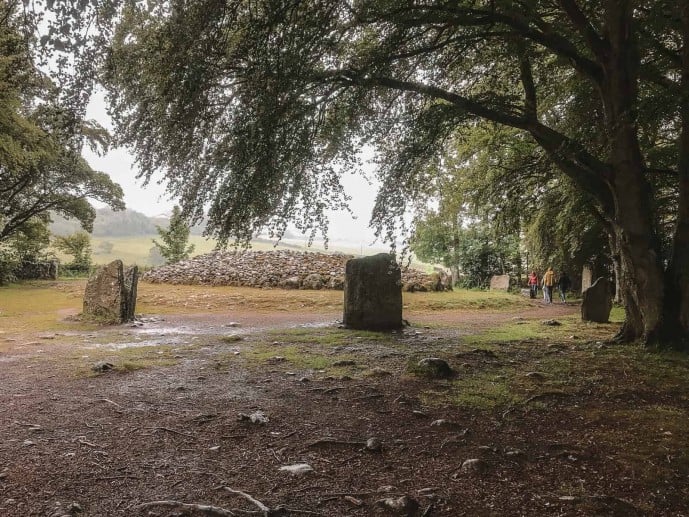 Traditions at Clava Cairns
Despite numerous excavation works carried out here, very little has been discovered about the people who used Clava Cairns as a religious site and burial ground. But, some assumptions have been made based on Bronze Age research.
Like most stone circles, these were built around the sun and many archaeologists believe that these were used to praise the sun on the solstice and equinox. A tradition that stills runs today in the UK and I usually celebrate each year!
Considerable time and effort were made to make sure the alignment of the stones was based on sunrises and sunsets.
Only one or two people were buried in each tomb, so, they would have been very important indeed like a chief.
Although it was built 4,000 years ago, the burial site continued to be used well into the medieval era with the remains of an un-dated chapel being on the site.
Kinloch Rannoch – Outlander film location for Craigh Na Dun
If the Clava Cairns Outlander selfie isn't enough and you're eager to visit the film location of Craigh Na Dun, then you need only head to Kinloch Rannoch Moor in Perthshire.
You will need to drive there as it's in a remote location and, of course, the stones aren't there. But, the views are drop-dead gorgeous and you can visit the spot where Claire travelled through the stones…or polystyrene haha!
It's private land that the owners kindly allow fans to visit so be prepared to be moved on if necessary. However, it's definitely worth a visit for die-hard fans.
Related post – how to find Craigh Na Dun from Outlander!
Callanish Stone Circle, Isle of Lewis
Another location that looks much more like Craigh Na Dun in series is the world-famous Callanish Stones on the Isle of Lewis.
These are a Neolithic stone circle dating back to 5,000 years ago. They're made up of 13 stones with a monolith in the middle, just like the stones, Claire travelled through! There is also a chambered tomb used for burials nearby.
In folklore, the Callanish stones were thought to be people who were turned to stones as they didn't convert to Christianity.
But, historians think they were used for religious ritual purposes in the Bronze Age or for planetary observations which I think is incredible for such a long time ago.
Click here to read my complete guide for visiting the Callanish Stones!
How to get to Clava Cairns
Clava Cains is around a mile from Culloden Battlefield and 6 miles out of central Inverness.
It's easiest to drive or walk as there is no public transport that can drop you to the stone circle.
If you're not going to be driving in Scotland, it may be worth going on an Outlander tour that covers Clava Cairns. Here are some options;
Practical information for visiting Clava Cairns
Clava Cairns Ticket prices: Clava Cairns is absolutely FREE
Clava Cairns Opening times: It is open 24 hours a day, 7 days a week
Clava Cairns Parking: There is limited parking of around 20 spaces at Clava Cairns, but this does get full at peak visitor times. There is also room for large camper vans and minibuses. It does get quite muddy in wet weather with potholes, so be prepared for that!
Culloden Battlefield
If you're in the Inverness area, there is another location that played an important part in Scottish History.
Culloden Battlefield memorial marks the location where thousands of Scottish men lost their lives for their country during the Jacobite rebellions.
Also, there are many English soldiers who lost their lives here in unmarked graves and still unaccounted for.
This battle marked the end of the Scottish Clans and is still felt by many even today.
After Culloden, the Scottish Highlands were almost entirely abandoned and avoided until Queen Victoria took up a royal residence there.
Yes, it was an Outlander location and you can get a picture of the Fraser memorial stone from the series. But, remember, this isn't a visit for selfies.
Personally, I was shocked and appalled by the behaviour on my visit. I overheard one girl say she only visited for her Instagram, which I just found so disrespectful.
You wouldn't take a selfie smiling with a gravestone, so why here just because it's in a TV series?
This is a graveyard and in the UK we are solemn around memorials. So, make sure if you visit that you show respect.
As well as walking around the memorial field, the award-winning visitor centre run by the National Trust for Scotland will take you through all the events leading up to the Battle of Culloden.
It's an extremely interactive exhibition with thousands of artifacts, short films, and in-the-round reenactments that gave me the chills.
Click here to read more about the Culloden Battlefield that is featured in Outlander
Top Outlander locations to visit in Scotland
If you're on an Outlander tour of Scotland, there are so many Outlander locations you can visit while you're here.
Make sure you read my amazing lists of filming locations below;
Falkland / 1945 Inverness
The place where it all began in series one! Falkland village in Fife was used to portray 1945 Inverness and as soon as you drive in it looks exactly the same as the first episode.
Why not have a wander about and look at all the Outlander locations in the area including the Bruce fountain or pop into Mrs. Baird's B&B for a cuppa?
You can even stay in the same room that Claire and Frank did, not the ghost of Jamie isn't guaranteed to appear.
Read my complete Falkland Outlander guide here
Midhope Castle / Lallybroch
This castle is every Outlander fan's favourite, why not become the new Laird or Lady Broch Tuarach by visiting Lallybroch at Midhope Castle?
You can't go inside but it's well worth a visit to get a snap outside!
Find out how to visit Lallybroch from Outlanderin my complete travel guide
Culross / Cranesmuir
Culross first appeared in Outlander as the village of Cranesmuir in season one and it later appeared in season 2 and 4 as well.
You can find Geillis Duncan's home at Mercat Cross and the gardens of Castle Leoch at Culross Palace. Even the West Kirk out of the village is where they filmed the Black Kirk too!
Click here to read my complete guide with all the Outlander locations in Culross here!
Doune Castle / Castle Leoch
Doune Castle is famous on-screen starring in Monty Python and Game of Thrones, but lately, it has become popular as Castle Leoch in Outlander!
You can visit the explore of the seat of the MacKenzie clan, dress up in traditional clothes and even have an audio-guided tour with the voice of Sam Heughan who plays Jamie Fraser!
Read my completre guide on how to visit Castle Leoch here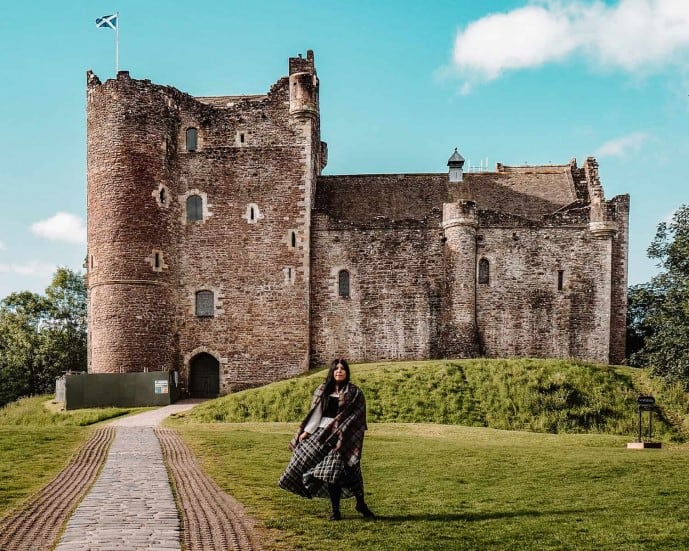 Devil's Pulpit / Liar's Spring
This is the Liar's Spring in 'The Garrison Commander' where Dougall brings Claire to make sure she is telling the truth!
This is not the easiest location to access and I would warn you to use caution when visiting. The Devil's Pulpit is a 60ft gorge near Stirling that can only be accessed by Jacob's ladder that is harder than it looks and it's quite risky.
It's a valley full of emerald moss, flowing waterfalls, and has a blood-red river snaking through it!
If it sounds like a fairytale or a dram you would be right to think so, but I can vouch that it is real. Click here to find out how to find the Liar's Spring in Outlander!
Drummond Castle Gardens / Versailles
Drummond Castle Gardens is one of the finest examples of a manicured garden in Scotland and it doubled up to play the gardens of Versailles in the Outlander series.
You will truly feel like a member of King Louis' court while you're here so make sure you leave enough time to explore the grounds.
Here's a complete guide for the Outlander filming locations in Drummond Castle Gardens
Bakehouse Close / Carfax Close
The Royal Mile is the most popular street in Edinburgh and it has some famous Outlander locations too!
Who could forget that heart-wrenching moment that Claire and Jamie are reunited in series 3? That scene happens in Carfax Close where Alexander Malcolm sets up his print shop.
There isn't a Carfax Close in Edinburgh but you can visit the film location of Bakehouse Close. You can walk through the tunnel and up the stairs, but don't expect A. Malcolm or Jordi to be there!
Or, if you're in the city for a while, why not check out my Outlander walking tour of the Royal Mile here.
Blackness Castle / Fort William
The dismal Fort William where Jamie was flayed and given a hundred lashes upon a hundred lashes can be accessed in Queensferry on the Firth of Forth.
Blackness Castle is nicknamed 'the boat that never sailed' and sits proudly on the shore. You can see the courtyard used in the series along with where Claire and Jamie make their escape!
Read my complete Outlander guide for Blackness Castle here!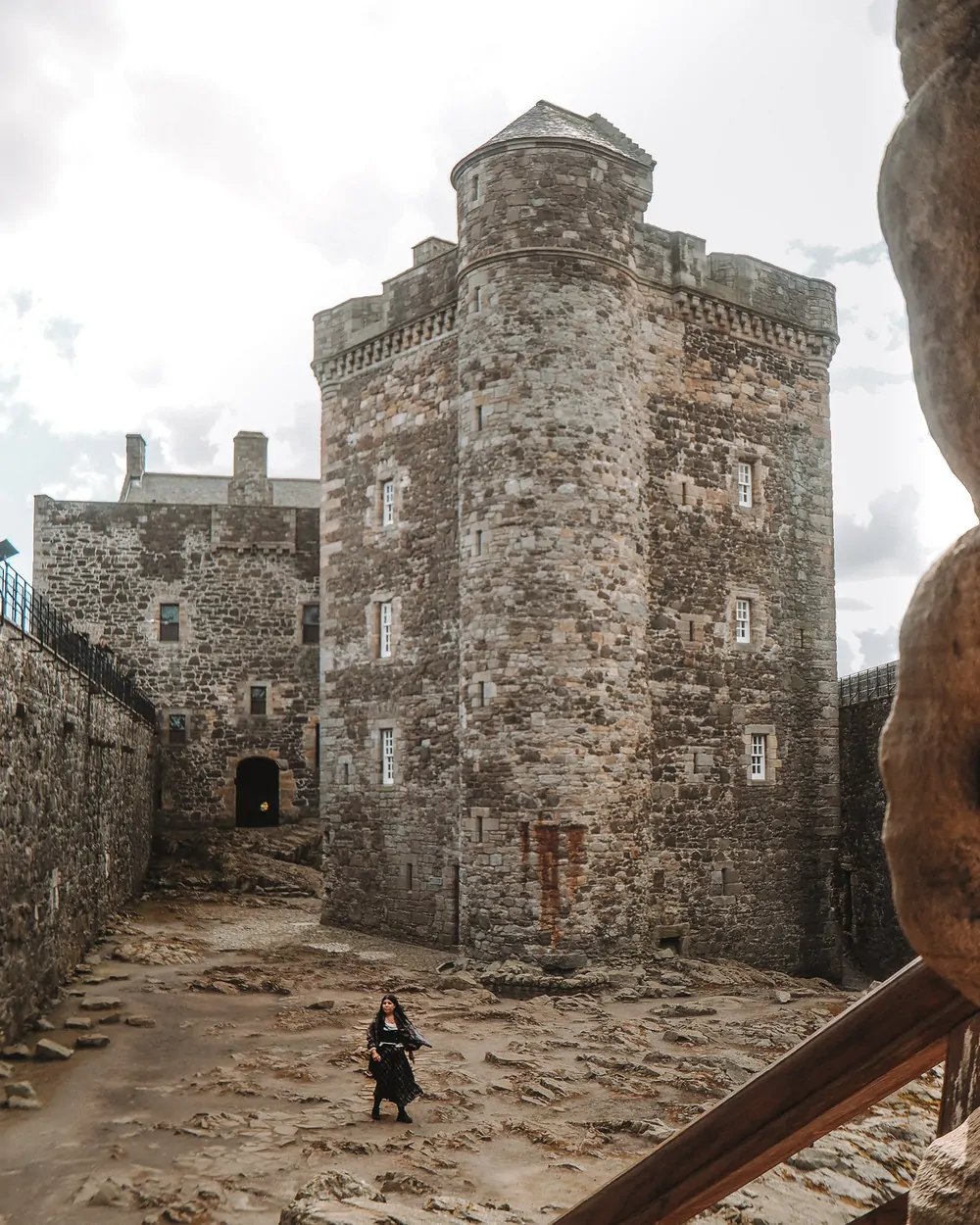 Linlithgow Palace / Wentworth Prison
If you would like to see the spot where Claire rescues Jamie from Wentworth Prison, Linlithgow Palace is the place.
It's famous for being the birthplace of Mary Queen of Scots and a royal residence of the Stuarts. You can get lost in the labyrinth of rooms and corridors!
In Outlander they used some of the rooms in the palace as prison cells.
Read my complete Outlander location guide for Linlithgow Palace here
Even more Outlander locations in Scotland
In the city centre, you can grab a bite to eat in the World's End Tavern where Mr Willoughby got into a brawl, or the Colonnades has an afternoon tea where you'll be transported into the Governor's Mansion in Jamaica. Or, head inside Tweeddale Court to see where Claire and Fergus reunited.
Roslin Glen featured in Season one with its gunpowder mills and Glencorse Old Kirk was where Jamie and Claire were married!
Craigmillar Castle in Edinburgh is also one to visit as it doubled up as Ardsmuir Prison or visit Summerhall to see the lecture hall where Claire met Joe Abernathy.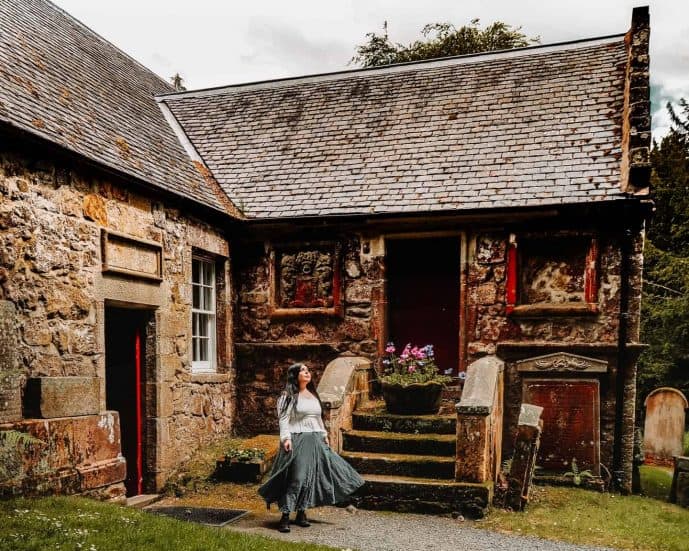 You can visit Deanston Distillery to see Jared's storehouse in Le Havre, or visit Le Havre port at Dysart Harbour. Nearby is Aberdour Castle that was the Abbey in Scotland where Jamie recovers after Wentworth Prison.
Bo'ness is also where Claire and Frank say goodbye. Hopetoun Estate has many Outlander locations onsite like Maison Elise, the Duke of Sandringham's red room and Abercorn church that featured in season 4.
In East Lothian, you can visit Gosford House that featured as Helwater Estate or Lallybroch Mill in Preston Mill. Tibbermore Church also featured as the Witch Trial location.
Or, click here to learn How to find the Outlander Witness Trees from Fraser's Ridge!
Save time and book a tour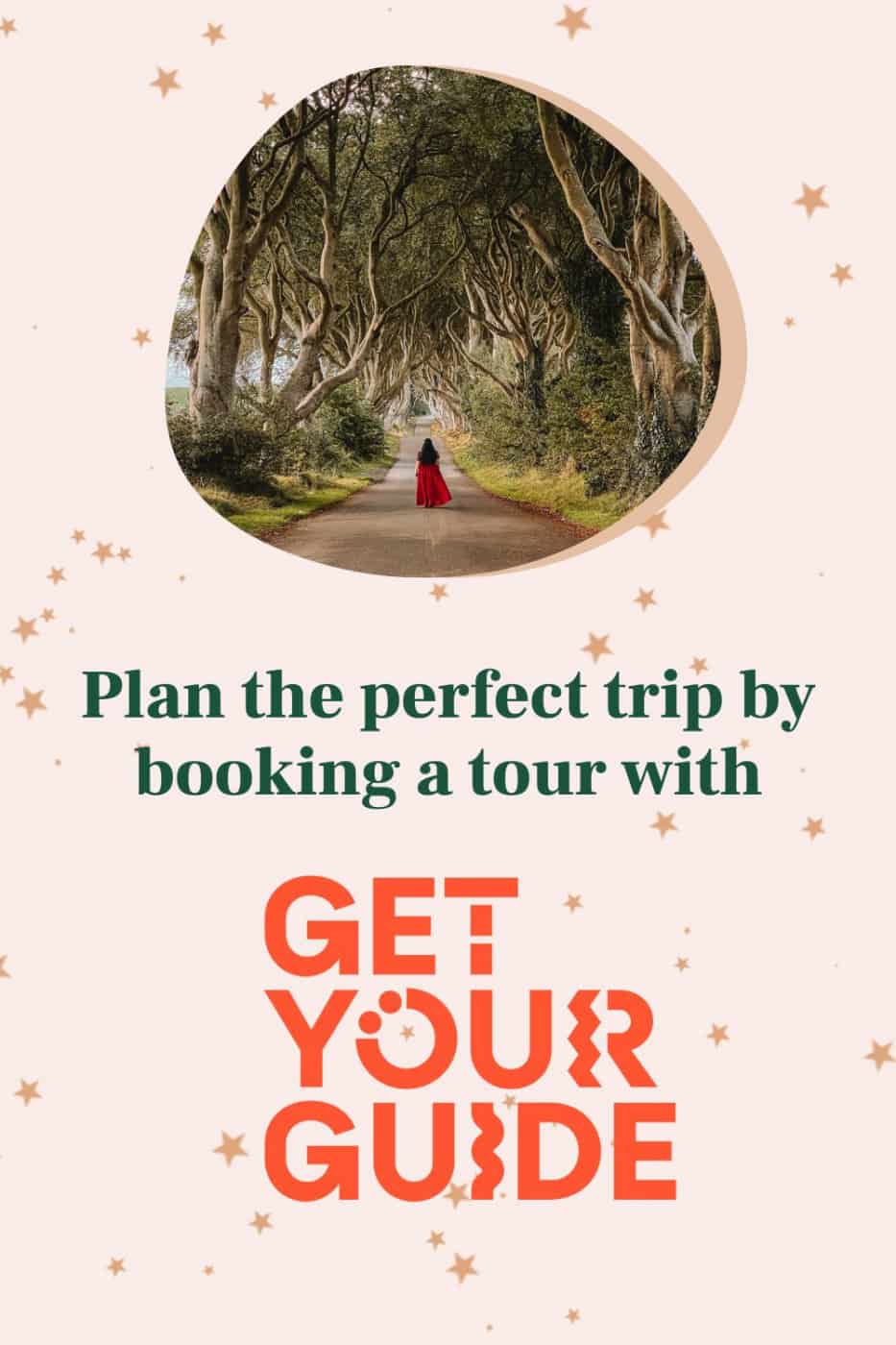 Book tours & tickets for Inverness!
Save this Clava Cairns Outlander guide for later!