When I flew to Dublin last year there was one thing that I had to go and explore while I was there, the greener than green Irish countryside.
If you're looking for the best Cliffs of Moher tour from Dublin then Irish Day Tours is a good company to pick.
Here's a review of my Irish countryside adventure!
It's no secret I'm a bit of a history buff and Celtic history has piqued my interest since I was a child.
I had watched Tristan and Isolde, Ps. I love you and many other films set there and thought if I ever went to Ireland, I had to get off the beaten track.
Most places in Dublin run tours to the Cliffs of Moher and so I hopped aboard. This was the perfect opportunity to see some other highlights along the way.
If you are going to get a tour, be warned you will be up at the crack of dawn as there's a big day of sightseeing ahead.
Alternatively, you can hire a car and make your own way around.
I went with Irish Day Tours who were friendly, fantastic, and provided amazing commentary along the way.
Barack Obama Plaza at Moneygall
You are probably just as surprised as me reading that previous US president Barack Obama is associated with Ireland. But, it's completely true.
Apparently, Obama has roots here and his ancestral home in Moneygall if you trace back his history.
He came to visit in 2011 and they decided to name a service station Plaza after him so that his name lives on.
In true American fashion, it has some US popular franchises inside such as Tim Horton's and Papa John's.
Limerick
Your tour will take you through Limerick which is a beautiful little town on the River Shannon and home to King John's castle.
It wasn't even quite daylight when we arrived and so it was spectacular to see it at dawn.
Make sure you hop off and grab some snaps of the bridge, it's absolutely stunning.
Cliffs of Moher
The Cliffs of Moher is the highlight of the tour and it is a beautiful highlight of the Irish coastline.
Your tour should give you a good amount of time to walk around the complex so you can view this landscape masterpiece at every angle.
I always love visiting the coast and find it so refreshing to breathe in the sea air. I visited in winter and I saw the sky change nearly every minute.
It created some wonderful picture opportunities, but I was caught in the rain more than once or twice so dress well!
Doolin
Your bus will most likely stop for lunch at the little village of Doolin.
There will be a restaurant to have lunch, but if you'd rather explore around than dig into a stew.
I'd also take the opportunity to explore as it's got some hidden gems to uncover.
Dare you stand on the Titanic ledge?
An interesting part of the tour was stopping off at The Burren to visit the 'Titanic Ledge'.
As you make you're way over the rocky terrain, you will be greeted by some amazing views of the coastline. Then, the famous ledge which juts out into the ocean will come into view. It's just waiting for you to stand on it!
Of course, couples sang the theme tune and acted like Jack and Rose. But, I just had to stand on it for myself – who needs Leonard DiCaprio?
So, I made my way down the rocks. No one was brave enough to come down with me to take a picture so I have one of me from above.
I still remember the feeling and I was pretty terrified with shaky legs than feeling 'on top of the world'.
I would definitely do it and take the plunge, make sure you ask for help if you're uneasy on your feet. It's a long way down the cliff.
Dunguaire Castle
My absolute favourite view in all of the Irish countryside that I explored that day was Dunguaire castle.
It was frequented by famous literary figures such as W.B Yeates and Oscar Wilde for some pretty wild parties I hear.
I couldn't go inside but admired the walk around and view of the castle in Dunguaire.
The clouds cleared and pockets of the blue sky came out to play. The whole place was like a postcard.
Make sure you make the most of your time there. It's picture-perfect and quintessentially Irish!
Finally…
The countryside tour was probably my favourite part of my trip to Dublin.
When I go back, I want to see so much more as I will never get bored looking out the window at all the hills, rocks, rivers, and brooks along the way.
Save time and book a tour!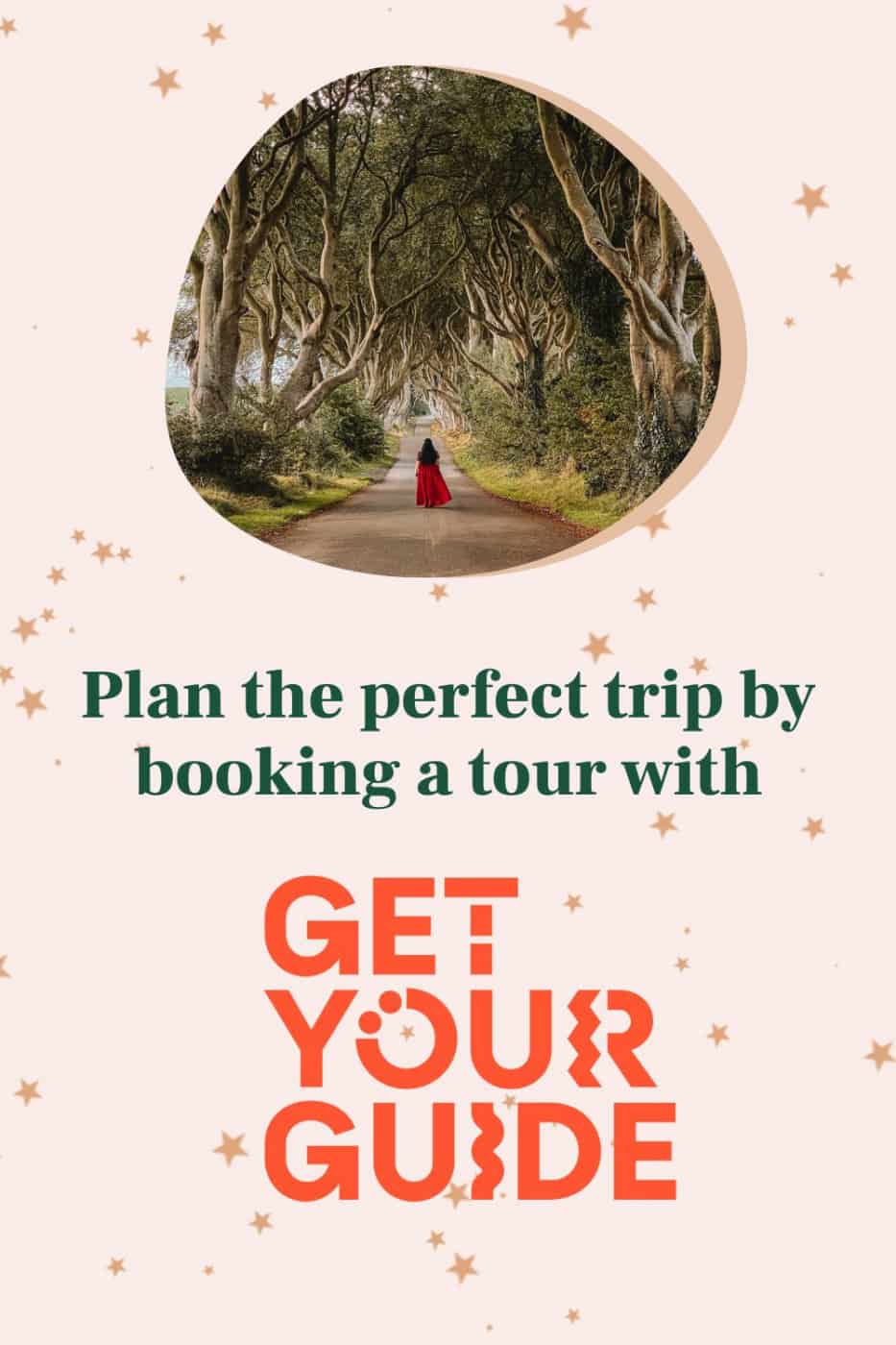 Book tours & tickets for Ireland!
Read more of my Ireland blog posts
How to visit and capture Deck of Cards Cobh
How to visit the Dark Hedges in Northern Ireland
Why you must visit Kinbane Castle
Magical Tollymore Forest Park Game of Thrones filming locations
How to visit Inch Abbey aka Riverrun in Game of Thrones
How to visit Lough Tay aka Guinness Lake
How to visit Cushenden Caves in County Antrim
How to find Umbrella Street Dublin
How to find the Ballinastoe Boardwalk in Wicklow
Visiting the Guinness Storehouse in Dublin
Marsh's Library – visit the oldest public library in Ireland