The Clifftop Cheddar Gorge Walk is one of the best walks in the Mendip Hills and even Somerset.
It's a spectacular hike that takes you over the cliff edges and pinnacles of Cheddar Gorge and it has excellent panoramic views of the Somerset Levels.
Many people think you need to pay for Jacob's Ladder to do this walk but you don't have to. There are many free options from Cheddar Gorge village as well.
Although it is steep and a little bit of a workout, you won't regret putting in the effort for these incredible views.
Here is a complete guide for the Clifftop Cheddar Gorge Walk from Jacob's Ladder and how to do this walk for FREE!
Introducing Cheddar Gorge
Cheddar Gorge is one of Britain's most spectacular landmarks. It's both an Area of Outstanding Natural Beauty (AONB) and a Site of Special Scientific Interest (SSSI).
It's 3 miles long and 400 feet deep making it England's largest gorge. It's made of limestone that has sheer cliff faces, pinnacles, and a massive system of caves beneath it in the Mendip Hills.
It's estimated that it was formed some 300 million years ago and some of the first settlers made a home here 13,000 years ago in the Old Stone Age.
Cox's Cave was discovered by Victorian explorer George Cox in 1837. Cheddar Gorge became a popular tourist attraction around 1870 with the introduction of the Cheddar Valley Railway.
Around that time, Jacob's Ladder was created by Rowland Pavey with the neighbouring Pavey's Cave, White Tower, and Joyland theme park.
Between 1892 and 1898 Richard Gough discovered the intricate cave systems beneath the surface which are now known as Gough's Cave. Queen Victoria visited and marvelled at the spectacle.
In 1903, 'Cheddar Man' was discovered which is Britain's oldest complete skeleton that dates back to 9,000 years ago.
The caves were thought to have been used to mature cheese in pre-historic times – Cheddar cheese is now famous the world over.
Today, the gorge sees over 500,000 visitors each year and there are many exciting things to do here on a day out!
What is the Clifftop Cheddar Gorge walk?
One of the best things to do in Cheddar Gorge is the Clifftop walk. An exciting circular hike that takes you over both sides of the cliff gorges.
You can start this hike at Jacob's Ladder, from a National Trust path in the village or at Black Rock to see some best views of Cheddar Gorge from above.
The walk will take through the forest and over the clifftops where you can see pinnacles, the road snaking through the gorge below, and panoramic views over Somerset Levels.
Some important information for the Clifftop Cheddar Gorge Walk:
Where: Cheddar Gorge either from Jacob's Ladder (paid), Lynch Lane (free), Culfic Lane (free), or Black Rock Nature Reserve (free)
Difficulty: Moderate and a challenging trail
Distance: 3.5 – 4 miles or 6.5 kilometres (dependent on your preference)
Time: 1-2 hours (leave a little more if you're slow like me or want to take photos)
How to visit Cheddar Gorge in Somerset
Cheddar Gorge is located in the Mendips Hill of Somerset, a county in the South West of England.
You can easily access Cheddar Gorge from the M5 motorway heading south towards Devon and Cornwall. It's clearly signposted and you can alight at Junction 22.
It's a 45-minute drive from Bristol, a 30-minute drive from Weston-super-Mare, and a 30-minute drive from either Wells or Glastonbury.
There is no train station at Cheddar Gorge, the closest is Weston-super-Mare but you can take a bus from either Weston or Wells. Its service 126 by First Group.
Cheddar Gorge address is Cheddar BS27 3QF. Click here for a Google Pin!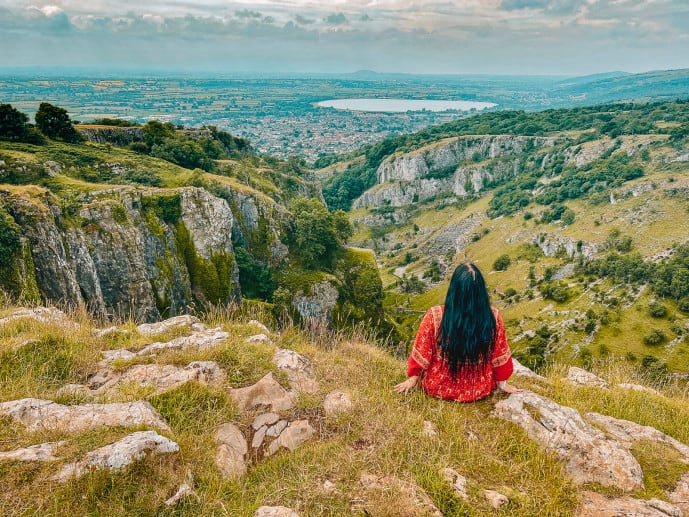 How much is the Cheddar Gorge walk?
Although the land is owned by the National Trust and is free to visit. Cheddar Gorge does charge visitors to use Jacob's Ladder to access the Clifftop Cheddar Gorge Walk.
This comes as part of their attractions ticket which includes Gough's Cave, Cox's Cave, Museum of Pre-History, Lookout Tower, Jacob's Ladder, and a 'Beyond the View' movie.
Cheddar Gorge ticket prices for all their attractions as a day ticket is £20.95 for an adult and £15.70 for a child. You can book your tickets online before you arrive.
It's quite cheeky really as this clifftop walk is free. Luckily, there are some ways to skip Jacob's Ladder to visit the clifftop on your visit.
Important: If you just wanted to do the walk, don't pay to use Jacob's Ladder. There is the option to do this walk for free. Scroll down to find out how!
Can you do the Clifftop Cheddar Gorge walk for free?
Yes, many people don't realise but you can do the clifftop Cheddar Gorge walk for free without paying to walk up Jacob's Ladder.
There are three ways to do the Clifftop Cheddar Gorge walk for free:
Option 1: You can walk up Culfic Lane near Lion Rock tearoom from Cheddar Gorge and follow the National Trust trail here.
Option 2: From Cheddar Gorge village, walk up a side road called 'The Lippiatt' by the Edelweiss Café. Then, turn left on Lynch Lane and you'll find a National Trust right of way down there that bypasses Jacob's Ladder.
You will need to pay for Cheddar Gorge parking. However, this is not for the faint-hearted and it is a seriously steep climb. Click here for a Google Pin.
Option 3: You can also park up at Black Rock Nature Reserve which is at the top of the gorge away from the main attractions. It has free parking and access to the Clifftop Cheddar Gorge walk from there.
If you're not bothered about the caves and just wanted to do the walk, all of these above options can save you some serious cash.
Here is a Google Pin for the Black Rock free parking location and I've some directions on how to do this walk for free further down the post.
On my visit, I paid to do all the Cheddar Gorge attractions (which are amazing!) and so I will firstly be writing about the walk starting from Jacob's Ladder.
Cheddar Gorge parking
Cheddar Gorge parking is not included in your Cheddar Gorge attraction tickets and there are many places you can choose to park in the area.
Many people like to park up near Gough's Cave at the very top of the Cheddar Gorge attractions or at the bottom in the first car park you'll see on Cliff Street opposite The Black Dog Pub.
I personally like to park in the centre next to Cox's Cave near the Crazy Golf. There is a small car park directly opposite Jacob's Ladder which makes it very convenient for this walk.
There is some free parking in Black Rock that you can use but it will be quite a long walk down to the main attractions if you plan to visit these.
Parking here costs £5.50 for the day and you can pay by cash or the paybyphone app. Be warned that mobile signal here is terrible! The parking machines at the Cheddar Gorge car parks do not take card payments.
How long is the Clifftop Cheddar Gorge walk?
I would allow around 1-2 hours to complete the Clifftop Cheddar Gorge walk if you're heading there from Jacob's Ladder and want to cover the two gorge ridges.
It's around 3.5 – 4 miles depending on where you want to end it. But, the views are spectacular.
It says that the pinnacle viewpoint is around 45 minutes from the Cheddar Gorge Lookout Tower but I would allow a bit more time as it's a very steep hill.
I spent around 2-3 hours on this walk as I was taking lots of photos and had lunch! You may be much quicker.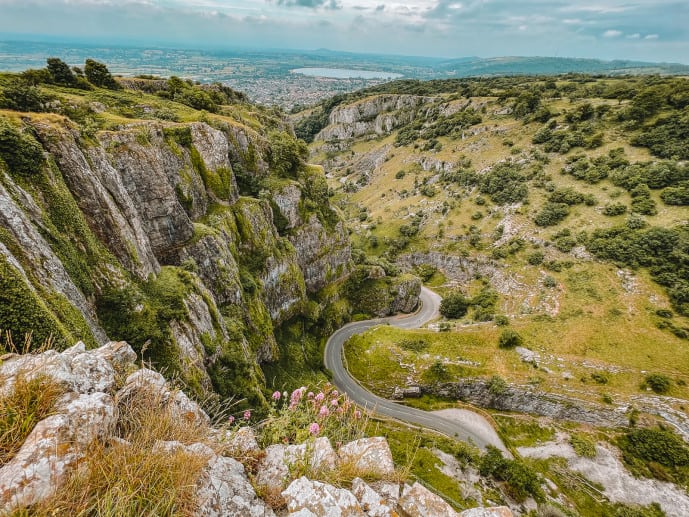 Clifftop Cheddar Gorge walk directions via Jacobs Ladder
As I wanted to visit all the Cheddar Gorge attractions on my visit, I had already paid for Jacob's Ladder. So, it made sense I visited the clifftop this way.
The entrance to Jacob's Ladder can be found just beyond Cox's Cave where there is a small visitor centre.
Here, you can buy tickets for Cheddar Gorge or you present your Cheddar Gorge attraction ticket to the staff there. They will punch a hole in the ticket to mark the attraction as visited and off you go!
Alternatively, you can climb up Jacob's Ladder after you have left Cox's Cave as both exits merge together.
Jacob's Ladder is a historic attraction of Cheddar Gorge next to the former Pavey's Cave that is now part of Cox's Cave.
It was originally built by Rowland Pavey in 1869 and he also built the White Tower (now the Lookout Tower) and Joyland theme park that closed down years ago.
Apparently, he was a bit of an eccentric who believed all humans had invisible wings. To prove his theory he jumped from a great height in front of a large crowd…only to hurt himself pretty badly! But, even then, he didn't change his beliefs.
The name Jacob's Ladder is inspired by the Biblical ladder Jacob dreamed of that connected earth and heaven in Genesis. Many steep stairways in the UK have this nickname.
You'll have to climb 274 steps to get to the very top and you can do it within 5 – 15 minutes depending on your speed.
Luckily, there are some benches on the way up and information boards if you need a breather.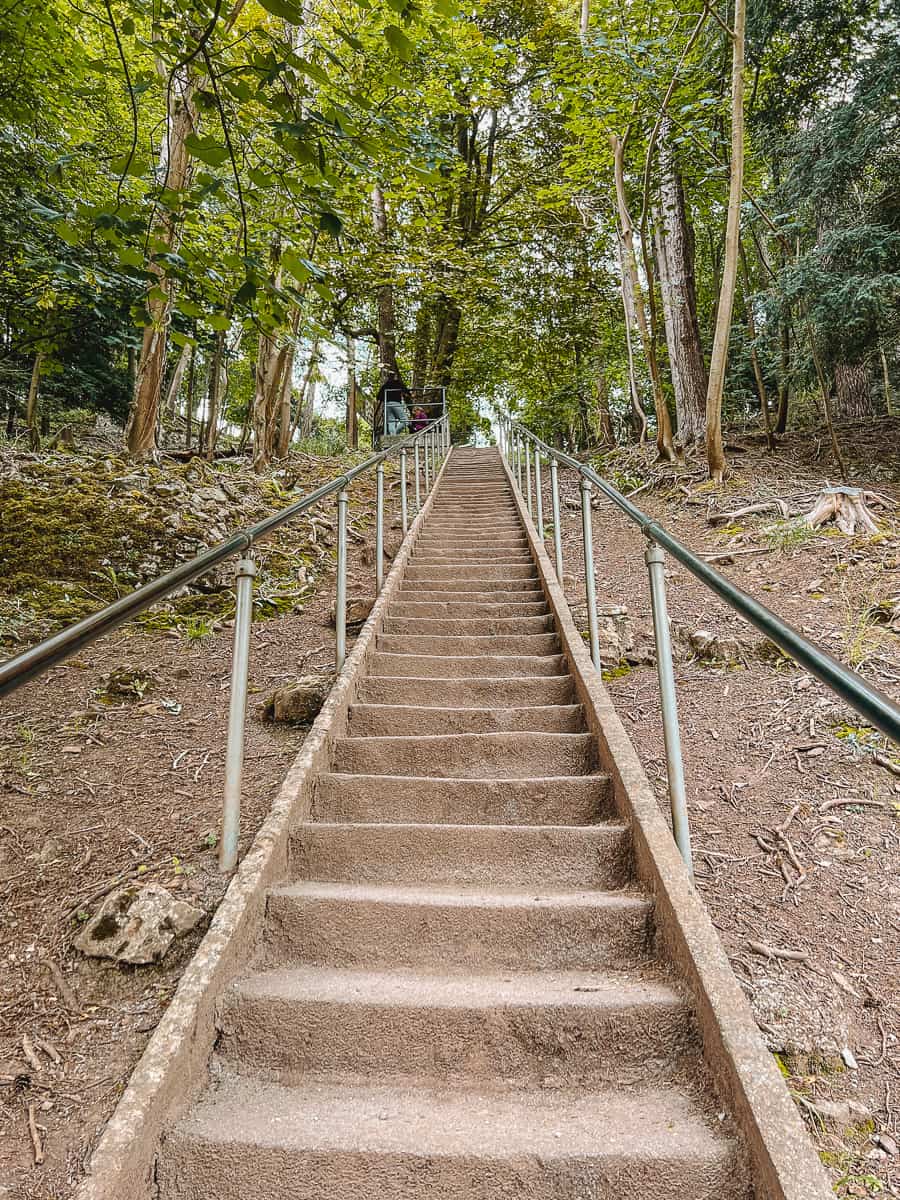 Cheddar Gorge Lookout Tower
At the very top of Jacob's Ladder, you'll find the Cheddar Gorge Lookout Tower.
This was originally built by Rowland Pavey and was called the White Tower or Mystic Tower. Back then, there used to be a palm-reader who would read fortunes for you at the bottom and a small tearoom.
It was originally made of wood and overlooked 'Joyland' but has since been reconstructed out of painted green metal.
It's 14 metres high and you'll need to climb a further 48 steps to get to the very top but the spectacular panoramic views are worth it.
You'll get to see the Somerset Levels, Cheddar Gorge Reservoir, and parts of Cheddar Gorge too. The signs on the tower will tell you what you're seeing in each direction.
It's quite a narrow viewpoint area and the stairways are tight. So, you may have to wait for people as you climb up and down. Also, this tower feels super wobbly, especially if it's windy!
Walking to the Cheddar Gorge pinnacles viewpoint
Once you've finished admiring the views from the Lookout Tower, you can head back down and then walk through the gate opposite to begin the Clifftop Cheddar Gorge Walk.
I will warn you now that this whole trail from the tower to the pinnacle viewpoint at the top is uphill. The path can get very boggy if it's been raining and there are lots of rocks in the path.
It's very steep and uneven in parts and can be quite tiring so make sure to take your time.
Some of the trail at the beginning is shaded by trees. But, eventually, you're exposed to the elements on the cliffs.
Feral Cheddar Gorge goats & Soay Sheep
One of my favourite parts of the Clifftop Cheddar Gorge walk was seeing all the feral mountain goats and Soay sheep here that are native to Britain.
I saw so many on the clifftops grazing, sleeping, and scratching against the trees. Many of them had huge horns!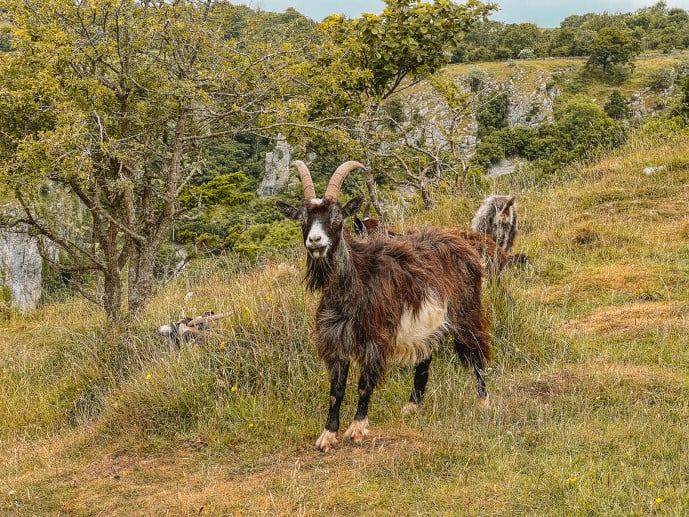 They play a vital role in the natural landscape and conservation of Cheddar Gorge. The National Trust describes them as an unpaid workforce who keep the scrub and grass looking pretty.
Although feral they are not violent and volunteers check that they are healthy throughout the year.
When I visited in June, there were so many cute baby goats. But, this did mean that the adults were extra protective. So, just be mindful of this.
Make sure to not disturb them, don't feed them foods that are not meant for them, and keep dogs on a lead.
Your furry pal may be friendly and mean well but a wild billy goat gruff is not going to want to play when their instincts scream to protect their family and babies.
Cheddar Gorge clifftop viewpoint at the pinnacles
The main reason why I wanted to do this clifftop Cheddar Gorge walk was due to the incredible views you get from the pinnacles.
You'll notice these pinnacles from the road below if you drove through Cheddar Gorge on your visit.
From here, you get a breathtaking view of the cliffs, Somerset Levels, Mendip hills, the Cheddar Reservoir, and Cheddar Gorge.
I loved being able to see the serpentine road below where you can see the cars making their way through the gorge.
You'll need to veer off the main path to see it but this viewpoint was worth the effort of the walk alone and I wouldn't miss it.
Important: always use common sense when walking along the clifftops. It's a sheer 200-meter drop down and there are no fences. Don't get too close to the edges and if it's windy avoid it altogether!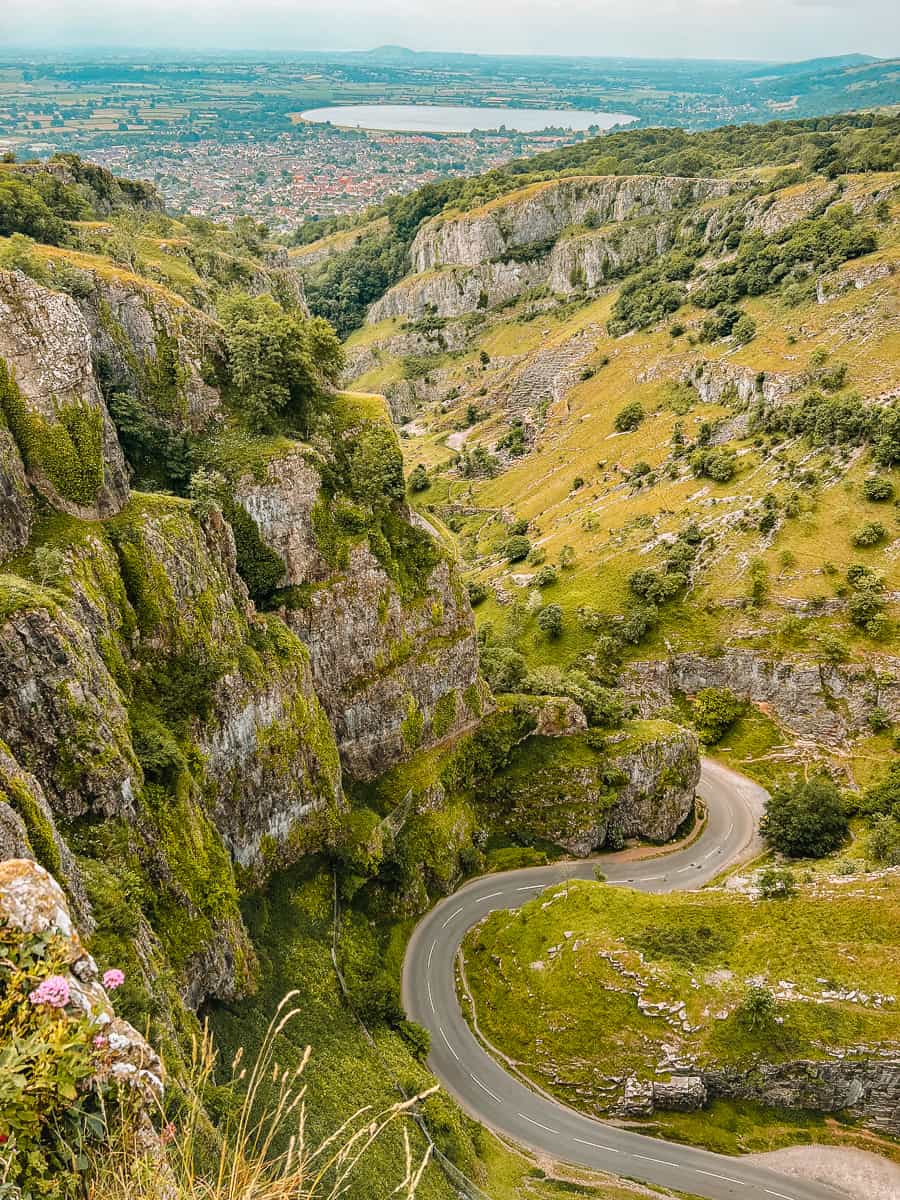 Black Rock Gorge Nature Reserve and back to Cheddar Gorge
You can turn back on yourself at this point and head back down towards the Lookout Tower and Jacob's Ladder if you've had enough.
But, many continue onwards towards Black Rock to complete the circular walk around the two gorges.
After your ascent, you'll gradually start heading down the gorge through the forest to Cliff Road (B3135).
You'll need to cross over the road and then carry on through the fence past the National Trust Black Rock sign.
Once you're through here, turn left up and up the path towards the second cliff gorge and walk all the way down towards Cheddar Gorge village and the attractions via Culfic Lane.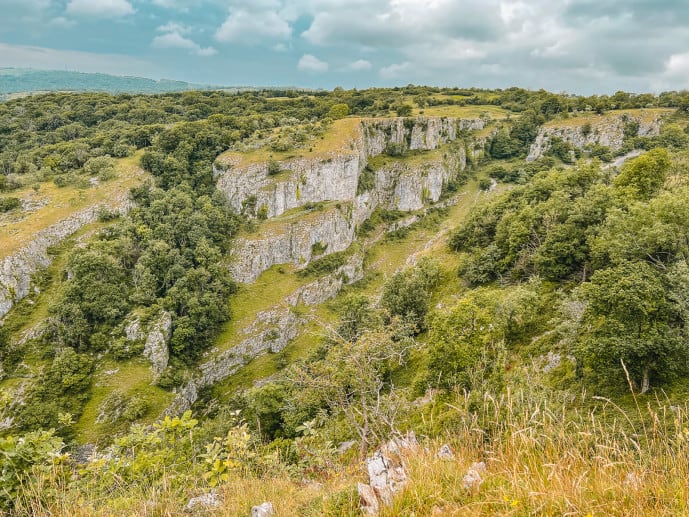 Free Cheddar Gorge walk parking
If you wanted to do the free Cheddar Gorge walk that skips paying for Jacob's Ladder there is the option to park in Black Rock in one of the lay-bys there.
You'll see a National Trust sign for Black Rock with an entrance gate and there is limited off-road parking next to it.
Although the lower parking areas for Cheddar Gorge are chargeable at an all-day fee many of the lay-by's higher up the gorge are free to park in all day.
From Black Rock, it's very easy to access the start of the walk up the cliffside to see the pinnacles viewpoint and skip the parking and entrance fees!
Free Clifftop Cheddar Gorge walk directions
If you have not paid for the Cheddar Gorge attractions ticket and wanted to skip paying for Jacob's Ladder here is how to do the walk for free.
There are three ways. Two start from Cheddar Gorge village, and the other is from Black Rock Nature Reserve.
Whichever you choose, it will be the same circular walk around the clifftops of Cheddar Gorge. It just has a different start and end point!
Free option 1: From The Lippiat in Cheddar
If you're heading up 'The Lippiatt' by the Edelweiss Café and then Lynch Lane in Cheddar Gorge then you can start climbing up the hill on the Jacob's Ladder side.
You'll eventually reach the clifftop path and the Lookout Tower (Bypassing Jacob's Ladder) and then you can head over to the pinnacles viewpoint.
You'll be hiking uphill through woodland towards the clifftops, walking up the cliff gorge, and then down towards the Black Rock Nature Reserve.
You'll then cross the B3135 road and then head over towards the opposite side. You'll eventually arrive at Culfic Lane to head back into the village.
Alternatively, you can walk the opposite way starting at Culfic Lane using this National Trust trail.
Free option 2: From Black Rock Nature Reserve
If you've parked up in the off-road parking at Black Rock Nature Reserve, you can then start your walk on either side of the gorge.
You'll see a National Trust sign by a kissing gate and an information board about this reserve nearby.
You can walk through the gate and take the path that leads you past the National Trust sign up the hill and onto the cliffs. But, this is on the opposite side of Jacob's Ladder and the famous pinnacles viewpoint.
If you want to see the viewpoint then I would take the path on the opposite side of the B3135 road first that leads you towards Jacob's Ladder.
You can then walk up the steep hill to the pinnacles viewpoint and then you carry on down towards the Cheddar Gorge Lookout Tower and Jacob's Ladder.
There is no ticket check at the bottom/exit of Jacob's Ladder, just a turnstile to leave. So, you could technically walk down the steps for free (although this is obviously not encouraged). However, I believe this turnstile locks when Cheddar Gorge attractions are closed.
Alternatively, if you walk beyond the turning for Jacob's Ladder, you can continue down the National Trust right-of-way path to Lynch Lane and then The Lippiatt.
Walk through the Cheddar Gorge village towards the Lion Rock tearoom and you'll see a sign for 'Black Rock' on Culfic Lane.
Take the steep National Trust access path on Culfic Lane and head up the clifftop. Then head down to Black Rock Nature Reserve again where your car will be parked.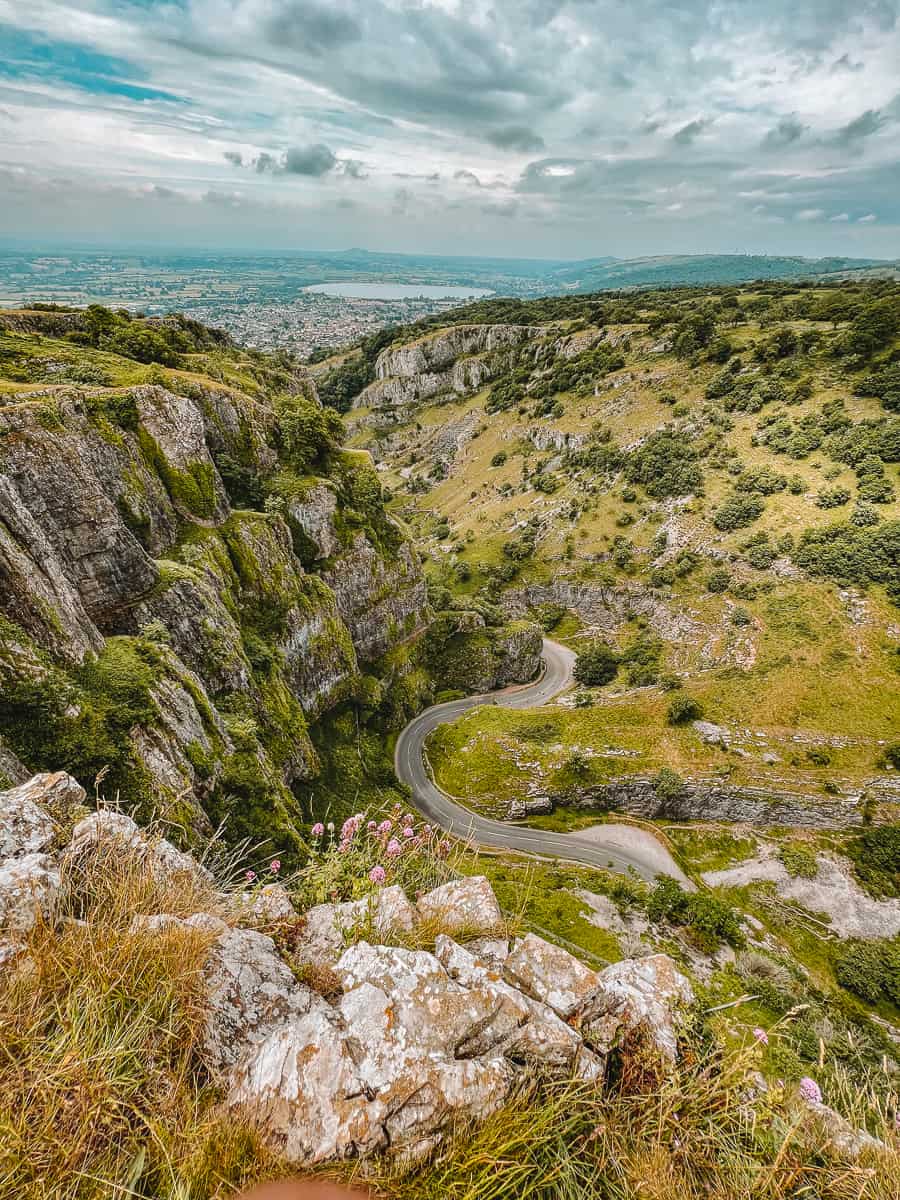 My top tips for the Cheddar Gorge walk
Signage – is not great at all once you're on the clifftop. Very minimal indeed. Make sure to have Google Maps loaded before you go as the signal is bad, or try an offline map with Maps.Me.
Wear sensible shoes – the pathway is one big steep hill, pretty much the whole way. As it's an SSSI it's left very naturally. So, you'll find jagged rocks in the path. The trail can get boggy in winter and really dusty in summer.
Take your time – the walk is very steep until you reach the pinnacle viewpoint where it kind of flattens out. Then, it's a steep walk back down and up again to the opposite side. There aren't any benches but there are rocks you can perch on.
The viewpoint is off the main path – you will need to step towards the edge of the cliff to see the famous pinnacles viewpoint. This means steering off the main path! Don't miss out as it's the highlight of the walk. Be very careful.
Bring water and snacks – this is a long, steep walk and is guaranteed to provide a workout (hello, leg day) so I would bring some water with you. Snacks as well. You could have a picnic at the top on a warm day.
Keep dogs on a lead – don't let your dogs stray as there are steep drops. Also, there are mountain goats here with their babies and they won't be pleased to see your furry family members.
Bring layers – the clifftop Cheddar Gorge walk is exposed to the elements. There is very little shelter once you reach the cliff tops. Bring layers as this is England and we can get rain even in summer.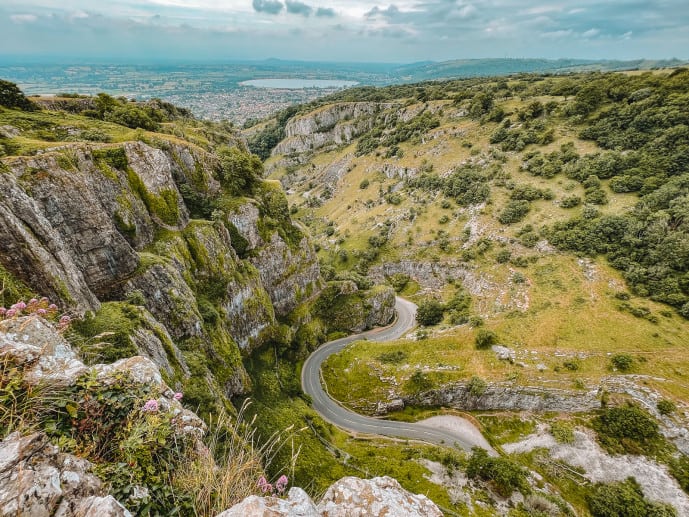 Is the Cheddar Gorge walk worth it?
Although many will say this is a challenging hike and a struggle to get up to the cliffs, it is well worth working for!
This is easily one of my favourite walks in Somerset, on par with Glastonbury Tor, simply due to the panoramic views you can get from up here.
I've always just driven through Cheddar Gorge and seen the pinnacles from below. But, being up here and seeing it from above was phenomenal.
My biggest tip would be to take your time and breaks if you need them. Pack some water and wear sensible footwear that supports your ankles. The path is really uneven with branches and jagged rocks.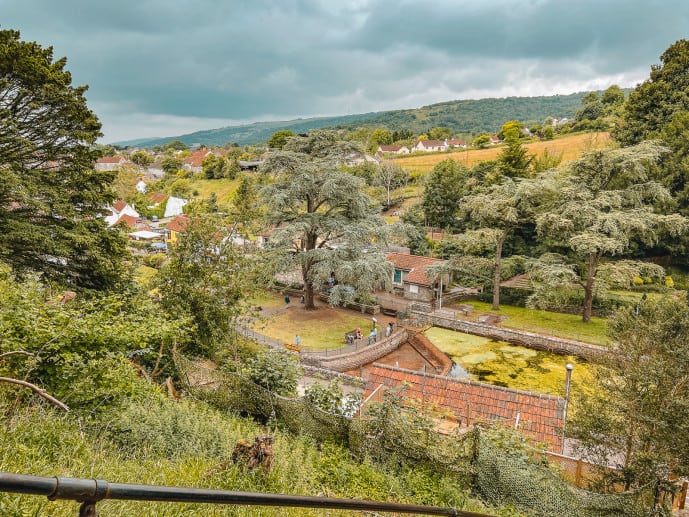 Looking for more places to visit in Cheddar Gorge?
Cheddar Gorge is one of my favourite places to visit in Somerset. I've been going since I was a kid and so I loved revisiting all the attractions.
You should start your tour at Gough's Cave which is the largest and most impressive of the caves here.
They were discovered by Victorian explorer Richard Gough (hence the name) and date back to 500,000 years ago. This is where they found Cheddar Man, Britain's oldest complete skeleton.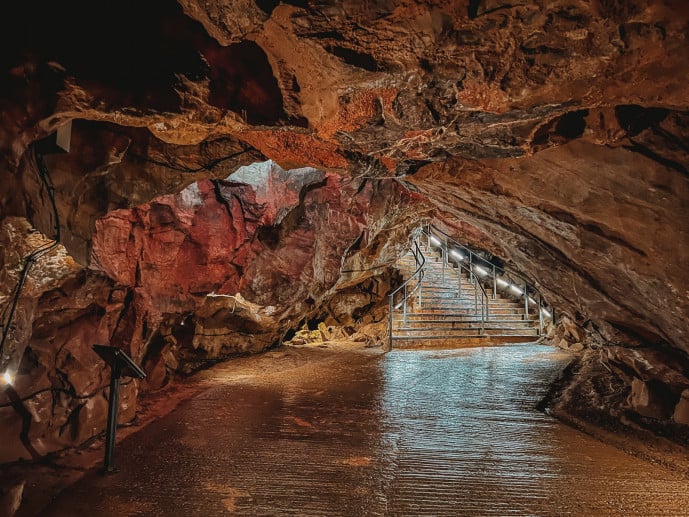 Once you're done, hop over to the Prehistoric history museum where you can learn about the first human settlers here, Cheddar Man, pre-historic discoveries, and the art of flint knapping.
Cox's Cave is also incredible but much smaller and today it houses Dream Hunters which gives you an audio visual look into life here during the Stone Age.
Or, you can just simply wander around Cheddar Gorge village. You'll find lots of cafés, ice cream, Crazy Golf, gardens, and even an all-year-round Christmas shop – look out for the Excalibur sword in the river.
You really can't leave without driving through Cheddar Gorge. It's 3 miles long and the views from your car will wow you! There are lay-bys to get out and look up at the sheer cliffs!
It's completely FREE to do this as it's a public road. You don't need to pay for Cheddar Gorge attractions to simply drive through it.
Where to stay in Cheddar Gorge
There aren't many hotels in Cheddar Gorge itself but there are plenty of hotels that you can book nearby.
Here is a selection of places you can spend the night near Cheddar Gorge;
Strawberryfields Park – take camping to a new level. This luxury lodge is more like a boutique home with a sundeck and hot tub. It makes the perfect retreat! Click here to book.
Read more of my Somerset posts
How to hike up Glastonbury Tor
The best things to do in Wells
A complete guide for Vicar's Close in Wells
Why you must visit Burrow Mump
The hidden gem of Rickford Chapel
How to find the Clevedon Sugar Lookout
The abandoned pier of Weston-super-mare
The most Instagrammable places in Bristol
How to find the colourful houses of Bristol
Visit the Roman Baths at Night
House of Frankenstein in Bath review
How to visit SEE MONSTER in Weston-super-Mare
Save this Clifftop Cheddar Gorge walk for later!