Did you know that there is a Paris hidden gem by the Louvre that sits within the courtyard of the Palais-Royal?
It's called Colonnes de Buren / Les Deux Plateaux and this art installation is the famous black and white pillars that you often see on social media.
It's quite easy to miss in Paris as it's tucked away within a group of government buildings but it's something you cannot miss on a visit to the City of Light.
Here is how to visit the controversial Colonnes de Buren of Palais Royal or the Paris black and white columns!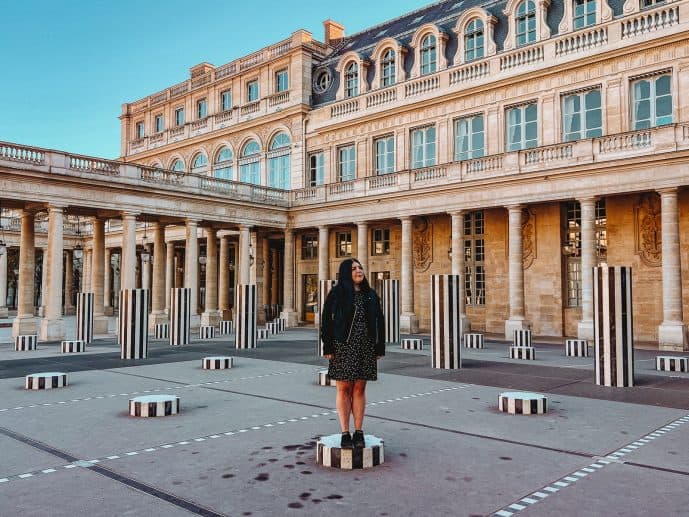 What are the black and white pillars in Paris?
So, if you have ever seen those pretty black and white columns in Paris on your social media these are known as the Colonnes de Buren or Les Deux Plateaux.
They are an art installation created by the French artist, Daniel Buren, in 1985–1986 and are placed in an inner courtyard (Galerie Cour d'Honneur) of Palais Royal.
Although today people love these monochrome pillars and want to snap photos of them, they were quite controversial in Paris at the time and I will explain more about that below.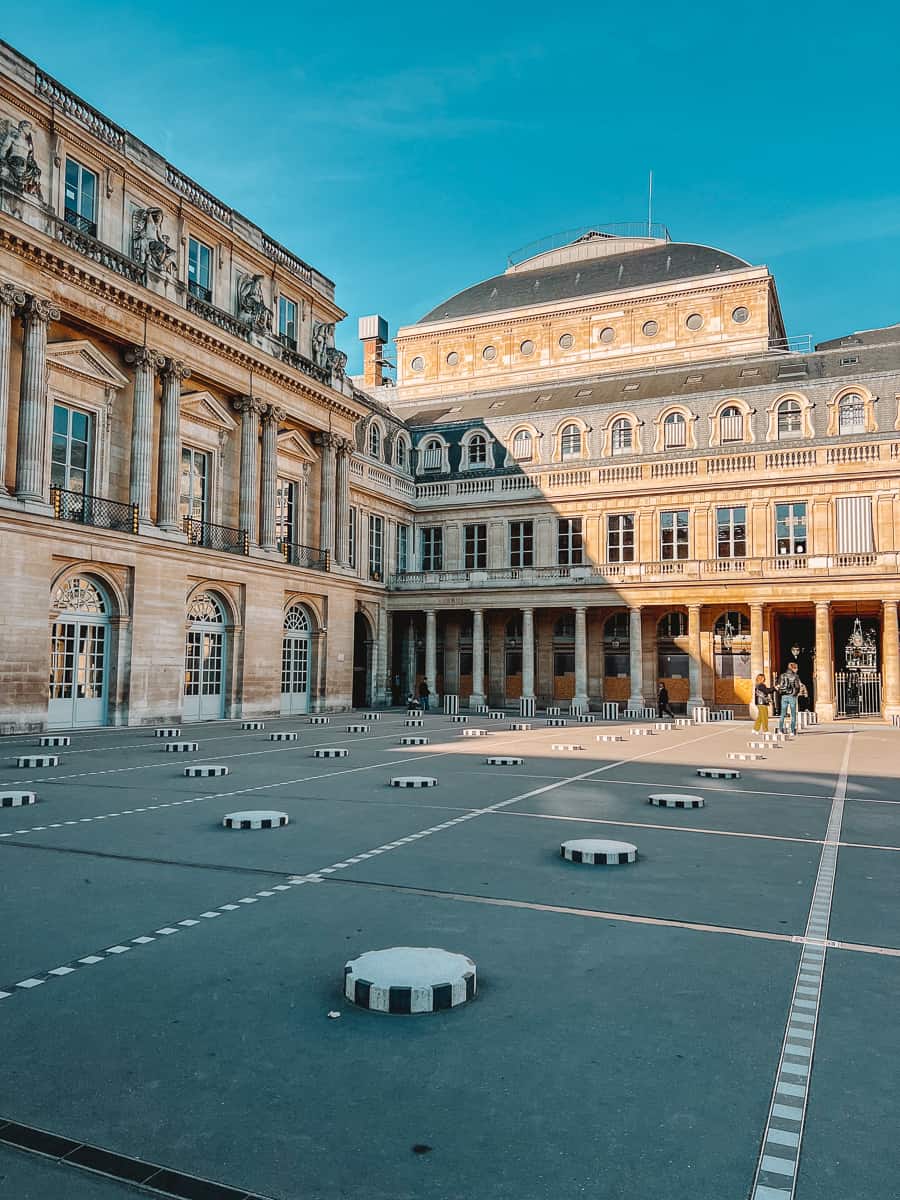 Palais Royal history
I think it's important to gain some background on the Palais Royal before the 'controversial' era of Les Deux Plateaux.
The Palais Royal is a former royal palace in the 1st arrondissement of Paris. It was originally called the Palais-Cardinal and was built for Cardinal Richelieu from 1633 to 1639 by architect Jacques Lemercier.
If you think that name sounds familiar, that's because Cardinal Richelieu is featured in Alexandre Dumas's 1844 novel The Three Musketeers and he was the villain in Disney's Three Musketeer's movie played by Tim Curry!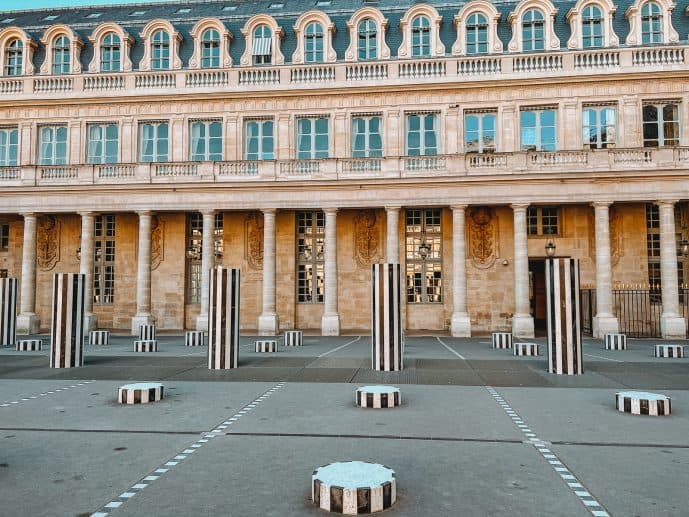 On Richelieu's deathbed, he bequeathed this palace to Louis XIII and then the Sun King Louis XIV gifted it to his younger brother Philippe I, the Duke d'Orleans.
It was then inherited by the future Duke d'Orleans' until the French Revolution when the palace was repurposed.
Today, the Palais Royal is mainly made up of a group of government buildings. Here you'll find the Ministry of Culture, the Conseil d'État and the Constitutional Council.
Also, there are chic shops, cafés, swanky restaurants and theatres. Many Parisians enjoy the park as a peaceful respite away from the crowds of the Louvre.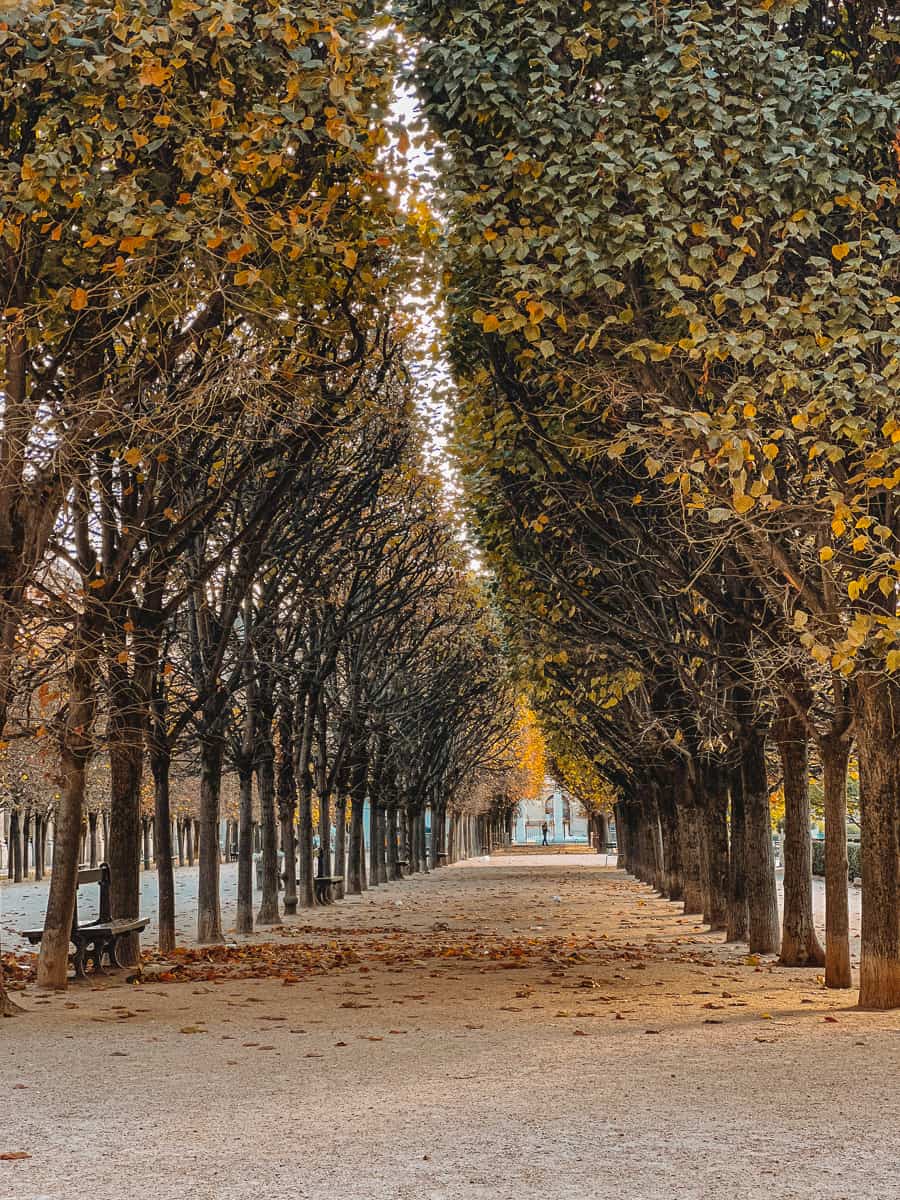 Colonnes de Buren controvery
When the Ministry of Culture was planning on extending its premises in 1985, it needed a way to conceal ventilation shafts in the floor of Cour d'Honneur.
The Colonnes de Buren was created to replace the former parking lot and the pillars extended both levels to conceal the shafts (hence Les Deux Plateaux).
The project was the idea of Jack Lang, the culture minister at that time, and he provoked a lot of controversy with his plans.
Not only was it expensive to create but there were opinions that the bold modern art installation was unsuitable in contrast to the former royal palace. It felt tone-deaf.
The Palais-Royal is also a listed historic monument and the plan was actually rejected by the Commission des Monuments Historique.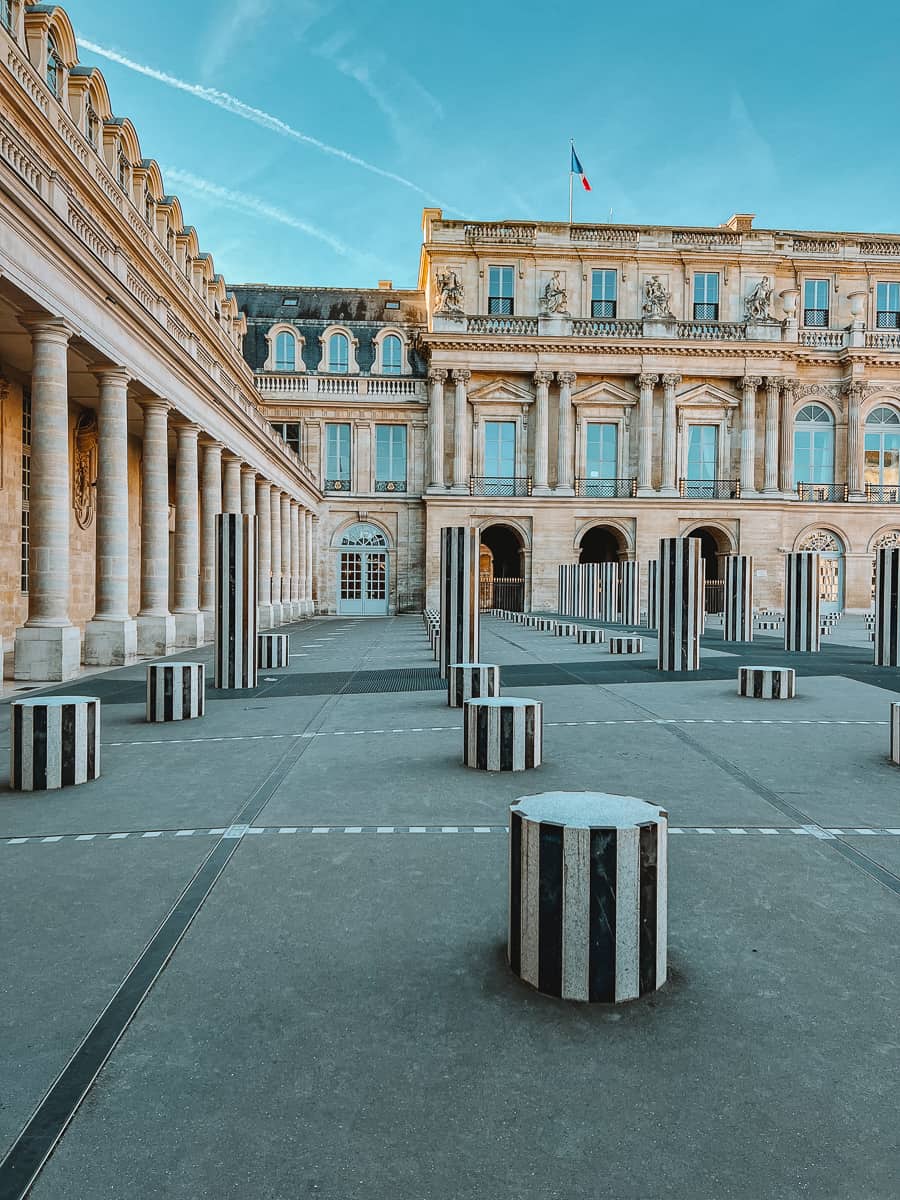 Despite all the arguments, Jack Lang asked the artist Daniel Buren to proceed with it anyway!
When it was unveiled, the Colonnes de Buren was met with outrage. Despite the area formally being a dingy car park, people felt that it spoiled the historic architecture of the Palais-Royal.
There was a mass protest and attempts to destroy it and the pillars were damaged many times with graffiti.
Eventually, it fell into disrepair and a 5.3 million euro project was launched to save it in 2008.
Today the controversy has subsided and the area is very popular with Parisians. You'll find it teaming with skaters, children and tourists who want to capture photos of this beautiful place!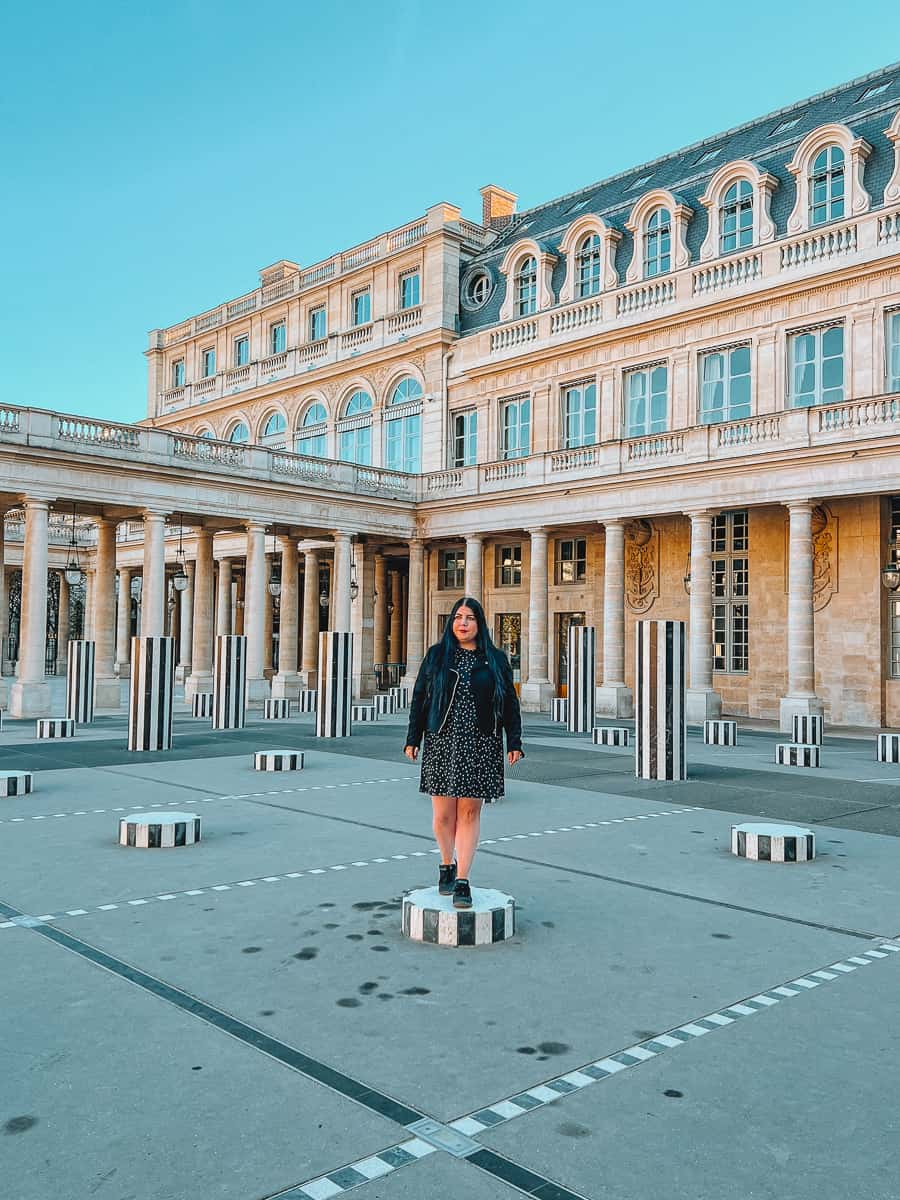 Colonnes de Buren facts
There are 260 black and white marble pillars that makeup Colonnes de Buren
Les Deux Plateaux translates to two levels as these marble pillars extend below the floor.
Each column is made of white Carrara marble from Italy and black marble from the French Pyrénées.
They are all different heights and have 8.7 cm wide stripes
This art installation replaced a former car park!
It is considered good luck to make a wish by throwing coins into the pools below the columns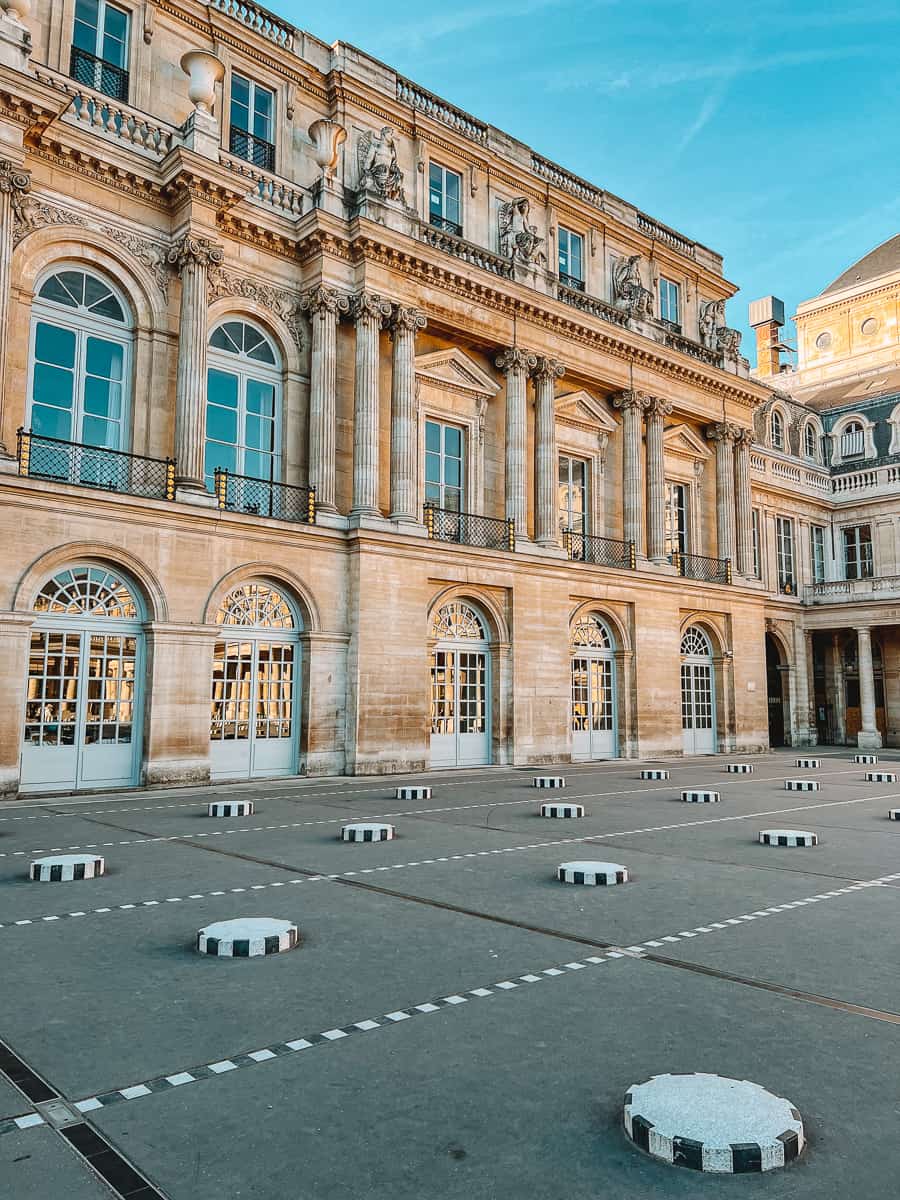 How to visit Colonnes de Buren or Les Deux Plateaux in Paris
The Colonnes de Buren can easily be accessed near the Louvre Museum on Rue de Rivoli which is a popular shopping street.
It's located right next to the Palais-Royal Park but people often miss it as it's tucked away inside the government buildings here.
Although there are Paris taxis and services like Uber and Bolt, I would always recommend using a mix of the Paris Metro and walking to explore the attractions in the city centre.
The closest metro stop to Colonnes de Buren is the 'Palais Royal–Musée du Louvre' station on the Metro 1 Line (Yellow service). From here, it's a 3-minute walk.
The Colonnes de Buren/Les Deux Plateaux address is Galerie de la Cour d'Honneur, 2 Rue de Montpensier, 75001 Paris, France. Here's a Google Pin!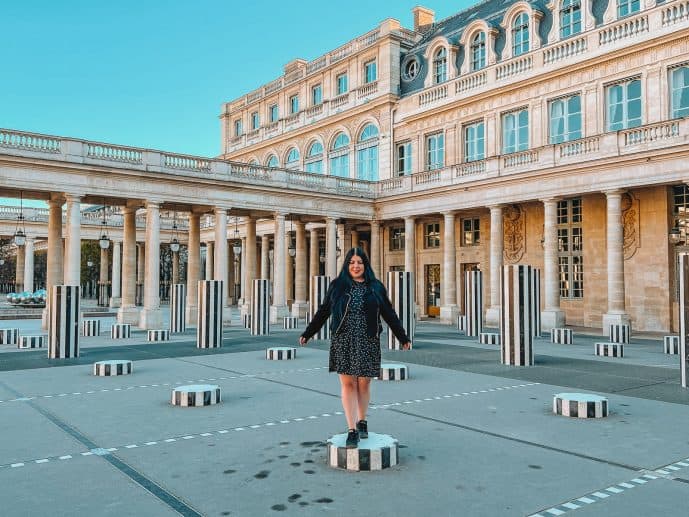 Things to do at Palais Royal Park in Paris
Beyond snapping lots of photos of the Colonnes de Buren, Palais-Royal park is well worth visiting in Paris.
Compared to the Louvre courtyard this garden is nice and quiet. Many people miss this park as it's tucked away inside!
You can take a stroll through the rows of trees or The Alley of Colette, enjoy the fountains and relax on a bench in this peaceful respite.
In spring, this park has many pretty flowers to admire like the pink Cherry Blossom trees.
Don't forget to see the hidden gem of the bronze cannon invented by the famous engineer Rousseau in 1786. It was designed to fire off every day at noon in spring and summer.
A popular coffee shop here is Café Kitsuné and they are famous for their signature matcha lattes. You can always find a table in the garden as there is a no-laptop policy!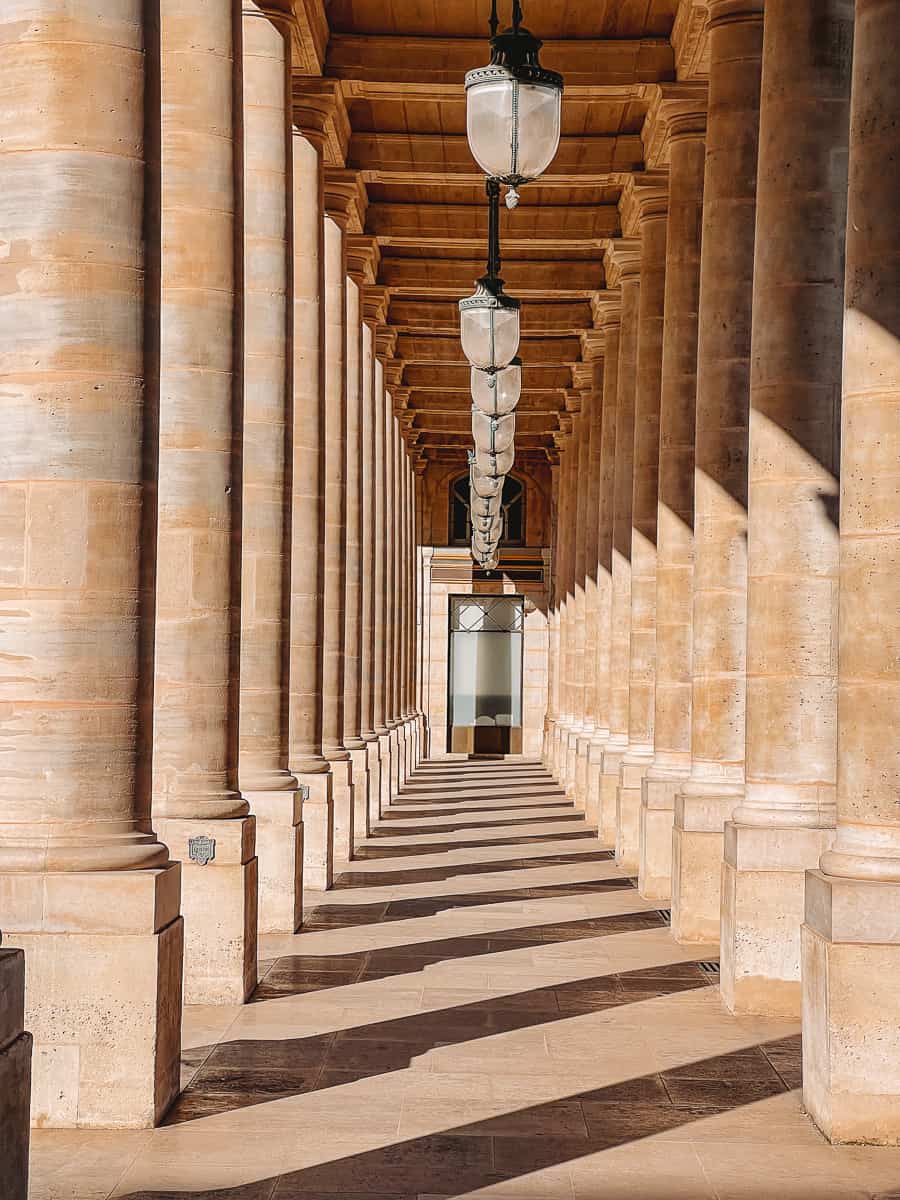 Around the park, there are plenty of trendy and chic boutiques and restaurants to visit in the colonnades like the Restaurant Le Grand Véfour.
There are three galleries here and each was named after the sons of Philippe III, Duke d'Orleans.
There is the Galerie de Beaujolais in the north, the Galerie de Valois in the east and the Galerie de Montpensier in the west.
In the south of Palais Royal, you can find the Galerie du Jardin and the Galerie d'Orléans by the Ministry of Culture.
Behind that, you can explore the Galerie de la Cour d'Honneur with its beautiful row of gas lamps and the Galerie des Proues.
You can also find the Bury Fountains called Sphérades which were created by the Belgian artist Pol Bury.
Nearby, you have the Comédie Francaise (aka the House of Molière) and the Théâtre du Palais-Royal.
As you can see, there is a surprising amount to see in this hidden Parisian gem by the Louvre!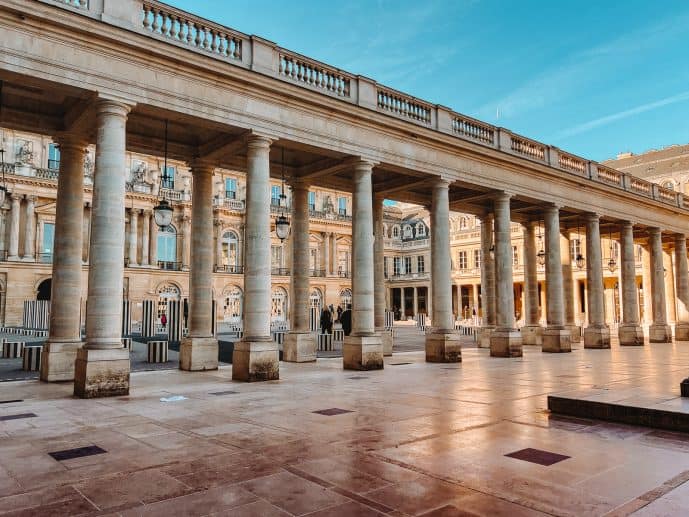 What time does Palais Royal park open in Paris?
The Palais Royal park and the Colonnes de Buren are open every single day to the public in Paris.
But, it's good to note that the park and columns are only open during daylight hours. The gates lock around sunset.
The colonnades around the outside of the park, with the boutiques and shops, remain open until late evening.
Note: on very rare occasions, the Palais-Royal park closes off completely for special events. It happened on my visit when the current French Minister of Culture planned a private event there.
Colonnes de Buren ticket prices
If you're on a budget in Paris then you'll be happy to know that visiting both the Palais-Royal park and the Colonnes de Buren is absolutely FREE to visit!
So, you'll just need to make sure you visit the park in daylight hours to make sure you get your photos.
Personally, I would visit before/after exploring the Louvre courtyard and/or the Jardin de Tuilleries.
Both are also free to stroll around while in Paris but obviously entering the Louvre Museum has a charge.
Colonnes de Buren photography tips
The great news about visiting Colonnes de Buren is that you can easily get a photo of these Paris black and white columns without the crowds most of the day.
So, there is no need to schedule an early sunrise mission or wake-up call to take photos here. I would reserve that for the Louvre Museum courtyard nearby.
Of course, it's always going to be busy, it's Paris after all. But, there are lots of angles and corners here to take a great photo against the Palais-Royal without lots of people in the backdrop.
I visited this place around 10.30 am on a Sunday and it was filled with families out for a stroll. So, lots of children running and climbing everywhere insisting they have a photo on the highest column possible.
Also, lots of selfie sticks and professional photographers taking photos of families and couples on the pillars. There's room for everyone.
I had my tripod out here for my self-portrait photos and no one seemed to care which is rare for Paris!
Colonnes de Buren FAQs
What are the Colonnes de Buren made of? White Carrara marble and black Pyrenean marble.
Do the columns of Colonnes de Buren move? No, they all stand still. Some have fountains beneath them and its popular to throw coins and make a wish.
How many black and white columns are there at Palais Royal? There are 260 black and white columns at Les Deux Plateaux.
Is Palais-Royal Paris free? YES, you can enter Palais-Royal park and Colonnes de Buren absolutely free while in Paris.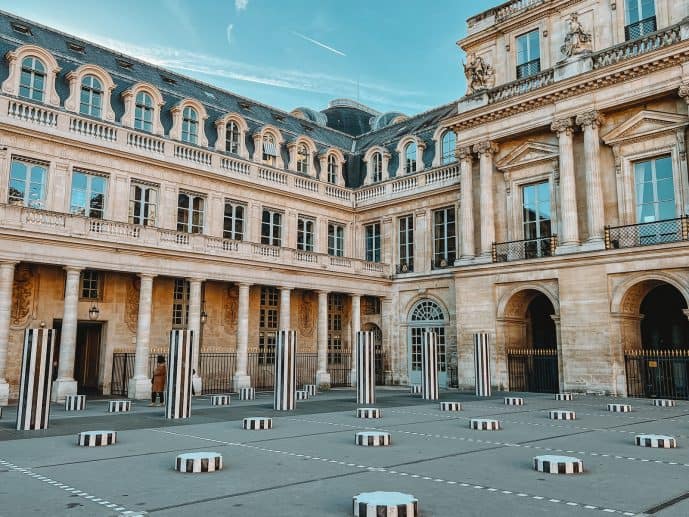 Looking for more things to do near Palais Royal Paris?
After you've had time to explore Colonnes de Buren and the Palais-Royal Park there is plenty of things to do nearby;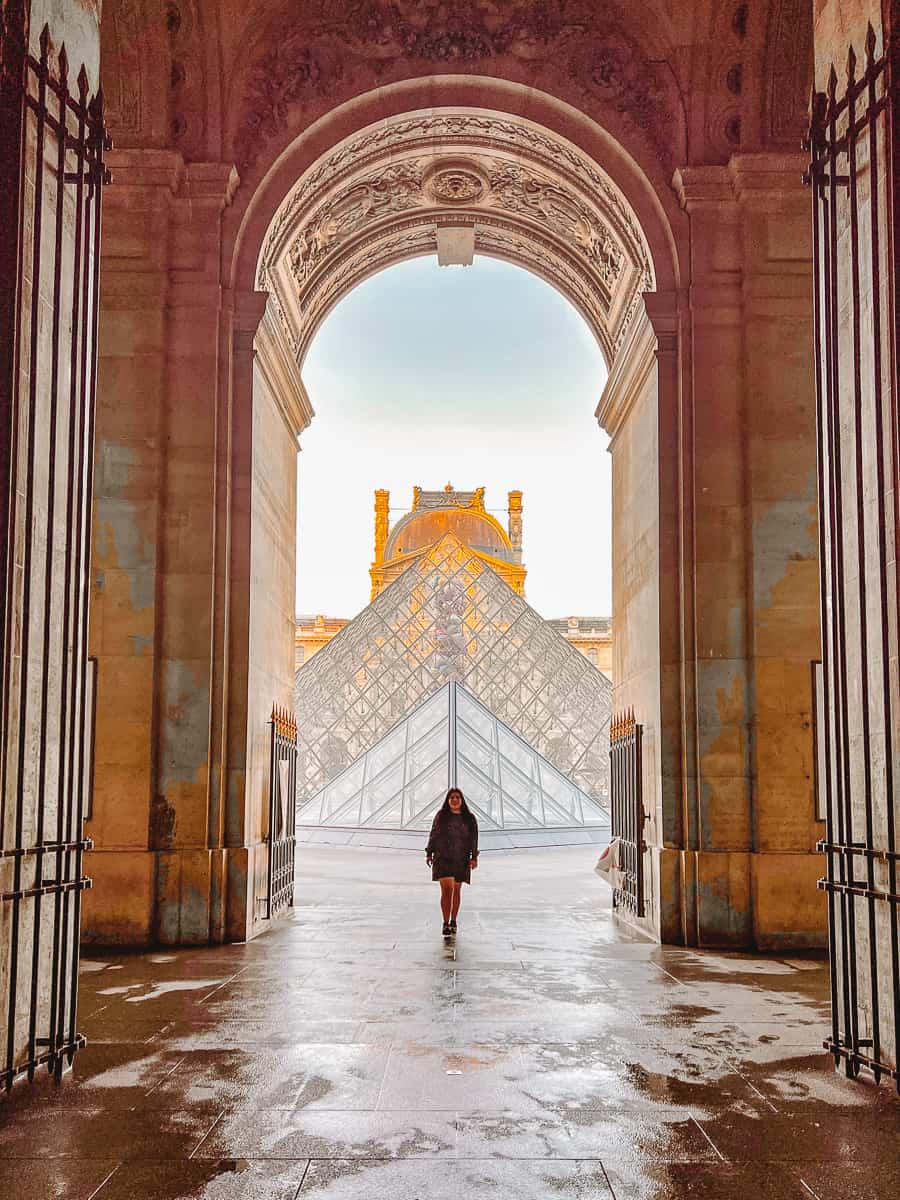 Louvre
The most popular would be the Louvre Museum which is arguably the most famous art museum in the world.
Here you can see highlights like the Mona Lisa, but be prepared for it to be smaller in real life and hidden behind layers of thick glass.
It's roped off and there is a queue to get to the front. You'll probably be crushed in the crowds of people trying to get a selfie with the postage-stamp-sized portrait!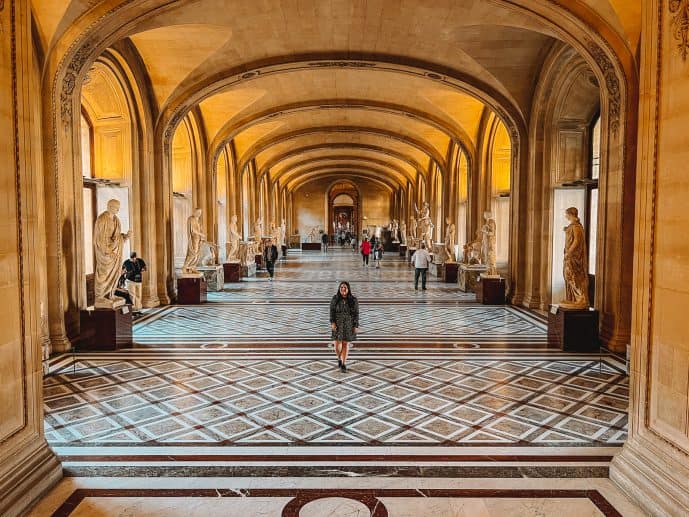 Even if you don't go inside the museum, exploring the Louvre courtyard is also amazing as the architecture is breathtaking with the glass pyramids.
To get empty photos like mine make sure to get there as soon as the courtyard opens!
Although not a cheap affair, I would recommend having breakfast in Café Marly which overlooks the Louvre pyramids. Make a reservation to guarantee a seat.
Arc de Triomphe du Carrousel
Nearby, you can visit the Arc de Triomphe du Carrousel or 'Triumphal Arch of the Carousel' which commemorates Napoleon's military victories.
It was ordered to be built by none other than Emperor Napoleon Bonaparte I between 1806 and 1808.
The design was based on the Arch of Constantine in Rome built in 312 AD and acted as a gateway to the Tuileries Palace, his Imperial residence.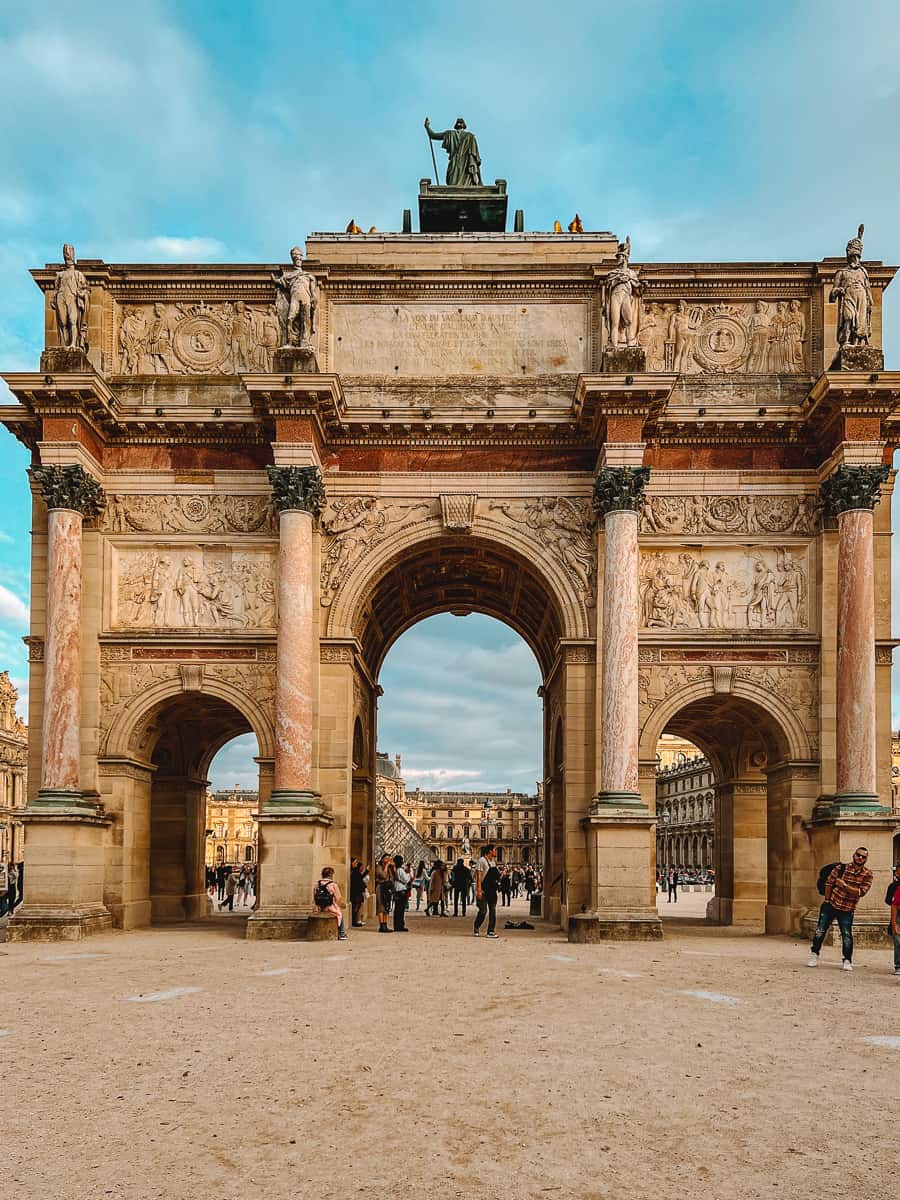 Jardin des Tuileries
Then, you can head over to the Jardin des Tuileries which sits between the Louvre and the Place de la Concorde.
It was ordered to be created by Catherine de Medici as an Italian garden for Tuileries Palace in 1564.
It then acted as a French formal garden for Louis XIII and Louis XIV and it eventually opened to the public in 1667.
This was at the request of Charles Perrault who was the author of Sleeping Beauty, Red Riding Hood, Cinderella and Puss n' Boots amongst other famous fairytales.
It was the first royal garden ever to be opened to the public in France. But, at the time, beggars and soldiers were banned.
Fun fact, this garden was where the first air balloon was flown into the city by Jacques Alexandre César Charles and Nicolas Louis Robert.
King Louis XV watched from a tower of Tuileries Palace and the first American ambassador Benjamin Franklin was in attendance to see it take flight.
Since the French Revolution in the 18th century, Parisians and tourists have visited this park to meet friends, walk dogs, take a stroll and relax in the city.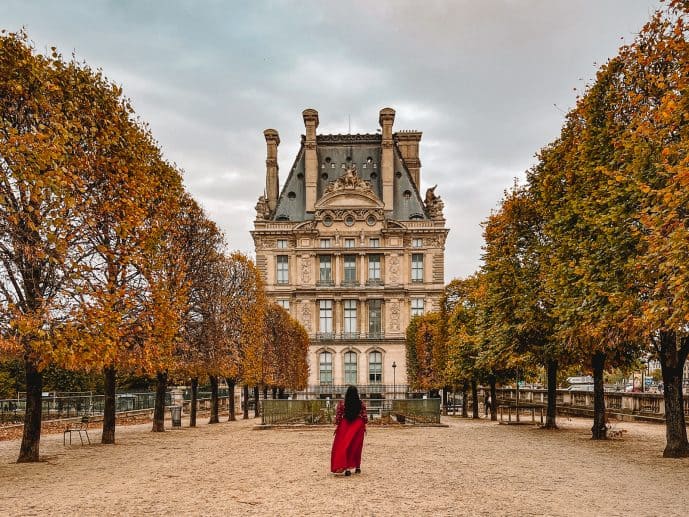 Save time and book a tour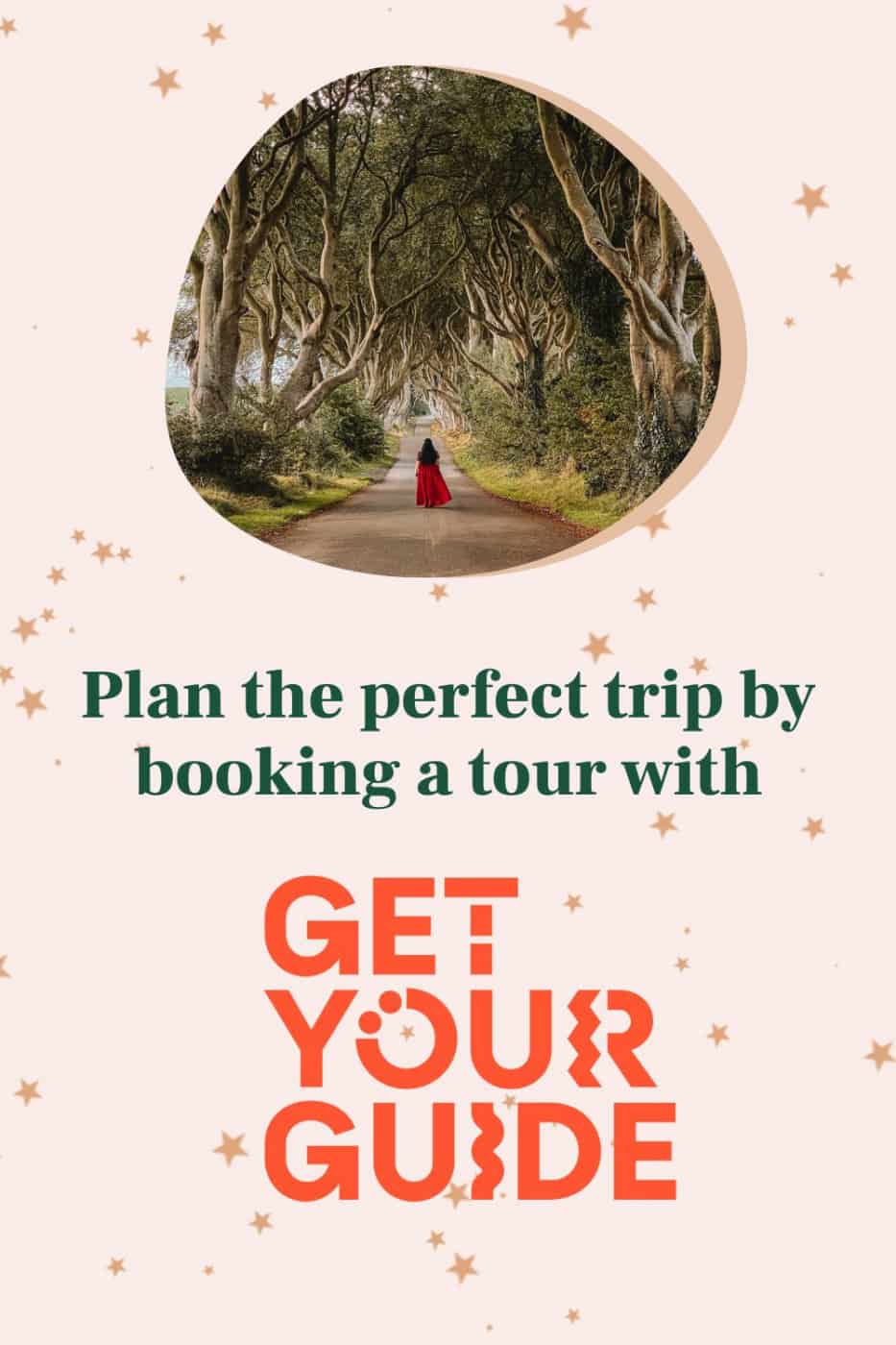 Read more of my Paris articles
Why you must visit Saint-Chapelle – the Jewel Box church
Starbucks Opera – Is this the prettiest Starbucks?
How to get an empty Versailles Hall of Mirrors Photo
A complete Pink Mamma Paris review – is it worth it?
Visit the Medici Fountain in Jardin de Luxembourg
How to visit Marie Antoinette's Queen's Hamlet in Versailles
How to visit Merlin's Camelot Castle aka Chateau de Pierrefonds
50+ Instagrammable places at Disneyland Paris
25+ Things to do in Disney Village Paris
Don't miss the Disneyland Paris Dragon
Captain Jack's Restaurant Review
How to eat at Bistrot Chez Remy Ratatouille Restaurant
How to find Jim Morrison's Grave at Pere Lachaise Cemetery
Save how to visit the Paris Black and White Columns for later!