The Cotswolds Confetti Fields are a gorgeous crop of colourful and vibrant flowers that get turned into confetti for weddings.
Every summer, The Real Flower Petal Confetti Company opens its field to the public before the harvest.
It's one of the best flower fields to visit in the UK and the perfect place for photography but it's only open for a very short time in July.
So, make sure to mark the date for ticket sales in your calendar – it's a magical event that is not to be missed.
Here is a complete guide on how to visit the Cotswolds Confetti Fields including buying tickets and what to expect on the day!
What are the Confetti Fields & The Real Flower Petal Confetti Company?
The Confetti Fields are a crop of colourful delphiniums and cornflowers that lie on the Wyke Manor estate in Pershore.
The Real Flower Petal Confetti Company was established in 1997 and is the UK's original wedding petal flower growers.
Confetti is a quintessential wedding day experience and is meant to bring luck to the happy couple but it can leave a lot of rubbish behind, especially if it's not biodegradable using materials like plastic and foil.
In reaction to this, the company started to farm natural and environmentally friendly confetti flowers as a crop on their Wyke Manor estate.
Colourful delphiniums and cornflowers were chosen to be harvested and then processed and dried into gorgeous natural confetti.
Their confetti has travelled worldwide for celebrations and has even been used for royal weddings!
Just before they harvest the confetti crop at full bloom, The Real Flower Petal Confetti Company opens the Confetti Fields to the public every summer.
But, it only happens for a short amount of time in July so you need to keep an eye out for when this will be!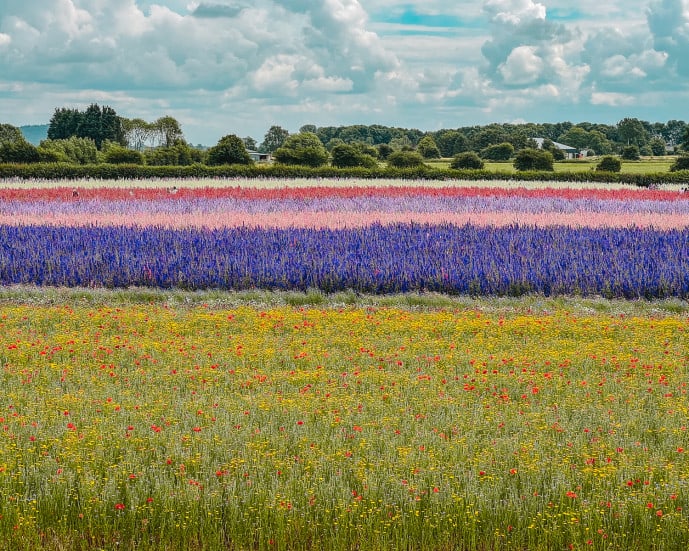 How to visit the Confetti Flower Fields
The Real Flower Petal Confetti Company only opens its Confetti Fields for around 10 days each year in early July.
So, you'll need to mark the middle of June in your calendars to start checking when they will start selling tickets for the event. Usually, this is around the Summer Solstice on the 21st of June.
The best way to check the ticket sale date is to follow the Real Flower Petal Confetti Company on one of their social channels like Instagram or Facebook.
Naturally, as this event only takes place for 10 days a year the tickets can be high in demand and they have to be booked online before you visit via the Confetti Direct website. You cannot buy tickets at the fields.
On the day the Confetti Field tickets were released, I logged onto the website around an hour before ticket sales went live. I was so surprised to see I was the 1000th person in the queue! It took me around 4 hours to buy tickets.
When I looked later in the day, over 5,000 people were waiting for Confetti Fields tickets! But, don't worry, there are plenty of tickets available.
You'll buy a timed ticket so you will need to pick the day and the hour slot you'd like to arrive at.
You could always visit the website the following day when visitor numbers fall dramatically if you're flexible with your dates.
Weekends, especially Sundays, can get very busy though. If you are planning to visit on a weekend, I would definitely wait on the first day of ticket sales to guarantee entry.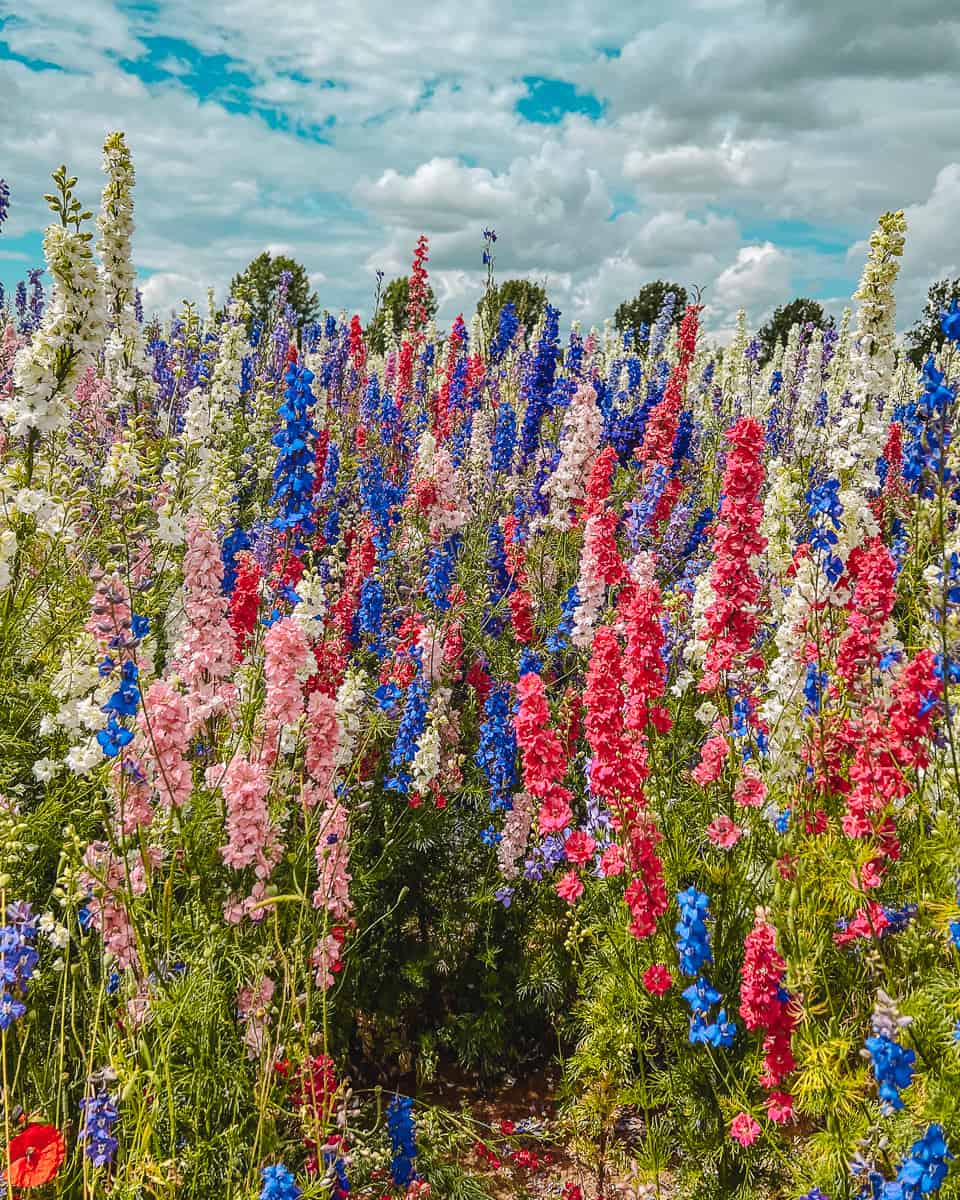 Confetti Fields ticket prices and opening times
The Confetti Fields ticket prices were £6.50 per person (under 5's go free) which I thought was incredible value for money for a magical place like this!
This ticket gets you access to the Confetti Flower Fields for a couple of hours plus parking at the site itself.
When you buy your tickets, you'll be given a confirmation with a booking reference. You'll need to bring this reference number with you to the Confetti Fields at the entrance gate.
The Confetti Fields opening times are 10 am – 5 pm. The last entry is 3 pm.
Where are the Confetti Flower Fields & how to get there?
The Real Flower Petal Confetti Company is located on Wyke Manor estate in Wick village, Pershore. This is in the Wychavon district of Worcestershire on the fringes of The Cotswolds.
When you arrive in Wick village, you'll find yellow signs pointing you towards the Confetti Fields. Follow this route the whole way and you'll eventually find the field roads leading to the site.
It's easiest to drive to the site as the Confetti Fields are in quite a remote location in The Cotswolds.
Before you set off, check The Real Flower Petal Confetti Company website. They sometimes shut the Confetti field in the unlikely event it's too wet or windy!
The Confetti fields address is The Real Flower Petal Confetti Company, Wyke Manor, Wick, Pershore WR10 3NZ. Click here for a Google Pin!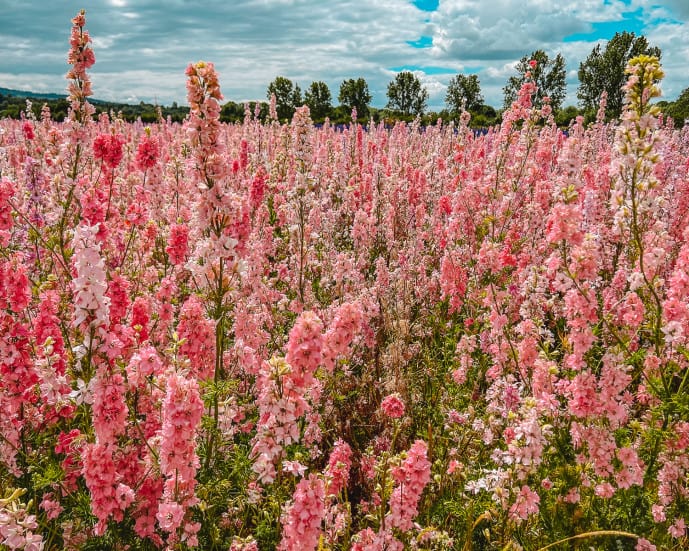 Confetti Flower Fields parking
There is lots of Confetti Fields parking available at the Wick site itself that is included in the price of your ticket.
When you arrive, make sure to drive slowly through the Wyke Manor estate as you'll be driving over fields to get to the car park.
Once you've confirmed your ticket reference number with the lovely staff at the gate, you'll be guided to a parking spot by the stewards.
Note: The Confetti Fields toilets are located in the car park itself and there aren't any in the field area. So, if you need to pop to the loo, I would do this before you enter the fields!
Things to do at the Confetti Fields!
So, once you arrive at the Confetti Flower field, what is there to do here? Well, beyond seeing the flowers there are lots of other things to see.
You'll find a café, a flower shop, and even an artist in residence. Here are some amazing things to do at the Confetti Field.
Your ticket allows you to spend a couple of hours at the field so make sure to make the most of it!
1. Admire all the colours of the confetti flowers & wildflowers
There are many entranceways into the Confetti Flower Field and you can follow the pathways all over the crop.
You'll pass the colourful stripes of white, pink, lavender, and violet confetti flowers made of delphiniums and cornflowers.
I couldn't believe the sensation of colours and it looked great with the cloudy and moody skies we had on the day.
If you're a wildlife lover, there are bees munching on the pollen from the crop and some butterflies floating around.
You'll also find patches of wildflowers which were unexpected but equally as breathtaking.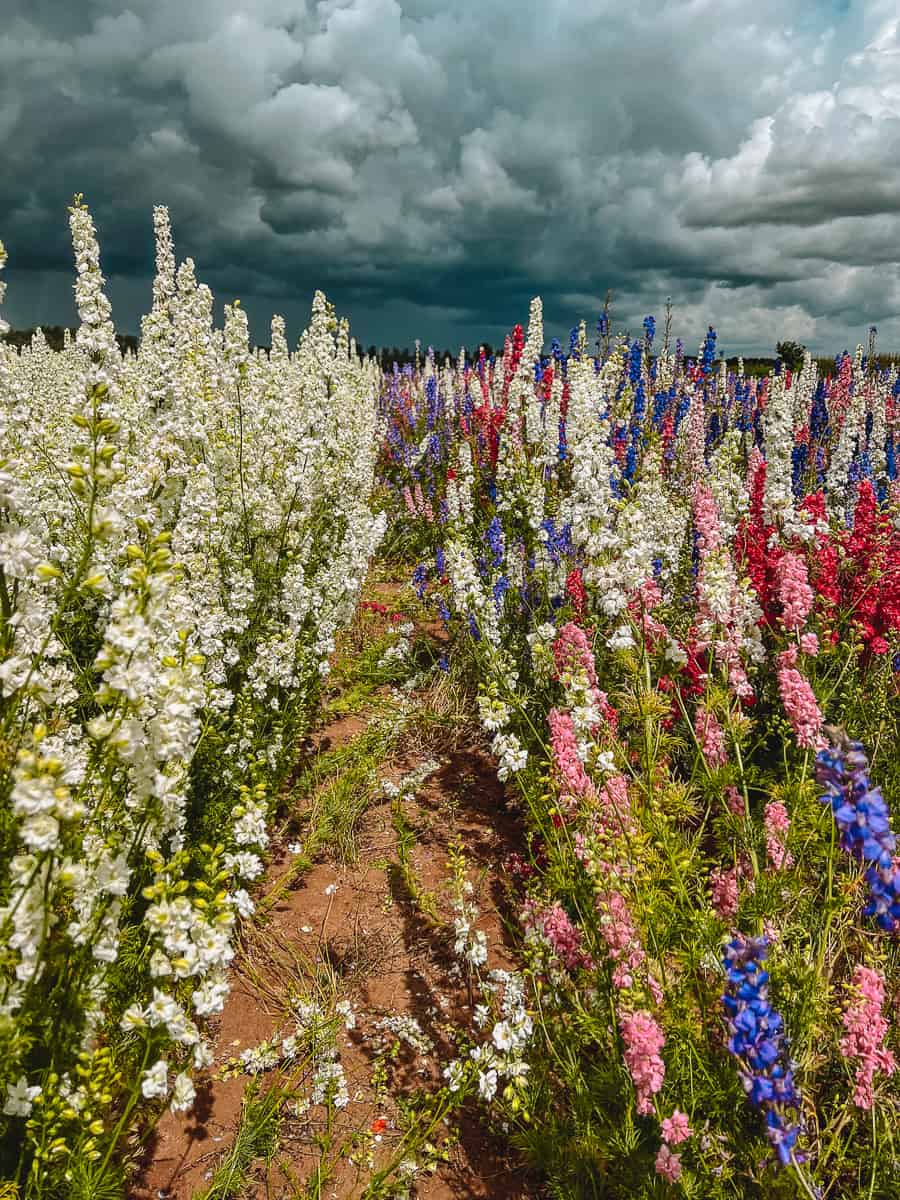 2. Plan a Confetti Fields photoshoot!
Most people visit the Confetti Fields to take some gorgeous photos in amongst the colourful flowers. You'll honestly feel like a flower faerie for the day.
Despite it being quite busy, there is plenty of space to spread out to get some beautiful photos without the crowds. You'll be spoiled for choice of locations.
Personally, my favourites were the hot and light pinks! But, there are white, lavender, violet, and mixed sections too.
One of my favourite photo opportunities was standing in between the stripes when the flowers changed colour. So, you can stand between pink and white, or lavender and pink. It was so cool!
I took a tripod to take all of these photos and videos myself with an iPhone. I use a self-timer app called Lens Buddy to take photos continuously.
But, I also saw many families hire photographers to capture them in the Confetti flowers. I believe photographers need to buy a special photo pass for this.
I would recommend wearing something summery in white, yellow, pink or blue. As much as dainty sandals or heels will look nice, the fields are very natural and uneven with soil. I wore trainers as you won't see your feet much anyway, ya girl needs arch support!
You can bring some props like a basket, straw hat, flower garlands, and all sorts of fun things to pose with.
If you wanted to make your photos really special, you could buy a bunch of Confetti Flowers in their stall at the entrance.
Note: Drones are not allowed to be flown over the Confetti Flower Fields
3. Get a birds eye view from the viewing platform
If you wanted to see what the Confetti Fields look like from above, the site has a viewing platform you can visit.
You can climb up to see the stripes of vibrant flowers in purples, pinks and white in the field plus the wildflowers.
It's amazing to see it from this perspective and you can just about see the visitors in amongst the flowers fields.
It's another fabulous photo opportunity and I saw lots of people getting selfies from up here so have your phone at the ready.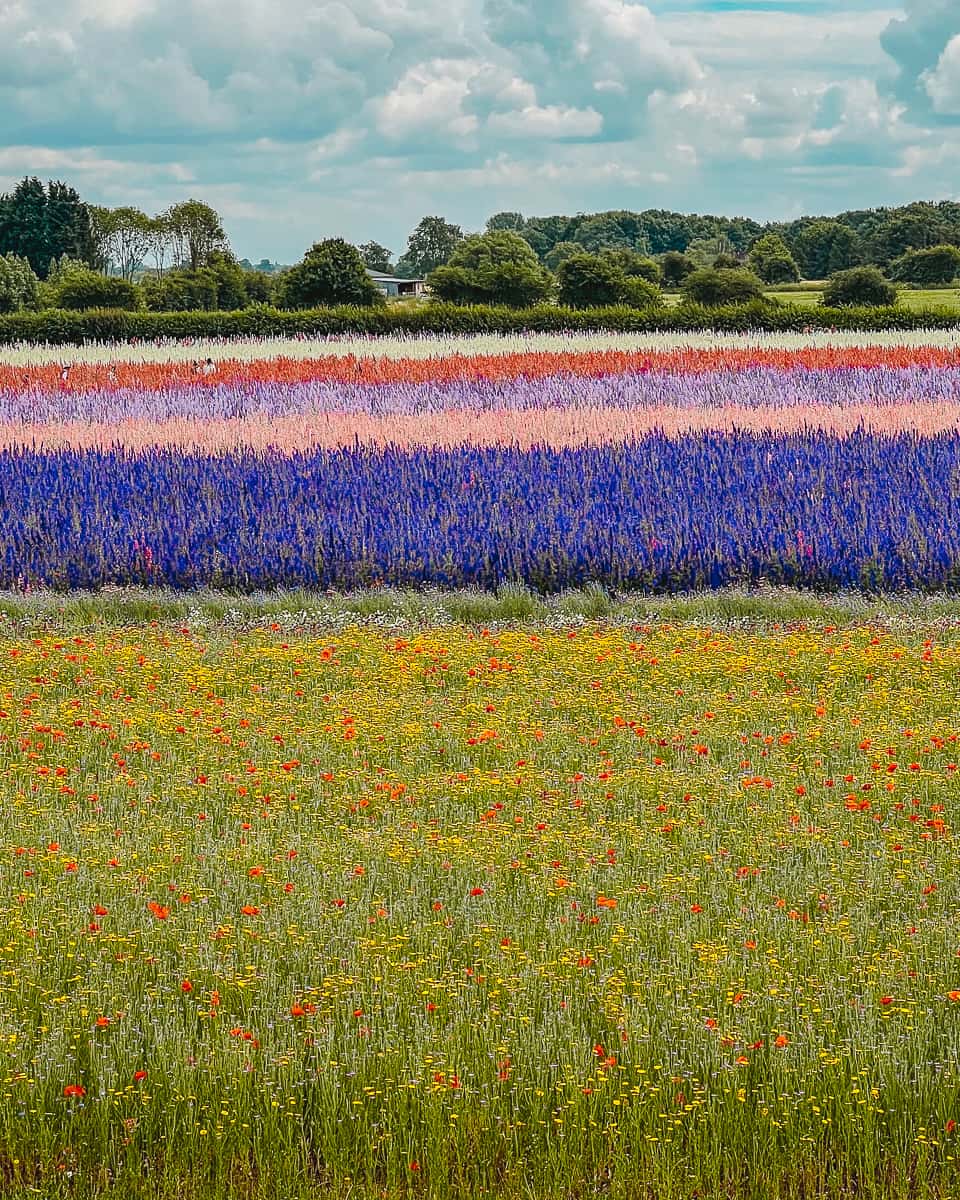 4. Buy a bunch of Confetti flowers
You are not allowed to pick any of the flowers at the confetti fields but you can purchase bunches of them at the entrance in their flower stall.
Bunches are £10 a piece and look so great in pictures. You can then take them home with you and put them on display! I did this and they looked so vibrant and colourful in my bedroom.
You can see the volunteers hard at work preparing the bunches in the tent next door with the confetti crop!
5. Have tea and ice cream at the Confetti Fields café
If you fancy some refreshments on the day, you can visit the Confetti Fields café at the entrance.
It's a pop-up café and they sell a selection of cold and hot drinks to purchase as well as light bites like homemade cakes. Contactless payments are preferred.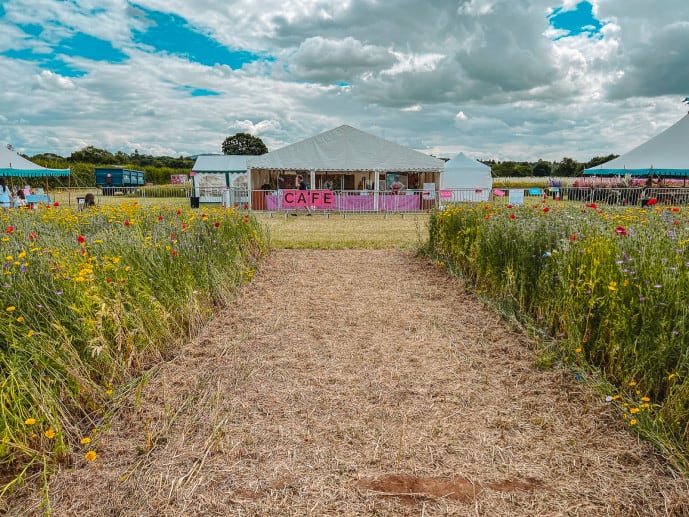 As it was a warm day, I treated myself to a tub of their Marshfield Farm ice cream and a refreshingly cold elderflower presse.
You'll find an open undercover tent and hay bales dotted around the site to sit on and eat!
6. Buy some art, preserves and confetti pouches to take home
The last tent at the Confetti Flower Field is the souvenir shop where you can buy pouches of the dried confetti!
This is a great opportunity to see the end result of the harvest. You can buy them in small and large pouches and even in baubles.
You'll find a range of locally made preserves and honey as well as an artist in residence. There is a great gallery of Confetti Field-inspired artwork on canvas to buy as well as smaller prints and postcards.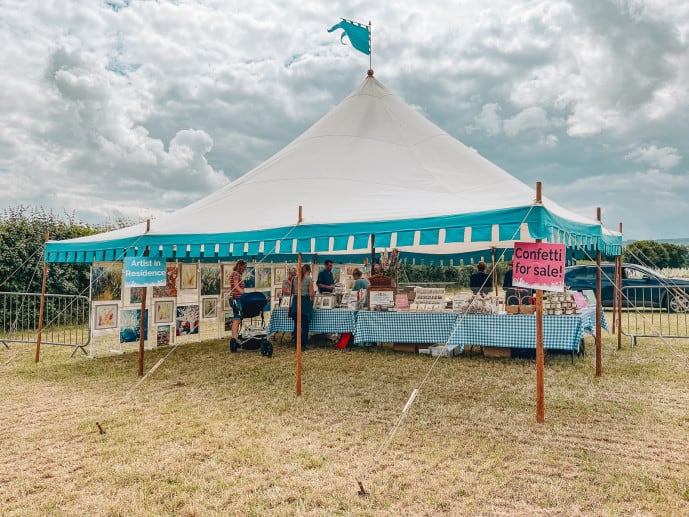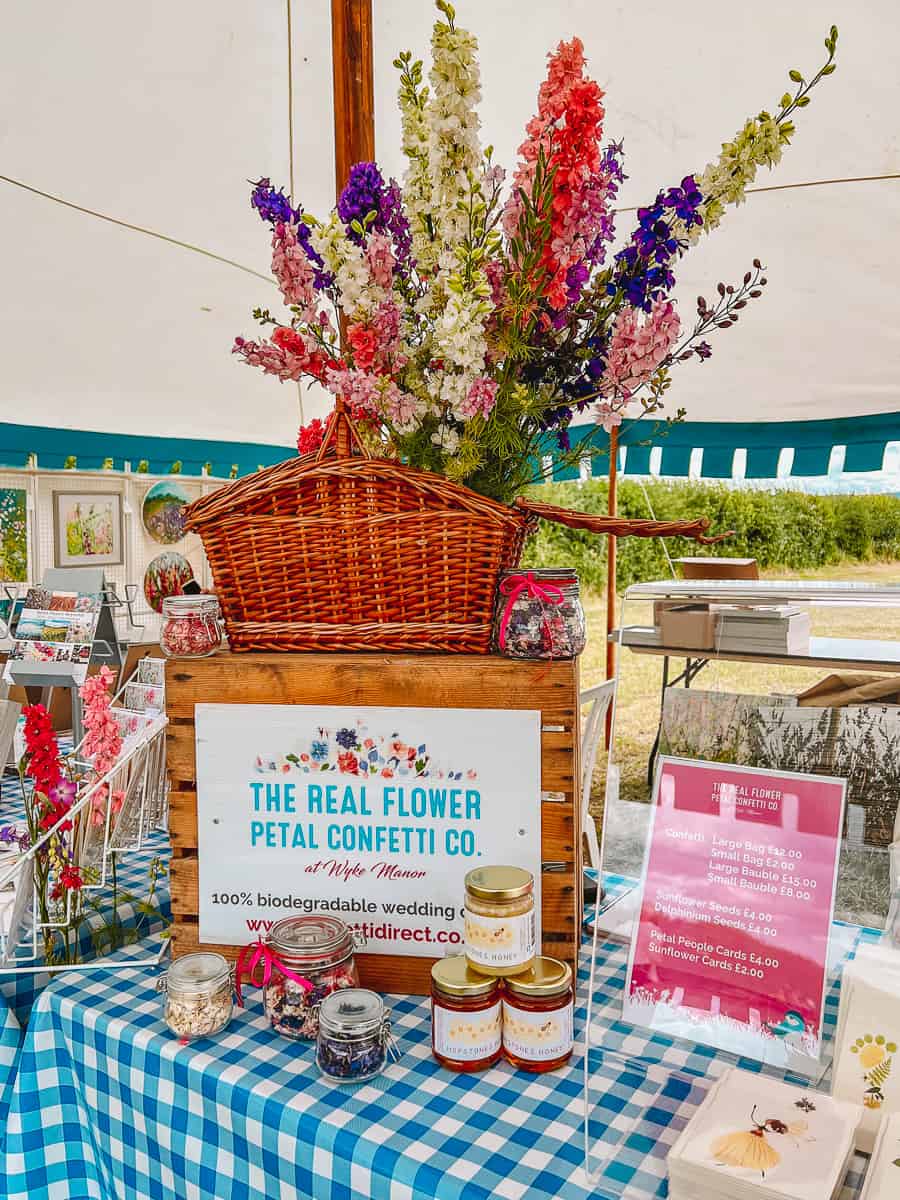 Are the Confetti Fields worth visiting?
100% YES! Not only are the confetti fields stunning to explore as they are filled with vibrant colourful flowers, but it's also an amazing photo opportunity.
You could spend a morning here for a stroll, catch up with friends or take your children for some family photos. It truly is a lovely place to visit in The Cotswolds.
It only opens for a short time every summer, so when you see it open – grab the opportunity with both hands!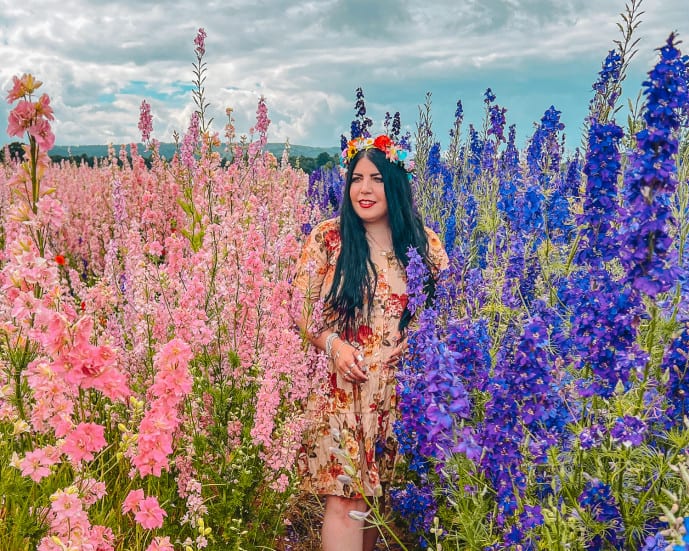 My top tips for visiting the Confetti Flower Fields
Wear sensible shoes – the Confetti Fields are a flower crop on a working farm. So, although every effort has been made for visitors, the ground is still uneven with lots of soil and debris around. I would wear a pair of trainers or walking shoes. Heels may be a challenge.
Wear sun protection – The site is very exposed with little shelter. Make sure to bring sun protection and a hat! If it rains be prepared with layers and a brolly.
Bring hand-sanitiser – there is no running water in the fields. Pack a bottle of water or your hand sanitiser!
Pack a picnic – There are light snacks to buy at the Confetti Fields café but if you wanted to have lunch at the site I would pack a picnic. There are lots of hay bales to relax and eat on.
There are toilets – Although it's a remote site there are (very clean) port-a-loo toilets in the Confetti Flower Fields car park. Use them before you enter the fields!
No smoking – for obvious reasons smoking and vaping is not allowed in the field.
The site is not dog friendly – Dogs are not allowed at the confetti fields to protect the flowers. Only registered disability dogs can attend.
Be careful of the flowers – The same goes for humans! Make sure to protect the flowers by only entering the crop in the gaps in between. Don't pick them or intentionally trample on them. There are bunches of Confetti Flowers sold at the entrance for £10.
Where to next in The Cotswolds?
After the Confetti Flower Fields, you can visit lots of places nearby in Worcestershire, Warwickshire, and the North Cotswolds.
Warwick is only a 45-minute drive away which is home to the famous Warwick Castle! In the town, you can explore the Old Town, St Mary's Church, Lord Leyester Hospital, and Thomas Oaken Tearooms.
Honington is a hidden gem village that is close by with the Instagrammable Rose Cottage!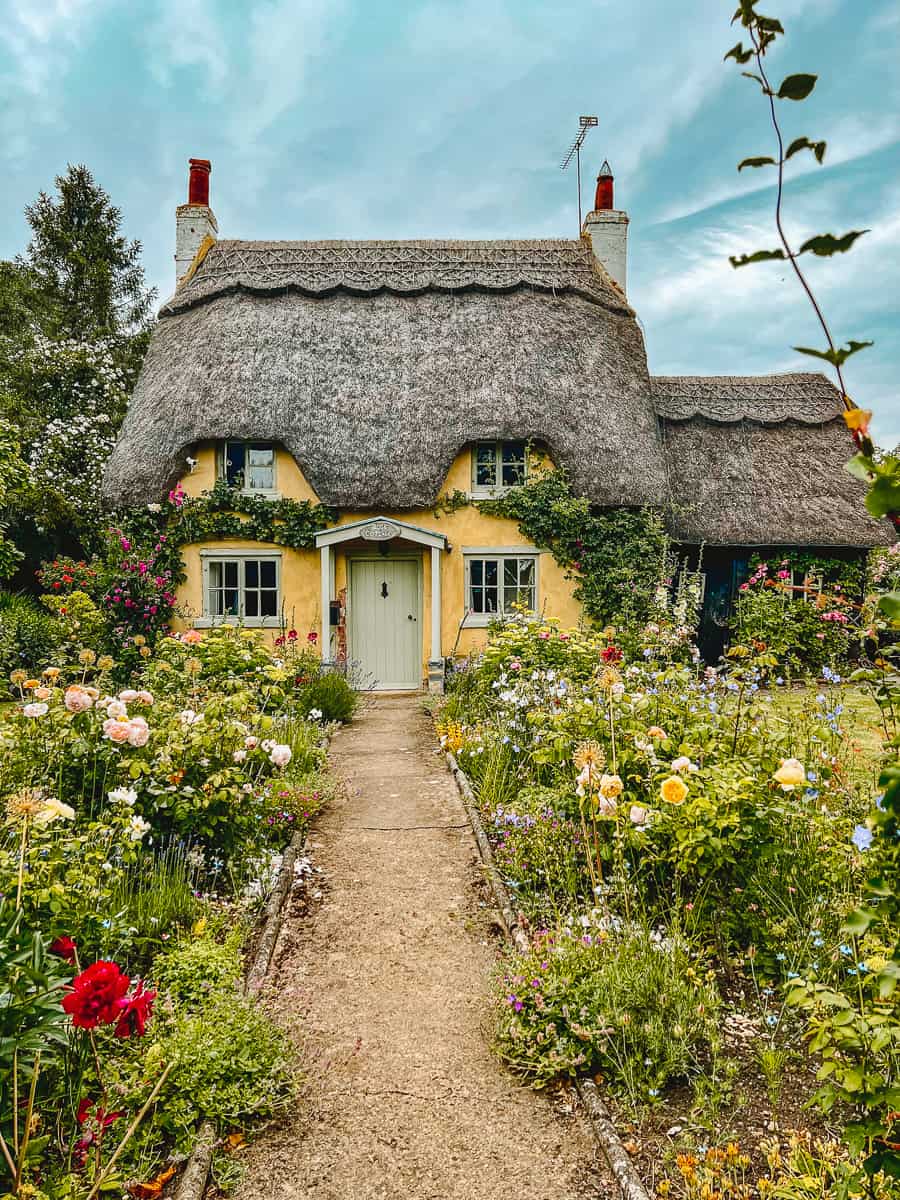 Kenilworth Castle is also worth a visit. It was a grand castle built by Robert Dudley for Queen Elizabeth I. They have recreated the Queen's Privy Garden and it's stunning in season.
Stratford upon Avon is also close by which is the home of William Shakespeare. You can visit Shakespeare's birthplace, New Place, and Anne Hathaway's Cottage.
There are lots of museums to explore like Tudor schoolrooms, and timber frame houses. You can even watch a show or take a backstage tour at the Royal Shakespeare Company.
You can easily drive to gorgeous places like Snowshill, Cotswold Lavender Fields, Chipping Campden, and Broadway home to the Broadway Tower.
Further afield, you have Moreton-in-Marsh, Stow-on-the-Wold, Lower Slaughter, Upper Slaughter, and Bourton-on-the-Water!
Where to stay near the Confetti Fields
The Confetti Flower Fields are great for a day trip or afternoon in The Cotswolds but if you're travelling from further afield the best place to stay would be in Pershore.
Here are some recommended hotels near Wyke Manor;
The Angel Inn Hotel – Less than 5 minutes drive from the Confetti Fields, The Angel Inn is a popular place to stay in Pershore on the High Street. It has modern rooms, a private garden, and a top-rated restaurant onsite. Click here to book.
Eckington Manor – 12 minutes from Wick, Eckington Manor dates back to the 12th century and is a perfect blend of history mixed with modern rooms and amenities. Its award-winning accommodation with breakfast and they even hold cookery lessons onsite. Click to book.
Read more of my Cotswolds guides
Things to do in Warwick Castle
Best things to do in Stow-on-the-Wold
The Tolkien Door in the Cotswolds
Lord of the Rings in the Cotswolds
A complete guide for Broadway Tower
How to visit Cotswolds Lavender Fields
Best things to do in Lower Slaughter
Places to visit in Upper Slaughter
Best things to do in Bibury including Arlington Row
Visiting the Primark Disney Café in Birmingham
Save how to visit the Confetti Fields for later!