If you're heading to Snowdonia National Park, there are plenty of waterfall walks you can enjoy on your visit.
But, one of the most popular is a split cascade that can be accessed through scenic woodlands behind the Conwy Falls Café. Locally known in Welsh as Rhaeadr y Graig Lwyd.
The Conwy Falls Forest Park is an award-winning attraction and its gorgeous café has a historic connection to Sir Clough Williams-Ellis. The creator of Portmeirion village!
This waterfall is also famous for salmon jumping. So, if you get lucky, you can spot this entertaining show while you're here!
As this is a Site of Special Scientific Interest (SSSI), it's a protected ancient woodland. So, the walk down here is left as 'natural' as possible. This means that the walk may not be easy for many.
This is something I don't think is discussed widely enough in other travel guides I found online.
So, in this detailed post, I hope to demystify a visit to Conwy Falls and give you an honest account of what to expect while hiking here. Plus, I have some top tips to help plan your visit!
What is Conwy Falls or Rhaeadr y Graig Lwyd?
Conwy Falls is a spectacular, natural waterfall that runs through the Conwy Falls Forest Park.
This is an ancient woodland that spans 10 acres in the County Borough of Conwy near Betws-y-Coed.
The rapids flow through a deep gorge, locally known as the Fairy Glen. But, this is a separate attraction.
The Forest Park is a protected Site of Specific Scientific Interest (SSSI) due to its lichens, flora, fauna and the wildlife that live in this woodland. Plus, the natural phenomena of salmon that 'climb' here.
The main waterfall is a 15 metre (50 foot) cascade on the River Conwy and the waterfall is split in two by a limestone gorge. This is the last gorge on the Conwy and, eventually, it falls into a pool below.
As well as the waterfall, the wider Conwy Falls Forest Park has many pathways, viewpoints and glades that you can admire on your visit.
Click here to read my complete travel guide for the Fairy Glen!
Conwy Falls history & connections to Sir Clough Williams-Ellis
Like most of the area surrounding Betws-y-Coed, the popularity rose for Conwy Falls around the Victorian era. This is when most of the areas natural beauty spots transformed into tourist attractions.
It was mainly down to Thomas Telford who built the A5 Betws Road in 1815. The road meant that far more people could access Snowdonia.
This road has survived the test of time and is still the main road to the village. You'll drive down it to visit this waterfall!
There is still a 'Victorian Path' today at the site that will take you down to these falls and it hasn't really changed much since. Apart from a few safety signs here and there!
With its rise in popularity, the first café officially opened here shortly after the new road. It had its humble beginnings as a rustic and spartan wooden hut.
But, in 1938, the café was in desperate need of a refurbishment. So, the council consulted the famous Welsh architect Sir Clough Williams-Ellis for a new building idea. He was the creator of the quirky Italian tourist village of Portmeirion!
Originally, the building was meant to be constructed right on the clifftops to overlook the falls. But, this design was never carried out. The Conwy Falls Café still have his original sketches on display in the café!
Despite this, a different café was built in the same spot to replace the older one in 1950.
Although it's not quite like Williams-Ellis' original design, it was hugely inspired by those blueprints and really compliments the architecture of Portmeirion.
Nowadays, Conwy Falls and its delightful café is still one of the most popular tourist attractions in Snowdonia National Park.
Thousands visit each year and it also recently won a Countryfile magazine landscape award.
Salmon ladders & jumpers!
The River Conwy, like the Llugwy, is a salmon river here in Snowdonia National Park. You may have already seen some jumpers at the Pont-y-Pair bridge in Betws-y-Coed!
Similar to that, you'll find lots of salmon swimming upstream here in the gorge and attempting to 'jump' upwards into the waterfall!
Unfortunately, I didn't manage to see any on my visit from the viewing platform. Apparently, the best time to see salmon jumping at Conwy Falls is around August in the summer.
There are two salmon ladders that have been installed here. One was from the Victorian era, but it was destroyed shortly afterwards in a storm. You can still see those remains today.
The other is is a new salmon ladder that was built in 1993 which cost nearly £1 million!
You can't see it as it's underwater. But, it's so snazzy it can actually detect how many fish are swimming here. There are 30 pools inside it with a zig-zag pipe tunnel.
Where is Conwy Falls & how to get there
Rhaeadr Y Graig Lwyd is located in the Country Borough of Conwy in Snowdonia National Park. This is in the North of Wales, UK.
You'll need to navigate over towards the Conwy Falls Café to access the start of the hike. This is the official entrance to Conwy Falls Forest Park.
The easiest way to access this café is to drive over to it.
The entrance to the walk is located just 2.5 miles from the tourist hub of Betws-y-Coed which is a six-minute drive. It's also a 5-minute drive from Penmachno and 5-minutes from the Fairy Glen.
If you're coming from further away, you'll expect to be here in a 30-minute drive from Llanberis and Conwy.
It's really convenient as the café is accessible directly off the A5 road. So, it's not a big diversion and you can fit it easily into a Snowdonia road trip!
I actually wasn't planning on hiking this waterfall at all on my visit. But, as I was driving out of Betws-y-Coed, I saw the sign for it and decided last minute to pull in.
There are plenty of FREE parking spaces just outside the café for you to use.
However, if you are incorporating Conwy Falls as a hike, it will take you around an hours walk to get here from Betws-y-Coed.
Equally, you'll be walking around 45 minutes from the village of Penmachno. It's also 30 minutes walk from the nearby Fairy Glen Gorge.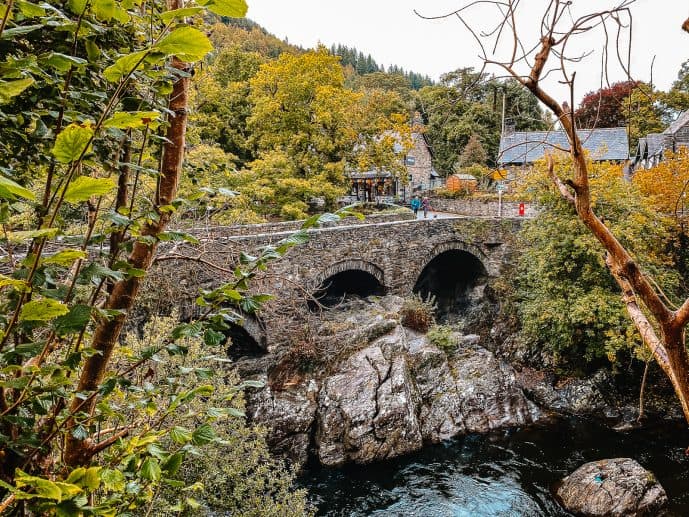 Top tip – visit the Conwy Falls Café before your visit
Beyond the waterfall, the delightful Conwy Falls Café is a highlight of any visit to Betws-y-Coed.
It's actually one of the top cafés in the area and is a tourist attraction in itself with its connections to Williams-Ellis and Portmeirion.
You'll find plenty of cyclists, hikers and tourists who pull in here for a pick me up. It's packed at any time of the day.
It's really cosy inside, there is FREE Wi-Fi, device charging ports and public toilets with a shower facility that you can use.
All the while you can enjoy a nice cup of coffee, a cold drink, and a cake. Or, some light lunch options are there as well!
It's cosy whatever the weather. But, in the summer months, they have a gorgeous outdoor seating area surrounded by nature. There are honestly countless reasons to visit this colourful tearoom.
But, there is another reason why I suggest that you visit the café before you head into the Conwy Falls Forest Park. Customers of the café get FREE entry!
That's right. So, as well as enjoying your pitstop here and supporting a local business. You can enjoy seeing Conwy Falls absolutely free.
It's more bang for your buck and that's never a bad thing.
Conwy Falls Cafe opening times are 9 am – 5 pm, 7 days a week.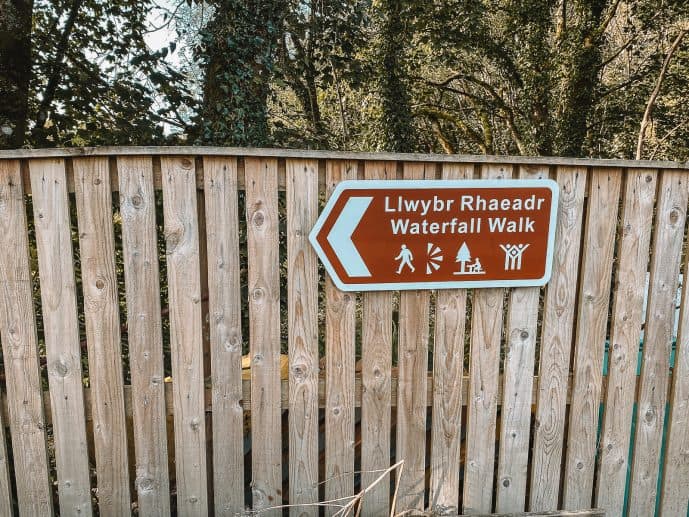 Conwy Falls entry fee & opening times
However, I can completely understand if you're on a budget. You may not have the cash to splurge. That, or you may arrive at the waterfalls after hours once the café has closed for the day.
Well, not to worry, you can still pay the entry fee when you arrive here. It runs via a kiosk and an honesty box system.
Conwy Falls ticket prices are £1.50 per adult, £1 for children aged 4-17 and under 3's go free!
As far as I'm aware, the Conwy Falls Forest Park remains open after the café closes. This is due to the self-service counter at the turnstile entry.
Things to know before you head into the Forest Park
As this is an SSSI, the forest and pathways have been kept as natural as possible. This means that the waterfall walk is not easily accessible or manageable for those with mobility issues. I, for one, had huge problems walking down with my ankles. I found it quite a mission.
This walk, although short, is very steep and takes you down into the forest gorge. It requires a lot of effort to navigate. Both going down and then coming back up! It has large, incredibly steep steps, uneven ground, lots of tree branches on narrow pathways and mud. Lot's of mud.
The pathways are quite uneven and can be slippy if it has been raining. I would personally wear some good, ankle supporting shoes or waterproof footwear. At one point, I turned back as the path was too boggy to continue.
The fencing is unstable so it's important to keep children in sight at all times for their safety!
This walk is dog friendly and your furry friends are welcome inside the café and forest park.
There are also picnic benches that have been provided here and you're welcome to bring your own food to this walk. Just make sure to take your rubbish home with you.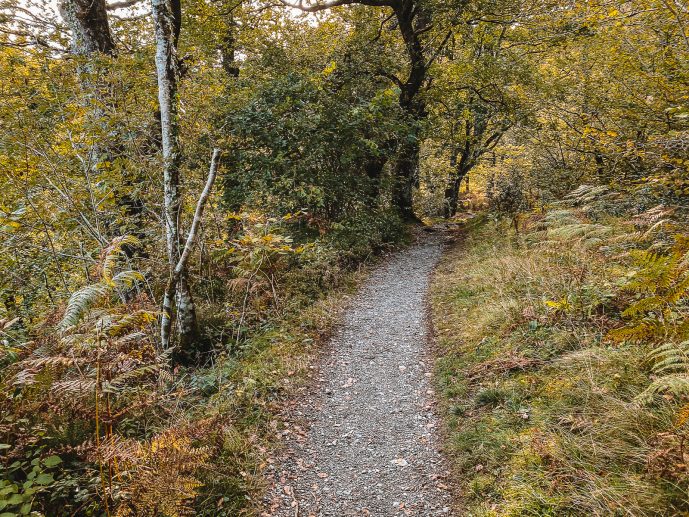 How long is the Conwy Falls Walk?
This is dependent on how far you would like to venture into the forest park and how much of the waterfall you want to see.
If you're simply happy to head on down to the viewing platform to see the split waterfall from a height. There are two walking route options.
There is a steeper, shorter walking route that I'd say will take you around 5-10 minutes one way.
But, if you do find the pathways a bit challenging, or you take a scenic route as I did, I'd plan at least 15-20 minutes one way.
If you want to head on further down beyond the viewing platform, this path will lead you to the lower part of the waterfall to see it fall into the pool.
I will warn you now that this route will be even more challenging and mucky. So, I'd plan around 20 – 30 minutes each way.
At a minimum, I would say you need at least 30 minutes for a round trip to the see the waterfall viewing platform and back to the car park.
Do I have to walk to see the waterfall? Can't you see it from the road?
As it's located inside a dense forest and gorge, you won't see even an inch of this waterfall until you reach the viewing platform.
So, there is no shortcut or a way to see this cascade other than trudging down there.
You cannot see it from the road or even from the café unfortunately.
In a way, this is what made the walk a little unsatisfying if I'm being honest. It just felt like an endless obstacle course with little or nothing to see on the way.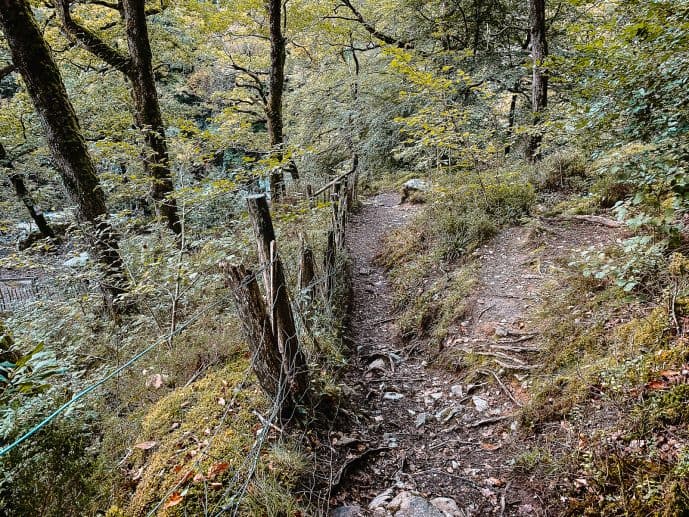 What to expect while walking down
It's a pretty forest, don't get me wrong and I totally understand the need to protect it due to it being an SSSI.
But, to me, it felt like a lifetime to get there due to the boggy and treacherous pathways. I was cursing why I even decided to go.
The path was rocky and super uncomfortable to walk on and it was incredibly steep and narrow.
The steps were really huge and hard to manoeuvre (for a shortie like me) and I kept tripping over the hundreds of tree roots that protruded out of the floor.
It forces you to watch your step constantly and look down all the time. So you can't really enjoy the forest surroundings you paid to see.
If you need to hold onto the fencing, that was also unstable. Some parts did not look safe or properly protected.
For the money, you'd expect for it to be better maintained. Yes, £1.50 is a low price but there are thousands of visitors who come here each year. Their entrance sign even says the money goes towards the upkeep.
I found it exhausting but I know that this is just my personal experience. Everyone is different and you may find that there is nothing wrong with the walkways at all!
But, I don't think it would be right to lie to you about my experience and act like it was all a breeze.
If you think I'm talking rubbish or need a second opinion, you'll find numerous reviews on Tripadvisor warning others of the same type of things.
It's good to note, you will have to walk the same way back to the car park. So, you'll get the pleasure twice. A consolation is the descent is a little easier than climbing upwards.
If you are worried about this walk, I'd personally recommend Swallow Falls as it's far easier to access. In my personal opinion, it's also far more impressive.
See my visitor guide for Swallow Falls here!
The viewing platform of the split waterfall
Beyond all my moans and groans about the walk here, I have to admit it, it is worth it to see the views when you do eventually arrive.
The split waterfall over the gorge is spectacular to see in its natural setting! It's incredibly impressive and really roars.
I could have spent ages watching it fall down into the cliffs and you did get a really great look from the viewing platform.
Personally, I was really happy with the photos I could get from here!
It's a large area with a bench placed there if you did need a break from your hike on the way down.
Continuing down to the bottom of Conwy Falls & pool
Although I did find it a struggle to the viewing platform, I was tempted to carry on to see the bottom of the waterfall.
This is because it's the landscape photography location that won awards and the photos you'll see in all the guidebooks!
But, when I started heading over that way, I came across what looked like a bog with a few mucky stepping stones to pass over. So, not to tempt fate, I gave it a miss and headed back to the car park.
If you did want to walk here yourself. It's easy enough to do with good footwear but I'd allow a bit more time.
This is because it gets even steeper and more slippy with a rocky path heading downwards.
Where to go next
So, once you made it back up to the top, there are plenty of scenic things to do around this area. As you're already on the A5 road you're in the perfect place to carry on your road trip.
I would highly recommend heading over the fantastic Penmachno Roman Bridge which is just nearby here. It's a top photography location and incredible scenic, click here for my post with directions.
Also, you could head over to the Fairy Glen Gorge which is like something from a fairytale. It is another tough walk but one that is well worth doing.
Id, also recommend the gorgeous Swallow Falls. They were my favourite falls in Snowdonia and super easy to get to. Click here for a visitor guide.
Nearby you can pop by the Ugly House tearoom which is actually not ugly whatsoever. It's very sweet and worth a look in as they have a free pollinator garden to explore.
No visit to Snowdonia would be complete without a tour of the Victorian Betws-y-Coed village.
It's absolutely stunning and you can see the Pont-y-Pair bridge, go shopping, have lunch or head over to the Sappers bridge and Miner's Bridge on a hike through the Gwydir Forest!
Where to stay in Betws-y-Coed
Swallow Falls Hotel – This is a cornerstone of Betws tourism and one of the first hotels established in the area. It's now a huge cosy tourist complex with suites and even glamping sheds! There is also a pub onsite. Click here to book.
The Royal Oak – Again, this is more of an institution in Betws-y-Coed today. It started out as a traditional coaching inn with hundreds of years of history. It's based in the centre of the village and oozes character and charm. Check dates and rates here.
Read more of my North Wales posts
How to see the Bodnant Garden Laburnum Arch
Look inside the Smallest House in Great Britain!
The legend of Gelert the dog & visiting his grave
The top places to visit in Beddgelert
How to find the lone tree of Llyn Padarn
When does Tu Hwnt I'r Bont turn red?
A complete guide for the Conwy Town Walls
How to do the Llyn Idwal Circular Walk
A complete guide for the Dinas Emrys Walk & Dragon legend
How to visit Pistyll Rhaeadr Waterfall
Gladstone's Library – Stay in the UK's only residential library
How to visit Dinorwic Quarry Wales
Visit Anglesey Barracks – Snowdonia's Forgotten Street
Save this Conwy Falls Visitor guide for later!