One of my favourite walks in North Wales has to be the Conwy Town Walls walk that I took on my recent trip to Snowdonia National Park.
This walk allows you to explore and stroll along the medieval fortifications that were built by King Edward I as part of his 'iron ring' of defensive castles and is now part of a UNESCO World Heritage Site.
As you ascend up to the ramparts, you can walk high above the town and snake through towers and battlements taking in spectacular sights as you go.
It's one of the best things to do in Conwy and you mustn't skip it on your visit. Here is a complete guide for the Conwy Town Walls walk in North Wales!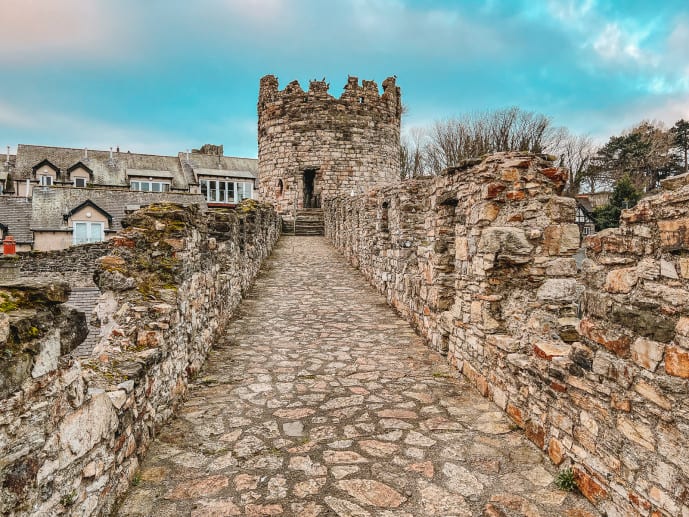 Conwy Town Walls history
The Conwy Town Walls were built as part of Edward I's 'Iron Ring' in the North of Wales during his campaign for complete control and conquer over the country and its population.
He spent over £80,000 on castles which was a considerable sum back then and his 'Iron Ring' consisted of Conwy, Caernarfon, Harlech, and Beaumaris Castle in North Wales.
You may be surprised to learn that Conwy Castle and its fortification walls were built in just four years by Edward and his chief architect, James of Saint George, from 1283 and 1287.
Conwy Castle was built a year after the death of Prince Llywelyn ap Gruffydd in 1282, the last true Prince of Wales. His rightful heir Daffyd ap Gruffydd was then captured and imprisoned in England where he was eventually tried and executed.
Despite the Welsh royal line being conquered, the outrage of the English occupation was still felt by the Welsh population and multiple rebellions occurred in North Wales in the years following the deaths of the Princes of Gwynedd.
So, Edward had the castle and defensive walls in Conwy built as a sign of dominance, power, and protection.
Conwy's defensive fortifications are around a mile long and contain 21 towers and 3 gatehouses. Despite some damage during the rebellion of Owain Glyndŵr in 1401, they have remained relatively unharmed throughout the centuries.
Today, the Conwy Town Walls are part of a UNESCO World Heritage Site and are a popular tourist attraction in Conwy. It's completely free to visit and a chance for you to step back in time!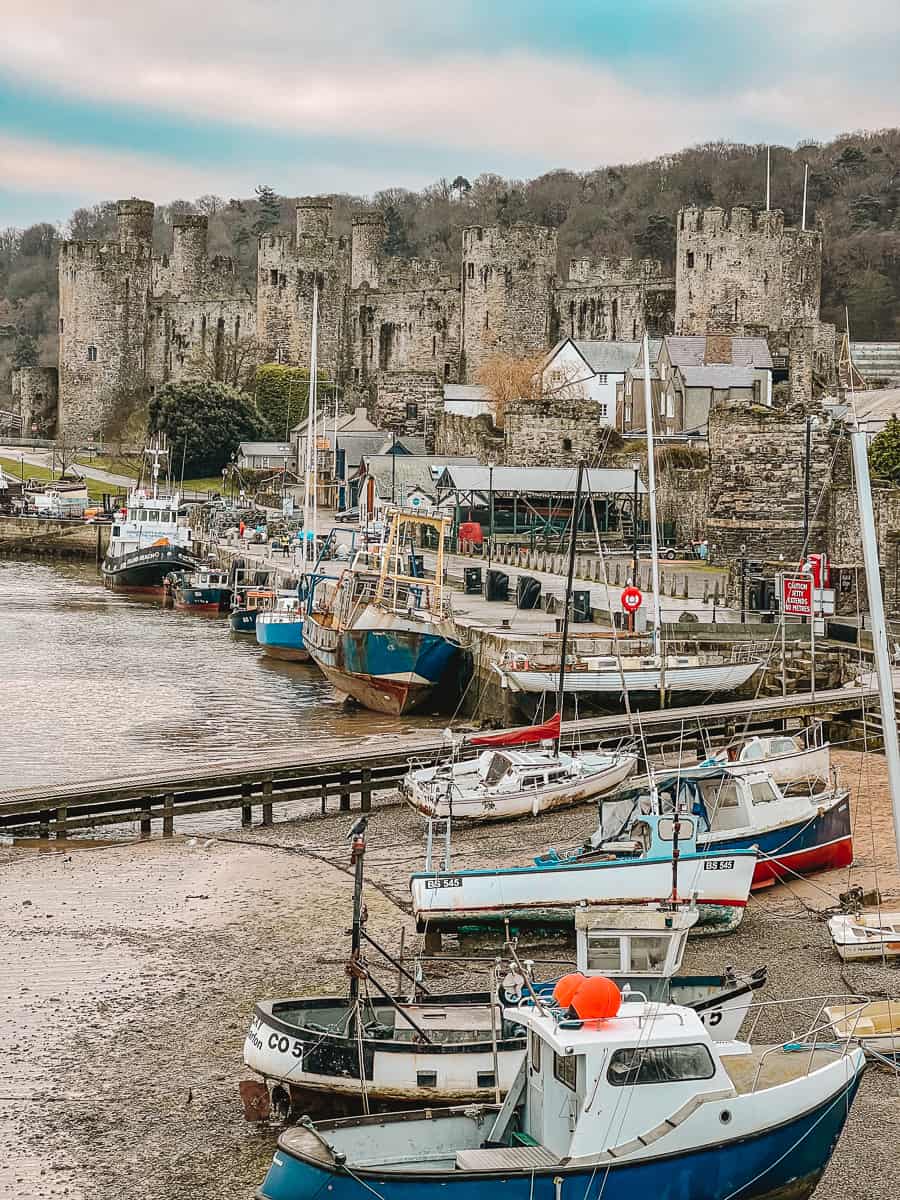 How to find the Conwy Town Walls Walk
Conwy's defensive fortifications encircle the heart of the town and they stretch for around 1.4 kilometres or 0.8 miles. So, you will find that there are many entrances for this walk around the town.
The two Conwy town walls entrances I would recommend would be the ones closest to Conwy Castle and the Quayside entrance found at the end of Conwy High Street.
Once you're up on the battlements, you can walk along the town walls for as long as you like and there are plenty of exit points through the 21 towers.
Simply head up the steps to the walls and then walk in whichever direction you feel like! There is no right or wrong place to start this trail as all of the medieval fortifications provide excellent views all over the town, sea, and Snowdonia beyond.
What can you see from the Conwy Town Walls?
Personally, I would recommend experiencing as much of this walk as possible to get the best views.
If you're starting from the High Street entrance near to the Quayside, you'll get excellent views of the strait, Conwy Castle and Conwy Quay. You'll get to spot the Smallest House in Great Britain from here.
If you head back on yourself and follow the walls to your right, you'll head over the High Street, through the residential areas, and over to the Conwy Castle.
What I loved the most was that on a clear day the Conwy town walls provide some amazing views over the Snowdonia mountain range – so I would have your camera at the ready!
How long is the Conwy Town Walls walk?
The Conwy Town Walls walk can be as long or short as you like. There is a ring of fortification walls that is around 1.3km long and you can walk pretty much the whole way around it. However, it's not entirely connected so you may have to head down to the ground level and pick up the trail later on.
I would personally recommend around 45 minutes to an hour to complete this walk as you'll probably stop a few times to take in the spectacular views you can get from here!
If you just wanted to see a small part of the town walls, you can climb up on the entrance by the castle or by the High Street. From both of these points, you get some impressive views with minimal effort.
What to expect on this walk
I was so surprised at how much I loved this walk around the town. Around every turn, you could walk through tunnels and towers!
The only thing I would say is to come prepared with some good shoes as the walls are ancient and therefore the floor is pretty uneven. It's also steep in many places, especially as you head away from the castle and onto the upper ramparts.
But, the views from up here more than make up for your sore legs. You're so high up you'll be joining the seagulls, pigeons, and crows that perch up here.
It can be pretty daunting looking down at the town from the walls, but there are plenty of railings and protective barriers so you have no chance of falling off. Saying that it's always best to use common sense and discernment when you're so high up!
Conwy Town Walls opening times and prices
The Conwy Town Walls are open 24 hours a day, 7 days a week so you don't need to plan a specific time to visit them!
I always thought it would be amazing to walk these walls at night and go stargazing as it's so close to the sea.
Another great thing is that the Conwy Castle Walls are completely FREE to visit and makes a great budget activity.
Make sure to visit Conwy Castle next
If you wanted to experience even more history in Conwy, then I would recommend booking a visit to the impressive Conwy Castle. It's known as one of the most magnificent medieval fortifications in all of Europe!
The Conwy Town Walls will take you right up to the fortress but you will have to pay to go inside the castle as it's a tourist attraction owned by Cadw.
This dramatic medieval castle and the town walls were both built by Edward I in just four years from 1283 and 1287.
Conwy forms part of King Edward's 'Iron Ring' of fortified castles including Beaumaris, Harlech, and Caernarfon as a UNESCO World Heritage Site.
The castle is a labyrinth of towers, spiralling staircases, and staterooms to explore along with spectacular views overlooking the strait. You can even see the Conwy Suspension bridge from the upper levels. It's well worth visiting while you're here.
Click here to find out more visitor information for Conwy Castle!
Are you looking for more things to do in Conwy?
After your visit, you can explore the rest of Conwy Quay with its ancient pubs and buildings surrounded by the old city walls. Take a stroll along the harbour and look out at all the fishing boats!
Here you can visit the Smallest Town in Great Britain that is a tiny abode by the harbour. You can pay to go inside and have a look inside the tiny rooms.
There is also Plas Mawr, Aberconwy House, some sandy beaches and plenty of cafés to enjoy a coffee or bite to eat!
Conwy is just a few miles from the spectacular Snowdonia National Park which is full of natural beauty!
Read my complete guide for the Smallest House in Great Britain!
Read more of my North Wales travel guides
A complete guide for Swallow Falls
Conwy Falls and Cafe Walking Guide
Visit Anglesey Barracks – Snowdonia's Forgotten Street
Discover the ancient Penmachno Bridge
How to find the Fairy Glen in Betws-y-Coed
When does Tu Hwnt I'r Bont turn red?
Why is the Ugly House called Ugly?
Find jumping salmon at Pont-y-Pair bridge
How to find Sappers Suspension Bridge
The tragic legend of Gelert the Dog
The top places to visit in Beddgelert
How to do the Llyn Idwal Circular Walk
A complete guide for the Dinas Emrys Walk & Dragon legend
How to see the Bodnant Garden Laburnum Arch
How to visit Pistyll Rhaeadr Waterfall
Gladstone's Library – Stay in the UK's only residential library
How to visit Dinorwic Quarry Wales
Save this Conwy Town Walls Walk for later!