As a huge Agatha Christie lover, I've always dreamed of having afternoon tea on board the Orient Express. Well, I'm happy to report, I finally found my chance onboard the Countess of York!
A Countess of York afternoon tea is a must for anyone travelling to Yorkshire. You can escape into this beautifully restored vintage carriage and indulge in a delectable afternoon tea for a few hours.
It isn't a moving train, but you can still look out the window and imagine you're dining like royalty as you move down the tracks.
It felt oh so very civilised and was truly a once-in-a-lifetime experience. Here's all you need to know about a Countess of York afternoon tea!
Update 2023: The Countess of York has now been permanently removed :(
How to reach York in England
York is easily accessible by train in the UK and is only a short two-hour journey from London! You can check train prices here on the National Rail website.
The great thing is that York Central Railway Station is just an 8-minute walk away from the National Railway Museum where the Countess of York is stationed.
If you're driving from London or the South West, the drive takes around 4 hours and you can alight at the York junction on the M1 motorway.
You can get FREE parking if you're having a Countess of York afternoon tea
There is parking nearby the National Railway Museum if you're having a Countess of York afternoon tea and you're entitled to FREE parking saving £10 a vehicle.
Just let the host know you've parked up and they will give you a ticket for a parking token from the front desk.
How to reach the Countess of York?
The Countess of York is stationed in the National Railway Museum, just eight-minute walk from the York Central Railway Station on Leeman Road.
The National Railway Museum is FREE to enter, so don't worry about having to pay for tickets on top of your afternoon tea.
You can easily access the Museum on foot in York. But, if you didn't fancy walking, there is a toy train shuttle from York Minster that can take you to the museum doors for £3 each way.
You can get a one-way journey with a York Pass. These run every 30 minutes. On weekends there have big queues, so be prepared to wait.
What time is the Countess of York afternoon tea and do I need to reserve a table?
The Countess of York afternoon tea is served in the time slots of 12 pm, 2 pm, and 4 pm.
Booking is highly recommended as it gets quite full. You can easily book your table by popping into the train carriage itself during opening hours (12 pm-6 pm), calling them on 01904 686 295, or dropping them an email at countessofyork@nrm.org.uk
5 Reasons to try the Countess of York afternoon tea
1. The Countess of York was used on the Orient Express
Riding and dining onboard the Orient Express has been on my bucket list forever!
As an avid Agatha Christie fan, it would be the dream. I recently rewatched Murder on the Orient Express with Kenneth Branagh too so it got me really inspired!
Although, I hope I won't need Poirot's assistance for murder on board, save solving the mystery of where all the cakes have gone (hint: down my belly!).
It may surprise you to know that this gorgeous vintage carriage was actually a part of the Orient Express. It's a restored Pullman carriage from 1956. So, you can really travel back in time to experience what high-class dining was like all those years ago.
The history surrounding the Countess of York is fascinating. Originally, it was used by the postal service as a mail carriage, then it was part of the Bulmer's cider line to transport bottles to pubs.
Then, it was a counterpart of the Orient Express, a movie star renamed Valiant and now sits proudly in the gardens of the National Railway Museum. Quite the history for one train carriage!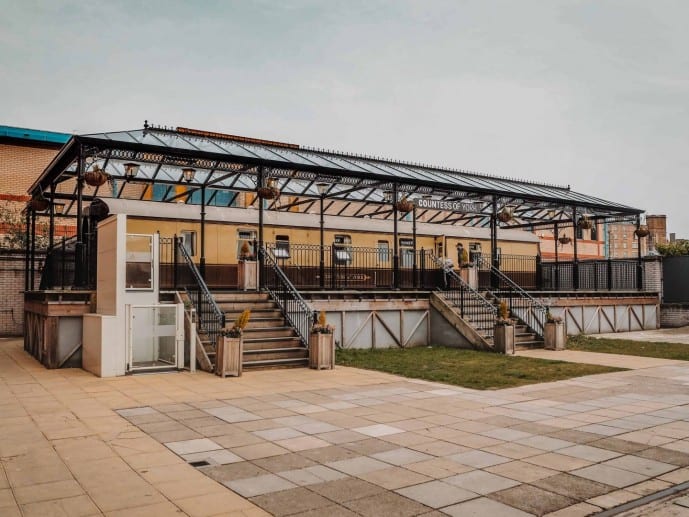 2. It's a beautiful setting fit for royalty
They have done such an amazing job of restoring this beautiful train carriage. All the tables are laid with white table cloths, White Rose of York crockery, and gleaming silverware. There were also authentic table lamps like they would have used years ago.
The walls are deep red and decorated with gold picture frames and vintage photographs of high-class dining. Ladies in their furs, with gloves and posing with their teacups! The chairs are also made of a gorgeous tapestry and fit the scene perfectly.
As soon as I walked into the Countess of York, it was an escape from the outside world and even this century! I felt like
I had travelled back in time to a bygone era. As I took my seat and classical music filled the air, I could almost imagine looking out the window and seeing the world pass me by. Bliss!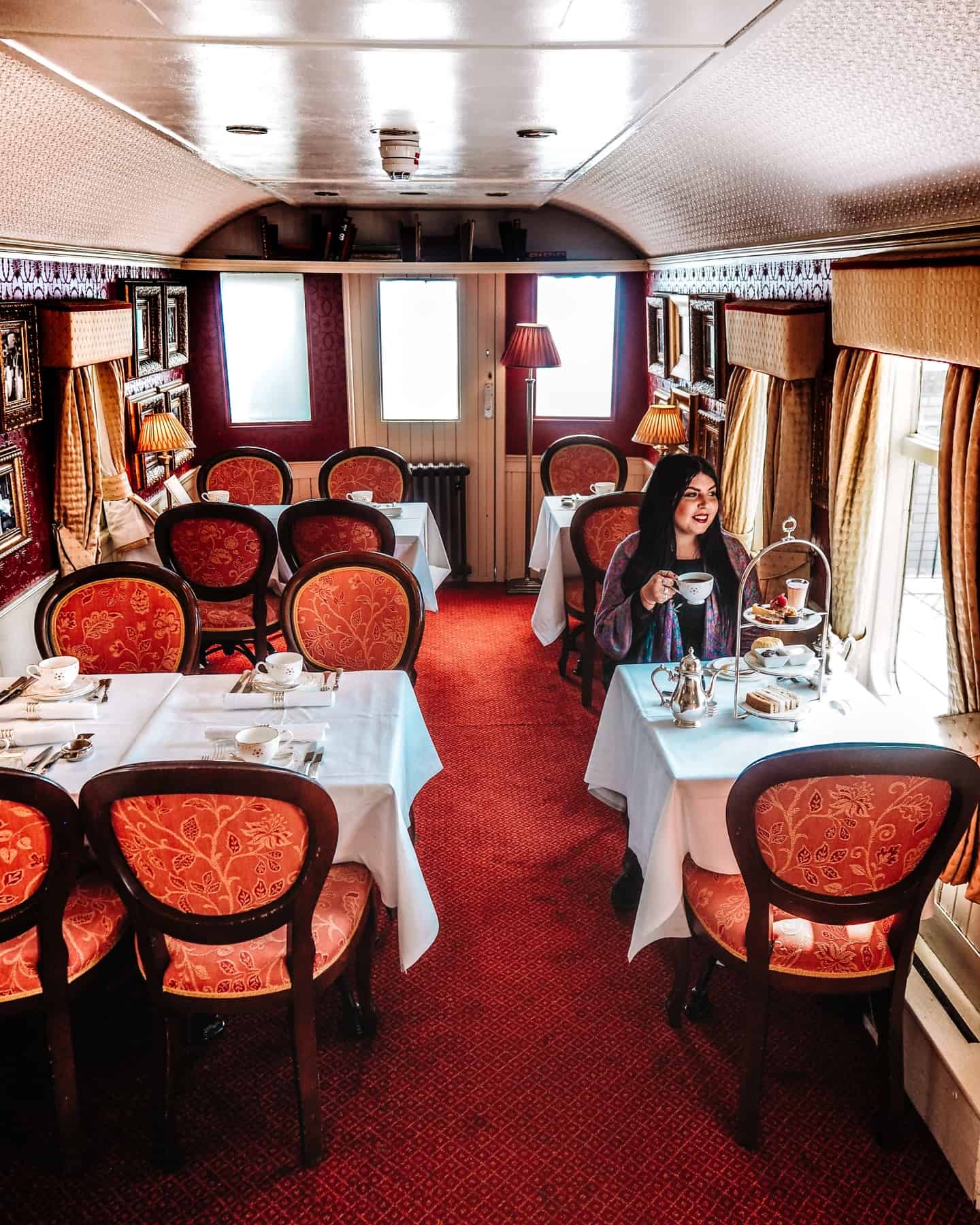 3. The Countess of York afternoon tea is simply divine
]Aside from it being set in a beautiful location, the Countess of York afternoon tea experience cannot be beaten! All the food is prepared so well and it's utterly delicious.
I loved the fact they also cater to dietary requirements. I'm lactose intolerant so they lovingly prepared everything as dairy-free as possible, even with dairy-free spread!
I usually pick and choose my battles with it though, so decided to have the dairy desserts anyway (oops!).
They also do gluten-free and vegan afternoon teas too, so always let them know any specific dietary requirements when booking.
Countess of York afternoon tea menu
The tea menu to accompany your afternoon tea is extensive. Of course, they have your regular English Breakfast Tea or Yorkshire Tea. But also other brews like Oolong and Earl Grey if you fancied it. This is served loose in a stainless steel teapot!
First up, we started off with an amuse-bouche of a minted pea and watercress soup, served with a quail's egg and a Red Leicester and cherry tomato tartlet as a palette teaser. It was mouthwatering and definitely had me excited for what was to come.
Then, the beautifully presented cake tier arrived with a banquet for a queen! On the bottom tier were finger sandwiches of glazed ham with piccalilli, cucumber, and chive cream cheese (or just cucumber for me) and hot smoked salmon with asparagus purée.
A warm Yorkshire scone plump with fruit was on the second tier with lashings of vanilla-infused cream and homemade berry preserve, although I didn't have cream.
Then my favourite part was on the top, the dainty cakes! First up was a Blood Orange posset with sherbet on top, I'm obsessed with blood orange so it was dreamy.
Then to accompany it was White chocolate and raspberry blondie, Yorkshire gold tea bread, banoffee mousse in a chocolate cup, and a zesty lemon tart! I love having citrus desserts in spring, so it was perfect.
I was almost defeated as everything was so incredibly filling but persevered! Their menu changes seasonally, so check here for what's in store on their menu here.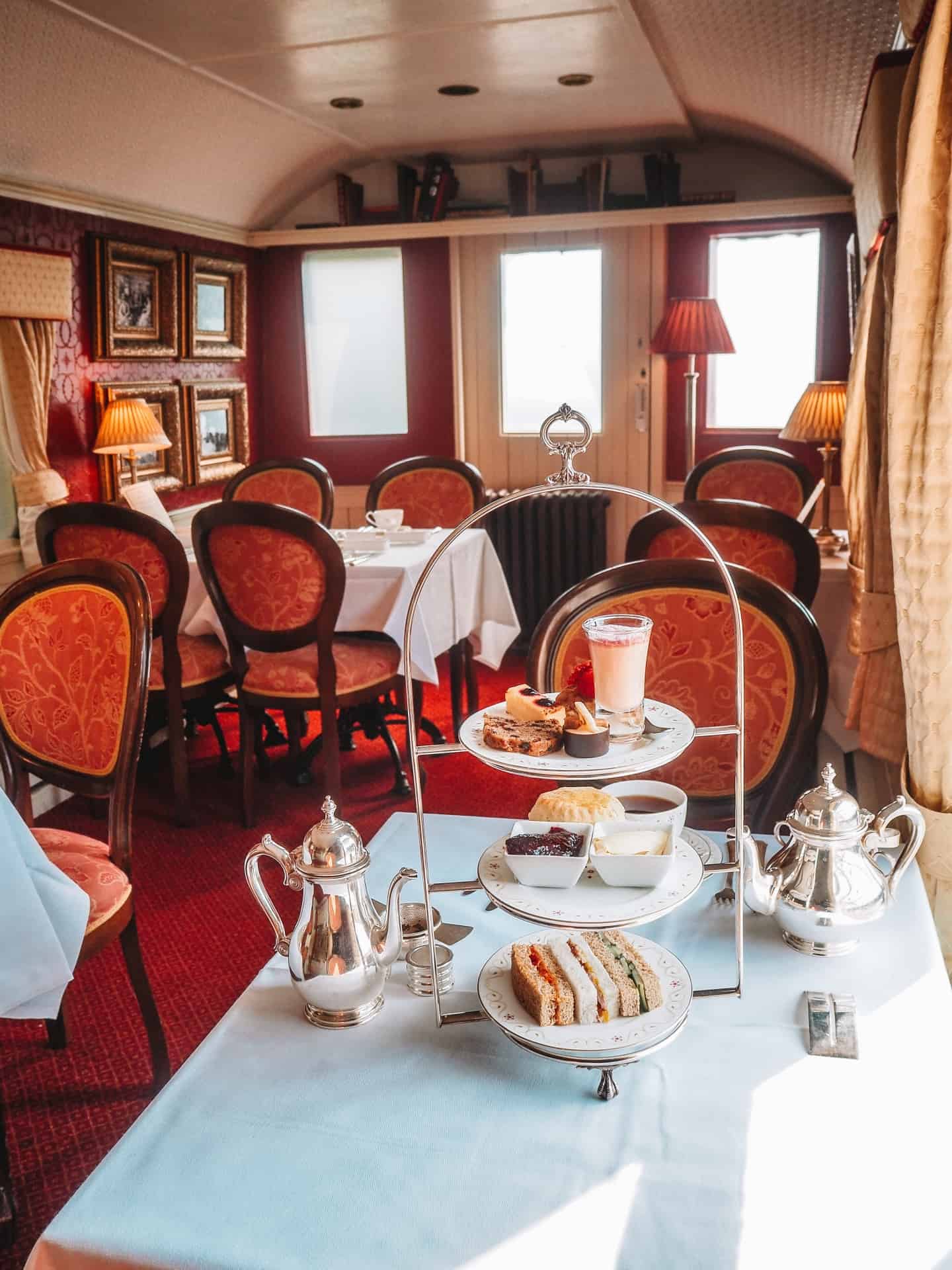 4. The service is excellent and it's really good value for money
All the staff is smartly dressed and in character to serve you onboard the Countess of York. The service was excellent and the lovely waitresses were on hand to answer any questions you had.
I couldn't believe that the experience onboard and the Countess of York afternoon tea was only £23.50 per person! With all the food that's included and the fact you get to sit in a vintage train carriage to enjoy it, it's an unbelievably good price.
You can also treat yourself to a luxurious champagne afternoon tea for £30.50 per person too if you wanted some bubbles.
Despite the cost, the experience itself onboard the Countess of York was priceless and it's the perfect setting for a birthday or special occasion too.
5. You can explore the amazing National Railway Museum
After you've finished your delicious afternoon tea, providing you're not in a food coma, you can burn off all those calories around the National Railway Museum. It's a huge place and if you like your trains, you'll be in your element.
Personally, I'm a bit of a history buff so I loved looking around all the vintage railway carriages. They had some that were used for royalty and were beautifully decorated inside.
Another highlight was taking a peek at the Flying Scotsman, one of the most famous locomotive steam trains in the world. It was built in 1862 and provided a tramline all the way from London to Edinburgh. Here it's stationed in the museum until it makes its rounds each spring to tour on vintage railways around the country.
If you wanted to ride a train while at the museum, they have a vintage steam train experience where you can ride a train down the tracks for an extra fee. Or, explore their innovation exhibition which gives you insights into the future of train travel.
It's a massive museum and there is so much to do! It's perfect to spend a few hours or hide away from the rain. Plus, there's lot's to do for kids and it won't hurt your wallet.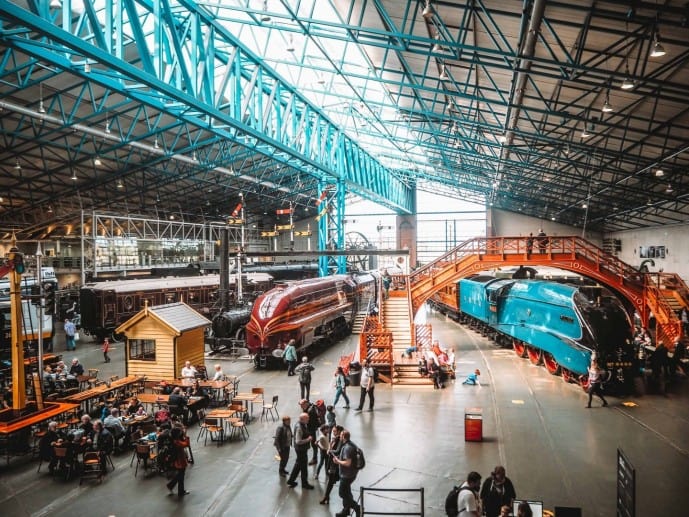 Where to stay in York
If you're looking for somewhere nearby, then I would highly recommend the beautiful Principal Hotel in York. It's only a five-minute walk from the Countess of York!
Built in 1878, out of Scarborough brick, it was placed adjacent to the York Central Railway Station to cater to tourists visiting the city. In fact, in the forties, it used to be part of British Transport Hotels – perfect if you're a train fan!
Nowadays, it's a gorgeous five-star property in the heart of the city and owned by the Principal Hotel Company. If the outside looks like a palace, then wait until you've stepped inside! Many of the original Victorian features of the hotel still remain and it's been updated with a modern chic design.
My junior suite, which was fit for royalty, had a picture-perfect view of York Minster in amongst their expansive gardens. Like a mini oasis in the city!
Click here to read more about the Principal hotel and how to book.
Looking for more things to do in York?
York has been consistently voted as one of the best cities to visit in the UK with a long and expansive history. From the Romans to the Vikings, William I, the War of the Roses, and Guy Fawkes, there is so much of the past to stick your teeth into.
Why not visit the beautiful York Minster and climb up the tower for a breathtaking view of the whole city? Jorvik Viking Centre will take you on a journey to when the Vikings were in the area.
Or, walk down the magical Shambles that was the inspiration for Diagon Alley in the Harry Potter movies?
If you're a Potterhead, I've got a whole Muggle's Guide here on Harry Potter spots in York and a The Shop That Must Not Be Named review.
You can climb up Clifford's tower built in the 11th century and explore on foot by walking on the castle walls surrounding the city. Or, go on a ghost tour and discover York's haunted past.
Whatever you choose to do, I'm sure you'll have an incredible time. Don't miss out on exploring the fantastic city and travelling back in time for an afternoon tea on board the Countess of York!
Read more of my posts on Yorkshire
A complete Harry Potter Guide to York
The top haunted places to eat in york
The odd story behind York's shortest street!
A day trip to Whitby to see Dracula
A go-to Whitby photography guide
Why you must visit Robin Hood's Bay
The top places to visit in Scarborough
The ultimate travel guide for Staithes
Like it? Pin it!