When I told my friend Tilly that I was heading up to the Lake District for a few days, we thought it was about time for a much-needed catch-up.
As I was passing that way in the North West of England, we decided to meet in her home county of Cheshire.
It was my first time EVER in Cheshire and I didn't have a scooby about it, so I left the planning up to Tilly who is an expert on the area. She suggested the charming ancient town of Knutsford.
Like typical Brits, we decided to meet over a quintessential afternoon tea at The Courthouse restaurant there.
As the name would suggest this was a REAL Courthouse that had a house of sessions and even a Gaol nearby.
So not only does it serve up an amazing menu, the building oozes with history and has a fascinating story to uncover.
Here is my full Courthouse Knutsford afternoon tea review and why you need to visit in Cheshire!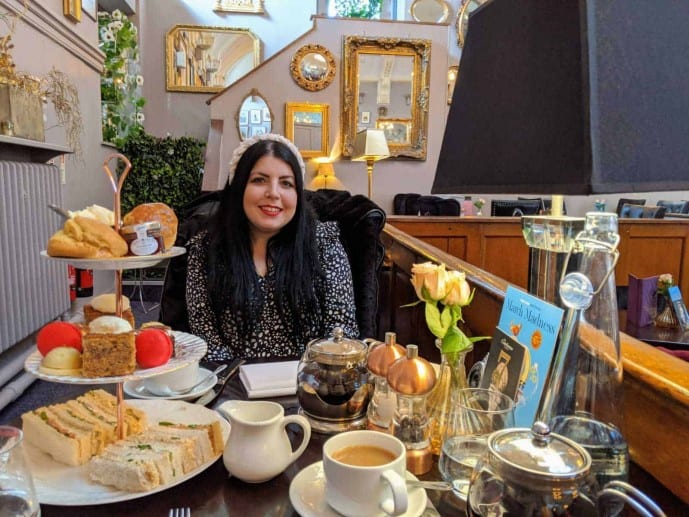 The Sessions House, Gaol & Courthouse Knutsford history
The thing that fascinated me most during my visit was the vast history of the venue.
The Courthouse is a Grade II listed building and is one of the most notable properties in the whole of South Cheshire.
It was originally designed by George Moneypenny who responded to a call in the Chester Chronicle newspaper in 1816.
The advertisement wanted an architect who could build a courtroom, sessions house, and gaol.
He had already designed similar buildings in Exeter, Leicester, and Winchester, so he submitted a design costing just over £30,000. But, the building work far exceeded the cost and he was dismissed as the magistrates thought he deceived them.
William Heap then took over the work and also required more funding from the magistrates, so he was sacked too!
But, this time, Heap took them to court and won a settlement gaining the extra funding required.
It finally opened and received its first prisoner in 1820. As prisoner numbers grew a number of renovations were carried out in the 19th century including building extra cells and a women's prison.
In 1915, the Knutsford Gaol saw its last prisoner but The Sessions House remains open for court cases.
Finally, the Courthouse closes in 2014 due to lack of use and the proceedings moved to Crewe & Northwich.
Notable cases tried at the Courthouse in Knutsford
There have been a number of notable cases tried at the Courthouse in Knutsford over the centuries.
Some of them were murder trials which resulted in 8 men who were hanged outside the courthouse from 1886 to 1912. You can find a nod to them in the hotel lobby where bowler hats hang above the door.
The most notable character who was tried at Knutsford Courthouse was Alan Turing over his relationship with Arnold Murray in 1952.
Turing was a mathematician and scientist whose heroic codebreaking played an integral part in winning World War II and laying foundations of artificial intelligence.
It was a charge for "gross indecency" when homosexuality was still a crime. He was found guilty and accepted chemical castration treatment.
He died two years later from a suspected suicide of cyanide poisoning.
In 2010 an official public apology was made and royal pardon followed for the way he was treated.
The revamped Courthouse Barristers Restaurant & Bar
After the Courthouse closed in 2014, the building was left empty and was put up for sale.
So, the Heywood Brothers from Flat Cap Hotels purchased the property in 2016 with a plan to refurbish and repurpose the building as a hotel and restaurant.
The building was then completely restored and renovated. In 2017, it opened up to the public for the first time in 200 years!
The Barristers Restaurant where we had afternoon tea is located in the Sessions House.
It has been beautifully decorated with sparkling chandeliers and crushed velvet armchairs at every table but the team still left some of the original woodwork from the courthouse inside.
They even have the original staircases where prisoners were taken in and out of the courtroom!
There are no windows to be found on the walls but a gorgeous round Victorian window sits on top of the ceiling letting in some natural daylight.
Plus, they have made the room look larger with some quirky mirrors. Around the walls, you'll find all sorts of art, pictures, and etchings inspired by the local area with some mugshots from famous criminals.
Look out for Sid Vicious, Frank Sinatra, David Bowie and Marilyn Monroe who have all had an arrest in their time. Plus, there's even Sirius Black from Harry Potter!
The Courthouse Knutsford Afternoon Tea experience
As Tilly and I were catching up in the Courthouse over our tea, we almost squealed with excitement as our cake tier with the full afternoon tea came over to the table!
Although the cake tier was dainty, the three layers were brimming with savoury and sweet treats.
After we took some photos (standard) we started to dig into the main event.
There were tasty finger sandwiches with devilled eggs, smoked salmon, and cream cheese and ham and mustard.
We were meant to have cheese and pickle but I'm intolerant so we went with a different set.
The second tier had my favourite part, the dainty cakes! We had raspberry macarons, white chocolate, strawberry and macadamia domes, a delectable carrot cake, and a gooey brownie with flambéed marshmallow on top.
To finish our top tier had some fruity scones with jam and cream! It was delicious but we were utterly defeated and needed to take some home with us.
As well as afternoon tea, The Barrister Restaurant at the Courthouse offers a lunch and dinner menu which I have on good authority is fabulous!
How much is a Courthouse Knutsford afternoon tea?
The Afternoon Tea at the Barrister Restaurant is served from 12 pm – 5 pm and costs £17.95 per person.
This is a total bargain, especially to take tea in such a fabulous setting!
The verdict of the Courthouse Knutsford Afternoon Tea
So, our little jury (well, Tilly and I) have returned a unanimous verdict for the crime of the most delicious afternoon tea and it is…The Courthouse at Knutsford! Guilty as charged!
I can't recommend visiting this charming place hidden away in Cheshire enough. Who knew that one building would have so much history and stories to uncover?!
Not only that, but their gorgeous restaurant setting is just as delightful as their High Tea.
I hope that one day I will get to return to The Courthouse Knutsford in Cheshire and explore more of the ancient town as well.
Click here to book your afternoon tea at the Courthouse
Courthouse Hotel by Flat Cap Hotels
During my visit, I did have a little snoop around their gorgeous hotel lobby which also had fabulous decor and portraits of famous figures.
Plus, I popped into their grandeur Courtroom Venue which they reserve for weddings and special events.
As part of renovating the building, they have 9 luxurious rooms to check-in for the night in old prison cells and wings of the courthouse!
In their unique style, they have kept some of the original features of the rooms but added a modern twist with sumptuous decor and facilities.
As well as rooms, there are plans to turn some of the cells into private dining experiences – which would be an incredible albeit spooky experience. How exciting!
Where is The Courthouse in Knutsford and how to get there?
The Courthouse in Knutsford is located on Toft Road in Knutsford and it's really easy to navigate if you're coming off of the M6.
On the M6, you'll need to take exit 19 and head on the A566 to Cheshire East. From here, take the Northwich road to the A5033 towards Knutsford.
When you reach Knutsford at the roundabout, take the 3rd exit on King Edwards Road, then straight on Toft Road and the Courthouse located on your right.
There is also a train station at Knutsford and it's a 6-minute walk from the station to the Courthouse.
Parking at the Courthouse Knutsford
There is free parking just in front of the Courthouse at Knutsford for customers who are eating at the Barristers Restaurant or staying with the Courthouse as a guest.
It is limited on a first come first serve basis, but when we arrived there were plenty of parking spaces so you shouldn't have any trouble in finding one!
What else is there to see in Knutsford?
Knutsford is a small charming town in Cheshire that has a big history. It was first recorded in the Domesday books of 1085 as Cunetesford after King Canute. He forded the Lily Stream and it's how the town got its name.
It was first established as a market town in 1292. This was when the Lord of Knutsford, William de Tabley, paid for a charter from Edward I to run a weekly market.
As well as being famous for the House of Sessions trying criminals it was also a famous cockfighting centre in the 18th century!
Knutsford is where Elizabeth Gaskell found inspiration for her book "Cranford" and it was also home to Highwayman Higgins. Notable visitors have included Queen Victoria and Winston Churchill amongst others.
While exploring the town you can learn about its incredible history in the Heritage Centre. Visit the Makers Market, St Oswald's Church, or the Pennyfarthing museum!
Nearby, you can explore the regal Tatton Park, Pickmere Lake, Peover Hall & gardens, or the hidden gem of Tabley House.
Read more of my Cheshire guides
Harry Potter Forbidden Forest experience review
Dunham Massey Christmas Lights Trail Review
Save this Courthouse Knutsford Afternoon Tea for later!