If there is one event that the ancient Saxon settlement of Cricklade is known for, it's the annual Cricklade Fritillary.
Every spring, Cricklades' North Meadow is filled with a carpet of wild, vibrant & nodding Snakes-head Fritillary. They have a distinctive scaled pattern, hence the name.
These wildflowers are nationally rare and there is only a handful of meadows in the UK that are blessed with a wild population.
So, when you see these beautiful plants come out, you must make a visit to catch them. Here is how to see the wild Snakes-head Fritillary in Cricklade at North Meadow.
What is Snakes-head Fritillary (Fritillaria meleagris)?
The Snakes-head Fritillary or Fritillaria meleagris is a nodding wildflower with a distinctive pattern that resembles snakes scales.
They usually grow in a pinkish purple and white and their petals are tessellated with a chequered pattern. The Snakes-head balances on a thin stem with grey leaves and it's quite fragile.
Years ago, the River Thames used to be filled with these colourful flowers but, today, wild populations are nationally very rare. They are classed as vulnerable and are on Red Data lists.
Did you know? It is estimated that over 80% of the wild Snakes-head Fritillary population in the UK are found in North Meadow Cricklade!
When do Snakes-head Fritillary flower?
The Snakeshead-Fritillary are perennial and usually flower in the spring around April or May.
The growth completely depends on conditions like the weather, seedling germination, hay cutting, bee pollination, and a variety of other factors.
The exact time that these flowers grow is never guaranteed. It is usually April but they can flower as late as May if it's a colder year.
Make sure to check the Cricklade Fritillary watch website for updates on the season
Snakes-head Fritillary facts
A Snakes-head Fritillary can grow up to 30cm tall
The botanical name for Snakehead Fritillary is Fritillaria meleagris. Fritillus means 'dice-box' and Meleagris means 'speckled'. It's the Greek name for 'guinea-hen'.
Alternative names for the Snakes-head fritillary are Dead Man's Bell, Leper's Bell, Guinea Flower, Chequered Lily, and Oaksey Lily
There is an old wives tale that the Snakeshead Fritillary follows the path of the Romans. They would spring up wherever Roman footsteps had fallen
How to see the Cricklade Fritillary
If you wanted to see the Cricklade Fritillary, you'll need to make your way over to Cricklade's North Meadow.
Cricklade is located between Swindon and Cirencester in the South West of England in Wiltshire. It's easily accessible by car from the M4 motorway and then travelling along the A419 towards Cirencester.
Once you arrive in the town, you'll need to make your way over to the High Street and drive towards the A419 on Latton Close. Before you reach the junction, you'll find the entrance to North Meadow.
If you're not driving, there are regular bus services to Cricklade from Swindon. Swindon train station has many transport links with London and The Cotswolds.
These flowers only arrive in either April or May each year and don't stay for long! If you are travelling from afar, it's best to check the Cricklade Fritillary watch website for updates.
The address for Cricklade's North Meadow is Latton Cl, Swindon SN6 6DH. Click here for a Google Pin!
North Meadow Cricklade parking
There is some free off-road parking just outside North Meadow that visitors can use to visit the Cricklade Fritillary. It's limited to around 10 cars.
This is around a five-minute walk to the meadow and the Snakes-head fritillary through two kissing gates. You'll see a sign with the routes.
Alternatively, if these are full, there is some free visitor parking located just off Cricklade High Street.
Cricklade Snakes-head fritillary walk in North Meadow
Once you've arrived at North Meadow, head through the kissing gate towards the welcome sign.
It's here you'll find any signage on walking routes and information about the flowers. Make sure to pick up a leaflet that will tell you all about the Snakeshead Fritillary.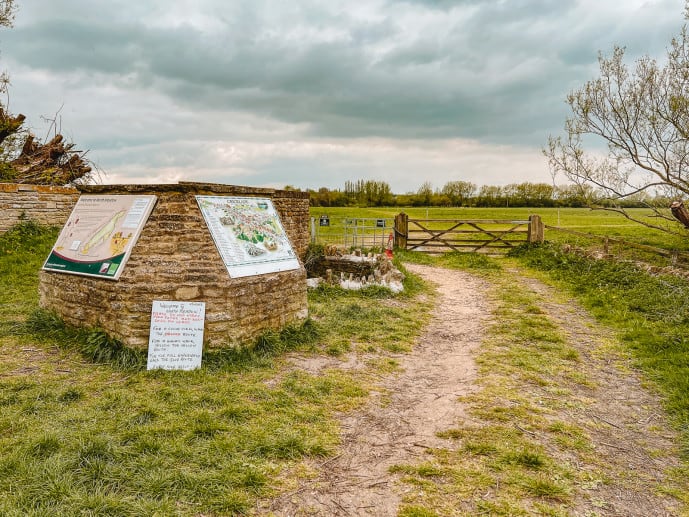 There were three routes to enjoy the Cricklade Fritillary;
The Orange Route allowed you to get up close to the wildflowers
The Yellow Route was a shorter walk to see them from afar
The Blue Route was a way to circle the entire field!
These paths are all clearly marked by posts in those colours and there are beaten paths to stick to. We took the Orange route so we could get some photos of these gorgeous flowers up close.
We were quite lucky as the blooms were very near to the entrance gate. Some years, they can be much further out.
As well as seeing the fritillary, there are other flowers that grow here. Look out for the Marsh-marigolds, cuckoo flower, and dandelions. Also, you may hear Skylarks chirping!
North Meadow Cricklade opening times
North Meadow is open 24 hours a day, all year. So, you're not limited to when you can visit the Cricklade Fritillary when it's in season.
However, I would recommend visiting during daylight hours as there is no artificial lighting in the field at all.
North Meadow and the Cricklade Fritillary are also completely free to visit!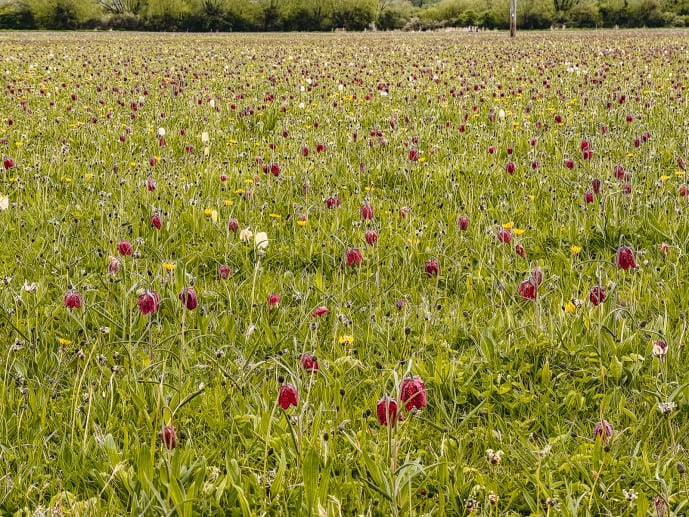 Top tips before you go
If you're travelling from afar, it's best to check local community boards for updates on the fritillary!
If you'd like a quieter visit, try to visit during the week. The weekends are very popular.
Keep dogs on a lead at all times in North Meadow. They can damage the flowers and disturb nesting birds.
Bring some good footwear to traverse the field, especially if it's been raining. There are some short and longer walks available but the ground is mostly uneven.
Some of the best photography locations can be found on the orange route looking back at St Sampson's church. Bring a good zoom lens to capture them up close and be patient with the breeze.
Stick to the dedicated pathways and do not enter the wildflower fields. The Snakes-head fritillary is a delicate flower and trampling on them can damage future growth.
I'd leave around 30 minutes to 2 hours to see the Cricklade Fritillary. It all depends on how much you'd like to explore.
Looking for more things to do in Cricklade?
Cricklade is an ancient Saxon settlement and is the first town on the River Thames. Beyond the Cricklade Fritillary, many visitors descend on this area to start the Thames Path National Trail which is a 180-mile hike!
While you're here, you can meander down the historic high street and pop inside St Sampson's church. Look out for the set of shears carved on the church tower that references the town's wool trade past.
If you fancy a drink after your visit, make sure to pop into The Red Lion for a pint or some good food!
You can pop into Cricklade Museum or follow the signs for the Historic Town Trail. There are over 100 graded buildings found around here.
Further afield, you can take a ride on Swindon & Cricklade Railway from Blunsdon or take a drive towards Cotswolds Water Park for an adventure in nature.
Read more of my South West & Cotswolds articles
How to visit Swindon's bluebell wood
Things to do in Lacock Village
How to visit the abandoned Imber village
A Harry Potter guide to Lacock
How to visit Stonehenge for FREE
A complete guide for Bibury and Arlington Row
Why you must visit West Kennet Longbarrow
Top places to visit in Wiltshire
Save the Snakes-head fritillary in Cricklade for later!