Are you looking for a complete list of Culross Outlander locations? You've come to the right place.
Culross has featured heavily in three seasons of the Outlander series. But, you'll most likely recognise it as the village of Cranesmuir in the parish of Castle Leoch in the Highlands.
In this ultimate Outlander guide to Culross, I'm going to take you through all the scenes that feature in this village and where to find them!
Beyond an Outlander location, Culross is a gorgeous part of Scotland that is like travelling back in time. So, I'm also going to give you a few pointers on things to get up to after you're done location scouting too.
So, if you're ready. Here's my ultimate guide to all the Culross Outlander film locations from the series.
How to say Culross? Culross Pronunciation
Now, before we begin. You probably think, like I did, that Culross is pronounced 'Cul-ross'. Am I right? Well, apparently you don't pronounce the name like it's spelt here and if you do pronounce it like that prepare to be corrected.
The locals actually pronounce it like 'Cur-russ' or more like 'Coo-russ' with a rolled 'R'. So, you can give it a go. But, I'd say that it will definitely take some practice to get the name right and pronounce it like a true Scot!
I awkwardly realised that after I recorded a whole YouTube video about Culross…yep, epic fail. So, apologies to any Scots that watch it. Well, I am a Sassenach after all… ;)
In Gaelic, Culross translates to Cuileann Ros which means 'Holly Ross'. A ros in Gaelic 'headland' so I guess the closest translation could be Holly Headland.
What was Culross in Outlander?
Culross has featured in series 1, 2, and 4 of Outlander in the series.
In Series 1, Culross featured as Cranesmuir in Outlander. In Series 2 it was an encampment during the Jacobite rebellion and series 4, a house in the village played a small role as Laoghaire's residence (pronounced Lee-ree).
You'll most probably want to visit Culross as you recognise it from series 1 and, the good news is, that there are plenty of recognisable Culross Outlander locations to visit around the area!
I'll go into detail about each Culross Outlander location below, so if you're not too fussed about the nitty-gritty travel details or history I'd skip to that section now.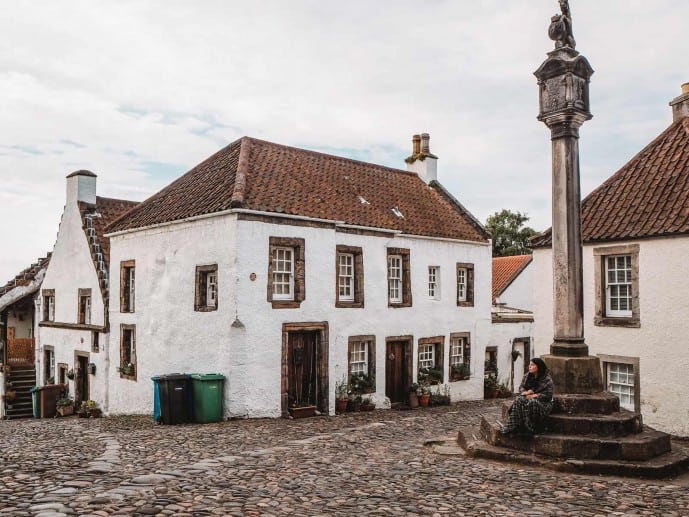 Culross history
I'm going to be honest with you, before Outlander, I had never heard of Culross. But, as a history lover, I'm shocked. Culross is not only like travelling back in time, but it also has a fascinating past to discover.
Legends of Culross
The founding legend of Culross is that when a British princess fell pregnant before her marriage her parents threw her from a cliff.
She survived the fall and an unmanned boat floated towards here. She then sailed across the Firth of Forth to the land of Culross and was cared for by Saint Serf. He then looked after her son, St Kentigern.
Culross Abbey in the area is located to this legend and is supposedly where St Mungo was born.
Sir George Bruce
A man you will be soon become fairly familiar with in these parts is Sir George Bruce of Carnock. He was a descendant of King Robert Bruce and the guy responsible for building the beautiful Culross Palace in 1597 that sits at the heart of the village.
He was a man of means, but also a man of progress who provided a lot of industrial opportunities to his tenants by establishing coal mines and salt panning.
The coal mines of Culross were quoted as a "wonder" and soon everyone wanted a piece of the pie, including King James VI. He was the monarch who granted Culross its Royal Borough status. George Bruce and his wife are buried in Culross Abbey.
After George Bruce left the world, Culross fell into decline and the port was no longer used. By the 19th century it was described as a 'ghost town', it lost its Royal status and was ultimately abandoned.
In the 20th century, Culross became recognised as a place of interest and the National Trust for Scotland made significant efforts to restore many of the historical buildings in the area. It's is still maintained by them today.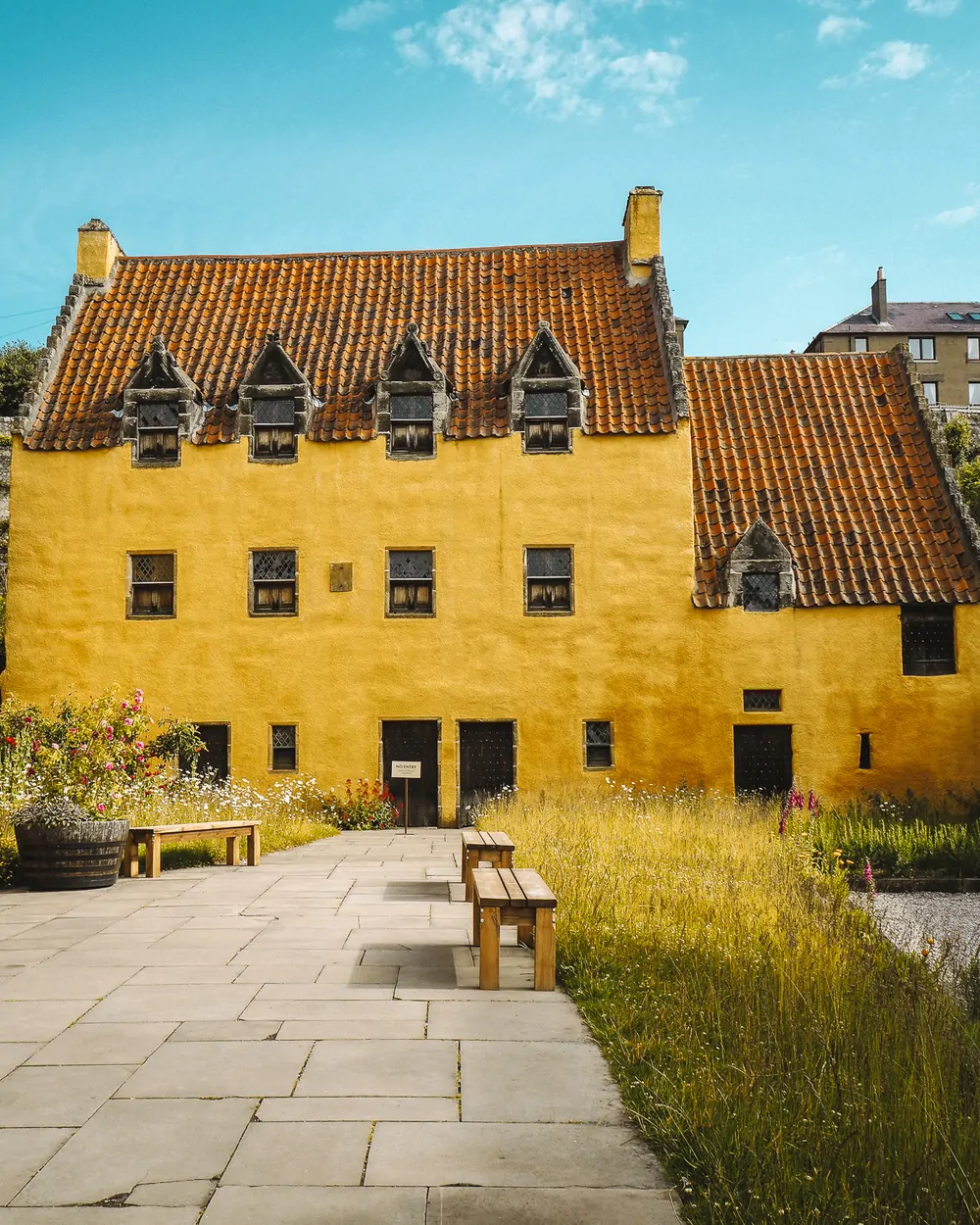 Witches of Culross
Something that piqued my interest in this town was the stories of the witches in Culross.
Similar to how the witch trial panned out in Series 1 of Outlander, many innocent people in and around Culross were accused of witchcraft and sentenced to death.
For such a small place, the town became rife with accusations and witch-hunting!
It is believed that there were so many 'witches' awaiting trial in the 17th century that the town didn't know where to hold them. While some of the 'witches' were awaiting trial they would be held in the attic of the Culross Town Hall!
There are many exhibitions and events that take place around Culross related to the witch trial so make sure you have a look here to see what's happening.
In fact, when I arrived in Culross the National Trust was holding a Witchcraft event. Book quick, as they sell out fast.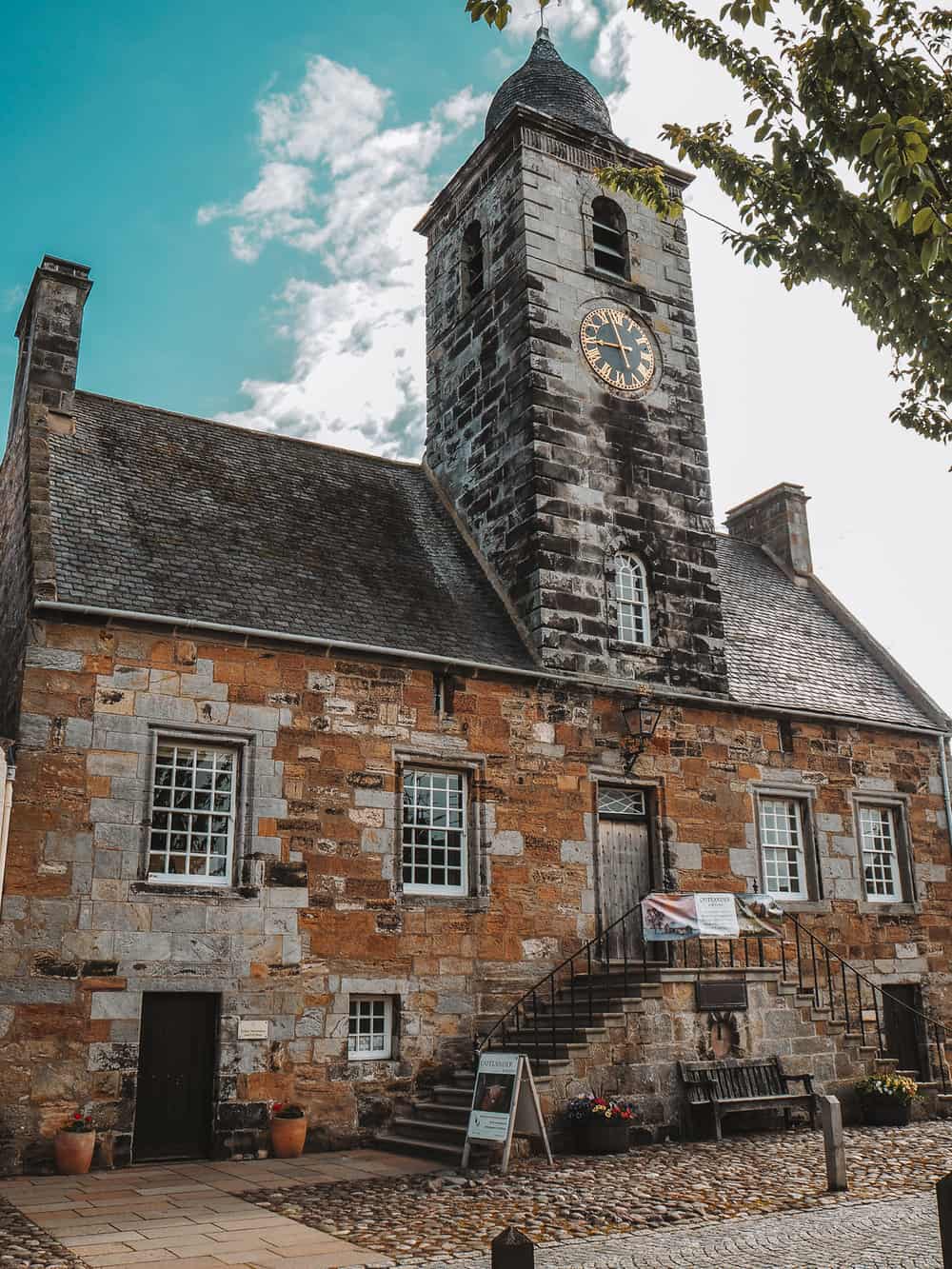 Where is Culross in Scotland?
Culross is village and parish in the south-west of Fife, Scotland, and is located around 25 miles from Edinburgh.
It sits on the Firth of Forth and was originally a port city.
How to get to Culross
Culross is easily accessible from Edinburgh, Glasgow and Stirling either by your own vehicle or public transport.
How to get from Edinburgh to Culross: The journey should take you around an hour from Edinburgh depending on traffic. The congestion around Queensferry is notorious so leave plenty of time. You can take the A90 and 985 roads or the M9 and alight at Falkirk, taking the back causeway to Culross.
How far is Culross from Glasgow: The journey from Glasgow to Culross takes around 45 minutes. The most convenient route is the M80 and then the A985 Back Causeway to Culross.
How to get to Culross by bus: From Edinburgh Waverley, you can take the train to Falkirk then switch to the number 8 or 28 service to Culross. Use the Scotland Journey Planner for more routes.
Where to Park in Culross
Although the area is managed by the National Trust for Scotland, it is good to remember that this is also a residential area. 365 lucky residents live in this historic part of Scotland so it's best to respect their neighbourhood.
That means no parking and limited driving in the village itself. It's one-way roads and tight corners. I saw many a big van trying to drive through and it's terrifying to watch!
Culross has some fantastic FREE car parks for visitors. One is right outside Culross Sandihaven / Palace and is best for those with accessibility issues. It's only a minute walk to the Palace and Town Hall from there.
There is also an overflow car park which is perfect for those wanting to visit with cars, coaches, minibuses, or those wanting to take a Fife Coastal Path Walk. It takes approximately 10 minutes to reach the main area of Culross village and has some scenic views of the Firth of Forth on the way.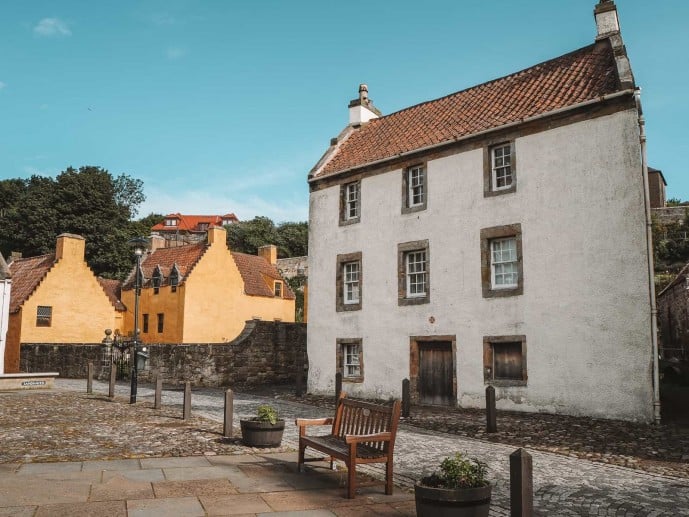 Culross Outlander locations you can't miss while you're here
Okay, so now on to the Culross Outlander film locations! There are a lot of them, so make sure you leave plenty of time to explore.
If you're an Outlander fan, you will recognise locations from Seasons 1, 2 & 4 of the series. The National Trust for Scotland shop has a handy leaflet with many of their locations on so pop inside and the staff will only be too happy to help you.
My personal advice would be to head to the Mercat Cross first. This is usually swarming with tour groups and so if you're wanting some nice photos, I would aim to get here before they arrive around 10 am.
1. Tanhouse Brae / The walkway down to Cranesmuir
Series 1 location
One of the first scenes we see of Culross is the row of houses leading down to Geillis Duncans' House.
In the series, these were painted black, but in reality, they are a series of picturesque colourful houses which are a favourite with photographers!
The colourful houses in Culross are located on Tanhouse Brae. I learned in the Palace that this area used to stink as it was full of those carrying out the tanner trade.
Tanners used to use all sorts of lovely ingredients to tan hides such as pee and poop. So, the street would have been pretty hot and smelly.
You would never have thought it today though! It's a gorgeous cobblestoned street leading off Mercat Cross.
We see this location multiple times in Outlander series 1 with Claire heading down to see Geillis. Usually, with her guardian Angus following her.
2. The Study / Geillis Duncan's House
Series 1 location
The Study Building in Mercat Cross was the exterior of Geillis Duncan's house in Outlander.
We see Claire enter this building many times to visit Geillis. We also see Father Bain enter the house with the young boy being sentenced for stealing bannocks.
Firstly, you'll probably notice how the building is gleaming white whilst in the series it was black.
In the Outlander TV series, they painted these buildings black to give the illusion of 18th century Highlands.
The Study Building is a protected house and was built in 1610 for a wealthy merchant.
The name comes from the fact that Bishop Leighton of Dunblane stayed here on his visit and used the Outlook Tower as his Study.
You won't find Geillis Duncan's rooms shot inside here though, they are in Culross Palace. The only shot filmed inside was one where Claire looks out at the square below. I'll explain more in Culross Palace.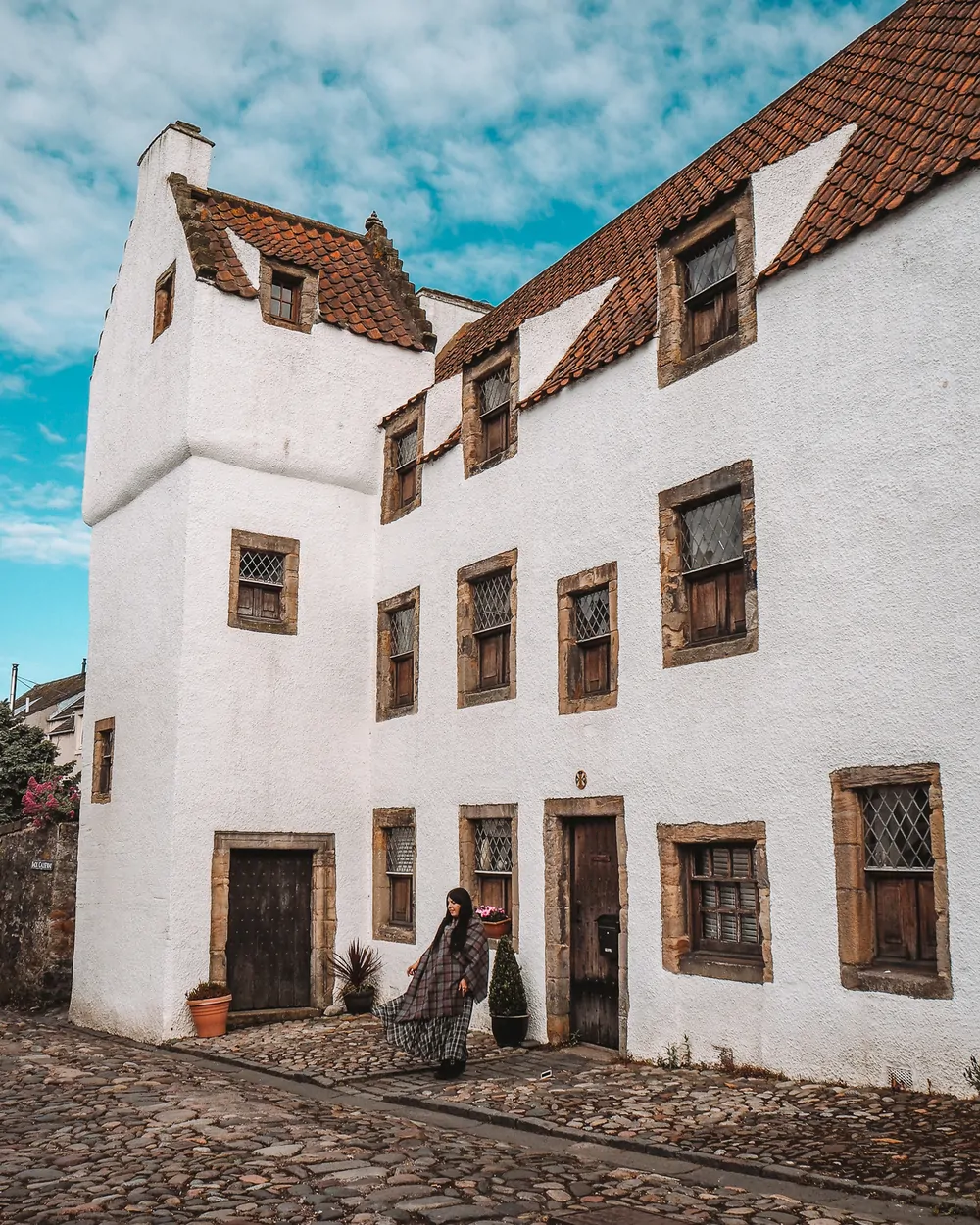 3. Mercat Cross / The Pillory in Outlander
Series 1 location
Directly outside of The Study building or, Geillis Duncan's House is Mercat Cross which is Gaelic for 'Market Cross'. Apparently, Mercat Cross in Culross only has the bottom of the cross as authentic as it was rebuilt in 1902.
This is the area where the pillory is set up in the square and we see the young boy with his ear nailed to it.
Claire asks Jamie to help her and set him free. This is also the area where the pyre is set up pending the sentence of the witch trial in Cranesmuir.
Again, as the houses were painted back it doesn't look exactly the same as the series. However, the buildings and the Mercat Cross are the same and it's a fantastic photo opportunity!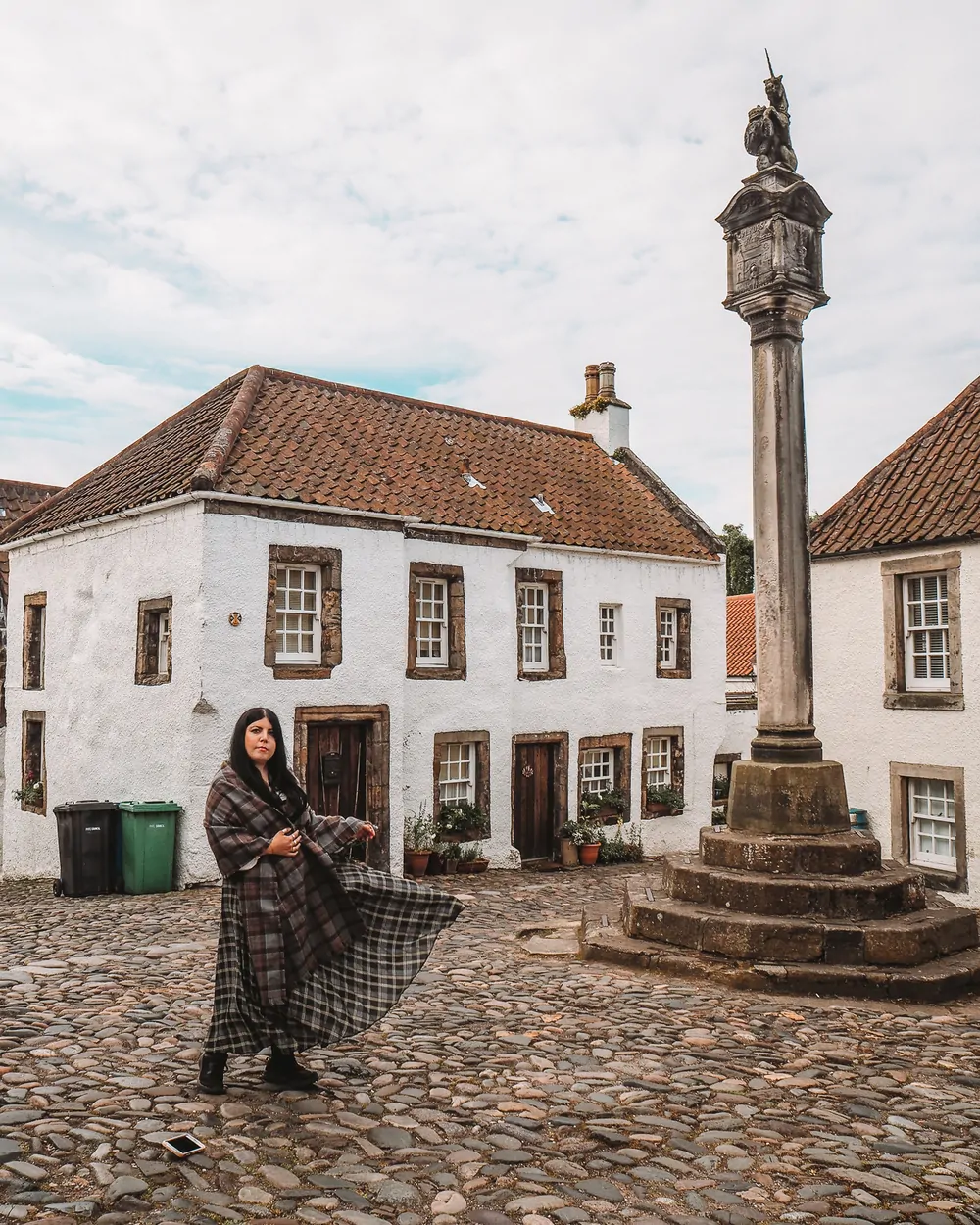 4. Wee Causeway / The path to Mrs Baxter's house
Series 1 location
In series 1, episode 3 'The Way Out' a young boy, Tammas Baxter has been poisoned following his visit to the Back Kirk.
Although the village believes that demons have possessed him, Claire is not convinced and so goes to investigate.
The pathway down to Mrs. Baxter's House leads off Mercat Cross on Little Causeway or Wee Causeway.
This is also the street where Claire and Geillis are led to the witch trial and where Geillis is carried out to the pyre after Claire and Jamie escape.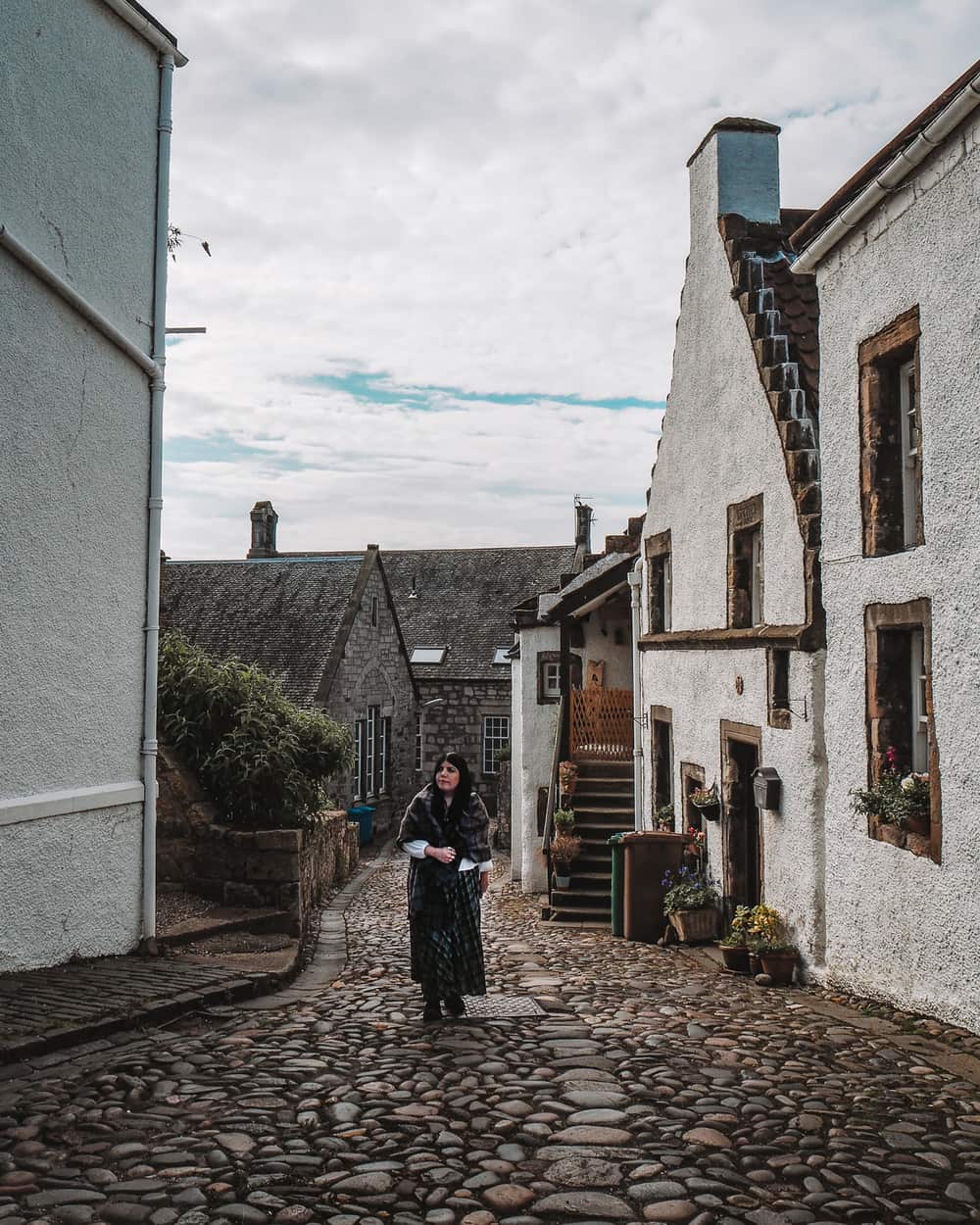 5. Wee Causeway / Laoghaire's House
Season 4 location
Another Outlander location along Little Causeway is a house that some viewers might recognise from Outlander Season 4.
In 'Down the Rabbit Hole' Bree is taken in by Laoghaire after fainting in the cold. She is brought to her house and it's located right here in Culross!
Only the exteriors of this house were filmed to represent Laoghaire and if you cast your mind back, this is where Bree was working in the garden with Joanie, Laoghaire's daughter.
From what I could see the house is completely empty and for sale, so if there are any takers?! But, you'll have to be prepared for the Outlander fans at your door every day haha.
6. Culross Palace
Series 1, 2 & 4 locations
There are many rooms that are used in Culross Palace for different scenes in Outlander.
Unfortunately, photography is strictly forbidden inside, even with phones, due to important artifacts on loan to the museum.
However, the palace and gardens are still definitely worth a visit and to stand inside some of the rooms used in Outlander is surreal.
Culross Palace has put together a handy Outlander leaflet for fans and placed Outlander signs in each of the rooms used for filming. The staff are also super friendly and happy to help with any Outlander questions you have.
Read more: My Outlander guide to Culross Palace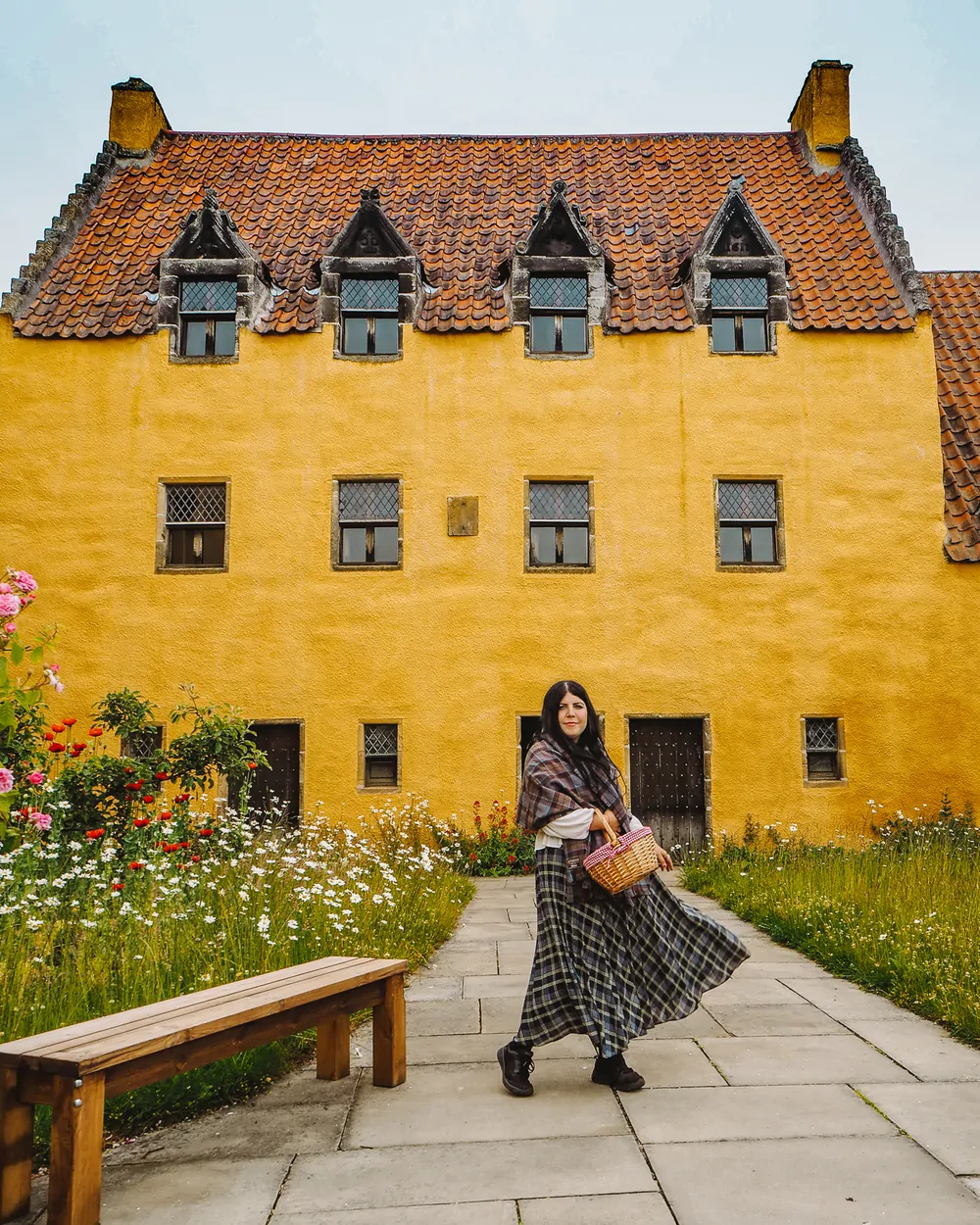 Culross Palace Exterior/encampment where Claire extracts a tooth
Series 2 location
The outside of the Palace features very little in the series, but, there is one thing that is distinctive about it. The paint colour!
If you remember in Season 2 when Bonnie Prince Charlie and his troops are marching, the camp stop in a nearby village.
Jamie is inside consoling the Bonnie Prince with his council with Murtagh waiting outside and Claire is outside with a makeshift dental surgery. She is extracting a tooth from a woman and Rupert is scaring a little boy.
This scene takes place outside of Culross Place. If you look in the background you can see the yellow walls.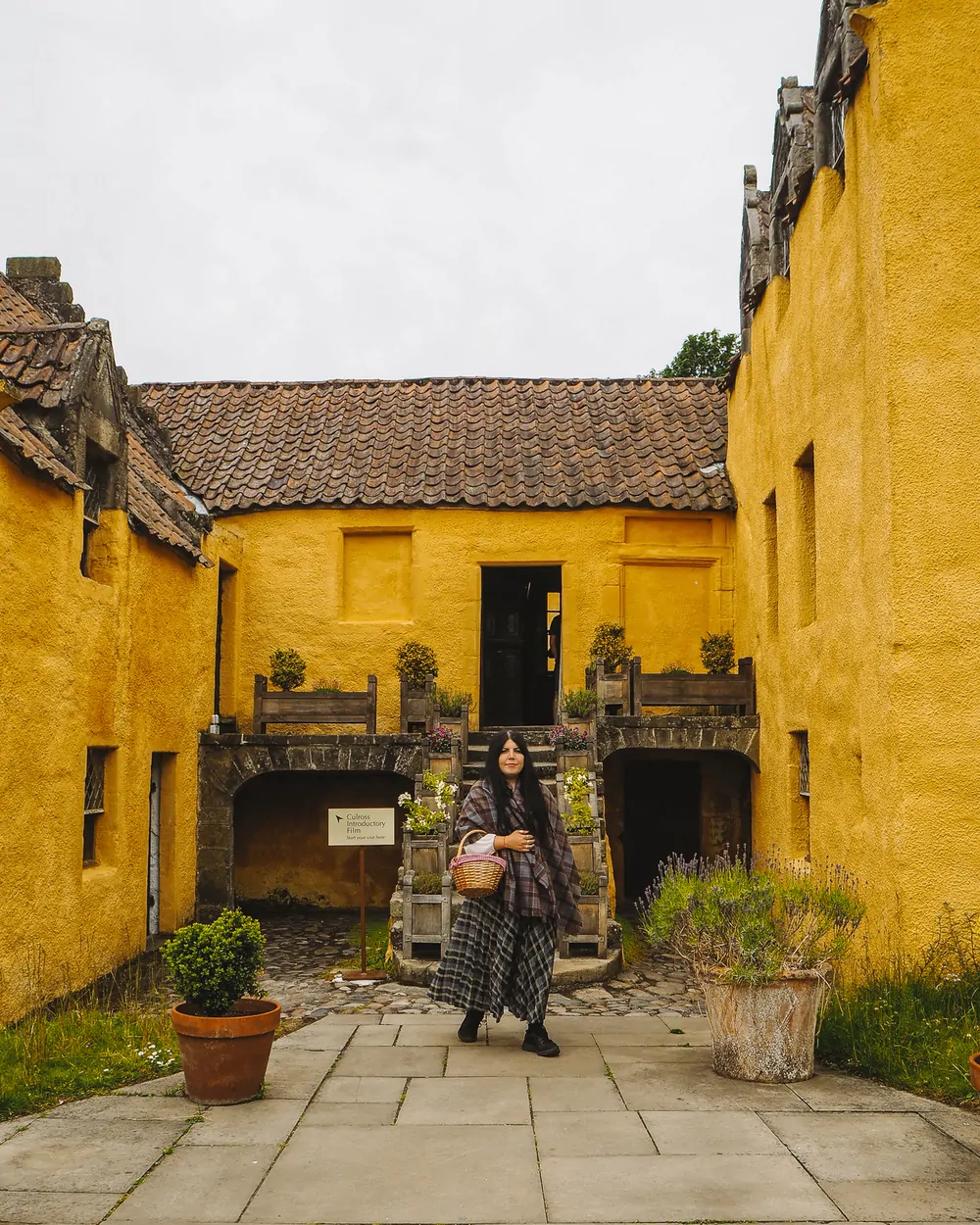 Withdrawing Room / Geillis Duncan's Parlour
Series 1 location
The exterior of Geillis Duncan's house is The Study near Mercat Cross. But, there weren't scenes shot inside, save the ones of Claire looking through the window at the Pillory.
The interior shots of Geillis Duncan's house and parlour can be found in the Withdrawing room of Culross Palace.
Although, thankfully, there will be no flatulent fiscals there!
Palace High Hall / where Jamie advises Bonnie Prince Charlie
Series 2 location
This is featured in season 2, episode 11 'Vengeance is Mine'. While Claire is extracting teeth outside of Culross Palace, Jamie is busy trying to convince Bonnie Prince Charlie to keep marching to London. Of course, his advisors are advising against the plan.
This conversation happens in the Culross Palace High Hall and you can recognise it from its barrel-vaulted ceiling.
Palace King's Room / Jamie and Claire's bedroom
Series 2 location
The Palace King's room in Culross Palace was used as a room for Jamie and Claire in series 2.
From looking back on the series, It looks very familiar to the room following the scenes shot outside of the palace.
In series 2 episode 11 'Vengeance Is Mine'. Dougal barges into the room showing Jamie a letter ordering them to return to Inverness.
Bree's Room and the Kitchen inside Laoghaire's House
Series 4 location
There are two more rooms that were used in Culross Palace for Season 4 and, having watched the series back, I realised that they are Bree's guest room when she travels back in time and the parlour inside Laoghaire's house.
You can notice the rooms instantly and also recognise the iconic Lattice windows that give it away.
Palace Pantry and the Bennet House / Tavern where Claire is taken
Series 2 location
When you go to leave the Palace, you'll come across the Palace Pantry and Kitchens. These rooms were used to represent a tavern in Outlander season 2.
These seem to be from 'Vengeance is Mine' episode when the redcoats stop here for the night before they deliver Claire to the Duke of Sandringham's house!
The Bennet House was used for the exterior street scenes and is nearby the palace outside.
7. Culross Palace Gardens / Herb Gardens of Castle Leoch
Series 1 location
Another series 1 Outlander location in Culross Palace is the Palace Gardens at the back of the house. This is the herb garden of Cattle Leoch where Claire first meets Geillis and meets her again later in the series.
You can find the trellises where Claire and Geillis meet, the rows of plants where they forage for plants, and even the stairs where Claire cries in series 1 as she thinks about Frank.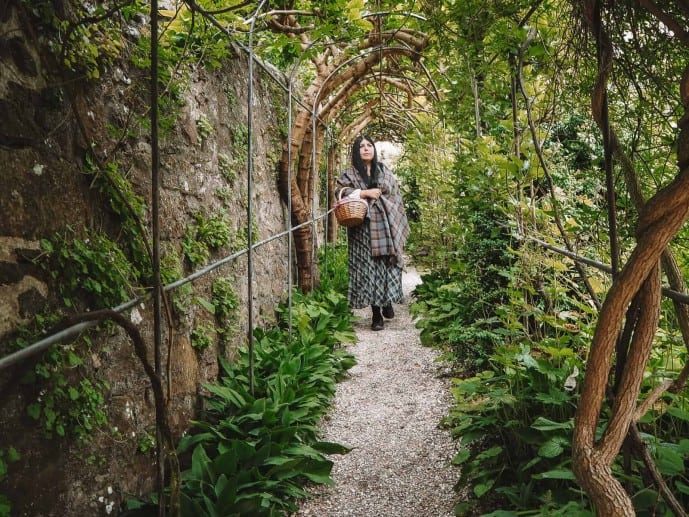 You're probably wondering, where is the castle?! Well Castle Leoch isn't in the background I'm afraid, it was actually some really clever CGI to make it appear like it was on the grounds of Castle Leoch.
Despite this, the views are spectacular and you can see the Firth of Forth and beyond.
You can bring your camera here and take as many photos as you please! Bring a basket for good measure ;)
Read my Outlander guide to Culross Gardens here
8. The Black Kirk / West Kirk
Series 1 location
A mile west out of Culross village is the West Kirk that doubled up as the Black Kirk or Saint Nicholas' Kirkyard in Outlander series 1.
I'm not gonna lie, my car struggled BIG time to get through here in June. It was an overgrown track road and I was sure I was going to do some serious damage.
In winter the path can also get boggy. So, if you'd rather not risk it, I'd walk here from Culross village and park in the West Car Park that has an access route.
The West Kirk was built in the 16th century and has a few names of Wester Kirk, the Old Parish Church and St Michaels.
It was the parish church for Culross before the Reformation and has remained in ruins a little before 1633 when it was recorded in parliamentary records.
In Outlander this Kirk is to blame for Tammas Baxter's illness which they believe he has been possessed. But, Claire and Jamie visit to discover it's actually Lilly of the Valley from some German or 'Prussian' monks who settled there.
The West Kirk or Black Kirk is open all year round and you can pose as Claire did inside the ruins.
Read more in my Black Kirk Outlander location guide here
Top tips for visiting Culross for Outlander fans
Get here early: If you'd like to get some nice photos, I would personally get here earlier rather than later. It starts to pack out once the tour groups arrived from around 10 am. Totally get that it's not relevant for those not bothered about the perfect photos but there is also so much to do in the area. Attractions shut around 4/5pm so make sure you don't miss out.
Get creative: There are resident cars parked everywhere here, which is natural. But, this will mean you may need to get creative with your photography!
Leave lots of time: I totally underestimated how much there was to see in this adorable village. I regret not being able to spend more time here. You could easily spend half a day here but a day would be the perfect amount of time.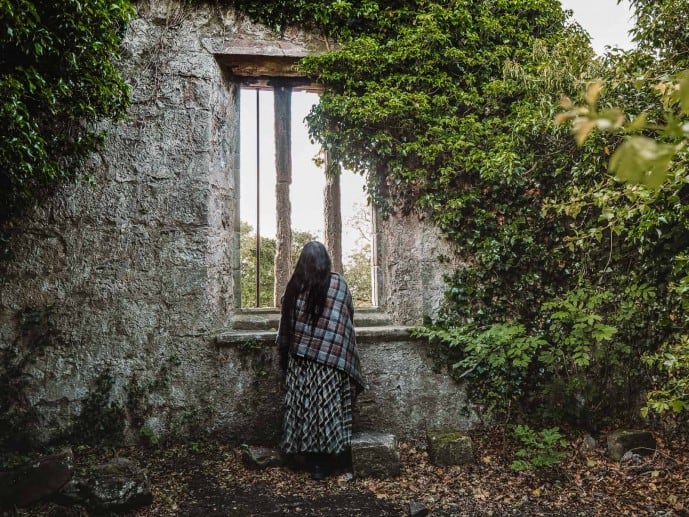 Outlander tours of Culross
If you're not planning on driving and want to tick off some of the Outlander sites in one day or two. It may be worth booking on to an Outlander tour that includes Culross. See below for some options;
Outlander day tour from Edinburgh
Outlander day tour from Glasgow
4-day Outlander experience tour from Edinburgh
Where is Cranesmuir Church where the witch trial takes place in Outlander?
If you're looking for where the witch trial took place in Cranesmuir church, I'm afraid that wasn't in Culross.
In 'The Devil's Mark' episode of Outlander, the exterior of the church or courtroom where they held the witch trial was made to seem like it was set in Cranesmuir, along with the pyre in the square.
But, actually, it was set in Perthshire around 40 miles away!
Tibbermore Parish Kirk was the church where they held the interior scenes of the Witch Trial in Outlander.
It wasn't changed much for the series so it's almost like walking straight into the courtroom in the series.
It's FREE to visit (donations are much appreciated) and well worth a stop on your Outlander adventures around Scotland.
Click here to read about this amazing church that featured in Outlander with directions!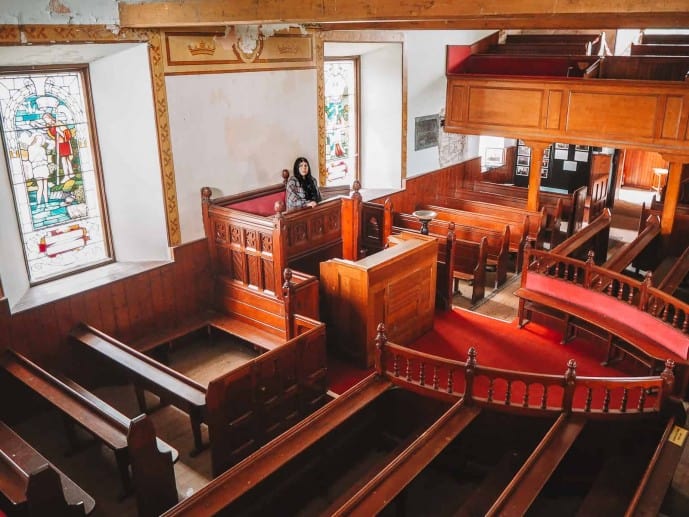 A Non-Outlander Travel Guide to Culross
Of course, beyond an Outlander location, there are plenty of things to do in Culross.
As a previous Royal Borough and one of the finest preserved historic Burghs of its kind in Scotland, it attracts many visitors every year.
Since it was founded and built, it's remained very much the same and it's almost like stepping back through time!
Amazing things to do in Culross
Visit Culross Town Hall and Jail
The beautiful Town Hall in the centre of Culross has a dark history hidden beneath its walls.
The Hall was a Town House built in 1623 and then the Clock tower was added in 1723.
It was often used as a prison and a courthouse back in time. Many women were imprisoned here, accused of Witchcraft, and ultimately sentenced to death.
Today, the Town Hall is well worth a visit and is often used for art galleries and exhibitions. You never know what you might find!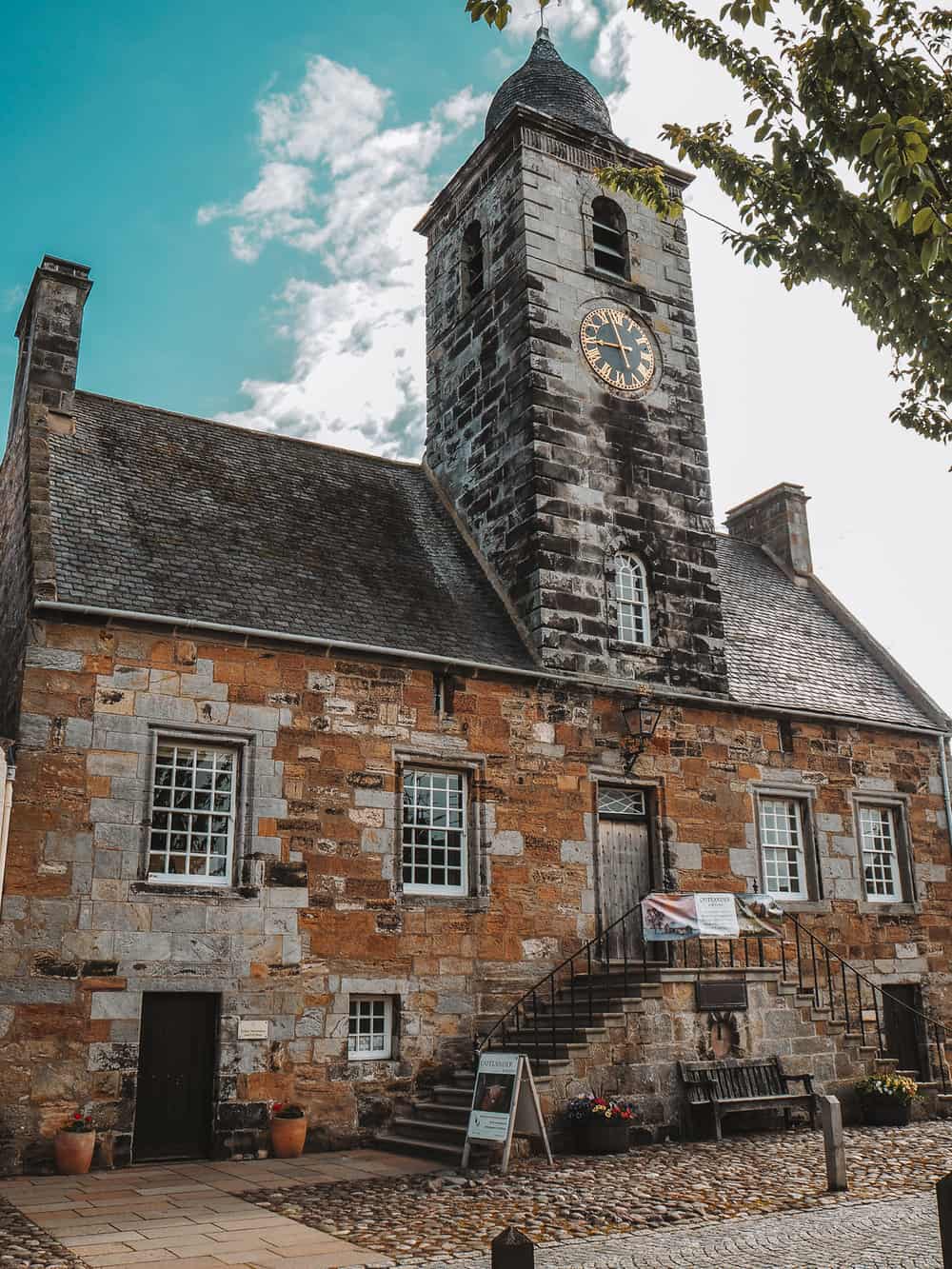 Culross Abbey
If you walk up Kirk Street from Mercat Cross you can find the Culross Abbey and monastery ruins.
Culross Abbey was a Cistercian church founded in 1217 by Malcolm I, the Mormaer or Earl of Fife.
The Abbey is built on the ruins that were from a Pictish church built on the site a few centuries before.
Culross was a centre of Christianity and home to a community of monks and lay brothers who were led by Saint Serf. Saint Mungo was also a member of his parish.
The Abbey is a beautiful spot and completely free to visit.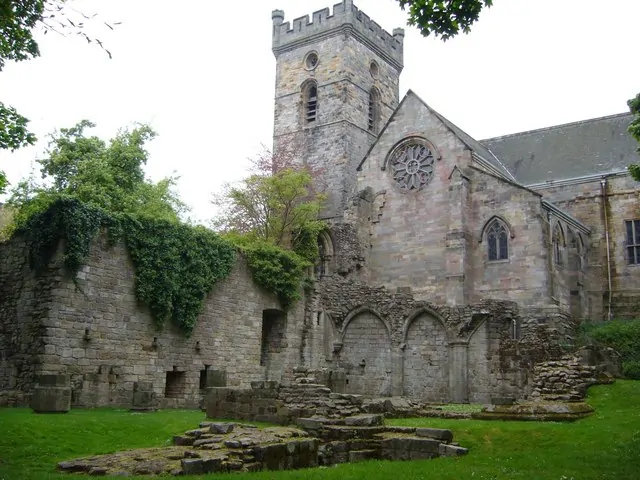 Culross Beach and Pier
Culross used to be a port city as it sits right on the banks of the Firth of Forth. It is believed to be one of the oldest harbours in Scotland and was first used by the monks who settled here in the monastery.
So, you can visit Culross beach and the pier that jets out onto the water. But, you won't have much luck stepping out on it! It's deteriorating and is not safe, but it's extremely picturesque.
If you were thinking of extending your walk, you can embark on a journey along the Fife Coastal Path.
It stretches along 117 miles but you can opt to do the walk nearby Culross on the Kincardine to North Queensferry route that provides breathtaking views.
Places to eat in Culross
If you're feeling exhausted after all that Outlander location hunting and exploring, I'm not surprised. The good news is there are plenty of places to refuel in the village.
Bessie's Cafe is a popular choice sitting just outside of Culross Palace and, if the weather is fine, there is a beautiful courtyard to enjoy a coffee and a cake. It's extremely popular with locals and visitors alike, so you may be waiting for a seat but worth it in my opinion.
The Admiral Cafe sits right in the heart of Mercat Cross so it's the perfect choice for Outlander fans. It serves up breakfast butties, coffee and light bites throughout the day.
The Biscuit Cafe is a Fairtrade Café, art gallery and pottery centre. It's located near to Culross Palace so it's a great place for a pitstop!
The Red Lion Inn is a pub so you can grab a hot lunch here! Food is served from 12 pm until 9 pm every day! I would book early to reserve to avoid getting disappointed as it packs out. It's an Inn, so you can also book a room here if you wanted to stay close to the area.
Where to stay in Culross
There aren't many hotel options in Culross, but there are a few holiday homes that are let out and Air BnB's you can book;
Outlander locations near Culross
If you're looking to visit more Outlander locations in the area, there are a few you can add to your list.
You can read my ULTIMATE list of Outlander locations in Scotland here, or read my Outlander in Edinburgh & Outlander in Glasgow guides
There are plenty of places to visit near Culross to add to your trip here. You can visit Calendar House to see the Georgian Kitchens that featured in the Duke of Sandringham's House.
Or Bo'ness was the railway station where Claire and Frank said goodbye.
Castle Leoch, the seat of Clan MacKenzie can be found at Doune Castle or why not take a whisky tour in Deanston Distillery to see Jared's wine warehouse in Le Havre.
A little further on is Drummond Castle Gardens that doubled up as the grounds of Versailles.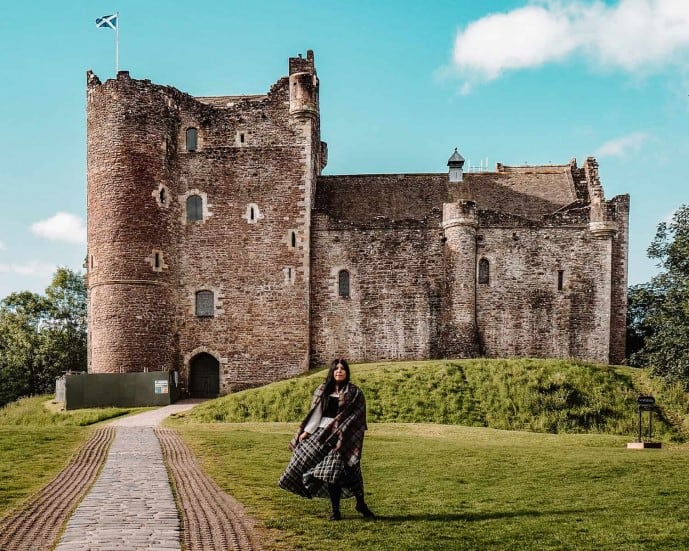 Blackness Castle was the dreaded Fort William where Jamie was flayed or you can visit Linlithgow Palace to see where Jamie was held at Wentworth Prison.
Hopetoun Estate has many Outlander locations around the area. You can visit the ancestral home of Broch Tuarach or Lallybroch at Midhope Castle. Or, Abercorn Church sits nearby that featured in season 4.
Hopetoun House also has lots of Outlander locations inside and out on the grounds including Mason Elise and The Duke of Sandringham's Red Room.
Or, Aberdour Castle is the abbey where Jamie recovers after being rescued from Wentworth Prison. Or, Dysart Harbour featured as the historic port of Le Havre.
Or, click here to learn How to find the Outlander Witness Trees from Fraser's Ridge!
Outlander locations around Edinburgh
There are so many Outlander locations to visit around Edinburgh you'll have to leave plenty of time to visit them all! Click here to read a complete list.
In the city centre, you can visit Craigmillar Castle that featured as Ardsmuir Prison, or Summerhall has lecture theatre where Claire met Joe Abernathy.
On the Royal Mile, there are plenty of Outlander locations to visit including Bakehouse Close that featured as the Outlander print shop.
Tweeddale Court is where Claire and Fergus were reunited or follow in their footsteps to the Worlds End Tavern, where Mr Willoughby got into a brawl. Afternoon tea at the Colonnades will transport you straight into the Governor's Mansion in Jamaica.
Read more: A self-guided Outlander walking tour of the Royal Mile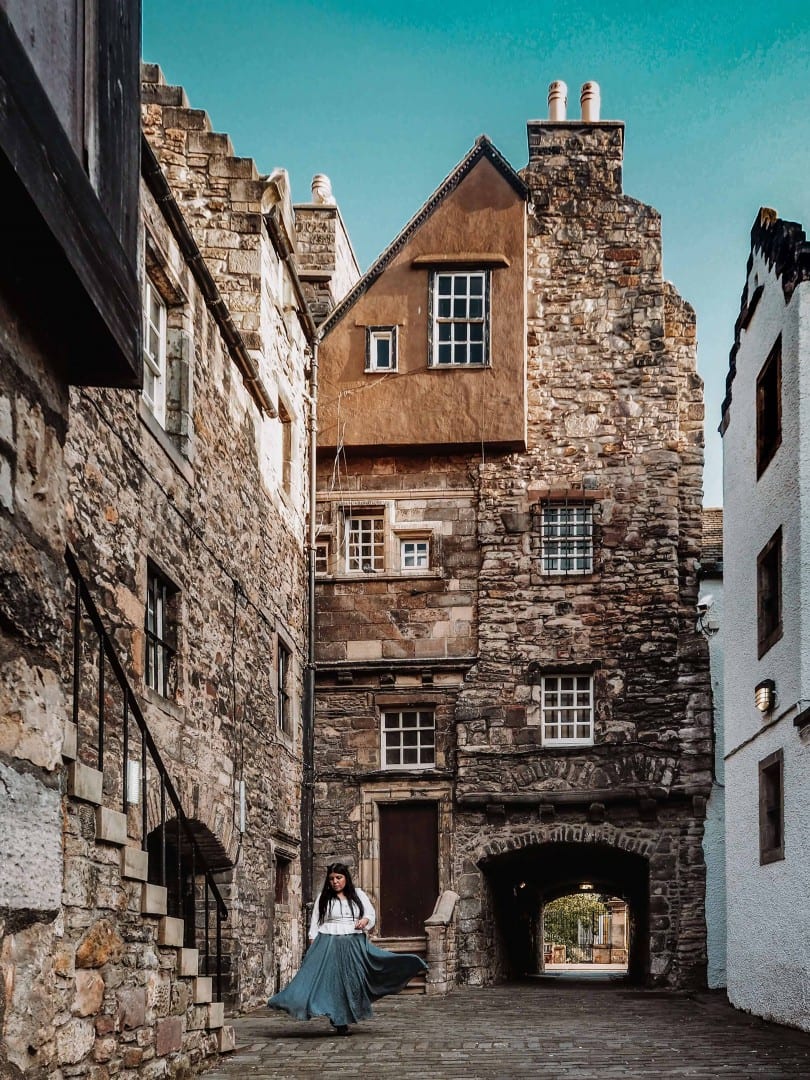 Roslin Glen Country Park has some recognisable gunpowder mills and Glencorse Old Kirk is where Jamie and Claire were wed.
East Lothian is home to Gosford House that doubled up as Helwater Estate and Preston Mill played Lallybroch Mill.
Or, visit Falkland village to find 1945 Inverness and stay in the same room as Claire and Frank. No ghost of Jamie is guaranteed though.
Click here to read my full list of every Outlander film location to date or some Outlander filming sites around Glasgow!
Save these Culross Outlander locations for later!
With thanks to the National Trust for Scotland for sponsoring my visit to Culross Palace. I loved exploring your beautiful palace, gardens, and historic village. Although I was a guest, all photos and opinions are my own.