Are you looking for all the Culross Palace Outlander locations that were used in the TV series? I have a list of all of them right here!
Culross Palace has been featured in seasons 1, 2, and 4 of Outlander. So, it's well worth a visit to travel back in time and visit the backdrops from the series for yourself!
After having been here, I would recommend spending at least 1-2 hours here to make the most of your visit as there is lots to see and do.
As well as an Outlander location, Culross Palace has a fascinating history you'll want to stick around and discover.
Here is my complete guide to all the Culross Palace Outlander locations.
What is Culross Palace?
Culross Palace, or "Great Lodging", is a stunning 16th-century ochre-coloured palace that sits in the heart of Culross Village in Sandihaven.
It was built by Sir George Bruce, Laird of Carnock, a wealthy merchant that received royal favour by James VI in 1597 and it acted as his family residence.
Today, the palace has been lovingly restored and looked after by The National Trust for Scotland. Within its walls, you can visit historic rooms that are still authentic to the time period and the ancient gardens at the back of the palace.
Culross Palace History
George Bruce was the mastermind behind building Culross Palace and much of the infrastructure that secured a Royal Borough status for Culross from James VI.
As well as being the Laird of Carnock, he also had interests in port trade, coal mines, and salt production.
He created the world's first coal mine under the sea which was called "a wonder" by many of his peers. It became so successful, it granted a visit from James VI himself who visited the palace and gained Culross a label as a royal borough.
Bruce started construction on Culross Palace in 1597 and the palace was then opened up in 1611. As he had a flourishing port trade, many of the materials used came from overseas using Baltic pine wood and Dutch floor tiles.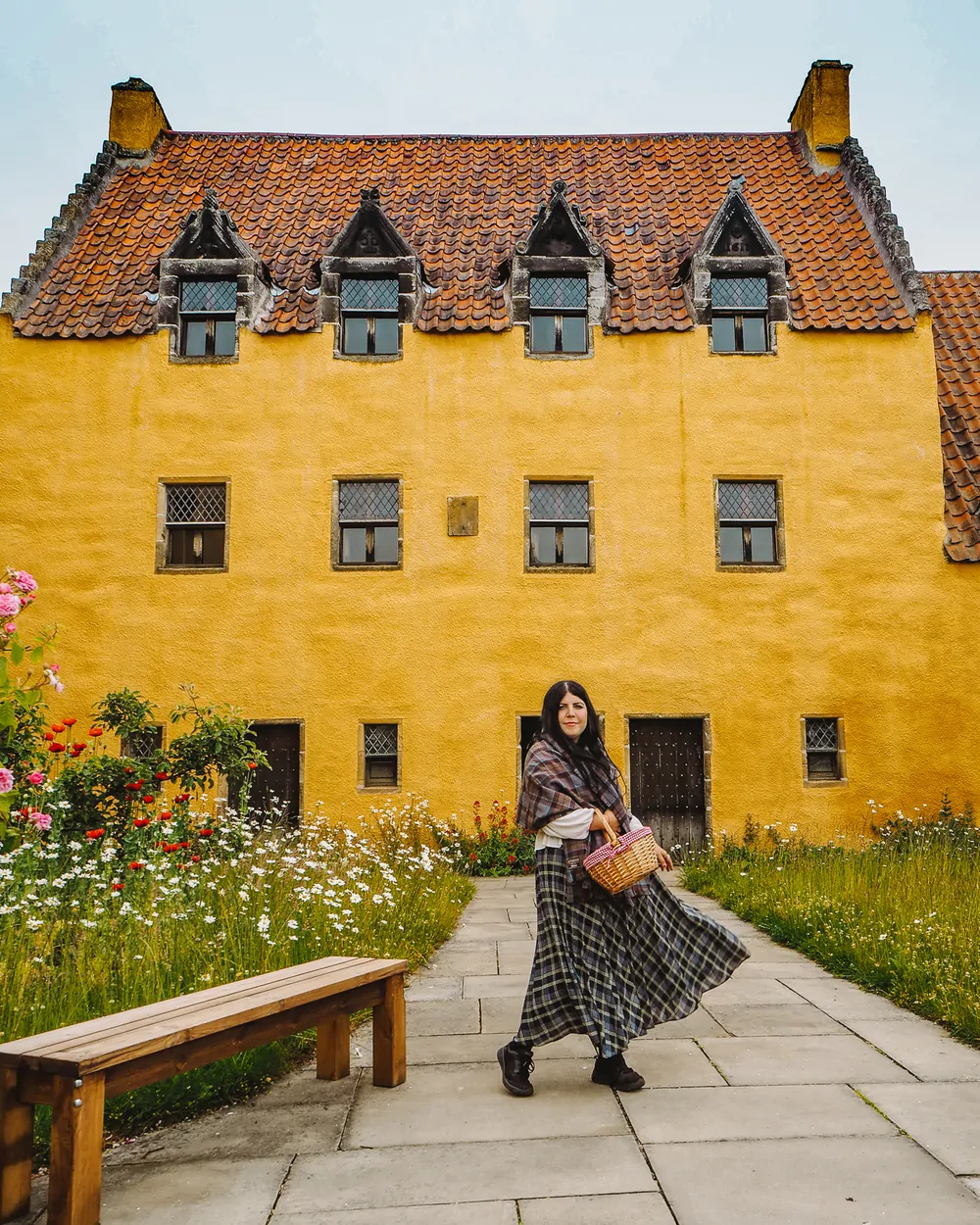 George Bruce created many jobs in the area for his tenants in his enterprises and was forward-thinking in creating savings schemes for his staff. But, once he passed, much of this fell into decline.
By the 19th Century, Culross had become a ghost town, lost its royal status and the palace was abandoned.
In the 20th century, it was adopted by National Trust for Scotland, along with many of the white-harled houses here, and is a property for everyone to enjoy.
How to get to Culross
The most convenient way to reach Culross Palace is to drive from Edinburgh or Glasgow. There are public transport routes too but it will take longer.
How to get from Edinburgh to Culross: The journey should take you around 60 minutes from Edinburgh. You can take the A90 and 985 roads or the M9 and alight at Falkirk, taking the back causeway to Culross.
How far is Culross from Glasgow: The journey from Glasgow to Culross takes around 45 minutes. The most convenient route is the M80 and then the A985 Back Causeway to Culross.
How to get to Culross by bus: From Edinburgh Waverley, you can take the train to Falkirk then switch to the number 8 or 28 service to Culross. Use the Scotland Journey Planner for more city routes.
Outlander tours that include Culross
If you're not planning on driving, you get more bang for your buck going on an Outlander tour that covers a few of the locations in one day. Here are a few of my recommended tours that include Culross;
Outlander day tour from Edinburgh
Outlander day tour from Glasgow
4-day Outlander experience tour from Edinburgh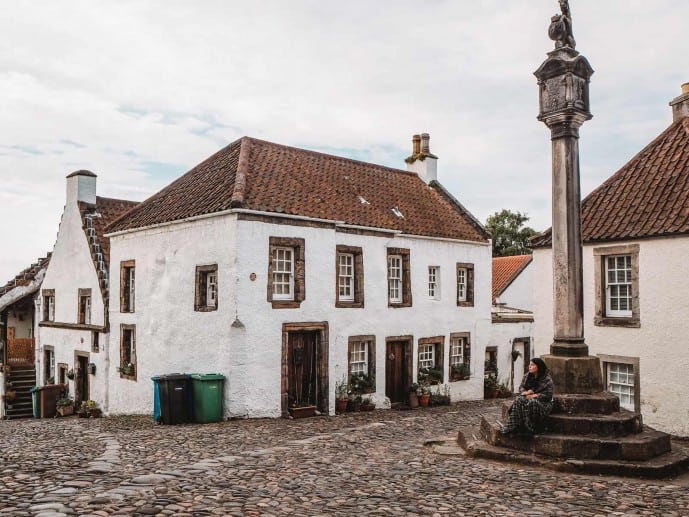 Where is Culross Palace in Culross?
You really can't miss this gorgeous bright yellow building as soon as you pull into Culross!
It actually sits at the top of Sandihaven in the main square on the same street as the Town Hall.
Culross Palace opening times
Culross Palace, gardens, and town tours run seasonally. Here's a breakdown of the opening times;
Culross Palace & Gardens (last entry 45 minutes before closing):
1st April – 30th September: 10am – 5pm daily
1st October – 31st March: 10am – 4pm Friday through Monday
Where to buy Culross Palace tickets and prices
You will need to buy your tickets for Culross Palace at the National Trust for Scotland shop in Sandihaven before you arrive, even if you have an NTS Pass. There isn't a ticket kiosk in the palace itself. This is nearby Culross Town Hall and is easy to locate.
Tickets prices for Culross Palace are;
Adults: £10.50 for house and Garden, £3.50 for the garden only
Concessions: £7.50 for palace and garden
Family tickets: £24.50 for two adults and children, £18 for one adult and children
Make sure you also ask the kind host at the kiosk for one of their Outlander leaflets that give you more information about each room.
It's also a gift shop with lots of cute Culross and Scottish souvenirs to take home!
See more about Culross Palace opening times, ticket prices, and guided tours here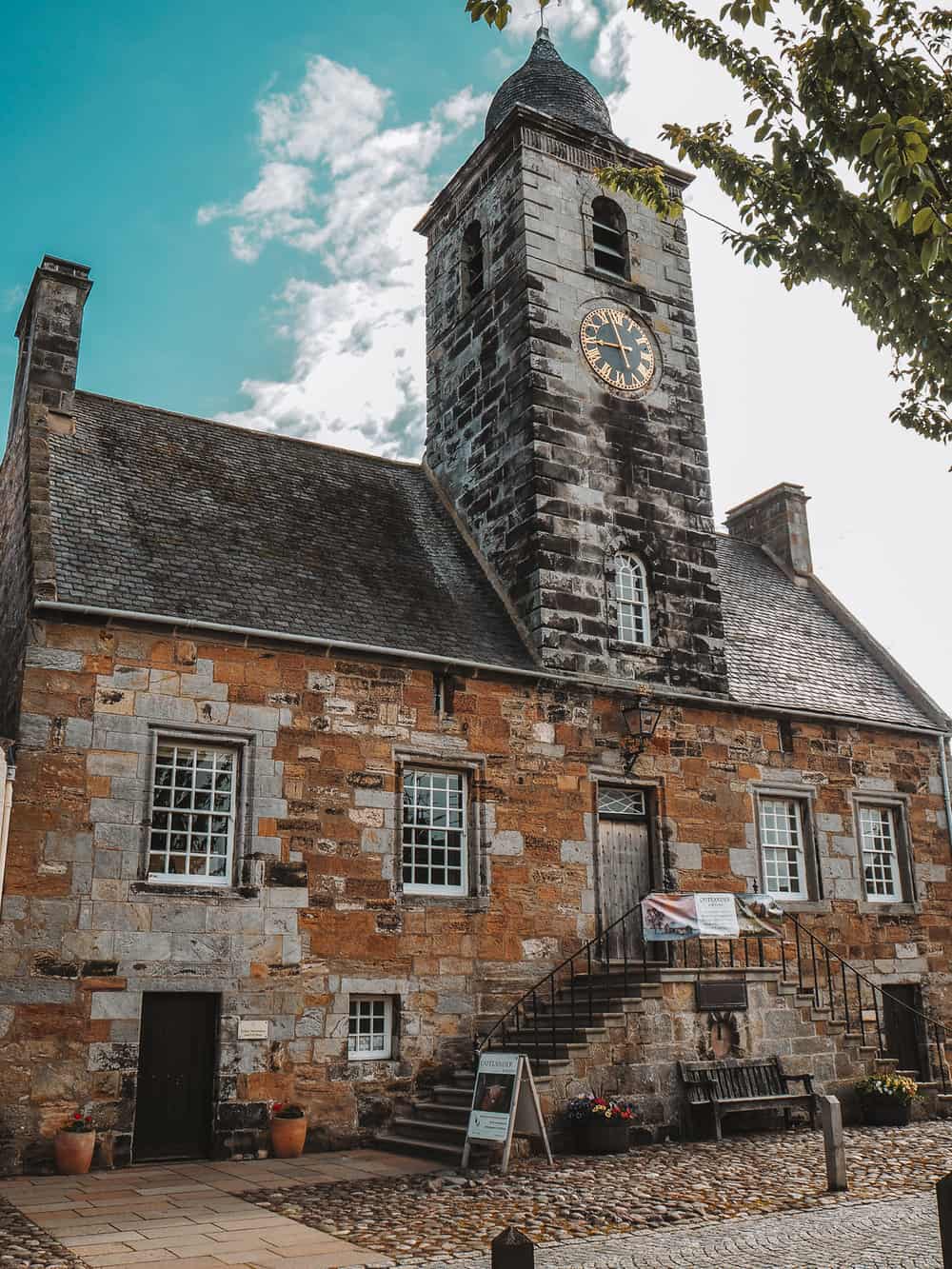 Culross Palace parking
There are plenty of FREE car parking spaces just opposite Sandihaven in the public car park. If this is full, there is a West Car Park located around a 10-minute walk from Culross Village.
Culross is a predominantly car-free town and, if you're visiting, you should make an effort to park here wherever possible.
The West Car Park is also a more suitable location for minibuses, camper vans, and coach buses too, and a great starting point for a trek to the West Kirk that featured as the Black Kirk in Outlander!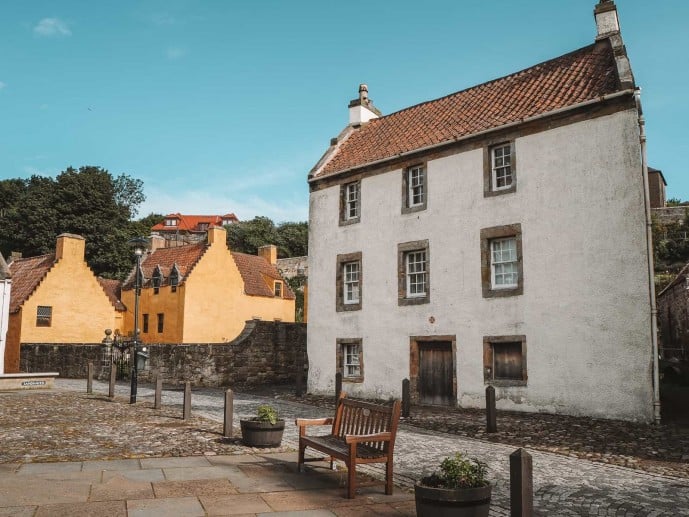 Culross Palace Outlander locations you can visit
So, have your handy map on hand and we'll go through each of the rooms and locations featured one at a time.
There are Outlander signs in each of the rooms that were used for filming and in some there are some screenshots printed too!
Unfortunately, I couldn't take any photos inside of Culross Palace. Photography is forbidden in the interior rooms as there are multiple artifacts on loan to the museum.
1. Culross Palace exterior / encampment where Claire extracts a tooth
Series 2 location
In series 2, we follow Bonnie Prince Charlie on the march, and Jamie and Claire follow him as part of his Jacobite support and council. Along the way, they camp out in a village in Scotland to decide the next steps.
In episode 11, 'Vengeance is Mine', Jamie is inside the palace showing his loyalty to the Bonnie Prince and trying to convince the council to march. Meanwhile, Claire is outside the palace with a makeshift dental surgery!
She is extracting teeth from a local woman while Rupert is scaring the wits out of a little boy waiting in line. Telling him a tale of how Angus has his teeth kicked out by a 'coo' (cow).
Murtagh is also anxiously waiting outside to hear a word from Jamie on the latest news from the war council.
This scene takes place outside of Culross Palace. Of course, it doesn't look completely the same with lots of makeshift encampment tents around the area. But, if you look in the background, the colour of the Palace is the same!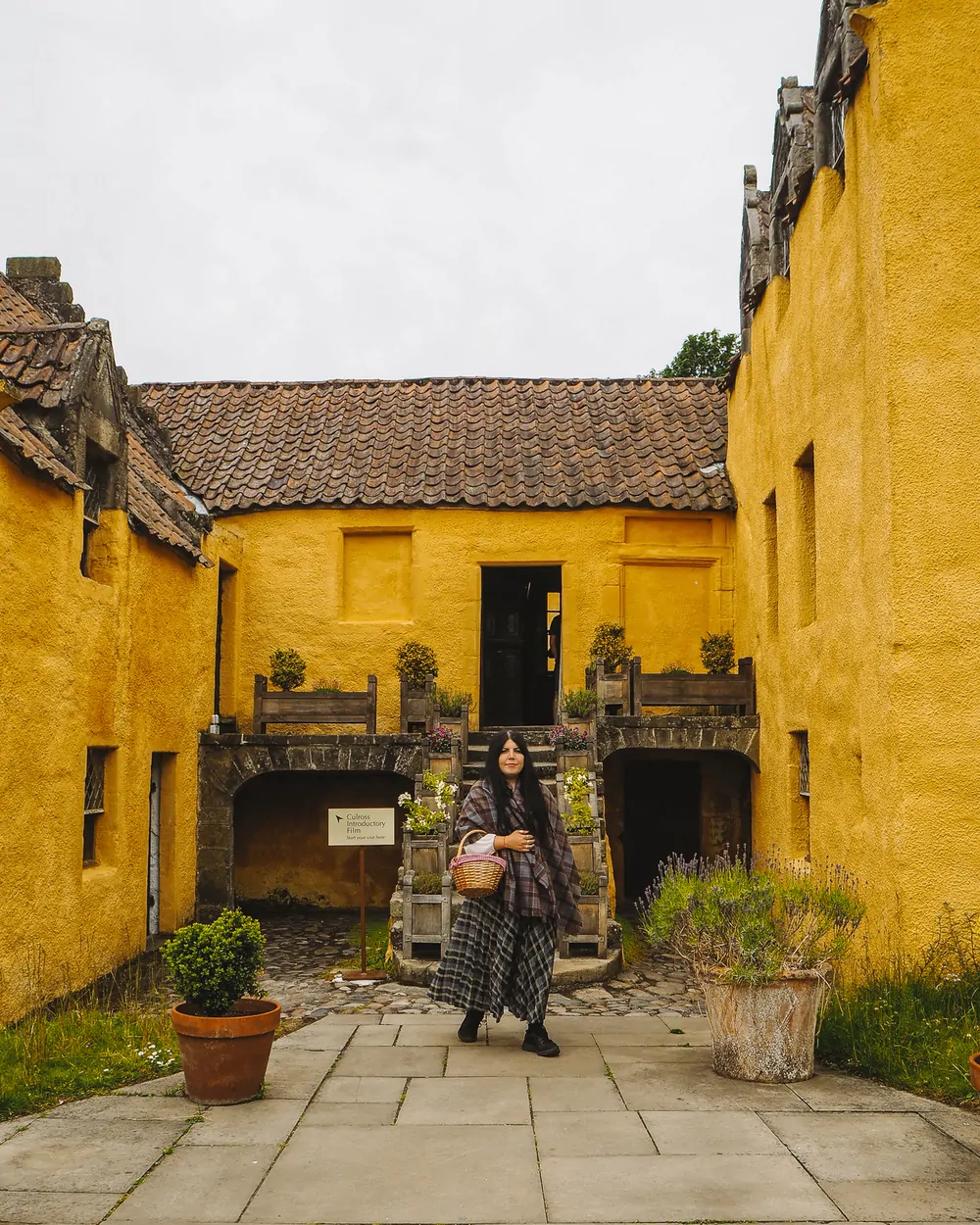 2. Withdrawing Room / Geillis Duncan's Parlour
Series 1 location
The exterior of Geillis Duncan's house is The Study building next to Mercat Cross (or Market Cross) in the square. There weren't any scenes shot inside The Study, save the ones of Claire and Geillis looking through the window at the Pillory to the boy with his ear nailed.
The interior shots of Geillis Duncan's house and parlour can be found in the Withdrawing room of Culross Palace. This is the room where Geillis has all her herbs set up and begs her husband Arthur to let the boy go. She also starts questioning Claire about her curious upbringing here too.
Although the room won't be decorated entirely the same, you'll recognise the arched roof and some of the walls from the series.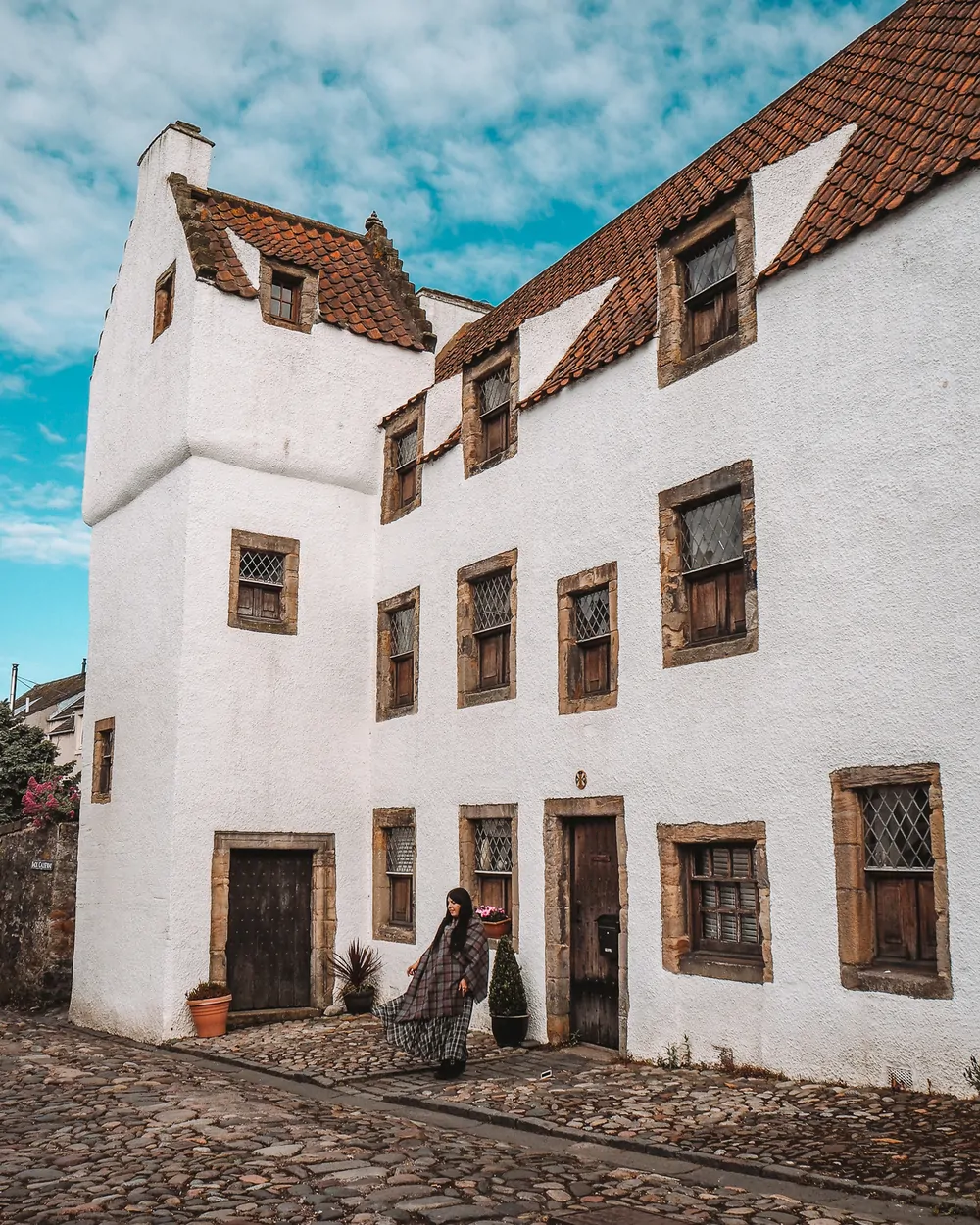 3. Palace High Hall / where Jamie advises Bonnie Prince Charlie
Series 2 location
This is featured in season 2 episode 11, 'Vengeance is Mine', as well. While Claire is extracting teeth outside of Culross Palace and Murtagh is waiting outside, Jamie is busy trying to convince Bonnie Prince Charlie to keep marching to London with the troops.
The Bonnie Prince agrees with Jamie but the other members of the council disagree with this plan.
Mark me, Outlander fans will recognise the barrel-vaulted ceiling, the walls, and the fireplace from the episode.
4. Palace King's Room / Jamie and Claire's bedroom
Series 2 location
The Palace King's room in Culross Palace was a guest room for Jamie and Claire in series 2 when they visit a village on their march with the Bonnie Prince.
This also appears In series 2 episode 11 'Vengeance Is Mine'. This is where Jamie prays for Claire while she is sleeping and the following morning Dougal visits them with a message that orders them to march back to Inverness.
Jamie is shocked by this based on the Bonnie Princes' decision in the council meeting and Dougal says that they're being exiled.
5. Bree's Room and Kitchens inside Laoghaire's House
Series 4 location
In Series 4, episode 'Down the Rabbit Hole', Brianna makes her way through the stones and back in time to try and find Claire and Jamie.
She hurts her ankle along the way and faints from the pain and exhaustion. When she wakes up, she has been taken to my Laoghaire who lives with her daughter Joanie.
The scenes for the exterior of the house can be found on Wee Causeway off Mercat Cross. But, the interior rooms of Brianna's guest bedroom and the Parlour in Laoghaire's house can be found inside the palace.
The bed won't be there, but you can recognise the Latticed windows that Bree tries to open when she tries to escape!
6. Palace Pantry and the Bennet House / Tavern where Claire is taken
Series 2 location
In series 2, episode 11 'Vengeance is Mine' we see yet another scene from Culross Palace.
After the encampment on the way back to Inverness has been ambushed by redcoats, Jamie, Dougal, Claire, Fergus, and Rupert are on the run. Rupert is shot and they must operate on him so they stop in a nearby church. This is Tullibardine Chapel that you can visit too!
Afterward, the redcoats discover them and so Claire pretends she has been captured by them so that they will be let go. The redcoats then take her to the Duke of Sandringham's residence and on the way, they stop in a tavern.
The Palace Pantry Kitchens inside the palace and the Bennet House located outside the palace were both used for these scenes.
Related post – a complete Outlander guide to Tullibardine Chapel!
7. Culross Gardens / Herb Gardens of Castle Leoch
The historical tiered gardens of Culross Palace doubled up as the herb gardens of Castle Leoch.
Although, you won't find Doune Castle, where Castle Leoch was filmed, in the background of these gardens like in the series I'm afraid. That was down to some clever CGI!
In Outlander there were the gardens where Claire first meets Geillis Duncan and then meets up with her regularly here after that.
You can wander around the trellises and the flower beds just like they did! I brought my basket along for photos ;)
Outlander location or not, these historical gardens are a marvel. You can walk up 3 tiers along the cliff's edge and take in all the flora and fauna in the area with some breathtaking views of Culross and the Firth of Forth to match.
Where to eat near Culross Palace
Straight outside of the Palace is Bessie's Café, which has a gorgeous courtyard within the palace grounds to enjoy a cuppa or a bit to eat.
When I visited, it was a gorgeous sunny day but it was packed! So, you may have to wait for a seat. If the weather is not so pleasant, there is also indoor seating too.
If you'd rather you can find the Admiral Café in Mercat Cross that does a great breakfast and lunch. The Biscuit Café and The Red Lion Inn serve up some pub grub from 12pm!
Looking for more Outlander locations in Culross?
There are plenty of Outlander locations around Culross that you can visit while you're on a visit. My advice, if you're going self-guided, is to get here EARLY, especially in the summer months.
Culross is a popular spot for Outlander fans and tour groups, so visiting early makes sure that it's not overcrowded for some great photo opportunities!
I actually have two more Outlander guides on Culross you can read below;
The ultimate Outlander guide to Culross
How to visit the Black Kirk from Outlander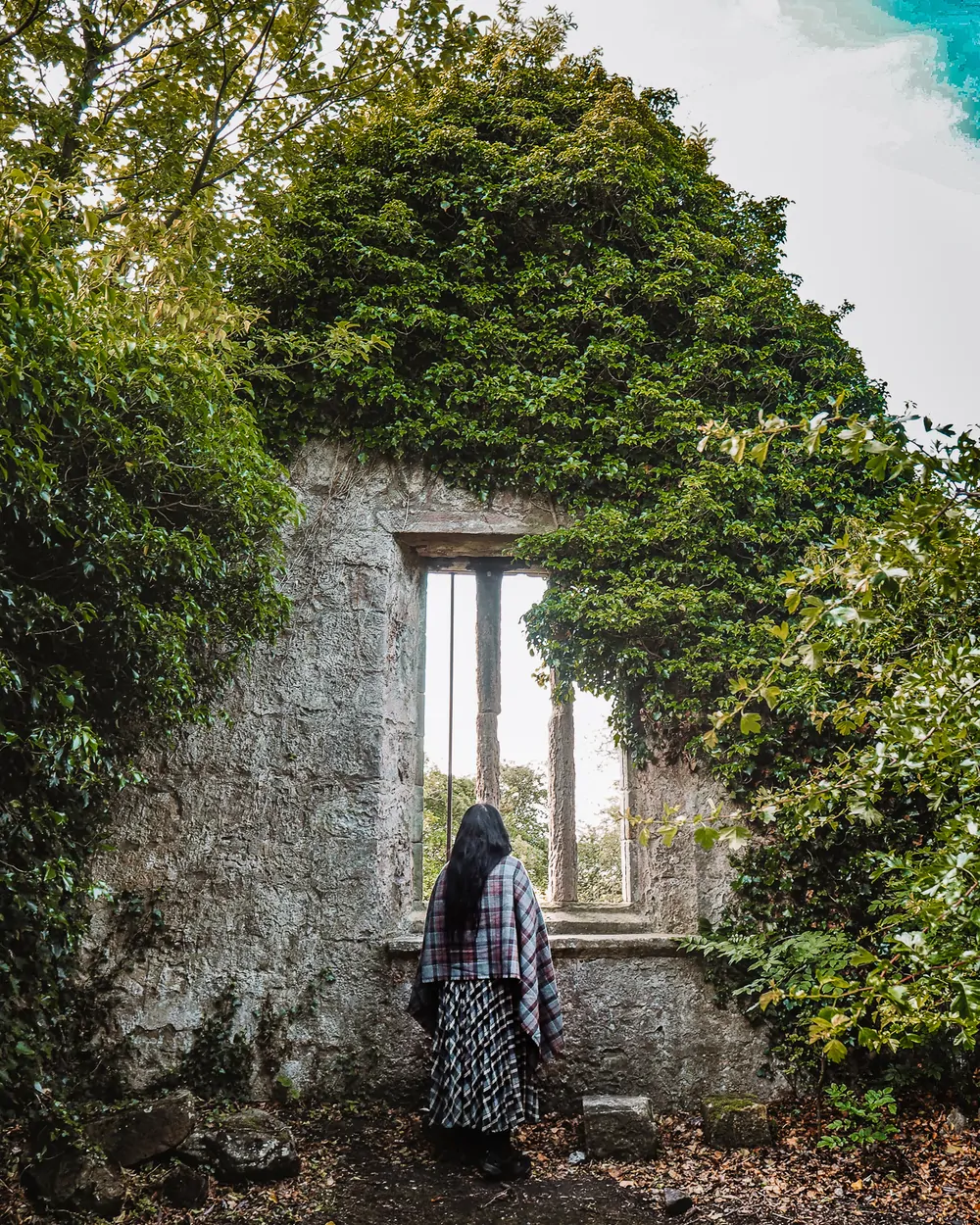 Outlander locations around Culross
If you plan to make a day of it or are going to spend a few days Outlander film location hunting.
There are plenty of film locations nearby and around Edinburgh, you can check out here.
Calendar House is also in Fife to see the Georgian Kitchen that was in the Duke of Sandringham's house. Or Bo'ness was the railway station in World War II where Claire and Frank said goodbye.
Castle Leoch, the seat of Clan MacKenzie can be found at Doune Castle or take a whisky tour in Deanston which has Jared's wine warehouse. Drummond Castle Gardens featured as the gardens of Versailles.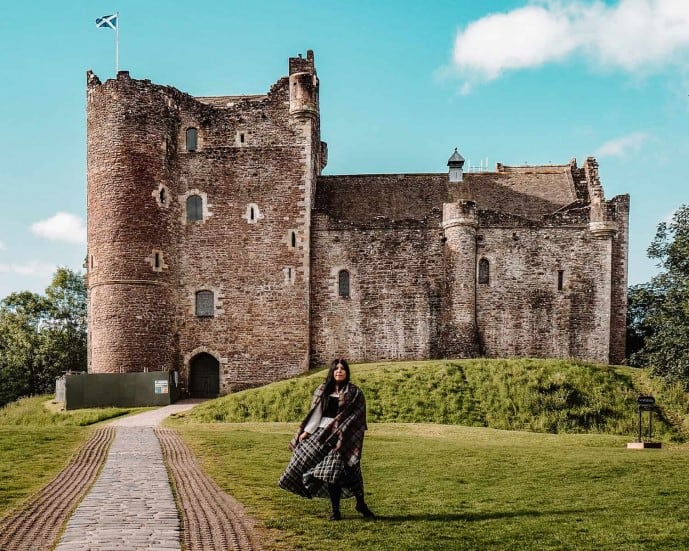 Blackness Castle was the dreaded Fort William where Jamie was flayed or you can visit Linlithgow Palace to see where Jamie was held at Wentworth Prison.
Hopetoun Estate has many Outlander locations around the area. You can visit the ancestral home of Broch Tuarach or Lallybroch at Midhope Castle. Or, Abercorn Church sits nearby that featured in season 4.
Hopetoun House also has lots of Outlander locations inside and out on the grounds including Mason Elise and The Duke of Sandringham's Red Room.
Or, Arberdour Castle is the abbey where Jamie recovers after being rescued from Wentworth Prison. Or, Dysart Harbour featured as the historic port of Le Havre.
Outlander locations in Edinburgh
In the city centre, you can visit Craigmillar Castle that featured as Ardsmuir Prison, or Summerhall has lecture theatre where Claire met Joe Abernathy.
On the Royal Mile, there is Bakehouse Close that featured as the Outlander print shop.
Tweeddale Court where Claire and Fergus were reunited or the Worlds End Tavern featured in Voyager. Afternoon tea at the Colonnades gives you an invitation to the Governor's Mansion party in Jamaica.
Read more: A self-guided Outlander walking tour of the Royal Mile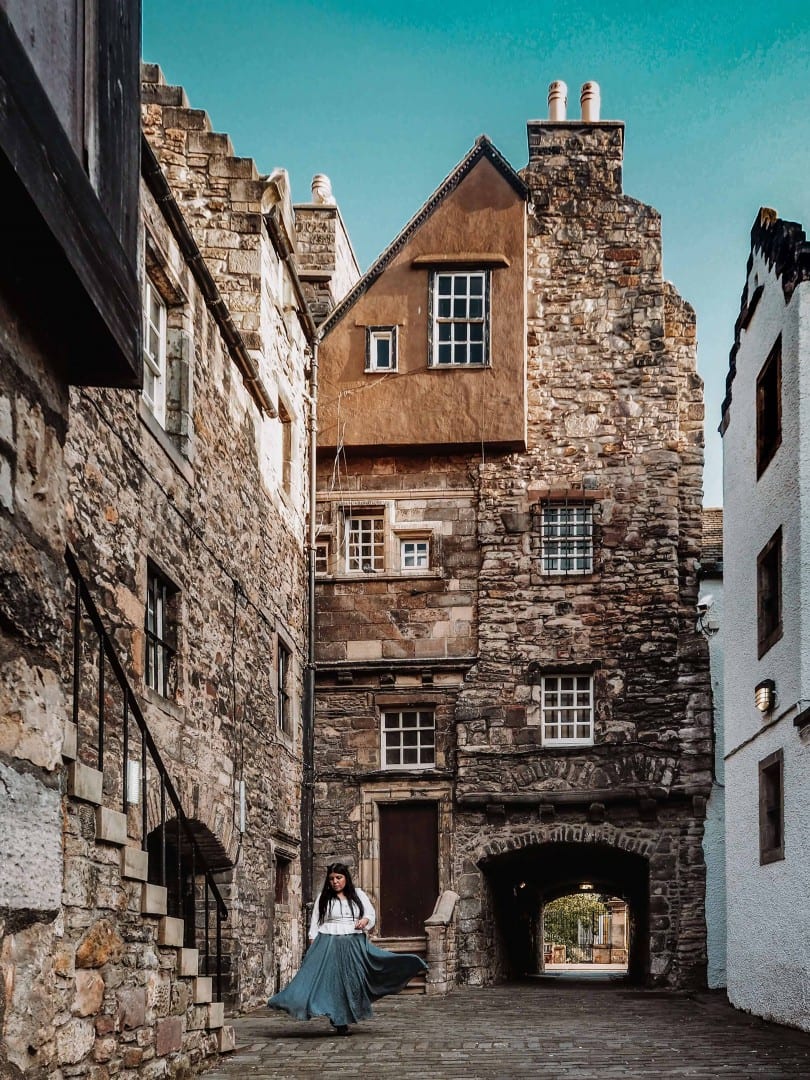 Roslin Glen is where Jamie says 'you're ripping my guts out Claire' and Glencorse Old Kirk is where Jamie and Claire were wed.
In East Lothian you can visit Gosford House that was Helwater Estate and Preston Mill was the historic water wheel at Lallybroch.
Or, visit Falkland village to find 1945 Inverness and you can even stay in the same room as Claire and Frank.
Click here to see my ultimate list of film sites for Outlander in Glasgow!
With thanks to the National Trust for Scotland for sponsoring my visit to Culross Palace. I loved exploring your beautiful palace, gardens, and historic village. Although I was a guest, all photos and opinions are my own.
Save this Culross Palace Outlander guide for later!