The Cwm Idwal Walk is one of my favourite walks in all of Snowdonia National Park and even Wales. It's a gradual ascent in Ogwen Valley that takes you to the bottom of the dramatic peaks of the Glyderau Mountain range.
Here, you can take a circular walk around a glittering mountain lake known as Llyn Idwal and fall in love with the perfect mirror reflection of the cirque.
I loved this walk so much that I actually did it four times whilst I was in Snowdonia National Park, even in the dark so I could see the stars! It was that spectacular and dramatic and a great way to disconnect into nature.
You'd be forgiven for thinking that you weren't in Wales at all here as you wander around Cwm Valley. In fact, this reminded me so much of New Zealand.
Here is a complete guide for Llyn Idwal and how to do the Cwm Idwal walk in Snowdonia National Park, Wales!
Cwm Idwal history & legends
Cwm Idwal is a glacial cirque valley and the rock found here dates back to over 450 million years ago during the Ordovician period! Most of what we see here today, including Llyn Idwal was formed at the end of the last Ice Age.
In more recent history, there have been many local legends and stories told about this spectacular mountain valley over the centuries.
Just beneath Cwm Idwal is the famous Llyn Ogwen. According to local legend Bedwyr Bedrynant, who was a knight of King Arthur, threw the famous sword Excalibur into the lake. Many say that this is the location where that legendary sword still lies today.
In the 12th century, Owain Goch ap Gruffydd or Owain Gwynedd entrusted the care of his son Prince Idwal Foel to his trusted advisor Nefydd Hardd.
Unfortunately, Nefydd and his son Dunawd were jealous of Idwal as he was so smart and Dunawd was not talented like he was. So, Dunawd decided to push Idwal into the icy lake and he ended up drowning.
Owain then banished Nefydd from the kingdom and decided to name this lake 'Idwal' in memory of his lost son.
According to local folklore, there is no bird that flies over the lake's surface and you can often hear the wailing screams of Idwal during a storm! Although, I definitely saw quite a few birds fly over the lake on my visit.
How to get to Cwm Idwal in Snowdonia National Park
Cwm Idwal is a glacial valley that is tucked away beneath the Glyderau Mountain range of Ogwen Valley.
To access the Cwm Idwal Walk you will need to make your way over to Llyn Ogwen in Snowdonia National Park.
Ogwen Valley is accessible via the A5 road that snakes through the area and it's from here you can access the Ogwen Visitor Centre to start the ascent to Llyn Idwal.
The easiest way to access Llyn Ogwen would be to drive. Llyn Ogwen is a 20-minute drive from Bangor and a 20-minute drive from Betws-y-Coed.
If you don't have access to a car, there are public transport options available. There is a Snowdon Sherpa Bus Service from Betws-y-Coed. Click here for more details.
The postcode for the Ogwen Cottage and Ogwen visitor centre is LL57 3LZ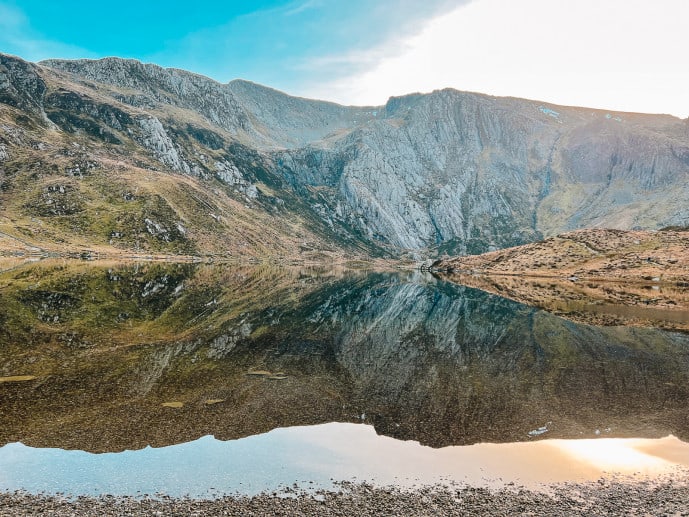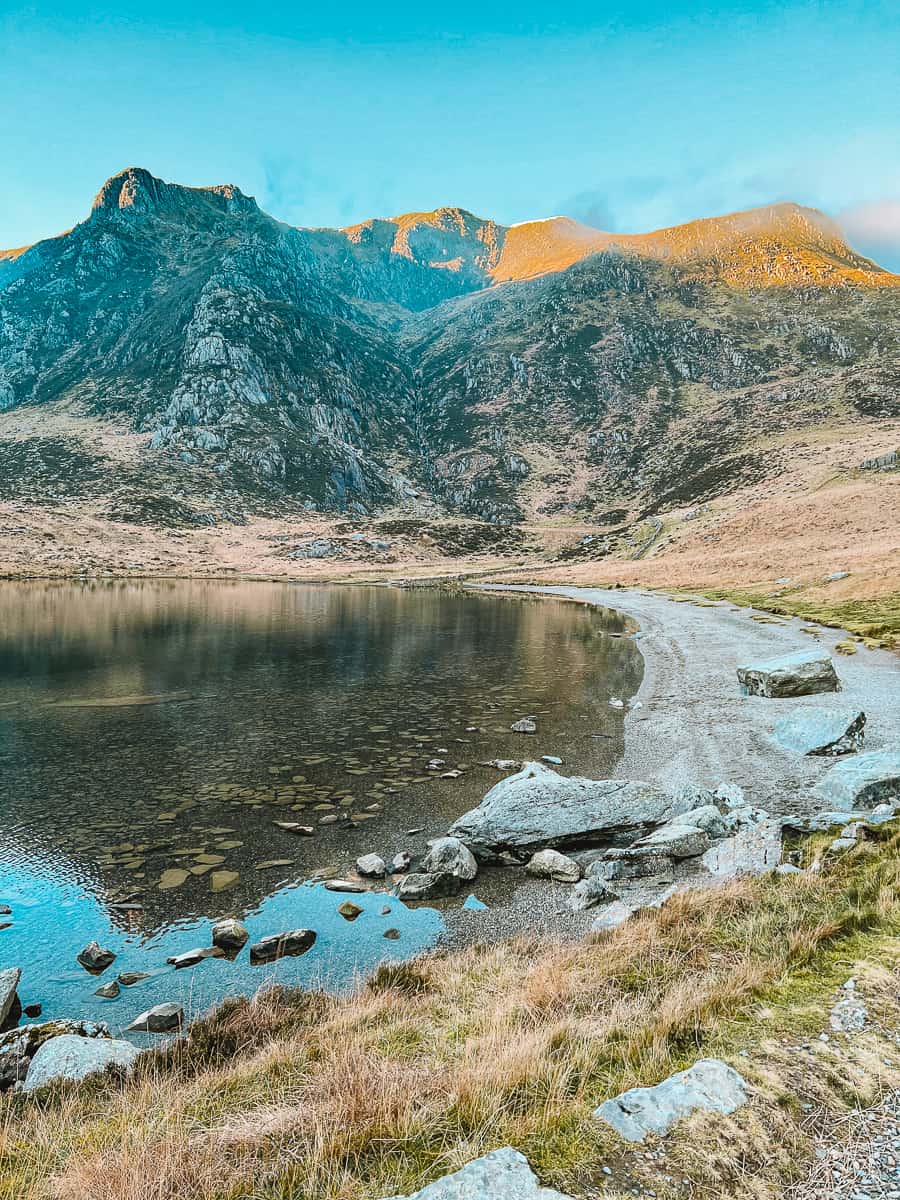 Cwm Idwal walk parking options
You cannot park at Cwm Idwal itself as it's located in the mountain range. You will need to park up at Llyn Ogwen before you can take the walk to Llyn Idwal.
There are a few Cwm Idwal parking options in this area;
Option 1: Llyn Ogwen Car Park – There is an official car park are at the Ogwen Centre here but this is paid parking and is not cheap! You also need to get here quite early as parking is limited. It will cost you £6 for an all day ticket.
Option 2: Free parking by Llyn Ogwen – If you wanted to save some money, there are multiple free car parks and lay-bys beside Llyn Ogwen on the A5 road. But, these are quite far from the start of the Cwm Idwal walk. You'll need to walk around half a mile to get to the Ogwen Centre from here. So, if you don't mind the extra hike, this is a good option if you're on a budget!
How long is the Cwm Idwal walk?
The walk up to Cwm Idwal from the Ogwen Visitor Centre is around 20-30 minutes give or take to reach Llyn Idwal lake.
From there, you can take the Llyn Idwal Circular walk around the lake which will take you around an hour or so.
Personally, I would leave around 2-3 hours to complete the Cwm Idwal Walk. There are plenty of places to take in the views and stop for lunch or photos!
If you wanted to extend your walk up to the Devil's Kitchen ascent and Glyder Fawr this will take far longer. I would leave around 5-6 hours if you plan to hike there and back.
Is the Llyn Idwal walk difficult?
This is always subjective but I found the Cwm Idwal walk and the Llyn Ogwen Circular walk fairly easy. It's officially labelled as a moderate trail.
Most of the pathway is uneven and you have to traverse many boulders to get up to the valley and walk around the lake. So, it's not accessible in the least for wheelchairs or pushchairs.
I'm not a very experienced hiker but I found this mountain lake walk manageable if you take your time, mind your step and have a good pair of shoes on.
I actually ended up doing this walk around 4 times while I was in Snowdonia, even at night time to see the stars. I was in love with it and it's now one of my favourite walks in all of Wales!
Things to prepare before the Cwm Idwal Walk
A pair of ankle-supporting shoes – The path here is all boulders and rocks with rough terrain. I would always recommend a pair of ankle supporting shoes with a good grip on them. I found even on a dry day many of the rocks were slippy.
Appropriate clothing – This is Wales and the mountain ranges here can see four seasons in one day. I was lucky that it was sunny but I would take appropriate clothing for the walk. A warm or waterproof layer would be a good idea just in case. In December, the sunlight didn't hit this valley ALL day so it was freezing.
A bottle of water – Essential for walking. I would have a bottle prepared to take with you.
Snacks/food – There is a small hatch takeaway at the Ogwen Visitor Centre selling drinks, chocolate bars and sausage rolls. But, if you wanted a more substantial lunch I would take one with you. There are no facilities once you're at the lake itself.
Ordnance Survey Map – I wouldn't say you need this if you plan to do the Llyn Idwal Circular as it's relatively straightforward. But, you'll definitely need one if you plan to hike the mountain range above. There is no phone signal found here so best to take an old school paper map.
Cwm Idwal walking directions
The Cwm Idwal walk starts from the Ogwen Visitor Centre that is right next to the car park. If you head beyond the visitor centre, you'll see the path leading upwards and into Cwm Valley.
You'll then see a small stone circle that outlines what peaks you can see in the area and the heights of them as well. As you cross the footbridge, there are some spectacular waterfalls to enjoy.
Keep heading upwards on the well-laid pathway. It's made mainly of boulders, rocks and cobblestones but it is easy to walk on and provides some good grip as you walk into the valley.
The walk up to Cwm Idwal from the visitor centre is around 20-30 minutes depending on how fast you walk. It's a gradual ascent but it's well worth it for the views around the lake.
Eventually, at the end of the long cobblestone path, you'll find Llyn Idwal and it will take your breath away!
Things to do at Llyn Idwal
Take the Llyn Idwal Circular walk
Once you've made it to the top of Cwm Idwal, I would highly recommend taking the Llyn Idwal Circular walk while you're here.
It's an easy stroll around the lake and into the valley surrounded by the peaks of the Glyderau Mountains.
The pathway remains unchanged and it will still be a mixture of boulders and cobblestones as you go. There are also some stepping stones over some of the small streams. But, it is mostly flat and you get spectacular views.
The walk will probably take you around an hour give or take. It all depends on how fast you want to get around the lake. I spent around 2 hours here enjoying the views and taking photographs.
Relax on Llyn Idwal beach
One of the nicest surprises on the Cwm Idwal walk was seeing the small beach that lay beside Llyn Idwal.
It's only a tiny pebble beach but it was a lovely place to relax for a while to take in the views of the mountains.
On a clear day, you get to see the reflections of the mountains clearly here and spot some of the birds that fly around the lake!
Even in chilly December, it was nice to sit and relax here for a while. On a hot day, it would be so nice to relax here and then paddle into the lake after a long walk.
See the Devil's Kitchen waterfall – The Devil's appendix
If it's been raining for a few days, you may notice plenty of waterfalls that snake down the mountain range!
One of the most recognisable is the one that falls through the huge black gap in the rocks that is known as the Devil's Kitchen.
The Welsh name for this is Twll Du which means 'black hole'. The dramatic name comes from the steam that is often seen from this crack in the rock. Legend has it that when steam billows out, the Devil is hard at work cooking in his kitchen!
The Devil's Kitchen waterfall is also known as the Devil's Appendix and is a single drop waterfall that flows through the mountain range.
The bottom of which can be seen easily from the Llyn Idwal Circular route. It makes a fabulous photo opportunity.
You can walk up the hillside to see the bottom of the Devil's Appendix as the flow of water babbles over the rocks and meanders down into the mirror lake below.
See views of Tryfan Mountain
Llyn Idwal is surrounded by the dramatic Glyderau Mountains. Everywhere you look you'll see towering peaks that make everything else seem rather insignificant.
But the one that towers over them all is the might Tryfan mountain that is a staggering 918 metres high and one of the tallest in the Ogwen Valley. It's the fifteenth-highest mountain in Wales.
Although I would never attempt to climb it, this walk gives you some of the best views of the Tryfan peak.
You can hike up the hillsides of Llyn Idwal and get a closer look or you can capture a picture-perfect reflection of it in the still waters.
If you wanted to climb Tryfan, it's one of the hardest climbs in the national park and more of a scrabble really! But, many do it and it looks seriously impressive.
Head on up through the Devil's Kitchen to Glyder Fawr
If you wanted to extend your walk or hike up to see some more dramatic views, many people head up the Devil's Kitchen ascent to the likes of Glyder Fawr.
It's a scramble to the top but the views looking down over Tryfan and the Ogwen valley are meant to be spectacular.
The top of the ridge is extremely rugged with many dramatic peaks and there are some fabulous photo opportunities on the overhanging rocks here.
It's a steep ascent at 841 metres on rough terrain. I would only suggest this walk if you have come prepared with decent walking shoes and supplies as it's quite a rough and exhausting walk upwards up to the ridge and back down.
Cwm Idwal photography
The main reason why I wanted to go on this walk was due to the spectacular scenery you can get here and the perfect mirror reflection of the mountains in the lake.
This whole area was a photographer's dream as you had the perfect symmetry of the peaks reflected in the still water.
Even if you're not an avid hiker, I would 100% recommend visiting here if you're keen to take some photos of Snowdonia National Park.
The views of Tryfan that you can get in this valley are spectacular as it's one of the most dramatic.
If you're a fan of night photography, then Cwm Idwal is also a great option. Due to the limited light pollution, this is the ideal place for stargazing!
What is the best time to visit Cwm Idwal?
I don't think there is a 'bad' season to visit Cwm Idwal as it provides spectacular views all year around. I went in December but I was blessed with sunny skies and mountain peaks – there was even some snow on top!
I would definitely opt for a sunny day or at least when it's clear of rain. The Cwm valley is completely exposed and so it won't be very fun to hike around here soaking wet. Also, there won't be any views of the peaks due to the cloud cover.
I would also use caution if you're planning to hike up the Devil's Kitchen or any other summit if there is limited visibility for your own safety.
In terms of the time of day, I would personally arrive at Llyn Ogwen as early as possible for this walk. This is an extremely popular area and is busy throughout the year.
The Ogwen Centre parking is limited and so I would arrive no later than 9 am to ensure that you get a space in peak season. There are other parking areas around Llyn Ogwen lake that are free but these also fill up quickly.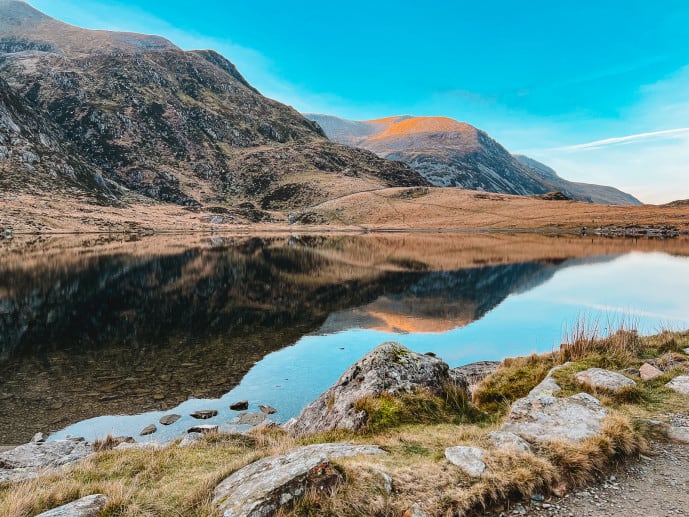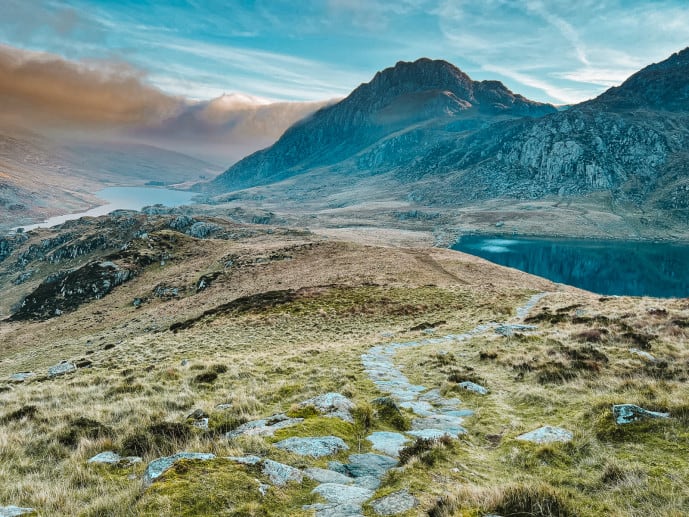 Where to eat in Cwm Idwal
As Lyn Ogwen is a remote area of Snowdonia National Park there is not a wealth of places to grab a bite to eat in this area.
The Ogwen Cottage has a counter takeaway service called the Ogwen Snack Bar that runs throughout the year. They serve up takeaway coffees and teas as well as chocolate bars and cakes.
This was a welcome surprise for December and I was honestly so thankful I could hold onto a steaming cup of coffee on my chilly walk!
The savoury food on offer is cold sausage rolls, pizza slices and pastries. So, if you fancied something more substantial (or healthier) I would opt to bring your own lunch for this hike around the lake.
There are some picnic benches at the Ogwen Centre you can perch on. Or, there are plenty of places around Lyn Idwal to sit and eat your packed lunch – just remember to take all your rubbish with you as there are no bins.
The Lyn Ogwen Snack Bar is open from 8 am – 5 pm most days dependent on the weather and volunteer availability.
Where to stay in Lyn Ogwen
If you wanted to stay in the Lyn Ogwen area, there is only one option for travellers and that is the YHA Idwal Cottage Hostel.
It's one of the only accommodations choices in Ogwen Valley and has a mix of private rooms and shared dorms.
There is also the option of camping as well in their woodland campsite if you were on a stricter budget.
It's a great base to explore the valley as it's right in the heart of it. So, you could spend a few days here hiking up the mountains.
Click here to book your stay at the YHA Ogwen Cottage!
FAQs about Cwm Idwal
How high is Cwm Idwal? Compared to the Glyderau range that tower over this lake Cwm Idwal is not that high. From Ogwen Cottage, you'll be gradually ascending around 480 feet.
Can you swim in Lyn Idwal? It is not advised as it's extremely cold. I visited in December and it would have been near frozen. But, there is a small beach and walkers like to dip their feet in during the summer months after walking.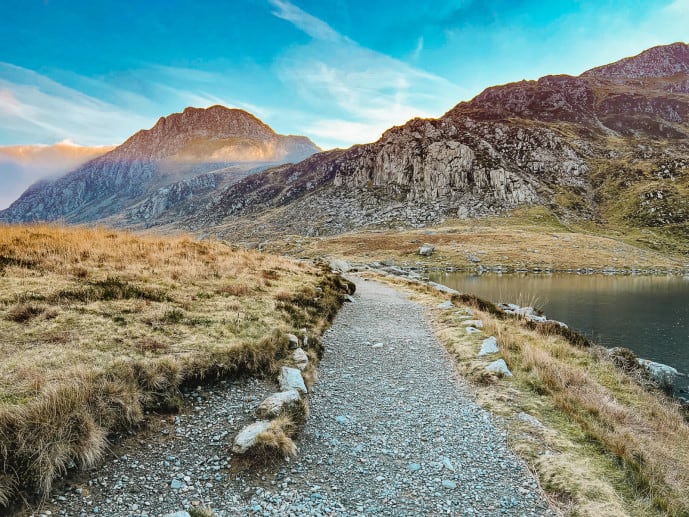 Is Cwm Idwal dog friendly? Yes, I saw lots of dogs around Lyn Idwal! It's a great walk for them with lots of places for to step in the lake should your furry friends wish to!
Are there toilets at Cwm Idwal? There are no toilets at Cwm Idwal itself but there are some facilities at the Lyn Ogwen Visitor Centre. I would highly recommend you use them before you set out.
Is the Cwm Idwal walk difficult? This is subjective but I would say it's a very easy walk if you just plan to do the Lyn Idwal Circular. The only thing that is tricky is the boulders/stones that make up the path. These can get uneven and slippy. Make sure to have a good pair of ankle supporting shoes. If you plan to climb up the Devil's Kitchen, this gets considerably harder. So, come prepared.
Read more of my North Wales & Snowdonia National Park articles
How to visit Dinorwic Quarry Wales
Look inside the Smallest House in Great Britain!
Visit Anglesey Barracks – Snowdonia's Forgotten Street
Penmachno Roman Bridge photography location
Why is the Ugly House called Ugly?
When does Tu Hwnt I'r Bont turn red?
The legend of Gelert & how to visit his grave
The top places to visit in Beddgelert
Visiting the Cauldron Waterfall of Pont-y-Pair
How to find Sappers Suspension Bridge
A complete Swallow Falls guide
Why you MUST visit the Fairy Glen Gorge
A complete Conwy Falls & cafe guide
A complete guide for the Dinas Emrys Walk & Dragon legend
How to see the Bodnant Garden Laburnum Arch
How to visit Pistyll Rhaeadr Waterfall
Gladstone's Library – Stay in the UK's only residential library
Save this Cwm Idwal Walk for later!