Out of the two ancient stepwells that are located around Ahmedabad, Dada Harir Stepwell (Bai Harir Vav) is often cast aside for the more famous one in Adalaj.
But, I would highly recommend that you don't skip this historic water temple while exploring the UNESCO World Heritage City!
It is located in the district of Aswara and it is far bigger with equally as amazing architecture on its many levels.
As it's a bit of a hidden gem in the city, you can come here to escape the crowds in an oasis of calm and have a respite from the heat. Plus, it has much more freedom to move around and explore!
This fact alone made it my favourite stepwell as there were no limits to where you could access which made it a lot more fun.
Here's a complete guide for visiting Dada Harir Stepwell in Ahmedabad, Gujarat!
An introduction to Vavs in Gujarat
A Vav in Gujarat is a stepwell, the word comes from the Gujarati Language. Also called a water temple, this involves a series of steps that lead down to a well that collects water.
Stepwells have different names around the country. In the North of India, they will commonly have the name Baoli from the Hindi Language, like in Delhi. Or, in Rajasthan, you may find they have the name Kund.
In total, there are 2 Vavs in Ahmedabad that have survived and are now protected by the Archaeological Survey of India as tourist attractions. These are the Adalaj Ni Vav and the Dada Harir Stepwell.
Although most people make a beeline for Adalaj, I would highly recommend you give the Dada Harir Stepwell a chance.
There are thought to be 100 ancient stepwells in Gujarat that have survived the ages. There are also 2000 historic stepwells in India today!
Related post – What to expect when visiting the most haunted stepwell in India!
What were stepwells used for in India?
The dry landscape in the North of India often meant that there were many water shortages in cities years ago.
So, to provide a solution, stepwells were built to collect water and act as a reservoir for communities.
As the water source was something that everyone needed in the area, Baoli's essentially brought people together!
This is where locals would meet to chat, seek shade from the heat, collect water to wash clothes, and bathe. It was almost like a modern-day community hall.
In Gujarat, these vav stepwells even went one step further and used them for religious rituals and festivals as well.
What is Dada Harir Stepwell or Bai Harir Vav?
The Dada Harir Stepwell is a gorgeous 15th-century water temple which is located in the Aswara district of Ahmedabad.
It has five levels and they are held up by intricately carved pillars that have perfect symmetry through the well. At one end, there is a huge octagonal vav that is 190 feet deep. It can be accessed via a narrow spiral staircase inside the structure.
This stepwell is quite unique in the fact that it has both Arabic and Sanskrit inscriptions as well as Jain and Hindi idols carved inside. There are also Persian carvings of flowers and elephants lining the walls too.
The stepwell runs deep underground. The lower the level, the cooler the temperature gets. It's thought that many people would have used it as a respite from the heat.
Some travelling traders would even sleep here for shelter before there was such a thing as a hotel.
The fact that there are carvings from both Hindu and Islamic religions means that this stepwell was made as a ground to be shared by all communities.
Dada Harir stepwell also welcomed travellers who visited from afar, even 500 years ago! Inside, you can even find an inscription that says just that.
Related post – How to visit the Panna Meena Ka Kund stepwell in Jaipur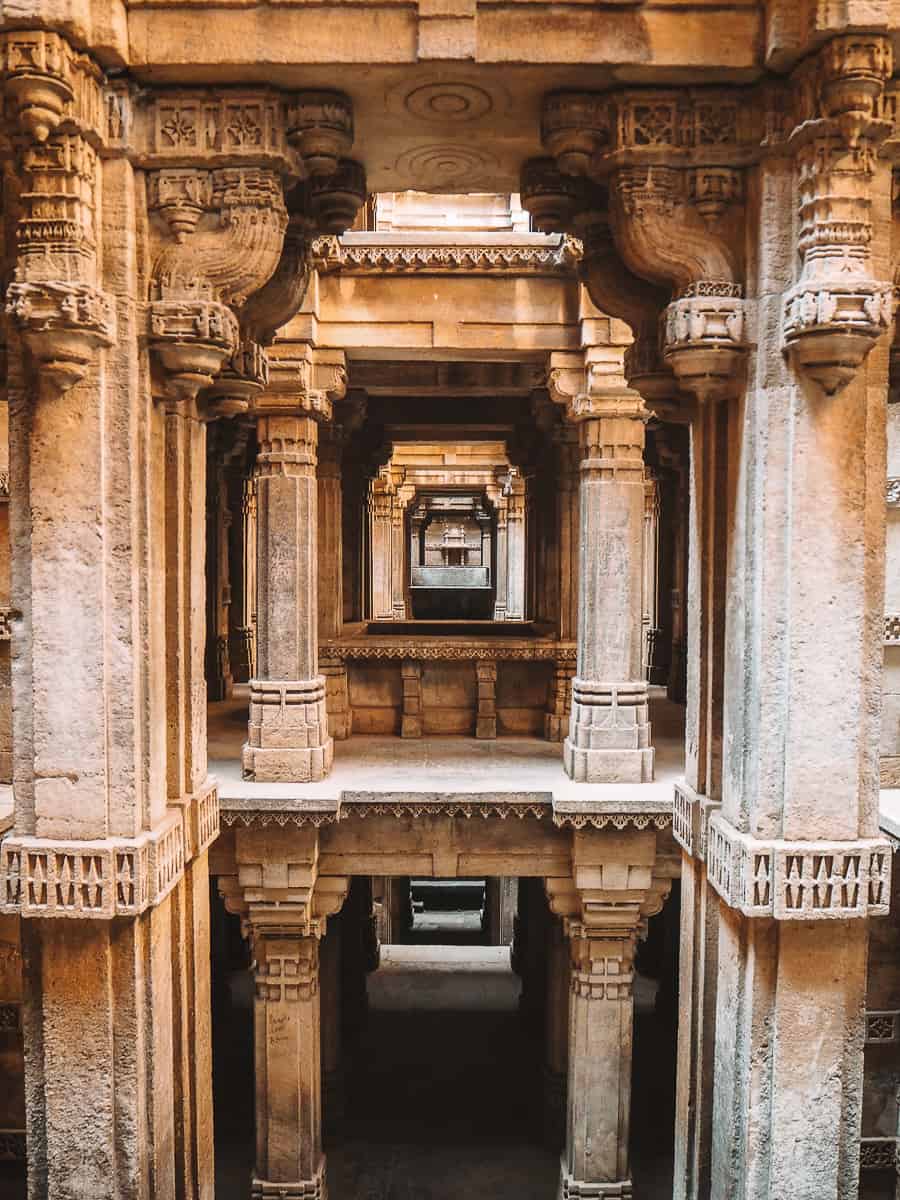 Dada Harir Stepwell history
Bai Harir Vav was built by Dhai Harir, or Harir Sultani, in 1485. She was the superintendent of the Royal Harem in the Sultan's household (who knew there was such a thing?)!
She was a great lady serving under the infamous Mehmud Begada. As well as building this stepwell, she built a small mosque and tomb nearby where she is buried.
According to the inscriptions, she provided the funding herself for the construction which would have cost around 3 lakhs (£3,000) at the time! For those days, it was a small fortune.
We know this as there are both Sanskrit and Arabic carvings at either end of the well that read the following;
"This holy and wholesome water; the splendid travellers' rest-house enclosed on four sides by carved and painted walls, and a grove of fruit trees with their fruit, a well, and a pool of water for the use of man and heist, were built in the reign of the Sultan of the Sultans of the age, established by the grace of God and of the faith, Abul Fath Mahmud Shah, son of Muhammad Shah, son of Ahmed Shah, son of Muhammad Shah, son of Muzaffar Shah the Sultan, may God keep his kingdom. Dated the metropolis of the kingdom the 2nd of Jamadi-ul-awwal in the 26th year of the reign"
Where is Dada Harir Stepwell located in Ahmedabad?
The stepwell is in the Aswara district and is around 2 kilometres from the Ahmedabad Junction railway station. It's a 20-minute walk from there.
It's also fairly close to the Sabarmati River area where most of the central guesthouses and hotels are based in the city. So, you may find that you walk there quite easily.
As I was exploring the cities main attractions, I decided to travel to the stepwell by Uber. I loved using Uber in Ahmedabad as I found the rickshaws (tuk-tuks) were quite hard to barter within the city.
Depending on where you are travelling from in Ahmedabad, you should expect to pay around 100-200 rupees to access the stepwell from the centre.
Here's my complete guide on using Indian Uber with a discount code for your first ride!
Bai Harir Vav timings and entry fee
Dada Harir stepwell is open from 7 am – 6 pm every day for visitors to access.
I would recommend planning at least 1-2 hours for your visit. You'll be amazed at how long you spend here exploring and taking photos.
There is no entry fee to explore Dada Harir Stepwell which makes it an awesome budget activity too!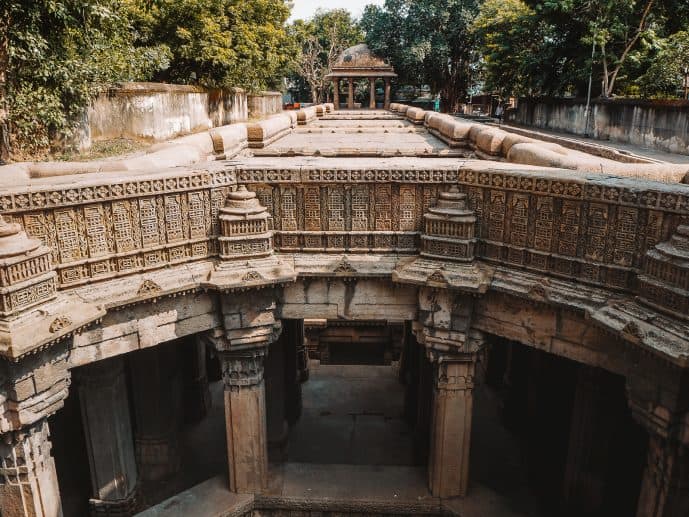 Photography tips & things to know before visiting
Although this stepwell is pretty central in Ahmedabad, it sees a fraction of the crowds of Adalaj. This makes it the perfect location for photos at any time of the day.
If you did want it completely empty, I'd recommend avoiding weekends and come here as early as possible or later on in the day. I visited around 3 pm and there was not another soul here (apart from the caretaker).
There is not much light in this stepwell as it's underground. But, there are fractions of light that shine through and make a great play of light and shadows which is nice.
Although this stepwell is free, one of the guards here decided to give me a mini-tour! He took me around the secret passageways and also took some nice photos of me and I tipped him at the end. Not an essential part of a visit by any means but it's nice to help the volunteers out.
It can get really dark inside the well, especially on the winding staircase. So, I'd make sure you have a phone light or torch and watch your step!
What to expect on your visit
When you arrive at the stepwell by taxi/rickshaw, you'll be dropped off on the roadside which is just outside the entrance gate.
This makes the stepwell really easy to locate but it almost appears hidden as it's underground.
Just step through that gate and walk towards the canopies in the area. You'll see some steep steps that lead down towards the octagonal well.
Alternatively, you can enter via the Durgah temple (mosque) at the other end. From this way, you'll most likely see the narrow winding staircase by the octagonal vav. If you walk down this, you'll come across the largest part of the well first.
It doesn't really matter which way you enter from, you can easily navigate your way through to either end.
However, I'd say that the open stairway entrance that I entered through is far safer with a lot more light. The winding staircase is extremely dark and narrow.
You are not required to take your shoes off while exploring the stepwell. Which is a good job as there is a lot of pigeon poop about!
Exploring the different levels of Dada Harir stepwell
The reason why I loved this stepwell so much is that there weren't really any limits to what you could explore around here. It was like a labyrinth and totally gave me those David Bowie vibes!
I visited many stepwell's in Gujarat on my travels but it was really only this one that gave you the most freedom.
However, it's good to remember that this place is over 500 years old! So, although it has been fantastically preserved, the foundations may not always be as stable as they look.
Warning: there are no safety barriers here at all. Many of the walkways to get to the different levels are extremely narrow. You could fall from a great height of over 100 ft and hurt yourself. So, please, be careful as you go!
In part, that's why I was glad that I had my 'unofficial tour guide' to show me around Dada Harir stepwell. He knew all the passageways and took great care to make sure I didn't slip.
I don't think I would have seen as much here if it wasn't for him. As I was here alone and was the only tourist there, you couldn't hear a pin drop.
The octagonal well area and dark staircases were so creepy and walking around by myself with my overactive imagination would have been a bad mix. The birds and bats flying out of nowhere didn't help haha!
I'm also claustrophobic, so I appreciated knowing that someone knew where we were in the stepwell! Otherwise, I'm sure I would have got lost and panicked in that dark maze with those tiny staircases.
Despite all that, looking back, it was really fun. It's like the whole place has been trapped in time!
Bai Harir Sultani Mosque & Tomb
Just behind the stepwell is the Bai Harir Sultani Mosque which is worth a look in after your visit around the stepwell.
Built in the 1500s, this was also part of Dhai Harir's legacy. Inside the mosque, you'll find five tombs including one for Bai Harir Sultani herself.
There is also lots of fine Jali carving work on the windows that allow light to shine through.
Just like the stepwell, there are lots of narrow entranceways in and around the building to access the shrine. Plus, you can walk up to the top of the mosque via another narrow winding staircase!
From the rooftop, you can see the many domed canopies on the mosque. Also, a great view of Aswara and the stepwell nearby.
Although it's no longer an active mosque, people still visit to pray in this holy place. You are still required to take your shoes off to explore out of respect. Also, women should wear clothing that covers their shoulders and knees before entering.
Visit Adalaj Ni Vav next!
Although it may seem a bit much to visit two stepwells on your visit to Ahmedabad, I would highly recommend visiting the Adalaj stepwell while in the city as well.
I admit, they do look similar but they are completely unique in their own ways. For starters, the Adalaj stepwell has some of the finest carving work in the state!
It may surprise you to know that both these historic stepwells were built during the reign of Sultan Mehmud Begada!
Although this one was built by Dhai Harir Sultani, according to legend the one near Adalaj was built on instruction by the Sultan himself.
There is a tragic love story connected with Adalaj ni Vav which never fails to draw in the crowds. It's what makes it the most famous!
Click here to read my complete Adalaj guide with the legend, how to visit & new entry fees
Looking for more places to visit in Ahmedabad?
Ahmedabad, pronounced 'am-da-bad' to locals, was one of my favourite cities to visit in India. Especially because it was filled with culture and history! It's recently been declared a UNESCO World Heritage City.
You can marvel at one of the many temples like Jama Masjid, Swaminarayan Temple, or Akshardham Temple.
A lot of people don't know that Gujarat was the birthplace of Mahatma Gandhi! Visiting his Sabarmati Ashram here is a highlight attraction of the city.
There's also the Calico Textiles Museum and if you were looking for markets, you could check out Law Garden and/or Manek Chowk!
In the evenings a stroll alongside the Kankaria Lake is just the ticket or the Sabarmati Riverfront is lovely too.
Where to stay in Ahmedabad
Ahmedabad has a wealth of properties to choose from whatever the budget.
I stayed in two properties whilst in Ahmedabad, one was a contemporary hotel and the other was a boutique Haveli;
Luxury – Hyatt Regency Ahmedabad: This hotel comes highly recommended as one of the tops in the city! My room was on a really high floor and the views you can get from here are spectacular. It had all the modern conveniences you could wish for, including electric shutters, but it was more suited for business type travellers. Still, it was a pure luxury that I appreciated after travelling the North East! Click here to book a stay.
Mid-range – House of MG: This is nicer for those travellers who want to experience the culture and heritage of Gujarat. This is a boutique Haveli hotel that was built in the early 20th century and belonged to one of the cities foremost businessmen, Sheth Mangaldas Girdhardas. Mahatma Gandhi even stayed here in 1915 on his return from South Africa! I stayed in a heritage suite with a four-poster bed and it even had a swing at the back of the room! It was luxury worth splurging on. Click here to book your stay.
Budget – Aaramgruh Hotel Dormitory – this hostel comes highly recommended on Hostelworld. It's a little more upscale than typical Indian prices but the rooms look amazingly clean. Also, it has an actual staircase to access your bed on the top bunk rather than that awful steel ladder that hurts your feet! Click here for rates.
Read more of my India articles
The ultimate Rajasthan itinerary
A first timers guide to Jaipur
My complete guide for Rishikesh
Save this Dada Harir Stepwell guide for later!