Prague has a plethora of Baroque and Gothic architecture but a famous anomaly on the city skyline is the Dancing House.
It's a deconstructivist building and is split into two parts. The central pillars are twisted together making it look like they are dancing…or drunk.
It was initially named after the famous Hollywood dance partners Fred and Ginger but is predominantly a symbol of post-communist freedom.
As well as snapping a photo of this twirling tower, you can visit the inside too. It's a hotel that has a café, gallery, restaurant, and a panoramic viewpoint from a rooftop bar.
Here is a complete guide for the Dancing House Prague including how you can visit and things to do inside.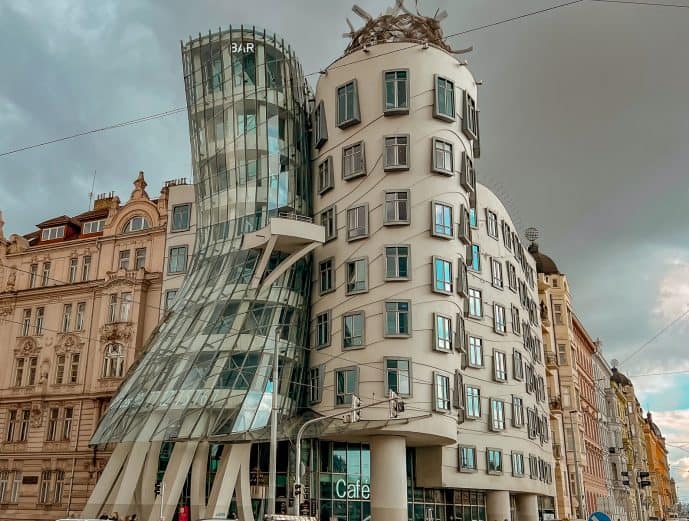 Why is the Dancing House Prague famous?
The reason why the Dancing House is so famous is due to its twisted shape that resembles Fred Astaire and Ginger Rogers.
The tower made of rock represents Fred and the twirling tower made of glass represents Ginger.
It's a unique design that is in complete contrast to the historical buildings surrounding it.
Since its construction, it has caused much controversy in the city as some believe it doesn't mesh with the cacophony of Baroque, Gothic, and Art Nouveau buildings.
But, this twisted house is now a symbol of democracy and freedom that has caught the attention of millions around the world. Nowadays this is mostly through the power of social media.
It has won countless awards including Time magazine's design contest and it's a quirky place that attracts many visitors in Prague each year.
Prague Dancing House history
The Dancing House was built between 1992 and 1996 by architect Vlado Milunic and designer Frank O. Gehry.
The house that originally stood on this site was accidentally destroyed by an American air raid during WWII In 1945. It was then bought by Nationale-Nederlanden in 1992.
Milunic wanted a deconstructed shape that looked like the buildings were moving. This symbolised Czechia moving away from its oppressive communist past.
Originally, Gehry called his project "Ginger and Fred" as it resembles a pair of dancers. But, he later thought better of it as he didn't want to bring American kitsch to Prague.
Most of the interiors were designed by Czech-British architect, Eva Jiřičná. Today, it is a hotel that has several attractions inside.
Can you go inside the Dancing House?
Yes, something that most people don't realise is the Dancing House is open to the public and has lots to do inside.
It's home to the Dancing House Hotel where you can stay the night in the heart of the city.
But, there are also lots of tourist attractions open to the public like a gallery, café, restaurant, and the Glass bar on the top floor.
Personally, I visited the rooftop terrace and loved the views you got from up here of Prague Castle, Charles Bridge, and the Vltava River!
Where is the Dancing Building in Prague?
The Dancing House sits next to the Vltava River in Prague opposite the Jirásek Bridge on Jiráskovo Namesti.
This is in the New Town which is a little further out of the old town with attractions like Charles Bridge and the Prague Astronomical Clock.
It will take you around 20 minutes to walk to the Dancing House from the Old Town area but it's well worth the journey.
It's located beside a busy intersection and crossroads. So, lots of traffic passes by this building each day.
If you prefer your phone to guide you, click here for a Google Pin!
How to visit the Dancing House
Prague is best explored by a mix of walking and trams in the city. There is a bus and tram stop at Jiráskovo náměstí that drops you right outside of the dancing building.
You can also walk here and it's easy to visit from Café Savoy and Jirásek Bridge which is close to Dětský Island, Zofin Palace, and Střelecký Island.
You can also opt to get the underground metro and the closest stop would be Karlovo náměstí on the B line (yellow).
Things to do at Dancing House Prague
There are many reasons why visiting these twirling towers is worth it in Prague.
Although it is a novelty that makes a great photo, there are also plenty of things to do inside the building.
Here are all the things to do at Dancing House Prague on your visit;
Take a photo from the crossroads outside
Many people see the Dancing House on social media but something that may shock you is that it's located on a busy crossroads!
So, you'll see cars whizzing by at all times of the day and it can be quite hard to get a photo of it without traffic.
There are many places to capture this stunning building whether from the Jirásek Bridge or the small fountain opposite.
It's best to avoid rush hour and make use of the traffic light system to catch a photo when the cars stop.
Dancing House Gallery
There is a contemporary art gallery located in the Dancing House that showcases work from Czech and international artists.
As well as a permanent display they regularly hold exhibitions throughout the year. It opens from 9 am – 7 pm daily.
You do have to pay to enter Dancing House Gallery and it's 190 CZK for an adult ticket. You can buy tickets online or at the desk on the day.
Dancing House Café
On the bottom floor, you can visit the Dancing House Café which opens from 9 am – 9 pm.
They serve up coffee, soft drinks, and alcoholic beverages throughout the day.
They also serve up light bites like sandwiches, salads, pasta, and tapas if you are feeling peckish.
You don't need to pay or make a reservation to visit and it has a great view of the Prague and the Vltava in the distance.
Ginger & Fred Restaurant
Ginger & Fred is a fine dining restaurant located in Dancing House that serves breakfast, lunch, and dinner throughout the day.
They have an indoor seating area as well as an outside BBQ terrace in the summer months. So, you can enjoy a meal with a romantic backdrop of Hradčany.
It's an international gastronomy menu which changes with the season and it's highly recommended to make a reservation in advance as it's so popular.
Glass Bar
Personally, I think it's worth visiting the Dancing House for the Glass Bar located on the top floor.
As soon as you enter the reception, you can take an elevator up part-way and then you walk up some stairs to the bar.
True to its name, the bar is located inside a dome of glass that provides an incredible view of the city.
They have a range of hot and cold soft drinks as well as bottles of beer, cocktails, and wine to purchase.
There are lots of clear seats and tables to sit on inside but it's better to enjoy a drink on their outdoor rooftop terrace.
Dancing House bar rooftop terrace
The best part about visiting the Glass Bar is the panoramic rooftop terrace that is located outside.
It's a circular platform around 'Fred's Hair' on the rock tower. So, you will enjoy 360-degree views of the city skyline and see some of the top attractions.
Look out for views over the Vltava of Prague Castle, Manes Gallery, Petřín funicular, Zofin Palace, Jirásek Bridge, and Střelecký Island to name a few.
You do have to purchase drinks to visit this bar & rooftop. If you don't, it's a 100 CZK fee for photos. But, some drinks are cheaper than this.
Stay the night in the Dancing House Hotel
If you have the budget, you can choose to stay the night in the Dancing House hotel which is the perfect blend of modern architecture and history.
Most rooms let in lots of light with the large abstract windows that overlook the gothic architecture surrounding it. Some rooms have a spectacular view of Prague Castle.
It's not a cheap place to stay but it is a novelty and you can wake up to enjoy breakfast in the Ginger & Fred restaurant.
Click here to book a night at Dancing House Hotel
Is Dancing House worth it?
Yes, even if you don't plan to visit any of the indoor attractions, the Dancing House is worth visiting in Prague.
I've never seen anything quite like it before and these dancing towers make a great photo opportunity.
But, if you have the time, I would recommend their rooftop terrace bar. It was an unexpected find and one I would visit again.
The panoramic views you get from up here on their terrace are unbelievable and you can enjoy them whilst sipping on a cocktail.
Don't skip a visit to the Dancing House in Prague. It's a unique attraction with an intriguing history and lots to do!
How much is the entrance to the Dancing House?
Going inside Prague's Dancing House is completely free as it's a hotel. But, if you want to visit the attractions you do have to pay.
The Dancing House gallery is 190 CKZ (£6.50) per adult and you can pay for tickets online or at the desk.
The Dancing Café does not require a ticket to enter. But, I would highly recommend reserving the Ginger & Fred restaurant in advance. It's fine dining so prices are steep.
If you want to visit the Dancing House bar on the rooftop, there is a minimum spend but it's not much.
At the time of writing, if you don't buy any drinks you will need to pay 100 CZK (£3 / $4.50) to visit the Glass Bar terrace and take photos.
But, bottles of beer are around 70 CZK (£2.50 / $3) and entry is free if you purchase drinks. So, it made more sense to me to do that!
What time does the Dancing House open in Prague?
As the Dancing House is a hotel, it will be open at all hours to residents but the gallery, café, restaurant, and rooftop bar have different opening times.
The Dancing House bar is open from 10 am – 11 pm for drinks and light snacks throughout the day.
The art gallery is open from 9 am – 7 pm and Dancing Café is typically open from 9 am – 9 pm throughout the week.
Ginger and Fred restaurant is open from 7 am for breakfast, 11.30 am – 3 pm for lunch, and from 5 pm for dinner.
Dancing House Prague FAQs
What is special about Dancing House in Prague? It's a deconstructivist building that looks like it's twirling or dancing. It resembles Fred Astaire and Ginger Rogers but it's also a symbol of post-communist freedom for the city.
How many floors does the Dancing House have? It has 9 floors and the top is a bar overlooking the city and Vltava river.
What is the Dancing House used for today? Dancing House is a hotel. But, visitors can enjoy the gallery, café, restaurant, or panoramic rooftop bar on the top floor.
Read more of my Czechia travel guides
Things to do in Golden Lane Prague
Prague Astronomical Clock guide
How to visit the magical Klementinum Library
A complete guide to the John Lennon Wall
Visit the Infinite Tower of Books in Prague
How to visit the magical Strahov Library
Magical Cloak Bridge in Česky Krumlov
Discover the bone church of Kutna Hora
Save how to visit Dancing House Prague for later!