Devon has some awesome historic hotels around this beautiful county, but none so amazing as the Dartington Hall Hotel & Estate in Totnes.
With a Yew tree dating all the way back to 500AD in the gardens and Dartington Hall being built in the 1300s, you cannot help but be wowed by it!
As soon as we walked onto the grounds, we couldn't believe what lay before our eyes. Even better, we were actually going to stay in a room there for the night. It was like a fairytale.
As well as being a hotel, the 1200 acre estate is a countryside retreat that has plenty to keep busy with walking trails, cosy restaurants, a cinema, and even an independent shopping village!
Here is a complete Dartington Hall Hotel review with all the reasons why you should stay here in Totnes.
Heads up: my stay at Dartington Hall Hotel in Totnes was sponsored by Visit South Devon. Although I was a guest, all opinions and photos are my own.
1. It's a historic Manor House that has over 700 years of history
The thing that blew my mind about this hotel was the fact that it oozes history in every corner and even has connections to royalty too!
Personally, I love to stay in hotels that have character and tell a story. So, the Dartington Hall Hotel was right up my street.
Originally, the Dartington Great Hall was built in 1384 by John Holand. He was half-brother to King Richard II!
He became Earl of Huntingdon and Duke of Exeter and built it into a great property with a wide courtyard.
Unfortunately, he was beheaded for treason. But, it still remained in the Holand family until the fourth duke of Exeter was also executed.
Then it was owned by Lady Margaret Beaufort who was mother to Henry VII. Then it passed to the crown and Henry VIII gifted the estate to his wives Catherine Howard and Parr.
Eventually, the Champernownes bought the estate in 1559 and it was owned by them for the next three hundred years until their finances dwindled in the 20th century.
In 1925, the land was purchased by Dorothy and Leonard Elmhirst as a rural regeneration project.
The hall had fallen into decay and the lands were not looked after. So, they got to work to renovate the area.
Since then Dartington Hall has transformed from not only a hotel, It's an institution that is also a charity trust. It provides for the community and is popular with residents and tourists alike.
2. The rooms are really lovely & cosy
Although Dartington Hall is huge and old, the rooms inside aren't chilly or dank! They are completely the opposite.
Our room was spacious and cosy with exposed beams and huge antique windows!
From here, we could see right onto the estate and there was nothing better than spotting the wildlife from our room.
We had two comfy twin beds that you could almost sink in, a set of draws, TV, coffee, and tea makers plus a beauty mirror.
The bathroom was also really cosy with a huge bathtub and overhead shower, heated towel rails, and fluffy towels too!
It was really warm which was needed on a wintry day and we slept like babies here until morning.
3. You can wake up to a delicious breakfast
Each morning the breakfast is served from 7.30 am – 9.30 am in the White Hart. This rustic restaurant used to be where the kitchens were years ago.
But today it's been transformed into a huge dining hall where you can eat breakfast, lunch or dinner.
For breakfast, we sat inside the bigger room and helped ourselves to their wonderful breakfast spread.
There was the choice of a full English breakfast which was great comfort food and continental options like orange juice, cereals, toast, and pastries too.
You can help yourself to coffee or tea for a well-needed caffeine fix and gorge on some of their fresh fruit.
It was a really great way to set yourself up for some Devonshire adventures.
Where to eat around Dartington Hall
If you're wondering where you can eat in and around Dartington Hall in the day or evening there are plenty of options for you inside the hotel and nearby in Totnes.
I've already mentioned the White Hart where we had breakfast. Here, you can have a yummy lunch or dinner in their traditional inn.
But, there are a few more I'd like to mention too;
The Green Table
The Green Café is a cute little stop on the wide Dartington Hall estate just minutes away outside the Grand Hall courtyard.
You can sit inside their light space or outside in their garden if it's a sunny day. Here, you can enjoy brunch, coffee and cake and healthy hot and cold meals too.
On every third Thursday of the month they have open mic nights, so make sure you pop along if you're in town then!
The Green Table is open from 8.30am – 6pm.
Ben's Wine & Tapas in Totnes
While we were in Totnes, we checked out a lovely little Tapas place on Fore Street.
Bens Wine & Tapas is a fun and friendly restaurant that not only has a well-stocked wine bar but a tasty menu as well.
We went for a couple of their delicious tasting plates including the battered prawns, fried squid, and a classic patatas bravas.
I couldn't believe the quality of the house wine and the dishes were truly unique and full of flavour.
Although it was a chilly winters night, the upbeat ambient music and warm friendly service made it a lovely place to dine.
As well as the Wine & Tapas Bar, Ben's chain covers an award-winning Kitchen at Hole Farm with Riverford Organic Dairy and four organic Farm Shops across the county.
All are owned by the Watson family who has lived on Riverford Farm for 60 years!
Check out the Ben's Tapas website here with their menu and how to book!
4. They have some incredible stately gardens to explore…
What I loved about Dartington Estate was that you had to drive a mile into the countryside just to access it! So, we were surrounded by the green countryside everywhere we looked.
Dartington Hall has some incredible Grade II listed gardens to explore on the grounds of the estate. It's steeped in history and one of the Yew trees here dates back to 500 AD!
Many of the highlights of the gardens were built during different time periods and what was in vogue at the time, like the medieval sunken Tiltyard and knotted Tudor gardens.
You can tell that Dorothy and Leonard Elmhirst had lovingly restored the entire area.
Although we were here on a wintry day, some of the first signs of spring had sprung and we could experience walking in amongst the pink blossoms which were lovely.
We could also fully enjoy the 'Sunny Border' in the sunshine! There's also a Japanese Garden and many more places you can explore here.
If you wanted to explore the gardens on a guided tour, these will be coming up in the spring/summer each year.
Make sure you check out the Dartington Hall website for details!
5. …and old buildings that tell a story too!
One of the highlights of the grounds, for me, was a visit to the Tower of Former Church of St Mary Dartington.
This Grade I listed buildings history dates back to the 13th century and was originally part of the Dartington Hall estate as a chapel for the family.
Unfortunately, the tower was demolished in the 19th century and some of the materials were used to rebuild the church on the outskirts of the estate.
So say, some of the monks complained about having to walk so far to perform their service and so they rebuilt it as the Church of St Mary's as you enter the Dartington Hall.
Today, it's just a tower but it's such a pretty monument on the grounds.
It has old gravestones just outside of it and is part of the Dartington Hall silent spaces. So, you can visit with a book without being disturbed.
6. There are so many things to do on Dartington Estate
As well as exploring Dartington Hall and gardens, there is plenty more to see and do on the wider estate!
They have a Barn Cinema which is independent and showcases the latest releases with art and classic movies too. It's very popular with locals and looked like so much fun!
They also hold regular events throughout the year including a trail around their historic deer park, art labs, open-air theatre events, community dance classes, exhibitions, food fairs, and more.
There are also many classes here throughout the week like life drawing, arts and crafts, floristry, cookery classes, pottery. The choices are endless.
So make sure you check out their website for events. Of course, all of these are open to non-residents too.
7. Plus, you can check out their own Dartington Village shops
Dartington Hall are big on supporting independent businesses ever since Dorothy and Leonard Elmhirst took over the estate.
Dorothy was an American heiress with 'new money' and wanted the estate to be self-serving from the beginning.
So, they set up Dartington as a testbed of innovation and created various industries around the estate. Making it a unique property in its day.
Now, in this spirit, Dartington Hall even has their own village with 14 independent boutique shops to browse.
It's a lovely little place just on the main road outside of the estate, so you could even visit without popping into the hotel.
From glasswares, jewellery stores, kitchenware and clothes there really is something for everyone. They also have a local produce food store if you wanted to pick up some treats too.
As well as shops, they have restaurants like the Bayard's Kitchen and their own pop-up café.
It's always a nice idea to support local businesses in the area and this is the perfect spot to do it!
8. It's the perfect location to explore more of South Devon
Although you are hidden away in the countryside at Dartington Hall Hotel, it's not too far away from all the main attractions in South Devon.
From seaside towns, pre-historic caves, ancient castles, and quaint villages. This provides the perfect base for a few days of exploring.
Here are some of my recommended things to do in and around Totnes!
The historic market town of Totnes
This historic market town is so quaint and my only regret is not being able to spend more time exploring than one evening.
But, we had a lovely time exploring the old streets and I was obsessed with the Totnes Clocktower on Fore Street.
You'll find that Totnes has a lot of independent businesses around the area that were inspired by the industries and innovation of Dartington Hall.
You can also climb up the Totnes Castle, a traditional Norman motte and bailey which is one of the finest examples in Devon.
Next time, I'm putting Totnes on my list of places to explore a little better.
Burgh Island
One of the highlights of my trip as an Agatha Christie fan was a visit to Burgh Island near Bigbury-on-Sea.
It's a tidal island that can only be accessed at low tide on foot. But, if you're keen there is a Sea Tractor that will take you over there as well.
As it was my birthday, I treated my Mum and I to one of their signature afternoon teas at the Burgh Island Hotel.
It's an Art Deco Haven that was largely built by Archibald Nettlefold in the late roaring 1920s.
In the 1930s, it became one of the most popular hotels of its time and welcomed the likes of Noel Coward and Agatha Christie.
She used to sequester herself in a beach hut and Burgh Island inspired her to write two novels 'Evil Under the Sun' and 'And Then There Were None'.
A visit over to Burgh Island is like no other, click here to read my complete Burgh Island travel guide!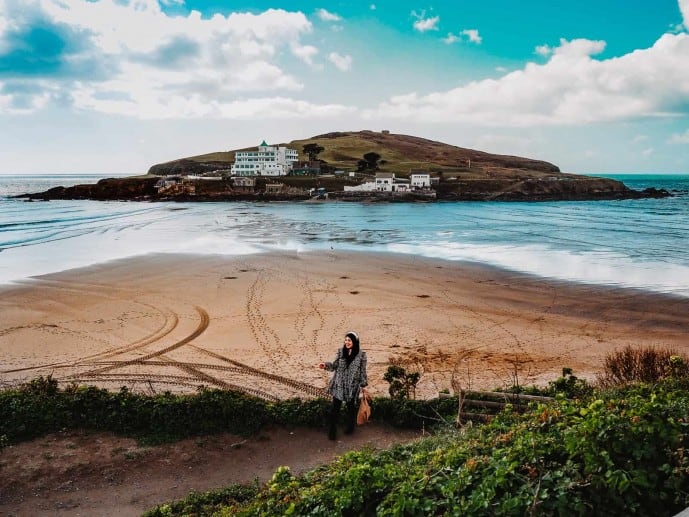 Cockington Village
If you drive into the countryside, a mere half-mile from Torquay, you can transport yourself back in time to a quaint traditional village!
The adorable area of Cockington is filled to the brim with thatched roof cottages, ancient manor houses, Tudor Gardens, and babbling brooks.
Some of the buildings in this area have been here since the Domesday Books! For such a small place it's a hive of history. You must check it out, especially in the summer when there's a lot going on.
Click here to read my complete Cockington Village travel guide!
Torquay
Another big area you should explore is Torquay, the birthplace of Agatha Christie. This bustling Victorian harbourside town with its iconic palm trees is really idyllic in the sunshine.
As well as a walk along Princess Pier and the seafront, there is plenty of attractions around the area as well.
I went on their Agatha Christie Mystery Mile which is a fun way to explore the main sites of Torquay and learn more about her life here.
But, you can also visit the amazing Kents Cavern prehistoric caves which have 400 million-year-old rocks inside.
Or, pay a visit Torre Abbey which was owned by the Cary family. This too has history from 1196 when it was originally home to the Premonstratensian Canons.
Once you're done looking inside the house, pop outside to their gardens dedicated to Agatha Christie. In their 'Potent Plants' garden, they have poisons that relate to her novels!
Click here to read my complete guide on the Agatha Christie Mile in Torquay
Babbacombe Cliff Lift
Another hidden gem in Devon is the incredible Babbacombe Cliff Railway that has been transporting from Babbacombe Cliffs to Oddicombe beach since 1926.
When you take the vintage funicular, you'll be greeted with the most amazing views of Babbacombe bay.
Once you're down here, you can enjoy a stroll along the red sandstone beach or sip coffee by the shore. The choice is yours.
Click here to read my Babbacombe Railway travel guide!
Where is Dartington Hall in Totnes and how to get there
Dartington Hall Hotel is tucked away inside an estate, so you'll need to navigate off the main roads to access it.
By Car: From the A38, you'll need to take the road towards Totnes on the A385. Then you turn into Dartington Village.
By Train: The nearest train station is Totnes. From there, it's a 35-minute walk or you can take a taxi to the hotel. Bus option below.
Bus to Dartington Hall: The number 165 Country Bus Devon service from Broadhempston – Totnes, runs to both Dartington Village and the inner estate. The number 88 only stops at the Village.
Parking at Dartington Hall
Dartington Hall does have pay & display car parks that you will need to pay for here. But, the good news for residents is that it's completely FREE.
You just need to pop in your license plate number at the desk when you check in and how many nights you're staying and that's it!
You can come and go as often as you please as it runs on number plate recognition.
Read more of my Devon travel guides
The House That Moved in Exeter
Harry Potter locations in Exeter
Is this Exeter's Diagon Alley?
Walking down the Narrowest Street in Britain!
How to visit Wistman's Wood on Dartmoor
How to visit Lydford Gorge & White Lady Waterfall in Dartmoor
How to visit Brentor Church in Dartmoor
Woolacombe Bay Holiday Parks Review
Magical Valley of the Rocks Devon guide
Like it? Pin it!