If you're an avid reader, you have most definitely heard of the beautiful Daunt Books Marylebone.
It's one of London's most famous independent bookstores and is set in an Edwardian building with oak galleries, skylights, stained glass windows, and William Morris prints!
It specialises in travel books and so if you have a travel bug or want to find something to inspire your wanderlust then this is the book haven for you.
Here is a complete guide on how to visit Daunt Books Marylebone, the most beautiful bookstore in London!
Daunt Books history
Daunt Books is a chain of popular independent bookstores that can be found across London and was founded by previous-banker Achilles James Daunt in 1990.
The most famous is the original Daunt Books store in Marylebone which is set in a beautiful Edwardian building from 1912.
They now have branches in Cheapside, Holland Park, Hampstead, and Belsize Park. Also, The Owl Bookshop in Kentish Town.
Plus, you'll find Daunt Bookshops outside of London in Essex (Hart's Books), Marlow (The Marlow Bookshop), and Oxford (Daunt Books Summertown).
Why visit Daunt Books Marylebone?
Daunt Books for travellers is a haven for bibliophiles that have the travel bug. It's filled to the brim with travel books, location guides, geographical maps, and references!
Although Daunt Books was founded in 1990, you'll feel like you've stepped back in time as soon as you enter this gorgeous Marylebone bookshop.
This Edwardian building was constructed in 1912 and was previously an antiquarian bookshop called Francis Edwards. It is often referred to as the first custom-built bookstore in the world.
You may notice a large walk-in safe whilst you're here. Apparently, this was where the most valuable volumes were stored!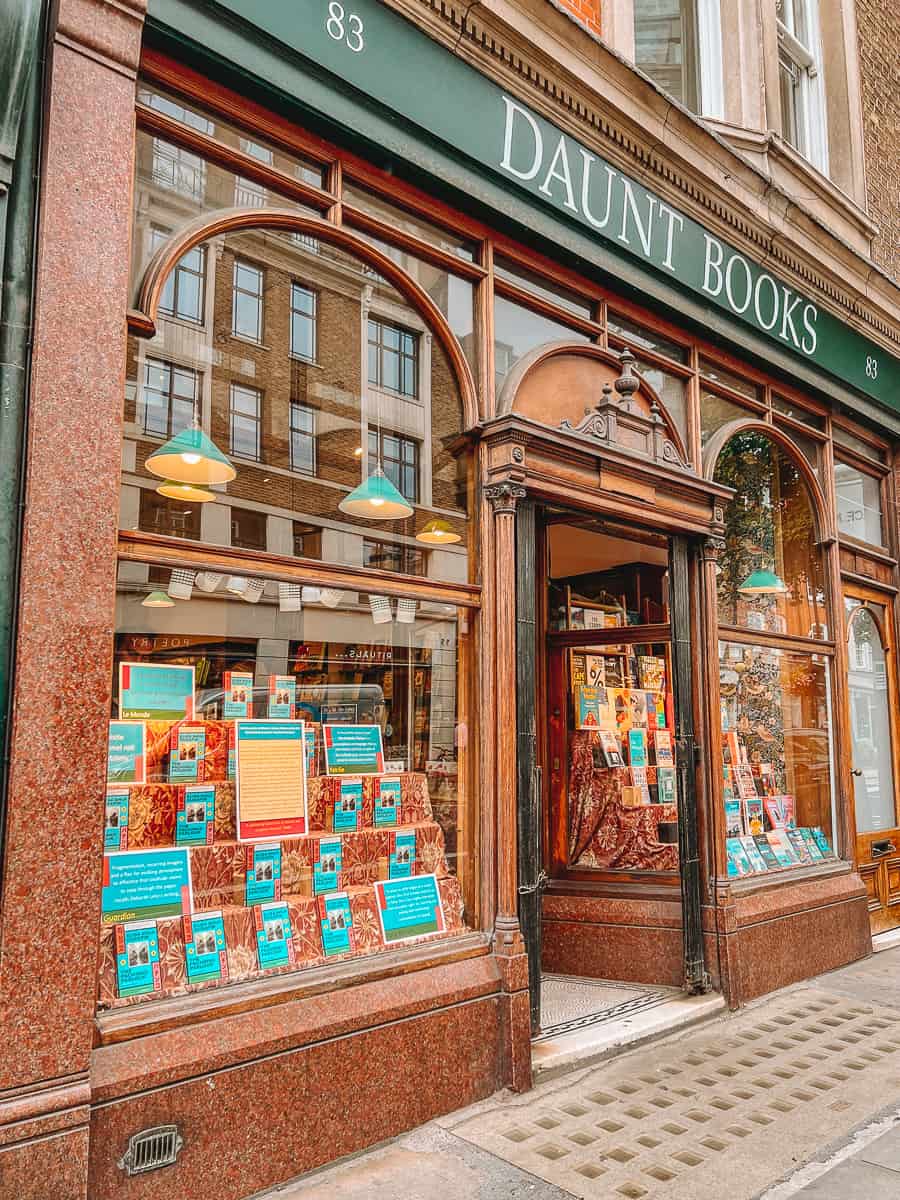 It has long oak galleries with creaking floors, Edwardian lamps, beautiful skylights, and William Morris prints on the shelves.
There is also a basement treasure trove of tomes and a mezzanine floor providing sweeping views of the stained glass windows.
You'll most likely have seen these views on social media! It's quite famous and is a bit of an Instagram superstar these days.
What books do Daunt Books Marylebone sell?
True to its original purpose, you'll find this beautiful shop has been crammed with travel guides and volumes from around the world to inspire you to travel.
As a travel blogger, I often read books from or about the destinations I'm about to visit to make me feel inspired and excited!
The books are arranged by country and/or continent so if you have some travels coming up this will be the perfect place for you to go shopping.
I particularly liked their Greek section. I've got a bit of an obsession with mythology retellings at the moment and they had so many.
As well as fictional stories from around the globe, they also had non-fiction books, auto-biographies, and travel guides.
There was a huge classics section, a feminism space and LGBTQIA. Also, you'll find Young Adult and Children's books.
The only thing they didn't have which I was quite let down by was their fantasy/Sci-Fi sections. But, I was assured that Cheapside had a larger choice.
On that note, the staff is incredibly helpful with recommendations so don't be afraid to ask for assistance whilst you're here.
Wrapping paper, prints, and more!
As well as offering an incredible range of books, you'll find far more than the written word in Daunt Books Marylebone.
If you walk towards the back of their main floor near the beautiful stained glass window you'll see gondolas filled with beautiful wrapping paper.
They had world map wrapping paper and paper with antique maps which fit in beautifully with the travel theme if you were buying your books as a present.
There is also a selection of cards and prints to browse too whilst you're here. They make wonderful gifts.
Don't forget to buy a Daunt Books bag!
I don't know what it is about book bags, but I love buying them when I shop for books in famous bookstores these days.
The trouble is I have so many book bags now I have to rotate them to make sure they actually get any use.
I saw so many people around London and Marylebone High Street carrying Daunt Books bags that I was definitely influenced.
They had a lovely range here that would easily transport your books safely home. There were large totes and small ones in all different gorgeous colours!
I should hope that we're all trying to be more environmentally conscious these days so buying a reusable bag on your way out is definitely the way to go.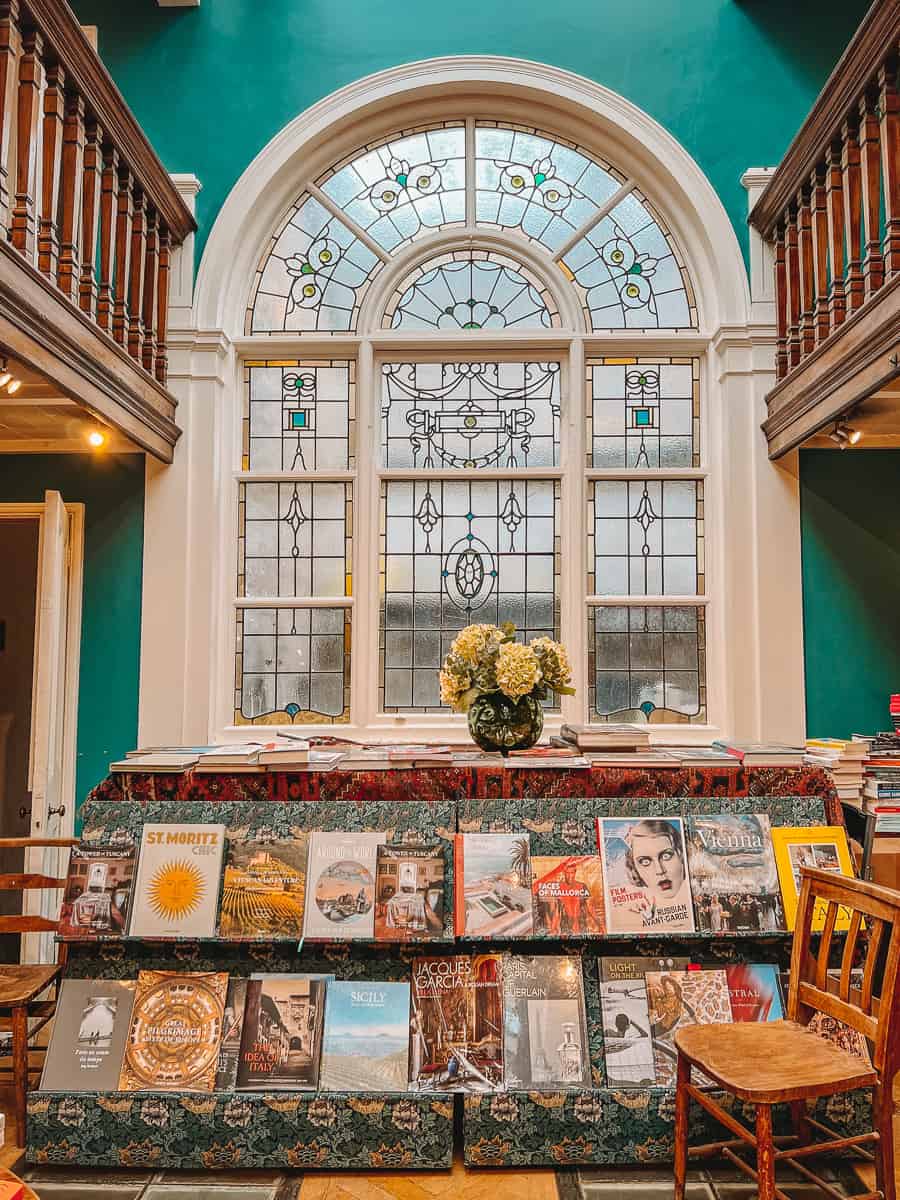 Talks, events, and the Daunt Books festival
It's worth mentioning that, beyond just selling books, Daunt Books regularly holds events throughout the year.
Their most popular is their conversations and talks with authors that usually include a drink and nibbles.
These are individually priced and sell out quite quickly. You can keep up to date with their latest planned talks here.
Also, every year there is a Daunts Books Festival that takes place in their Marylebone store that you can check out.
There will be two days of events for bibliophiles of all ages. There will be a series of book talks, storytellings, guided walks of Regent's Park, and nibbles. There are even limited-edition festival tote bags to grab!
Usually, events are individually priced or you can buy an all-access event pass to see everything.
How to visit Daunt Books Marylebone in London
Marylebone is a district of West London in the City of Westminster, just north of Oxford Street and Daunt Books can be found on Marylebone High Street.
The easiest way to travel around London is a mix of walking and the Tube or the London Underground!
The closest tube station to Daunt Books Marylebone is Baker Street. You can access Baker Street on the Circle, Bakerloo, Jubilee, Hammersmith & City, and Metropolitan lines.
From there it's only a ten-minute walk to Daunt Books. Plus, you have some major attractions nearby like the Sherlock Holmes Museum and Madame Tussaud's.
Daunt Books Address is 83-84 Marylebone High Street, London W1U 4QW. Click here for a Google Pin!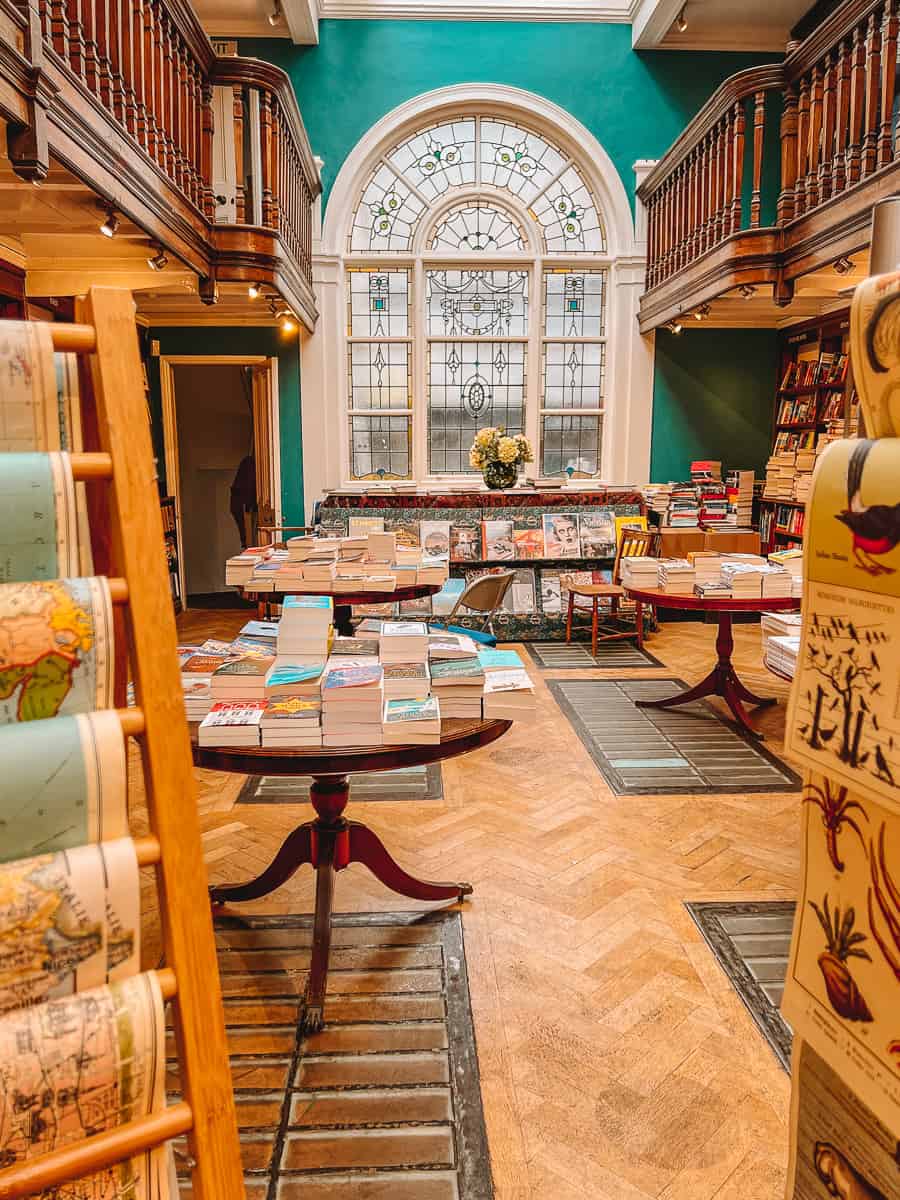 Daunt Books opening times
Daunt Books is open from 9 am – 7.30 pm Monday – Saturday and from 11 am – 6 pm on Sundays. So, there's lots of time to do some book shopping!
If you wanted a more peaceful experience I would try to visit during the week and earlier in the morning if you can.
In the afternoons, during the evening rush hour, and during the weekend's Daunt Books Marylebone can get very busy as it's such a famous bookstore.
Daunt Books FAQs
What is Daunt books? A popular independent bookstore chain and publisher found in London and around the UK!
Why is Daunt Books famous? They are a thriving independent bookstore branch that continues to grow which is rare these days. Their flagship Marylebone store is the most famous due to it being so beautiful and regularly goes viral on social media.
Is Daunt Books part of Waterstones? No, but James Daunt who founded the book chain became Managing Director of Waterstones. He's also the CEO of Barnes & Noble! However, Daunt Books is very much a privately owned, indie bookshop and publisher.
Who owns Daunt Books? Achilles James Daunt.
Is Daunt Books independent? Yes, it's an independent bookshop chain and publisher based in London.
Where are the Daunt Books London locations? Marylebone, Cheapside, Holland Park, Hampstead, Belsize Park. Also, The Owl Bookshop in Kentish Town. They also have branches outside of London in Essex, Marlow, and Oxford.
Looking for more independent London bookshops?
If you're looking for some incredible bookshops to visit in London you will be spoiled for choice.
Did you know that London has a magical floating bookshop? It's called Word on the Water, or The London Bookbarge and you can find them moored near King's Cross station.
If you take a stroll on Regent's Canal you can (quite literally) walk the plank onto their canal boat and browse a diverse range of secondhand and new books!
If you wanted to visit a real-life Diagon Alley then you can head over to Cecil Court near Charing Cross.
This shopping street is supposedly the inspiration for the Wizarding shopping street from the Harry Potter books.
In true Diagon Alley fashion, you'll find lots of bookshops worthy of Flourish and Blotts like Travis & Emery and Alice Through the Looking Glass.
Click here to read my complete guide for Cecil Court in London!
Save time and book a tour!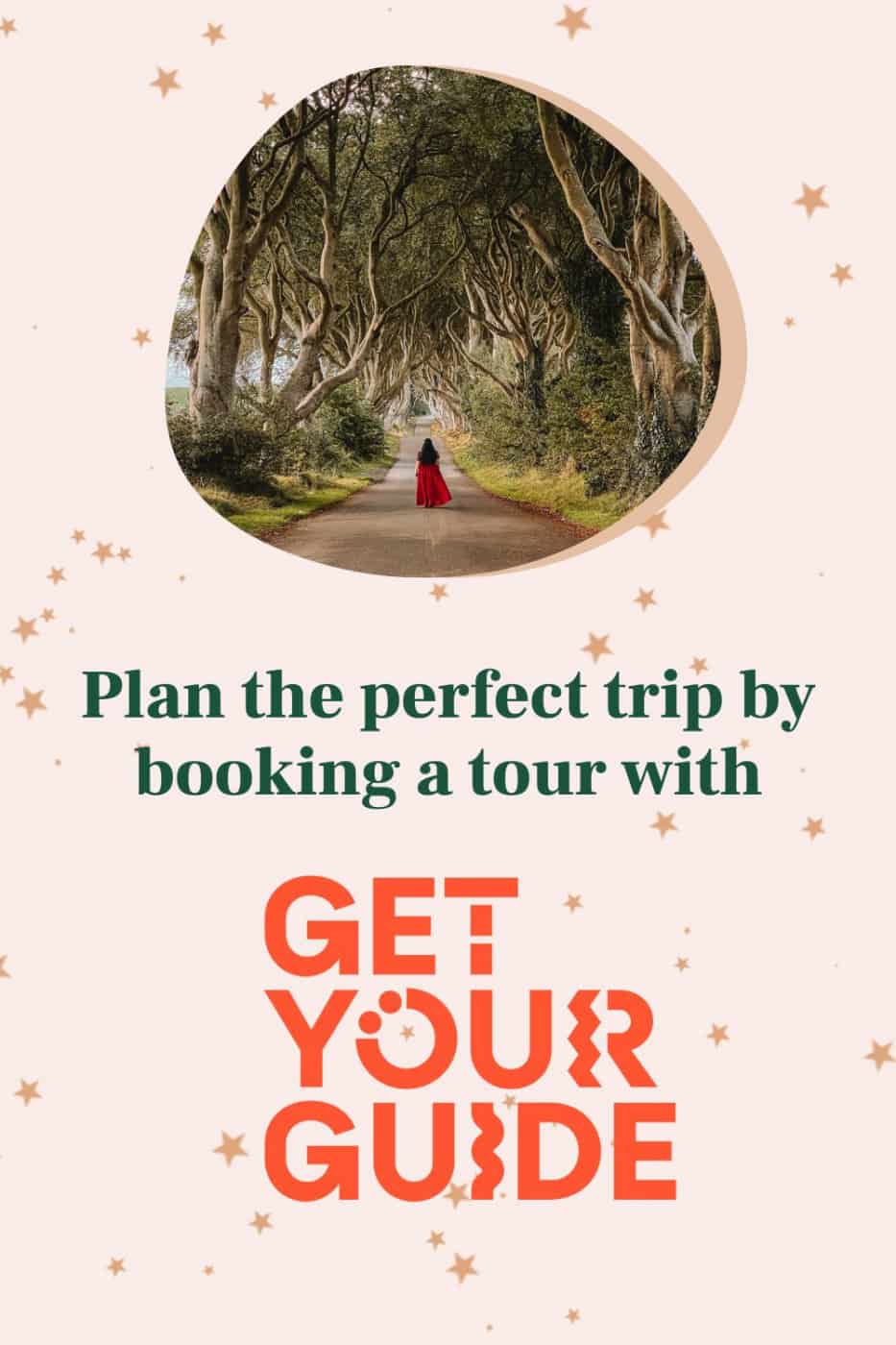 Book tours & tickets for London!
Looking for more things to do nearby?
Marylebone is a very trendy, chic, and 'posh' area of London. I mean, it's the highest price to buy land on the UK Monopoly Board and I'd say that is pretty accurate. House prices are in the millions!
But, there are plenty of things you can do in this area of London near Daunt Books Marylebone;
The Wallace Collection – The Wallace Collection is a free art museum that is displayed in Hartford House which was the former residence of the marquesses of Hertford and Sir Richard Wallace. It opened as a museum in 1900. Highlights include works by Titian, Velazquez, Rubens, and Van Dyck.
Regent's Park – One of London's eight Royal Parks, Regent's Park covers 410 acres of the city. It has beautiful greenery, foliage, and a wetlands area. You can hire a boat, visit the open-air theatre and take a stroll up to Primrose Hill for fabulous views!
Sherlock Holmes Museum – London's most famous address 221b Baker Street can be found just a 10-minute walk away from Daunt Books. You can visit the Sherlock Holmes Museum to discover more about Sir Arthur Conan Doyle's famous fictional detective. Click here to read my article on how to visit!
Read more of my London articles
A complete guide to the Greenwich Foot Tunnel
Why you must visit God's Own Junkyard
The hidden gem of St Dunstan in the East Church Garden
FREE things to do in the London Bridge District
A Harry Potter guide for Leadenhall Market
Magical cocktails at The Cauldron
Why you must visit the Harry Potter Photographic Exhibition
How to visit Harry Potter's 12 Grimmauld Place
Why you must visit the House of MinaLima
Dark Arts at Harry Potter Studios London
The secret Anne Boleyn symbols at Hampton Court Palace
Visiting Hogwarts in the Snow at Harry Potter Studios
How to visit the Hogwarts Divination Stairwell at St Paul's Cathedral
The best London Christmas lights and displays to visit
A complete Mr. Fogg's Tavern review
Save Daunt Books Marylebone for later!