As soon as you step into Dean Village Edinburgh, you will feel like you've been transported back in time.
Cobbled streets, colourful Mews houses, the freshwater burn and a quaint place untouched by the modern world. It really is something akin to a fairytale.
Although there isn't a wealth of things to do in Dean Village, it is still somewhere that I would encourage you to visit while you're in Edinburgh.
Not only is it a bit of a hidden secret, you really can't beat the storybook views and escaping the busy city for a quiet stroll in this adorable neighbourhood.
Here are all the reasons why you need to visit and some essential travel tips for Dean Village Edinburgh!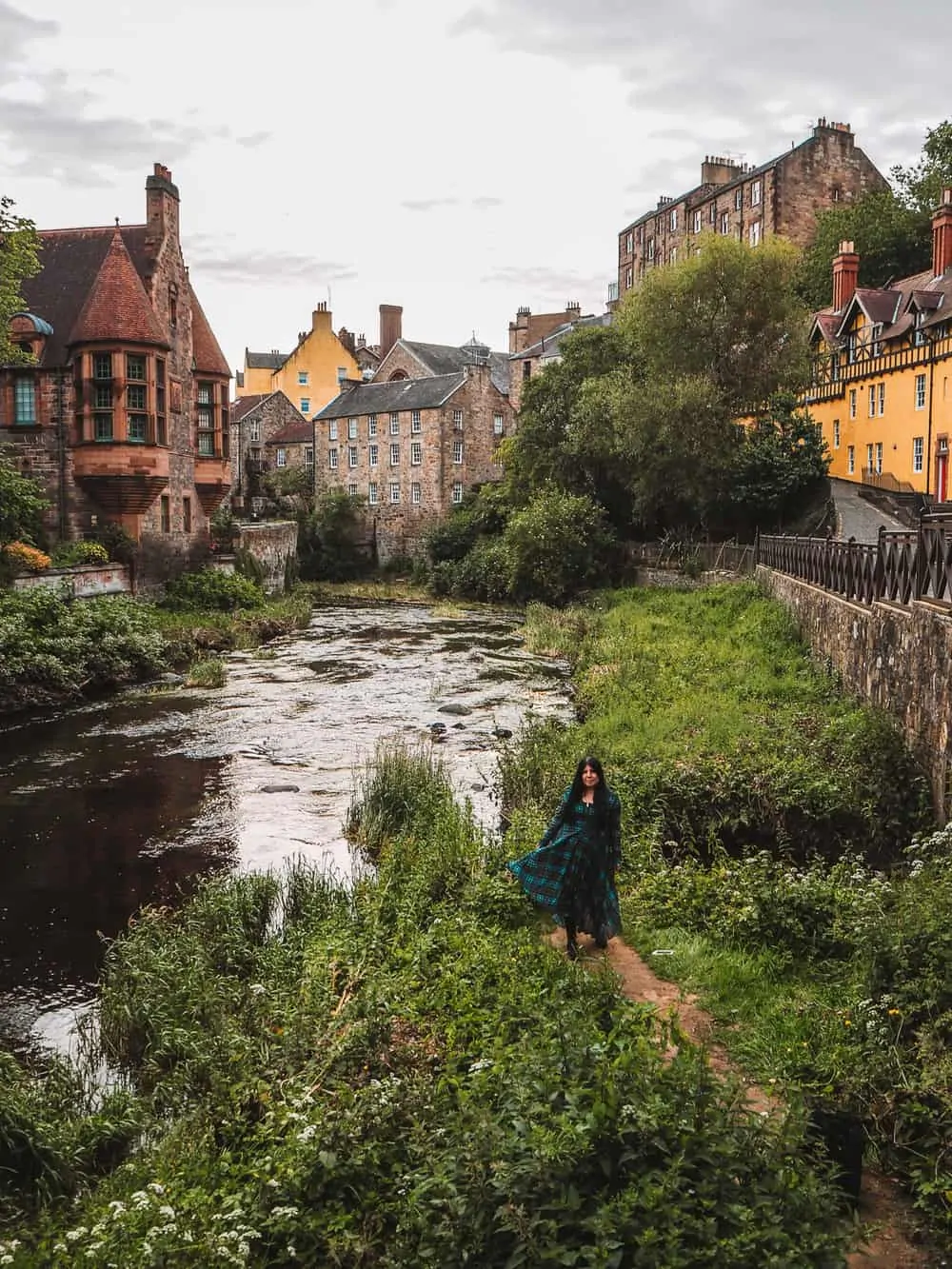 The history of Dean Village, Edinburgh
This gorgeous area was once upon a time called "Water of Leith" village and was wholly separate to Edinburgh.
Its history spans back over 800 years and it used to be home to grain millers.
There were around 11 millers or more who used to work the mills of 'Dene', which were powered by the strong current of the Water of Leith.
It remained a separate village until 1826 when John Learmonth purchased the estate from the Nisbets of Dean.
After that, the area expanded and Dean Bridge was built to access it. Eventually, Dean Cemetery was placed where Dean House once stood.
Over time, the mills of Dean were removed and so the trade in the area vanished along with its workers.
For many years, the village was in decay until rebuilding took place in the 1970s.
Today, it's a beautiful residential area and houses cost a mint. I'm so jealous of people who get to call this gorgeous place home! Can you imagine?
Where is Dean Village Edinburgh and how to get there?
Dean Village is really easy to miss if you don't know what you're looking for!
I took a while to really locate it especially when I was driving at sunrise.
That's because you do have to walk down quite a steep hill to access the main part of the village by the Water of Leith.
On Foot: If you're looking to co-ordinate yourself on foot, then Stockbridge is a good start to access Dean Village. From here the walk is only 15 minutes.
By Bus: If you're thinking of taking public transport there is a bus stop for Dean Bridge that is serviced by Lothian, East Coast, Stagecoach and Traveline Bus Services. You can choose 19, 36, 37, 41, 47,113, N37, N43, N55, X37 and X47. Or, if you're taking a hop-on, hop-off bus with Edinburgh Tours alight at stop 12, Charlotte Square, and head on over from there.
By Taxi: Uber also works well in Edinburgh or you can take city cabs if you don't wish to take transport. Getting there won't be a problem but getting back might be. You'll need to head up the hill to a more popular area to order one.
By Car: I drove down into Dean Village at sunrise which was a huge mistake. There are no parking spots available anywhere as these are for residents and, as its a one-way street, it took a 50 point turn to get out without hitting anything. So best to park up in the streets above and walk down to save getting a ticket or blocking anyone.
Things to do in Dean Village, Edinburgh
As before, there isn't a whole lot to do in Dean Village. Most people come to escape the busy city streets and experience walking through a postcard!
But, if you're wondering what you can get up to in and around the area, here are a few of the recommended places to visit;
Visit Dean Bridge – Dean Bridge spans the Water of Leith and was built by Thomas Telford in 1831. It's huge iconic archways are an architectural triumph and it's worth marvelling at for a while from the bottom from the Water of Leith. That way you can see the sheer size of it as it rises 32 metres above the river!
Wander around this picture perfect village – This was my favourite part, exploring the cobbled streets, seeing the adorable Mews houses and architecture and finding the little alleyways and walkthroughs. You could spend a while here finding hidden areas so make sure you schedule enough time.
Things to do near Dean Village
Dean Cemetery – Although a morbid thought for some to wander through a cemetery, I always find it very peaceful. This particular cemetery had an importance in the Victorian era and stands where the old Dean House used to be. There are many famous Scots buried here and sculptures made for their tombs by famous sculptors like Sir John Steell and William Brodie.
St Bernard's Well – In the 18th century a natural spring was discovered at the Water of Leith and people claimed it had healing properties. So, the rich and famous 'took the waters' to heal their ailments. Later, a Neoclassical pump room was built around the well based on Tivoli, an ancient Roman temple. Notice the statue of Hygeia, the goddess of health.
Scottish National Gallery of Modern Art – This is spread across two Neoclassical buildings that used to be orphanages in the 19th century. Here, you can view Modern Art at its finest. Click here for more information.
Best views and photo spots in Dean Village
The main reason why lots of tourists visit here is to take photos and is it any wonder?
There are so many angles and photo points in this adorable village you could spend all day snapping.
But, if you're looking for the iconic, highly Instagrammable location by the river, you'll need to walk down the steep and cobbled Hawthornbank Lane.
Then you'll find a small bridge that crosses over the Water of Leith. Nearby this bridge you'll find a little bank on the river that has a path leading down to it.
But, be warned that to access that you'll have to walk down a steep stepwell!
I set up my tripod on the bridge and then walked down to the riverbank. As it was early morning I had no need to worry about anyone stealing my stuff.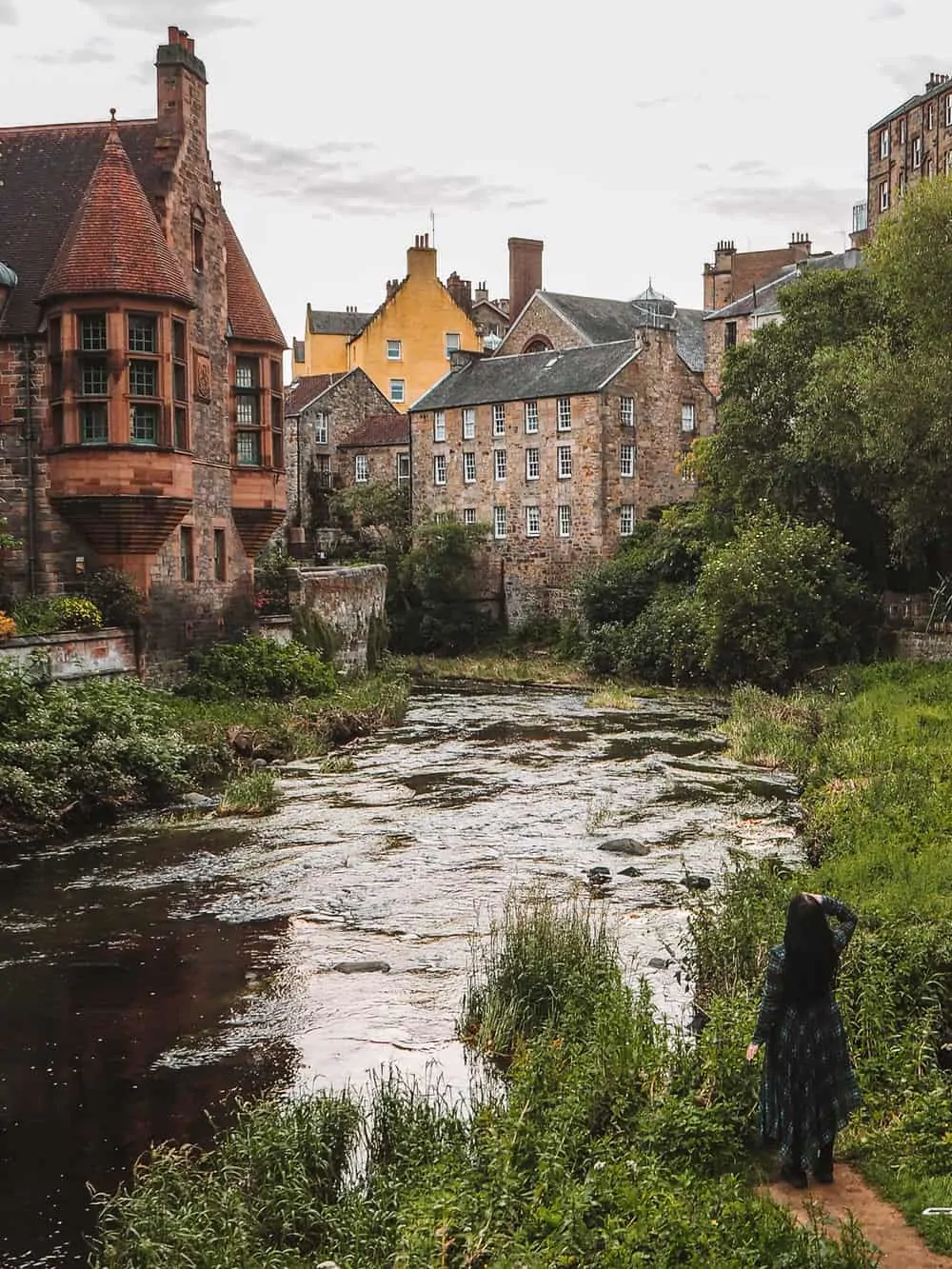 Top tips before you visit Dean Village
There are a few things I wish I had known before I visited Dean Village.
For example, it's a dead end and you have to climb the same steep way you came. Or, the fact that there are no toilet facilities!
So, here are some of my top tips before you go;
Cobbled streets – Dean Village has a lot of cobbles with uneven paths and extremely steep winding roads. So, if you are walking around the city, make sure you have a good pair of walking boots or trainers for the walk.
Cafés or restaurants – There are no cafés or restaurants around Dean Village (see nearby options below), just in case you were hoping for a pick me up or lunch. It's a shame really as it is just so scenic.
Toilets – there are no facilities to use in Dean Village (there are some in the gallery museum that is free admission, but I'd always encourage you to donate) so make sure you go before you visit!
Residential Area – remember that although this is a pretty place, people do live here (lucky things)! So, make sure to not disturb the residents.
Parking – forget it. Sometimes there may be a space or two up the hill but if you head on down to the main part of the village at the bottom, you'll find no space and it's hard to turn around as it's a dead end. My advice, walk, get the bus, or park up the top roads and walk down.
Rain – It's no surprise Scotland sees a lot of rain. So, if you are heading here and it starts to pour there isn't anywhere to hide. So, make sure you bring an umbrella or coat.
While you think of it, if you're travelling to Scotland soon, buy travel insurance to protect you and your gear. I always use World Nomad's for their reliable policies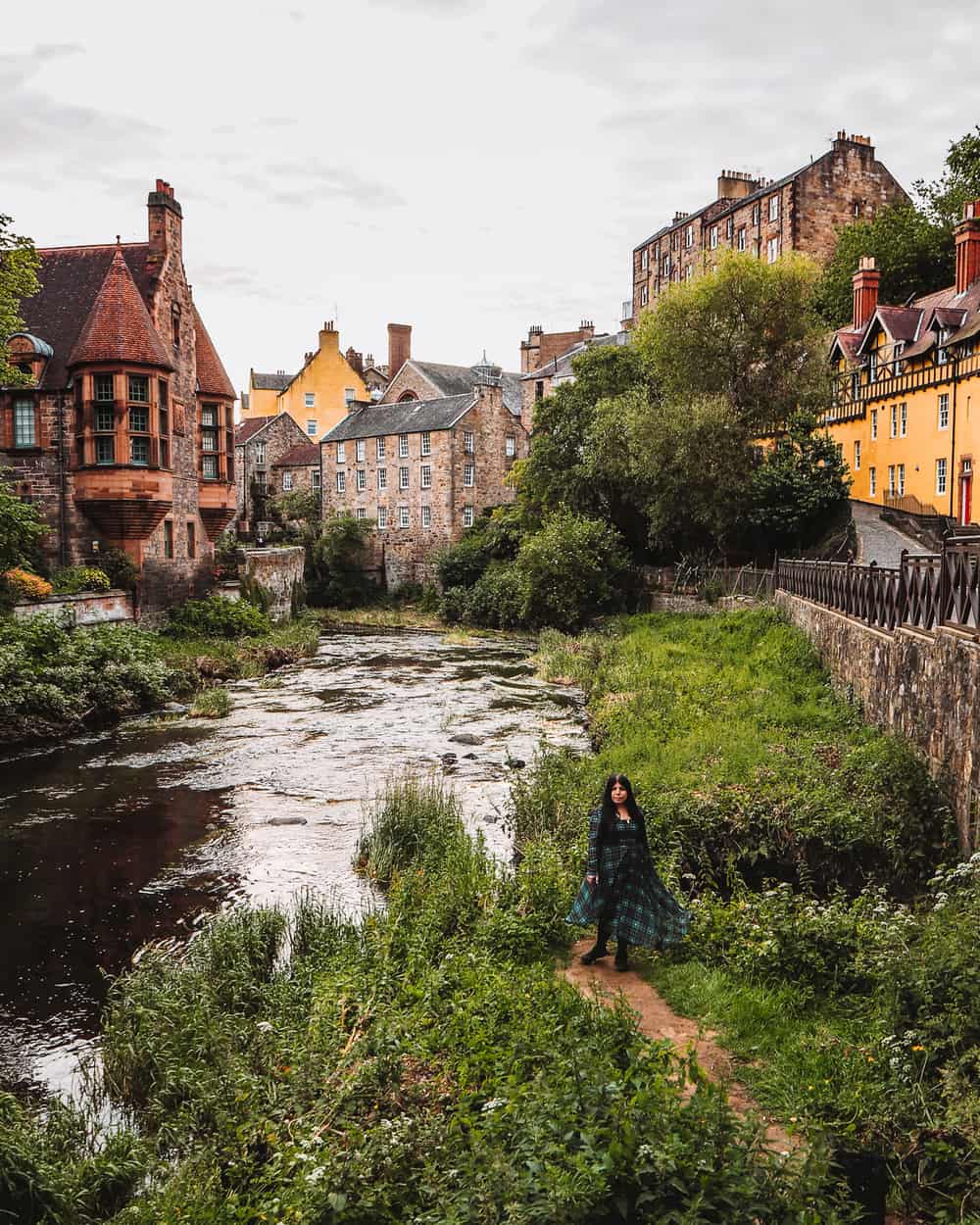 Tours of Dean Village
There is a walking tours of Dean Village you can take with Cobble Tales.
This will take you through St Bernard's Wall, Dean Bridge, Old Baxter's Tolbooth, Water of Leith, West Mill, Dean Cemetery, The Modern Art Gallery and the Well Court while you're there.
Tours are 2 hours and cost £27 with a guide. Click here for more details.
Or, if you're looking for a more active way to see the city, why not take a bicycle tour that includes Dean Village? Click here for more details on how to book!
Can you stay in Dean Village?
YES, there are a few accommodation choices if you fancied making this beautiful area home for a few days! What a dream.
Take a look at some of the choices below;
Where to eat in Dean Village
Unfortunately, there are no cafés or restaurants in Dean Village itself for a pick me up.
This is a shame as it would be such a scenic area for a coffee break. But, there are a few choices nearby.
You can check out Braw which is a cute café on the nearby Belford Road. But you'll need to climb up the hill to Belford Brae first. This has outdoor seating and a banging cake selection!
Or, Cairngorm Coffee is a delightful local roastery with a selection of sarnies.
If you're wanting lunch or dinner, check out the fancy Restaurant at Bonham that's located in a boutique hotel. This serves tasty brunch, lunch and dinner options.
Places to visit after Dean Village
Once you've snapped a million photos here and debated how you could live here forever, what do you do next?!
Well if you're after some more gorgeous photo spots, I have a few recommendations nearby which are only a few minute's walk from here;
Stockbridge & The Old Market Arch
Stockbridge is a historic area of Edinburgh and is famous for the Stockbridge Market that happens on a Sunday.
But, did you know that there was an Old Stockbridge Market that was around in the 19th century?
That's right and you can find the Old Stockbridge Archway, built by Archibald Scott in 1825, on St Stephen's Street.
Don't put in Stockbridge Market as it's nowhere near it. The exact location is on St Stephen's Place, a little side street and it's only a 2-minute walk from Circus Lane.
Click here to read my guide for Stockbridge & how to find this archway!
Circus Lane
This is without a doubt one of the prettiest lanes in Edinburgh and although it is just a 'lane', it's a darn pretty one and worth making it a part of your itinerary.
Circus Lane used to be a service lane behind the regal Royal Circus.
It used to have stables that used to house the horses and carriages of the rich and wealthy.
Circus Lane is similar to Dean Village with its cobbled streets and Mews houses but there are also gorgeous flowers growing everywhere and you can just see the steeple of St Stephen's Church.
Although not a place of worship anymore, the clocktower is stunning and is said to contain the longest pendulum in Europe.
Click here to read my complete guide for Circus Lane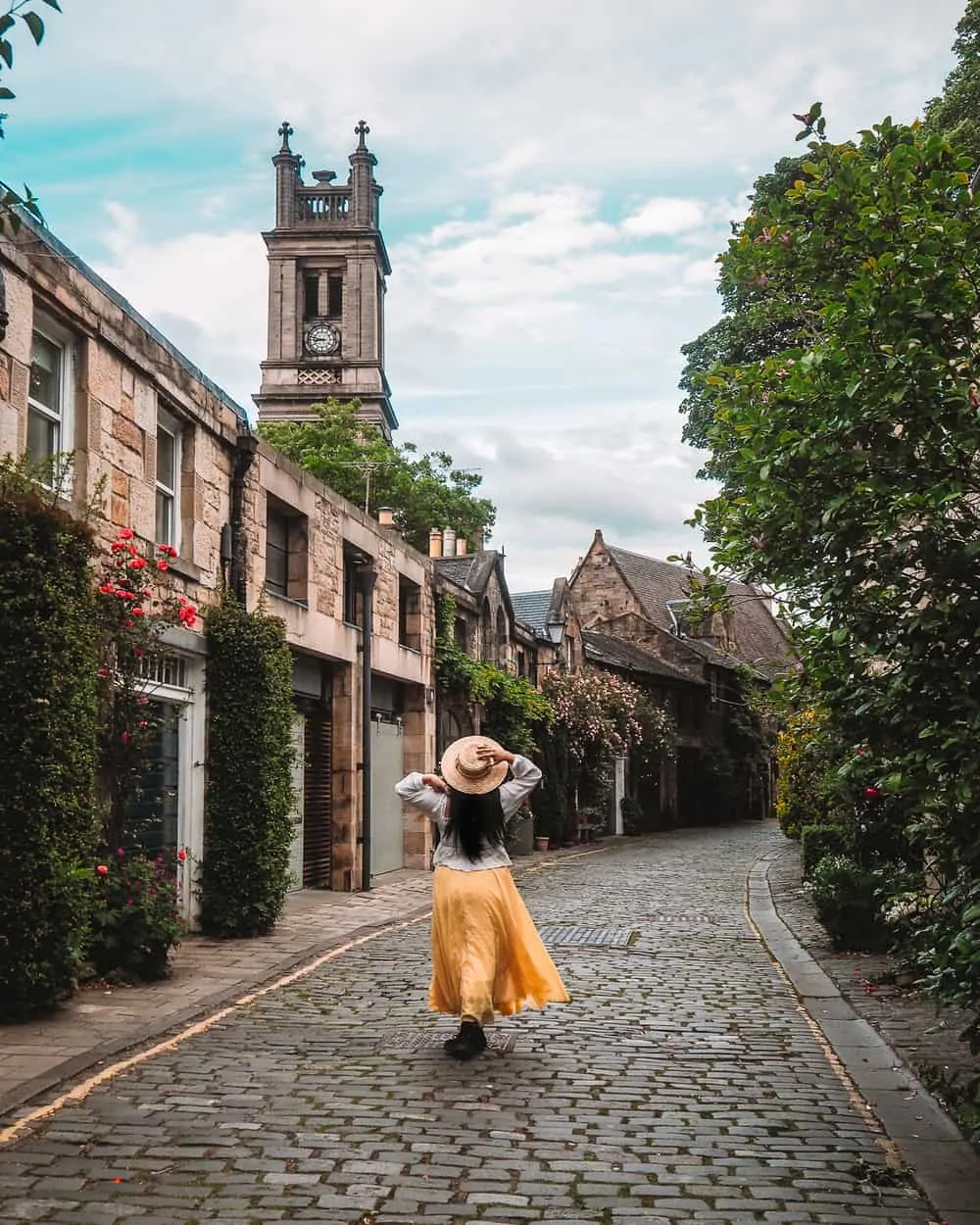 Looking for more Instagrammable places in Edinburgh?
As an avid photographer, I love heading around the photogenic spots in cities on my travels.
Edinburgh is one of the most photo-worthy cities in the whole of the UK, so if you are interested in photography you will be spoiled for choice here. One of my favourites is The Vennel, click here to read all about this viewpoint.
Or, I have a comprehensive list of photography spots in Edinburgh you can read here.
Oh, and don't forget to read my FAT bucket list!
Dean Village only scratches the surface of what this incredible city has to offer you in Edinburgh and there is way more than just photo spots here too.
Hidden courtyards, secret alleyways and wynds, fairytale castles, lively bars, extinct volcanoes to climb, drams of whisky to drink and sampling Haggis. It has it all!
I create the ultimate bucket list for those visiting Edinburgh for the first time that you can read. This has all the essential experiences you must try in the capital of Scotland.
Click here to read my list of things you must do in Edinburgh
Read my posts on Edinburgh
The ultimate Edinburgh Bucket List
The BEST photography locations in Edinburgh
All the Outlander locations in Edinburgh
Harry Potter locations in Edinburgh
How to visit the Harry Potter graveyard
A complete guide for Armchair Books
A complete guide for the Vennel
Best things to do on Calton Hill
How to find Bakehouse Close from Outlander
The hidden gem of Whitehorse Close
Signet Library Afternoon Tea review
Why you must visit the World's End
A complete guide for Circus Lane
The mystery of the Burke and Hare Coffin Dolls
Topping & Company Booksellers Edinburgh review
Queen Mary's Bath House in Edinburgh
Scottish National Portrait Gallery review
Discover Liberton Kirk in Autumn
Read more of my posts on Scotland
Where is the pink castle in Scotland?
Why you must visit the Kelpies
A complete list of Outlander filming locations in Scotland
Finding the Hogwarts Express at Glenfinnan
Cove Beach on the Scottish Borders
How to find the Devil's Pulpit
All the Harry Potter filming locations in Scotland
Save this Dean Village guide for later!