If you're looking to visit the Deanston Distillery Outlander location in Scotland, then I would highly recommend reading this post first.
Deanston Distillery, based in Deanston village (no prizes for guessing), was used in season 2 of the Outlander series.
Luckily for fans, the distillery runs tours every day and so visiting the location is really accessible and you get to sample one of Scotland's favourite drinks; whisky!
Sampling whisky in Scotland is like trying vodka in Russia. It has to be done and could be considered a crime not to.
Okay, okay. That's a bit dramatic.
But, if you were looking to see how whisky is made in Scotland and sampling some in the process you have to go on a Deanston Distillery Tour!
Here's my complete Outlander guide for fans wanting to visit.
What is Deanston Distillery?
Deanston Distillery is a single malt whisky Distillery that is based on the banks of the River Teith.
They distill their whisky using local and organic produce and use a traditional hand-crafted technique to make their whisky range.
It starts with using fresh water from the River Teith, which is used to power the mills. They then use Scottish malted barley to mill into a grist. It's mashed and washed into fermentation and then evaporated and twice distilled.
The liquid is then decanted into oak wood casks and now the magic begins!
Nothing is added or taken away from the whisky with this process which produces the finest flavours.
Deanston Distillery History
There is evidence of whisky in Scotland over 1000 years ago, but Deanston hasn't always been known for their whisky trade.
Originally, Deanston was home to a Cotton Factory which opened its doors in 1785.
Richard Arkwright, who is known as one of the founding fathers of the industrial revolution, designed this factory. It flourished over this time and provided lots of jobs for those who needed work in the area.
During this time, Deanston even had its own currency due to a shortage of coins during the Napoleonic wars. They were known 'Deanston's' and were only used in the village.
The mill grew in size and so did the parish but in 1965 the cotton industry declined to make way for a new craft.
Deanston Distillery has been on this location, distilling Highland single malt whisky since 1966. The visitor centre we can take tours in today opened in 2012.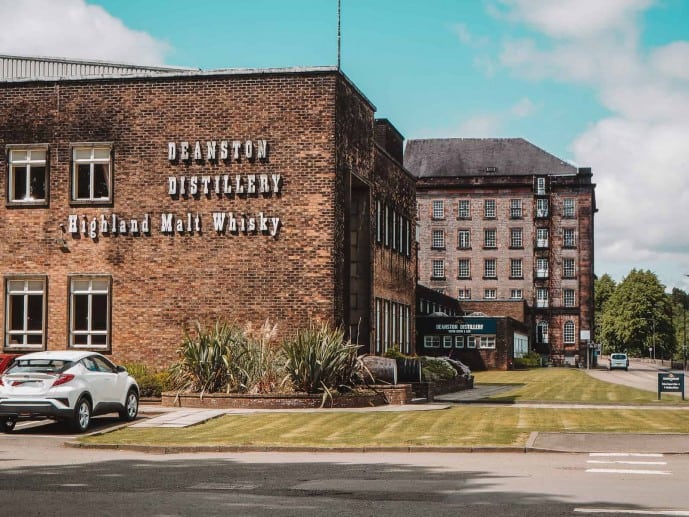 What was the Deanston Distillery Outlander location?
If you're anything like me, you're probably wondering 'when on Earth was this whisky distillery used in Outlander?!'. Well, it's not for scenes in Scotland that's for sure.
You may be surprised to know that not one of the Outlander scenes for season 2 in Paris was actually shot in Paris! Nope, they were all shot in Scotland, Prague, and England. So, you can visit many of them on your trip to Scotland!
If you remember in season 2, episode 1 "Through a Glass, Darkly", Claire runs into a wine storehouse after seeing some men taken ill with smallpox. Much to the dislike of The Comte St. Germain.
This wine cellar is Jamie's cousin Jared's warehouse in La Havre. Deanston Distillery is where they shot those scenes in their barrel cellars or maturation warehouse.
Where is Deanston Distillery in Scotland?
Deanston Distillery is in Deanston Village which is around eight miles out of the city of Stirling. It's on the border of the gateway to the Trossachs National Park and Loch Lomond.
For Outlander fans, it's also only a few minute's drive away from Doune Village.
It's home to the famous Doune Castle, which plays the seat of the Clan MacKenzie, Castle Leoch. So, if you're planning a visit there, it's the perfect addition to your tour.
How to get to Deanston village
The easiest way to access Deanston Village is by car and I don't need to tell you that the person driving should not drink and drive!
If you wanted to sample some whisky, there are plenty of bottles to take away to taste afterward. I personally did this as I was driving.
If you weren't planning on driving, so you can drink, then you can easily get the First Group bus service 59 from Stirling city centre to arrive at Deanston. It should only take 25 mins.
From Edinburgh or Glasgow, you can catch a train to Stirling and then the bus service to Deanston but it will take around 75-90 minutes.
Use the Travel Line Scotland Journey Planner here.
Deanston Distillery Parking
There is lots of free Deanston Distillery Parking for customers wishing to visit the Gift shop, restaurant, and those wishing to go on a tour.
I saw lots of small cars, larger vehicles, and camper vans parking here so there's lots of room for whatever vehicle you have.
Deanston Distillery tour costs and when do tours run?
The visitor centre is open from 10 am until 5 pm and there are multiple tours that run throughout the day. There are also lots of different types of whisky tours provided by Deanston Distillery, depending on your preferences;
Tours run from 10 am – 4 pm on the hour every hour and a standard tour will cost you £9.
This gets you a tour around the distillery, a tasting, a £5 voucher to use in the shop, and a 70cl single malt whisky to take home.
There's also a classic tour for £12 that explores more of the history and allows you more whisky tasting.
Or, you can splash out on one of their specialist tours for £20 – £35 per head. This includes their warehouse experience, a heritage tour, a tasting room tour, and whisky and chocolate taster!
See here for all the different options and how to book a distillery tour!
What to expect on a Deanston Distillery Outlander Tour
I should probably say that on the tour, you won't just be seeing Jared's warehouse from Outlander.
It's a full-on, informative tour that takes you through the complete journey of how whisky starts from nature and ends up in your dram glass.
You'll be wandering through the milled process to turn malted barley into grist.
How it's fermented with copper and how it matured in barrels in their cellars (cue the Outlander fan moment). Until eventually, it's bottled for selling.
No modern technology is used in making the whisky, so it's a traditional process that is fascinating to learn about.
It's also worth mentioning that my guide told me that the warehouse that tourists are shown on the tours isn't the exact same cellar that was used in the TV Series.
It's the one behind it (the sole reason being that the TV production needed a door that accessed the outside). But, both warehouses are identical so it's just like visiting the real thing!
Although it's meant to be wine in the series, the smell of whisky in this cellar is so strong I'm surprised you don't walk out of there a little tipsy.
The blacked-out ceiling is actually discolouring from the oak barrels used for the whisky if you were wondering about the unusual colour.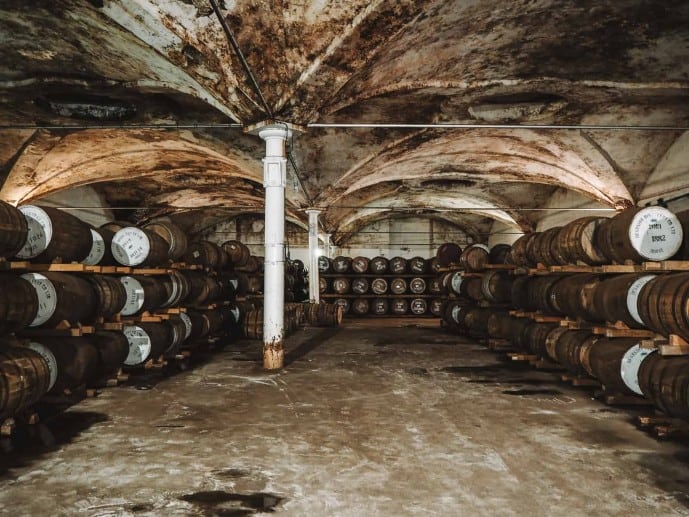 Deanston Distillery Gift Shop
After you've been on your tour the Deanston crew invites you to drink a dram with them and you have the option to purchase some of their finest whiskies on offer.
They have little sample bottles, all the way up to big ones if you liked the taste and wanted to bring it home with you.
My favourite part was sampling their Scottish whisky fudge and chocolate! It was utterly delicious and I could already feel my waist expanding haha.
Aside from yummy treats they also have clothing and lots of traditional Scottish souvenirs to browse too. So, prepare for your wallet to weep.
Deanston Distillery Restaurant – The Coffee Bothy
By the time you've finished your tour, you may be feeling quite peckish, or need to line your stomach before your whisky tasting! It's open from 10 am until 4.30 pm.
So, luckily, Deanston Distillery has a restaurant that serves up locally sourced meals throughout the day.
I decided to go for one of their Ham and Cheese toasties which came with crisps and salad which was scrumptious. But, they also have Haggis if you're feeling brave. Plus other items you can browse here.
I was kind of disappointed there weren't any whisky cakes or anything, but I guess that's what the fudge in the shop is for!
Where is Le Havre port shot in Outlander?
If you're wondering where the Port of Le Havre in France was shot in Outlander, it's the grade listed Dysart Harbour.
But, I will warn you, it doesn't look anything like the bustling French port that Jamie and Claire arrived into. A lot of the buildings were created with CGI but you can still recognise parts of the port as you wander around.
Although it's a working harbour, It's very picturesque. So, if you are heading that way, I would say it's worth a visit. Even to take a stroll around and breathe in the fresh sea air.
Click here to read my complete guide to visiting Dysart Harbour or Outlander's Le Havre here
Outlander locations near Deanston Distillery
If you're on an Outlander pilgrimage of sorts, there are plenty of film locations you can visit around the area.
Only a few miles down the road is Doune Castle, which is the ancestral seat of Clan MacKenzie, Castle Leoch. Here you can take an audio tour of the castle in Jamie's voice!
Or, you can visit Drummond Castle gardens that doubled up as the Royal Gardens of Versailles.
Or, see my ULTIMATE list of Outlander filming sites in Scotland and beyond.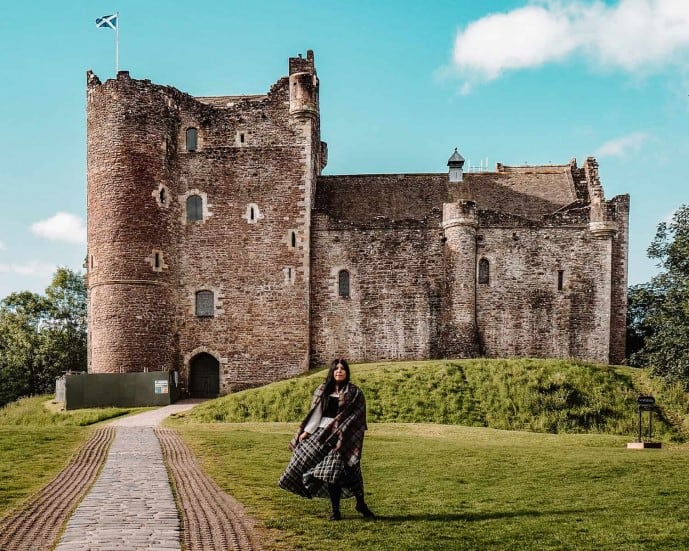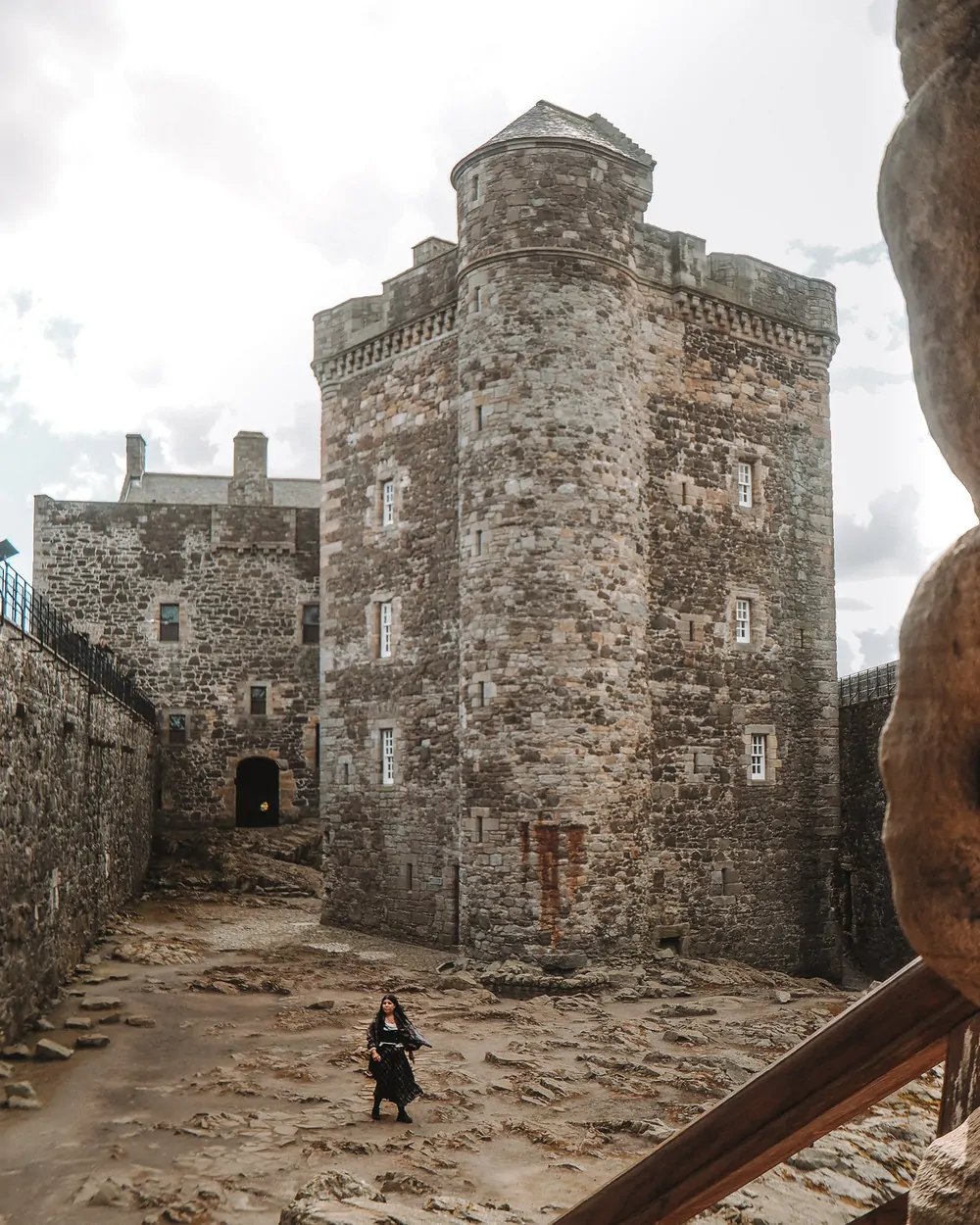 Bo'ness was the railway station where Claire and Franks said their goodbyes' in London or visit the dramatic Blackness Castle where Jamie was Flayed. Linlithgow Palace also played a part as Wentworth Prison close by.
Hopetoun Estate in Queensferry has lots of Outlander Locations including Lallybroch as Midhope Castle. The house has over 17 Outlander locations, like the Duke of Sandringham's red room and Abercorn Church is nearby that featured in series 4.
Or head on over to Culross that featured as Cranesmuir, with the historic Culross Palace used as the gardens of Castle Leoch. Also, its West Kirk is the Black Kirk featured in series one.
Outlander locations around Edinburgh
I have a complete list of filming sites around Edinburgh you can check out, along with one for Glasgow here. Or, check out individual locations below;
Falkland village featured as the iconic setting for 1945 Inverness and you can even stay in the same room that Claire and Frank did at the Covenanter Hotel.
Other Outlander locations around Edinburgh are Glencorse Old Kirk where Jamie and Claire were wed or Roslin Glen Country Park that has some recognisable gunpowder mills that starred in a heartfelt argument.
Gosford House in East Lothian featured as Helwater Estate and the Versailles Stables and Preston Mill has the historic Lallybroch water wheel.
Craigmillar Castle featured as Ardsmuir Prison and Summerhall in the city centre has the lecture hall where Claire met Joe Abernathy.
The Royal Mile in Edinburgh is full of Outlander locations including Alexander Malcolm's Outlander Print Shop. Tweeddale Court nearby is where Claire and Fergus are reunited and you can visit the World's End Tavern where Mr Willoughby gets into a brawl.
Or, treat yourself to afternoon tea at the Colonnades to find yourself in the Governor's mansion in Jamaica that featured in season 3.
Read more: a self-guided outlander walk on the Royal Mile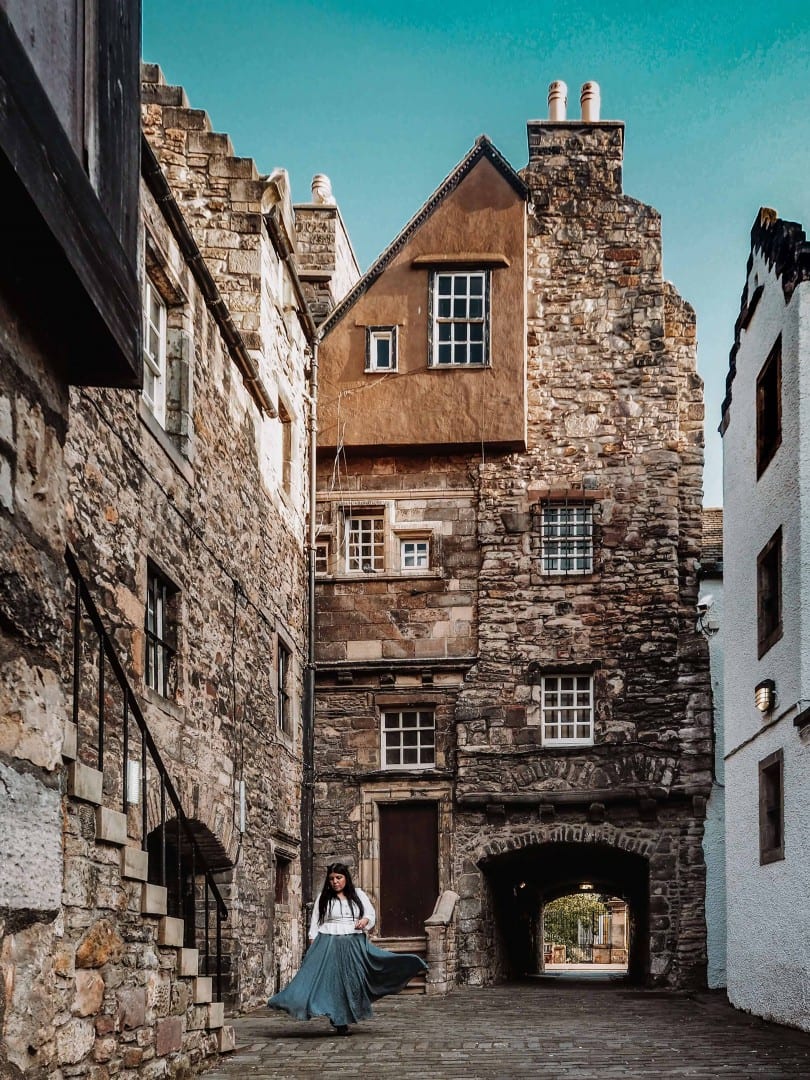 With thanks to Deanston Distillery for showing me around on your whisky tour. Although I was a guest, all photos and options are my own.
Save this Deanston Distillery Outlander guide for later!