Looking at how to spend 24 hours in Delhi? Keep reading this guide.
I know that, for some, Delhi can be a nightmare. You see all these pretty pictures in the brochure, which is why you wanted to visit. But, instead, you land off the plane and jump into the manic, crazy, hot, dirty, and loud capital of India!
Well, a warm welcome to you. But, I have some good news, you don't have to stay long if you don't want to!
Outside of Delhi, is where your real Indian adventures will begin with places like the Taj Mahal in Agra, Jaipur in Rajasthan, or even Varanasi by the river Ganges but I would encourage you to spend at least a day in Delhi to 'acclimatise'. Even if it's just to get used to the smells.
It definitely is possible to do a whistle-stop tour of this diamond in the rough (okay, really rough) and see pretty much everything there is to see as a tourist.
Personally, I love Delhi. When I was living and working here as an ex-pat, it was my go-to place for a weekend of sightseeing.
For me, I need to be culture-shocked when I travel and my thirst for the unusual seems to be getting more, not less as I'm getting older.
I find my eyes can't stop looking around at the crazy traffic, seeing what the street food vendors are selling, admiring the vibrant colours of the market places and the life that runs through the veins of this awesome city.
It's kind of like marmite, you either love it or you hate it! Here's how to spend 24 hours in Delhi.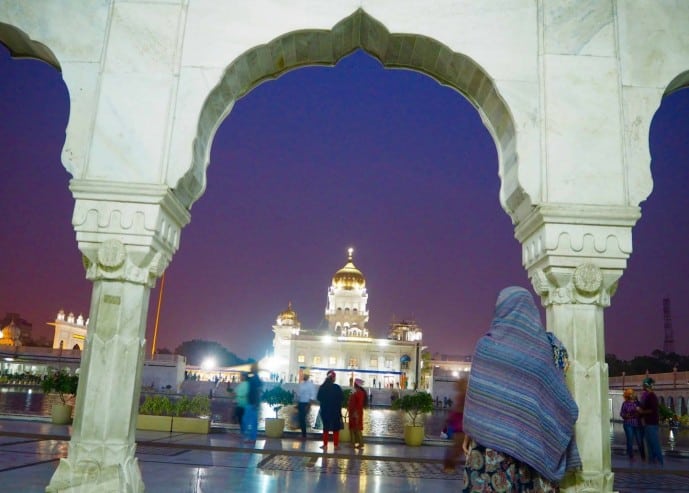 Getting around Delhi
Delhi is huge and many of its attractions are spread out over the old city.
Personally, I would suggest hiring a taxi or a Tuk-Tuk for a full-day tour. That way, it's easy to hop in and out of the different attractions.
Plus, if you've just landed off the plane, you'll probably prefer convenience to help with the jet lag.
Alternatively, you can get stuck on the public transport on offer.
I love working out train lines and Delhi's is quite easy once you master it. The metro is a fast and cheap option that gets you around the city quickly.
But, it's BUSY and a little hectic. If you've ever been on the underground in London, imagine it being rush hour, all day, every day.
It does get extremely crowded and so you have to be a little forceful to get out at the right stop.
Don't be afraid to shout MA'AF KIJI (excuse me in Hindi) and you'll get through the crowds okay!
Tickets depending on the length of your journey can cost you anything between 20-50 rupees a single journey.
How to spend 24 hours in Delhi – a complete one-day in Delhi itinerary
India Gate & Rajpath
First up is the iconic landmark of the India Gate.
Built to commemorate the lost lives of soldiers in the First World War, it has an eternal flame that is always lit underneath.
It's kind of like the Indian Arc De Triomphe but with people selling chai, chaat, and poppadoms all around it!
It's one of my favourite places to visit in the day or evening as it's free and has a peaceful family vibe. The only downside is all the hawkers who seem to ask to take my photo constantly when I'm blatantly holding a DSLR camera!
It's always super busy in the afternoon, so if you did want to beat the crowds or take pictures without any people in it you should start off early in the morning.
You can take a turn around the gate and explore the parliament buildings in Rajpath which is a little journey up the long ceremonial axis road.
It's always been somewhere I would have liked to have a picnic as there is a nice grass area around it, but I haven't yet had the chance (and the weather is always too hot!). Maybe in the winter, I'll have more luck.
If you did want to get some tacky souvenir pictures, there are always guys selling them near the gate. You should pay no more than 50 rupees per photo.
A little insider tip, if you only want one photo to take away, don't let the guy take ten! He'll expect you to want all of them.
Then that 50 rupees will turn into 500! He'll print them instantly on his little portable photo machine so you don't have to come back later in the day.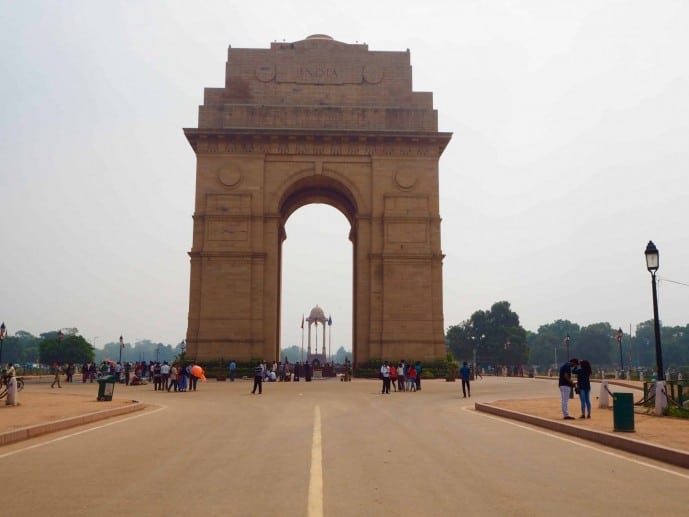 Red Fort
The next place to visit is the Red Fort or in Hindi Lal Qila which means "blessed fort".
You'll see this little beauty on the 500 rupees notes you'll have in your wallet.
The fort, which is built with red sandstone, was a prominent Mughal Emporer residence for over 200 years!
Today, it's a UNESCO world heritage site and has a collection of historical rooms, buildings, and museums to wander around.
My favourite part was the mixture of Persian, European, and Indian architecture and the many Indian archways which were in perfect symmetry.
It's really nice just to wander around the gardens here too as they have a mixture of temples and buildings lined with colourful flowers!
Watch out for pickpockets as you're near the notorious Chandni chowk which is the next stop.
Read more – the most Instagrammable places in Delhi!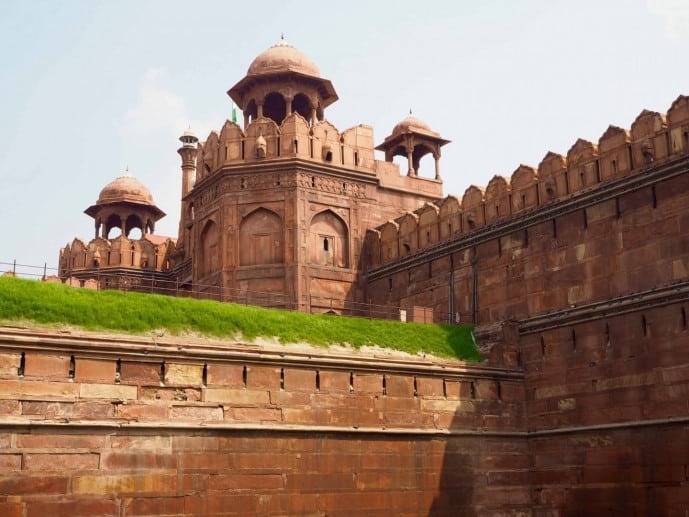 Chandni Chowk
Delhi's oldest market district is truly starting out at the deep end in terms of that all-important culture shock!
I was actually warned not to come here as even some of my |ndian friends said this place was a little rough.
But, to me, that was like saying 'don't press that red button' so I just HAD to go!
The best way to explore this place is to hire a rickshaw for around 250 rupees and get taken around a grand tour of the place.
It's congested, smelly, exciting, inspiring, and hectic and it won't be somewhere you forget in a hurry!
Click here for a complete guide to the Old Delhi Spice Market & How to find the famous rooftop.
Make sure you explore the oldest and largest spice market in Asia while you're here.
I couldn't stop sneezing when I first visited as the air is saturated with spice, but the views are totally worth it walking up the dodgy dark stairs.
In fact, the first time I ever went here I almost refused to go up as I thought he was taking us somewhere weird as a scam or something. Just, trust.
Be warned that a lot of the rickshaw drivers work on a commission basis with a lot of the 'government tourist' shops in the marketplace.
There are no government shops, it's a lie to get you to buy stuff at stupid prices.
Basically, the more you buy, the more they get in terms of payment. So, they may keep taking you around until you buy something.
Be assured, it is NOT mandatory for you to buy anything. Just be forceful and say you're not interested. I
f you did have more time, an awesome way to explore this city is to do the Delhi by cycle tours.
You start out early to beat the heat and you get a little history and culture lesson too. You get water, chai, and breakfast at Karim's included! For tours and booking see their official website.
Lunch at Karim's
My cycle tour was actually how I discovered Karim's and I've been going back ever since.
Featured on the BBC and Lonely Planet, Karim's is voted one of the best restaurants in all of Asia.
I'm not kidding when I say that people visit from all over the country to get a taste.
Make sure you try their Mutton Korma with their fabulous Roti. Roti is my absolute favourite!
It's like naan bread, but it's puffy and it's the size of your head! It's also super cheap and has a good hygiene rating – even if the streets around it look foul.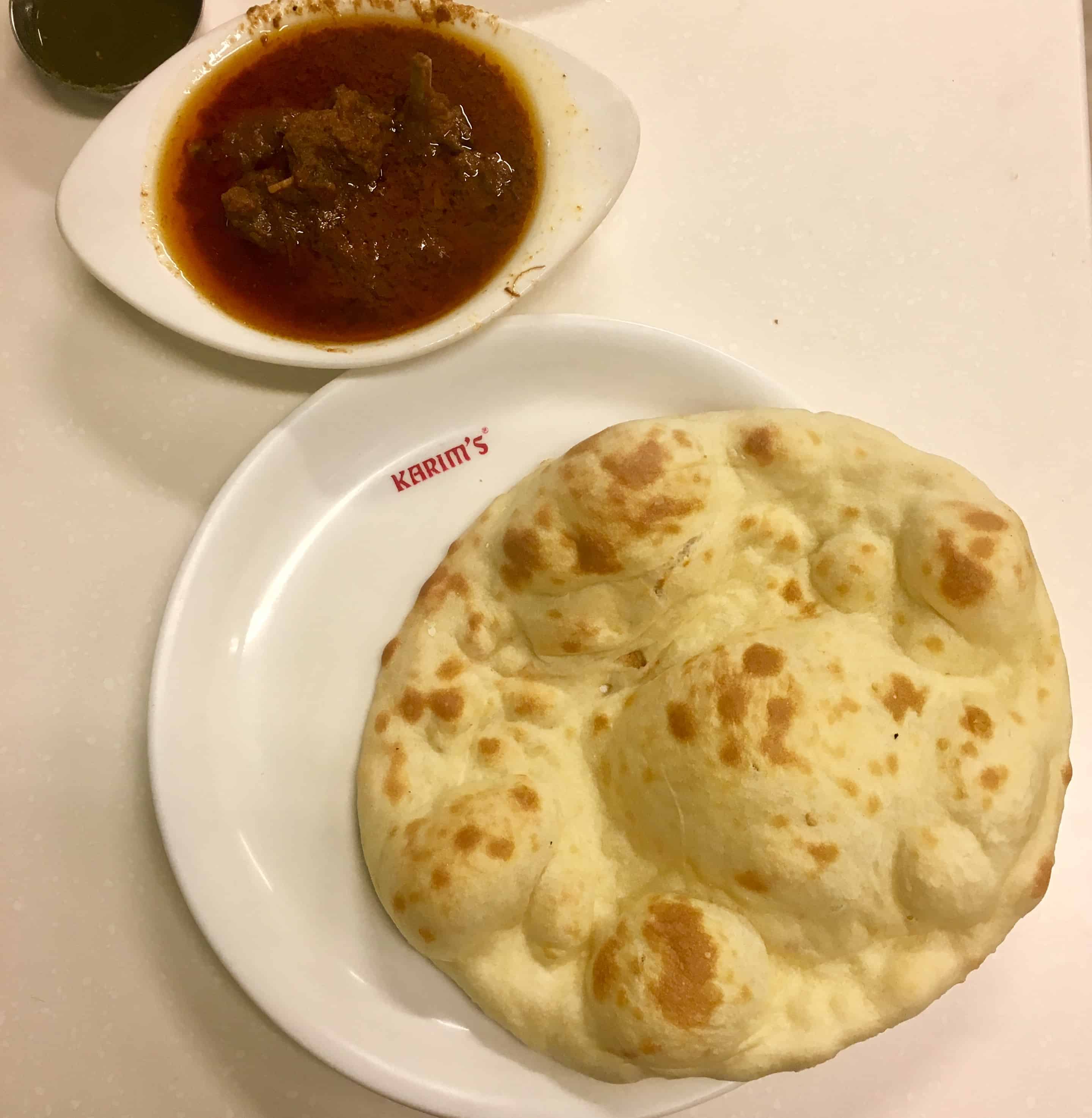 Jama Masjid
After lunch, head into the biggest mosque in all of India. It's absolutely humungous!
Although this is a place of worship, they seem to run a little bit of industry on tourists and the rules seem to change each time I go.
You should be able to just place your shoes for free outside and go in but they charge weird fees for tourists. They charge for the phone, camera, and shoe sitting.
Even though my phone and camera were not on the show, they still tried to charge me 300 rupees for entry!
It's a little bit of a con but I guess this is India. Women will also have to cover up completely to go inside.
Don't worry, if you don't have appropriate clothing the guys here will give you a floral smock that makes you look like a grandma!
I just picked one that was the least garish. You'll be walking in bare feet so beware of the floor, it gets HOT.
There should be mats to help with the heat but sometimes they aren't always there.
You should also be aware you may not be able to enter the mosque during prayer time.
Lotus Temple
It's a Baha'i place of worship and is open to everyone from all religions and backgrounds and has 27 marble petals to form the shape of a flower.
The architecture has won multiple awards and has become a major tourist site in Delhi that you cannot miss.
The queuing system can be quite intense with people shouting at you in Hindi and ushering you to the side, which I presume meant 'keep in line' or 'move over'.
You'll be given a shopping bag to keep your shoes in and you should keep this with you at all times.
When you get inside, just stop, sit down and look up! The ceiling and inside of the lotus flower are incredible.
You have to keep complete silence but you'll be so wow'ed you may be lost for words anyway.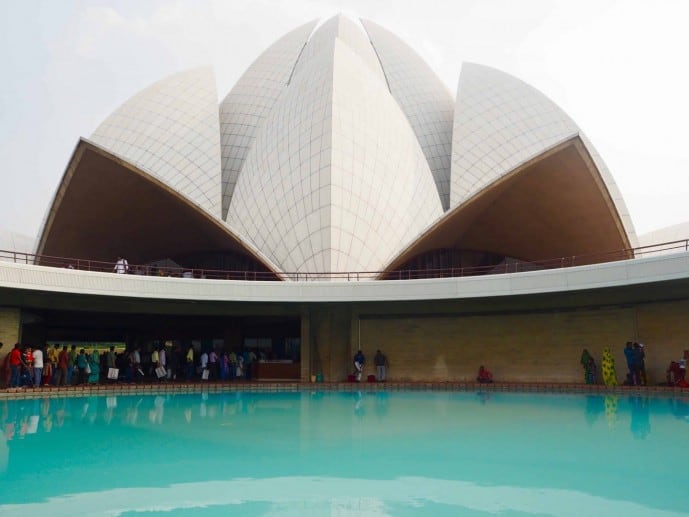 Shopping in Delhi: Janpath market
Shopping at Janpath is my all-time favourite place for souvenirs.
It's cheap, friendly, and has everything I need as a tourist to take home. I also don't have to pay an entrance fee like Dili Haat, so I know it won't be jumped up prices!
You can find everything here from bags, shawls, Ganesh statues, incense, jewellery, and more.
It's where I go shopping for all my cheap presents to bring back home if I'm stuck on ideas (sorry family and friends haha).
If you were after finer gifts, there is a 'cottage industry emporium' which is located to the right of McDonald's.
It's expensive, but it showcases top-quality products which are perfect as home decorative items.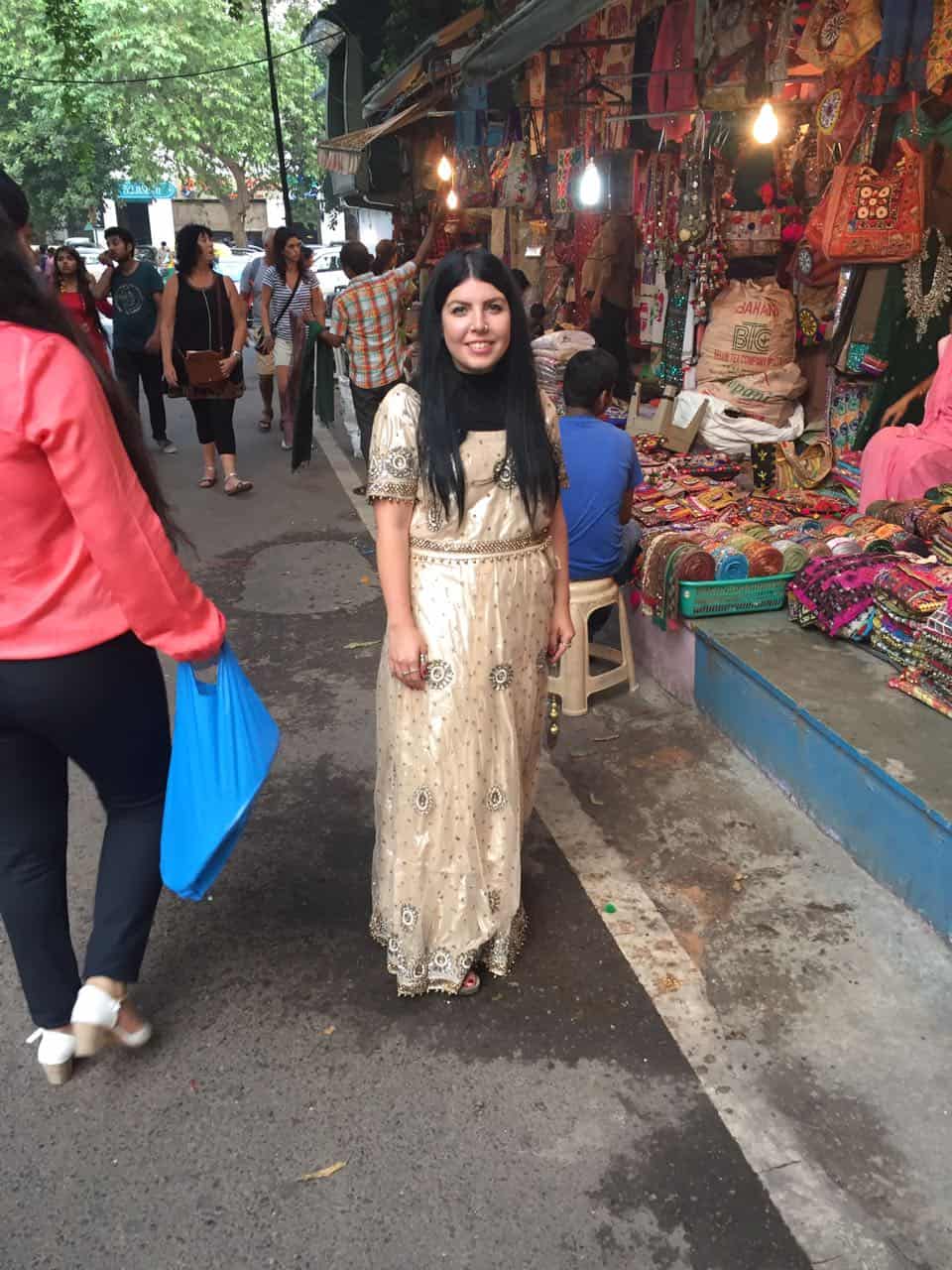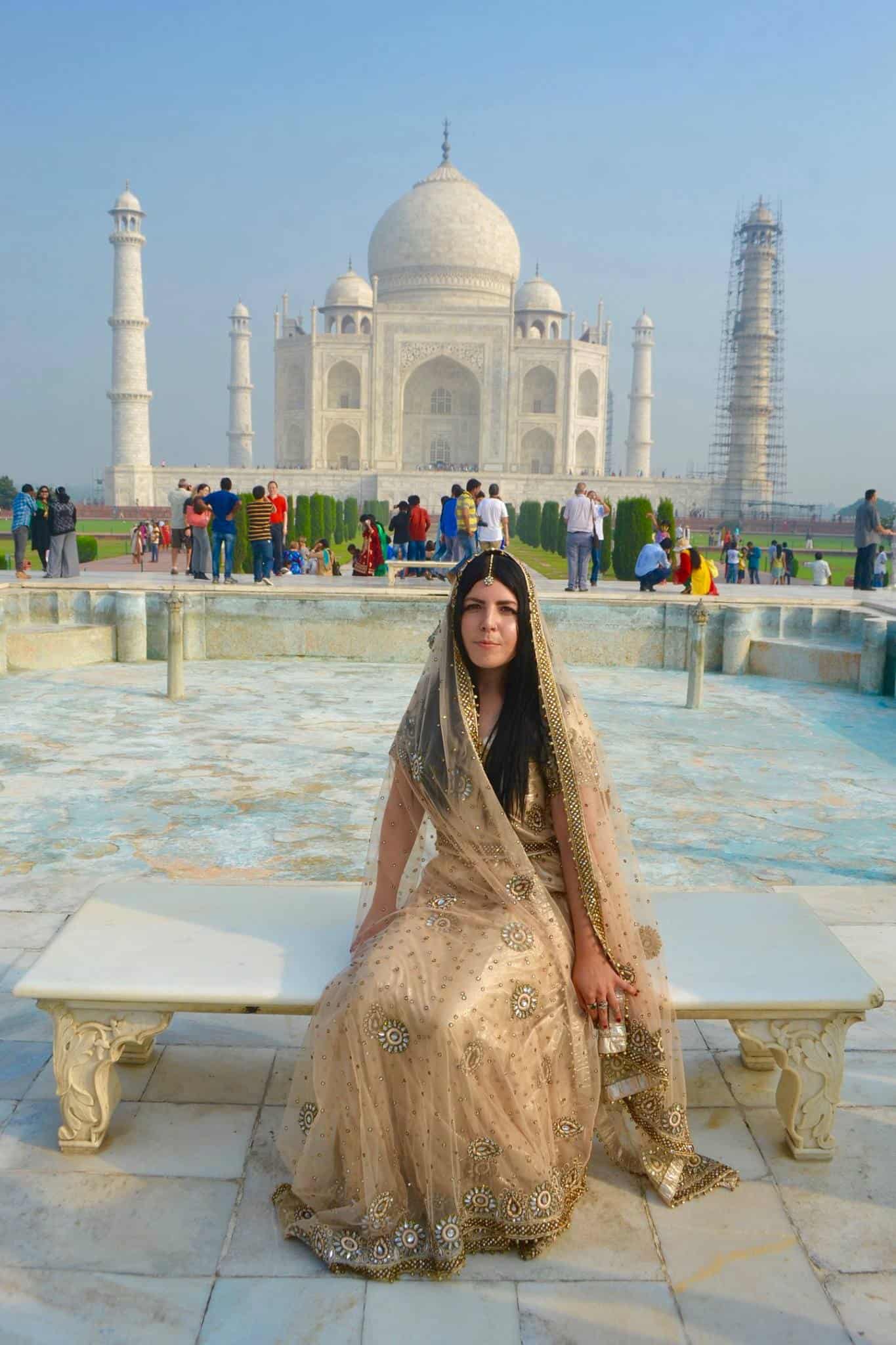 Finish the day at Connaught Place
If you're not dead off your feet and want to head in for some kip to fight off the jet lag, I would suggest going to Connaught place in the evening.
The whitewashed buildings which are formed into a perfect circle houses some of the best nightlife in Delhi.
You'll have bars, restaurants, cafés, and shopping all here to enjoy.
Connaught place is HUGE and it's even split into sections from A-Z to help with locating where you want to go. Personal favourites of mine are Lord of the Drinks (even just for the name) and Social.
The best tip I can give you for bars is to look up!
Most of the restaurants and bars here are above the shops below, so you need to look above to find them.
Warning: Connaught place is notorious for being a little dodgy so be careful around the outer circles and always have a means of transport available to you if you do come here late at night. Be careful of pickpockets and people trying to show you directions!
So, that's your 24 hours in Delhi itinerary
This is the sure-fire way of getting everything you need out of this crazy city in the shortest amount of time.
You should be able to see most things in just one day in Delhi.
If anything on here didn't take your fancy, there are also the Lodhi gardens if you would like tranquillity, Humayun's tomb if you wanted a pre-Taj mahal build up and Gurudwara Bangla Sahib to keep you occupied.
Also, I love the Instagram-worthy Agrasen Ki Baoli which is a bit of a hidden gem and supposedly haunted!
Read my complete guide for Agresen Ki Baoli here.
The best tip I can give you is to be aware of scams and to go with the flow; Delhi is Delhi and It will always be Delhi!
That's what I love most about it, It's gritty but you won't forget it in a hurry.
The best place to stay in Delhi
Here are some hotels for every budget, click on the links to check for available dates and rates;
5* Luxury (£60 – £150):
Mid-range (£15 – £50):
Budget (£5-£10)
Start planning the rest of your trip to India!
The ultimate Rajasthan itinerary
My complete guide for Rishikesh