There's something about niche and quirky museums that excites me. I don't know what it is.
Maybe it's the simple fact that someone somewhere thought of it. Maybe it's because there were enough items collected to create such a place.
Or, the fact that I admire anyone who has such a passionate interest. Either way, I am officially obsessed with them!
From paperweights, smugglers, dog collars, death, bread culture, and even pencils; there seems to be a museum for everything these days.
But, one that really caught my attention in Lithuania was the Devil Museum Kaunas. The one and only Devil Museum in the entire world!
Whether you know of the Devil through folklore, religion, films, or even cartoons; it has played a BIG part in culture over the centuries.
The Dark Lord, Satan, Beelzebub, Lucifer, a fallen angel, or the prince of Darkness; whatever you call it, you know of it and he's popped up all over the globe.
So, it does make perfect sense there is an exhibit about it even if it is in the category of the downright bizarre.
I knew, for me at least, I felt compelled to check it out. The Devil's Museum in Kaunas aims to shed a light on the world of Devil culture through its many artifacts, displays, and stories.
Here are all the reasons why you should visit the Žmuidzinavičius museum.
The incredible history of the Devils Museum Kaunas
So, how did a Devil Museum come to be in Lithuania?!
If you know the dark history of the Soviet occupation here, there was a complete ban on religious artifacts.
To have them in your possession meant instant arrest or deportation. That included the likes of the holy Mary and Jesus, let alone having hundreds of artifacts of Satan hidden away!
Well, the Devils Museum was the brainchild of Antanas Žmuidzinavičius, a famous Lithuanian artist and poet.
Who was Antanas Žmuidzinavičius?
Antanas Žmuidzinavičius was born in 1876 in Seirijai and played an integral part in the art movement of Lithuania.
Lithuania as a country over the centuries was a constant chess piece in political warfare and a target for colonial rulers. The country was a prize to add to an ever-increasing empire!
From Germany, Poland, and Russia, they all took over the state, placing their own countrymen as rulers and declaring the Lithuanian people as defunct.
It's only been in the last 30 years that the Lithuanian people finally have their freedom and independence.
Whereas most countries can trace back their artists for centuries, Lithuanian artists were pretty much unheard of before the 20th century. They were never given a voice.
Antanas Žmuidzinavičius studied at various European universities and finally returned to Lithuania.
He was so inspired by other country's art movements and decided that Lithuania needed one of its own.
So, he joined up with prominent Lithuanian artists like M.K. Čiurlionis, to set up the First Exhibition of Lithuanian Art. M.K. Čiurlionis was a famous composer and you can visit his museum over the road from the Devils Museum.
He then went on to set up the Vilnius Arts Society and became a professor who taught drawing in Kaunas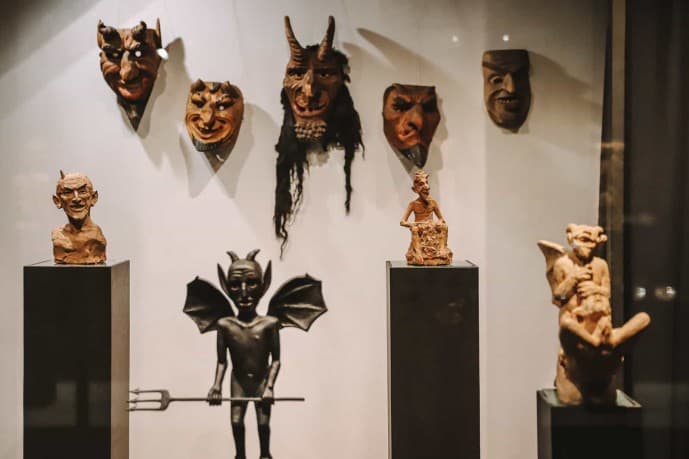 The start of his Devils Museum
In 1906, he was gifted a Samogitian Devil as a present. After he showed an interest, he was then gifted some more.
Eventually, people all over the country were sending him Devil artifacts. Weirdly, even priests of Holy Trinity Church were donating their pieces!
What started out as a small personal collection in his home grew to over 260 artifacts. It included statues, paintings, and masks! He made it a small exhibit in his painting studio.
A risky venture to be sure if he was caught.
Five years before he died in 1966, he gifted the entire collection to the state. It was so popular that it was put on display and the Devils Museum was born!
Eventually, after his death, it became a memorial museum and was moved to a bigger building. Today, his legacy continues with the movement of the only Devils Museum in the world.
People from all over the globe continue to donate their Devils and it's an ever-growing collection!
Reasons why you HAVE to visit the Devils Museum Kaunas
1. It has over 3000 devils over three floors to see!
Ever since Antanas Žmuidzinavičius collected almost 300 Devils in his personal collection and made them public.
People have been donating Devil artifacts, statues, masks, and even tree stumps and roots that look like Lucifer.
There are now way over 3,000 Devil-related items presented in this massive museum spread over three floors!
There are Devils carved out of wood, silks, ceramics, stones, pottery, and even ashtrays. Some are so small you have to look at them through a magnifying glass! There is a fantastic array of satanic curiosities.
The first floor exhibits Žmuidzinavičius' personal collection, the second is donated items and folklore and at the top, you can find Devils from all over the world.
2. You can learn about the history of Satan
Have you ever stopped to think where the Devil came from? Or, how the concept has been represented and used over time?
Remember, there is no mention of Satan being red, having horns, a tail or a pitchfork in the Bible. So, why is that the only picture we know of?
Sometimes it seems like something is so ingrained in a culture, people forget where the very thing began!
The forces of good vs. evil and light over the darkness have always been constant since time immemorial. But, the personification of evil in religious texts is something that is entirely human creation.
For example take an evil being that lies underground, sitting in a pit of Hellish fire and cackles while he collects guilty souls?!
Someone had quite the imagination..
From priests who preached Latin verse in order to control pilgrims with the consequence of eternal damnation or witches being burned at the stake for worshipping the 'horned god'.
Even sayings like "The Devil makes work for idol hands". The concept of evil personified has been used as a form of control and punishment for centuries.
There are plenty of mythological beings that represent evil through history and all over the world. But, the most famous by far is Lucifer or Satan from the Christian bible.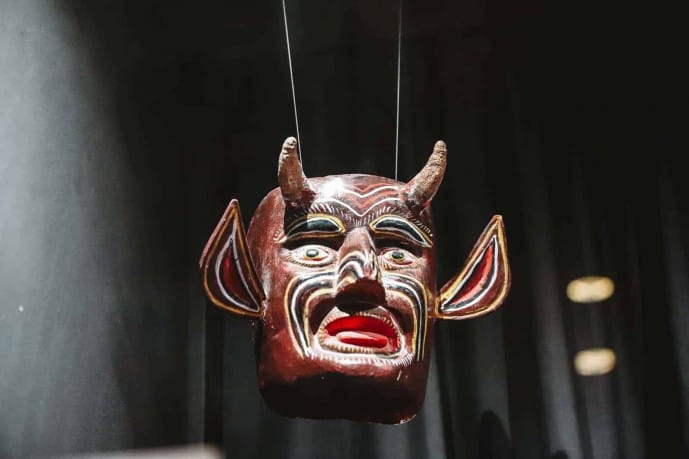 3. Compare interpretations through Paganism & Christianity
Christianity really only became a religion in 1st century AD. After Death of Jesus Christ.
It's what our whole time frame of history is now recorded on! But, what came before that? Paganism. Which basically meant that you believed in many gods as opposed to one.
Once Christianity had spread throughout the West, Paganism became a dirty word.
In Pagan folklore, the devil was considered to be a Chthonic deity. Like Hades, in Greek mythology, who was Lord of the Underworld and keeper of the dead.
In Christian texts, the Devil is mentioned in many books. Firstly, in the Book of Genesis, he was the one who lured Eve into eating the forbidden fruit.
That little nugget of a story has meant the oppression of women being the weaker sex for the past two millennia!
He was also said to be a beautiful angel Lucifer in the Book of Isaiah who rebelled against God. God was so angry that he threw him into Hell.
This museum will give you all these stories and more. It's fascinating what you can uncover when you look around the exhibition.
4.
You can explore Devil culture in Lithuanian mythology

Did you know that in Lithuanian folklore there are over 1,000 words for the Devil? The most common is Velnias.

There are also over 5,000 Lithuanian legends and tales that mention the Devil.

Plus, if you were to look around a map of Lithuania, there are 400 places that have the name. From the Devil's Swamp, his Bog and Hole.

Lithuania was the last country to convert to Christianity in Europe around the 14th century and the stories have been around way before that. So, much of the Pagan mythology still exists today.

In Lithuanian folklore, the Devil could be found making trouble for communities.
He would spoil your crops, eat your livestock, make hills instead of flat fields, bribe you with money for your soul, or make you rich!
Many Lithuanians believed that Millers was rich because the devil made the windmills turn.
The Devil in Lithuania was often associated with trickery, stupidity, money, bribery, and corruption.
He was also a shapeshifter and took many forms. Completely different from the Christian version.
If you were interested in learning how to protect yourself against the Devil in Lithuania, the museum has recipes of potions and spells in order to vanquish the Demon. So, take notes and learn!
5. There are Devils here from ALL over the world
The third floor of the museum was one of my favourite exhibits as it has Devil artifacts that have been donated from all over the globe.
Over 70 countries have shared their Devil pieces with the museum. From India, Sri Lanka, Japan, Mexico, Scandinavia, and the UK.
In any religion and mythology, there is always an evil character that appears.
You can find theatrical masks, horned pottery, shot glasses, huge carved statues, and silks that represent them.
There is also a huge display on festivals that involve the Devil too.
From Halloween in the US, Walpurgis Night in Germany, the Devil's Feast in Venezuela, or Krampus in Europe.
In Lithuania, Shrove Tuesday is a day where people dress up as the Devils in costumes.
They scare their fellow neighbours and play tricks! They then burn a figure in the flames to symbolise the end of the winter season.
It's amazing to think of the synergies and zeitgeist of countries being extremely similar.
6. There are some interesting characters that have been made Devilish
Something that you must look out for here is the way that famous figures in time have been portrayed as evil personified.
If you think back to Lithuania's history, the Nazi and Soviet occupations were some of the darkest chapters in their history.
From deportations, extradition, execution, and concentration camps. It was horrific and meant many people were forced into silence.
Kazys Dereškevičius created a rather controversial figure of Stalin and Hitler with horns sticking out of their foreheads. They are seen chasing each other and running over a mound of human skulls.
He created it in 1975 and called it "My Lithuania". The symbolism of the hurt, pain, and death that these two dictators had brought to the country.
If he had been caught making such a statue at the time, it would have ultimately meant deportation to a hard labour camp or worse.
So, it's nice to see that his artistic expression and feelings can be appreciated today.
7.
You can donate your very own Devil to the museum!

A tradition that the Devils museum has had since it opened is to welcome donations of Devil artifacts into the collection. This can be from anybody all over the world!

The collection has grown so large that it's now surpassed over 3,000 items and you can see some of the weird and wonderful donations on the top floor.

From guitars, lighters, leather jackets, and carved wooden sculptures. There are lots to check out here.

So, if you did happen to bring something of the Devil with you, make sure to hand it in to the staff. Maybe you'll see it on display for thousands to see each year!

On the other hand, if you were interested in taking a piece of the museum home with you.

They have some cute Devil souvenirs in their gift shop. I bought a cheeky horned chap and he's sat on my desk at home.
8. Don't leave without checking out Antanas Žmuidzinavičius' studio
As well as Antanas Žmuidzinavičius being an avid collector of Devils, he was ultimately known for being an artist.
Your ticket into the Devils museum also allows you entry into an art exhibition that displays some of his finest works.
His famous old studio has also been preserved and you can wander down and see where Antanas drew inspiration and created his pieces.
As well as collecting Devils he was a huge painting collector too, many portraits of his prized art collection are displayed on the walls.
If you were really interested in exploring more Lithuanian Art, the M K Gallery and Museum just over the road from here has one of the oldest and largest collections in the country!
You must visit the Devil's Museum in Kaunas!
This museum is truly one of the most unique concepts and the only place like it in the world. Where else are you going to see so many artifacts of Lucifer in one place?!
Whether you find it spiritual, are intrigued by the eerie, or just interested to learn more about why there is such a collection. The Devils museum will be a guaranteed highlight on your trip to Kaunas.
Every display is full of interesting artifacts that are funny, educational, and inspiring.
It takes you through stories of witches, devils, and nasty creatures in folklore, what's not to love?
If you haven't considered adding it to your itinerary yet, DO IT! You won't regret a thing and the entry fee is next to nothing.
Where is the Devils Museum Kaunas?
The Devil Museum in Kaunas is located in Antanas Žmuidzinavičius' old residence that he built himself in the Modernist style.
It's located on V. Putvinskio g. 64 in Kaunas, Lithuania.
It's really easy to access this house with the M K Museum on foot from the Kaunas town hall. It's only around a kilometre to walk and it will take you just over twenty minutes.
If you didn't fancy walking, Bolt is available in Kaunas (there is no Uber yet!), or you can take one of the local buses.
There are many services from the Town Hall including the 7, 23, 37, 40 etc. Check here for more details.
Devils Museum opening times & prices
The Devils Museum is open from Tuesday to Sunday each week. It's closed on Mondays and public holidays;
Tuesdays, Wednesdays & Fridays: 10am – 5pm
Thursdays: 10am – 7pm
Saturdays & Sundays: 12pm – 5pm.
Devils Museum Kaunas ticket prices: are 5 Euros per adult and there are family tickets available. Also, there are some combination tickets with other museums in Lithuania like the M K Museum. Click here for details.
Devils Museum guided tours: take place at 15 Euros a person and go into a lot more detail into what's on display. Click here to enquire.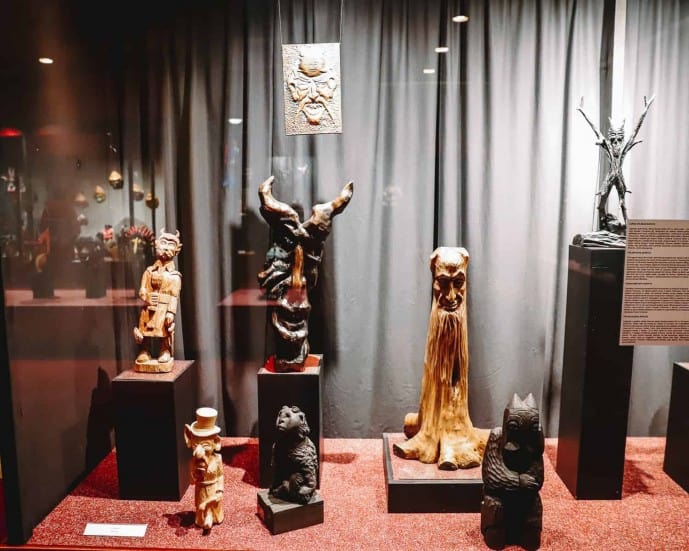 Looking for more places to visit in Kaunas?
A lot of people decide to visit Vilnius in Lithuania because it's the capital of the country, but Kaunas is a seriously underrated city that you should visit.
It's often called Vilnius' quirky older brother and it's easy to see why with its fairytale old town, castle, statues, and street art!
I actually visited Kaunas on a day trip from Vilnius which is easily done by train. It only took me 90 minutes!
I visited on a Saturday and took a FREE walking tour that started at 12pm.
We walked past this museum on our tour and later, I just had to visit and see what was inside!
There are so many unique places to visit and stories to uncover in Kaunas. From the Perkunas House, Fort IX, the Kaunas Cat, churches on the cliff tops, and medieval fortresses.
Click here for my complete travel guide for Kaunas with all the incredible things to do!
Where to stay in Kaunas
If you're exploring Lithuania and are staying for a few days in Kaunas, there are lots of hotel choices in the city that you can book;
Budget – Sports Hostel, Chocolate Hostel, The Monks Bunk Kaunas
Midrange – Ibis Kaunas city centre, Daugirdas Old City Hotel
Luxury – Europa Royale Kaunas, Monte Pacis, Park Inn by Radisson
Check out some more of my articles on Lithuania
If you're planning your travels around Lithuania, I based myself in Vilnius for a week and travelled out to different cities and attractions from there.
I covered a lot of ground including Trakai Castle, Kaunas, the Hill of Crosses, and many places in Vilnius too.
So, make sure you read some of my detailed guides before you visit;
My complete Vilnius travel guide!
A photography guide to Vilnius
The best viewpoints in Vilnius
The ultimate guide for Three Crosses Hill
Top attractions in the Republic of Užupis
The Instagrammable Love Story Cafe of Vilnius
Why you need to visit Vilnius in December
The best places to eat in Vilnius
Like it? Pin it!