On the edge of the Himalayas in Himachal Pradesh lies the spiritual retreat of Dharamshala.
A safe haven for His Holiness the 14th Dalai Lama, the Tibetan government in exile, and Tibetan refugees; It definitely has a great mix of cultures and character.
Before I got to Dharamshala (or Dharamsala either one) I didn't realise that where I actually wanted to be was Mcleodganj.
This is the tourist district and is where everyone flocks to get an audience with the Dalai Lama and hear his teachings on life.
So, when we landed on the night bus from Rishikesh, we got a cheap sharing jeep up the hill for 15 rupees.
Mcleodganj has everything you need as a base. Hotels, Restaurants, cafés, classes, and the Dalai Lama complex.
It's relatively cheap and although there's lots of traffic, it's peaceful.
A lot of travellers stay here for months at a time to study philosophies and meditate so if you were planning to do this, you can easily source cheap apartments for rent. Here's what you can get up to in and around Mcleodganj.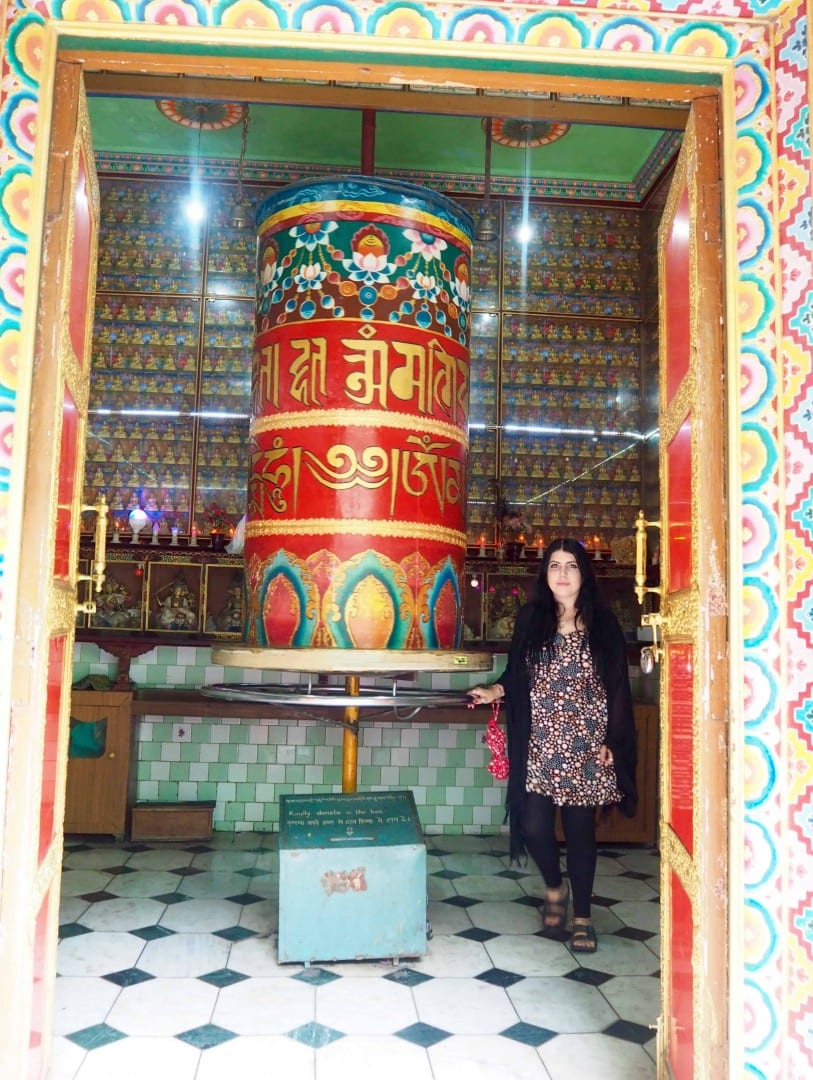 10 things to do in Dharamshala & Mcleodganj
1. Learn about life from his holiness the 14th Dalai Lama
His Holiness, the 14th Dalai Lama, and leader of the Tibetan people were forced into exile after China took over Tibet.
He made his way over to India in 1959 after there were threats made on his life. The Indian government agreed to provide asylum and he chose Mussoorie as his first home.
In 1960, the Dalai Lama met the Indian prime minister to discuss a refuge for the people of Tibet.
After discussing rehabilitation for the Tibetan people he, and the exiled Tibetan government, made their way to Dharamsala. This is where he decided to set up his temple and residence.
Today, you can learn from the Dalai Lama and his philosophies on life. When I arrived, the Dalai Lama wasn't in town, in fact, he was in Botswana. It's best to check his schedule on the official website before you arrive to make sure.
For more information about what the experience is like, you can see this awesome article by Hippie in Heels!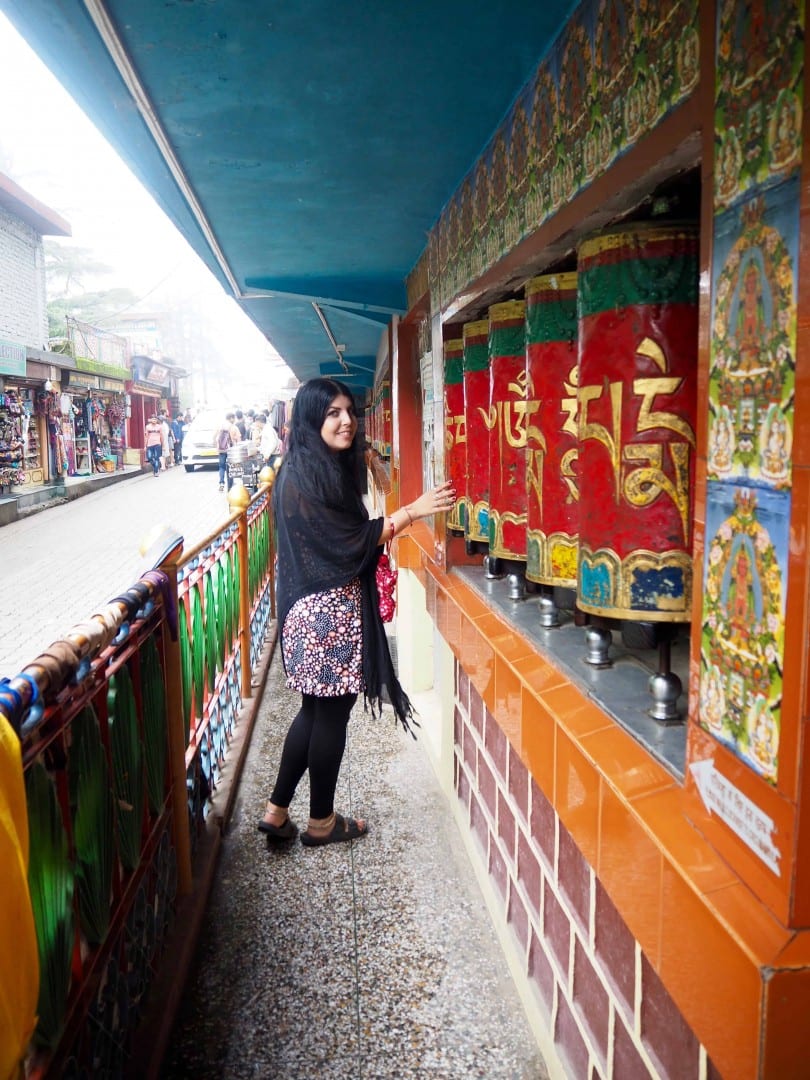 2. Explore the Dalai Lama complex
You should definitely visit this complex if you want to see Buddhist monks in their practice.
The complex includes a great museum about the atrocities faced by the Tibetan people since the Chinese occupation and some beautiful Buddhist temples.
It's strictly silent within the temples and around so remember to keep quiet!
You'll see Buddhist monks praying, meditating, and studying. When the Dalai Lama is in town, this temple packs out!
Also, it's strictly no photography within the main temple halls.
3. Learn about why the Tibetan people have made a home in Dharamshala at the Tibetan museum
There is a great museum inside the Dalai Lama complex which really highlights the atrocities faced by the Tibetan people since the Chinese occupation.
The Tibetan culture is trying to be forced out and they aren't safe in their own country.
You'll find stories of temples being destroyed, people being punished for hanging a portrait of the Dalai Lama in their houses, and even for speaking and teaching in their own language!
Since the occupation, hundreds even thousands of Tibetan people have made the dangerous journey from Tibet to India.
Risking their lives for a chance of safety and a better life. So far, 148 people have self-immolised and set themselves on fire in the name of Freedom for Tibet. Prominent politicians are calling out for change.
It was heartbreaking to read. I honestly had no idea about it before I visited.
This is a must if you're visiting Mcleodganj and will give you a better understanding of why the Dalai Lama, the Tibetan government in exile and their people have made a safe place here.
You'll see portraits of his holiness everywhere and it's great to see Tibetan refugees running successful businesses away from danger.
But, some aren't so lucky. To read more and take action see the official International Campaign for Tibet site.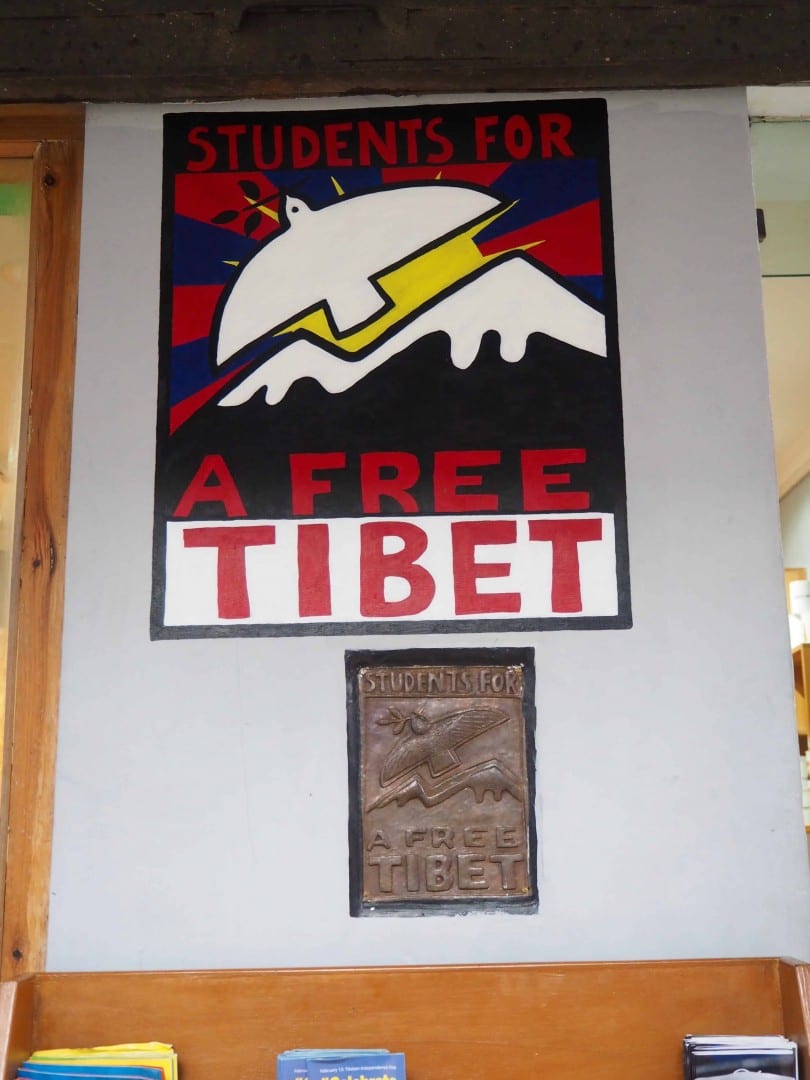 4. Visit the Bhagsunag temple and falls
You can take an easy 2km panoramic walk from the main Mcleodganj area and reach a little place called Bhagsunag.
Here, you can see a beautiful natural waterfall that cascades through the foothills of the Himalayas!
It is a little bit of a maze to get to through the endless gift stalls but when you reach the viewpoint of the falls, you'll simply fall in love with the beauty of it.
You can either admire it from the bottom or make the steep climb up the hill for a great view at the top! Here, you can swim in the cool natural waters.
As I was visiting during the monsoon season and rainfall was constant at around 90% of the day, the falls were very strong and misty!
After I took the photo below, my hair, clothes, and everything were soaked – even though I didn't jump in the springs! So, make sure you waterproof your electronics.
Read more: My waterfall guide to Bhagsunag Falls!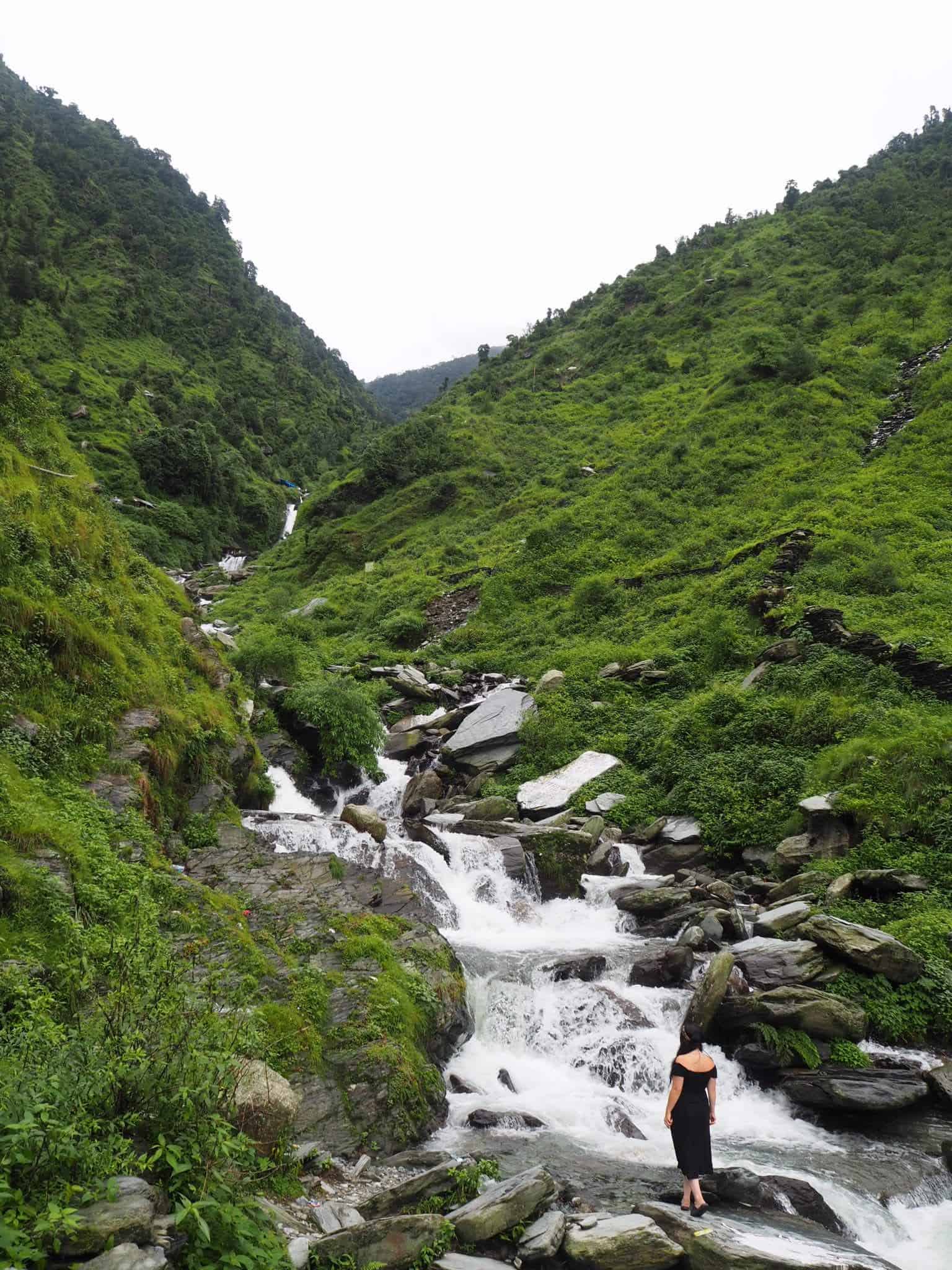 5. Escape to Dharamkot
If you're finding Mcleodganj a little too congested, then there's a great peaceful place above it called Dharamkot. As this is higher up, it gives you a better view of the mountains.
Personally, I expected a lot more from it. It may have been due to the monsoon and I didn't get the amazing snow-capped mountain views.
But, I just found there were too many shops, guesthouses, and cafés which shrouded the view from the main path!
I guess I needed to trek a little further afield. I also heard from other backpackers that the food was more expensive than Mcleodganj – but I guess you're paying for the views… It is definitely worth checking out!
It is a pretty steep climb up the hill. You can walk or if you're feeling lazy it's 150 rupees for a taxi from the main stand in Mcleodganj.
Top cafés to take in the views are Moonlight Café and OM café.
6. Try Thukpa and Momos in Dharamshala
I have definitely been initiated into the Thukpa and Momos club! I was obsessed the first day I got there with Thukpa. It's so tasty.
Thukpa literally translates as 'long noodles' and the dish is made up of noodles in a broth with vegetables.
Although it doesn't sound too interesting, it was to die for!
As I had been eating curries and naan bread for a few weeks before, I was more than happy to change my daily diet to Thukpa.
It was also a great dish to warm up from the monsoon rains. It was cheap at around 120 rupees a bowl.
Momos are steamed dumplings with meat or veg filling inside. They're also super cheap and so filling.
Although you can get them in restaurants like Greens hotel for around 150 rupees for 8 pieces, on the street is tastier!
A few great places to sample Tibetan food are the Tibetan Kitchen, Aroma Café, Tibetan Yak Restaurant, and the Himalayan flavours stall by the Bhagsu falls!
7. Dharamshala Apples, apples, and more apples!
The thing I love about Himachal Pradesh are the apples that grow here and all the yummy apple produce!
Fresh apple juice, apple beer, apple cider, apple wine, and pie are all things that I loved to indulge in while I was here.
You'll see apples growing everywhere and, when they're ripe, are totally delicious!
Make sure you try. The best bakeries to sample are the German Bakery, Jimmy's Italian Cafe, and Hotel Green.
8. Study meditation in Dharamshala to heal and learn
Most people that visit here come to study different philosophies, get an introduction to Buddhism, go to yoga classes, or take part in a silent 10-day meditation retreat.
It must be so cool and something I was considering. I wonder what someone's first word would be after 10 whole days of not talking?!
At the moment mine would be 'bring me the Thukpa!' You'll find most tourists will rent an apartment for a month or few.
I was visiting in the off-season and so apartments that were vacant were pretty much next to nothing at 600 rupees a night.
These came with a bed, hot water, wifi, a kitchen, and some basic wardrobes and draws. It was the open plan but quaint.
It was a nice treat to cook in a kitchen after being on the road. It's the little things…
9. Take a walking route in Dharamshala
Although the busy traffic in Mcleodganj is enough to unsettle your zen if you've been meditating, if you take a short walk out of the centre you'll be greeted with amazing views of the mountains and forests.
I absolutely loved exploring the foothills, the tall trees and just getting some fresh air while I was in Dharamshala.
From here, you can go on organised treks. In the monsoon season, I'm not sure I would recommend it as the flat ground was already pretty dodgy due to the rainfall and mud!
On our trails, we found this incredible chai stall hidden in the woodland between Mcleodganj and Bhagsu. It did the tastiest chai with an incredible view!
10. Shopping in Dharamshala
Due to the Tibetan culture in and around Dharamshala, I brought the most delightful souvenirs.
Tibetan shawls, buddhas, masks, flags, and jewellery were all here and are super cheap!
The best stalls are the ones that lead up to the Dalai Lama Complex.
I was like a magpie, constantly looking at all the shiny gems, jewels, and gold statues! I just wanted to take it all home with me.
How to reach Dharamshala
Unfortunately, when you get into Himachal Pradesh there are no trains and limited airports.
The closest you can get is Jolly Grant and that's still nowhere near Dharamshala.
Alternatively, you could land in Amritsar and get the coach from there. But, I'd say most likely you're heading here from Delhi, Rishikesh, or Manali.
The best way to get around Himachal Pradesh is to take the buses that drive along the winding mountain roads. These journeys are pretty rough but a necessary evil if you want to get anywhere!
You can go to any transport office in those towns to book your bus tickets but shop around for a good price.
These will be for privately-owned companies that can see tourists coming a mile away. If you would prefer, there are many government-run buses by the HRTC which are better but these come at a slightly higher price.
Worth it for the premium stops and comfort breaks though. Alternatively, you can book via Redbus.in, but these do take a slight premium.
If you're worried about overnight bus travel and what to expect, see my top tips for overnight bus travel here.
Getting around Dharamshala, Mcleodganj, Dharamkot, and Bhagsu
Dharamshala is the general area that you'll land into while you're here!
But, there are many places in this guide that are spread out between the villages and areas of Mcleodganj, Dharamkot, and Bhagsu.
All of these are pretty simple to walk to but if you would prefer to save time and energy, you can easily grab a taxi from the main city of Mcleodganj.
There is the Mcleodganj Taxi Union that (mostly) charges a fair price. As it's a union, the prices are fixed to be fair to the other taxi drivers and passengers. But, if there are rules to be broken in India; they will be!
So, make sure you approach the counter as opposed to the taxi driver directly.
You'll tell the guy at the counter where you're headed, pay him the cash, get your receipt ticket, hand it to the driver, and off you go!
So that's the amazing things to do in Dharamshala or Mcleodganj
Personally, I plan to come back in the wintertime so I can see the amazing views of the mountains.
Also, I want to return when the Dalai Lama is in town and take part in his teachings.
It would be a life-changing opportunity that I don't plan to miss while I'm in India.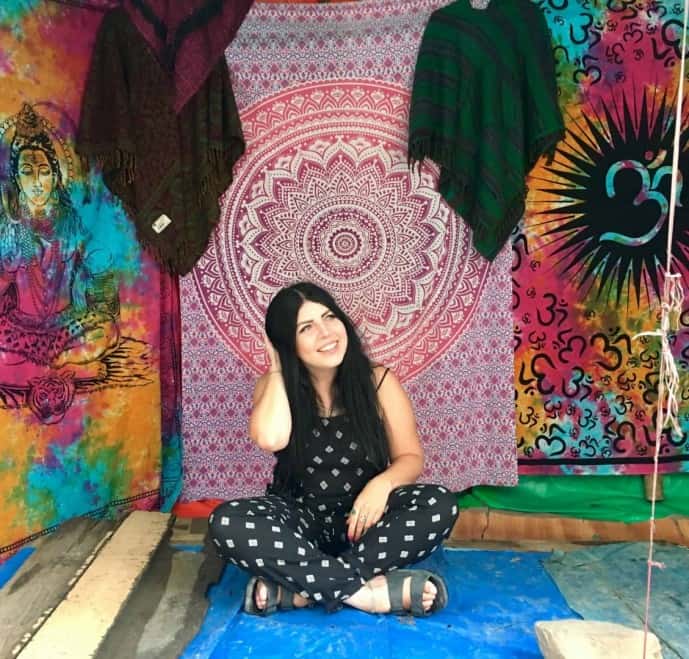 The best places to stay in Mcleodganj
There are some incredible places to stay in Dharamshala. Most of those who arrive here are looking to let an apartment for the month.
This is so that they can have a base to study, meditate or hang around for the Dalai Lama to arrive and teach!
I stayed in a really run-down apartment as when we arrived in peak season, that's all that was left!
It was down an extremely steep staircase but it was only 600 rupees a night so I didn't mind (although the bed was like sleeping on wood!). But, I wouldn't suggest that if you can help it.
There are some guesthouses that can be let and hostels too. Take a look at some suggestions below;
Dharamshala Hostels
Guesthouses in Dharamshala
Best Hotels in Dharamshala
Want to read more on Himachal Pradesh? Look no further
Here are some more articles for exploring Himachal Pradesh & beyond;
Manali to Leh by road, all you need to know
What it's like to travel to Leh, the land of high passes
Off the beaten track Ladakh, Thiksay, She and more
A guide to Manali, the hippie town in Himachal
Top things to do in Mcleodganj
A complete Bhagsunag waterfall guide
The ultimate Rishikesh travel guide
Visiting the Beatles Ashram in Rishikesh
Save these things to do in Dharamshala for later!
[