One of the best-hidden gems in Snowdonia National Park has to be Dinorwic Quarry which sits above the town of Llanberis.
It's a disused slate quarry that was once a powerhouse of slate mining and at its peak was the second-largest producer of slate in the world.
Today, it's a popular attraction for both walkers and rock climbers as it has incredible panoramic views over Snowdonia.
Everything I read online said that I needed to complete a lengthy and steep 3-mile/5-kilometre walk to visit Dinorwic Quarry from Llanberis. But, this simply isn't true.
It's really easy to drive and park right beside the quarry and you can even get a bus straight to the site if you aren't driving.
Here is how to visit Dinorwic Quarry in Wales and all the amazing things that you can do there.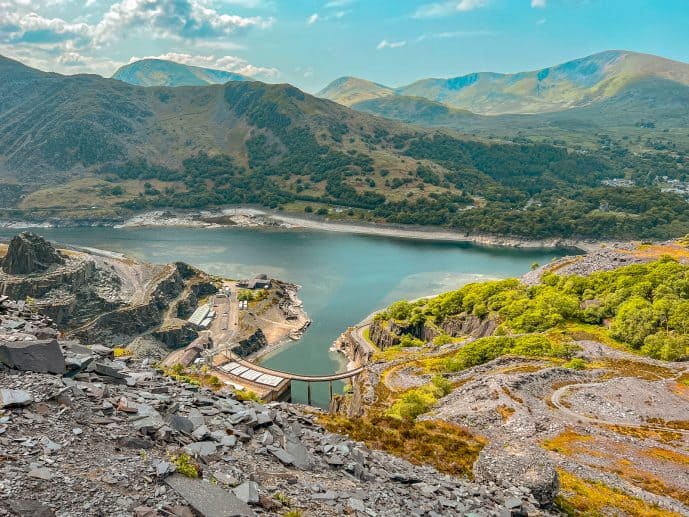 What is Dinorwic Quarry?
Dinorwic Slate Quarry is an enormous former slate quarry that is now home to the National Slate Museum and sits high above the town of Llanberis.
The quarry covered 700 acres of land and had two quarry sections with 20 galleries in each one.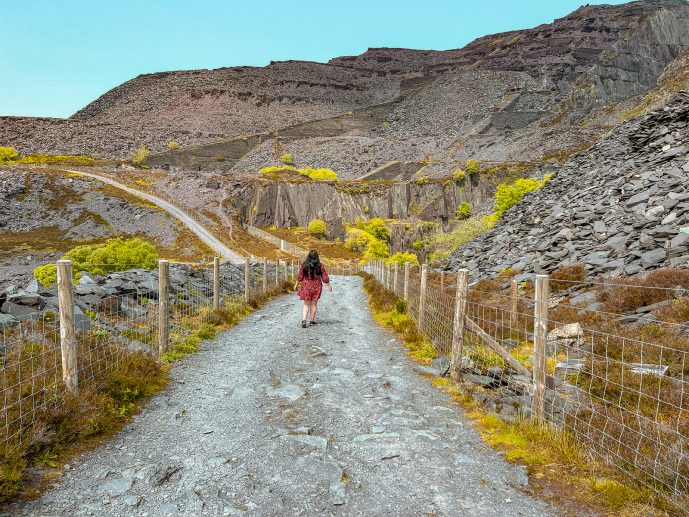 Today, it has a public walking path that snakes through the site and is popular with hikers and extreme rock climbers.
The highest point is 670 metres above sea level and so it provides spectacular panoramic views over Snowdonia National Park.
From here, on a clear day, you can see over Llyn Padarn, Llanberis, Dolbadarn Castle, the peaks of Snowdonia, and for miles beyond that.
Dinorwic Quarry history
Llanberis slate has a history starting 500 million years ago when the mud layers were fused with volcanic rocks, lava, and ash. Over many eons, it produced some of the finest slate in the world.
Mining for slate in Dinorwic Quarry started around 1787 and at its peak during the 19th century, it was the second-largest producer of slate in the entire world aside from its neighbour Penrhyn Quarry.
It hired over 3000 men and turned over nearly 100,000 tons of roofing slate a year to meet the surge in demand.
The highest working level of this quarry was over 670 metres above sea level and it was home to the highest locomotive shed in Britain.
It was owned by the Assheton Smiths who lived on the nearby Faenol estate but after 1951 it was operated by a private company.
The mining stopped in 1969 and the disused quarry was used to create 'Electric Mountain'. It provided much-needed employment and it opened in 1984.
As the mining leftover 90% of slate waste, the station had to remove over 200,000 tonnes of cement and 4,500 tonnes of steel found in the underground tunnels.
Much of the slate waste above ground can be seen all over the quarry today and looks like landslides.
In 1972, the Gilfach Ddu workshops became a museum and today it's the National Slate Museum.
I would highly recommend visiting as it's completely FREE and really gives you an idea of the impact the Welsh slate industry had in Wales.
The quarry is still owned by the county council and the museum but anyone is free to visit and use the walking paths.
This area provides panoramic views over Llanberis and the peaks of Snowdonia. It's even been featured in Hollywood blockbusters like Clash of the Titans!
Can you visit Dinorwic Quarry?
YES, the great thing about Dinorwic Quarry is that it's open to the public and it's completely FREE to visit.
It's also easy to access the slate quarry from the town of Llanberis by car, bus, or on foot.
As you're so high up here in the slate quarry, you get majestic panoramic views over Llanberis, Snowdonia, Llyn Padarn, Dolbadarn Castle, and more.
It's honestly one of the best-hidden gems in Snowdonia National Park. I can't believe I haven't done this before now as it's so easy to visit!
How to visit Dinorwic Quarry
Dinorwic Quarry can be found above the town of Llanberis in Dinorwig in Snowdonia National Park, North Wales.
It's easy to visit whether you are driving, using public transport, or heading there on foot.
It doesn't have a specific address as it's on an 'unnamed road' but you can use this Google Pin to locate it!
Here are all the ways that you can visit the slate quarry in Wales;
Driving to Dinorwic Quarry
The easiest and most convenient way to reach Dinorwic Quarry would be to drive there. It's just a short drive up from Llanberis.
Many of these roads are very steep, winding, and narrow with passing places, so be careful as you go.
The easiest way to get there is to make a heading to the Blue Peris Mountain Centre.
There is a large parking area just outside the quarry entrance and bus stop. It's a circular turning point where the road ends.
Once you leave your car, it's then a 5-10 minute walk on a flat pathway to visit the Llanberis viewpoint and the slate quarry.
Dinorwic Quarry parking
There is a large off-road parking area just outside the Dinorwic Quarry entrance that you can use which is completely FREE.
People park around the circular turning in the road before it ends and way up the road on off-road lay-bys.
This area can get very busy, especially on weekends, in the summer, or when there is good weather. I would visit early morning or later in the afternoon to guarantee a parking space.
Remember to park with consideration and don't block emergency access gates or the Sherpa Bus Stop.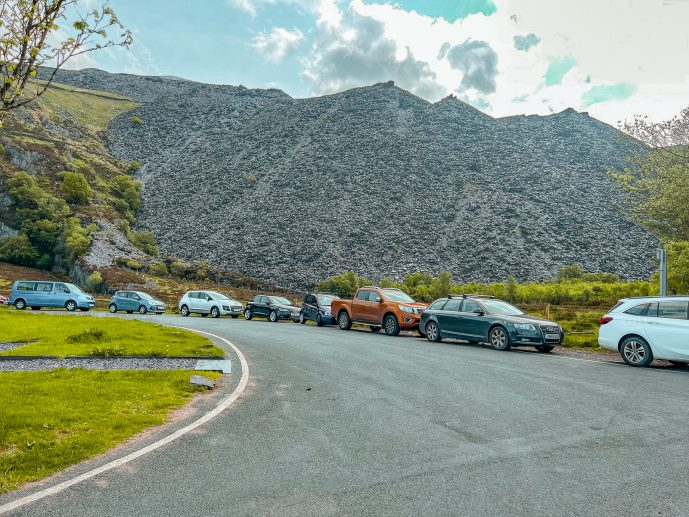 Get a bus to the slate quarry
When I arrived at the parking area, I was amazed to see that you can also visit Dinorwic Quarry by bus.
There is a Dinorwig Bus Terminus that is right beside the quarry entrance and is serviced by Sherpa Bus.
Sherpa Buses have a huge network of stops that cover the entire Snowdonia National Park and it's a great way to get around if you're not driving.
The S3 Purple Line tops at Dinorwig multiple times a day. It's then just a short walk to the quarry.
Click here to find out timetables and prices for the Sherpa Wyddfa
Dinorwic Quarry walk from Llanberis
The other option is to do a 3-mile (5 kilometre) walk to visit the quarry from the town of Llanberis and the Slate Museum.
I would only recommend doing this if you have a reasonable level of fitness as there are some seriously steep and slippy ascents.
But, it does look like a very scenic walk and you can pass the Anglesey Barracks along the way. The forgotten street of Snowdonia.
The entire walk will take you around 2-3 hours and you will then loop back around to Llanberis and Llyn Padarn.
Dinorwic Quarry opening times and prices
Dinorwic Quarry doesn't have any opening times and it's open to the public 24 hours a day.
I wouldn't recommend visiting this place in the dark as it wouldn't be safe. There's no artificial lighting whatsoever.
It's also completely FREE to visit Dinorwic Quarry in Snowdonia and it makes an incredibly scenic walk.
I couldn't believe that these panoramic views didn't cost a single penny.
Things to do in Dinorwic Quarry
So, what is there to do in Dinorwic Quarry when you arrive? Well, there's actually a surprising number of things to see.
From incredible viewpoints to walking paths, rainbow rocks, rock climbing, wildlife spotting and abandoned houses.
Here are all the best things to do in Dinorwic Quarry!
Llyn Padarn and Llanberis Viewpoint
Many people visit this area to see the Llyn Padarn and Llanberis Viewpoint and it's easy to see why.
From these heights, you can see for miles around the area. If you head towards the quarry and turn right, you'll find a viewing platform at the end of the path.
From this point, you can see Llyn Padarn and even the Lonely Tree. My favourite was the view of Dolbadarn Castle from above.
Of course, the best part is seeing the peaks of Snowdonia. So, it's recommended to travel on a clear day for the best experience.
Take a walk through the Slate Quarry
There is a dedicated path that will take you the entire way through the slate quarry to explore it safely.
If you follow the main route, you'll walk past the dramatic landscape that has been left behind and was the result of over 150 years of Welsh Slate Mining.
It's mostly a flat path but it is quite rocky and there are some steep inclines so make sure to wear a sensible pair of shoes.
Many people were climbing over fences to explore the caves and mountain quarry sections. But, it is not safe and you do so at your own risk. I would heed the numerous warning signs and stick to the paths.
I explored a small area off the main path as there was a stile to walk over and access it.
I presumed this meant it was fine to explore. It had a tear-shaped door to access the area and beyond that, there were some workshop ruins and makeshift slate benches to perch on.
It was an amazing place to sit and just admire the views. Although it was a sunny weekend it was so quiet. A great place to avoid the crowds in Snowdonia.
See rainbow walls & slate landslides
One of the most fascinating things about Dinorwic Quarry was all the colour that can be seen in the rocks. These are locally known as the Rainbow Walls.
Rock climbers and mountaineers call it the 'Rainbow Slab Area' as the minerals and slate veins have left behind different colours in the cliff face.
Another thing that is incredible to see is all the slate 'landslides'. Apparently, the slate mining left behind over 90% of waste!
So, you'll see lots of slate shards and ruined buildings everywhere around the site. People were climbing up the old mine train tracks and all sorts here. You could honestly spend a day looking around.
Dinorwig Rock Climbing
Mountaineers visit Dinorwic Quarry to carry out some extreme rock climbing in this area.
There are lots of different places to go like the Rainbow Slabs, Emerald Dyke, Midgrade Cracks, Gwion's Groove, and Fools Gold.
Some are even more extreme and take a few hours to complete. You'll see many climbers dotted about here on a clear day.
If you are a rock climber yourself and wanted to give it a try, I would recommend reading this article by UK Climbing to know what you're getting into.
Clash of the Titans filming locations
Dinorwic Slate Quarry has been closed for over 50 years and the quarrymen here would never know that they were actually creating a film set for Ancient Greece.
Warner Brothers used Dinorwig to film their blockbuster Clash of the Titans (2010) here starring Sam Worthington and Liam Neeson.
The plot follows the hero Perseus on a quest where he has to battle the Goddess Medusa and the Kraken in order to save Princess Andromeda.
It put a hold on lots of rock climbing and walking that summer for locals but did provide a few million pounds for the local economy.
So, when you walk around Dinorwic, you can feel like you've been transported back in time to an era of Greek myth and legend.
Welsh Mountain Goats
On my way back from the slate quarry, I was lucky enough to see some of the Welsh mountain goats that make a home here. They are part of a huge herd.
The goats here are quite distinctive as they have shaggy fur and huge curving horns! But, don't worry they stay well away from visitors and mostly graze and rest on the hills.
Likewise, don't approach them or try to feed them. They are wild and may have young they want to protect.
Anglesey Barracks – the forgotten street of Snowdonia!
Many of the quarrymen that worked in the Welsh mines were given terraced housing high up on the mountainside near their workplace.
They were tiny homes and wouldn't be suitable for living today. Many of these have been dismantled over time but one forgotten street that has survived is the Anglesey Barracks.
Although the name does make it sound like an army base, the slate barracks were for travelling quarrymen who didn't live near the site.
The ramshackle houses were miserable places to live. They were very cramped and often drafty with little shelter from the elements.
They were also crawling with vermin but the workers were still expected to pay a shilling out of their wages to live in them!
Each of the 22 houses had 2 tiny rooms. One was a bedroom with four cots for the quarrymen to sleep in and the other was a living area with some crockery, a table, and a fireplace.
There was no indoor toilet or plumbing. There was a place for washing in an outhouse. They were eventually abandoned in 1937.
Today, the forgotten street lies in ruins and has been overtaken with time by the elements. But, you can visit what remains on a short walk from Dinorwic Quarry.
I would recommend heading back to the quarry car parking area and walking to them on the signposted route. It's the safest and easiest way but be warned there are lots of steep steps and paths.
Click here to read my Anglesey Barracks guide with walking directions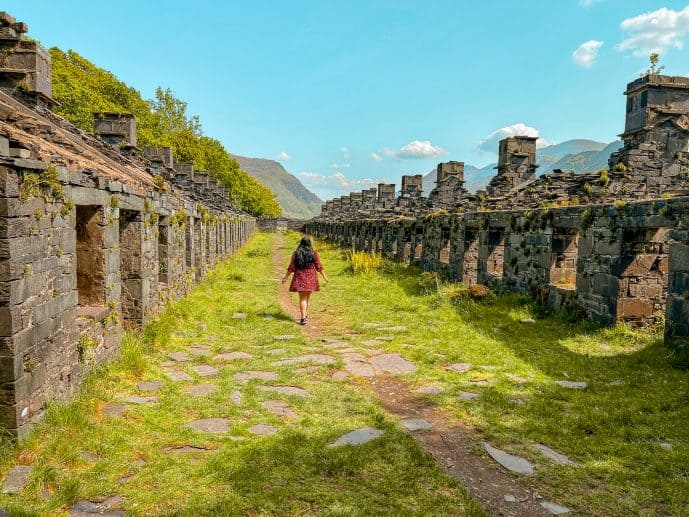 My top tips for visiting Dinorwic Quarry
Get here early – parking is free but limited, I would get here early to guarantee a parking space.
Stay safe – many people climb over fences and enter the quarry caves where it's not safe. You do so at your own risk. Heed warning signs and keep to the main path.
Bring water and snacks – there are no facilities up here at Dinorwic. No tearoom or drink stand. So, bring your own water bottle and food. Leave no trace and take rubbish with you.
Toilets – there are no toilets at Dinorwig. So, I would make use of some in Llanberis before you set out and explore.
Wear sensible shoes – the quarry is slate (I mean, duh) but that means that there are lots of slippy rocks and slate piles that are easy to trip or slip on. Shards of slate can cut like glass. Sensible walking shoes are highly recommended.
Dinorwic Quarry FAQs
Is Dinorwic Quarry open to the public? Yes, it's open to the public. Just make sure to heed warning signs and follow the set paths.
How much does it cost to visit Dinorwic Quarry? It's FREE. You don't have to pay to visit Dinorwic Quarry.
Where is Dinorwic Quarry? It's in Llanberis in North Wales within Snowdonia National Park.
Who owns Dinorwic Quarry? Caernarfonshire County Council & The National Slate Museum.
Looking for more things to do in and around Llanberis?
There are so many amazing things to do in and around Llanberis aside from Dinorwic Quarry!
It's really the hub of Snowdonia National Park and it's your gateway to the Snowdonia Massif range.
After this, I would recommend visiting the National Slate Museum to learn more about the history of Slate production and trade in this area.
It's completely free and will give you some context about the quarry you've just explored.
After, you can take a scenic stroll around Llyn Padarn and Padarn Country Park. The most famous spot is the Lonely Tree which sits on the lakeside. I have a post with directions.
You can see the Blade of the Giants on your way. Or, why not take in the sights with a Scenic Lake Railway journey?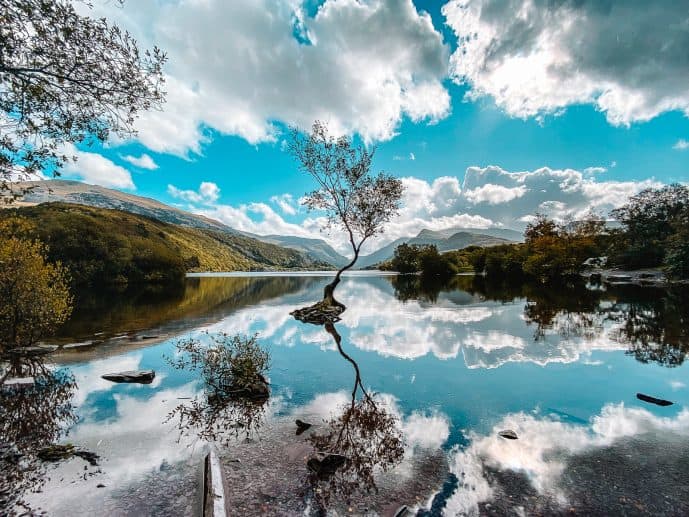 As a history lover, the majestic Dolbadarn Castle was a personal favourite of mine.
This scenic ruined castle in the mountains was a symbol of Welsh identity and power! It's completely free to visit and the scene makes a gorgeous photo.
Many people visit Llanberis to start their ascent up Snowdonia, there are plenty of walking routes that you can choose from. Or, if you're not up for a hike you can take the Snowdonia Mountain Railway to the top!
The colourful streets of Llanberis are also lovely to explore and there are plenty of cafés to grab a quick coffee, some lunch, or supplies for your hike.
There is an endless choice of activities to enjoy with a visit here. So, make sure you plan enough time to explore!
Read more of my North Wales & Snowdonia guides!
Look inside the Smallest House in Great Britain!
Penmachno Roman Bridge photography location
Why is the Ugly House called Ugly?
When does Tu Hwnt I'r Bont turn red?
The legend of Gelert & how to visit his grave
The top places to visit in Beddgelert
Visiting the Cauldron Waterfall of Pont-y-Pair
How to find Sappers Suspension Bridge
A complete Swallow Falls guide
Why you MUST visit the Fairy Glen Gorge
A complete Conwy Falls & cafe guide
A complete guide for the Conwy Town Walls
How to do the Llyn Idwal Circular Walk
A complete guide for the Dinas Emrys Walk & Dragon legend
How to see the Bodnant Garden Laburnum Arch
How to visit Pistyll Rhaeadr Waterfall
Gladstone's Library – Stay in the UK's only residential library
Save how to visit Dinorwic Quarry for later!