If you're heading to Arunachal Pradesh, no doubt you're going to want to experience the mysteries of Tawang buried deep in the Himalayas.
But, what you may not know is that it's a hella long journey to get there. In fact, it will take you around 16 hours of straight driving from Guwahati (IGNORE Google Maps – It doesn't not include the delays due to bumpy roads!).
So, many travellers choose to stop off somewhere on the way. Dirang is the perfect stop for two reasons;
1) It's a lot warmer than Bomdila as it's closer to sea level and
2) it's downright picturesque compared to a busy city!
Dirang Boutique Cottages is a brand new property that has opened up to weary travellers in 2019 and is the perfect property for your pit stop.
In fact, when I arrived in Dirang two years ago my friend Sange from Holiday Scout, the owner, showed me where he planned to make his cottages. Now, they are finally open and I'm so proud of him!
Not only is it an oasis in the mountains, but it's also a great base to explore some gorgeous villages and sites nearby too.
But, if you need even more convincing, here are all the reasons why you should check into Dirang Boutique Cottages!
Where is Dirang & Dirang Boutique Cottages in Arunachal Pradesh?
Dirang is a beautiful Arunachal village on the West Kameng circuit. It's tucked away in amongst the peaks of the Himalayas and has the Dirang Chu river snaking through it.
As there is only one main road on the way in and out of Tawang, you'll most definitely pass it on the way there.
Dirang is located around an hour out of Bomdila and then it's around a 6/7 hour drive to Tawang.
Do I need a permit to enter Arunachal Pradesh?
Yes, all tourists (both domestic and foreign) will need a permit to enter Arunachal Pradesh.
For Domestic Indian tourists, you will need to purchase an ILP (inner line permit). This is valid for 15 days and costs 100 rupees.
This permit will allow you to travel across Arunachal Pradesh in the 12 tourism circuits. You have a lot more freedom here than foreign tourists with this permit (i.e. Bumla Pass).
You can purchase this online here or offline at the border or in a travel agency in Guwahati. You will need a passport photo and identity proof.
For Foreign tourists, you will need to purchase a PAP (Protected Area Permit) to enter the state. This permit is a little more restricted than the domestic permit and will allow you to travel on certain tourist routes. It costs around $50 USD and will allow you to enter Arunachal Pradesh for one month only.
You can only purchase this at a tour operator of Arunachal Pradesh (like Holiday Scout) or at the Visa office in Guwahati and you will need a passport photo, visa, flight ticket, and passport ID. It will take around 2-5 days to process.
If you're travelling solo, like me, you'll be restricted to the West Kameng and Ziro Circuits.
DO NOT try to enter the state without a permit or you could be deported from India. This permit is necessary due to border security and if you're caught without one it can only mean bad news. On that note, make sure you have a couple of printed copies of your permit for border control. These control points are dotted around all tourist circuits and districts of Arunachal Pradesh.
How to reach Dirang Boutique Cottages in Dirang?
There are two parts to Dirang in Arunachal Pradesh. Dirang Basti is the original village side of the area and the new Dirang city which is around 6 kilometres further than Dirang Basti.
Dirang Boutique Cottages is located just before the Dirang Basti welcome gate and, as you approach the main road, there will be a sign to point you down towards Dirang Boutique Cottages.
If you're taking public sumo ask them to stop here and you can walk the rest of the way. If you'd rather take a taxi down, ask them to stop in Dirang Basti and request one. It will cost around 200 rupees.
If you're in your own vehicle, once you've taken the side road down towards the Dirang Chu river, keep driving around until you reach the suspension bridge with prayer flags crossing over the river.
The cottages are located over the other side of the river and there is no way to drive up close to the hotel. If you get lost, don't hesitate to ring one of the staff, they speak excellent English and Hindi and can help guide you!
You can park your car nearby the bridge and one of the staff will come to help you will your bags.
6 reasons to check into Dirang Boutique Cottages
1. It's the perfect stop off on your road trip to Tawang
The road to Tawang is pretty rough. Although it seems straightforward being a one-track road to get there what you don't factor in is the road quality.
Whether you're driving your own car, or you are squished in the back of a Sumo Jeep. The roads are bumpy, dusty, and treacherous, there is a lot of traffic including army trucks and you need lots of concentration.
So, although you can do the long journey all in one from Assam, I would NOT recommend it. Trust me, you'll need a break.
I would always recommend stopping off in Dirang over Bomdila. It's not that I've got anything against Bomdila, but Dirang is just a little more laid back and relaxing.
As much as I love busy cities and infrastructure, Dirang is the perfect picturesque village. It forces you to slow down and enjoy where you are for a while.
It's peaceful, quaint, takes a slower pace, there's a lot less traffic and above all, it's drop-dead gorgeous.
Dirang Boutique Cottages is the ideal place to stay as it adopts the same principle. Slow down, be comfortable, relax and enjoy.
2. It's located on a farm, within the Himalayan mountains next to the Dirang Chu River
Picture this, you're surrounded by mountains, it's so quiet you can hear the river flowing, prayer flags are floating with the wind, you can see Buddhist monasteries in the distance and you're immersed completely in nature. Doesn't that sound like paradise?
That's how this Dirang Boutique Cottages makes you feel.
As soon as you arrive you can see the farmland, with crops and fruit growing on trees. Butterflies are quite literally flying around you and there is no traffic, cars, or honking all night. It's pure bliss.
There's no better way to get acquainted with Arunachal Pradesh than this. You will feel like you've stepped into another world.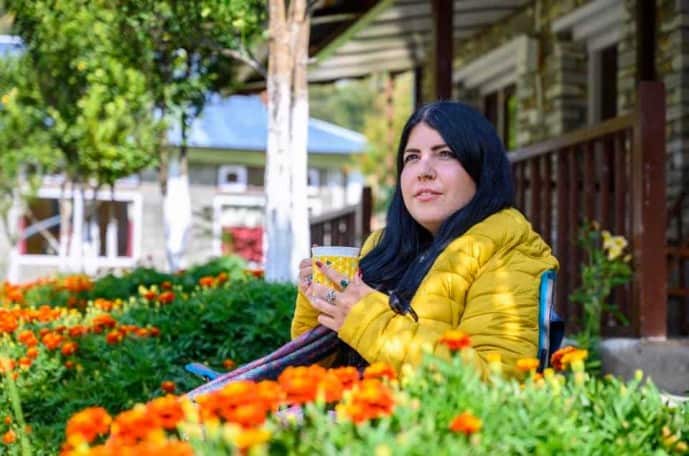 3. Dirang Boutique cottages are gorgeous and are based on traditional Brokpa huts
What I loved about these cottages is that although it is a modern property in Dirang, they haven't forgotten their traditional roots.
Brokpa's are Monpa Shepherd's in West Kameng that herd sheep and yaks and they have their own unique culture.
Yak's are very important animals to the Monpa tribes in West Kameng as they provide milk for butter tea, cheese for curries and snacks, furs for keeping warm, and meat for the harsh winters.
Traditionally, the Brokpa shepherds live in stone-built huts in the mountains. So, the guys at Dirang Boutique Cottages used this inspiration for their design.
There are four cottages, each with two spacious rooms and two super comfy beds.
The rooms are warm and cosy, and have an attached bathroom with a shower and running hot water (a luxury in North East!).
Each room also comes with its own private terrace and deck chairs. This was one of my favourite things to do when in the mornings. Enjoy a warm cup of coffee with an epic view of the mountains. Or, I'd enjoy a lazy afternoon with a good book.
4. The homemade food at Dirang Boutique Cottages is farm-to-table and incredibly tasty
I'm absolutely in love with the concept of farm-to-table and sourcing local ingredients from the area when trying the food.
The great thing about this property is the fact that they are based on a farm that serves the local community.
They grow their own fruit and vegetables, so everything that is served to you on your plate is organic and truly homemade in the kitchen!
I always feel that a hotel should have a good restaurant on-site, especially in the North East where the options are pretty slim. Thankfully, Dirang Boutique Cottages has that and the food is really tasty and wholesome.
5. The team welcomes you like family
Whenever I visit Dirang and meet more of the friendly locals there, I always come away feeling like family.
As a solo traveller, it can get lonely at times when you're by yourself. So, staying in a hotel can sometimes feel isolating. But, I felt that Dirang Boutique Cottages was more of a homestay and it was one big happy family.
I ended up staying here for over a week and there were always new people checking in and out. So, that meant new conversations, people to meet, to swap travel stories with, and so forth.
But, what I loved the most is that every day I had a family to talk to. Who made sure I was safe, offered me cups of tea, showed me their home, and ultimately took care of me here in Arunachal Pradesh.
It made the whole travel experience to Dirang so much more personal and gave you a unique look at the culture here.
6. Dirang Boutique Cottages is a great base to explore more of Dirang
As well as an incredible pit stop on your way to Tawang, it's also a convenient base if you wanted to explore more of the local area for a few days.
I have to admit, although you can easily walk around Dirang Basti to explore, it is easier if you have your own means of transport to visit some of the suggested places below.
But, if not, there are taxis for hire from the local village which the team at the hotel can organise for you. Due to the road conditions, these are pricey as a standard, so try to negotiate.
If you're looking for a tour package, I would recommend looking into Holiday Scout and their tailored tour packages for your visit to North-East India.
The great thing about their team is that they organise the trip based on your needs and include all accommodation prices. Dirang Boutique Cottage is their flagship property and so, if you're travelling to Tawang, you'll definitely stay here!
Places to visit in Dirang & Day trips from Dirang Boutique Cottages
Dirang Dzong & Village
The first place you should start is to explore the beauty of where you are! Dirang Basti is like travelling back through time.
It's home to one of the oldest monasteries in Arunachal Pradesh and the Dalai Llama himself walked through the village when seeking sanctuary from Tibet.
Here, you can take a walk through the village, go shopping in the markets, take in the views from Dirang Dzong monastery, walk by the Dirang Chu River and meet some of the friendly locals going about their day. If you're lucky, you may be invited in for tea or the local Arra (alcohol).
Every time I come back to Dirang there is always something new to see and explore. But, if you want some pointers about what to do there, don't forget to read my post all about the places in Dirang you can visit.
Sangti Valley
If you want to see somewhere completely untouched by the modern world, then Sangti Valley is it! When I got here, it felt like I had been transported back a few hundred years.
It's a small valley that's tucked away inside the mountains with the Sangti River floating through it and, even though it's only around 14 kilometres from Dirang, the landscape completely changes.
While I was here, I got to meet some of the local Brokpa's herding their sheep, walk by the river and take in the magnificent views all around me.
For all you bird watchers out there, Sangti Valley is also famous for the black-necked crane that migrates here each year in December. So, if you do find that you're here around that time – it's a must-visit.
Read my complete guide to this secret spot beauty here
Namshu Village / Namsu Village
A lot of tourists flock to Thembang which is a historical village that has been protected and set up for tourists by the government.
But, if you're looking for a traditional village that is still untouched by mass tourism then Namshu Village is your first point of call.
As soon as I set foot in the village I knew I was going to love it. It's a small place with a population of around 500 people and stands around 8800 ft above sea level.
It's one of the largest villages of the Monpa tribes in the West Kameng District and has a lot to offer tourists who visit here.
You can trek through the quaint traditional village, take in the views from the many rolling hills that surround the area, or visit the 9th-century Buddhist monastery.
When we visited, there were the most beautiful pink flowers called Cosmos that were growing. So, naturally, we ended up taking a million photos of them!
The views from Namshu are breathtaking and what's better is that there is not a single tourist in sight.
If you happen to find yourself here in December then make sure that you visit their Namshu festival, Dodam-Tonga. The date is decided by the lunar calendar each year so make sure to check for the exact dates.
Read my complete guide for Namshu village
108 Stupa / 108 Mani (Mandala Top)
108 Stupa is a relatively new attraction that opened up its doors in 2018. It's a beautiful area in the mountains that sits around 11,000 ft above sea level and is home to 108 stupas that have been built and painted by local families.
108 is a very significant number to those of the Buddhist faith, but if you try to pinpoint one reason why you'll get stuck.
Vedic Mathematicians viewed 108 as the number of the wholeness of existence. A traditional Mala, or rosary, has 108 beads which are used for worship, Buddhists traditionally recite mantras 108 times and circle a monastery 108 times too. So, 108 stupas are there to honour this sacred number.
It's fast becoming one of the top FREE attractions in West Kameng and they even had their own festival there this year to encourage tourists to visit. Unfortunately, I missed this but would have loved to have gone and supported it!
It feels surreal when you get here to see so many stupas in one place but you can circle around and take in the views. You can really feel the altitude up here though so take it easy and bring a coat as it gets really chilly.
Read more: My complete guide to 108 Mane!
Chug Valley
Another gem that I discovered this year was Chug Valley which is as pretty as a postcard. It's located around 40 minutes drive from Dirang and takes around an hour to drive there but it is well worth the journey.
I stayed with a local family at their homestay in Changpa Village and while we were here we learned how to make traditional dishes in Arunachal Pradesh and took a drive to their gorgeous monastery to meet some of the locals.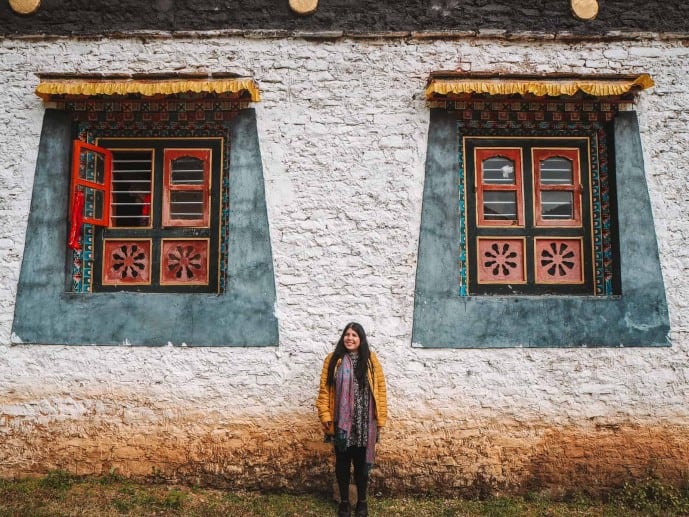 What's interesting about this place is that they have their own dialect in Chug and, once again, the landscape is completely different from that of Dirang.
Chug is definitely the village to go to if you want to disconnect from the world and relax surrounded by nature.
There are plenty of places to go trekking here in the valley and you'll fall head over heels in love while you do it!
Okay, sounds great. How do I book Dirang Boutique Cottages?
At the moment, Dirang Boutique Cottages isn't on any platform like Booking.com. But, you can message them on their Facebook Page to book your stay or call +9198622 90952 to confirm.
As there are only 8 rooms at the property and they can get packed out in peak season, I would definitely make sure that you book your stay in advance of travel. But, it's always worth asking on the day if you're a late booking.
I am counting down the days until I can return to the breathtaking Arunachal Pradesh, lose myself in the mountains, and check into the cosy retreat at Dirang Boutique Cottages.
The service, property, and location definitely stick with you long after you've left and you'll wonder why you didn't visit sooner!
With thanks to Dirang Boutique Cottages for sponsoring my stay. Although I was a guest, all photos and opinions are my own.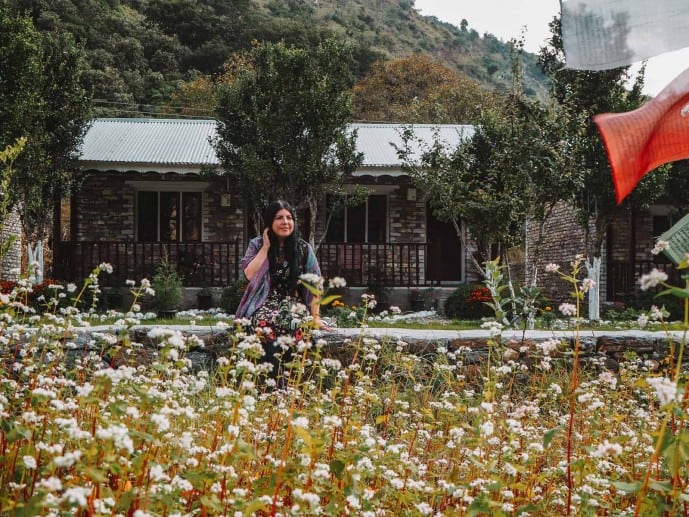 Heading to Tawang? Read more of my posts!
Places to stop on the Sela Pass to Tawang Road
The ancient Chaksam Bridge in Tawang District
Why you MUST visit the magical Jang Falls
My complete Tawang travel guide
The best places to visit in Arunachal Pradesh
Read more of my North East India articles!
Top things to do in North East India
A complete travel guide for Guwahati
A complete guide for Hornbill Festival
How to find the double-decker root bridges in Meghalaya
A complete Kaziranga Safari guide
My top North East India travel tips
Like it? Save this post on Dirang Boutique Cottages for later!