Dirang was my little heaven on Earth. In the whole of Arunachal Pradesh, which is in North East India, I think this little village was my favourite of all.
I recently went on a tour with Holiday Scout and was quite literally introduced to paradise.
It was the beautiful tall mountains, the fresh flowing rivers, the traditional houses, and the clean fresh air.
Arunachal Pradesh, including Dirang, isn't a place that draws much tourism yet. I think this needs to change.
It's by far one of the most beautiful states in India and has many gems in store.
Here are the 7 awesome things to do in Dirang!
Top things to do in Dirang
1. Take a picture perfect walk
In my opinion, there is nothing better than taking a walk in nature. It's so refreshing for the soul and is something that you can easily take for granted (especially as I used to live in the overly polluted capital city of Delhi!).
Dirang was a picture-perfect village. It provided easy strolls, but they would all blow you away with their beauty.
My personal favourite is the one towards the old monastery, Khastung Gompa.
From here you can get stunning panoramic views of the whole place.
Exploring this place on foot is easily the most exciting. You will come across ancient houses, bridges laced with Himalayan flags, wildlife, and prayer wheels. There's a surprise around every corner.
2. Visit Khastung Gompa
I've always thought that temples with history have the best stories to tell and in Dirang, there's an ancient Buddhist gem.
Khastung Gompa is located high above the village. It's over 500 years old, claiming the title of the oldest monastery in Arunachal Pradesh.
What I loved about this monastery was seeing all the ancient prayer wheels.
Did you know that they used to be made out of layers of leather? Inside, they would print Buddhist scriptures.
It's amazing learning about old traditions and how they still are alive today!
Nowadays Buddhist monks make pilgrimages here. It's worth checking out the amazing entrance gate and the hidden secrets on the ceiling.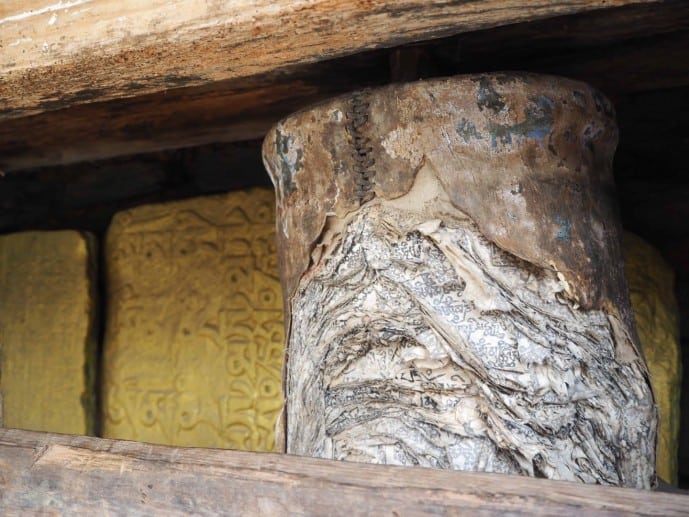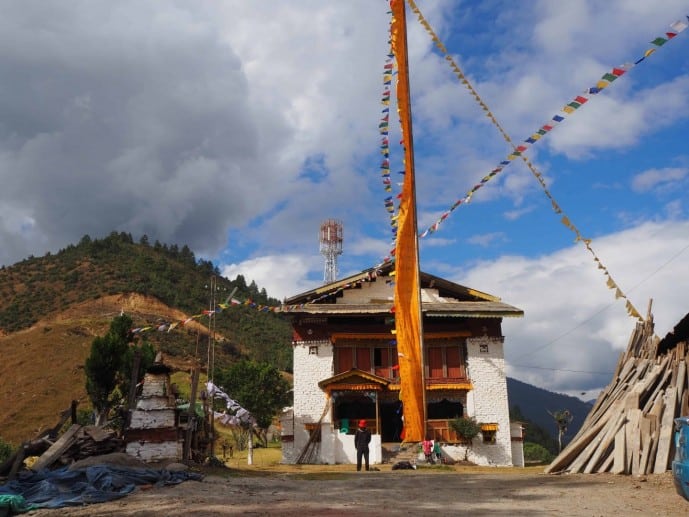 3. Cool down by the Dirang Chu river
After you've taken a stroll around, you might want to cool down and dip your feet in the Dirang Chu river.
When I visited in December, the water was absolutely freezing! Like, turn your feet blue freezing. But, it was needed after the weather was surprisingly hot that day.
The Dirang Chu river originates and travels all the way from Tawang. But, it's still as fresh and clear as it was from the source.
It was a beautiful place to relax and could act as an awesome picnic spot. Take an hour out to listen to the water and enjoy the mountain views.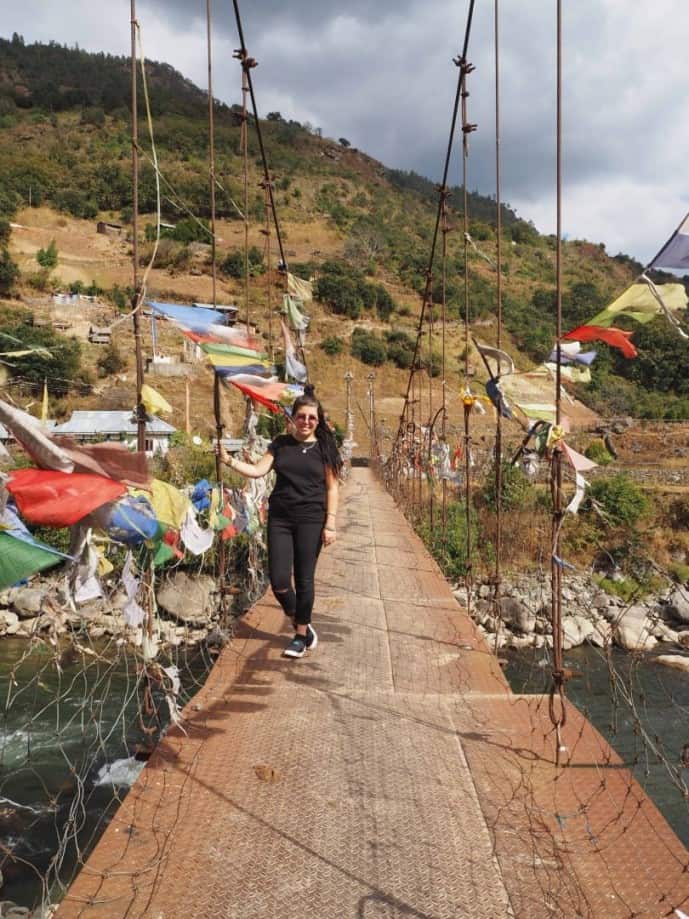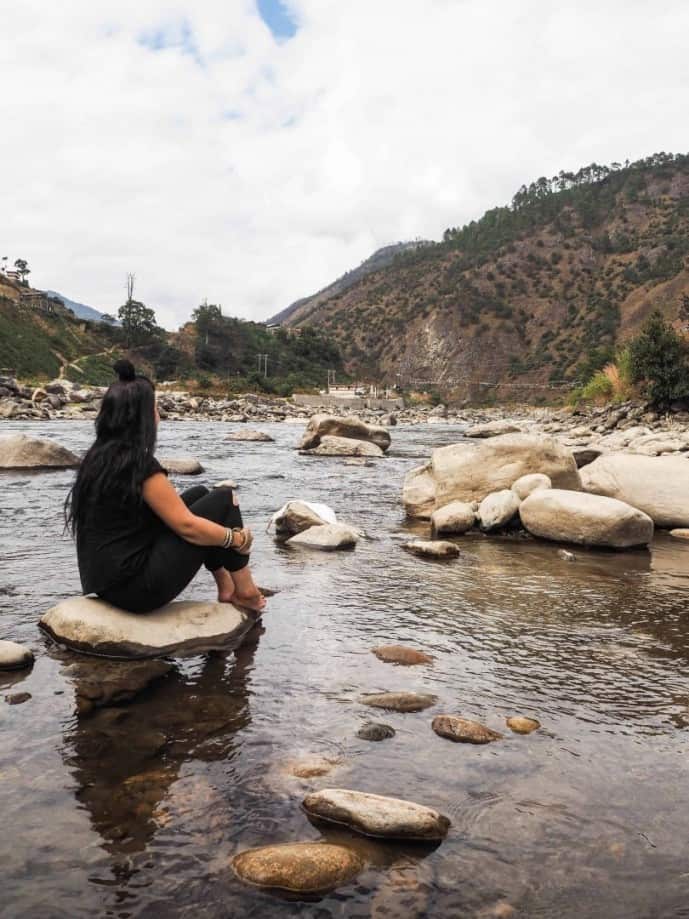 4. Head to Sangti valley
Located around 12km out of the village (but around 40 mins by car), Sangti is another Shanti retreat into nature.
As soon as we arrived, we followed a herd of sheep who were heading back into their stable to get fed.
It was so fun watching the hungry little guys sprint in for dinner time!
We met some of the local farmers who were also monitoring the sheep. They were making sure they have well looked after.
I only realised then that I hardly see many sheep in India. It's usually goats.
I found out that a lot of these breeds were imported from all over India and also from countries like Russia.
Read more about this secret valley in Arunachal Pradesh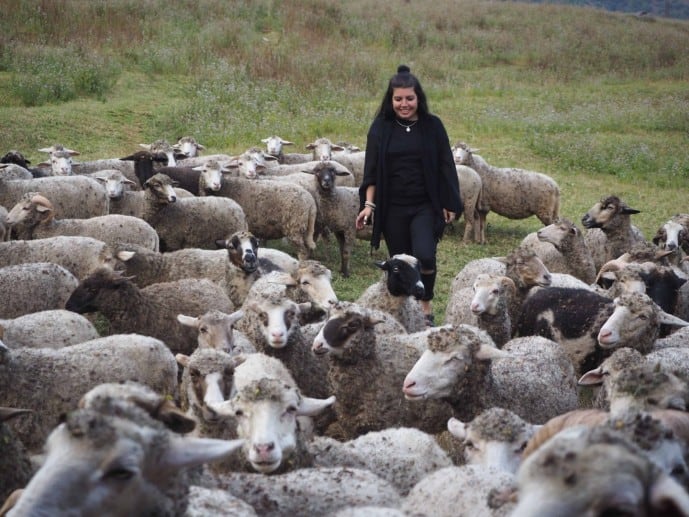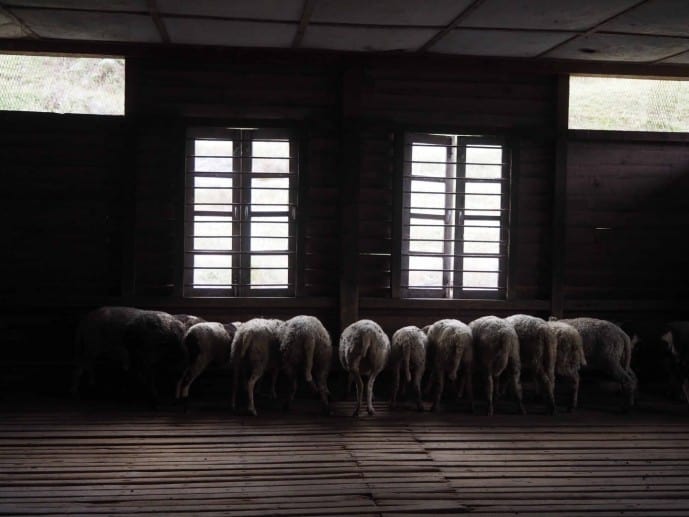 What I loved is seeing all the symmetry in the pine trees on the hills over the valley.
Looking down on the village and exploring all the fields speckled with wildflowers was like something you could only imagine.
5. Meet the locals and be invited to drink tea!
I don't think I've ever been invited in for so much tea as I was here. I loved how friendly the Monpa people were in Dirang.
Everyone was curious to know you and talk to you. They would want to find out where you were from and what you thought of the village.
It was like being welcomed in as family and it made me think a lot about the way we greet strangers in the West.
Would I invite a random stranger into my house for tea?
Probably not. But why?
India has always been a place that has blown me away with its hospitality but this was on another level.
My favourite was being invited in for some of the local spirits at 11 am (hic). It's heated up to keep you warm.
Also, being invited in for chai with a kind lady. I met two of her beautiful dogs who would do nothing but bark at people as they walked past!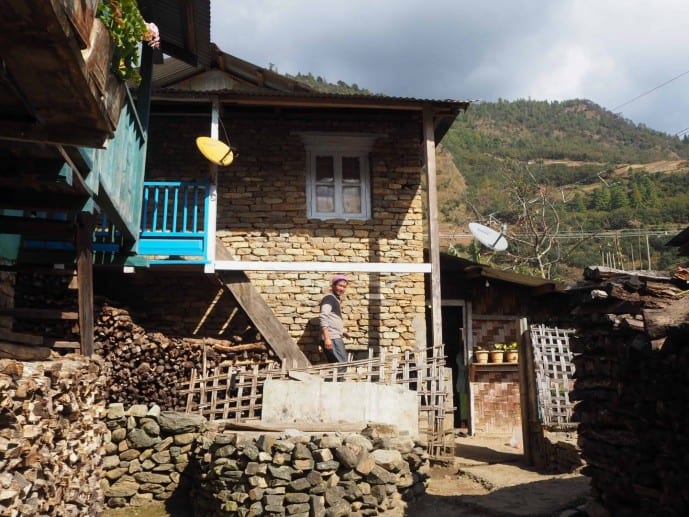 I loved seeing the traditional weaving, the busy kitchens, the farming houses, and the cheeky kids playing in the alleyways.
All these moments really touched my heart. So, don't be shy!
If someone invites you into their home, take the offer with open hands. It's not a guarantee, but I think you'll be asked by the kind people of Dirang at least once.
6. See Thubsung Dhargyeling Monastery at sunrise
This monastery was built in April 2017 and was inaugurated by his Holiness the 14th Dalai Lama himself.
It's a temple and learning institute of Tibetan Buddhism by monks and members of the Buddhist faith.
The name Thupsung Dhargye Ling was given by the Dalai Lama and means: "Place of Flourishing of the Buddha's Speech".
Although it didn't have as much charm as the old monastery (I have a thing for historic buildings), this one was so bright, colourful, and had that fresh new feel.
Dirang used to be a region of Tibet. Since China's suzerainty of Tibet, many Tibetan refugees have fled to Dirang.
This monastery now acts as a hub for Tibetan culture and Buddhist teachings to ensure they stay alive for future generations.
To read more about this issue in Tibet and the Dalai Lama's new home in India, see here.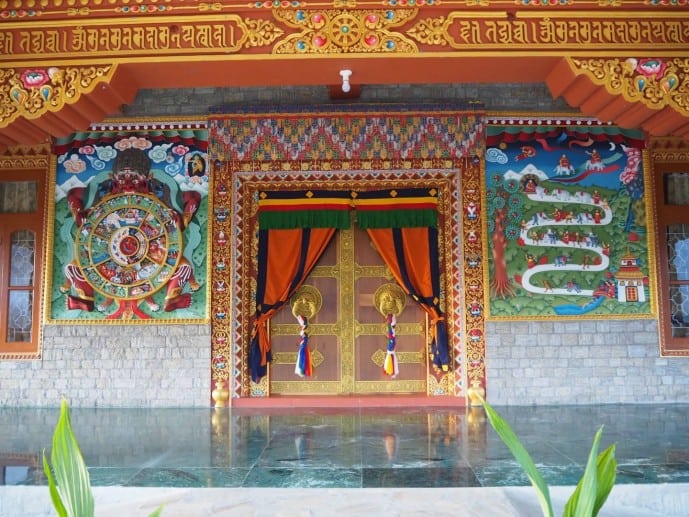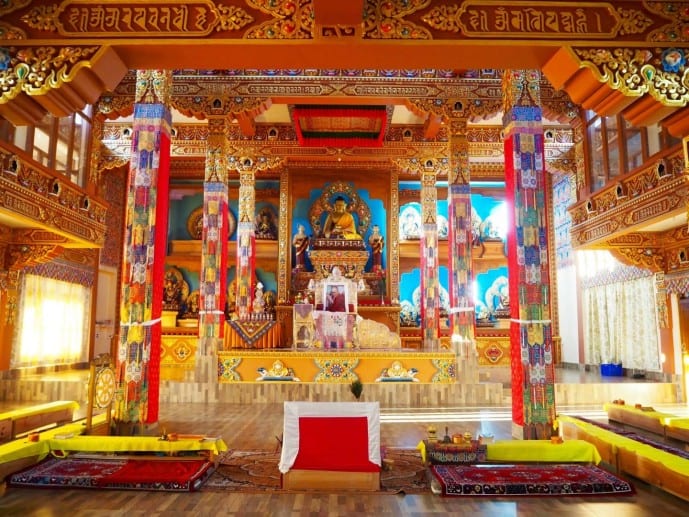 The best time to visit this monastery is at sunrise. This is when the monks perform their morning prayers.
Unfortunately, when we visited, the prayers were cancelled due to a ceremony happening later that day. But, it's supposed to be a beautiful experience.
Prayer starts at 6 am in the morning. Top tip – Bring thick socks as the monasteries, and their marble floors, are freezing!
7. Explore Dirang Dzong
Another name for Dirang is Dirang Dzong. Dzong means jail and refers to the name of the fort/jail located within the center of the village.
The fort has an interesting history surrounding it. Built in the 17th century, it was first used as a fort to protect the village from neighbouring states.
Nowadays, these are used as houses for the Monpa people. I had the pleasure of being invited inside and meeting the families!
It's definitely worth exploring and getting wonderfully lost in this part of town.
You'll find the architecture is so quaint. The history talks to you through the walls.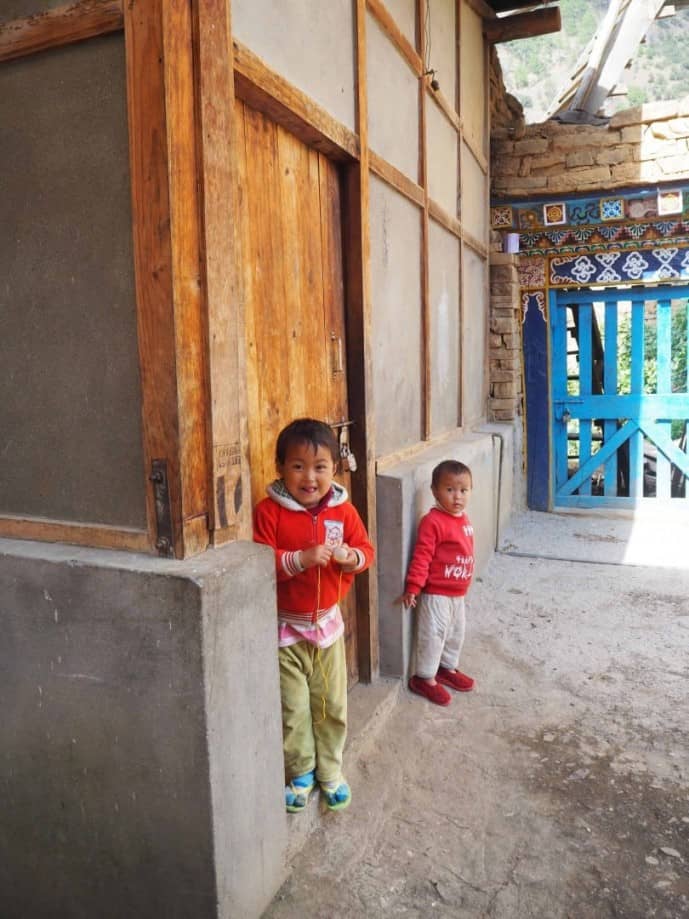 Looking for a hotel in Dirang?
Dirang Boutique Cottages
This brand new family-run hotel which opened up in 2019 is a beautiful retreat next to the Dirang Chu river in the mountains.
Dirang Boutique Cottages have based their design on traditional Brokpa (Shepherd) huts, so the cottages are not only beautiful but really cosy in cold temperatures.
Each room has two double beds and an attached bathroom with running hot water!
As well as being as pretty as a postcard, it's also located on a farm so all the food made on site is organic. So, you can enjoy some traditional Arunachal cuisine while you're here.
This is the perfect pitstop on your way to Tawang or to base yourself for a few days of sightseeing.
I spent a week here when I was in Arunachal Pradesh and absolutely fell in love with the place. The service, hospitality, and location we perfect.
If you want to read more about it and how to book, click here to read my review.
Dirang Cottage
Whenever I go to an off-the-beaten-track place, I always think it's lovely to stay with locals.
On my visit, I stayed in a beautiful homestay called Dirang Cottage.
It is run by the loveliest family, has comfy warm beds, and is impeccably clean. The lady who runs it, who I call 'Auntie', was such a kind soul.
Not only did I get to sing songs and dance with her and the Monpa ladies, but I also got to make Momo's in her kitchen and taste her awesome home-cooked meals!
If you would like to make a booking, please contact Holiday Scout for details.
My favourite Dirang photos
Dirang was my little slice of paradise and is a place I would definitely head back to. But, I wouldn't go back for a few days, I'd try to stay for a few weeks!
This village is definitely worth a stop off for the night on the Tawang circuit.
Don't skip it, you'll be really missing out. To finish, if there weren't enough photos already, here's some more wanderlust :P
With thanks to Holiday Scout for hosting my trip around Arunachal Pradesh. All views, opinions, and photos are my own. If you would like to read more about the tour, please see here.
Heading to Arunachal Pradesh?
If you liked these things to do in Dirang, make sure to read more of my articles on Arunachal Pradesh!
Top places to visit in Arunachal Pradesh
My complete Tawang Travel guide
A complete guide for 108 Mane / Mandala Top
A complete guide for the Sela Pass
Visiting the ancient Chaksam Bridge
Why you MUST visit the magical Jang Falls
Read more of my North East India articles!
Top things to do in North East India
A complete guide for Hornbill Festival
Why you need to visit Cherrapunjee
How to find the double-decker root bridges in Meghalaya
A complete travel guide for Guwahati
A complete Kaziranga Safari guide
My top North East India travel tips
Save these things to do in Dirang for later!