Before I even booked my Disneyland Paris break I had heard of Bistrot Chez Rémy. An extremely popular Paris Ratatouille restaurant that had glowing reviews.
The Pixar decor makes you feel like you've been shrunk down to the size of a rat and you'll be dining on delectable French cuisine in-between cork-stoppers, bottle cap chairs, and giant jam jar lids.
As one of the only table service restaurants at Euro Disney that serves French food, getting reservations here can be tough. Many people book months beforehand so it gets a lot of hype!
Now, I'm going to be honest, although I loved the decor of the Paris Ratatouille Restaurant I do feel like the food, service, and atmosphere really lets this place down.
I'll explain more in my detailed Bistrot Chez Rémy review so you can make an informed decision!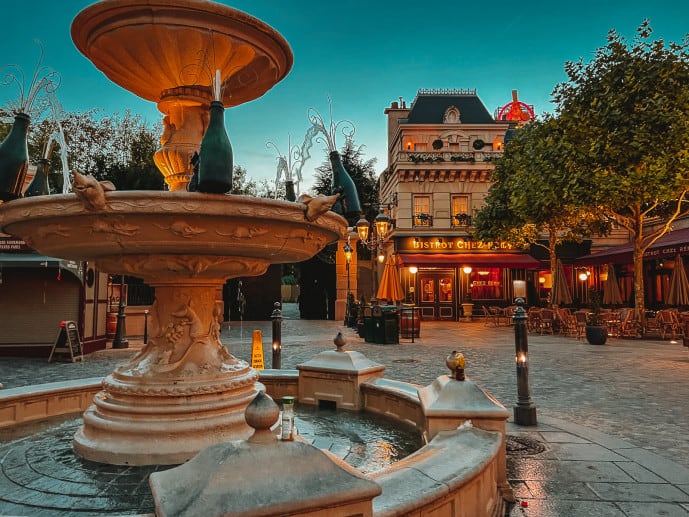 What is Bistrot Chez Rémy in Disneyland Paris?
Bistrot Chez Rémy is the Paris Ratatouille Restaurant at Walt Disney Studios park where you can feel the size of a rat whilst dining on French food!
You'll find a restaurant worthy of Rémy and Emile that has been shrunk down to size so everything feels larger than life.
It's one of the most popular restaurants at Disneyland Paris as it's pretty much the only table service restaurant in the parks that serves up traditional French cuisine!
So, you'll need to ensure you reserve a table a few months in advance of visiting to guarantee a seat.
Important information about Bistrot Chez Rémy
Bistrot Chez Rémy is located in Walt Disney Studios Park in the Worlds of Pixar next to the Ratatouille ride.
You need a valid park ticket in order to dine at the Paris Ratatouille restaurant
Disney Meal plans are accepted starting from Standard up to Extra Plus
It is open for both lunch and dinner. However, in the off-season, the last table is as early as 4 pm.
The first slot for lunch is at 11.30 am and the last table sitting is usually around 60-90 minutes before the park closes
Vegetarian and Vegan options are available
The entire restaurant is flat and accessible for wheelchairs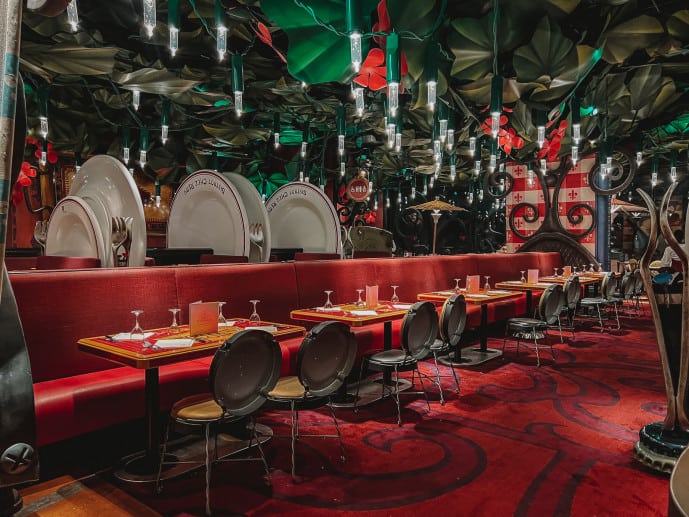 What is the decor like inside the Paris Ratatouille Restaurant?
If you have ever wanted to know what it feels like to be the size of a rat, then you'll find out at Bistrot Chez Rémy. As they say, it's typical French dining with a 'rats-eye' view.
Everything has been shrunk down to miniature proportions in the Ratatouille restaurant! As soon as you walk inside, you'll see a giant restaurant menu with a welcome message from Remy.
There is also Auguste Gusteau's cookbook 'Anyone Can Cook' on display and Remy's 'Oui! Vous Pouvez Cuisiner' (Yes, you can cook)!
There are cork-stopper chairs, jam jar lids, cocktail umbrellas, side plate booths, and humungous bottles of wine as decor! Plus, huge cutlery and fairy lights on the ceiling.
The attention to detail in the decor here was incredible and so true to the Ratatouille movie. It's the best part about the restaurant!
What food do they serve at Bistro Chez Rémy?
I was really excited to try the food at Bistrot Chez Rémy as it's one of the only restaurants in Disneyland Paris that serves up French cuisine.
They have a mix of seasonal salads with vinaigrette, hot chef soups, and meat paté for starters.
For mains, you can try the famous grilled steak with French fries and ratatouille (the most popular). But, there is also roast cod, vegetable stew, and herby roast chicken as well!
The desserts here were also a good choice. You could select from chocolate mousse, fruit salad, apple tart, and a chocolate lava cake.
Every main dish comes with a small portion of ratatouille so you get the chance to try it out.
It was all very typical French fare and you had the option to pair up your meals with wine as well!
Although limited, there are also vegan and vegetarian options on offer too.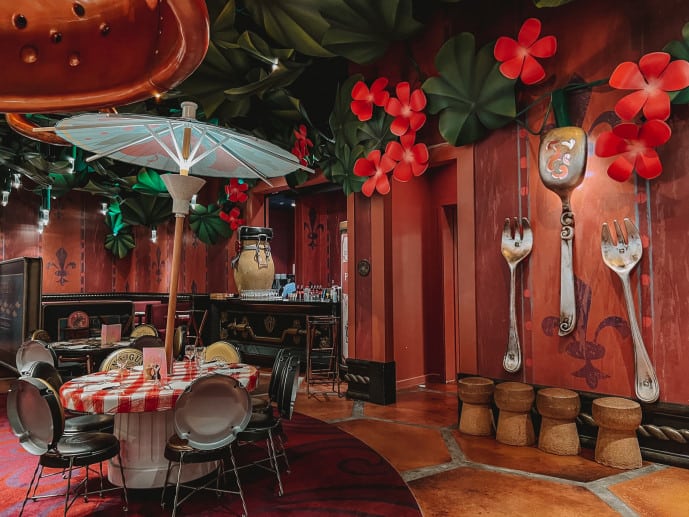 Bistrot Chez Rémy Menus
Unlike most Disneyland Paris table service restaurants, Bistrot Chez Rémy only serves up set menus to order for your lunch or dinner.
Set menus are very common in France and they are designed for the best value. These are;
Rémy Menu for 34 Euro that includes a starter and a main (drinks not included)
Emile Menu for 42 Euro that includes a starter, main, and dessert (drinks not included)
Or, you can select the Emile Menu with wine included for 57 Euro. This includes a wine pairing with each course!
There is also a Little Chef Menu at 22 Euro for children aged 3 – 11. They get a starter, main course, dessert, and drink
If you're an adult on a Disney meal plan, you may be entitled to a soft drink on your visit. Always check beforehand.
You can also celebrate your birthday here for an extra 35 Euro. This gets you a birthday dessert in the form of a cake.
My honest Bistrot Chez Rémy review
So, I was really excited to eat at Chez Rémy on my visit. I had read some glowing reviews and, for many, this is meant to be a pinnacle dining experience on a Disneyland Paris trip.
I didn't plan my trip months in advance like some and so had to religiously check the app to get a reservation. Luckily, I managed to get one just a few days before.
Bistrot Chez Rémy gets a lot of hype in Euro Disney so I guess I built this meal up in my head as this fabulous dinner to top off a day at the Walt Disney Studios Park.
However, I do feel a lot of things let this restaurant down like the atmosphere, service, and some of the food.
Arriving at Bistrot Chez Remy
When you arrive at the Paris Ratatouille Restaurant you will usually find a large queue at the reception.
Sometimes this is largely walk-ins who are trying to get a table on the day. So, either wait your turn or alert a cast member that you have a reservation.
Once you've been checked in, you'll be asked to sit down in their reception area for a while before your table is ready.
I only waited around 15-20 minutes for my table but I've heard that many have had to wait almost 40 minutes to an hour for their table to be ready in summer.
My advice would be to book an earlier lunchtime so you don't have to wait as long! Mid-afternoons seem to be the busiest. In the later afternoons, it starts to ease out.
When you're finally called for your table, you will be guided to your table by your host/hostess and handed a menu.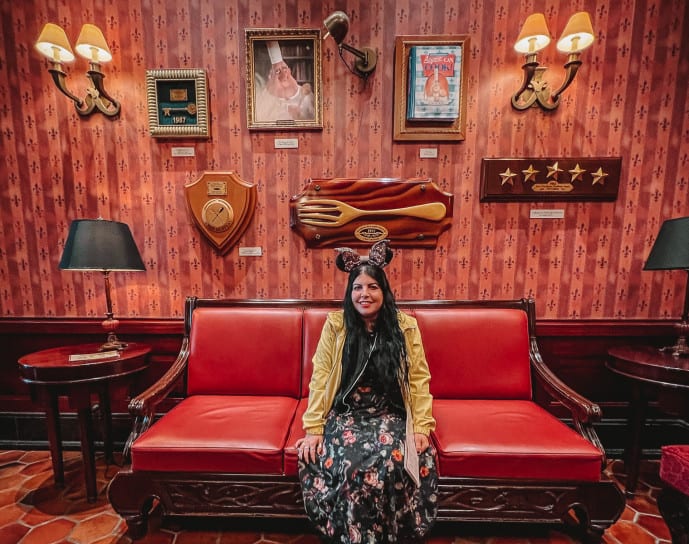 The atmosphere at the Paris Ratatouille restaurant
I was really impressed by the decor in Bistrot Chez Rémy, it's definitely the 'rats-eye' view that was promised.
The decor is incredible with minute attention to detail that is unmatched by any other restaurant in the park!
But, once the initial wow factor wears off you are then left with an atmosphere that I can only describe as chaotic.
It's SO loud inside the restaurant you can barely hear yourself think let alone hear a conversation.
Despite being told my table wasn't ready, I was surprised to see so many empty tables everywhere.
The staff seemed very stressed and were almost running around the restaurant, huffing at patrons or gathering in the corners talking amongst themselves.
All the while you heard screaming, kids running around, and loud conversations. I know it's Disney, but you could barely hear the Ratatouille soundtrack over all of it.
Ordering food & service
My hostess was initially lovely when she first arrived and welcomed me into Bistrot Chez Rémy.
I was excited to order my meal as it all looked delicious and the Paris Ratatouille restaurant was very popular due to the food having glowing reviews.
But, when I started to ask questions like what the Chef's sauce was on the steak and what it had in it (due to allergy reasons), I got huffed at and she told me she'd come back as I was obviously taking too long.
Then, I had to wait a good while for her to come back after I did some research (it was chicken paté sauce) and made my choices to order.
I wouldn't say the service was necessarily 'bad' but it felt quite rushed and the interactions were so curt it felt rude due to the understaffing issue.
As I say, the staff seemed to be completely run off their feet which I can understand isn't great. But, it's just a shame that this tainted the experience.
The highlight was when I had a stroller parked next to my table even though Disney policy states they should be parked outside.
Even better is that the inconsiderate parents sat on the opposite side of the table and let their child wail while they were laughing and stuffing their faces with food.
It got so bad that I asked the hostess to move to one of the endless empty tables in the restaurant and she laughed and said there was nothing they could do as they were full.
Ratatouille restaurant food review
I thought that, despite the bad service, if the food was good then sitting in this chaotic Pixar restaurant would be worth it.
But, although the portion sizes were huge, I have to say that the food just didn't quite hit the mark.
You were given a bread basket with butter before your meal but the bread was not fresh. It was really hard and I could barely chew it.
The paté was good if a little tasteless to start. But, the most disappointing was my main meal.
I ordered the grilled steak medium and actually, it was cooked very well if a little rarer which I don't mind. The chef's sauce (which looked congealed at first) went with this beautifully and it was tasty.
However, the chips were hollow and had no potato in them as they were overcooked or left for too long and went cold.
I knew the ratatouille was going to be a small portion before my visit and it wasn't that bad!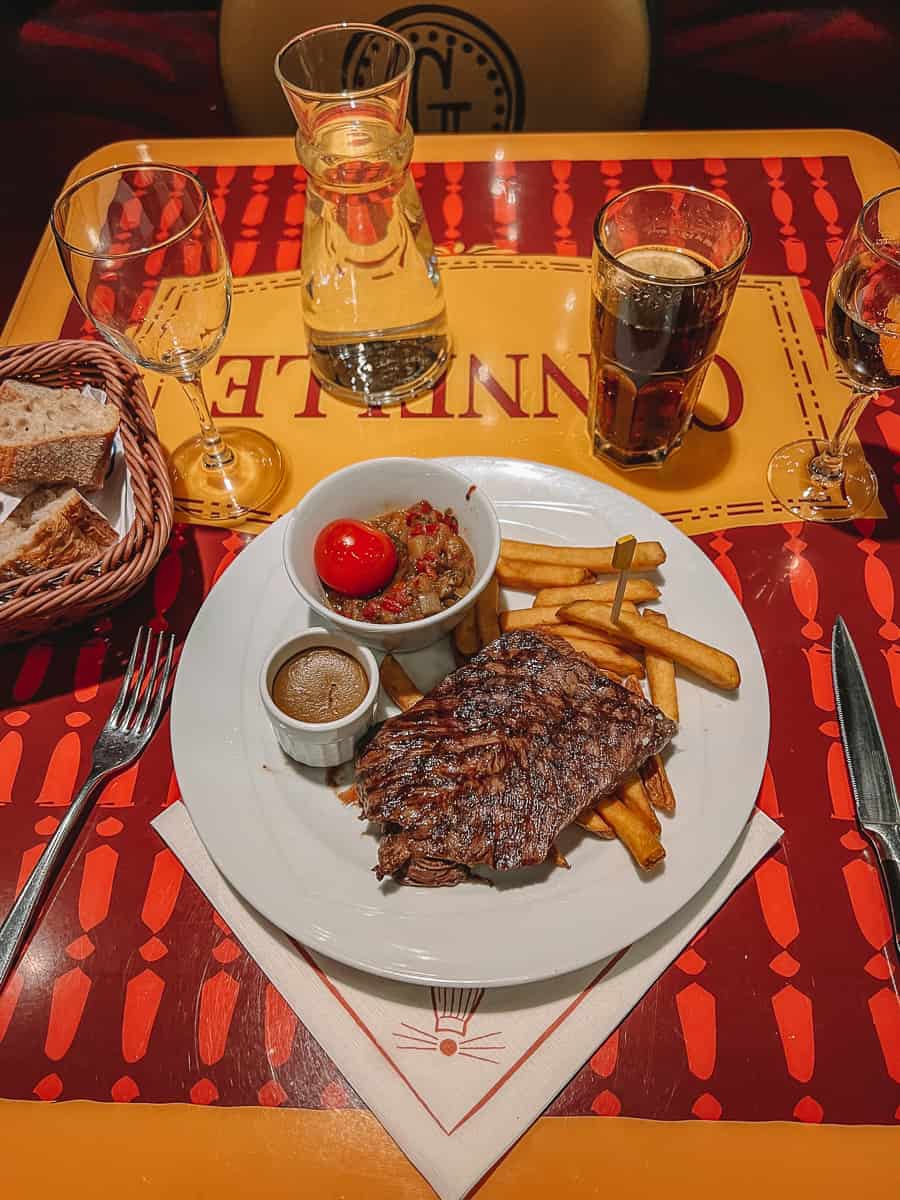 My chocolate lava cake came with custard. I didn't realise this so I had to ask for one without it. Which my server was less than impressed by. However, my new one was very hot and gooey on the inside!
I wouldn't necessarily say that the food wasn't good but it wasn't the pinnacle dining experience that I had expected.
I had read so many glowing reviews before my visit about the food and I guess it didn't live up to my expectation. It was simply average which is a shame as it's not the cheapest place to eat.
Is Bistrot Chez Remy Disneyland Paris worth it?
It is and it isn't. On the one hand, you should visit for the theming. It's an incredible Pixar restaurant that looks like the Ratatouille movie and you feel like the size of Rémy.
But, I really do feel like the rude service, rushed dining, and cold food really let this place down.
Maybe I caught them on a bad day or maybe the kitchen was busy but I'd say that many of the recent one-star Tripadvisor reviews echo my bad experience.
Although Bistrot Chez Remy used to be the best restaurant in Disneyland Paris, I don't think this is the case any longer. It's just average and isn't worth the expensive price tag.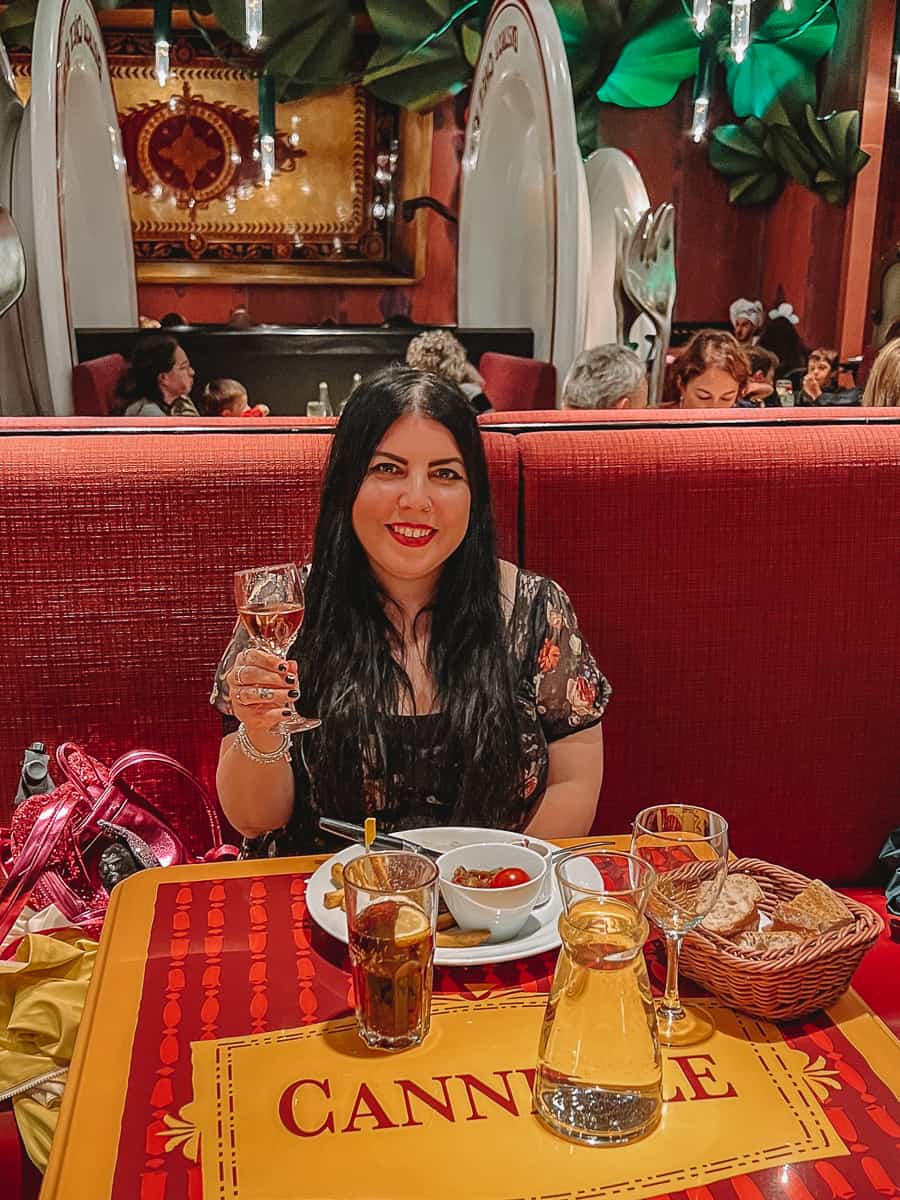 An apple may look great on the outside but if it's rotten to the core, it's a bad apple. Just like a restaurant may look inviting with Pixar decor but if the service and food are bad, it's bad.
It's just not what you should expect from a Disney restaurant and Disney dining experience at all.
I would say that if you really want to go you should try it as the Ratatouille theming is incredible. But, don't set your expectations too high on the food and service!
Rémy has obviously taken a holiday for the time being. I just hope it improves soon…
How much does it cost to eat at Bistro Chez Remy?
Bistrot Chez Rémy is a premium-themed restaurant at Disneyland Paris and it's not the cheapest place to eat. However, it is on par with other table service restaurants in the parks.
Depending on what you go for either the Rémy Menu (34 Euro) or the Emile Menu (42 Euro), you will need to budget that amount per person and drinks on the side.
Soft drinks, like Coca-Cola, were 5 Euro each, juices were 5 Euro and even water was 4 Euro a bottle. But, you can order tap water with ice.
Although the online menu only advertises wine by the bottle, you can order individual glasses of wine for around 7 -11 Euro and beers on the day.
It's not the cheapest meal out for large groups but it's fine as a one-off treat on your Euro Disney holiday.
How to make a reservation for Bistrot Chez Rémy & tips
As one of the most popular restaurants at Disneyland Paris, Bistrot Chez Rémy reservations are pretty hard to get unless you book way in advance. Most people book months before!
Disney Hotel guests can make restaurant reservations at least 12 months in advance of arrival and normal park ticket holders can make a reservation around 2 months in advance.
It's not an ideal situation if you're a last-minute booking. But, I can assure you, you can get last-minute reservations for Bistrot Chez Rémy. I got mine around 2 days before.
If other diners cannot make their reservations on the day, they will usually cancel them so that others (like you) can make it.
Of course, you do have to be flexible with times but it's easily done if you're a couple or a small group.
My top tip would be to keep checking the app for table bookings each day running up to your visit, it doesn't take long and you may get lucky.
They do accept walk-ins if you don't have a reservation but you could be waiting a long time for a seat.
Magic tip: If you can, I would select an earlier lunch rather than a later one for a better experience. By mid-afternoon, this place gets very hectic!
How long does it take to eat at the Paris Ratatouille Restaurant?
The one thing I found about Disneyland Paris table service restaurants is that they are a bit of a time suck.
But, Bistrot Chez Rémy appeared grossly understaffed for the number of people inside the restaurant.
Waiters were running around everywhere, huffing at people who asked questions or took too long and were talking amongst themselves. Lots of people were moving but things seemed to take an age.
This wasn't a problem for me as it was raining heavily outside so I was happy to wait it out (despite the noise) but many others weren't so pleased and were fighting to get their bills.
I would leave around two hours at the Paris Ratatouille restaurant to eat. This will allow enough time for your meal without being rushed.
Magic tip: Don't book your shows, like Mickey and the Magician, or Premier Access tickets close to your meal times as service may take a while here!
How to get to Bistrot Chez Rémy in Walt Disney Studios Park
The Paris Ratatouille restaurant can be found in Place de Remy in the Worlds of Pixar area which is part of Walt Disney Studios Park.
It's not a large park so it shouldn't take too long to get there from any point in the park really. From the main entrance, it will take around 5-10 minutes to walk there.
Saying that, if you have a reservation at Walt Disney Studios Park and you need to walk there from Disneyland Park – I would leave around 30-45 minutes before to ensure you make it on time.
Table service restaurants can only keep your table for 15 minutes after your reservation before it's given to someone else.
The entrance is located just behind the Ratatouille fountain and right beside the Ratatouille ride so it's the perfect attraction to plan alongside your dining experience.
What is the Ratatouille ride at Disneyland Paris?
The Ratatouille ride at Walt Disney Studios park is called 'Ratatouille – The Adventure' and was one of my favourite rides.
You get to shrink down to the size of a rat and you'll duck, dive and scurry away from humans in the kitchens of Gusteau's!
It's a simulator ride where you wear 3D glasses and spin and turn in a giant rat carriage. You'll also smell the kitchen and end your journey at Bistrot Chez Rémy. In fact, you can see the restaurant through the glass on the exit.
As a ride for all ages and any height, this does see long queues throughout the day. It's on Premier Access and there is a Single Rider Queue.
I always used single rider as it cut my ride times down significantly. I think I only ever queued 5 minutes for Ratatouille the whole time I was there.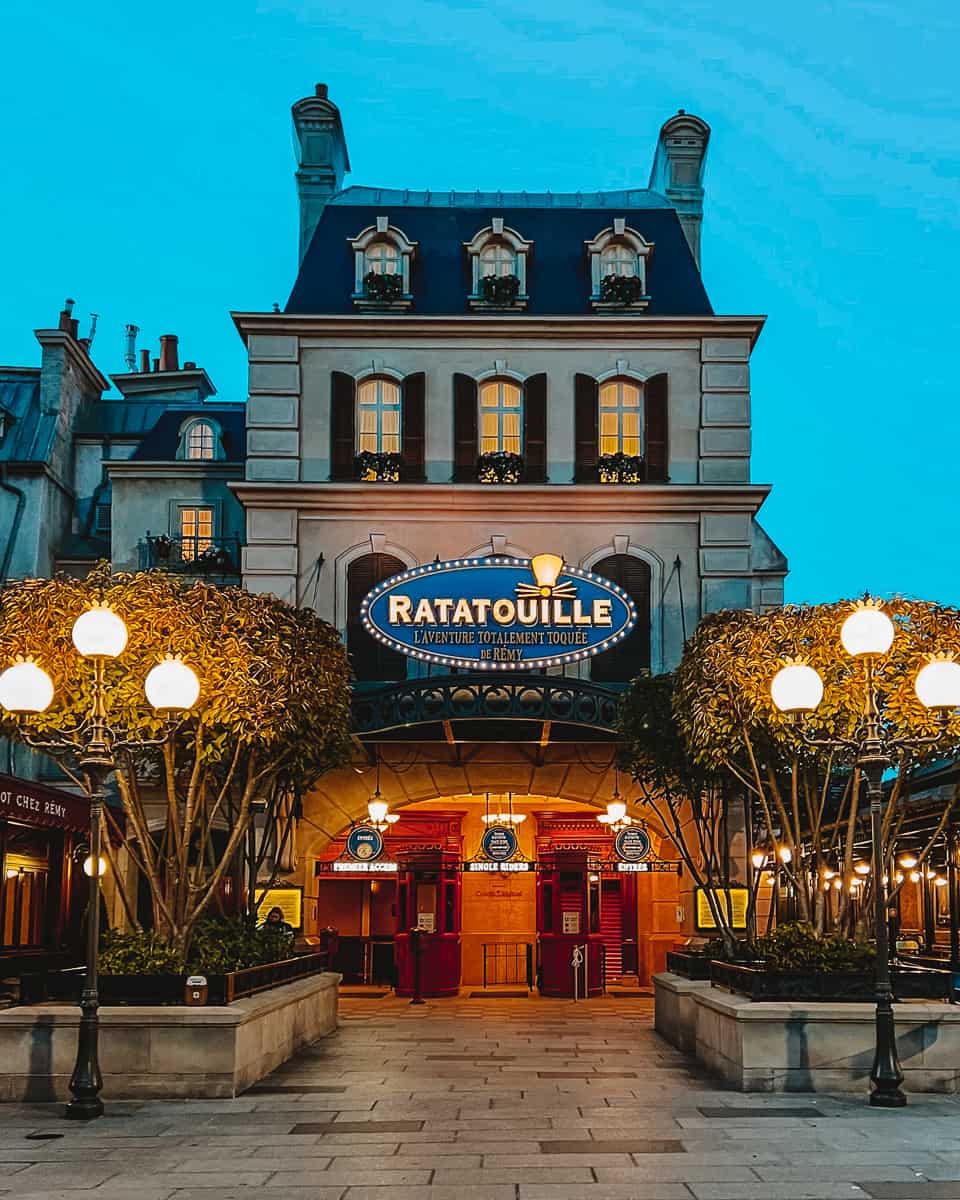 Don't forget to explore Ratatouille land (Place de Remy)!
The whole Ratatouille area of Disneyland Paris is *chef's kiss* (excuse the bad pun)! It's incredible and really looks like you've stepped into the movie set in Paris.
You'll find a rat champagne fountain, Bistrot Chez Remy restaurant, the Ratatouille ride, the Chez Marianne Ratatouille shop, and some French food markets too.
It's a wonderful area to take photos of especially at night when most people are leaving the park! You'll find it's very busy throughout the day.
Disneyland Paris Ratatouille shop (Chez Marianne)
If you wanted to buy some Ratatouille souvenirs at Disneyland Paris then look no further than Chez Marianne.
It's a Ratatouille shop that sells a range of Ratatouille crockery, cookbooks, chef's hats, and cookware. They even sell Rémy plush toys!
I especially loved the Ratatouille plate sets and teacups that were rat themed. There are also some sweets for sale and your regular Mickey and Minnie souvenirs as well.
You'll find Chez Marianne opposite Chez Rémy in Ratatouille land.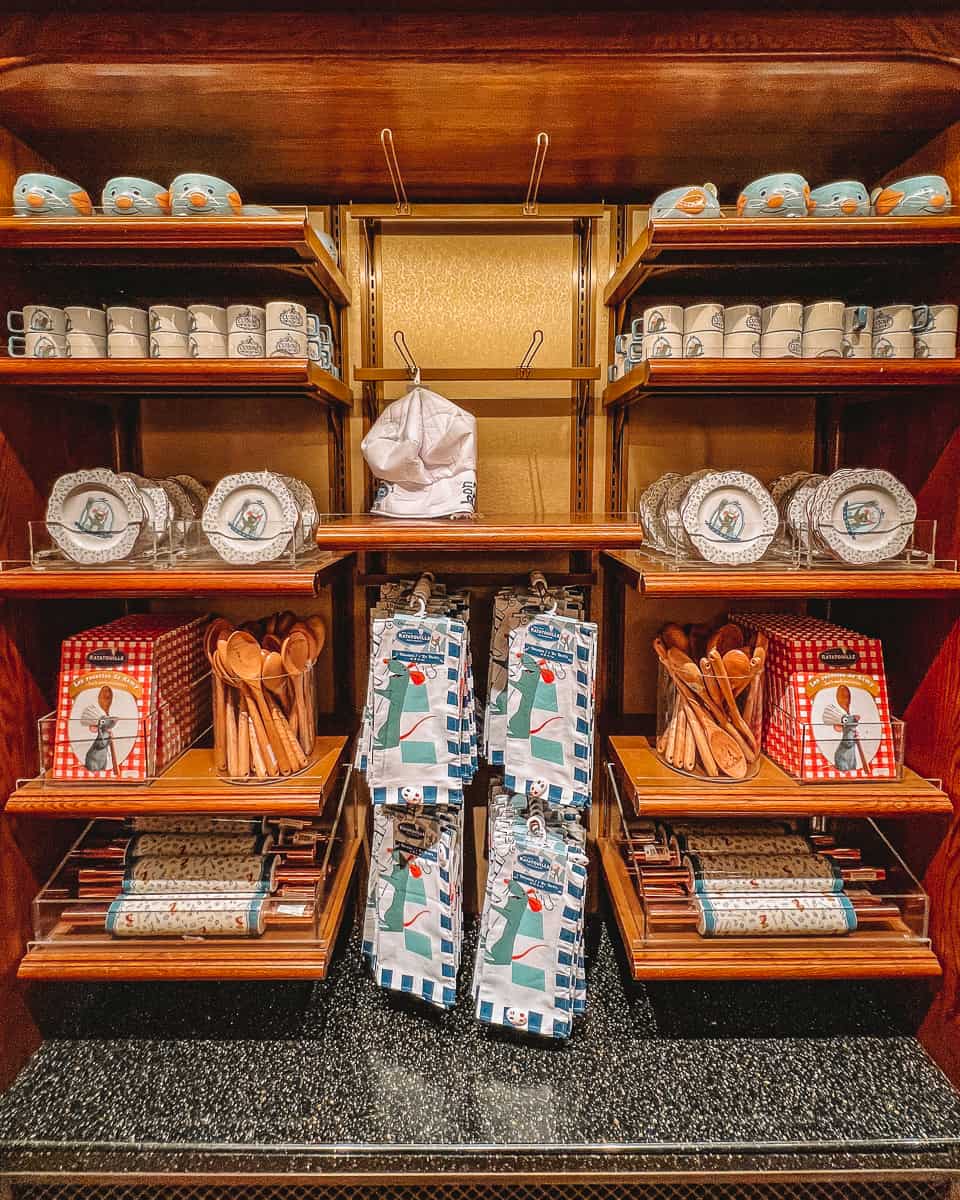 Rendez-Vous Gourmand
As well as the Paris Ratatouille restaurant, they do have some French food markets in the Ratatouille area at Walt Disney Studios Park called Rendez-Vous Gourmand.
You can find French specialties from almost every region of France in their chalets that are open each day.
They serve up brie, pastries, éclairs, pretzels, apple tarts, crépes, cheeses, wines, and all sorts of gourmet vegan food too. It's a great place to stop for a light lunch or snack!
Note: Rendez-Vous Gourmand is only on from June – October each year. But, they change over to L'Hiver Gourmand Winter Market usually from November- March!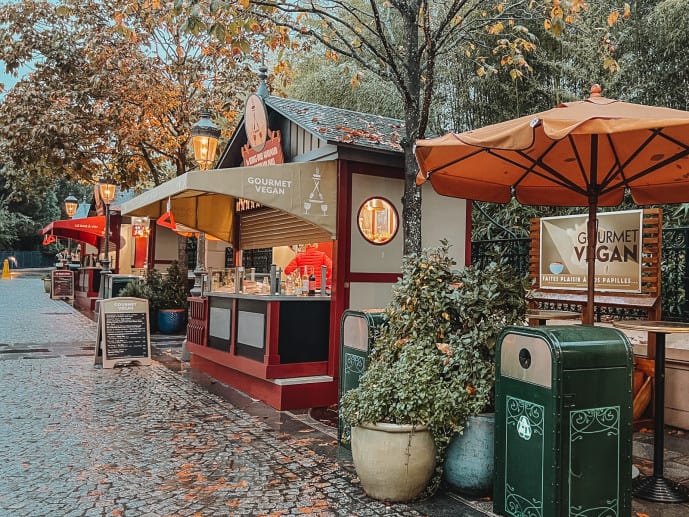 Bistrot Chez Remy FAQs
What is the Ratatouille restaurant at Disneyland Paris? It's called Bistrot Chez Remy in Walt Disney Studios Park!
Does Paris have a Ratatouille Restaurant? Disneyland Paris does and it's called Bistrot Chez Remy but you need a valid park ticket to dine there.
Is there a real Gusteau's restaurant? It was a fictional restaurant in Paris made up by Pixar for the Ratatouille movie but Bistro Chez Remy in Disneyland Paris is the closest thing to really eating there!
Save time and book tickets to Disneyland Paris!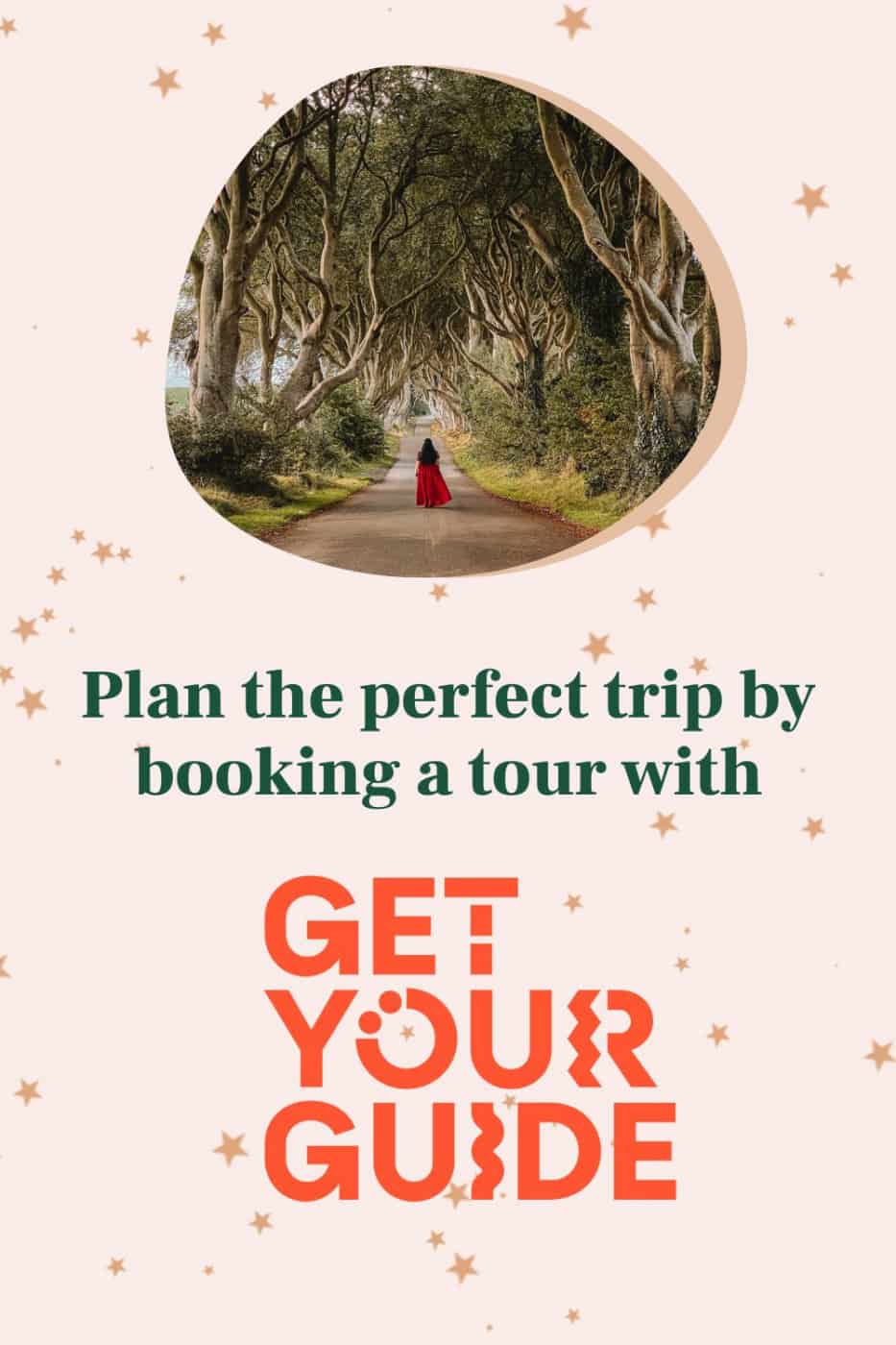 Pre-book tickets to Disneyland Paris!
Read more of my Disneyland Paris articles
55+ Disneyland Paris secrets and hidden gems to discover
50+ Instagrammable Places in Disneyland Paris
25+ Things to do in Disney Village Paris
Walt's An American Restaurant Review
Newport Bay Disneyland Paris Review – Is Compass Club worth it?
Captain Jack's Disneyland Paris Review
How to visit the Disneyland Paris Dragon
Pizzeria Bella Notte Review – Lady & The Tramp restaurant
Toad Hall Restaurant Review at Disneyland Paris
Is Auberge de Cendrillon Princess Dining worth the price?
Save this Bistrot Chez Remy review for later!