Hey Disney fans, did you know that you can meet the Disneyland Paris Dragon under the castle?
Yep, and it's an attraction called La Taniere du Dragon that can be found underneath Sleeping Beauty's Castle at the end of Main Street USA.
What makes this special and unique is that Parc Disneyland is the only Disney theme park in the world that has a castle dragon.
So, you really can't skip the opportunity to visit whilst you're in Disneyland Paris.
However, many people miss it as the entrance is not obvious and it's a little hidden.
Here is a complete guide on how to visit the Disneyland Paris Dragon under the castle or La Taniere du Dragon!
What is the Disneyland Paris Dragon under the castle?
The Disneyland Paris Dragon is a walkthrough attraction that is located underneath Sleeping Beauty's Castle or Le Château de la Belle au Bois Dormant.
You'll be walking through a dark cave and eventually face a fairytale dragon sleeping in its lair. Every so often, it wakes up, growls at you, and breathes smoke!
It's 27 metres from head to tail which is one of the biggest animatronics at Parc Disneyland and is a great attraction as it rarely has a queue. It also weighs 2,500 kilos!
La Taniere du Dragon history
The beginnings of the Dragon's Lair started in 1987 with Imagineer Terri Hardin who ran the project.
It was a rare event at the time for a woman to be approached to run the project as a sole Imagineer from the Walt Disney Imagineering team.
Although it is Sleeping Beauty's castle, you'll notice that the dragon inside isn't Maleficent's dragon as it's green.
Terri Hardin originally pitched to have the skeletal remains of Maleficent's Dragon inside the lair but the idea was rejected.
In the end, La Taniere du Dragon opened up in Euro Disney in April 1992 as a walkthrough with a huge animatronic dragon. At 27 metres long, it was one of the largest animatronics built for the time.
It's been through some refurbishments over the years but it hasn't changed much since it was originally built.
The Disneyland Paris Dragon under the castle is still a popular attraction today but is a bit of a hidden gem as many guests miss it!
Where is the Dragon in Disneyland Paris?
La Taniere du Dragon or the Dragon's Lair can be found underneath Sleeping Beauty's Castle!
Many people miss it as it's a walk-through attraction and it's not the easiest one to spot when you first arrive.
Many people are so dazzled by the beautiful pink castle and are too busy getting their photos with it that they don't realise there is a sleeping dragon just a few feet away.
This was one of my favourite walk-through attractions at Disneyland Paris so you can't miss it whilst you're here.
To visit the Disneyland Paris dragon under the castle, you'll need to head to the left-hand side of Sleeping Beauty's Castle from Main Street.
Related post – 55+ Disneyland Paris secrets and hidden gems to discover
How to visit Disneyland Paris Dragon under the castle
So, most people enter La Taniere du Dragon (The Dragon's Lair) under the castle from the Main Street USA side.
The entrance for the dragon can be found at the left-hand side of the castle when you're walking towards Fantasyland.
This will be before you head through the castle in the central tunnel bridge. You'll find the Dragon's Lair at the very bottom of the castle to the left-hand side and it's accessed via a footbridge.
Magic tip: Before you enter, you'll pass by a brilliant photo location of the castle on your right that rarely sees many people visit throughout the day. Due to the low angle, you can avoid all the crowds in the background!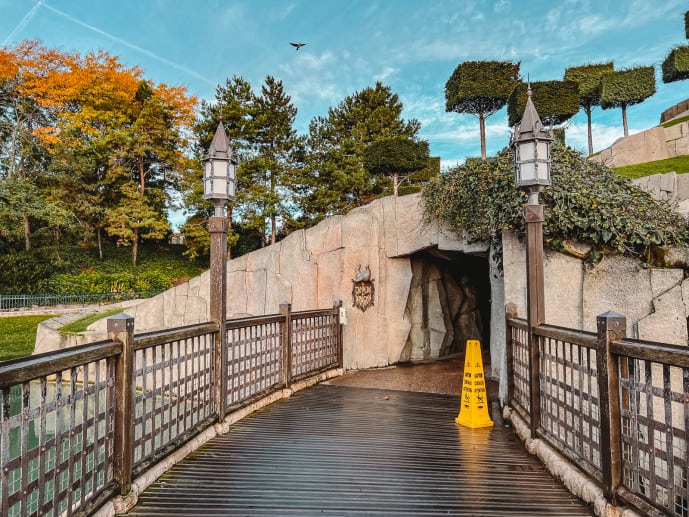 Alternatively, you can enter the Dragon's Lair to the left-hand side of the Snow White ride and shop in Fantasyland.
You'll see the entrance down a pathway just beyond La Chaumiere des Sept Nains boutique (The Cottage of the Seven Dwarfs shop). You'll see the sign for the entrance just after the archways.
Another 'secret' way to visit the dragon would be to walk through the back door of Merlin l'Enchanteur shop located in the castle itself. There is a doorway with steps that lead down to the Dragon's Lair!
Did you know? You can use the Disneyland Paris App to give you directions to any attraction in the park. Simply click on the map and find the attraction, or from the home page head to 'Attractions'. Click on the attraction you want to visit and then click 'Find Directions'. It will give you a walking time and you'll be guided to it just like Google Maps! The same goes for toilets, restaurants, shops, shows etc.
What to expect at the Disneyland Paris Dragon
Once you cross over the footbridge, you'll find the cave under the castle where the Dragon is sleeping.
As you enter, it will be very dark inside with rumbling noises and you'll eventually see the dragon sleeping in his lair.
Every so often, the dragon wakes up and he'll be thrashing around, making lots of noise and even breathing smoke!
Make sure to stick around for this as it happens every few minutes, and have your phone ready to film it.
It's the perfect attraction for anyone who loves fantasy, magic, or dragons! I visited this every day I was at the parks as it's a fun thing to do when the ride queues are too long.
The best time to visit the Disneyland Paris Dragon under the castle
As the dragon under the castle is a walkthrough attraction, you can visit any time of day and there is usually no queue.
It's the perfect attraction for when the park is very busy and all the rides have long wait times, especially on weekends or in the summer months.
But, be aware that La Taniere du Dragon does tend to close an hour and 45 minutes earlier than park closure/illuminations time.
Magic tip: If you want a quieter visit I would avoid visiting the dragon around parade start/end times. This is when most people will visit the castle and main street and see the dragon on their way in/out.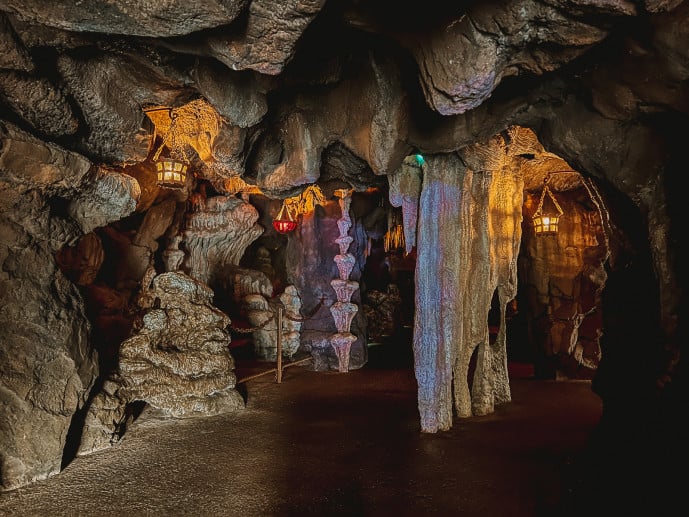 My top tips for visiting the Disneyland Paris Dragon
Watch your step – it's very dark inside the Dragon's lair and sometimes it can get slippy in the rain. Watch your step so you don't trip over.
Have patience – the Dragon will usually be sleeping in its lair and then wakes up when disturbed. Be patient as the dragon may take a while to wake up!
Don't use flash – it's very dark in here so photos can be a challenge. But, be mindful that using flash can ruin other visitors' experiences. Luckily, most iPhones and smartphones these days have amazing low-light settings for photos/videos.
You can bring strollers – as the Disneyland Paris Dragon under the castle is a walkthrough attraction, strollers are allowed inside.
Is the Disneyland Paris Dragon scary?
For some children, meeting the Disneyland Paris Dragon under the castle is an exciting experience as it's just like watching dragons in a movie.
But, for other little children, it can be very scary. It's a dark and noisy room and coming face to face with a fire-breathing dragon can be pretty daunting.
Most children I saw inside were fine but some got a little spooked and were hiding behind their parents for reassurance. Some simply refused to go inside. I guess the experience will be different for each child.
Generally speaking, it's not meant to be a super scary attraction. But, the mix of darkness, noises, and smoke may be overwhelming for little ones.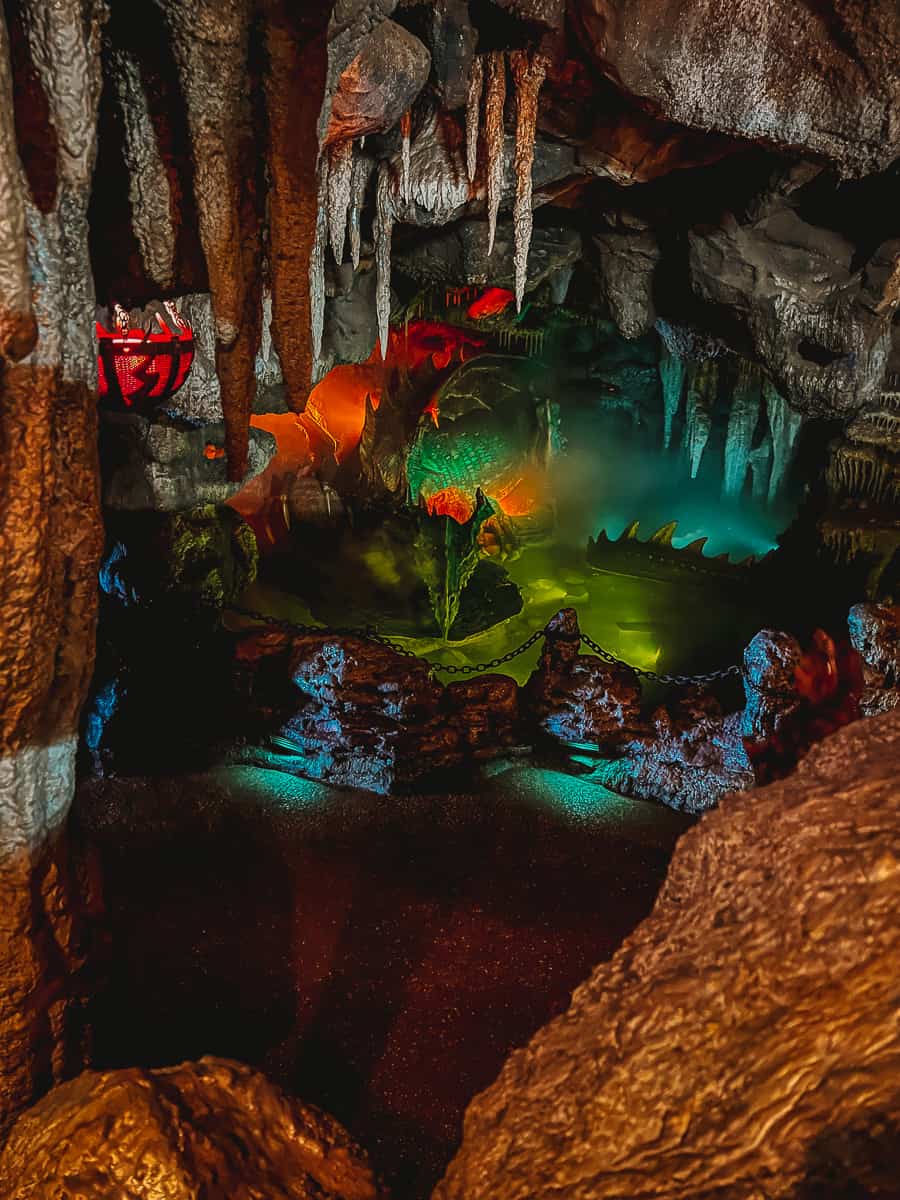 La Taniere du Dragon opening times
Opening times for Parc Disneyland are usually 8.30 am for hotel guests or annual pass holders who have access to Extra Magic Time and 9.30 am for regular park ticket holders throughout the year.
Disneyland Paris Dragon under the castle will be open during Extra Magic Time so you could visit straight away however I would argue this isn't the best use of that extra time if you want to skip the long queues (*cough* Peter Pan's flight *cough*)
The dragon is usually quiet all day and rarely has a queue. But, you do you boo! I love Dragons so I totally understand the need to see it ASAP.
Closing times for Parc Disneyland vary throughout the year in Paris. In the summer months, it closes at 11 pm and even midnight on some weekends.
In the off-season, the Disneyland Paris park closes earlier around 7 / 8 / 9 pm depending on the day.
La Taniere du Dragon always closes one hour and 45 minutes before park closure time.
To make remembering this easier, I used the Fantasyland area closure times as a reference.
Fantasyland always closes one hour before the park closure/illuminations time and the Dragon closes 45 minutes before that.
So, if the park closes at 8 pm, Fantasyland will close at 7 pm and the dragon will close at 6.15 pm.
Again, if the park closes at 10 pm, Fantasyland will close at 9 pm and the dragon will close at 8.15 pm.
Make sure to not miss out on visiting the dragon by visiting earlier in the day rather than in the evening!
Magic tip: As well as the Disneyland Paris app, I use an app called MagiPark that gives you all the live ride wait times in a colour-coded format and opening/closure times for rides. It's the best app as you can set notifications for when rides re-open after closures and skip long queues.
Visit Disneyland Paris Merlin l'Enchanteur shop next
The Disneyland Paris Dragon under the castle is a walkthrough attraction that takes you from Main Street USA through to Fantasyland near the Snow White ride (Blanche-Neige et les Sept Nains).
But, once you're in the cave, if you look directly behind the dragon you'll find a set of stairs.
If you walk up those steps it will lead you to a beautiful shop called Merlin l'Enchanteur or the Sword in the Stone.
This shop looks like a sorcerer's cave similar to Merlin's in the classic movie and has potion bottles and all sorts of bric-a-brac as decor.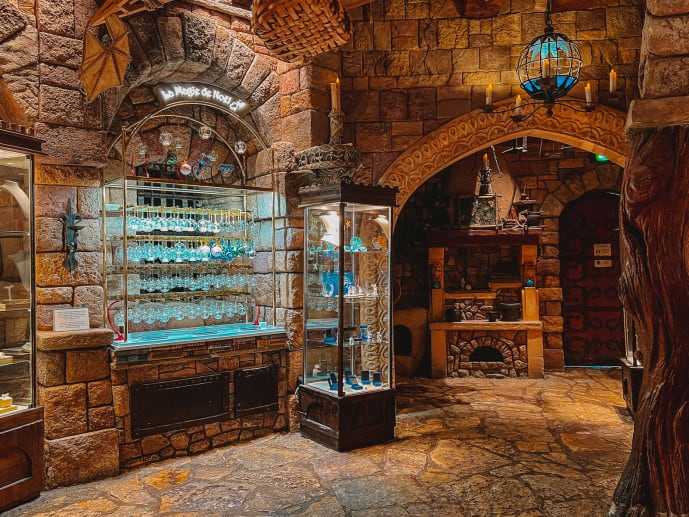 They sell some gorgeous crystal and glass collectibles to purchase although they are pretty expensive.
There was a pink crystal Disney castle in a case for 25,000 Euro but obviously smaller collectibles are more affordable!
I loved the Enchanted Rose section dedicated to Beauty and the Beast. Plus, the gorgeous jewellery from Disney Couture and Pandora.
You can also see the artists making glassware inside. Even if you don't buy anything, it is truly a beautiful place to explore after your visit to the dragon.
Love the Sword in the Stone? You'll find the sword Excalibur just outside the castle on the Fantasyland side. Have a go at pulling it out. Some guests may get lucky!
La Boutique du Château (Disneyland Paris Christmas Shop)
It's always Christmas at Disneyland Paris and one of the most popular shops in the park has to be La Boutique du Château which sells Christmas decorations all year.
It's a medieval-style shop with painted cloisters and is always beautifully decorated with trees, tinsel, baubles, and sparkle!
You can pop into this shop to buy stockings, baubles, festive toys, ears, handbags, and more. It brings me so much joy.
Don't forget to look out for the Sleeping Beauty stained glass windows inside here too. They are works of art.
Fun fact: drop your pre-loved toys off here at the cash registers and they will give them new life by magic!
Don't forget to go upstairs to Sleeping Beauty's Castle!
In my opinion, Disneyland Paris has one of the best Disney Castles in the world as you can actually go inside this one without spending a massive amount on a fancy dinner, boutique experience, or an expensive suite.
La Galerie de la Belle au Bois Dormant (The Sleeping Beauty Gallery) is a walk-through attraction on the upper floor that you can visit to explore chapters of the fairytale!
When you walk up the staircase, you'll see sparkling trees and colourful stained glass windows with scenes from Sleeping Beauty.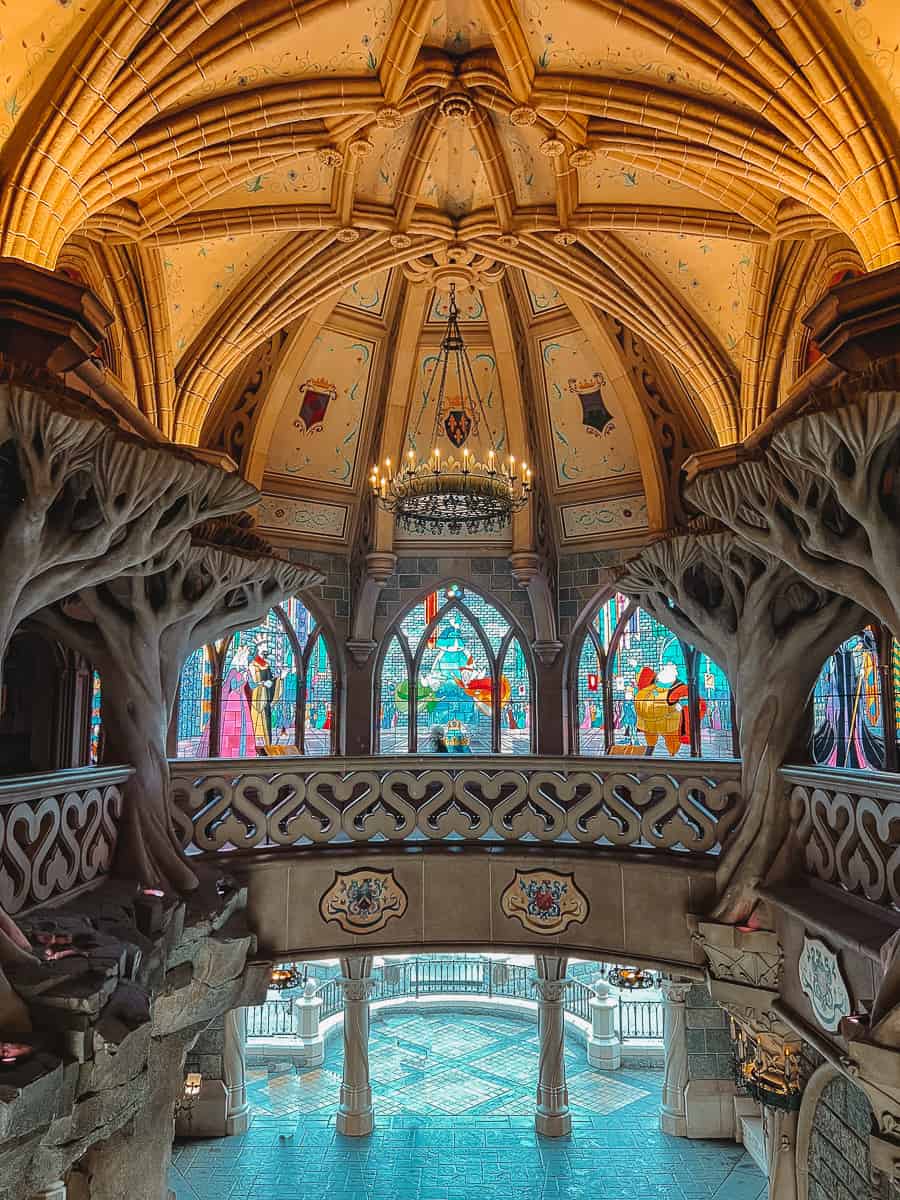 You'll walk past the fireplace with Aurora's spindle. See stained glass windows and tapestries with Prince Phillip, King Hubert, Maleficent, her Goons, the Fairy Godmothers, and snoozing knights.
There's even a cute statue over a fountain of Aurora and Prince Phillip dancing from 'Once Upon a Dream'. There is a stained glass window of Phillip kissing Aurora just beyond it. It's so gorgeous.
When you walk outside, you'll get stunning aerial views over Fantasyland from the balcony. Don't forget to look up to see Sleeping Beauty's owl and the golden snails on the castle towers.
You can then end your trip via the spiral staircase down to the bottom of the castle! You can't miss visiting the inside of Sleeping Beauty's castle whilst at Disneyland Paris. It's simply breathtaking.
The Dragon in the Disney Stars on Parade
If you love dragons then you must see Maleficent's Dragon in Disney Stars on Parade which takes place every afternoon.
It's a huge, animatronic dragon float that has moving limbs and breathes real fire from its mouth! It was honestly the coolest float of the whole parade.
In front of the dragon, you'll find Prince Phillip fighting off Maleficent's Minions. Plus, look out for one of The Goons holding onto the dragon's tail and scaring spectators.
The best place to see Disney Stars on Parade is on Main Street USA just in front of the castle for photos.
However, for a less busy experience, I would wait in the area opposite Pizzeria Bella Notte as the floats first come out of the gate near It's a Small World. There are even benches to sit on here.
Sometimes, while you're waiting for the parade to start, you can see princesses and characters returning from their meet-ups.
While waiting for the parade, I saw Ariel, Cinderella, the Mice from Cinderella, Snow White, Aurora, Captain Hook, Smee and Tweedledum, and Tweedledee!
This saved me hours of time instead of waiting in places like the Princess Pavilion (which usually has a 2-hour wait time) and I got to see four princesses at once, not just one.
Once the last float has passed you by in the parade, you can then leave straight away and head back to Fantasyland to beat some queues while people are waiting for the parade to reach them on Main Street USA.
Magic tip: I always recommend arriving for parades around 45 minutes to an hour before they start to get a good view.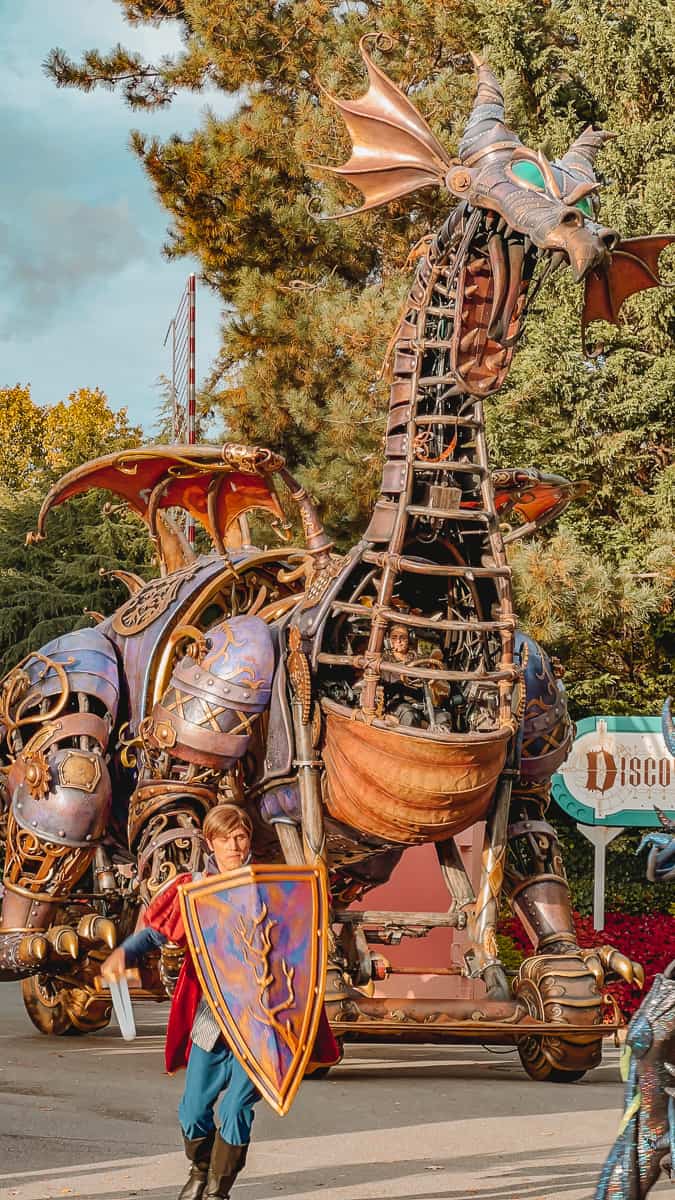 Disneyland Castle Dragon FAQs
How Big is the Dragon in Disneyland Paris? It's 27 metres long and 89 feet. It also weighs over 2,500 kilos
What's the best time to visit Disneyland Paris Dragon? For the quietest experience, I would visit during your Extra Magic Time. But, really any time will be quiet as it's a hidden gem. The time to avoid would be around parade times. It closes at the same time as Fantasyland so don't leave it too close to the fireworks.
How long does it take to visit the Disneyland Paris Dragon? 5-10 minutes at most. But, definitely take your time and be patient.
When does the Disneyland Paris Dragon go into refurbishment? It changes throughout the year. See the refurbishment calendar for more details to avoid disappointment.
What is the name of the Disneyland Dragon? It doesn't have a name as far as I'm aware. But, it's called La Taniere du Dragon in French.
Save time and pre-book tickets for Disneyland Paris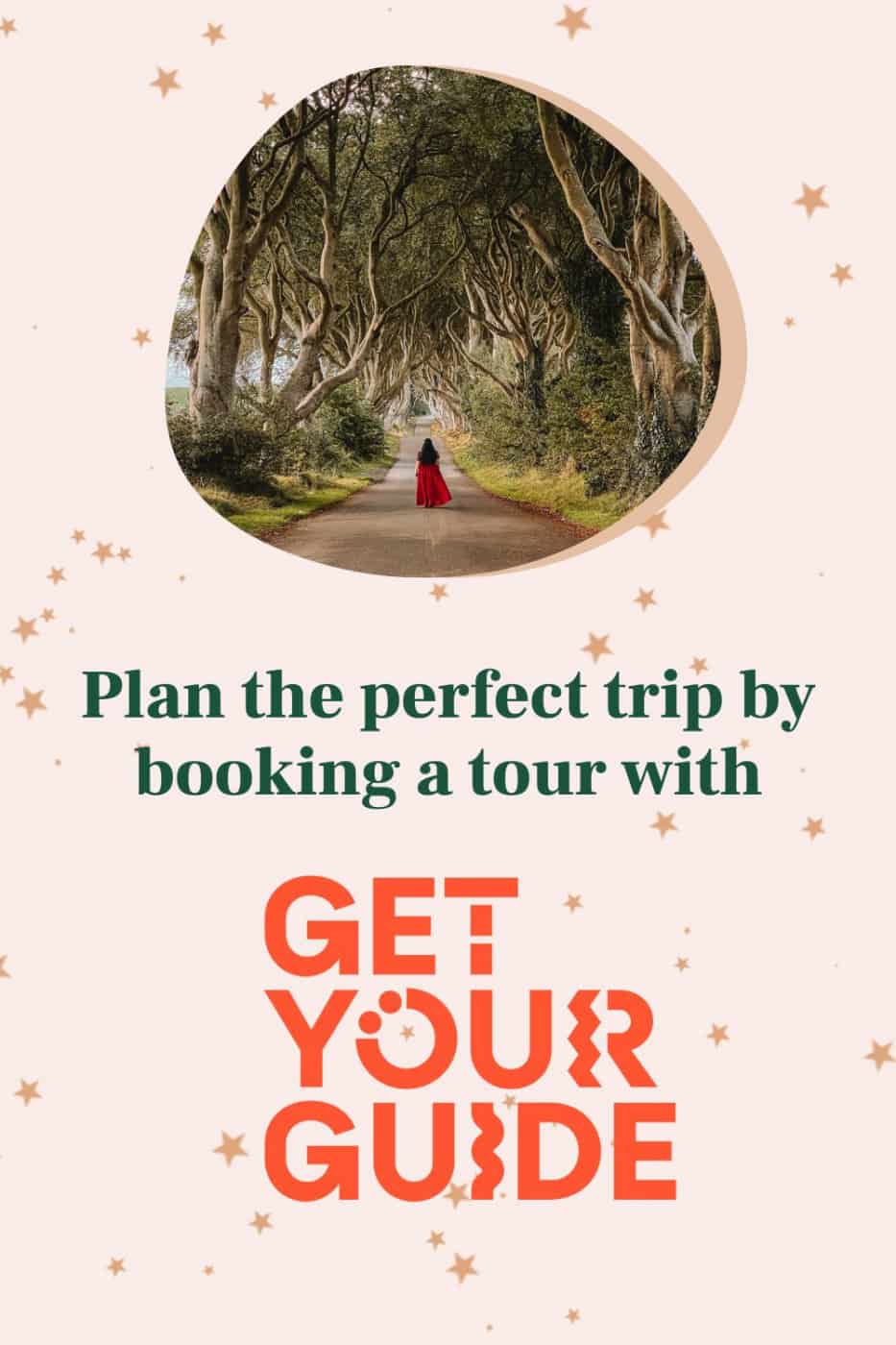 Pre-book tickets to Disneyland Paris!
Read more of my Disneyland Paris articles
50+ Instagrammable places in Disneyland Paris
25+ Things to do in Disney Village Paris
Walt's An American Restaurant Review
Toad Hall Restaurant Review at Disneyland Paris
Newport Bay Disneyland Paris Review – Is Compass Club worth it?
An honest Captain Jack's Disneyland Paris review
Honest Bistrot Chez Remy review – Paris Ratatouille restaurant
Pizzeria Bella Notte Review – Lady & The Tramp restaurant
Is Auberge de Cendrillon Princess Dining worth the price?
Save the Disneyland Paris Dragon Under the Castle for later!