Hey Disney fans, did you know that there is a Disneyland Paris Lady & The Tramp Restaurant?!
It's called Pizzeria Bella Notte and it's a dreamy Italian restaurant that was inspired by the classic animation movie.
Similar to Tony's Restaurant, you can enjoy your very own "bella notte" along with spaghetti and meatballs, lasagne, or even a Mickey-shaped pizza!
In this Pizzeria Bella Notte Review, I'll go through all there is to know about eating here and what to expect.
"This is the night, it's a beautiful night and we call it bella notte. Look at the skies, they have stars in their eyes, on this lovely bella notte." – Lady & The Tramp
What is Pizzeria Bella Notte?
Pizzeria Bella Notte is a whimsical Italian restaurant that is inspired by the Lady & The Tramp movie at Disneyland Paris.
It's set in the Fantasyland Area of Disneyland Park and can be found close to the entrance of It's a Small World.
It's hard to miss the Disneyland Paris Lady & The Tramp restaurant as it's painted in a gorgeous shade of pink and set in a lopsided building that's inspired by the Leaning Tower of Pisa in Italy.
It's a quick-service restaurant in Disneyland Paris so you can't reserve a seat. It's also not available for food & drink pre-orders.
But, there is lots of room to sit inside and outside this gorgeous eatery during the day.
What is it like inside Pizzeria Bella Notte?
Pizzeria Bella Notte is as gorgeous on the inside as it is on the outside. You'll find it colourful and filled with Italian influences and looks like you've just stepped into Venice.
There are Juliet balconies lined with vines, flowers, and colonnades. Plus all sorts of Mediterranean bric-a-brac such as oil jugs, fruit, crockery, wicker baskets, and barrels.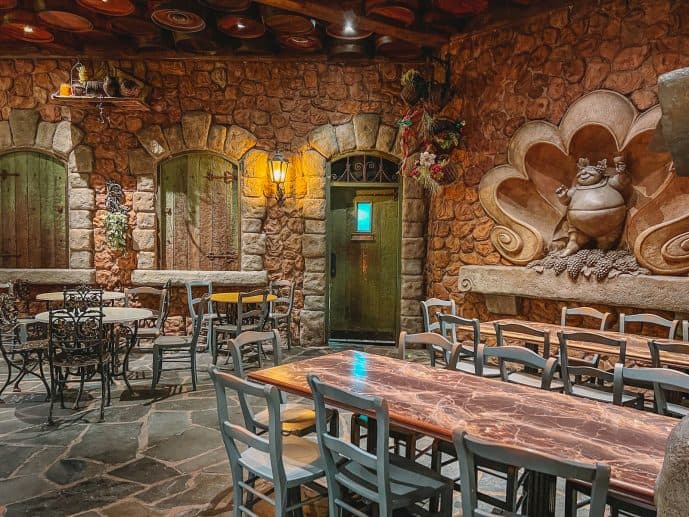 Look out for Lady and the Tramp characters throughout the restaurant. You'll find statues of Tony and Joe and a mural of Tramp & Lady sharing their special moment over a bowl of Spaghetti.
It's a peaceful restaurant with a romantic atmosphere and the food is really tasty.
What is on the Pizzeria Bella Notte menu?
Pizzeria Bella Notte is one of my favourite quick service restaurants in Disneyland Paris due to the Italian food.
They have a Lady & The Tramp Spaghetti with meatballs which is very popular here that looks like it was prepared by Joe himself. It's the only unique item on the menu.
Or, you can treat yourself to a cheesy lasagne. I had this the second time I visited and it was great with the chili oil.
They also have Rigatoni Pasta which comes with either a cheese or bolognese sauce.
All of these have the option to be a set 'Menu' or a meal deal. If you pick this option you can choose garlic bread or a salad and a soft drink of your choice. The menus range from 15 – 17 euro.
Or, you can order items separately or a la carte. But, I would say that the 'Menu' items offer the best value for money.
Get a Mickey Shaped Pizza!
I have been wanting to buy a cute Mickey Shaped Pizza for as long as I can remember and I was so happy that I was able to finally do it in Pizzeria Bella Notte.
The adorable Pizza Mickey comes in two choices of Pepperoni or 4-cheese and it's honestly delicious.
I decided to order it as part of a menu option with garlic bread and Diet Coke and it was such a yummy meal. Very comforting in the winter season.
The garlic bread was tasty and had lots of flavour. It's in the form of a baguette and you can order this a la carte for a snack if you prefer.
I went for the 4-cheese Mickey Pizza and would recommend picking up some of the chili oil sachets at the counters to add a little spice.
Next time, I'm going to try the signature dish of the Lady and the Tramp Spaghetti. I don't know why I didn't get it before as it's the specialty. I guess I just didn't fancy pasta at the time.
You can also order the Mickey-shaped pizza to take away too as it comes in a pizza box. It's a great option if you wanted to eat it whilst waiting for the parades or shows.
Pizzeria Bella Notte Luca Dining Room
Disneyland Paris has recently made some improvements to Pizzeria Bella Notte and they now have an expansion with a Luca-themed dining room inside.
If you weren't aware, Luca is a Pixar movie that follows Luca Paguro in his summer spent on the Italian Riviera. So, it makes sense that he makes an appearance at Pizzeria Bella Notte.
It's a popular movie here at Disneyland Paris so look out for Luca's mural inside the restaurant. It brings a piece of Portorosso to Paris.
I hope that they don't completely transform this into a Luca restaurant though and it's just an expansion.
The Lady & The Tramp theme is so good and it would be sad to get rid of the classic theming.
Where is the Disneyland Paris Lady & The Tramp restaurant?
You can find the Disneyland Paris Lady & The Tramp restaurant in Disneyland Park just beyond Sleeping Beauty's Castle in Fantasyland.
It's located near the entrance of It's A Small World ride and almost opposite the colourful Fantasyland gates where the parades start/finish.
It's very easy to find but can be quite a hassle to get to when parades are due to start as they rope off nearly all of the walkway outside of the restaurant.
So, you'll be walking through crowds of people just to get to the entrance. To avoid this, visit outside of parade times.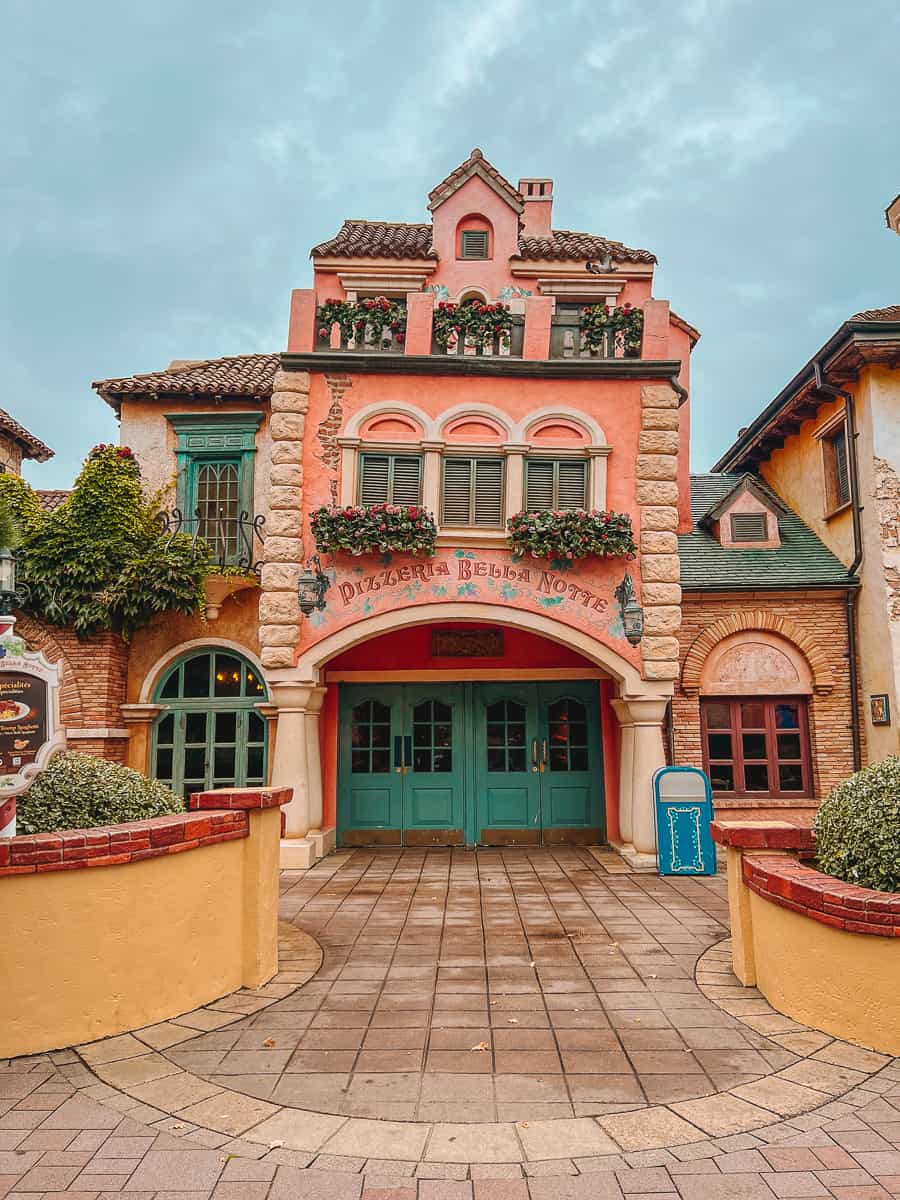 Pizzeria Bella Notte opening times
Pizzeria Bella Notte opens at 11.30 am and then closes around 7 pm in the peak season.
In the off-season, the Lady & The Tramp Restaurant can close as early as 5 pm so make sure to plan ahead.
As before, this restaurant is very popular anyway due to the Italian food but when the parades come through it can be heaving with queues out of the door.
I would visit as soon as they arrive for fewer lines and a more peaceful experience. Peak times can be hectic.
I always find visiting a quick service restaurant near closing time can be annoying as half the restaurant is closed off for cleaning and the staff just usher you away.
My top tips for eating at Pizzeria Bella Notte
Avoid parade times – Pizzeria Bella Notte can get VERY busy straight after the parades as they travel right beside the restaurant. Avoid this if you don't want a huge queue.
Visit early or later – I always found an early lunch to be the best option for a quieter visit. If you visit as soon as they open around 11.30 am there will be fewer crowds.
No pre-order – at the time of writing you cannot pre-order via the app for the Disneyland Paris Lady & The Tramp restaurant. I hope this does come in soon though as it would cut queue times down massively.
Take a snap – Pizzeria Bella Notte makes an incredible photo opportunity as it's a gorgeous and wonky pink building. Make sure to visit early morning to take a photo of the front without masses of people.
Get your tickets for Disneyland Paris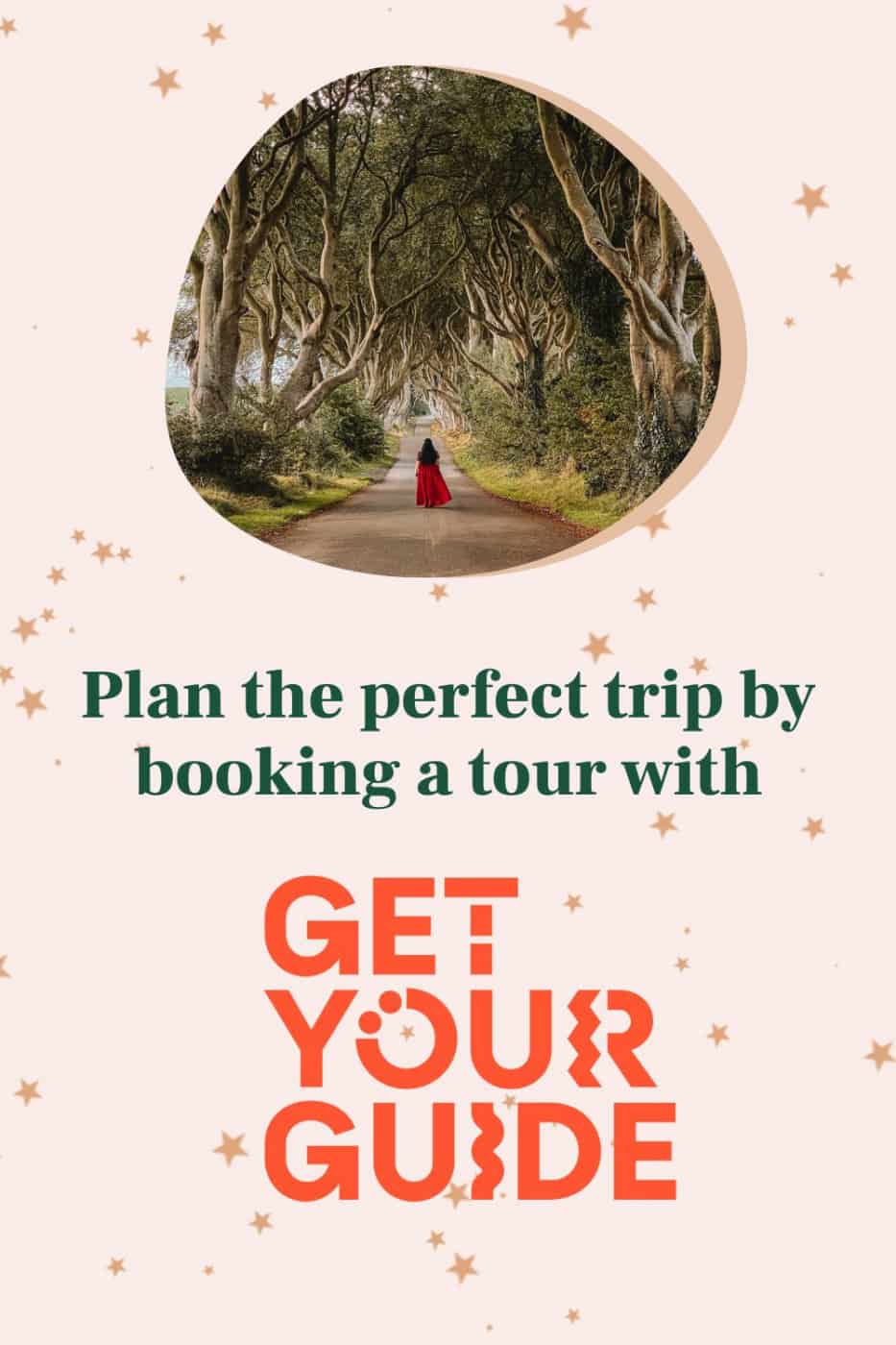 Pre-book tickets to Disneyland Paris!
Read more of my Disneyland Paris guides
50+ Instagrammable places at Disneyland Paris
55+ Disneyland Paris secrets and hidden gems to discover
25+ Things to do in Disney Village Paris
Walt's An American Restaurant Review
Captain Jack's Disneyland Paris review
Don't miss the Disneyland Paris Dragon under the castle
My Honest Bistrot Chez Remy restaurant review
Toad Hall Restaurant Review at Disneyland Paris
Is Auberge de Cendrillon Princess Dining worth the price?
Save this Pizzeria Bella Notte Review for later!