Every year, thousands of grey seals migrate to Donna Nook beach in Lincolnshire to give birth to their pups in the sand dunes.
From November to December, you can visit to see this wildlife spectacle of resting seals as far as the eye can see.
Although I've seen grey seals in sanctuaries and on boat trips, I've never had the opportunity to see them this close or see a fluffy seal pup!
It was such a special and unique wildlife opportunity that you do not want to miss on the Lincolnshire coast.
Here is a complete guide on how to visit Donna Nook Seals including the best time to visit, parking, and what to expect.
What is Donna Nook Seal Colony?
Donna Nook is a national nature reserve that covers more than 6.25 miles (10 kilometres) of coastline between Grainthorpe Haven and Saltfleet.
It lies in an area owned partly by the Ministry of Defence and is famous for a colony of grey seals who migrate here each year.
Every year, from November to December, thousands of grey seals will arrive from the North Sea to Donna Nook to give birth to their pups near the sand dunes to rear them and protect them.
They are completely wild and thousands of people in the UK and beyond visit this beach to see them.
It's an amazing opportunity to see so many grey seals, seal pups, and wildlife in Lincolnshire!
Did you know? A grey seal's scientific name is Halichoerus grypus which means hook-nosed sea pig!
What is the best time to see Donna Nook Seals?
The seals start to migrate to Donna Nook at the end of October but there will be very few seals then.
It's never a guarantee but from looking at the previous year's figures, the seals really start to gather around mid-November.
Most pups and seals will be on Donna Nook beach in the final weeks of November and in early December.
There may still be some adult seals milling around in early January but these will be very few. I visited this beach in the second week of January and there were none at all!
It's always best to check the 'Weekly Seal Pupdate' (so cute) on the Lincolnshire Wildlife Trust website to see how many pups will be there before you go.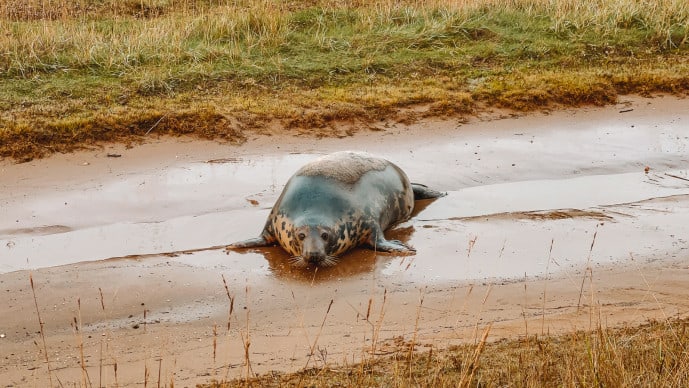 How many seal pups are there on Donna Nook beach?
Figures change every year and births vary week by week throughout the months of November and December.
By the end of November, there can be as many as 1,500 seal pups on the beach and around 3,000 seal cows and bulls.
The volunteers keep a track of all the seal births that take place at Donna Nook and the number of adult seals on the beach to make sure they are safe.
This isn't a sanctuary, all the seals here are wild and the volunteers only intervene if absolutely necessary!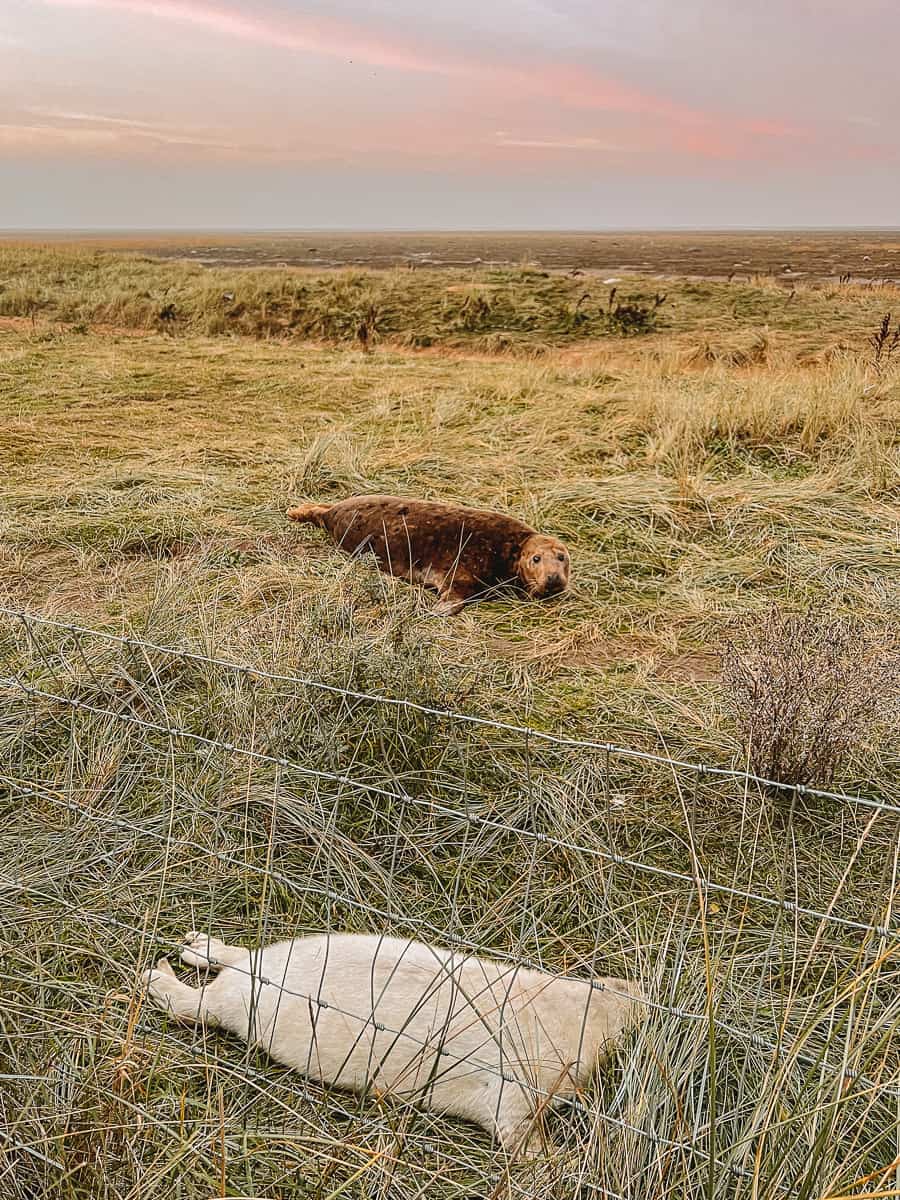 How to get to Donna Nook in Lincolnshire
Donna Nook beach can be found in Lincolnshire in the far East Midlands on the Lincolnshire Coast near Mablethorpe.
This is around an hour's drive from the historic city of Lincoln which makes it such a fabulous weekend away.
It's easiest to drive to Donna Nook in Lincolnshire and you can find it near to the Lincolnshire Wolds AONB.
It's around a 30-minute drive from Grimsby/Cleethorpes, a 60-minute drive from Lincoln and Skegness, and a 90-minute drive from Hull.
If you are following a SatNav, once you get near Donna Nook make sure to follow their temporary yellow signs for the car park entrance.
It's not the easiest drive as it's on remote country roads and lanes. On my visit, there was such terrible fog I could hardly see driving back at night!
There is no bus or train to Donna Nook and it's part of a Ministry of Defence training area. Only remain in areas open to the public and do not step onto the beach if there are red flags flying.
Donna Nook address is Marsh Lane, Louth, LN11 7PD (although not the exact postcode, it gets you to the yellow entrance signs). Click here for a Google Pin!
Donna Nook seals parking
There is a large overflow car park that has been set up on the field near Donna Nook beach where you can park.
Although it's a big car park, thousands of people will want to visit Donna Nook to see the seals during November/December so it's best to visit earlier rather than later to not have to queue.
If you can I would avoid weekends as it gets very busy. Saying that I visited on a Sunday afternoon and it wasn't too bad.
Parking costs £5 per car and you can pay either cash or contactless to the volunteers at the gate.
20% of your contribution goes towards the Lincolnshire Wildlife Trust which does amazing work at protecting the seals.
If you require accessible parking there is a disabled car park that is located nearer the beach with a flat pathway to see the seals. Just follow the yellow signs. Places are limited.
Donna Nook opening times: you can visit at any time between sunrise to sunset! However, there will be no facilities once the sun goes down.
How much does it cost to see Donna Nook Seals?
Something I found amazing was that seeing the Donna Nook Seal Colony is absolutely FREE on the Lincolnshire coast.
Donations are always appreciated. So, make sure to bring some small change to donate or you can donate to the seal appeal online.
You just needed to pay the £5 parking fee for the overflow car park which is a not lot to see these incredible creatures in the wild.
We're all trying to save pennies these days and so a trip to Donna Nook makes a fabulous budget family activity in Lincolnshire.
How long do I need to visit Donna Nook Seals?
You can spend as little or as long as you like at Donna Nook visiting the seals, but I would recommend at least a couple of hours.
I could have spent all day admiring the fluffy babies and watching them flop about on the sand!
I got here quite late on a Sunday afternoon on my way home from Northumberland and regretted getting there so late. I only had around 2 hours in the daylight as it got dark at 4 pm.
I would try to get here early morning or lunchtime to make the most of the daylight. Also, try a weekday as weekends can get very busy.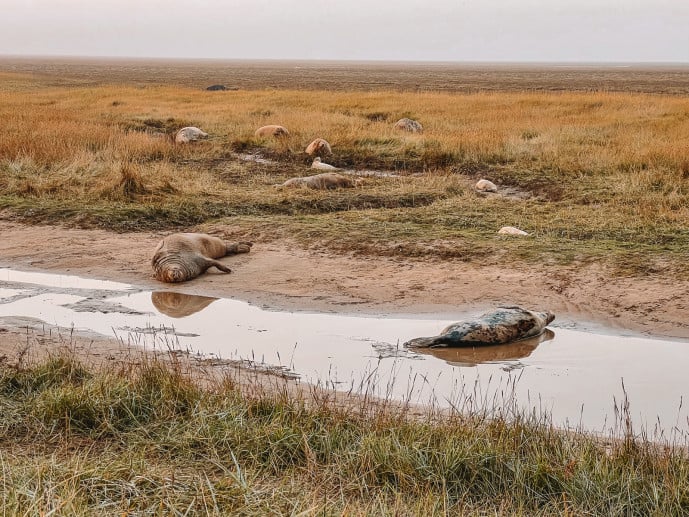 Donna Nook facilities
So, when you park up you'll find some portaloos in the back of the car park that has been set up for you to use.
There are no toilets at the beach so best use them before you make your way over to the seals!
Also, before you walk over to the main beach you'll find a food van serving hot and cold drinks and hot food throughout the day.
There were a few farmer's market stalls selling fresh produce and some tents for the Lincolnshire Wildlife Trust with information on how you can join and support the incredible work they do.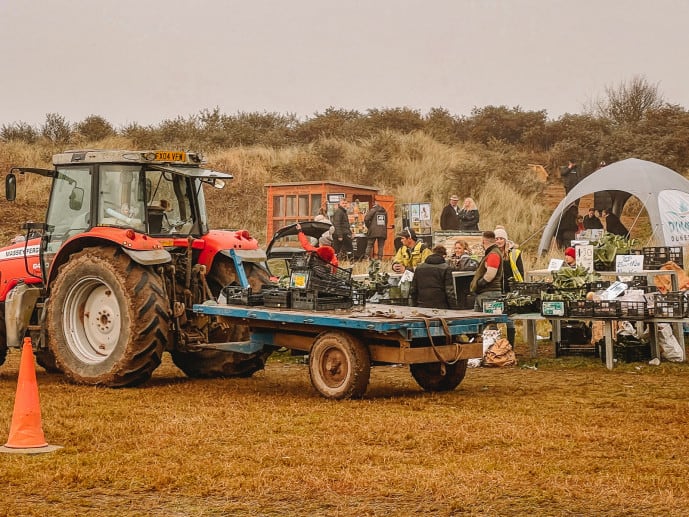 Walking down to Donna Nook seal beach
From the field car park to the Donna Nook seal beach, it's around a 5-minute walk no more. Although short, it does include some steps and is over a sand dune so be careful as you go.
But, once you get here you'll see a huge wooden fence that has been set up along the beach to separate the humans from the Donna Nook Seal Colony.
You can walk all the way up and down this fenced-off area to get the best chance of seeing the seals up close.
Watching the Donna Nook Seal Colony
Depending on when you visit, there will be hundreds of seal pups, cows, and bulls all over the beach. You won't believe how many, they were as far as the eye could see!
Mainly they will be sleeping and resting but some will move their positions and it's so funny watching them wobble over the beach.
As the mothers are protecting their young, you may see fights break out. I saw many males trying to get past mothers and were quickly shouted down or turned away. The spats looked vicious!
A male weighs over 50 stone and could easily harm a baby seal. So, the mammas are in full protective mode and do not tolerate any intruders in their space.
They don't seem to mind humans though but I would never do anything to cause concern or scare them.
Although some of the seals will be much further away, many will come right up to the fence! I honestly couldn't believe how close you can get to the seals.
I've done boat trips before and have seen seals sunbathing on the rocks but I've never seen wild seals this close.
It felt strange seeing them on the grass and sand and not in the sea and I was a bit worried at first. But, I learned that seals built up blubber storage so they don't need to eat fish.
Also, the main purpose of them being here is to rear their young and feed the seal babies milk until they are old enough to be on their own (which I was surprised to learn is usually only 3 weeks!).
See baby seals at the fence!
At this time of year, the seal mums will be giving birth to their pups at Donna Nook. So, you may be lucky enough to see a seal pup being born or see them very young as I did.
The one I saw near the fence was less than 12 hours old and it was such an attention seeker! It was adorable, making gurgling noises, and kept biting his fins.
Although they sleep most of the time, when they wake up you'll see their huge black eyes and emotive faces. It was just so cute!
They wear a gorgeous white coat for around a few weeks until they shed that and turn grey (or greyish brown) with unique markings like the rest of the colony.
I've never seen a seal baby in the wild, or in a sanctuary, as they are always protected by the colony and hidden away. So, it was a really unique and special experience.
Note: You may find that if with brand newborn seals the Lincolnshire Wildlife Trust will put cones around that part of the fence to protect the baby and make sure the mother isn't concerned about the crowds.
Donna Nook gift shop
Whilst you're down at the beach, you'll find the Lincolnshire Wildlife Trust hut that has some useful information about the Donna Nook Seal Colony.
You'll find out why they are here, where they go after they've given birth to their pups and there are even photos of the birthing process.
But, what I loved is that they had a small shop selling some cuddly seal toys and souvenirs to take home. I bought a fluffy baby seal toy I called blubber!
All the proceeds go towards the Lincolnshire Wildlife Trust and it's a fabulous way to make a contribution.
Can you touch the seals?
No. Although they look very fluffy and cute they are quite ferocious especially when protecting their young.
You will most likely get bitten and, if you don't lose a limb, their bites can cause infection and disease.
Also, touching baby seals can be fatal for them. The mother will abandon them and then they cannot feed and will most likely die.
Always keep your distance, remain completely behind the fence, and respect the rules whilst you're here.
My top tips for visiting the Donna Nook Seal Colony
It gets dark early – When the seals are at Donna Nook from November to early December, it gets dark around 4 pm. The best lighting is before 3 pm. So, make sure to get her early. I got here around 2 pm and regretted it as I wanted to spend more time there.
Wrap up warm – as you're on the coast, there will be a strong breeze and we get cold winters in the UK. Make sure to layer up.
Bring sensible shoes – I wore trainers but it can get mucky in the car park. Also, you'll be walking on sand dunes over to the beach. Consider waterproof boots or wellies.
Respect the rules – shouldn't have to be said but respect the wildlife. Don't jump the fence, touch the seals or do anything to intimidate/scare them.
Don't forget your camera – this is an opportunity you don't want to miss to capture the Donna Nook seals, especially the babies!
Prepare to get bitten (by bugs) – something I was not expecting at Donna Nook was the number of bugs that were biting me. They looked like mosquitos and were HUGE. Although not poisonous or toxic in the UK it was still annoying to have lots of blotches and itchy bites on my hands and legs after my visit. So, wear some bug spray If you're the type they like!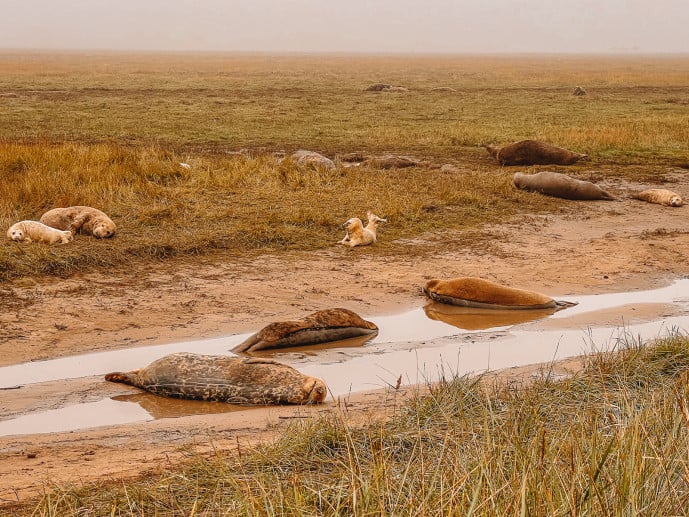 What to wear to see Donna Nook Seals
As you're on the Lincolnshire coast in winter, it can get very cold with the breeze travelling over the sea.
If it's raining, the area is completely exposed and there's not really any shelter at Donna Nook at all.
I would come prepared with layers to keep warm, a hat, gloves, some thick trousers/leggings, and boots. Pack a raincoat or umbrella in your bag too just incase.
You can always warm up with a hot coffee or food from the food van in the car park!
Donna Nook Seals FAQs
Why do seals go to Donna Nook? To give birth to their young so they are protected from danger.
Where do the seals go after Donna Nook? A team used trackers and found they swim to Dogger and Norfolk Banks in the North Sea!
Is Donna Nook dog friendly? No. Dogs are not allowed at Donna Nook when the seals are here!
Can I touch a seal? No! Mothers are VERY protective of their babies and you'd probably get your hand bitten off. If they bite you it can cause infection and disease. Touching them can also mean the pups get abandoned, starved, and will die :(
Can you take photos of the seals? Yes, I took lots of photos and videos on my phone! But, I would bring a big lens if you want quality close-up photos. Although they are close to the fence many others are far away on the beach. You should also be careful when setting up tripods so as to not scare the seals.
Do you have to book to see the seals at Donna Nook? No, but I would recommend getting here early so you're not queueing for the car park.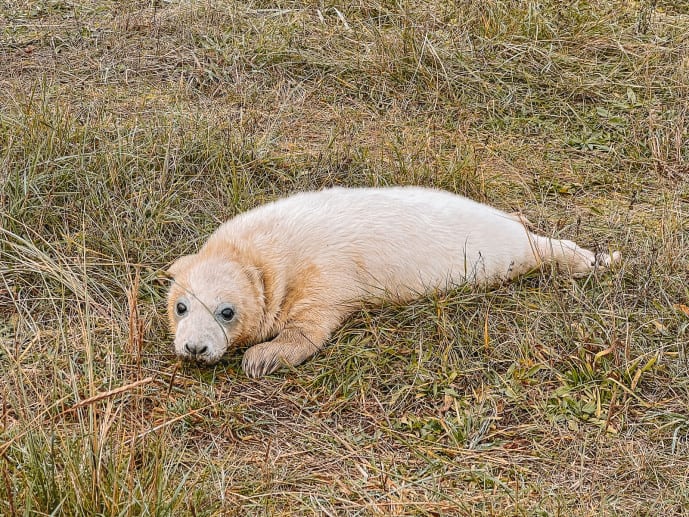 Looking for more things to do in Lincolnshire?
Lincolnshire is on the far reaches of the East Midlands and makes a great place to explore on a weekend away in the UK.
You can explore this beautiful county with the historic city, countryside wolds and the huge coastline.
As you're on the Lincolnshire coast, you can visit many spots including Humber Bridge, Grimsby, Scunthorpe, Cleethorpes, and Skegness.
Or, if you want to see a more natural coastline why not visit Gibraltar Point and the North Sea Observatory in Chapel St Leonard's?
The Lincolnshire Wolds is a beautiful area to explore and I would recommend visiting the colourful market town of Louth.
But, the highlight of a visit to Lincolnshire has to be the ancient historic city of Lincoln. It used to be an ancient Roman citadel set high on a peninsula but that was replaced with the vibrant Lincoln Cathedral Quarter.
You can meander up the historic Steep Hill to visit Lincoln Cathedral and discover the legend of the Lincoln Imp.
Or, visit Lincoln Castle which has an original copy of the Magna Carta and was converted into a Victorian Prison! As part of your visit, you can take an amazing walk along the castle walls for superb views over the city.
There's also lots of shopping, art galleries, museums, and a vibrant waterfront to visit in the evening.
Where to stay near Donna Nook
Donna Nook is a very remote area of the Lincolnshire coast and is located in a Ministry of Defence training area so there aren't many hotels in this area.
The closest place to stay with infrastructure would be Cleethorpes. It has an incredible stretch of sandy beach and a pretty Victorian promenade to wander on.
The heritage pier has since been replaced with a Papa's Fish & Chips restaurant which is highly rated in the UK! But, you can still walk around it for some amazing views over the horizon.
Plus, there are the usual distractions like arcades, mini golf, and a small train that will take you around the prom.
Don't miss some hidden gems like the Ross castle tower that can be seen in the car park or The Signal Box Inn pub based in an old train signal tower. It's the smallest pub on the planet!
There are plenty of options to stay here including hotels, seafront apartments, and cosy B&B's.
Click here to find your perfect hotel in Cleethorpes!
Read more of my Lincolnshire guides
A complete guide to Steep Hill Lincoln
Save how to see Donna Nook Seals for later!