Dovedale Stepping Stones is easily one of the most popular attractions in all of the Peak District National Park.
They are located in a magical gorge with dramatic limestone peaks and the scenic River Dove snakes through it which you can cross by walking over these stepping stones. It really looks like something from Tolkien's Middle Earth.
This popular beauty spot is also accessible for all and has lots of pretty walking routes around the area. But, what many people don't know is that Dovedale Stepping Stones get extremely busy during the day.
If you visit at the wrong time you may not get a parking space and you may even have to queue for a long time to cross the stepping stones!
So, if you want to avoid that, here is a complete guide for visiting Dovedale Stepping Stones Peak District with the opening times, parking charges, walking directions, and the best time to visit.
What are Dovedale Stepping Stones?
Dovedale Stepping Stones are a series of 16 limestone-capped stones that allow a crossing over the River Dove in Dove Valley within the Peak District National Park.
The valley was made famous during the 17th-century but the stepping stones were originally laid down in Victorian times to allow tourists to cross over the river for walking.
The gorge is now regarded as one of the national parks' most famous beauty spots which has over a million visitors annually.
You'd be forgiven for thinking that you have stepped into Middle Earth or The Shire exploring Dovedale.
These stepping stones over the river surrounded by rolling hills certainly feel like you're heading on an adventure with the Fellowship or Company of the Rings.
Dovedale Valley & Dovedale Stepping Stones history
Dovedale valley has a history since time immemorial and it's thought that the limestone peaks in this area date back 360 million years ago!
Fossilised creatures are often found on the walls here called crinoids and it's thought that the landscape is made up of layers of these dead marine animals over time.
In recorded history, there have been artifacts identified here from settlements during the Iron Age including coins. Also, some weapons were found from Roman times. You can see these coins and items on display at Buxton Museum.
In 1653, Izaak Walton wrote the 'The Compleat Angler' after his visit to Charles Cotton's fishing cottage in Dove which acted as an inspiration. The books are what first made this valley so famous.
It grew to fame during the Romantic era when painters would visit to capture its beauty. But, the introduction of the railway meant that this area saw huge a surge of Victorian tourists.
The Dovedale Stepping Stones are thought to have been laid during the Victorian era around the 1890s for the more adventurous Victorian tourists who wanted to go hiking. Back then, there were donkey rides from the stepping stones.
In 1936, the National Trust took ownership of the area and it has been declared a National Nature Reserve since 2006.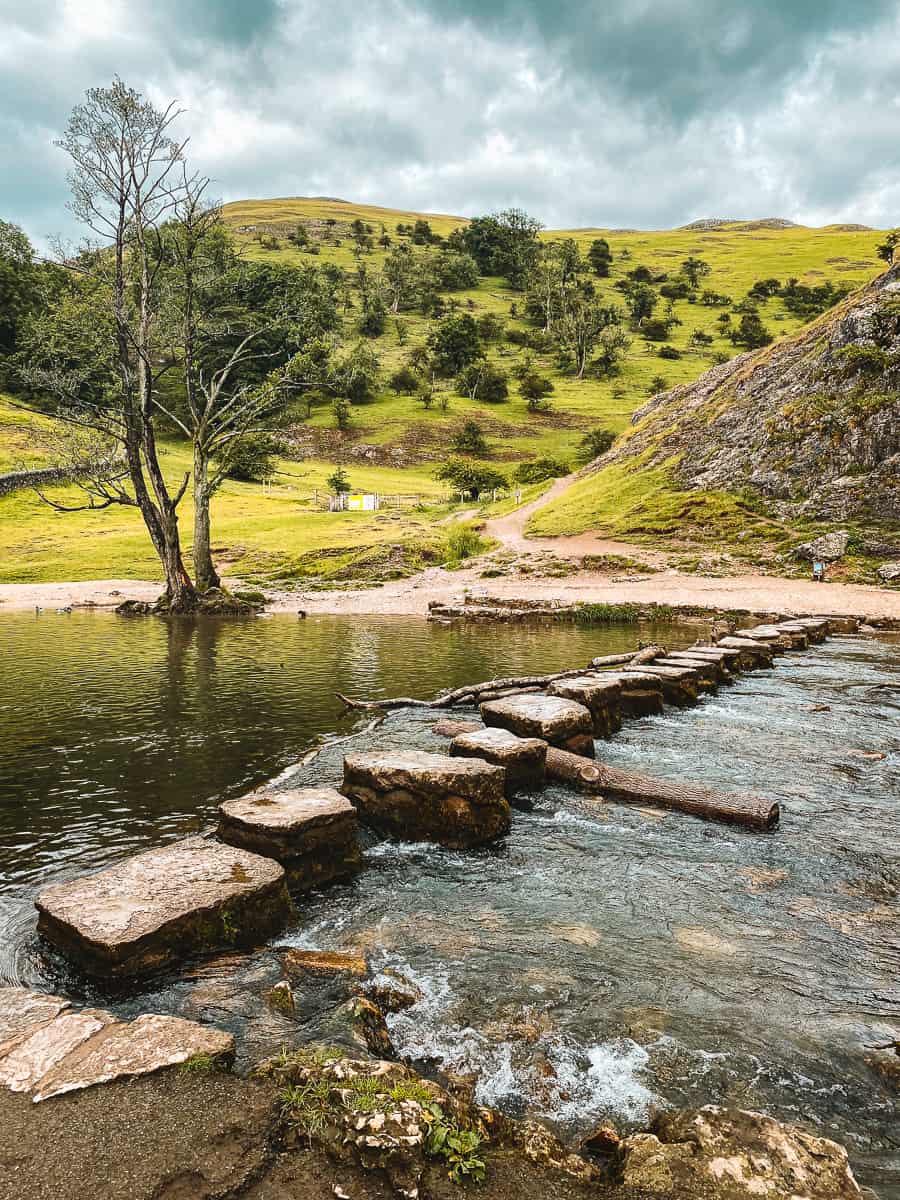 Amazing Dovedale facts
Dove Valley and gorge is one of the best known dales in all of the Peak District and sees over a million visitors annually. It's a popular beauty spot but it's only 2-3 miles long in total!
There are 16 Dovedale Stepping Stones that allow a crossing over the River Dove. This river is 45 miles long and flows through the Midlands.
Dovedale stepping stones is one of three famous stepping stones in the national park. The others are in Chee Dale and Hathersage.
River Dove is known for trout fishing and was first made famous by Izaak Walton who wrote 'The Compleat Angler' in 1653. Walton used to visit Charles Cotton in his Dove fishing cottage which was an inspiration. There is now an Izaak Walton Hotel named after him in his honour.
During the Romantic Movement its fame grew and it was featured in many painting including works by Joseph Wright of Derby. He painted the famous Dovedale by Moonlight in 1784.
The introduction of the railways saw Victorian tourists visit in droves. There used to be donkey rides from the stepping stones in the 1870s.
In the 1930s, there was a campaign to make Dovedale Britains first National Park. However, it fell through and it eventually became part of the Peak District National Park which was Britain's first National Park in 1951.
In 2010, the council decided to place limestone slabs on top of the stepping stones to stop people slipping. It caused an outrage and made headline news!
Where is the Dovedale Stepping Stones location in the Peak District?
Dovedale stepping stones are located in Dovedale valley in the White Peak area of the Peak District.
This is a picturesque gorge in the far south of the national park in Derbyshire and is near Manifold Valley, Alstonefield, and Ashbourne.
It's also less than an hour's drive from the popular Matlock and Matlock Bath so it makes a fabulous stop on a Peak District road trip.
This area, along with Ilam Park and Milldale, is extremely popular with visitors as there are lots of hiking routes and trails in abundance that have spectacular scenery for all difficulties.
Dovedale Stepping Stones postcode is DE6 2AY
How to get to Dovedale Stepping Stones
The easiest way to visit Dovedale valley is to drive to the Dovedale area which is near Ashbourne in the Peak District National Park.
Dovedale is accessed via extremely narrow country roads with passing places so always take care when driving and look out for cars going the other way!
There is very little by way of public transport to travel directly to Dovedale. There are some bus services that run from Buxton to Ashbourne. Check out High Peak Buses for more details on routes.
Note: Phone signal in the Peak District is terrible and non-existent in places. So, I would opt for a SatNav for driving directions. Or, if you plan to walk, download an offline map from Maps.Me or go old school and bring an Ordinance Survey Map!
Where to park for Dovedale Stepping Stones
There is a large Dovedale car park provided for those that wish to visit Dovedale Stepping Stones.
This is also a great place to park for walking routes to Dove Valley, River Dove, Thorpe Cloud, Milldale, and Ilam Park.
As the area is owned by the National Trust, they manage the Dovedale Stepping Stones car park.
The Dovedale Car Park opening times are from 9 am – 7.30 pm and does get really busy on weekends and bank holidays! So, arrive as early as possible or later in the evening.
It can get full easily so, if it is, you will need to find an alternative place to park. Ilam Park is close by which may have more space. Don't park on the grass verges outside as you will block access.
Camper Vans and coaches may struggle to drive through the tiny roads surrounding Dovedale so Ilam Park car park is recommended for larger vehicles.
Dovedale parking charges
Dovedale parking charges are £3.50 for 4 hours and £5 for all day. This is really reasonable if you wanted to go on a long walk but can be quite steep if you wanted to quickly visit to cross the stones.
It's good to know that the parking machines are CASH ONLY so make sure to bring some change! There are a couple of machines located near to the toilets.
Parking is free for National Trust Members, you simply need to scan your card to get a free ticket to display.
Or, the staff informed me I could place my membership card on my dashboard! This not only saves time but also some wasted paper for a car parking ticket too :)
Dovedale Stepping Stones opening times and is Dovedale free?
Dovedale Stepping Stones are open 24 hours a day for walkers as it's a permissive pathway in the Peak District.
However, if you're arriving by car you will need to visit around the National Trust Dovedale car park opening times.
Dovedale car park is open from 9 am – 7.30 pm and I would recommend visiting earlier or later in the evening.
The Dovedale Stepping Stones are completely free to visit, you simply need to pay for parking.
If you would prefer, you can park at Ilam Park which is open from 8.30 am until dusk, and then take the Dovedale Stepping Stones to walk from there instead.
How far are the stepping stones from Dovedale car park?
From the car park, it's around 640 metres walk to the stepping stones along a flat concrete path through a gorgeous valley by the River Dove.
This is less than half a mile and it will take you around 5-10 minutes at a push without stops. But, you may find it takes you a bit longer if you keep stopping for photos like I did!
You may also find that it takes you a while to queue for the stepping stones as this area can get extremely busy.
Dovedale Stepping Stones directions
So, the walk to Dovedale Stepping Stones is super easy to navigate from the car park as the National Trust provides a well-marked trail.
But, I'll provide some detailed directions so you know what to expect on this walk before you get here!
First, park up at Dovedale Car Park from National Trust
So, firstly, you'll need to park up at the Dovedale car park provided by the National Trust to access Dovedale stepping stones.
The Dovedale car park postcode is Dovedale, Ilam, Ashbourne DE6 2AY or you can use this Dovedale Google Pin hereif you do happen to have a signal on your phone.
It's a large gravel car park that has toilet facilities and there may be a visitor van or food van on your visit before you set out on your walk.
Walk in Dovedale gorge alongside the River Dove
Once you've parked up and are ready to go, you head on the walking path which is behind the toilets in the car park.
It's a flat path the whole way down that you'll follow straight but, it's incredibly scenic with peaks on either side of you.
The path follows a scenic gorge and you'll walk alongside the River Dove which snakes through it.
It really is a gorgeous stroll so prepare to take lots of photos and soak it all in. You'll keep walking straight until the path reaches the stepping stones.
Arrive at Dovedale Stepping Stones!
So, you'll eventually arrive at Dovedale Stepping Stones at the end of the path and this is where the fun begins!
There may or may not be a large queue to cross the stones over the River Dove on your visit. I was lucky and arrived when there was nobody here after a downpour.
I have heard that when it's a weekend these stepping stones can be like Piccadilly Circus and a bit manic. Not to mention, people sit everywhere and paddle in the water.
So, I would always try to arrive earlier in the day on a weekday or in the evening time when it's a bit quieter for photos and crossing the river.
What to expect when crossing Dovedale stepping stones
As someone who is quite small (around 5 foot tall), I always struggle to cross stepping stones as I usually find the gaps between them are so big. Also, admittedly, I'm completely uncoordinated!
But, the Dovedale Stepping Stones were surprisingly easy for me and I found that I had no issues at all crossing them. They are pretty flat and even which helps a lot!
The water levels were really low even though it had been raining and they were surprisingly dry that day.
I was really thankful that I arrived at a quiet time so I didn't need to queue to cross these stones. But, you may find that you will need to queue for a while on your visit.
There isn't really enough room for more than one person at a time on these stones, so you'll need to wait for people coming the other way to finish crossing before you go!
This is why there are normally so many queues and it can be quite hectic if you arrive at weekends during the day around lunchtime.
I saw lots of dogs trying to cross these stones on a lead and they really struggled, bless them! Most just ended up walking alongside the stones in the river to cool down.
Do you have to cross over Dovedale Stepping Stones for the Dovedale walk?
No, you don't have to cross these stones if you don't want to or can't for any reason.
There is a bridge near to Dovedale car park that allows you to cross over the other side of the gorge to avoid the long queues! You can always cross over at a quieter time on your way back.
However, it's important to note that the right-hand side of Dovedale valley is not as flat and accessible as the left-hand side.
Many people had pushchairs with them on the left-hand side which worked fine on the flat concrete.
But, if you are bringing a pushchair or wheelchair, I would always urge you to check the accessibility section of National Trust's website before you visit.
It's also important to note that on the left side of the Dovedale valley you will need to cross over these stones to carry on your Dovedale walk.
The path comes to a dead-end at the stones (or it did on my visit) and the stepping stones are the only way to get to the other side of the River Dove to carry on the walk.
Take one of the many Dovedale walks
Lots of people visit Dovedale just to experience walking across these amazing stepping stones in a scenic gorge!
There's no shame in that as it's an incredible bucket list experience in the Peak District. In fact, approximately one million people do it each year!
But, there are lots of walking routes from here which you can do to extend your visit to this area if you fancied a day out.
Here are a couple of Dovedale walks that you can take from the stepping stones;
Dovedale to Thorpe Cloud walk – Lots of people love to hike up to Thorpe Cloud summit! From the stepping stones, head directly ahead and follow the National Trust's signed trail up the hill.
Dovedale to Milldale walk – You can easily walk from Dovedale to Milldale village which is one of the prettiest villages in the Peak District!
Dovedale to Ilam Park walk – The trail also takes you over to Ilam Park which was one of my favourite places in the Peak District. It has a scenic Gothic mansion house that's now a hostel. The park has incredible grounds with panoramic views. You can enjoy lunch or a coffee break with a views in their tearoom on the grounds. There's also a second hand bookshop here!
How long is the Dovedale stepping stones walk?
This entirely depends on your plans and the length of walk that you would like to go on!
If you're visiting just to see the Dovedale Stepping Stones it will take you around 5-10 minutes walk from the car park on a nice leisurely stroll.
It's easily one of the best and dramatic walks in the Peak District which doesn't require much walking so it's perfect for the whole family. Also, if you're on a tight itinerary and stuck for time!
The walk from Dovedale to Ilam Park and Milldale will take around 50 minutes to an hour and it's around 1.5 miles (it will be longer with young children).
There are lots of places to paddle and explore or stop for a picnic so I'd leave longer if you're planning on doing these things.
From Dovedale Stepping Stones to Thorpe Cloud summit it will take around 20-30 minutes as it's a climb up of 287 metres above sea level (942 feet). But, If you wanted to walk to Thorpe village this will take you around 90 minutes.
If you wanted to extend your walk over to the likes of Thor's Cave and Wetton this will be around 3 hours!
Tips for visiting Dovedale Stepping Stones
Arrive early or later to avoid crowds – Dovedale Stepping Stones is one of the most popular attractions in the Peak District due to its accessibility and have spectacular scenery! It attracts a million visitors each year. So, if you wanted to visit with fewer crowds, get here as early as possible on a weekday.
Car parking – The car park is huge but can get full in the peak season, especially on weekends. If you can't face an early wake up call, visit later in the evening when most of the crowds have gone home.
Phone signal – terrible here. So, bring a SatNav for driving if you rely on your phone for directions or an OS Map for walking!
Water levels – seeing and crossing Dovedale Stepping Stones relies on lower water levels. If it's been raining heavily for a few days they may be submerged under water. It may not be safe to cross the stones if it's a high current. Always check the National Trust website for updates. You will still be able to go on the Dovedale walk though as there are pathways on either side of the gorge. You'll see a bridge near the start of the walk which allows you to cross over safely.
Bring a spare layer – Being in the Peak District means that it could rain at anytime! So, bring a spare layer or waterproof jacket just in case of a downpour. Dovedale is exposed to the elements.
Bring water and snacks – Although there is sometimes a Dovedale food van at peak times, there may not be one on your visit. So, come prepared with water and snacks. Just remember to take rubbish with you until you reach the bin at the National Trust car park. There is a tearoom at Ilam Park a miles drive from here.
Toilets – there are clean and well maintained toilets at the Dovedale car park, these aren't National Trust and have a 20p charge. Although, they were left open on my visit and it was free! There are free toilets at Ilam Park.
Photography – Lot's of people love to take photos of these stepping stones and selfies while crossing. For fewer crowds, I'd recommend to get here early on a weekday or later in the evening. I got here around 6pm on a Saturday in July and there was a freak heavy downpour so most people fled and went home! I waited in my car and got out when it stopped, I got extremely lucky with timing for my empty photos and videos…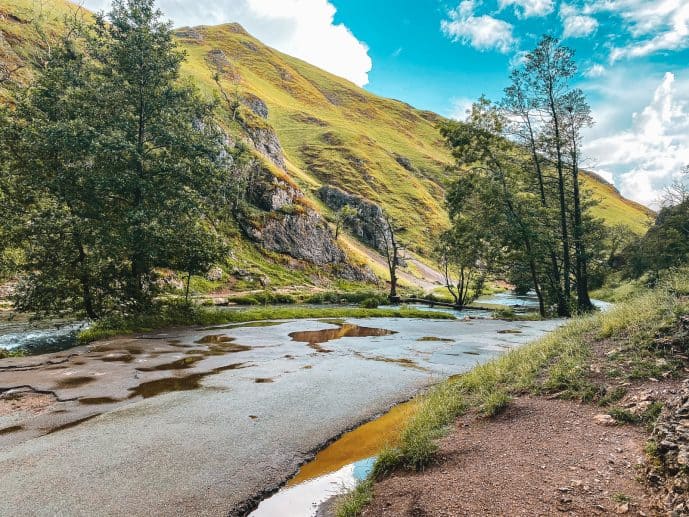 What to wear for your walk
As you're in the Peak District, you should prepare for all weather on your walk. There could be a downpour or a chilly breeze at any point of your visit.
So, I would definitely pack a spare layer or a waterproof jacket just in case as Dovedale valley is completely exposed.
If it's a rare hot or sunny day in the UK, lots of people love to paddle or swim here so bring your bikini or trunks if you fancied going on a cooling dip!
The walk from Dovedale car park to Dovedale stepping stones will only take you around 5-10 minutes and it's entirely flat and made of concrete.
So, if you were only planning on walking to the stepping stones and back, I wouldn't worry about wearing hiking boots or anything extreme. Trainers will be fine.
But, definitely wear shoes that have straps or laces as you don't want to lose your flip flops in the river while crossing the stones or twist your ankle in heels!
If you were planning on a longer hike to Ilam Park, Milldale, Thorpe Cloud or Thor's Cave in Manifold Valley, I would highly recommend wearing a good pair of ankle supporting shoes or waterproof boots.
The terrain will eventually turn from flat concrete to uneven muddy ground in places especially in the colder and rainy seasons.
Where to eat near Dovedale Stepping Stones
If you're looking for places to eat near Dovedale Stepping Stones then you will have a fair bit of choice.
The Dovedale car park usually has a food van which serves up coffees and ice-creams in the summer.
If you were looking for a tea room, you could visit another National Trust property called Ilam Park which is down the road from there.
If you're doing the Dovedale circular, you can start at Ilam Park and stop here for a bit of lunch or afternoon tea before you begin.
The Ilam Park café serves up light bites, sandwiches, and cakes throughout the day and you get some amazing views from their gardens!
If you were looking for a pub near Dovedale Stepping Stones then you have The Old Dog in Thorpe, or you could drive to Alstonefield to sip on a pint at The George!
Hotels near Dovedale Stepping Stones
If you're looking for places to stay near Dovedale Stepping Stones there are some hotels that are close.
The closest place to stay near Dovedale Stepping Stones is the Izaak Walton Country House Hotel which is only half a mile from there and touching distance of the car park! It's a 17th-century hotel named after the famous writer of 'The Compleat Angler' and subsequently made this area famous.
There is also Hillcrest House which is a bit further down the road which is a self-catering holiday let.
If you're backpacking, the YHA Ilam Hall is an amazing gothic manor home that has been turned into a hostel! You can then walk to Dovedale stepping stones from there on the popular trail.
Dovedale Stepping Stones FAQs
Can you go Dovedale Stepping Stones swimming? – Yep, lots of people do! You can also paddle in the River Dove, it's the perfect cure for a sore hiker's feet!
Can you fly a drone at Dovedale? No, flying drones on National Trust land is strictly forbidden as it will disturb the wildlife.
Is Dovedale dog friendly? Yes, but they must be kept on a lead at all times due to it being a natural nature reserve and there are often animals grazing.
Can you have a picnic in Dovedale? Yes, you can bring a picnic (take rubbish with you), but BBQs are strictly forbidden!
Is Dovedale free to visit? Yes it's free, you just pay for parking in the Dovedale Car Park.
What has been filmed at Dovedale?
TV and movie buffs may recognise this incredible and unspoiled valley from period dramas! You can see why movie production teams love it as it's relatively untouched by the modern world.
Dovedale Valley and the stepping stones have featured in many period dramas including BBC's Jane Eyre (2006) and The Other Boleyn Girl (2008).
You may also recognise the nearby views from Thorpe Cloud that featured in Ridley Scott's Robin Hood (2010) starring Russell Crowe.
There was also a hilarious horror B-movie filmed here called The Living Dead at the Manchester Morgue (1974). They used this in a zombie scene!
Read more of my Peak District travel guides
How to Visit Mr. Darcy's Pemberley aka Chatsworth House
How to visit Thor's Cave in Manifold Valley
How to get to the incredible Bamford Edge
How to find Robin Hood's Cave in Stanage Edge
A magical easy walk to Lud's Church
The easiest place to visit Solomon's Temple in Buxton
A complete Pride and Prejudice guide for Longnor
How to visit Monsal Head viewpoint
Why you must visit Peakshole Water in Castleton
How to visit Malfoy Manor in real life (Hardwick Hall)
Where to find Little John's Grave in Hathersage
Best things to do in Ashford in the Water
The best things to do in Milldale
Chee Dale Stepping Stones walk
Why you must visit Scrivener's Books in Buxton
Things to do in Eyam Plague Village
How to visit Ramshaw Rocks from Pride and Prejudice
Save this Dovedale Stepping Stones guide for later!