If you want to sink your teeth into everything that is Dracula in Whitby, there are plenty of things to do in this quaint Yorkshire coastal town for Bram Stoker fans.
Bram Stoker first visited Whitby in 1890 and checked into a guest-house on the West Cliff overlooking the 199 steps and Whitby Abbey. That view inspired his famous novel Dracula and set the wheels in motion for vampire tourism here.
Although that was over 125 years ago, the view hasn't changed an inch and the Dracula legacy still lives on. So, you can follow in Bram's footsteps to discover the scenes from the tale for yourself.
Here are 13 things you must-do if you love Dracula in Whitby!
Where is Whitby in England?
Whitby, pronounced 'Wit-bee', is located in the North of England on the Yorkshire coast. It has two dramatic East and West coastal cliffs which are split by the River Esk.
It's encompassed by the North York Moors National Park and can be accessed along with the North Yorkshire and Cleveland Heritage Coastal road.
Whitby is a gorgeous seaside resort town that is famous for many things as well as Dracula. It has beautiful Blue Flag beaches, yummy Fish n' Chips, Whitby Jet stone, a Captain Cook legacy, and a history of whaling.
How to reach Whitby in Yorkshire
Whitby is a popular spot for tourists and so it's easily accessible by car, bus or train in England.
How to get to Whitby by Car: If you're already on the Yorkshire coastline, you can follow the A171 road which leads you up to Whitby. From the South or the West, you can drive up the A64, then the A91, and finally the A171 to Whitby.
Trains to Whitby: Fortunately, Whitby has its own train station, so you can take a Northern Rail service and it will drop you right in the centre of town. Or, you can ride the scenic North York Moors Railway steam train too!
How to get to Whitby by Bus: You can take the award-winning scenic Coastliner bus through the towns on the Yorkshire coast. It easily connects you with many towns and cities and you can take in some stunning views along the way!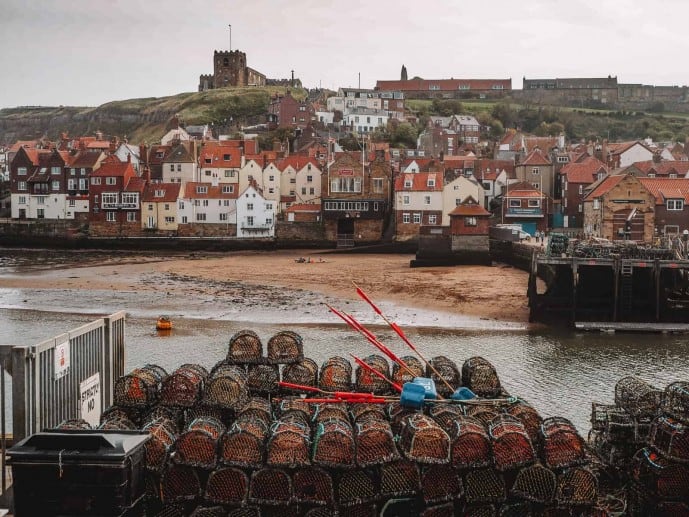 13 things to do if you love Dracula in Whitby
The year is 1885 and a Russian Schooner 'The Demeter' hits a huge tempest and was run aground in Whitby harbour on Tate Hill Sands.
All the crew is drowned, including the Captain, but out the ship runs a huge black dog who makes its way up the 199 steps and over to Whitby Abbey.
That Black Dog is a transformation of Count Dracula, a deadly vampire, who is then unleashed upon Whitby in England!
1. Arrive at Whitby harbour by pirate ship
Okay, so not quite the same. You won't be in a shipping container-like Dracula and (fingers crossed) you won't be hit by a huge storm!
But, a pirate boat ride through Whitby coast HAS to be done and it will give you the best view of where The Demeter landed on Whitby shores.
The Captain Cook Experience that makes berth in Whitby harbour is by far the best pirate ship you can ride in Whitby. Trips last around 20 minutes and are only £3.50 which is an absolute bargain.
Whilst onboard you can get some great views of the whole town while listening to traditional sea shanties as you go.
It's also called the Bark Endeavour, based on Captain Cook's HMS Endeavour. You know, Bark…Black Dog…you get the picture…okay…moving on!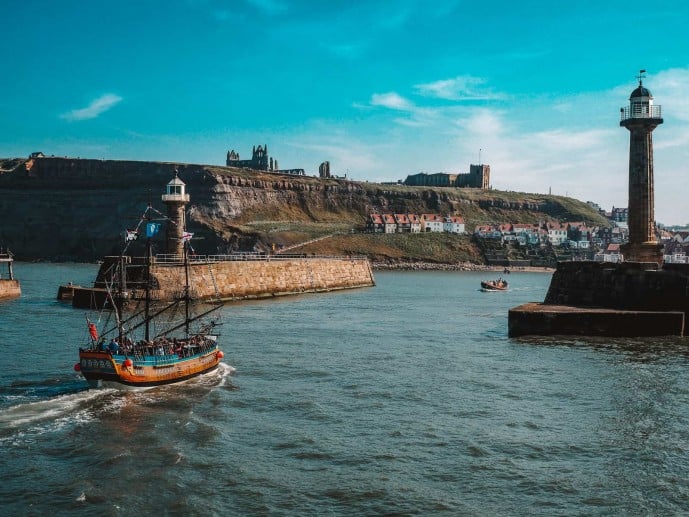 2. Climb the 199 steps
I hope your legs are prepared for this next one, the 199 steps do what it says on the tin. However, people always love to try and count them to see if there really is 199 of them!
Some say, there are 198, some say 200, in guidebooks of Whitby written in the 1800s only 194 were counted.
Why don't you see for yourself? Look out for the roman numerals on the side of the steps that should help you keep track!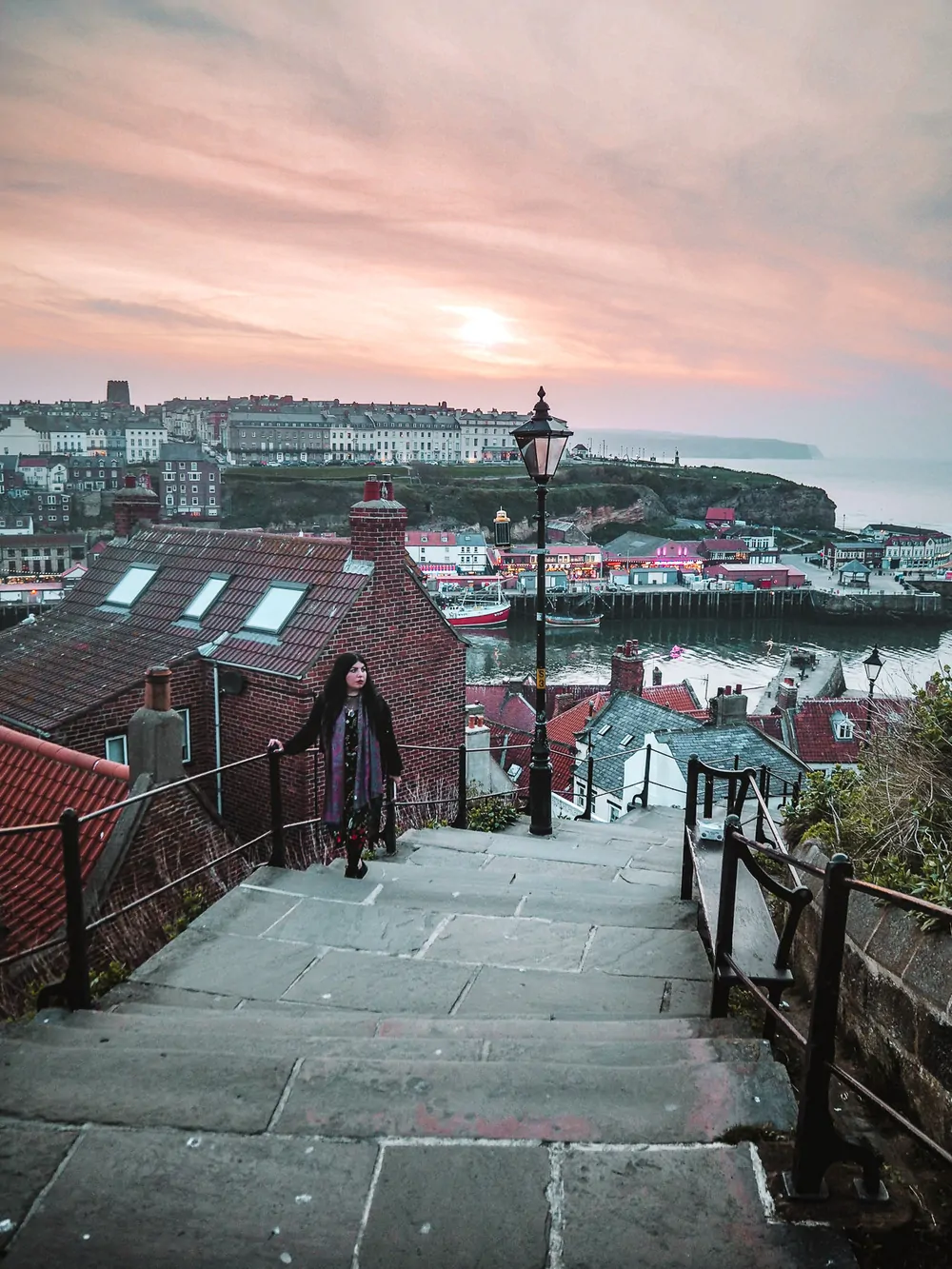 The 199 steps actually used to be made out of wood and it was a sign of faith if you could make it to the top.
In the 18th Century, they were then replaced with Sneaton Stone and have remained that way ever since. If you were buried here, you'd be carried by your relatives in a coffin and taken up these steps.
In the novel Dracula, a black dog is seen running up the 199 steps and into Whitby Abbey. So, you can follow in his footsteps, or paws rather, to experience the same!
Read more secrets on the 199 steps in this post!
3. Visit St. Mary's Church and graveyard
When you make your way to the top of the 199 steps before you reach Whitby Abbey, you'll be walking through St. Mary's Church and the graveyard.
This Anglican Parish church was originally founded all the way back in 1110 but much of the interior dates back to the 18th century. It is now a Grade I listed building and well worth a visit.
Bram Stoker used St Mary's Graveyard for a few scenes in his book. Mina and Lucy, two girls who are taking a holiday in Whitby, take a tour with their Landlord Mr. Swales who tells them about the folklore of the town and the legends surrounding some of the gravestones.
The two girls were actually inspired by another two sisters who were staying with Bram Stoker in Royal Crescent. Mr. Swales' name was taken from a tombstone in the graveyard, you can still find it there today.
Braithwaite Lowery, Andrew Woodhouse, and John Paxton were also named after gravestones in the churchyard.
Read more: the most Instagrammable places in Whitby!
In the book, Mr. Swales is found dead in the graveyard and becomes the first victim of Dracula. Later, Lucy, who is sleepwalking in the graveyard, becomes a victim of Dracula.
She becomes extremely unwell as Dracula is slowly draining her blood. Her sister Mina recounts what she saw in her journal.
The view from the East Cliff looking towards the West is spectacular and you can see a vast and beautiful coastline from here. You can also see the 'red rooftops' that Bram Stoker describes in his novel.
Where is Dracula's grave in Whitby?
It's hard to forget, but Dracula is only a work of fiction. However, some believe (or tell others) that Dracula is buried in St. Mary's churchyard.
There are skull and crossbones tombstones that people say are a contender for the Count's resting place, but it's actually more likely to be an unnamed pirates grave or stonemason.
According to legend, the real Dracula, or Valed Tepes, lived in Transylvania in Romania.
He received the nickname Dracula and Vlad the Impaler from his enemies as he was known for his love of torture and impaling his enemies with wooden stakes.
He is buried in Comana Monastery in Romania and many tourists visit Bran Castle which is connected to Dracula too.
Related post – How to visit Dracula's Castle in Romania & my top tips!
4. Wander around Whitby abbey
The famous Whitby Abbey is the official home of Dracula! It features heavily in Bram Stoker's novel and, you'll be pleased to know that English Heritage keeps the Dracula theme alive here too.
In the summer they put on hilarious Dracula performances around the ruins, so you can join in the fun!
Also, don't forget to visit their gift shop for some ghoulish souvenirs including Bram Stoker's novel and lots of gothic Dracula treats!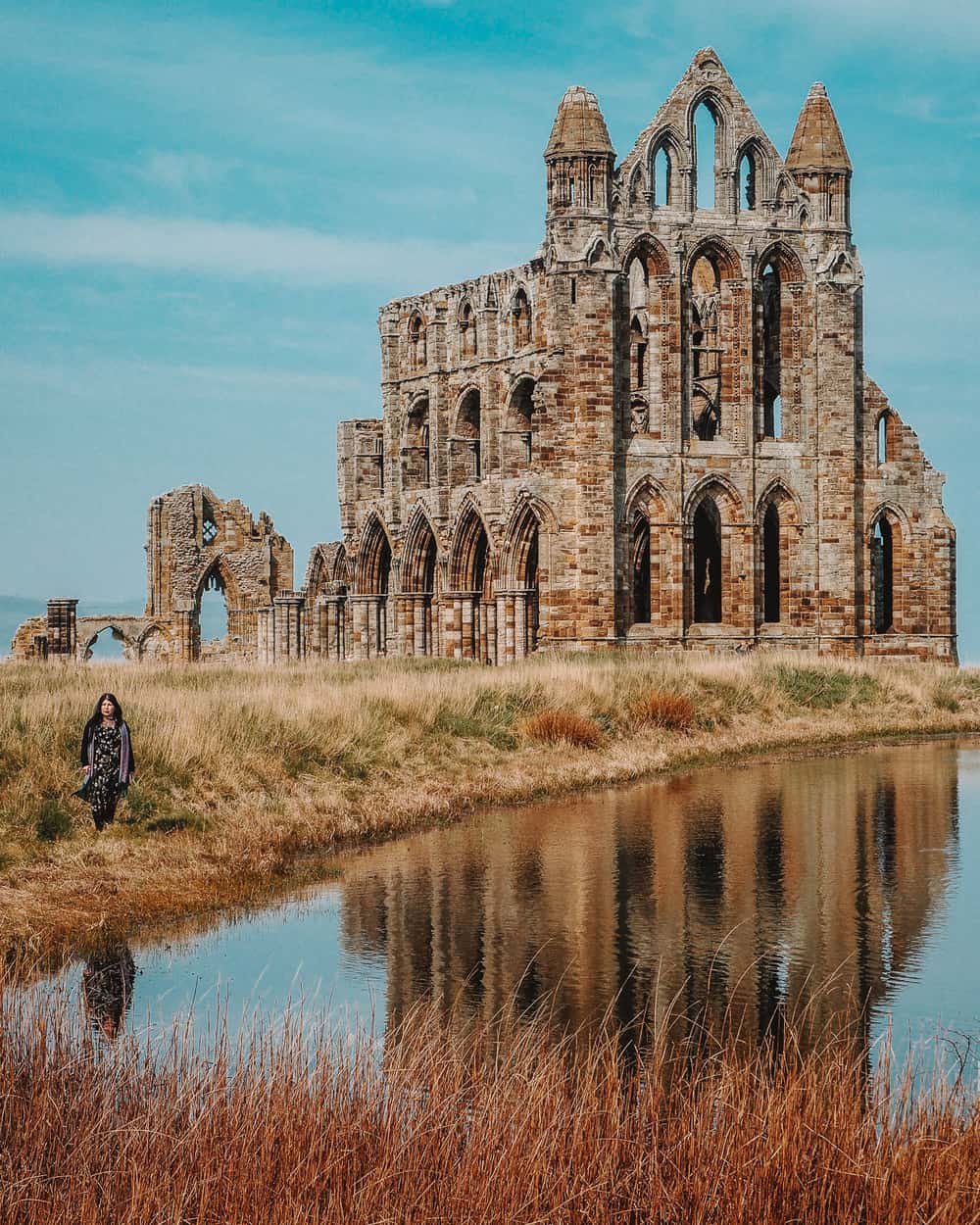 The history of Whitby Abbey
There is evidence to suggest that the grounds of Whitby Abbey were settled in the Bronze and Roman Age. But, a religious centre was first founded in 657.
After the Roman occupation, Northumberland and Yorkshire became a powerful Anglo-Saxon kingdom called Northumbria. Streaneshalch, or Whitby, held the Anglican monastery that buried kings and queens.
The famous Abbess of Streaneshalch, Saint Hild, converted to Christianity after the fall of the Roman Empire. But, at the time, there were two types of Christians in England. The Celtic Christians of Ireland and the Roman Christians from Italy.
Due to the tensions caused by the two types of the Christian religion, Abbess Hild hosted the Synod of Whitby. Here, King Oswiu of Northumbria, ruled that his kingdom would follow in the Roman Christian way. This event was a huge landmark in England's religious history.
The monastery was abandoned following a Danish raid in the 9th century, but a Benedictine monk called Reinfrid founded and built a new community in 1078.
Henry VIII destroyed Whitby Abbey in the dissolution of the monasteries in the 16th century, and this is what we see today.
How to get to Whitby Abbey
The traditional pilgrimage is to climb up the 199 steps and walk through St Mary's Church. But, you can drive up to Whitby Abbey or get the Whitby Open Bus tour that runs from the Whitby Visitor Centre in town.
This bus tour is a hop-on and hop-off service and will take you through the main spots of the Whitby with an entertaining commentary too!
What to do at Whitby Abbey
As one of the main tourist attractions in town, this attraction maintained by English Heritage will not disappoint!
It's been recently revamped (geddit?) and so as well as the ruins to explore, it has a fantastic museum too. The exhibition teaches you all about the history of the abbey and artifacts recovered from the monastery.
Of course, then you can explore the abbey ruins at your leisure. Nothing is cordoned off here, so you can have fun and get up close to the ruins as you please.
5. Visit the Abbey Steps Tea Room for a Nosferatu freak shake
Update: The Abbey Steps Café has closed permanently :(
Once you go up the 199 steps to the abbey, the only way back is down! So, why not treat yourself after burning all those calories?!
If you're looking for a Dracula-themed café in Whitby then look no further than the Abbey Steps Tea Room!
In here, you can treat yourself to an actual blood bag, spooky cakes, or to one of their famous Nosferatu freak shakes!
They have many on the menu including a Zombie brain shake, Dracula shake, and many more.
6. Check into Bats & Broomsticks Gothic guest house
If you're looking for a spooktacular place to stay while in Whitby, why not check out the UK's best Gothic Guest House, Bats & Broomsticks?!
The owners have spent twenty years perfecting their lair and you can stay in one of their artisan four-poster bedrooms that are a work of art.
For Dracula fans, I would request to stay in the Dracula room that not only has lots of Vampire-themed decor, but also the perfect view of Whitby Abbey.
I stayed in the Green Man room which was gorgeous and had a Celtic theme. Don't forget to look in your wardrobe where you'll find garlic and a wooden stake and hammer in case of any vampire attacks!
Click here to find your coffin for the night.
7. Sink your teeth into a Whitby Jet black ice cream at Trillo's
Following Dracula tourism, Whitby is a haven for Goths of all kinds and so it's only natural that there are some ghoulishly delightful treats on offer!
Trillo's, a famous ice cream company in Whitby, released their Whitby Jet black ice creams this year and they are devilishly delicious!
They usually come with a black cone but as it was Goth Weekend the weekend before I arrived they had run out – boo.
But, I will warn you. The black colour gets everywhere! It dyed my yellow coat black haha and stained my hands and face.
Related post – my complete Sherlocks Coffee Shop in Whitby review
8. Be spooked by the Dracula Experience
The award-winning Dracula Experience in Whitby sits on 9 Marine Parade along the harbour. The attraction that has been here for the past 15 years, aims to retell the story of Dracula through its haunted house-style rooms.
As you make your way through the experience, you will walk through each chapter of the book from when Dracula came onto shore to the end which I'll leave a surprise. There are even live actors inside, you have been warned!
I always jump in haunted houses and this was no exception! My heart was absolutely pounding as I made my way through and it was quite funny…after I made it out alive of course!
Sir Isaac Newton was apparently one the first owners of this place and then it was turned into a Captains reading room. There are lots of paranormal goings-on and you can attend only of their ghostly events if you're keen.
You can enjoy the experience for £4 per adult, a parental advisory is required for children. See more info here.
9. Visit Bram Stokers Memorial Seat on Khyber Pass
If you really want to follow in Bram Stoker's footsteps and see where he got his inspiration for Dracula, you only have to walk to the West Cliff along the Khyber Pass.
Bram Stoker would walk along this path often when he stayed here. From the West Cliff, he could see the 199 steps, St. Mary's Church, and Whitby Abbey along the headland.
The Bram Stoker Memorial Seat was erected by Scarborough Council and the Dracula Society on April 20th, 1980 in memory of the 68th anniversary of his death.
To find the Bram Stoker Memorial Seat, head to the Whitby Whalebones and find the seat furthest away from them to your right. It looks out of place as it's older than the others.
10. Stay at Bram's View apartment on number 6 Royal Crescent
In 1890, Bram Stoker checked into a guest house run by Mrs. Emma Veazey at 6 Royal Crescent. The apartment had the perfect view of the coast.
As briefly mentioned before, Stoker based some of his characters on women who stayed in another room at the property. Isabel and Marjorie Smith and their friend Miss Stokes would become Mina, Lucy, and Mrs Westenra and live on in the pages of Dracula.
Flat 7 of the crescent is also mentioned as the residence of Dracula's solicitor, "Samuel F Billington". So, it's worth taking a walk around here.
Supposedly, the Royal Crescent in Whitby was meant to be like the one in Bath. But, George Hudson, built up significant debts and it was only half-finished.
If you're keen to walk in the footsteps of Bram Stoker, there is no better place to stay than Bram's View apartment. That is Flat 4, 6 Royal Crescent, Whitby.
Click here to book your stay for the night or the whole week!
11. Take an In Search of Dracula walk in Whitby
If you want to go searching for Dracula in Whitby, then why not take a Dracula walking tour?
Here, you can join Dr. Crank, all suited and booted in Victorian clothing to learn all about the Count in Whitby.
There's no need to book, just turn up at 7.30 pm outside the Whitby whalebones. These entertaining tours take 75 minutes.
See the diary for details of when the walking tour runs each month!
12. Buy some Dracula rock and sweeties
I don't think it can truly be a visit to the seaside if you don't buy some ice cream or sweets and there are lots of Dracula-inspired sugary treats on offer here.
Coffin chocolates, vampire teeth, blood bags of syrup, count Dracula lollies, and black and red Dracula rock are just to name a few.
Famous sweet shops here are the traditional Sandgate Sweet Shop and Hunters Sweets and Candy Rock King is a more modern shop. In fact, there are so many sweet shops in Whitby, I'd stop and shop in all of them haha.
13. Visit the annual Whitby Goth Weekend (Dracula Weekend)!
If you're a die-hard Dracula fan, you may be interested in attending Whitby's famous Goth Weekend which takes place twice each year. It first happens in April and then again near Halloween.
It first started as a pen friend meet-up at the Elsinore Pub in 1994 and is now one of the UK's premier Goth events.
Goths, pirates, steampunks, and more are all decent on Whitby town for a festival to celebrate all that is Goth.
You can watch bands play on stage, shop in the Bizarre Bazaar alternative market and the whole town will have special events for the weekend.
Click here for more info on how you can attend.
Day trips from Whitby
Once you're finished exploring Whitby, there are plenty of gorgeous places to explore from here. Whether you head on up the coast or inland to Yorkshire, you'll never run out of beautiful places that's for sure.
Scarborough
Scarborough is England's oldest seaside resort and is only located around 30 minutes away from Whitby on the coastal road.
This gorgeous town on the Yorkshire coast is brimming with history and you can start at the dramatic Scarborough castle ruin on the headlands dating back 3,000 years!
Scarborough also used to be a spa resort and was popular with the aristocracy as a place to 'take the waters'. Today, you can visit what remains of the spa and take in the views along the promenade.
There is also the Rotunda museum that houses some of the first geological findings in the area, the UK's best Fish and Chips at Papa's and you can take a ride on the Hispaniola pirate ship too.
See here for more amazing things to do in Scarborough
Staithes
Staithes is a hidden gem on the Yorkshire coast and is on the Captain Cook trail if you're following in his maritime footsteps.
You can take a walk down to the harbour below or take in the incredible views of the coast from clifftops.
There's plenty to do here including relaxing on the beach, having lunch at the Cod and Lobster, or even visiting the Captain Cook museum there (but I didn't think it was anything to write home about).
Read more in my complete Staithes travel guide
Robin Hood's Bay
Robin Hood's Bay could be named after the legend who stole from the rich and gave to the poor but there is no evidence to suggest that!
There is a song that speaks of Robin Hood who saved a town from the siege of French pirates on the North East coast. But, no concrete evidence to back it up.
In history, however, Robin Hood's bay was an important seaport and home to lots of smuggling in the 18th century.
If you wanted to carry on the vampire trail, Bram Stoker's novel Dracula has scenes set in Robin Hoods' Bay too!
Today, it's a picturesque and peaceful village by the sea and one I would highly recommend visiting. Read my complete Robin Hood's Bay guide.
York
It was my first time visiting York this year and I'm kicking myself for not visiting sooner. As a bit of a history buff, this city was full of amazing stories!
You can visit Jorvik to learn about Vikings, climb up Clifford's Tower which was founded by William I, explore the impressive York Minster, or have afternoon tea at the National Railway Museum.
Historic buildings always have some resident ghosts and you can visit some haunted pubs like the Guy Fawkes Inn, click here for a list of haunted pubs.
It's also famous for the Shambles which inspired J K Rowling to invest Diagon Alley in Harry Potter. Potterheads can read my magical guide for Harry Potter in York here.
Save this Dracula in Whitby post for later!