If you're looking for hidden gems in the capital of Czechia then I would recommend heading over to the Dripstone Wall Prague.
It's an eerie work of art that is located in the secret garden of the Waldstein Palace Gardens.
On the surface, this wall appears like its rippling but if you look closely you'll be able to make out thousands of dripping stalactites and secreted grotesques.
This quirky attraction has been intriguing people for centuries and there are lots of legends surrounding it.
Here is a guide to the mysterious Dripstone Wall Prague and how to visit this phenomenon.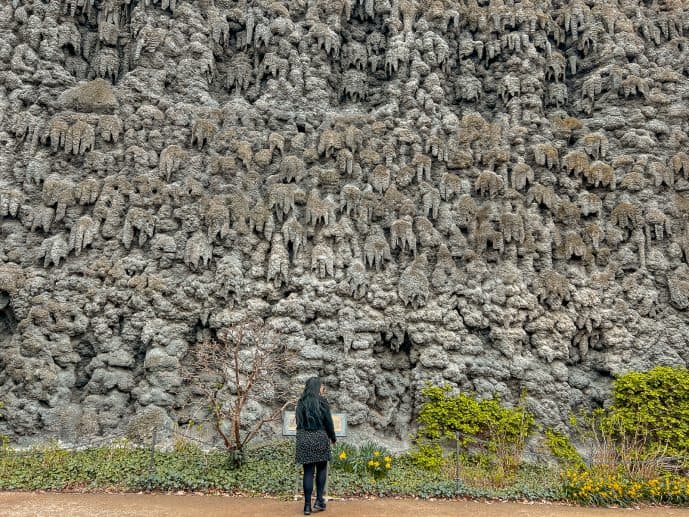 What is the Dripstone Wall Prague?
Prague's Dripstone Wall is an eerie enclosure that lies within The Grotto of Waldstein Palace grounds.
At first, it looks creepy as it appears to be a veil of skulls or long haunted faces looking at you.
But, if you look closer, it's actually an artificial facade that is made up of dripping stalactite-like rocks.
Built as part of the ancient Waldstein Palace, many people wonder why such a thing was constructed.
It's shrouded in an air of mystery and over the centuries there have been many theories and legends surrounding this quirky dripstone facade.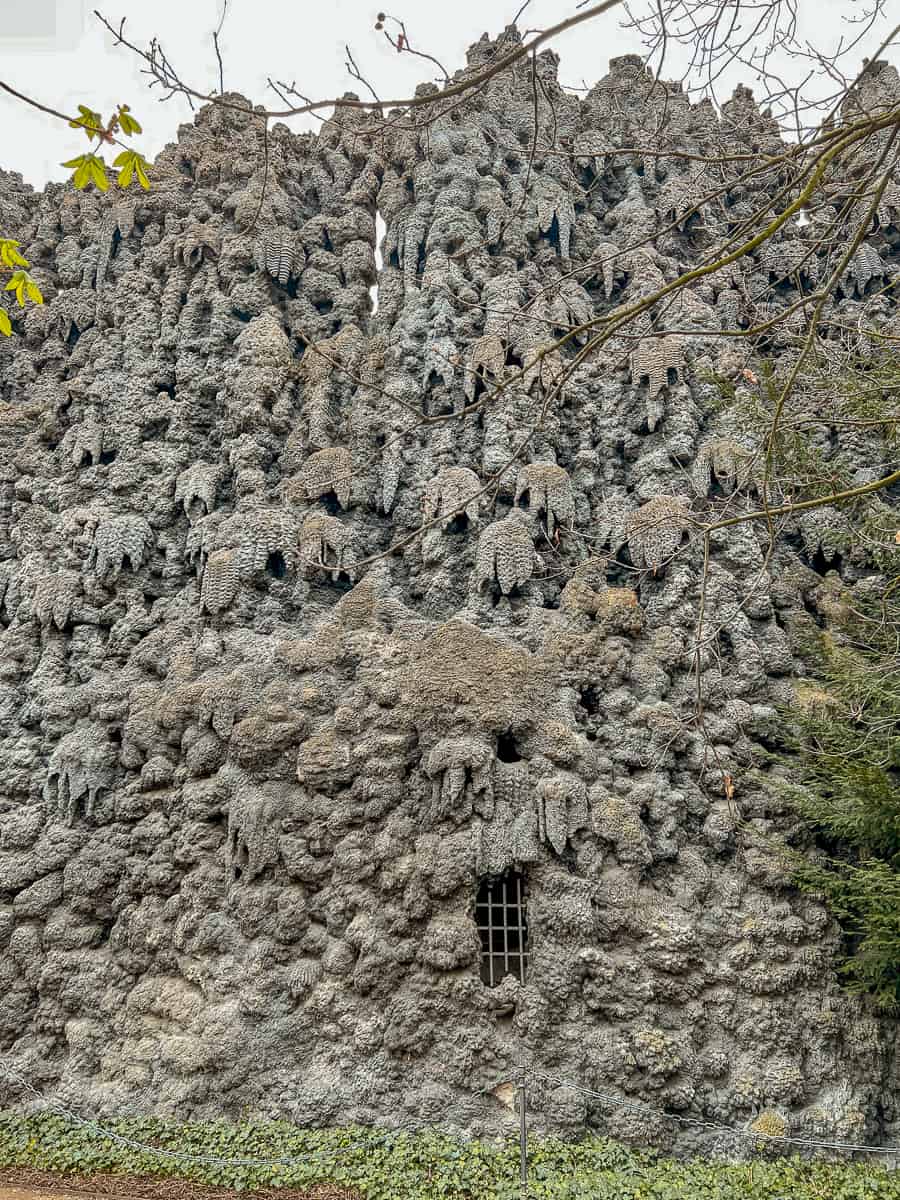 Waldstein Palace history (Wallenstein Palace)
The Waldstein Palace was commissioned in 1630 by Albrecht von Wallenstein who was the Duke of Mecklenburg.
After the Battle of the White Mountain, he was one of the wealthiest and most powerful noblemen in Czechia.
It served as a private residence of the ancient Wallenstein family in the Mala Strana area for over 300 years.
The palace was built to rival Pague Castle and was constructed in a grand Baroque style. A series of formal gardens were created to surround the residence.
Albrecht von Wallenstein had travelled to Italy many times and was inspired by the architecture there.
So, he hired Italian architects and artisans to help him create an authentic Italianate style.
The gardens were constructed with an Avenue of Sculptures, a Garden Pavilion (Sala Terrena), an Aviary, ornate fountains, an artificial lake, and The Grotto.
Creation of The Grotto
There are lots of records about the Italian artists and architects who were hired to decorate the palace and design the grounds of the Wallenstein residence.
But, there is very little documentation about who created the Grotto, how the Dripstone Wall was formed, and why it was installed.
What we do know is that this area was designed as a secluded or secret garden where artificial design was allowed to mingle with nature.
Although it appears to be a natural phenomenon, it is definitely artificial and looks very similar to the formations found in Postojna Cave.
It's made up of a series of layers of stalactite rocks and was designed to include a few grotesques.
You can see a creepy human face that has been carved into the rocks as well as frogs, snakes, a lion, and even monsters.
Historians have debated The Grotto's purpose for years. Most agree that it was created simply to entertain guests visiting the palace. Like a Baroque game of Where's Wally.
Indeed, you can pick out all sorts of shapes in the pattern. Some are very distinctive like the human face.
Some require staring at the wall for a long time until a shape comes into view. If you look long enough, many things will be revealed to you like an elephant, skulls, and claws.
But, there is also a bit of a local legend about this rippling wall too. Many believe that the doorway here will lead you to a secret labyrinth behind the wall.
So say, this maze will eventually lead you into the palace without being seen.
But, no one has found this clandestine passageway yet! People have been trying for years.
Dripstone Wall today
The Wallenstein family continued to live here until World War II. After, the land was handed over to the government.
Due to its prime position in Mala Strana, the council repurposed part of the main building to house the Czech Senate.
Parts of the Waldstein Palace are now a museum. But, the thing that draws visitors here today is the beautiful Wallenstein Gardens you can explore.
Although they have been reconstructed since Albrecht von Wallenstein's time, many of the original features remain and make a wonderful setting for a stroll.
The Dripstone Wall still fascinates everyone who visits as it's so unique. But, seeing it often poses more questions than it does answers.
Regardless, this 'secret garden' in Prague is well worth visiting and you can see this mysterious grotto for yourself in the summer months.
Where is Dripstone Wall Prague?
The Dripstone Wall is tucked away in a far corner of the Waldstein Gardens in Prague and you can find it in The Grotto.
The Wallenstein Palace was one of my favourite places in the city as the formal gardens are quite quiet compared to the more popular attractions.
It makes a lovely place to relax whilst exploring and a bonus is that it's completely free to visit.
How to visit Wallenstein Palace Gardens in Prague
Wallenstein Palace Gardens can be found near Manesuv Most (Manes Bridge) in the Mala Strana area of Prague.
Prague is best explored by a mixture of walking and the local metro/trams and the nearest stop would be Malostranská.
One of the reasons why this palace is a hidden gem is because it's not well signposted and the entrance is really concealed.
In fact, if you weren't specifically looking for these gardens you could easily miss them! It's accessed by a small door on a large wall that surrounds the palace grounds.
You'll need to navigate your way over to Latenska Street from the Malostranská stop and follow this road to the entryway.
Wallenstein Gardens address is Letenská 123/4, 118 00 Malá Strana, Czechia. Click here for a Google Pin!
Finding the Secret Grotto in Wallenstein Palace
Once you have entered the gardens through the door in the wall, you'll be greeted by multiple hedgerows.
It will feel like you've tumbled down the rabbit hole and entered the labyrinth from Alice in Wonderland.
But, take an immediate left and this path will eventually lead you over to the Sala Terrena area.
This is a huge Baroque open-air pavilion with three archways. Statues of Gods and Goddesses are lined along the path leading the way.
If you walk towards Sala Terrena, you'll eventually see the Dripstone Wall and The Grotto come into view on your far left behind an ornate fountain with lush trees.
You can then head over to The Grotto to check out this quirky wall!
What to expect at the Dripstone Wall Prague
I don't think I've ever seen something quite like the Prague Dripstone Wall. It's mindblowing to behold.
On the surface, it looks like a curtain of skulls or claws. It has so many layers and looking closer at each one unmasks the illusion.
The entire wall was eerily fascinating and it was hard to look away once you started to look around.
It has an almost hypnotic effect and if you stare long enough many shapes will start to reveal themselves to you.
Hidden in the wall is a wooden door and several barred windows. They look like they will lead you to a hidden passageway but it's locked.
It creates a bit of mystery and this is why many believe there is a labyrinth of passageways behind it.
On the far side, you can see a statue that looks like Faunus (Pan) who is the God of the Forest.
You could honestly spend ages here staring at the wall and picking out lots of curious shapes!
There are a few benches near the fountain that provide a nice rest spot. So, you could sit and relax whilst admiring this quirky piece of Baroque art.
Wallenstein Aviary
Whilst you are checking out the Dripstone Wall, you may hear some hooting and strange noises.
This is because there is an aviary that has been built inside the stalactite wall that has a few owls inside as well as exotic birds.
This aviary has been here since Albrecht von Wallenstein created the palace and was installed as an acoustic feature.
Many believe it was also a distraction from the endless wars that took place during his lifetime.
Unfortunately, he only got to live in this palace for a year before he died and passed it on to his son.
You can also find lots of colourful peacocks roaming the grounds. There was even a white peacock that was so pretty.
Waldstein Palace highlights
Beyond the Dripstone Wall of The Grotto, the Wallenstein Gardens have plenty more highlights that you can find.
Just nearby, you can find the Sala Tarresa. This is an open-air pavilion where the duke used to eat his meals in warm weather.
Today, it acts as a bandstand that has several seats in front of it. You can enjoy musical performances here on certain dates in the summer.
When the performances are not on, you are welcome to explore the inside of the Pavilion and it's filled with beautiful frescos and murals.
After, you can walk back through the Avenue of Statues and explore the other side of the gardens.
Here, you can find an artificial lake, lots of flora and fauna, and a labyrinth of hedgerows.
It's a fairytale setting that feels like a world away from the busy streets of Prague.
Dripstone Wall Prague opening times & prices
Waldstein Gardens are open every day to the public from April to October. You can visit the palace itself as a museum but it's only open on weekends.
The gardens are normally open from 7 am – 7 pm during the week and then 9 am – 7 pm on weekends.
Entry to the Wallenstein Garden and the Dripstone Wall is also completely FREE. It makes a great budget activity whilst in Prague.
Is the Dripstone Wall Prague worth visiting?
Yes, at least Wallenstein Palace Gardens are definitely worth visiting and the Dripstone Wall Prague in The Grotto is an unexpected cherry on top!
These gardens are nowhere near as busy as Prague Castle Gardens and others in the city. In fact, they are a bit of a hidden gem.
So, you can wander around these Baroque palace grounds in peace and appreciate the formal gardens without endless crowds.
The Prague Dripstone Wall is also something really unique to see in the city and is a lot of fun! What's not to love?
Read more of my travel guides on Prague & Czechia
Things to do in Golden Lane Prague
Prague Astronomical Clock guide
How to visit the magical Klementinum Library
A complete guide to the John Lennon Wall
Visit the Infinite Tower of Books in Prague
How to visit the magical Strahov Library
Magical Cloak Bridge in Česky Krumlov
Discover the bone church of Kutna Hora
Save the Dripstone Wall Prague for later!