For most travellers, Driving in Jordan is the best choice for their budget and it's easy to see why.
Taxi prices in Jordan are phenomenal. For example, a taxi from Amman to Petra will easily cost you around $200USD…one way! When you could rent a car for less than that for a whole week.
Renting a car in Jordan not only saves you some serious money, but you can also drive around the country at your leisure and stop off anywhere that you want. Sounds great, right?
But, there's just one little catch. Driving the car!
On my recent trip to Jordan, I had rented a car online beforehand. All above board and I was so excited. Until I landed off the plane and it suddenly dawned on me… I had no idea how to drive in Jordan!
Not only am I British, where we drive on the left-hand side of the road, I was also travelling completely alone as a woman and driving solo in the Middle East…
I drove through Jordan for 10 days. It was a learning curve for me and downright terrifying in parts. But, I soon got used to it and if I can do it, you certainly can too!
Here's my complete guide for driving in Jordan and some essential tips for renting a car.
Travelling to Jordan? Read my full review of the Jordan Pass here. It's your tourist visa and entry ticket to over 40 attractions including Petra.
Is renting a car in Jordan the best way to get around?
YES. Especially if you want to save money. Jordan is not the most economically friendly country when it comes to your wallet.
Buses in Jordan are few and far between. You'll find plenty of buses in and around Amman to take you around the city. But, when you're trying to get to different destinations like Petra, Wadi Rum or the Dead Sea, you won't find reliable options.
There is one tourist-friendly JETT bus that goes from Amman to Petra. This departs daily at 6.30 am and will get you there in four hours.
Or, you can catch a local bus from 9-4 pm. These are local buses that only leave when the minibus is full. So, you'll be waiting a while.
As I said before, taxis in Jordan have extortionate costs. You could share a taxi with some other travellers. But, it will still cost you a fair amount.
If you want complete freedom in your itinerary and to stop off at different destinations; renting a car in Jordan by far the best option!
Is it safe to drive in Jordan?
Yes! Even for solo female travellers like me. Driving in Jordan is completely safe.
As long as you use a reasonable amount of caution and stay alert while you're driving, you shouldn't run into any issues.
For those from the US or Europe, you shouldn't have any problems navigating the roads as the cars drive on the right-hand side. The road system is also almost identical.
However, if you're coming from Australia or the UK, you just have to be mindful of the fact that you'll be driving on the opposite side. So, it just takes a little getting used to.
Although it is safe to drive in Jordan, that doesn't mean it's completely straightforward! There are lots of things you have to be aware of and to mind out for.
This includes things like Arabic street signs, police checks, honking of horns and tackling the busy city of Amman.
What are the roads like in Jordan?
For the most part, the roads in Jordan are extremely good. They're wide open and flat with little to no roundabouts.
When you've left the busy and chaotic roads of Amman, the highways are far easier to manage with limited cars driving on them. So, you just have to watch out for others taking over you.
However, there are quite a few things to watch out for that you may not see on the roads. These are things like hidden bumps and animals that just suddenly come out of nowhere!
I go through all of these things in my essential tips below. Make sure you read them so you're prepared.
How to rent a car in Jordan
I found renting a car in Jordan easy. You simply have to look online at recommended car hire companies like RentalCars.com.
You could go directly to all the main car hire companies like Hertz, Europcar, Avis, Enterprise etc. But, it's far easier to choose a middle man like Rental Cars.
Why? Because you get to pick and choose the best deals!
All you have to do when you're on the Rental Cars website is put in where you'll be picking up the car from and your dates of travel. Then, you'll get all the choices available!
Renting a Car in Jordan can also be done in person. But, you do run the risk of cars not being available on the day and being charged more for a late rental.
How much is renting a car in Jordan?
This entirely depends on what car model you're thinking of renting and how many days you are renting it for.
I was travelling in Jordan for 10 days in total with a 'medium' car and so the total cost of my rental was around $350USD. However, if you're travelling for 7 days or less, it's going to be less money.
Daily charges for a medium model of a car is around $39USD per day and large models are around $50USD per day. If you wanted a premium model, like a 4×4, you'll be paying around $75USD per day.
The great thing about choosing an online rental company like Rental Cars is that it compares all the prices of all the car hires. So, you just need to check the best prices for your budget and needs.
What type of car is best?
It can be hard to know what type of car is best for your road trip when you're visiting Jordan.
It can be tempting to choose the cheapest car available. But, a low cost smaller model may not be the best option for your trip.
When I rented my car, I went for a small model as I'm quite petite and I'm used to driving a tiny car at home. The thought of driving a huge car around, for me, was quite intimidating.
But, when I got to the car rental office, the staff said that a small car would not do well on the mountain roads. It was far safer to get a slightly larger car.
He was so convinced of it, he gave me a free upgrade to a larger car! Which was nice of him but, I have to admit, I was scared of driving it.
He took me on a test drive around the car rental area to check that was I was okay and it was great.
Something like a Chevrolet Cruz, Citroen C3, Toyota Yaris or a Toyota Corolla is ideal for driving in Jordan.
Things to check before you book your car
Before you book your car online, make sure you check it has these things;
Is there enough luggage space? Always check on the car rental website what type of luggage the car can take. There's nothing worse than arriving to find out the car you've rented doesn't have enough room for your luggage!
Does it have air conditioning? This is crucial as Jordan is a desert country that gets incredibly hot.
Is it Automatic? I usually drive with a gear stick in the UK, but I was SO amazed by how easy it was to drive an automatic car. It took a lot of the stress out of driving for me. Less concentration on gears meant more concentration on the roads and traffic.
GPS – does the car have a GPS? Or, will you need to rent one as an extra? I would always recommend hiring a GPS with your rental car as an addition. It saved my skin more than a few times here in Jordan as my phone would lose signal in remote areas.
Fuel Policy – is it 'Full' to 'Full'? Check how much gas your car will be given when you receive it. If you're not given any fuel, you'll need to fill it up when you arrive.
Mileage – is it unlimited? Some hire companies will put a limit on the number of miles you can drive in the car. If you go over those miles, you'll end up paying more. My advice would be to look for a car with an unlimited mileage policy.
What's included in the price? Look at the inclusions in the price. Is it Full Cover? Does it come with Theft protection? Collision Damage Waiver? Cancellation? I would always suggest Full Cover just in case something goes wrong.
Remember: Car Rental insurances DO NOT cover medical bills. The car may be repaired under the policy but it won't cover hospital fees! Always make sure you have travel insurance when you're on the road. You could need it in the event of an accident. I always book my travel insurance with World Nomads. Click here to enquire about a policy.
Do these things before you drive off…
Once you've arrived to pick up your car, it can be tempting to just get on the road and start your trip.
But, it's really important to do some checks and ask some questions before you set off;
Check your policy contract – you'll usually pay Rental Cars directly for your hire. But, you may need to pay the car hire office a deposit just in case you cause any damage to the car. You may also need to sign an agreement, check this over carefully. Make sure it matches with what you agreed online and don't be afraid to ask questions if anything looks amiss.
Check the car – make sure the model is the one you booked online. Check everything in the car before you take off. Does air conditioning work? Check the boot and if it fits your luggage.
Are there any scratches or dents already? Take pictures of the car in sight of a car rental staff member. They will usually note down the marks you've found in your contract waiver.
Can you drive the car comfortably? If you're feeling concerned, ask to take it for a test run around the area first. If you feel you cannot get on with the car, they will usually let you swap the model to a similar one without any extra fee.
Take a phone number for emergencies – if something happens, you need to know who to contact! Ask the office for a phone number or business card. They will then help you if you're in an emergency or can't get the car started.
Fuel – Check the fuel when you start the car. If your policy was 'Full to Full'. You should have a full tank there. If not, take note of how much fuel you were given, you'll need to give the car back with the same amount on return.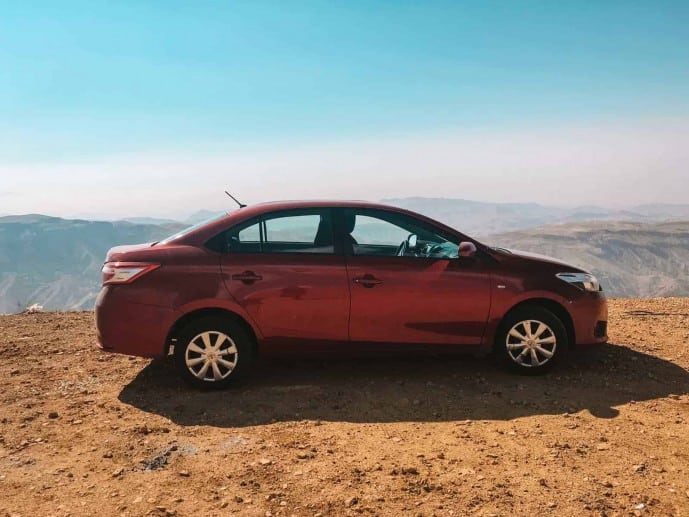 Driving rules in Jordan – the basics
You will be driving on the right-hand side of the road. So, if you're from the UK like me, this could take a while to get used to. Luckily, the roads are on a grid system and there aren't many roundabouts!
You will need to wear a seatbelt at all times while driving.
Speed limits in the cities are 60km (35 mph), 80km in rural places (50 mph) and 120km (75mph) on the highways through Jordan. Make sure to watch your speed! If you go over 120km an hour, your car will start beeping. This is a good thing to keep you under the limit.
Minimum driving age is 18 but to rent a car you must be over 25 years of age.
You will need your passport and a valid driving licence to rent your car (plus a credit or debit card for payments)!
Important tips for driving in Jordan
1. Avoid driving in Amman if you can
If there is one thing I would do differently about driving in Jordan, it would be to avoid driving in Amman like the plague.
I cannot tell you how stressful it was driving around that city! Cars were pulling out of everywhere, people honking at you – not to mention all the complicated U-turns and corners.
To tell you the truth, it was so bad, I decided to walk and get taxis around Amman. Which was a little bit of a waste of money as I rented the car for 10 days.
If you can avoid it, I would recommend renting a car in Jordan after you plan to leave Amman. That way, you can avoid the massive stress and parking your car.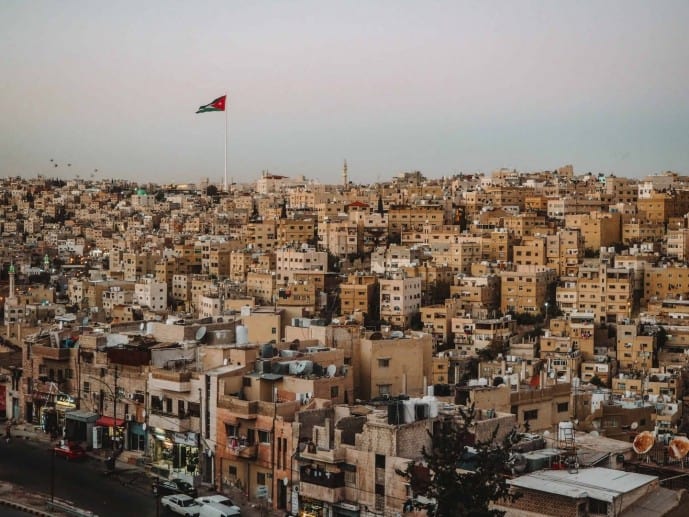 2. No one keeps in lanes
This mainly applies to cities like Amman but when you see three lanes in Jordan, it doesn't mean that three cars will be in those lanes!
I'm used to seeing this as I used to live in India, but it can be shocking if you're used to driving in a country where every car keeps in the lane.
For example, in Amman, I would see up to seven cars abreast on a three-lane road. There was around an inch between me and the other car!
It's stressful but you do get used to it. Once you leave the busy cities, the highways are usually single lanes. These are much quieter.
When driving in Amman, just remember to be savvy and drive in the offensive! Don't worry too much as the other cars will avoid you.
3. Indicators are barely used
I swear that, at times, I was the only person who used an indicator while I was driving in Jordan. If I was indicating where to go, no one would give me the same courtesy.
Indicating is not a crucial issue when you're out of the big cities, as you'll mainly be driving straight for miles at a time.
But, when you're in Amman and there are many streets and corners, you do wish that people would let you know where they're going!
4. Watch out for petrol scams
The first day I arrived in Amman, I took my rental for a test drive and decided that driving it was pretty straightforward.
I checked my tank and I had barely any petrol, so I drove to the nearest gas station to fill up my tank.
In Jordan, you don't fill up your petrol tank yourself. An attendant does this for you. Make sure you say 'full tank' to avoid any confusion.
When they filled up my tank it showed around £30 or 30JOD on the screen. So, I went to pay them the 30JOD. But, they then asked me for 7JOD more.
When I enquired as to why they said it was an extra fee that everyone pays to the gas station.
I was so tired and delirious from my long flight that I just decided to pay it as I had no idea how things worked at the time. It was only after I asked my hotel about it later on that they said I had been scammed.
Oh well, I hope they enjoyed their rather generous tip! Just make sure you don't get scammed and ask questions if the prices differ from what's on the screen.
This only happened to me once in Amman at a petrol station by the airport. So, I'm sure they see tourists coming all the time.
Gas prices in Jordan
So, what sort of gas is there in Jordan and how much does it cost per litre? I always used Unleaded 90 while I was filling up.
The great news is that you won't need much petrol to drive in Jordan. I think I filled up my tank twice in 10 days and I drove the whole way across the country and back!
Unleaded 90 – 0.8 JOD per litre/gallon
Unleaded 95 – JOD 1.10 per litre/gallon
Diesel – 0.595 JOD per litre/gallon
5. There will be hidden bumps in the road
The one thing I hated about the roads in Jordan were the hidden bumps that you would encounter.
Unlike the UK, where the bumps have painted markings on them, Jordan's bumps had no markings at all.
Sometimes, if you're lucky, there will be a warning sign that you are approaching a speed bump. Other times, there would be no warning at all.
When I was driving out of Wadi Rum towards Amman, I drove full speed over one of these bumps and I heard an almighty crack underneath my car. Not to mention, I screamed and freaked out.
Luckily, the car and I were fine. But, I was a lot more conscious after that.
My top tip would be to keep a really good eye on the road in front of you and don't go too fast.
6. If you're a woman at the wheel – prepare to be stared at
I knew that heading to the Middle East alone as a woman would mean that I would be asked a lot of questions.
However, being a woman alone that was driving at the wheel meant getting a LOT of stares and catcalling.
I'd have people trying to get my attention at traffic lights, lots of questions at pitstops, people staring at me on the road. It was all very entertaining. Well, to me anyway.
So, just be mindful of this if you are a woman while you're driving in Jordan.
7. The police will stop you regularly
Renting a car in Jordan as a tourist means that you'll stick out like a sore thumb to the authorities. Not because your car will be any different, but your licence place will be a different colour from a local car.
Regular licence plates have a yellow box and rental car licence plates have a green one. This means that the police will know that you're a tourist driving from miles away and you will often get stopped.
Most of the time you'll be waved into a lay-by by one of the police officers. He may, or may not, have a red stop sign.
When you get pulled in, you'll be asked where you're heading and be asked to show your passport and driving licence. So, make sure you have these available to you in your bag or by the dashboard. They may also ask you where you're from and note that down on a list.
If this happens, don't panic! These are just routine checks. Most of the time, the officers were very friendly and were just curious about you.
After that, you're free to go. I think I got pulled over around 3/4 times on the way from Amman to Petra. You just get used to it after a while.
8. Watch your speed
Although many local people driving in Jordan will be breaking speed laws, that doesn't mean that you should as a tourist!
Speeding can come with some hefty penalties and can also cause accidents if you're not careful. Remember what I said about those invisible speed bumps?
As well as speed control bumps, there are many speeding cameras on the roads in Jordan plus police officers who will be on the lookout for offenders. You don't want to get fined or in trouble with the law;
Speeding fines will cost you 25JOD or $35USD
Not wearing your seatbelt will cost you 15JOD and $21USD
9. Watch out for animals on the road and anything else!
A 'Jordan traffic jam' can mean many things. Of course, most of the time, this simply means congestion with cars. But, you also need to keep an eye out for animals and anything else!
I can't tell you the number of times I encountered camels on the highway. There were also shepherds herding their flock plus dogs and all sorts.
It's also good to note that sandstorms can mean that there are blockages on the roads. There could be rocks, sand, debris from the mountains.
This is another reason not to drive too fast, so you can stop quickly and safely to avoid an accident.
10. Switchback roads can be a challenge
When I was driving down to the Ma'in Hot Springs, it had a real challenge ahead of me. It involved going down a mountain pass with a steep incline and switchback roads!
There were so many turns and there was barely any safety rails at the edge of the road. So, I had to be super careful at making the turns.
Luckily, as I had an Automatic, the car went into a low gear and I just slowed down and took my time. But boy, was it stressful!
You'll also encounter mountain switchbacks on the way from the Dead Sea to Petra. So, again, just take your time and slow down around tight corners.
11. Avoid driving at night time
Again, when I was driving to the Ma'in Hot Springs it was near dark, so that was an added stress.
The roads are badly lit in Jordan, especially on the remote country roads towards Petra.
This makes it even harder to navigate and identify those pesky speed bumps. Not to mention that the cars coming the other way will blind you with their headlights.
I would avoid driving in Jordan at night time if you can. It's a lot safer.
12. You can't drive in Wadi Rum
It's good to note that even if you had a car that could handle off-road driving, you're not allowed to drive in Wadi Rum. Plus, it's not worth damaging your rental.
Most campsites provide a pickup service to take you there and back in their 4x4s. Plus, if you take a tour of the desert, you'll be driven around by a driver.
Although it would be fun to drive on your own, it's best to hire somebody who knows Wadi Rum and the desert tracks.
The locals and bedouins who live here, know the desert like the back of their hands. So, they won't get lost and know how to handle driving around!
When you arrive in Wadi Rum, you'll leave your rental car in a shared car park. You will still need to pay visitor fees for your visit. Your permits for Wadi Rum and parking fee are included in the Jordan Pass.
13. Make sure you rent a GPS or SatNav for your car
Although I always prefer Google Maps for navigation whenever I travel, having a GPS available to you while driving in Jordan is the way to go.
I often lost signal on my phone while I was in remote locations. I know you can use Google Maps without data but, if the map needs to reload or something goes wrong, you could get pretty lost.
I added a GPS onto my Rental Cars agreement for a few extra dollars and used it pretty much the whole way through Jordan.
Most of the cities, attractions and even hotels were present on the SatNav. However, just to be sure, I'd have a list of all your hotels and their addresses to plug into the GPS. It saved my skin more than once!
14. Always add extra time on your journey
Google Maps and/or your GPS will give you an approximate time that it will take to reach a location. But, I would take those times with a pinch of salt.
Although, there was barely any traffic on the roads in Jordan. The time it would take to reach anywhere, was always longer than the predicted time.
That time doesn't include stopping for camels on the road, slowing down for bumps, traffic etc.
If you have any time conscious tours or a flight to catch, I would always add more time to your journey.
Approximate driving times for popular routes in Jordan
Amman to the Dead Sea: 1 hour (leave 90 mins), 55km
Amman to Petra: 3 hours (leave 4!), 230km
The Dead Sea to Wadi Mujib: 2 hours, 73km
The Dead Sea to Petra: 3 hours, 200 km
Petra to Wadi Rum: 2 hours, 112km
Wadi Rum to Amman: 4/5 hours, 320km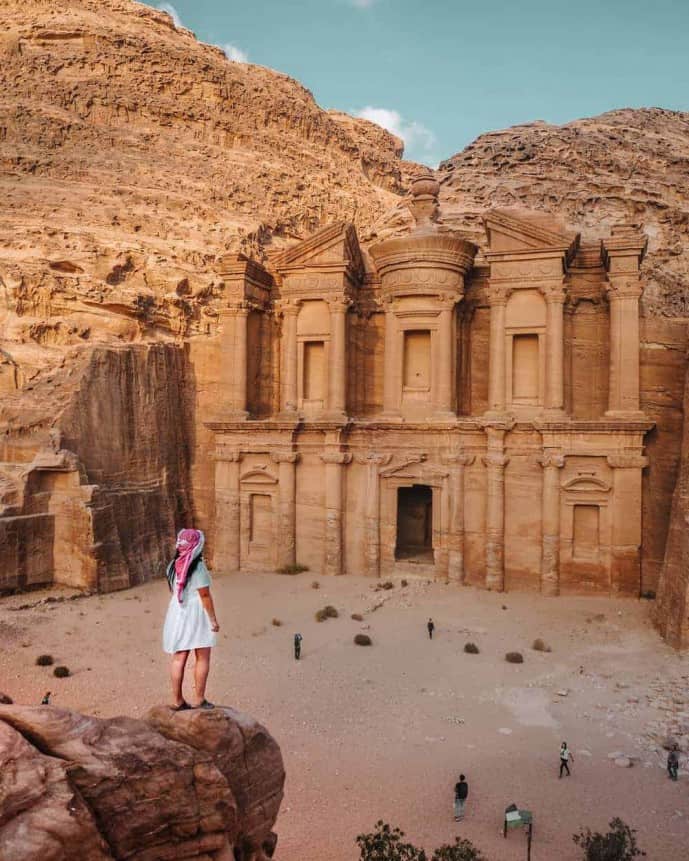 15. You will be honked at…a lot
In the UK and most places in the West, honking your horn only happens when someone is annoyed or concerned about the way you're driving.
But in Jordan, honking your horn means something completely different.
When people honk a horn in Jordan, it often means that the car is going to come around you. Or, they are letting you pass.
This is a good thing as they are being courteous towards you and letting you know of their intentions.
Western tourists will take a while to adapt to it, but try not to get alarmed. Honking in Jordan is a GOOD thing.
16. The nicest car often goes first
This is not an official rule by any means, more of an unwritten one. But, this is something I was warned about many times while driving in Jordan.
The nicer and bigger the car, the more right of way you'll get!
You'll notice very quickly that the majority of cars in Jordan are huge. You'll find many people driving Land Rovers, Toyotas, Audis, BMWs – it's all a show of wealth and power.
So, if you're driving a low-cost rental like I was, you'll automatically be down the pecking line.
I gave way to people anyway just because I couldn't be bothered to deal with the hassle.
17. Gas stations are not as frequent as you may think
As I mentioned earlier, you won't need much petrol to drive around Jordan. If you're only here for a couple of days, you could get away with one tank for your whole trip.
However, it's always a good idea to keep an eye on your tank and make sure you have enough fuel to get to your next destination.
I didn't manage to do this when I was leaving Petra to head to Wadi Rum and ended up driving for quite a while on low gas.
Luckily, I managed to find one on the highway that was open at the time. But, it was cutting it fine. You see, many gas stations were closed down or empty on the road to Wadi Rum!
18. Remember to breathe and take your time
As a final tip, it's important to remember to relax, breathe and take your time. Put on the radio if you have to, it was my best friend!
Driving in Jordan takes some getting used to but seeing it as a sprint and not a race. Don't try to run before you can walk. Ease into it, go slowly at first and you'll be golden.
If you're concerned, I would recommend renting your car AFTER your trip to Amman.
Amman is one of the craziest cities I have ever driven in! I honestly feel like, after driving around that city, I can drive anywhere in the world now haha.
Uber and taxis aren't that expensive in Amman and it will save you a lot of stress of driving and parking etc.
But, other than that, Driving in Jordan is a great way to get around the country and to save some serious money on your trip.
Have fun and safe travels!
Read more of my Jordan inspired articles
Incredible things to do in Amman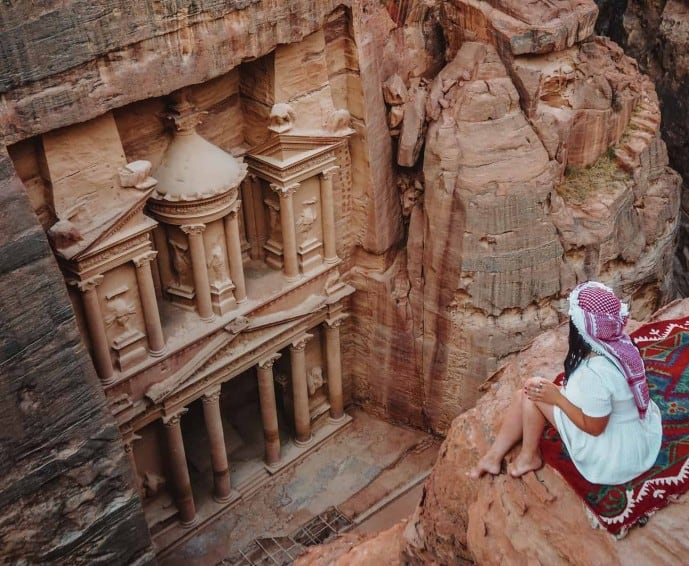 Like it? Pin it!