If you're looking for the Drummond Castle Gardens Outlander location that featured as the Royal Gardens of Versailles in the series. Then, you must read my essential guide before you visit.
There are many amazing gardens throughout Scotland, but nothing quite like the manicured landscapes that fall at the feet of Drummond Castle.
If the weather is fine, you could almost lose yourself and imagine you're in Paris, wandering around King Louis' court at Versailles.
A visit here has to be on your bucket list while in Scotland. Here's a complete guide to a day out at Drummond Castle Gardens for Outlander fans.
What is Drummond Castle Gardens?
Drummond Castle Gardens are a series of historic formal terraced gardens and one of the finest examples of its kind in Scotland and Europe.
They are built into the slide of a steep hill underneath Drummond Castle called the Gask Ridge. The formal gardens are A listed and protected whilst the Mansion and Tower are B listed buildings.
The flora and fauna here are formal and so that means it was planned out beforehand. Trees of different sizes and foliage were purposely planted together for aesthetic purposes to 'lead the eye' in a certain direction.
In history, many gardens of the aristocracy were formally planned to impress guests, show off wealth and act as landscapes for paintings.
Drummond Castle & Gardens History
The name Drummond Castle can be a little misleading because it actually comprises of two castles.
A tower house, which was built in the 15th century, and a mansion that was built in the 17th century. Both of which were rebuilt in the Victorian Era.
The lands of the castle were owned by the Drummond family from the 15th century and, to this day, the ancestors of that family still own the property. Through marriage connections, it's now owned by the 28th Baroness Willoughby de Eresby.
The terraced gardens date back to the 1630s when the 4th Lord Drummond, who became the 2nd Earl of Perth, laid them out.
After the Drummond family were exiled due to their Jacobite support in 1689, the property was seized by the state until Captain James Drummond (2nd Baron of Perth) bought it back in 1784.
He was the one who made multiple improvements and rebuilt the gardens.
Queen Victoria herself visited these gardens in 1842 and said they 'walked in the garden which is really very fine, with terraces, like an old French garden'.
Eventually, they were replanted in the 1950s, and today, they are looked after by the Grimsthorpe and Drummond Castle Trust.
Can you go inside Drummond Castle?
No. The Castle is still a family home and private property and only the gardens are accessible to the public at this time.
But you can get some incredible views of the castle from the gardens themselves.
What is Drummond Castle Gardens in Outlander?
Drummond Castle Gardens plays the Royal Gardens of Versailles in Outlander. In series 2, episode 'Untimely Resurrection', Claire and Jamie attend King Louis' Court in the Royal Stables.
Here, Jamie helps the Duke of Sandringham choose a horse. At this event, Jamie then bumps into Black Jack Randall and challenges him to a duel.
Having been to Versailles myself and it being so distinctive, you'll recognise it as not being exactly the same. But, it does have the French style and opulence of the manicured gardens there.
Versailles palace was placed in the background with some impressive CGI and so this part of the gardens was meant to be away from the main forecourt of the palace.
It's difficult not to fall head over heels in love with them as you wander around. They are incredibly beautiful and you could spend all day admiring the statues and flowers.
It's a pity you can't smell them through your screen as they are honestly divine!
Where is Drummond Castle Gardens in Scotland
The Drummond Estate is located within the parish of Muthill parish near the village of Creith.
From the entrance, it has one of the longest, albeit beautiful, driveways I've ever driven down to reach a house.
It's quite hidden away in the countryside, so leave lots of time to reach as the roads are winding and take a lot longer than what's on Google Maps!
How to get to Drummond Castle Gardens
By far, the most convenient way is by car. As I mentioned, from the entrance gate, it's a really long drive into the gardens themselves and the infrastructure in this part of the countryside is non-existent.
The drive is around 90 minutes from Edinburgh, 60 minutes from Glasgow, and 30 minutes from Stirling.
You can get the Stagecoach 15A bus service from Dunblane, near Stirling, to TempleMill Road End in Crieff and it's a 10-minute walk from there. Use Journey Planner to plan your route.
Drummond Castle Gardens opening times and prices
Drummond Castle Gardens are only open on selected months of the year;
November – April: CLOSED
Easter Weekend: 1pm – 6pm
May – October: 1pm – 6pm
June, July and August: 11am – 6pm
September and October: 1pm – 6pm
The prices for Drummond Castle Gardens are £5 per adult, Children £2 and family tickets are £14. You can book discounted day tickets online, see here to book tickets.
What is there to do at Drummond Castle Gardens?
Admire the gardens: This is the first and foremost thing you should do! As the gardens are built into a cliff edge, there are some quite steep steps to walk down if you wanted to enter the gardens below. But, if you can't, ask the staff members who will help you with a more accessible route.
You can admire the manicured gardens, trees, shrubs, bushes and flowers that grow in the area. There's also some gorgeous neo-classical statues and water features too.
There are lot's of walks that you can go on around the estate that goes far beyond the main feature as you walk in. Make sure you grab a map with your ticket with directions and routes.
Or, if you don't fancy walking you can simply admire it from afar. On the steps leading down, there are many benches and vantages points where you can take a pew, read a book, or take some photos!
Walk your dog: Drummond Castle Gardens is dog-friendly, but your furry friends must remain on a lead at all times.
Have a picnic outside: There are many picnic benches where you can enjoy lunch outside if you fancy it. The shop where you buy tickets does sell drinks and small snacks but if you want lunch you will need to head into the village of Crieth! So, bring a packed lunch with you.
Drummond Castle Gardens Outlander locations
The whole gardens were used in Outlander and we are introduced to them in the 'Untimely Resurrection' episode.
But, I'll point out a few locations to help you find them from notable scenes.
1. The stairway to the gardens
Not featured in the series as such, but you'll recognise the stairways from the season 2 promotional images for series 2. Jamie and Claire walk up the steps with the gardens in the background.
I mean, is anyone over Claire's show-stopping red dress? It's been four seasons and I know I'm not!
So, if you want, you can recreate that shot by standing at the top of the stairs before you reach the gardens.
2. The manicured gardens
What I loved about the Outlander filming here was the many hedgerows, benches and pathways full of courtiers wearing stunning French dresses!
Although you won't see any of that when you visit, you can see the gardens where this all took place.
By far the best photos of the gardens can be taken from above on the platform.
However, if you head into the gardens themselves you can take a close look and see the beautiful trees and bushes that were planned into patterns.
Close your eyes and you can almost imagine King Louis walking around with his entourage in his court!
3. Where Jamie meets Black Jack Randall
The tensest moment of that episode is when we learn that Black Jack Randall is not dead and even worse, he arrives at King Louis' Court bumping into Jamie and Claire!
If you want to visit the area where Black Jack Randall is mocked by King Louis and Jamie challenges Randall to a duel, look out for the obelisk-type statue that stands almost in the middle of the gardens.
When I visited, it was covered up. But, hopefully, you may see it with all the engravings.
Where else is Versailles filmed in Outlander?
Did you know that there weren't any Outlander Paris scenes actually filmed in Outlander? They were all filmed in Scotland, Prague, and England.
So, if you're curious to know where the rest of Versailles was shot in Outlander, keep reading.
Gosford House
Gosford House in East Lothian featured heavily as Helwater Estate where Jamie worked as a groomsman for the Dunsany Family in Series 3. But, before that, the back of the house doubled up as the Royal stables in Versailles.
They do hold open days on certain dates throughout the year and do special Outlander tours too.
Read more – a complete Outlander guide for Gosford House in Edinburgh!
Prague
Many of the interiors of Versailles were shot in a studio in Glasgow, but somewhere shot in the city of Prague in the Czech Republic.
The Strahov Monastery which was founded in the 12th century was used to represent the library in Versailles.
This is where Jamie and the minister of finance, Joseph Duverney, play chess. This is also the spot where Claire is poisoned by the Comte St. Germain.
See more in my ULTIMATE list of filming sites for Outlander
Outlander locations around Drummond Castle Gardens
Around Drummond Castle Gardens you have quite a few Outlander locations you can add onto your trip.
In Perthshire, you can visit the Tullibardine Chapel where Jamie and the others hide out from the redcoats in Series 2, Or, visit Tibbermore Parish Kirk that featured in the Witch Trial at Cranesmuir.
River Edge lodges were used by Bree and Roger during the Scottish festival in North Carolina.
Or, head further up to Kinloch Rannoch that was the location for the standing stones of Craigh Na Dun.
Doune Castle is where you can find the seat of the Clan MacKenzie, Castle Leoch. Or, why not visit Deanston Distillery for a whisky tour and find Jared's wine storehouse in Le Havre?
Falkland that featured as 1945 Inverness is only 30 minutes away and you can stay the night in the same hotel as Claire and Frank!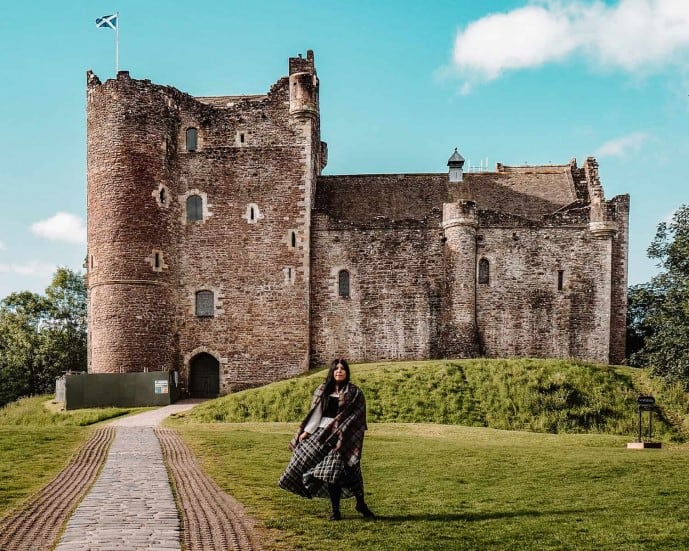 Looking for more Outlander locations in and around Edinburgh?
There are plenty of Outlander locations to visit near Edinburgh that I'm sure you'll love. You can find my complete list here. I also have a bonus list of locations in Glasgow here.
There are many Outlander locations on the Hopetoun Estate in Queensferry and you can visit over 17 in Hopetoun House alone along with that red drawing room of the Duke of Sandringham.
Who could forget Lallybroch as the ancestral home of Broch Tuarach in Midhope Castle? Or, nearby in the village of Abercorn, you can visit a church that featured in season 4.
The previous Royal Borough of Culross played the village of Cranesmuir with its West Kirk as the Black Kirk in series one. It also appeared in seasons 2 and 4.
Or, click here to learn How to find the Outlander Witness Trees from Fraser's Ridge!
Bo'ness was the station where Claire and Frank said their goodbyes and nearby is Linlithgow Palace which played Wentworth Prison.
Blackness Castle, which sits on the edge of the sea, is the dismal place where Jamie was flayed by Black Jack Randall.
Roslin Glen Country Park has some recognisable Gunpowder mills from season one or visits Glencorse Old Kirk to see where Jamie and Claire were married.
In East Lothian, you can visit Gosford House which was the Palace of Versailles stables, or Preston Mill which has its iconic water wheel of Lallybroch.
In the centre, you can visit Craigmillar Castle that acted as Ardsmuir Prison, or Summerhall that has a lecture theatre where Claire met Joe Abernathy.
The Royal Mile has plenty to offer to Outlander fans. You can visit Bakehouse Close that was the A Malcolm Print Shop or Tweeddale Court was a market where Claire and Fergus were reunited.
Follow in their footsteps to the World's End Tavern to see where Mr. Willoughby got into a fight or have afternoon tea at the Colonnades to step inside the Governor's Mansion in Jamaica.
Read more: A self-guided Outlander walking tour of the Royal Mile.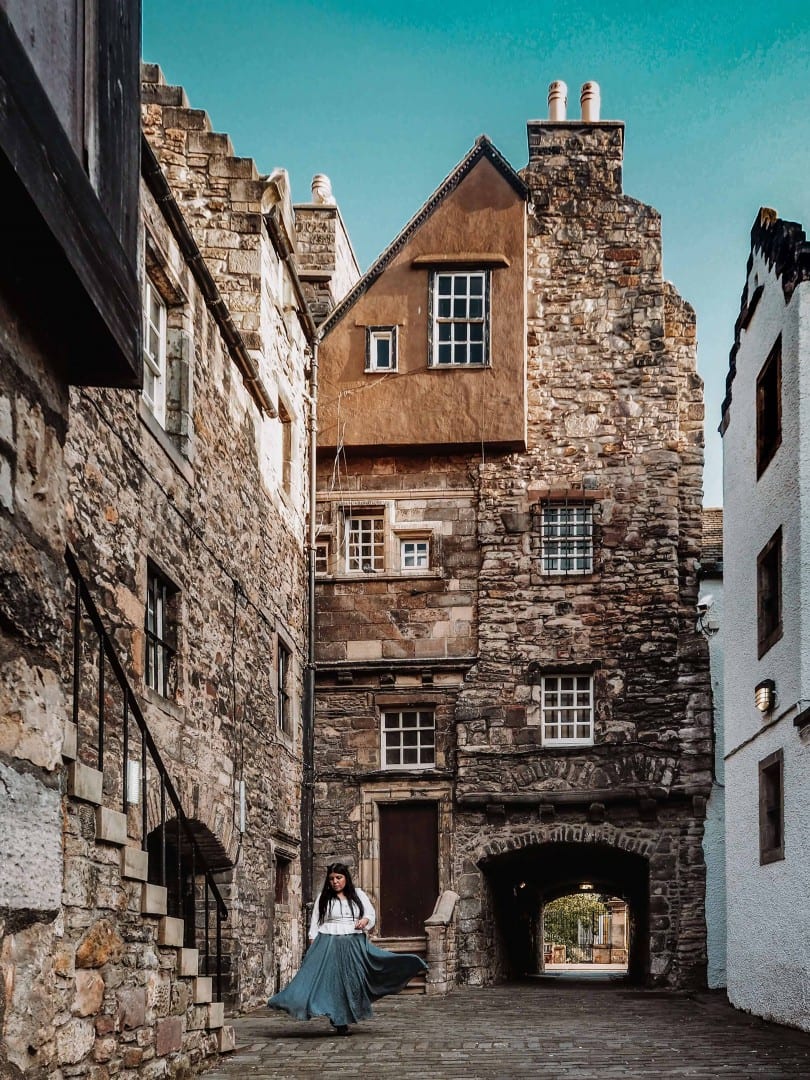 Save this Drummond Castle Outlander guide for later!