Have you got 4 days in Dublin? Then, the list will below is ten ways to spend them!
This suggested list of attractions for your itinerary will include city highlights and day tours you can take.
Dublin was such a friendly city. I fell head over heels in love with the atmosphere in Ireland. The sound of harps and jigs filled the air and the Irish were so patriotic about their country.
I went around Christmas time and so it was even merrier with festive lights filling the streets and cheer all around.
There's so much to do and see there, here are 10 ways to spend 4 days in Dublin!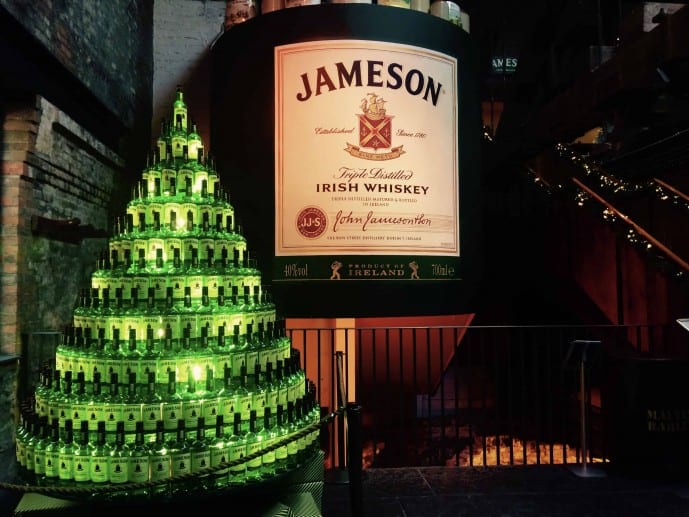 Here's how to spend 4 days in Dubin
1. Pour your own Guinness at the Guinness Storehouse
The Guinness Storehouse is number one on Tripadvisor for Dublin. I was a little skeptical at first but I have to agree that it is definitely its best attraction!
Make sure you don't miss getting certified to pour your very own pint and sip it while taking in the best views of Dublin in the Gravity Bar.
You can see my full article about the Guinness Factory here.
2. Read the Book of Kells at Dublin Trinity College
Dublin's Trinity College library is probably my favourite library in the whole world and looks as if you've walked into a scene at Hogwarts!
The book of Kells is easily its most sought-after attraction and is the world's most famous medieval manuscript. It contains all four gospels of the bible in Latin and has incredible detail and decoration.
The exhibition also goes through the traditional way of making books, including the binding, covering, painting, and writing all made by hand in the 9th Century!
This should give you an idea of just how long it took to make and how it's survived all these centuries for us to see today.
See the official website here for more details.
3. Visit Kilmainham Gaol
Another one of my favourite attractions in Dublin is Kilmainham Gaol.
It has a cultural significance due to it being used as a prison since 1796. This covered times such as the great famine, Easter Rising, and up until the Irish War of Independence.
A lot of prisoners were kept here for petty crimes, before hangings or being deported to Australia.
In 1924 it was decommissioned by the Irish free state government as a prison and was abandoned until the 1950s. This is when the restoration society built the museum you see today.
Highlights include the East Wing and the Kilmainham madonna.
This Gaol has been featured in countless movies since it became a museum; 'In the name of the father' and 'the Italian Job' (1969) being the most famous.
Tours can't be booked beforehand so ensure you get there early to have a look around! Spaces are limited and there will be a long queue at the door.
4. Taste Irish Whiskey on the Jameson Whiskey experience and distillery
It would be criminal not to taste Whiskey when you visit Ireland. In Dublin, there is the perfect place – Jameson's Whiskey experience at their distillery.
It's not as grand at the Guinness factory but still worth your visit.
During the experience, you will be guided through their museum. Then, you'll be taken through a taster session comparing Jameson's whiskey to that of normal Whiskey (double distilled) and American.
After that, you will be given a complimentary glass of Whiskey which you can choose to have over rocks or with Soda water and lime.
I would recommend the soda and lime as it tastes amazing!
5. Take a Musical Tour at Temple Bar
I was recommended to book this through a friend and I'm so glad I bought a ticket! A Musical tour around Temple Bar cannot be missed.
Starting off at the top floor of Oliver St. John Gogarty, you will be guided around some of its most famous pubs.
The musical duo will sing you songs, tell you stories, tales and even get you to join in.
It's a bit of a pub crawl so make sure you have some good shoes on to tackle the cobbled streets.
No need to book in advance (but you can if you want to here), just buy a ticket when you get there!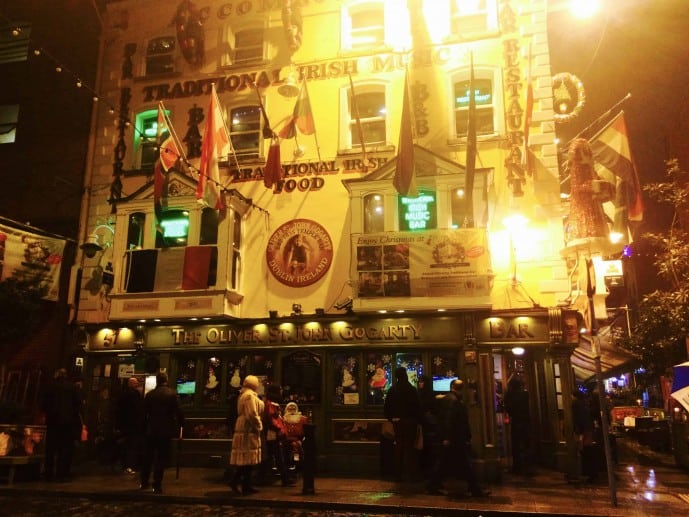 6. Cross the Ha' Penny Bridge
Snaking through Dublin is the River Liffey and there are many bridges to make your way over to the other side but the most famous of these is the Ha' Penny Bridge.
Stupidly busy at all times of day, make sure you cross this at least once while you're there.
7. Sample Sourdough
As sad as it sounds, I was looking forward to trying some of Ireland's famous sourdough on my visit.
Soda bread is a quick bread that can be a great accompaniment to every meal!
Make sure you try some with some Guinness stew or soup.
8. Marvel at the many cathedrals of Dublin
Dublin is home to some amazing cathedrals.
I'm a big fan of The Tudors and knew that they filmed some of their shots in Christchurch cathedral.
There is also St. Patrick's Cathedral and both are worth a visit.
9. Call from a Green Phone Box
As a Brit, seeing a green phone and post box instead of the traditional red was pretty awesome.
There are some dotted around the city to make sure you snap some up!
They also have green post boxes too, so make sure if you see one you get a cheesy tourist snap.
10. Go on a day trip from Dublin
One of my favourite parts of my trip to Dublin was actually leaving it to visit the Irish countryside!
There are many tour operators which run tours to the Cliffs of Moher, Galway, The Giants Causeway and Belfast over in the UK side of the border.
If you do have a day spare on your trip, make sure you book – it's worth every Euro cent!
I booked a tour to the Cliffs of Moher with Irish Day Tours. It was a full tour on a coach stopping at the Cliffs of Moher, Doolin and Galway City.
It was only 45 Euros for the day. This didn't include meals.
You can read about my Irish countryside Adventures here.
So, that's 10 ways to spend 4 days in Dublin
Dublin was an incredible city. Even in the cold winter with lots of rain the Irish charm, music, and laughter made it one of the friendliest cities on Earth.
Make sure you book your next city break to Dublin, you won't regret it.
Save time and book a tour!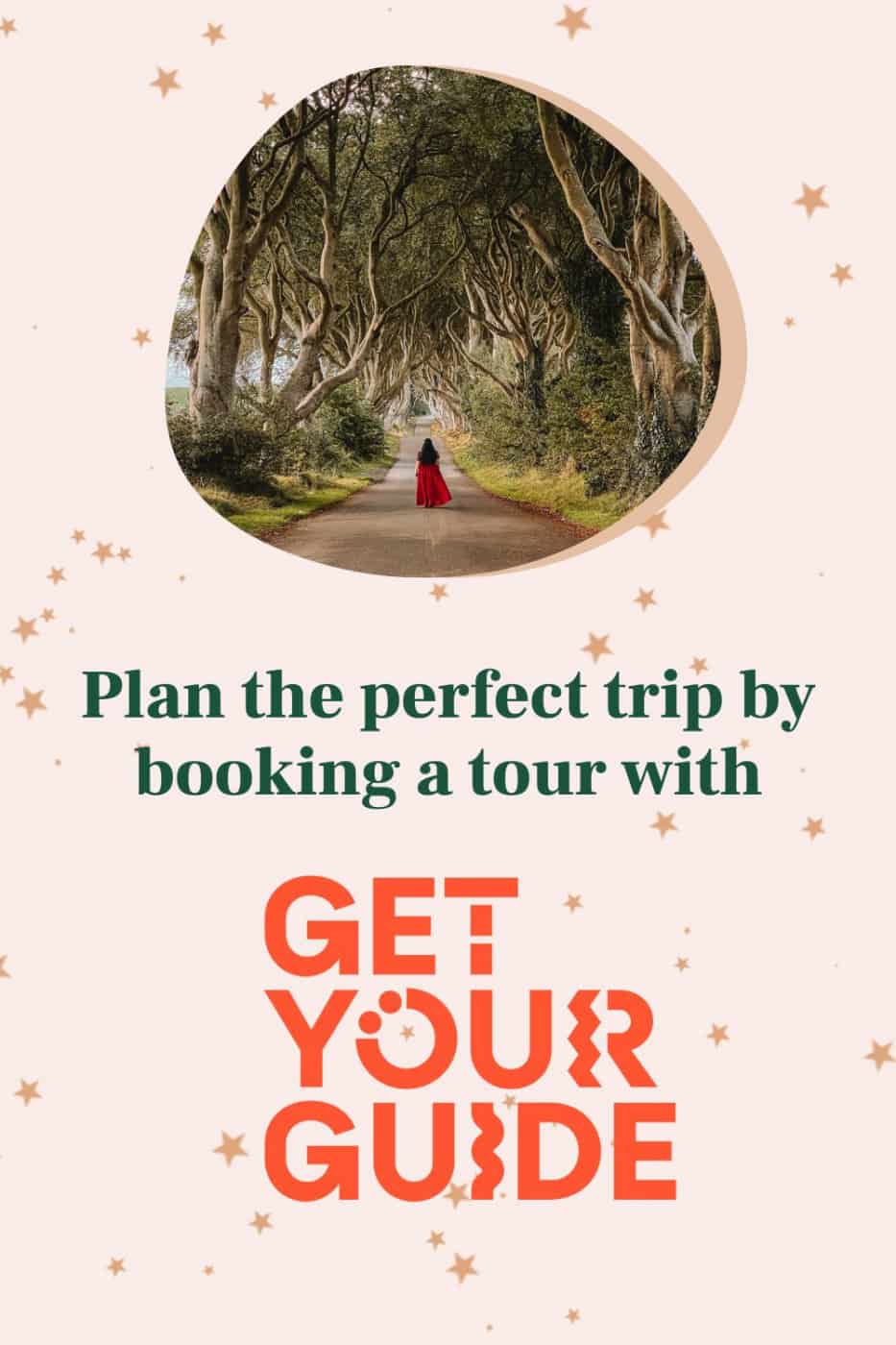 Book tours & tickets for Ireland!
Read more of my Ireland blog posts
How to visit the Dark Hedges in Northern Ireland
How to visit Inch Abbey aka Riverrun in Game of Thrones
How to visit Cushenden Caves in County Antrim
How to find the Ballinastoe Boardwalk in Wicklow
How to visit Lough Tay aka Guinness Lake
Magical Tollymore Forest Park Game of Thrones filming locations