When I paid a visit to Dublin, I knew there was one thing I wanted to do more than anything. A Guinness Storehouse tour!
I think it would almost be criminal to visit Ireland without trying it.
Before I visited Ireland, I couldn't stand Guinness. Whenever we went out for St. Paddy's day I'd opt for one pint to celebrate and only end up drinking a little bit as I found it too starchy.
A sacrificial waste of a precious pint I know. I'd then start on the Baileys while wearing my typical leprechaun hat and four-leaf clover glasses.
"It's bread in a cup" I'd say and if we're being perfectly honest, it quite literally is.
That was until I flew to Dublin earlier this year and stepped inside its famous Guinness Factory.
A Guinness Storehouse tour is a must when in Dublin
I always thought that the factory must be a bit of a tourist trap.
Sure, it's number 1 on TripAdvisor but surely, it can't be all that great. Add on the nice little 16 Euro price tag which includes one pint and I was sure it was going to be ripped off.
But, I am pleased to say I was pleasantly surprised and agree, it really is the best attraction to visit in Dublin.
Plus, you get free beer which you can sip overlooking the city – what's better than that?
How to reach the Guinness Storehouse tour in Dublin
The building itself is huge and shaped like a massive Guinness pint so you really can't miss it when you make your way there!
The Guinness Storehouse address is St James's Gate, Dublin 8, Ireland.
I loved walking around the grounds and seeing the old-fashioned cobbled streets with factory gates.
It really set the scene for how it used to be years ago.
Getting Guinness Storehouse tour tickets
Tours of the Guinness Storehouse are self-led unless you choose to go on a more organised tour.
So, all you need to do is purchase a ticket, try and avoid the massive souvenir store as you reach the top of the stairs.
In the lobby, there is a guide who announces a warm welcome and tells you a little bit about what you'll be doing!
Don't miss it, it's actually really informative. But if you do skip it, not to worry – there are signposts everywhere to make your way around.
You can buy tickets online via their website or at the ticket office inside.
What you can expect to see on a Guinness Storehouse Tour
The Brewing Process at the Guinness Storehouse
Even though the process of making the ale can seem a bit dry, I was amazed at how they brought it to life to you at every step of the way.
The exhibitions were really interactive and actually, I learned quite a lot about what goes on before my ale is served to me in a pint glass.
I won't give too much away so you can take it in when you're there but don't skip any of it – it's quite an extensive and interesting process.
Barrel Making at the Guinness Storehouse
I loved seeing old videos of the factory and the art of barrel making.
It's a trade that is pretty rare these days with skilled barrel makers seeking out people for apprenticeships.
It was quite ingenious what the guys did here with the Barrels in the factory.
It almost seemed like works of art that you walked through and could see through old videos the process in barrelling up the black stuff.
Guinness adverts throughout time
My favourite part of the whole visit was the advertising floor!
In England, I've seen old Guinness ads placed around vintage railway stations since I was a child. So, to find out the history and story behind them was a really lovely touch and made my visit there.
They also played a lot of TV ads, some interactive displays to get involved in, and retro penny arcade films which are always fun!
Make sure you spend a good time here, the theatres provided play some creative cinema and really go through their advertising through the ages.
It's amazing, to see the timeline play out and how it's made Guinness popular and successful to this day.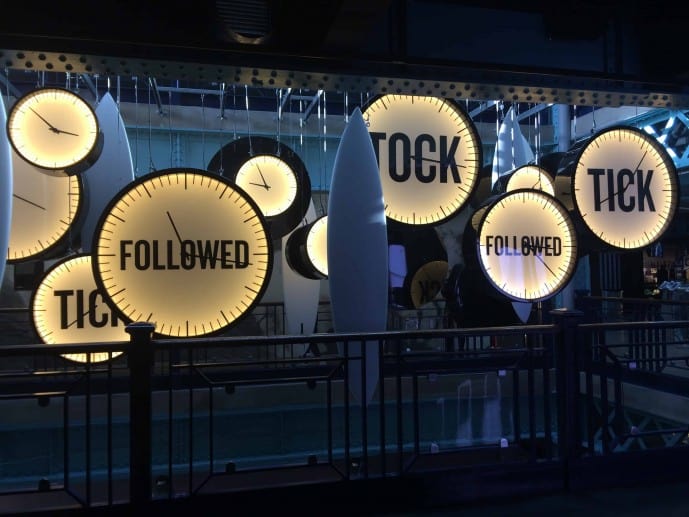 Tasting session at the Guinness Storehouse
Another feature as you make your way up the beer glass is the optional tasting session – which I would highly recommend you make essential to your visit.
Held in a private tasting room bar, as you make your way through with your group you will get to smell and feel the different hops and the different aromas they produce.
Your host will then take you through to the Velvet Chamber for a tasting session with a barbie-sized pint and guide you through the official way to taste the ale.
I will leave this a secret, but I can tell you it should be drunk in a way that with every sip, you can taste its ruby red flavour resonating through.
Get qualified to pour your own pint on the Guinness Storehouse tour
One of the highlights of the Guinness factory is the fact you can pour your own pint in the Guinness Academy.
What's more, you get a certificate to show for it!
Your trusted bartender will take you through pouring the perfect pint and then you follow.
I have to admit, I was a little shaky but the ultimate draft should take a full minute to pour.
You need to tilt your glass at a 45-degree angle where it meets the logo of the harp, pour three-quarters of the way up. Then, leave it to settle and pour the rest on top at half pressure.
I am pleased to say I passed and if I can do it, so can you.
Top Tip: They will ask you to choose whether you want to pour your own pint or get a pint at the gravity bar but you can do both. Just opt to pour your own pint in the academy and then take your beer up the elevator to the Gravity bar – simple!
Enjoy the views in the Gravity Bar at the Guinness Storehouse
Once you've covered all that the factory tour has to offer, you will be greeted with the most beautiful views of Dublin in their Gravity bar.
It does get busy, so you may have to wait for a seat but the views are really spectacular.
You can see it all and on a clear day, it stretches for miles. I loved visiting when it got to sunset, as Dublin lights up before your eyes.
Guinness Storehouse shop
I've never seen so many Guinness gifts in one place!
They have an extensive collection of souvenirs so if you are looking for a nice gift for loved ones back home, this is the place to get them.
I also found their prices weren't too different from the souvenir shops in the city so it's better to ensure you get official merchandise.
Guinness Storehouse Tour Tips
What's the Guinness Storehouse address? St. James' gate, Dublin 8
What are the Guinness Storehouse opening times? 7 days a week 9.30 am-7 pm
How much are Guinness Storehouse tickets? 18.50 Euros per adult. See more on their website.
Is there Guinness Storehouse parking? There is a car park, on Crane Street. There is also a free car park around the corner next to the old Hopstore.
Guinness Storehouse tour length? You go at your own pace as tours are self-led, but I'd leave around 2 hours for the whole experience. You're free to stay in the Gravity bar for as long as you like.
Don't miss a Guinness Storehouse tour in Dublin
I used to hate Guinness. But now, I know that if ever I go back to Dublin it will be my go-to drink.
I'm not sure why it tastes so much better in Ireland than it does here in the UK, but either way – I'm a big fan.
One of my favourite advertising campaigns was geared at women with the slogan 'Black goes with everything.
Anyone that knows me knows that if there was a darker colour than black I would be wearing it, so I was delighted to see some gifts which support that statement.
Looking for a place to stay in Dublin?
If you're looking for cheap accommodation in central Dublin, then look no further than the Generator Hostel Dublin.
It was clean and friendly, but luggage storage will cost you money if you want to look around while leaving your bags there.
Save time and book a tour!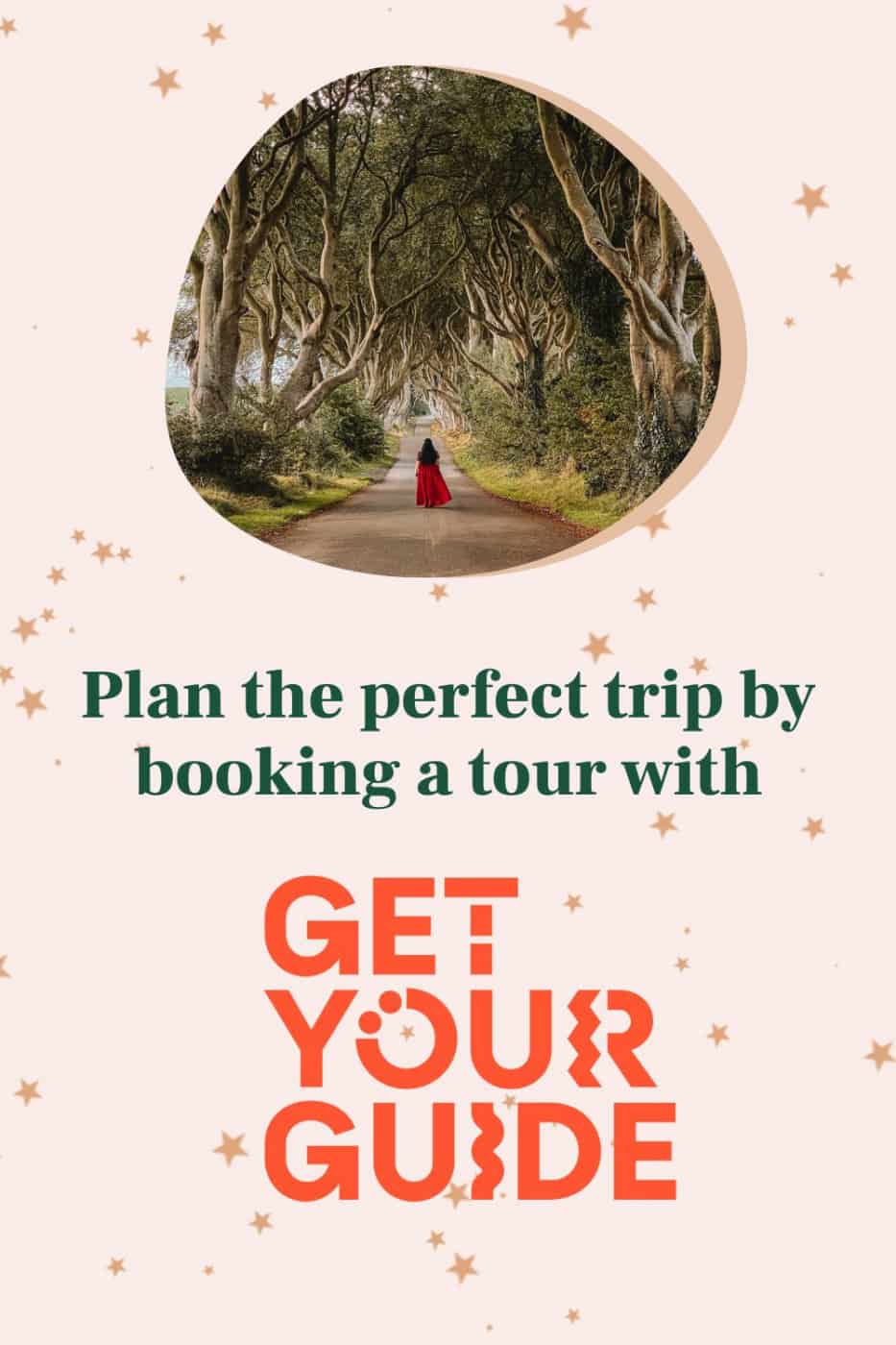 Book tours & tickets for Ireland!
Read more of my Ireland blog posts!
How to find Umbrella Street Dublin
How to visit the Dark Hedges in Northern Ireland
Magical Tollymore Forest Park Game of Thrones filming locations
How to visit Inch Abbey aka Riverrun in Game of Thrones
How to visit Cushenden Caves in County Antrim
How to find the Ballinastoe Boardwalk in Wicklow
How to visit Lough Tay aka Guinness Lake
Why you must visit Kinbane Castle
How to visit and capture Deck of Cards Cobh
Marsh's Library – visit the oldest public library in Ireland