One of the best natural beauty spots you can visit on the NC500 is the breathtaking Duncansby Stacks & Lighthouse.
Although John O' Groats takes the fame, Duncansby Head is the 'real' northeastern tip of mainland Britain by a mile or two.
Many people skip these sea stacks in favour of the commercial 'end of the road' attraction but I would highly recommend that you visit this hidden gem as well.
You'll be greeted with spectacular views over the coast and you may get the chance to see puffins and seals.
Here is a complete guide for the Duncansby Stacks walk in Scotland near John O' Groats!
What are the Duncansby Stacks?
Duncansby Stacks are a collection of sea stacks that jut out of the North Sea in the far north of Scotland.
They have a pyramid-like shape and are breathtaking to behold with views over the cliffside at Duncansby Head.
Duncansby Head is technically the 'real' northeastern tip of the British Mainland and the furthest point to Land's End in Cornwall by a mile or two.
Most tourists hop on over to the commercial tourist attraction at John O' Groats to find out more.
But, curious adventurers will much prefer the natural beauty that Duncansby Head provides and the respite from the crowds!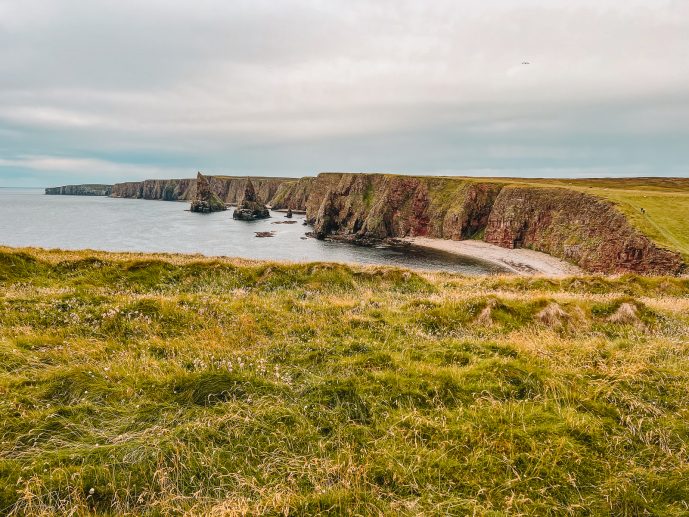 Duncansby Stacks and Lighthouse history
It is thought that the Duncansby Stacks were formed by tidal erosion over time and they have stood here for over 6000 years.
Duncansby Head juts out into the North Sea and is joined by the Moray Firth and the Pentland Firth which was given the nickname 'Hell's Mouth' by sailors due to its rocky tides.
In 1914, a temporary fog signal was set up at Duncansby Head during WWI. It was then replaced by a permanent fog signal.
Duncansby Lighthouse was eventually built in 1924 by David Alan Stevenson. He built a further 25 lighthouses over his 50-year career.
The Lighthouse suffered minor damage during WWII before the invasion of Norway. Although changes were made to the lighthouse over time, it became fully automated in 1997.
Today, many people visit Duncansby Stacks & Lighthouse as a tourist attraction when visiting the Scottish Highlands!
Where are the Duncansby Stacks & Lighthouse in Scotland?
You can find both Duncansby Stacks and Duncansby Lighthouse by visiting Duncansby Head which is in Caithness in Scotland.
This is in the far reaches of the northern highlands and is actually the northeastern tip of mainland Britain.
It's very close to John O' Groats which is a famous tourist attraction and harbour also known as the 'end of the road'.
Many people skip Duncansby Head in favour of John O' Groats which is quite a shame. I would highly recommend that you don't skip it! You can visit both places easily as they are next to each other.
Many people visit the stacks as part of an NC500 Scotland road trip which starts and ends in Inverness.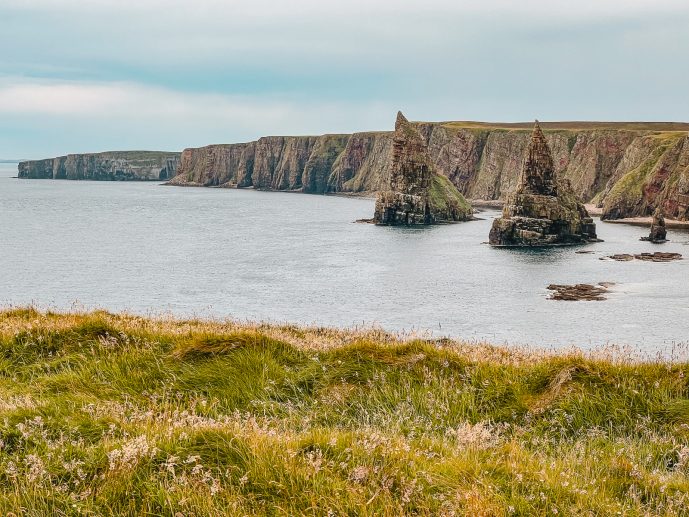 How to get to Duncansby Stacks
It's easiest to drive to Duncansby Head in Scotland as there are no public transport options that run here.
As before, it's a great stop to include on an NC500 road trip. Click here for a Duncansby Head Google Pin!
If you're travelling from Inverness, you can take the A9 and then follow the A99 to Wick.
Travel through Wick and turn right at Reiss towards John O' Groats. Then, before you reach the 'end of the road' turn right for Duncansby Head when you see the sign.
From the Duncansby Lighthouse car park the walk is a 3/4 mile and will only take you around 15 minutes.
Alternatively, Duncansby Head is only a 30-minute drive from Thurso and a five-minute drive from John O' Groats.
It's easy enough to walk to Duncansby Head from John O' Groats and it's 3 kilometres one way (6 kilometres round trip).
If you're not driving, you can take a bus or train service to John O' Groats from either Wick or Thurso then use local services to the harbour.
Also, you can book a tour to John O' Groats from Inverness. This stops at Dunrobin Castle, Wick and John O' Groats.
It doesn't stop at Duncansby but you have 'free time' to explore the harbour and you can probably see the stacks on the coastline.
I would highly recommend using Traveline Scotland to plan your public transport journeys in the highlands as services are limited.
Duncansby Head parking
When you reach Duncansby Head from the A99, you'll find a car park right beside Duncansby Lighthouse.
It's small but it's completely free and provides excellent views over John O' Groats and the 'end of the road'. On a clear day, you can see as far as the Orkney Islands!
In summer, this wee car park can get quite full. So, I would try to avoid peak times to ensure getting a parking space.
Even when we visited at 8 pm in early July, there were quite a few cars parked up here and people exploring the headland.
Exploring Duncansby Lighthouse
After you've parked your car, you'll can then take a good look at Duncansby Lighthouse which is nearby.
It was built in 1924 and became automated in 1997. Unfortunately, it isn't a tourist attraction that you can enter. There's not even a tea room or toilets here either.
You can just take a peek at the gorgeous building which will most likely have some sheep grazing around it.
If you look over the car park towards John O' Groats, you can just about see the Orkney Islands beyond it if it's a clear day.
Although it's tempting to hop back in your car after you've seen Duncansby Lighthouse, the best views and wildlife opportunities (like seeing puffins) can be found beyond the lighthouse at Duncansby Stacks!
Duncansby Stacks walk directions
Opposite the Duncansby Lighthouse, you'll see a walking sign for Duncansby Stacks pointing in the direction you need to go.
It's a 3/4 mile walk from the car park which should take you roughly 15-20 minutes depending on your speed.
As you make your way over the headland, you'll just about see the tops of the sea stacks over the horizon.
Keep walking forwards and downwards, following the path over the wooden floorboards. It will eventually curl around the edge of the cliff.
On your way around, you'll pass Geo of Sclaites which is a cleft opening and a popular wildlife spot.
You can spot many birds nesting here throughout the year including Duncansby Head puffins in late April to July!
Then, you can make your way around the cliff's edge to the viewpoint over the Duncansby Stacks and Thirle Door, a small archway in the cliff face.
You can either end your walk here at the viewpoint and head back to your car (which I recommend). Or, carry on around towards the northeastern tip for a better view!
I don't believe you can get to the very tip but you can walk a lot further than this towards the stacks.
Duncansby Head puffins and wildlife
A great time to visit Duncansby Stacks would be in spring around April to the summer in July as you get the chance of spotting some Duncansby puffins.
These adorable creatures mate for life and return to their partners each year to rear young. In fact, their beaks only turn orange in mating season to attract their female!
You can usually see the puffins nesting on Geo of Sclaites which is the cleft in the cliff face on your way around to the stacks viewpoint.
Also, make sure to keep a look out at low tide around the stacks. You may be lucky enough to see some Duncansby Head seals resting on the rocky beach below!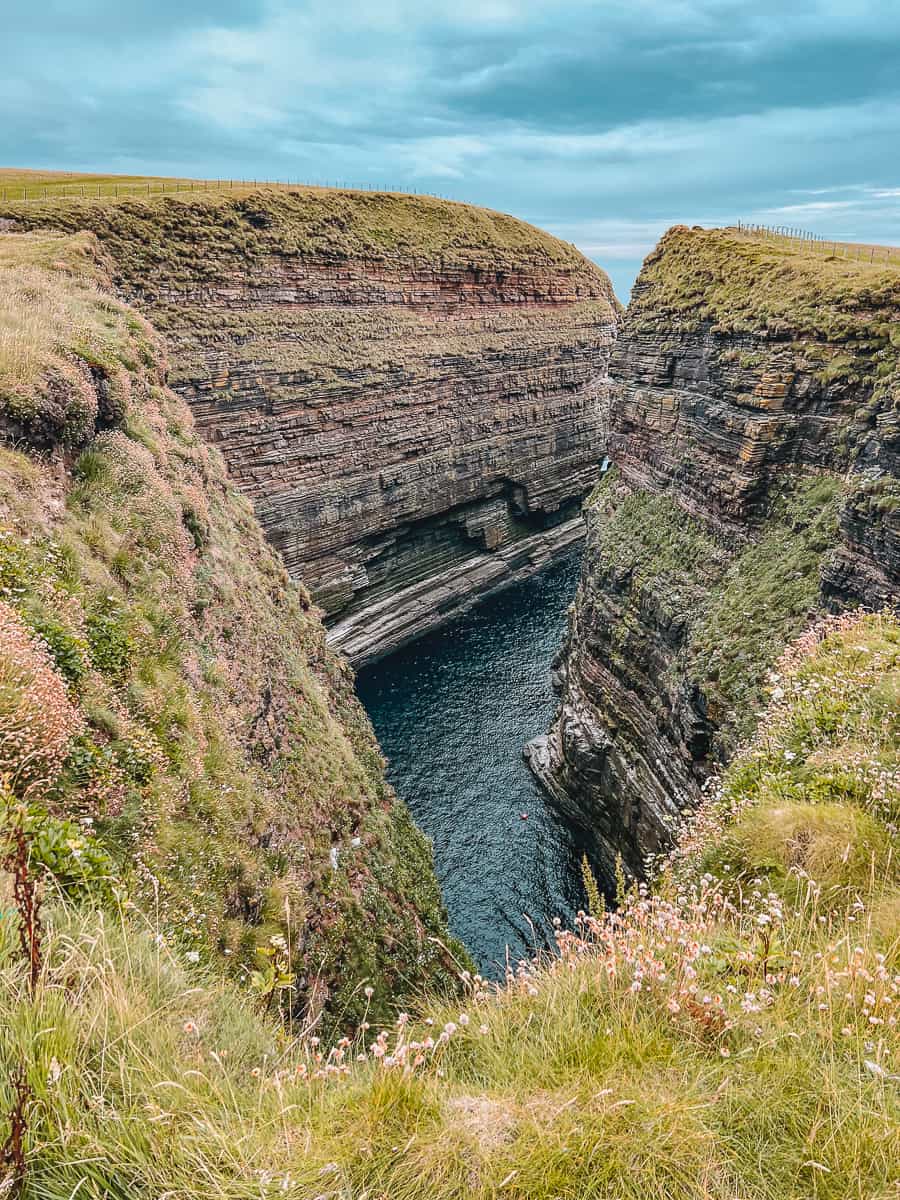 Duncansby Head opening times
The thing that I love about Scotland is that most of the breathtaking attractions and natural beauty spots don't require a ticket.
The Duncansby Stacks are completely FREE to visit and are open 24 hours a day. Although, I would never recommend visiting in the dark.
I would, however, recommend visiting these stacks at either sunset or sunrise for a more magical experience.
The jaw-dropping views over the horizon, with the sky changing colour over these stacks, are unmatched!
How long is the Duncansby Stacks walk?
If you're heading to Duncansby Stacks from Duncansby Lighthouse car park, it's a 3/4 mile walk.
So, it shouldn't take you more than 15-20 minutes to reach a viewpoint over the cliffs of the stacks.
You can easily see the top of the stacks from the headland a few minutes into the walk. Then, you're just walking down the headland to get a better view of the stacks in the sea. But, it's so worth it!
If you wanted to extend this walk by heading over the cliffside towards the northeastern tip of Britain you can do this as well. You'll be even closer to the stacks that way. Just allow a bit more time.
If you're heading to Duncansby Stacks from John O' Groats, the walk will be a lot longer and is around 3 kilometres one way. I would allow around 1-2 hours to complete this walk as a round trip.
My top tips for visiting the Stacks of Duncansby
Wrap up warm – Even in the peak of summer the Scottish Highlands can be freezing as it has strong cold winds. I would always bring layers and wrap up warm for this walk!
Wear sensible shoes – the ground was quite dry in July but that isn't always the case in winter. There were some wooden boards to help you walk down to the stacks over the headland. But, I would still wear sensible shoes that can handle some mud! There was also a lot of sheep poo on the ground as well.
Avoid peak times – Although not as famous as John O' Groats, Duncansby Head is still a popular attraction in Scotland and only has a small car park. I would avoid peak times if you can to ensure getting a parking space.
Bring snacks and water – There are no facilities here for food or drinks. So, I would have snacks and a water bottle prepared.
Use the toilet before you visit – Again, there are no facilities here and definitely no bathrooms. I would make sure to use the public toilets at John O' Groats before you visit.
Duncansby Stacks FAQs
How high are the Stacks of Duncansby? These stacks are just over 60 metres tall!
How did Duncansby Stacks form? The stacks are formed by long-term wave erosion over thousands of years. The salt, wind and pressure from the waves eroded the cliffside slowly over time creating these pyramid stacks.
Are there puffins at Duncansby Head? Yes, you can find puffins flying around here from late spring to summer!
What are Duncansby Stacks made of? The stacks are made of the cliffside! They used to be part of the cliffs thousands of years ago before it was eroded by the sea revealing these stacks.
How old are the Stacks of Duncansby? It is believed that the Duncansby Stacks have been here for over 6000 years!
How far is Duncansby Head from John O' Groats? If you're driving from John O' Groats, it will take less than 5 minutes to reach the Duncansby Lighthouse car park! But, if you're walking from John O' Groats to Duncansby Head it's 3 kilometres (6 kilometres round trip).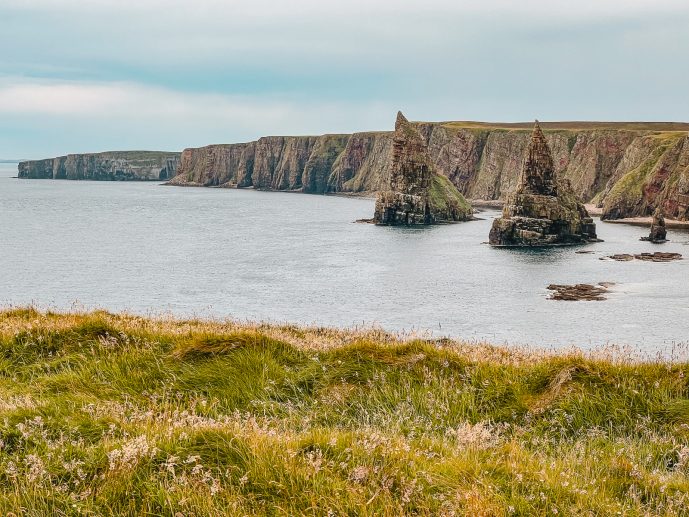 Things to do near Duncansby Head
Once you've explored Duncansby Head & Lighthouse there are plenty of breathtaking places to visit nearby.
Here are all of the places you can visit near Duncansby Head and some pitstops for your NC500 road trip!
Take a picture with the John O'Groats Sign
If you didn't get a picture with the John O' Groats Sign when you visit there, did you even go?!
Haha, just kidding but it is one of the main highlights and things to do in the far northern reaches of mainland Scotland.
It lies on Britain's northeastern tip and is famous for being the furthest distance between two inhabited points of the British mainland.
They are John O' Groats in Scotland and Land's End in Cornwall. Many people have walked, cycled or driven the whole journey over time and they are known as 'End to Enders'.
As well as the John O' Groats sign, you can find many shops, photo opportunities and restaurants along with jaw-dropping scenery around the harbour and coast.
Book a tour to John O' Groats from Inverness!
Orkney Islands Day Trip
If you have a day spare in your NC500 itinerary, I would highly recommend booking an Orkney Islands Day Trip.
These are a selection of islands off the coast of John O' Groats that was originally owned by Norway. They became part of Scotland during the reign of James III in 1472.
The Orkneys have a fascinating history starting in the prehistoric period. You can visit the Skara Brae prehistoric village dating back over 5000 years and the Ring of Brodgar, a Neolithic stone circle.
Kirkwall has an incredible history of Vikings when it was a Norwegian settlement and you can find out more in the Kirkwall Museum. Don't forget to visit the highlight attraction of St Magnus Cathedral too.
You can also visit Stromness fishing village and the Orkney Italian Chapel which was built by Italian POWs during World War II.
The POWs were ordered to build the Churchill Barriers and so created this place of worship for themselves.
It was such an incredible day out and one I will never forget!
Click here to book your Orkney Islands Day Trip
Visit Kiess Castle, Castle Sinclaire Girnigoe & Wick
I can never get over just how many castles there are all over Scotland and the NC500 is no different.
You can visit some popular ruins like Keiss Castle and Castle Sinclaire Girnigoe on the cliffside during your visit.
They are some of the most atmospheric ruins I have ever seen, especially as they are so close to the dramatic coastline. But, I've heard that they are haunted.
Wick is a great place to stop off for food, petrol or some sightseeing. You can find the world's shortest street here at 2 metres. It's been verified by the Guinness Book of Records!
Other NC500 Highlights & Inverness
From Duncansby Stacks, you're just a two-hour drive away from Inverness which is where the NC500 ends.
On the way down from Wick, you could make a stop in Lairg to see 'The Wee Hoose' which is Scotland's tiniest residence. But, be warned, there is a tall tale associated with it!
Also, I would not miss a visit to the magical Dunrobin Castle which is a chateau-style keep that looks like something from a fairytale.
I couldn't help but feel that I had walked into the castle in Beauty and the Beast! It was so wonderful to tour the gardens and the staterooms. Plus, they run falconry shows during the day.
It opens seasonally from April – October, but you can walk to the castle even when it's closed on the seashore.
Related post – Why you must visit Scotland's Disney Castle or Dunrobin Castle!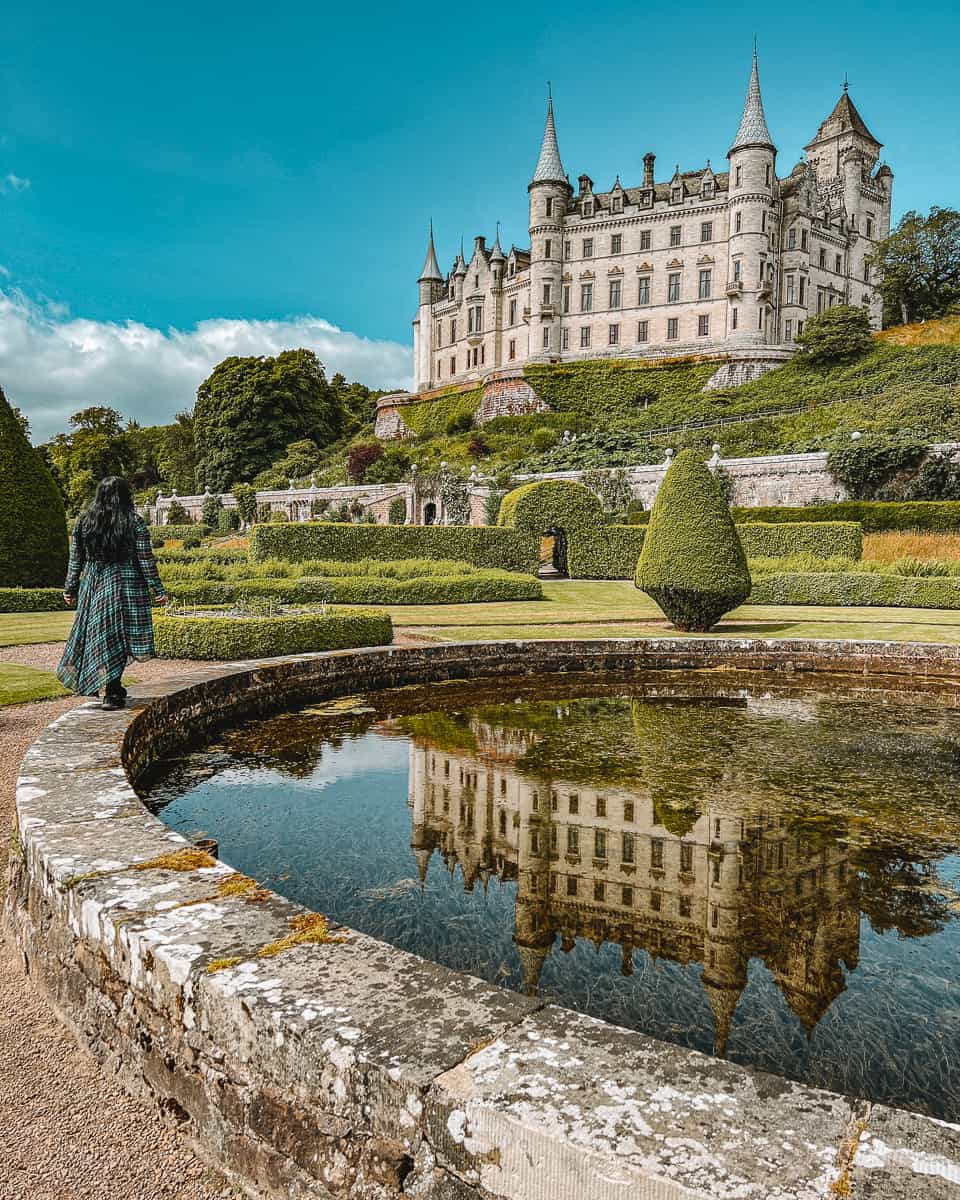 Then, when you reach Inverness you can explore the city centre and the main attractions if you haven't already.
I would highly recommend visiting Inverness Castle, Leakey's Bookshop and the Black Isle Brewery Bar.
Or, you can head on to places like Clava Cairns which inspired Craigh Na Dun in Outlander and Culloden Battlefield which featured in the show.
Loch Ness is only a few miles away from there with the legendary Nessie aka the Loch Ness Monster and you can enjoy a cruise to see the famous Urquhart Castle!
Where to stay near Duncansby Stacks
If you don't have a campervan, the closest place to stay near Duncansby Stacks would be John O' Groats.
The most popular option would be the Inn at John O' Groats which is fabulous and comes highly recommended. It has a selection of rooms and apartments to choose from.
If you would prefer your own space you can also rent a Shepherd's hut with a hot tub near the cliffside! Or, there is also the Seaview Hotel which has a restaurant and bar.
In my opinion, if you are doing the hotel and driving option on the NC500, I would consider spending the night in Thurso. It's just a 30-minute drive away from the Duncansby Stacks area.
Thurso has a train station with regular services from Inverness via Scotrail and so there are many affordable hotels and campsites in this area.
Plus, it has lots of infrastructure with a good choice of restaurants, supermarkets and most importantly petrol stations.
One of my favourite attractions in all of Scotland is near here called Smoo Cave. It's a magical walk where you can explore a cave and waterfall.
Click here book your perfect hotel in Thurso!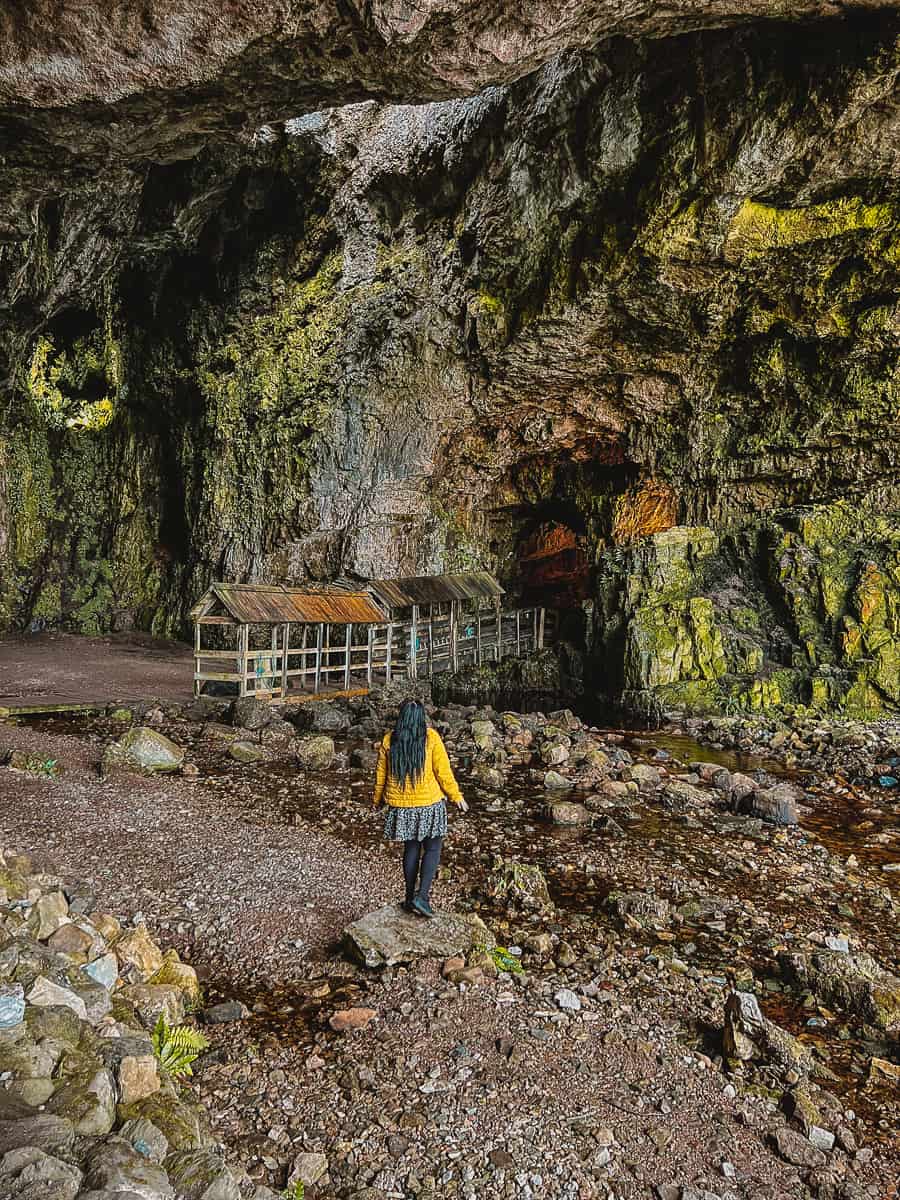 Read more of my Scottish Highlands articles
Black Rock Gorge Harry Potter guide
Visit the Fairy Glen on the Isle of Skye
A complete guide for the Fairy Pools Walk
How to visit the colourful houses in Portree
The best view of Eilean Donan Castle
Why you just visit Manuela's Wee Bakery
Steall Falls Harry Potter Guide
How to find the Hagrid's Hut filming location
A guide to the Wee White House Glencoe
Where is Dumbledore Buried in Harry Potter?
Visit Glenfinnan Viaduct Viewpoint to watch the Hogwarts Express
Scotland Harry Potter filming locations
How to visit the Callanish Stones on the Isle of Lewis
How to visit the Green Loch Aviemore
How to visit the Pink House on Loch Glass
Visiting the Puck's Glen Fairy trail
Isle of Mull Cheese Glass Barn Café review
Save how to visit Duncansby Stacks & Lighthouse for later!