Nothing beats a winter walk through a festive light trail on the build-up to Christmas!
The Dunham Massey Christmas Lights Trail is one of the best festive trails in the UK and is located on a rural estate in Cheshire.
It's a magical walk through an enchanted forest that is filled with jaw-dropping displays and immersive, colourful exhibits. It's an event not to be missed on your calendar.
Here is my complete Dunham Massey Christmas Lights Trail review and whether it's worth booking tickets in 2023!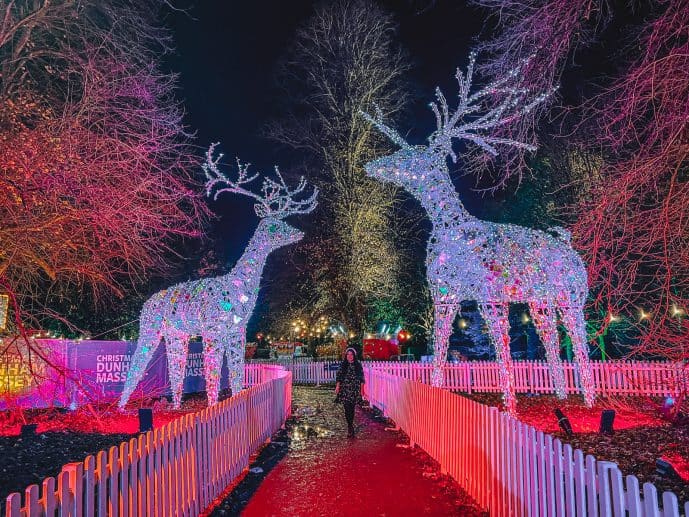 What is the Dunham Massey Christmas Lights Trail?
The Dunham Massey Christmas Lights Trail is a show-stopping event that takes place every year from November to January.
It's one of the most spectacular festive trails in the UK and the perfect way to experience some Christmas cheer!
As the nights get earlier and the temperatures get colder, Dunham Massey's Christmas trail is the perfect way to beat the winter blues.
You'll see breathtaking light displays full of colour, music and joy!
Where is the Dunham Massey Christmas Trail location?
Christmas at Dunham Massey is on the Dunham Massey estate which is a beautiful historic property and grounds owned by the National Trust.
Dunham Massey hall has over 400 years of history and was once home to the two ancient families of the Booths and the Greys.
Their legacy left behind this incredible manor home as well as 300 acres of rural parkland in Cheshire.
This huge park is where you'll walk through to experience the Dunham Massey Christmas Lights Trail!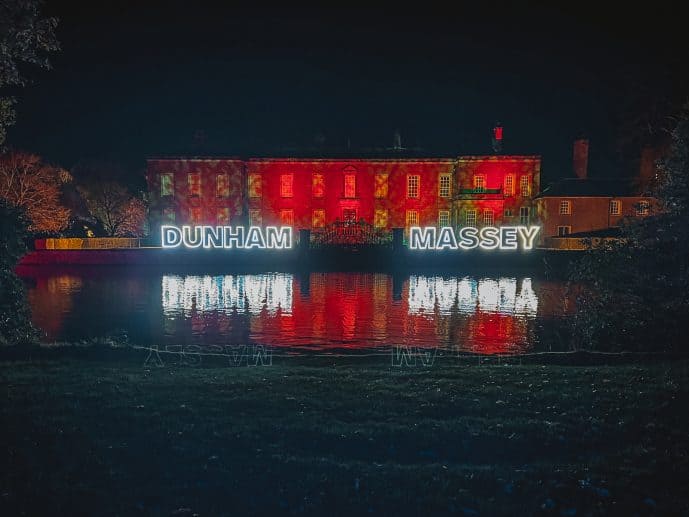 Magical reasons to visit Dunham Massey at Christmas
1. Marvel at their spectacular light displays
Dunham Massey had some of the best Christmas Displays I had ever seen on a lights trail. Apparently, it takes them an entire month to set them up in the park!
Considering we were in a forest, it was amazing what they could achieve with festive lights to brighten up the dark.
Here are some of the magical Christmas light displays you can expect to see on the Dunham Massey Christmas Lights trail.
Sparkling Reindeer
The first thing I could see as we drove into the car park was the huge glittering reindeer that greeted us at the entrance.
They were huge and you couldn't help but marvel at them as you walked through to the Christmas food market and fairground.
It is an amazing photo opportunity so take your time to get some festive photos with them both.
Thankfully, most people are very respectful and were happy to wait for everyone to get their family photos!
Feast of Light
As soon as you enter the trail, the first major light display you'll come across is the 'Feast of Light'.
It was a square rigging with hundreds of strings of lights hanging down that you could walk through.
There was music playing and the lights changed all different colours of the rainbow with the beat of the melody.
Although the adults were getting photos, kids absolutely went wild for this and had so much fun running through the lights and swinging the cables.
Twilight, Rose & Fire Gardens
Along the Dunham Massey Christmas Lights Trail, you'll find many creative light gardens that you can explore;
Twilight Gardens – You'll see flowers light up here in this garden and watch trees glittering with light!
Rose Gardens – Find thousands of neon threads that create tunnels and trails in the Dunham Massey rose garden.
Fire Gardens – Enjoy hundreds of candles and lanterns that have been placed on the ground of the forest to the tune of a Christmas Carol.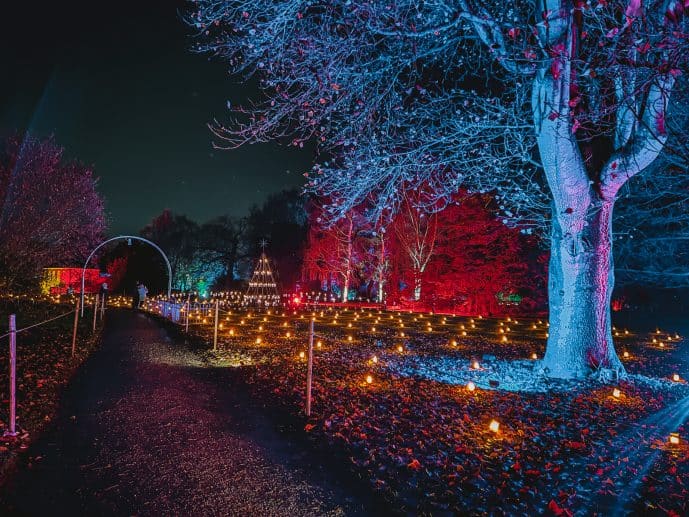 Gladioli Tunnel
Another fantastic display is the Gladioli Tunnel which was just before the halfway checkpoint.
This giant tunnel was made of arches of blooming flowers and changed all different colours to the beat of the music.
Although it started raining a bit when we were here, we had a great time twirling around and watching the colours turn.
Light a Wish
Although the huge displays were breathtaking, I did love the more subtle displays like Light a Wish.
Here, they had the dandelion fluff, or pappus, that sparkled in the trees!
I always remember as a kid using Dandelions to make a wishes so this was such a heartwarming display, especially with the nostalgic Christmas music.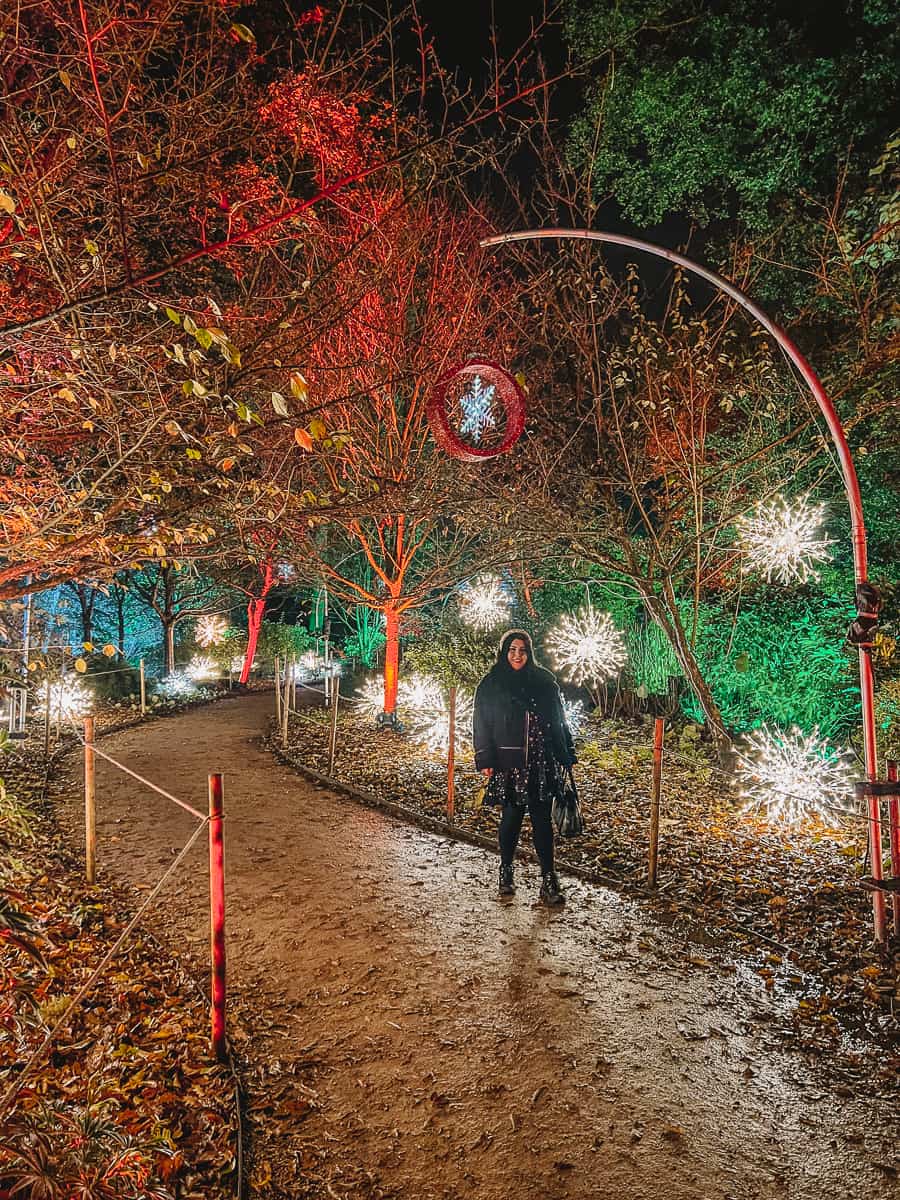 Chandelier Walkway
When I saw the Chandelier Walkway in the forest, my jaw dropped and I gasped!
I thought it was going to be lights in the shape of a chandelier not a line of huge crystal chandeliers hanging above our heads.
They were all lit up and Dunham Massey added some blue lights and fog to this display so it made it look totally eerie. The music was like a ballroom so it felt very Phantom Manor.
Neon Gallopers & Singing Tree
You'll also get to see these amazing Neon Gallopers in the trees which are horses from a Carousel!
But, you'll see them in a whole different way as they light up brightly to the sound of the festive music.
Just beyond these gallopers, you'll find a Neon Singing Tree whose branches light up and change colours to the beat of the music.
This was one of my favourite displays as it made it look like an enchanted forest! We spent ages just watching it change colour.
Magical light tunnel
My favourite part of the Dunham Massey Christmas Lights Trail had to be the magical light tunnel at the very end!
It was called the 'Christmas Cathedral' and was shaped like a steeple. You could just about see Dunham Massey House lit up at the end.
I've been wanting to visit one of these light tunnels for years and it made such a fantastic photo and video opportunity.
We were quite lucky in that there weren't many people here on the night, so we got the whole place to ourselves for photos.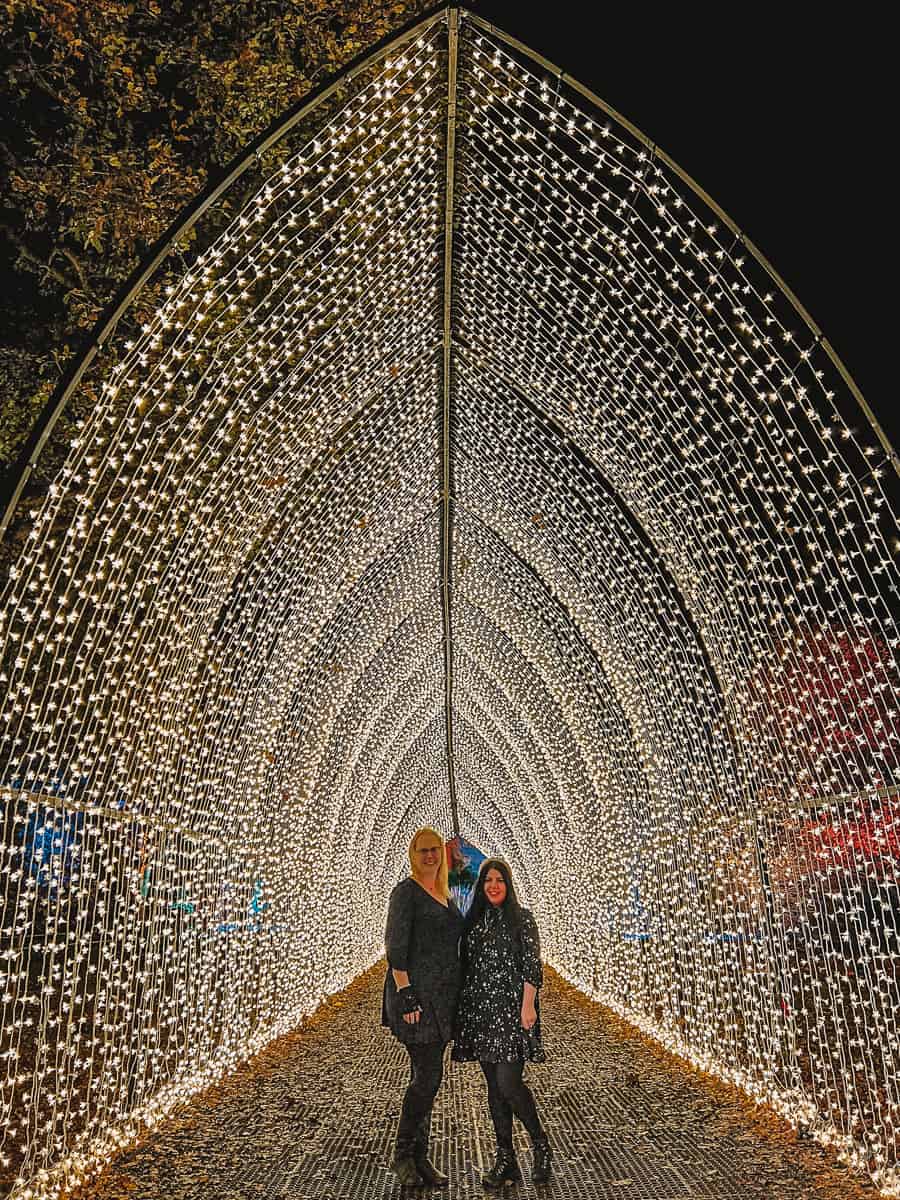 2. Buy some festive treats from the Christmas food market
Before you enter the lights trail, there is a small Christmas market selling festive food and treats for the evening.
You'll find hog roasts, hot dogs, burgers and some vegan and vegetarian options to eat for dinner.
We went for a mouthwatering hotdog and treated ourselves to a 'Piggy Stardust' that had pulled pork, onions and BBQ sauce on top.
It wasn't the cheapest meal (the hotdog was £11!) so I would budget enough money if you plan to buy any food or drinks here for the evening.
For kids, they had some fairground rides here like a Helter Skelter, Merry-go-Round and Boat Swings!
3. You can toast marshmallows on an open fire
One of my favourite things about this festive light trail was that you could roast your own marshmallows on an open fire!
The stalls are located around halfway through the Dunham Massey Christmas Trail and the mallows are completely handmade.
You had the choice of vanilla, salted caramel or chocolate. Although I was tempted by all three, I went with the vanilla in the end.
You can pair up your roasted marshmallows with a boozy hot chocolate or mulled wine – it was so cosy!
4. Meet Father Christmas
Is it even a Christmas event if the big man doesn't show up? That's right, on the Dunham Massey Christmas Trail you get to meet Father Christmas!
He's taken a bit of a break from making toys in the North Pole to see if you've been naughty or nice.
He'll greet little and big kids alike, wishing you Merry Christmas and asking you if you've had a good time,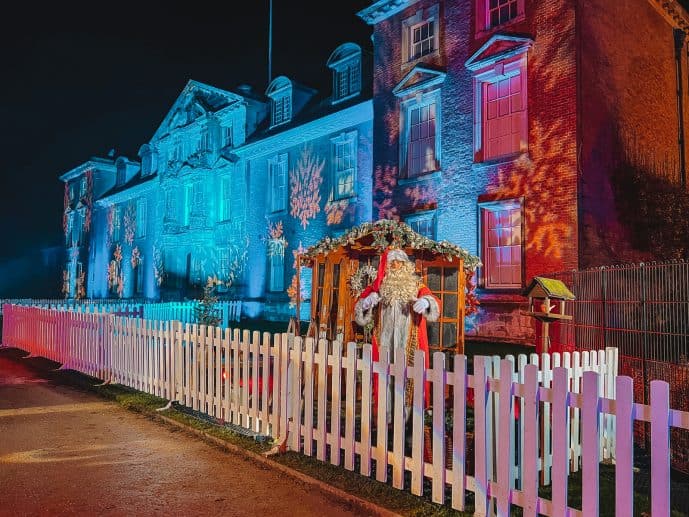 5. See Dunham Massey house lit up!
Dunham Massey has over 400 years of history to uncover and is now owned and protected by the National Trust.
I would highly recommend visiting the inside of the house during the day if you get the chance!
Although you can't go into the house on the Dunham Massey Christmas Lights Trail, it is fabulous to see the house lit up at night.
The projections are very colourful with snowflakes and different festive designs. There are even hearts on the floor spelling out 'Dunham Massey'. Make sure to get your camera ready.
6. It ends with a spectacular water show on the lake
After you've been completely mesmerised by the lights trail, don't forget to watch their colourful fountains show on the lake!
On our visit, the water and colours in the fountains moved to the sound of Disney's 'Let it Go' from Frozen and it made for a spectacular finale.
We actually ended up staying to watch the whole thing and it was a great way to end a magical evening.
How long does it take to walk around Dunham Massey Christmas lights?
This really depends on the type of person/family you are and what you like to do on a Christmas Light Trail.
If you're someone that likes to stop at every display, marvel at the lights, take your time and snap lots of photos (like me), I'd allow around 3-4 hours.
If you're a family that wants to walk through the lights quickly and experience it that way you could easily walk through in 1-2 hours.
It really is a beautiful light trail with some of the most spectacular light displays I've seen for a Christmas event.
There are also many tempting break points along the way where you can buy hot chocolates, festive alcoholic drinks and toast marshmallows on the fire!
It's best to make a festive evening of it. I'd always recommend booking an early time slot to guarantee you have enough time to see everything at a leisurely pace.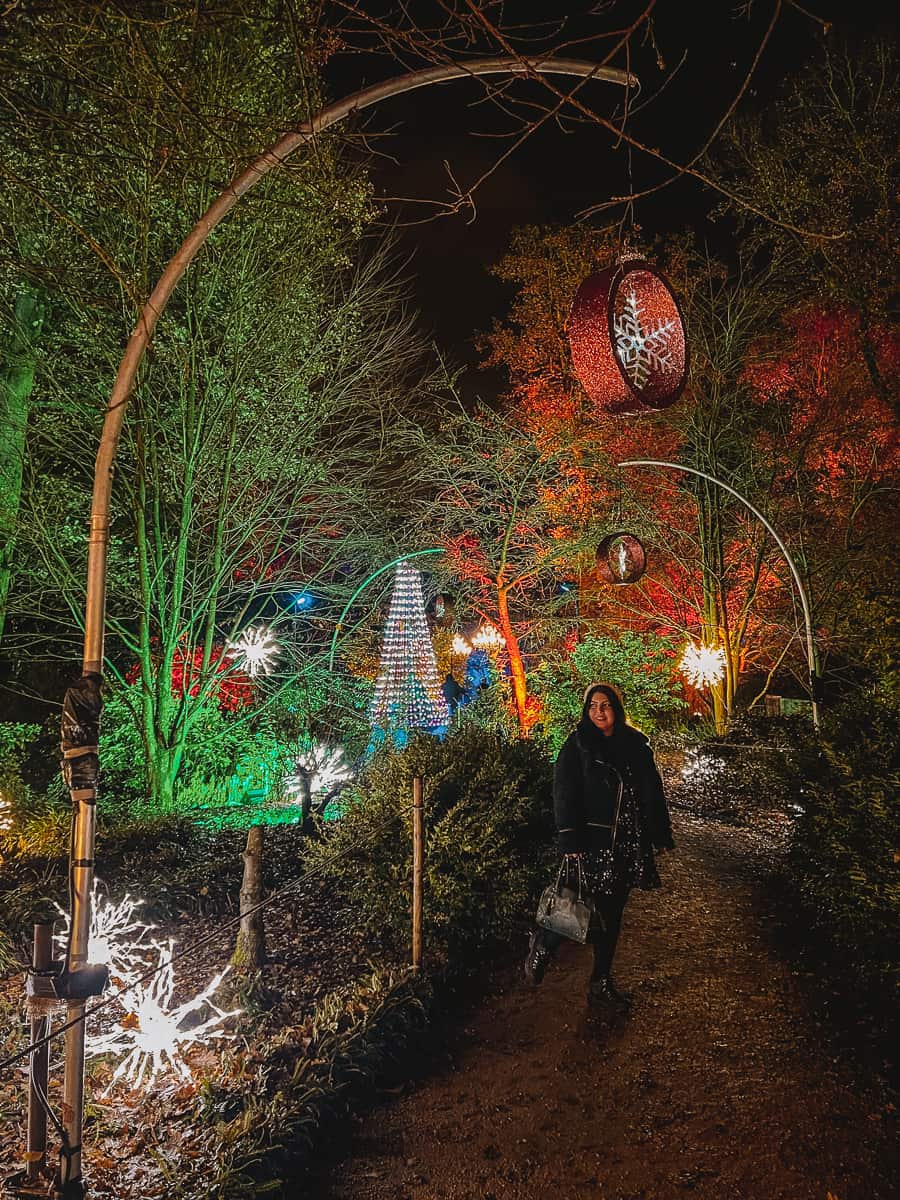 How much is Dunham Massey Christmas trail?
Tickets for the Dunham Massey Christmas Trail are £22.50 for an adult and £14.50 for children which is a bargain in my opinion!
When booking online, you'll be asked whether you're a National Trust member or not.
Although the prices for tickets are the same for National Trust members and Non-National Trust members, Non-members will be charged for a parking space if they plan to drive.
The ticket price for a Non-Member with parking is £30.50. But, only the member of your party that is driving will be charged that amount.
The other members of your party will be charged the standard £22.50 a ticket for an adult and £14.50 for a child.
Click here to book tickets for the Dunham Massey Christmas Lights Trail!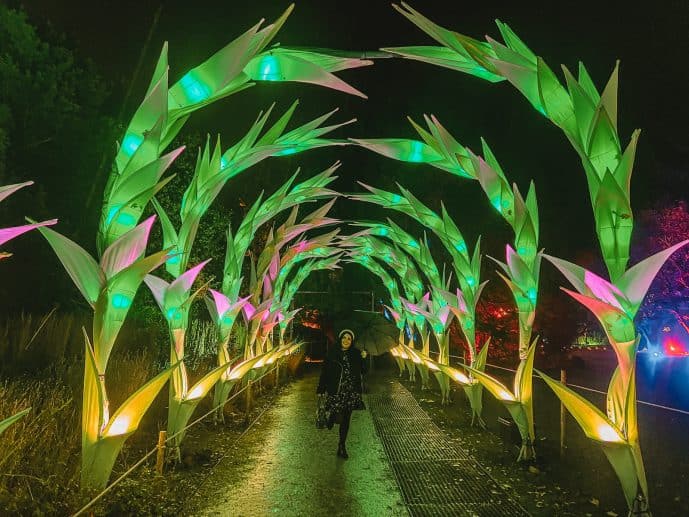 Christmas at Dunham Massey opening times
The Dunham Massey Christmas Trail can be booked in time slots from 4.30 pm until around 8.15 pm each evening, even on weekends.
The last entry to the trail is 8.30 pm with a closing time of around 9.30 pm – 10 pm depending on crowd numbers.
As it will take you around 2-3 hours to experience Christmas at Dunham Massey, I would personally recommend booking your ticket earlier in the evening rather than later.
You really don't want to rush this trail as nearly all of the light exhibits are so magical!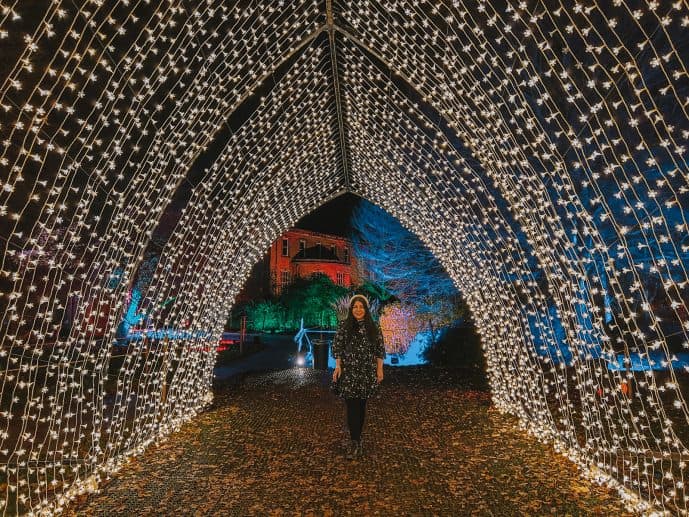 Is Christmas at Dunham Massey worth it?
100% YES! I was absolutely blown away by this Christmas Lights Trail and the displays are some of the best I have seen.
This time of the year can be quite miserable with the colder temperatures and the early evenings but magical light trails like this can really lighten up the dark, bring cheer and put you in a festive mood!
Personally, I thought this light trail was worth every penny and I would happily go back to experience it again.
If you're on the fence about whether to buy tickets, I would go for it! It's a magical event that the whole family can enjoy!
When are the dates for Christmas at Dunham Massey?
Christmas at Dunham Massey takes place between the 18th of November 2022 and the 2nd of January 2023.
It's open on Christmas Eve, Boxing Day and New Year's Eve with a slightly earlier closing time. The only day it isn't running is on Christmas Day.
So, there's plenty of time left to book tickets and experience one of the most magical Christmas light shows in the UK!
As you can expect, tickets for this event are very popular so make sure to book yours before it's too late.
How to get to Dunham Massey in Cheshire
Dunham Massey is a rural estate in Cheshire and can be found on Woodhouse Lane in Altrincham off the A56 road.
This is accessible from the M6 and the M56. It's a 30-minute drive from Warrington, a 45-minute drive from Manchester and a 60-minute drive from Liverpool.
As this will be in the evening, I'd add a little bit extra time to get there due to rush hour traffic.
It's easiest to drive to Dunham Massey as public transport options are limited. The nearest train stations are Altrincham and Hale both 3 miles from the site.
There is a bus you can take to Dunham from Altrincham Interchange and Warrington. Use Traveline to plan your journey!
Dunham Massey address is Dunham Massey, Altrincham WA14 4SJ. Click here for a Google Pin!
Dunham Massey Christmas Trail parking
There is a large car park on the grounds of Dunham Massey when you arrive on the estate for the Christmas Light Trail.
This is around a 5-minute walk from the entrance. Simply follow the attendants when you arrive to be shown a space to park.
Christmas at Dunham Massey parking is charged at £8 per car for the evening but National Trust members get to park for free.
National Trust members get to park at Dunham Massey for free but you will need to pre-book your free parking ticket and show it to the attendants on the night along with your Christmas Light trail tickets!
My top tips for the Dunham Massey Christmas trail
Wrap up warm – As it's going to be winter in the UK and you'll be walking around at night time, make sure to wrap up warm! Think layers, jumpers, hats, gloves etc.
Wear sensible shoes – Although the Dunham Massey Christmas Lights trail is relatively dry, there are a few muddy moments. The ground will be relatively covered but wear a sensible pair of walking boots or wellies just in case.
Pack an umbrella – This is the North West so there is a good chance of rain! If you don't have a hood on your coat, pack an umbrella to keep dry.
Bring snacks – The food prices are as you would expect from an event like this but some food is definitely on the pricey side! Pack some snacks in your bag to save some cash.
Read more of my Cheshire guides
Harry Potter Forbidden Forest experience review
Afternoon tea at The Courthouse in Knutsford
Save this magical Dunham Massey Christmas trail for later!