The most romantic ruined castle in Northern Ireland has to be the magical Dunluce Castle. A medieval keep that was built on a clifftop and overlooks the Atlantic Ocean!
You could easily imagine this ruin to be part of a fantasy world and it has inspired many writers, poets, and artists over time.
Today, it's a popular stop on the Causeway Coast route and sees thousands of visitors every year.
Game of Thrones fans often wonder if this was a filming location for Westeros in the show and the short answer is, yes it was!
Here is how to visit Dunluce Castle & how they used it in Game of Thrones.
Dunluce Castle history
Richard Óg de Burgh, the 2nd Earl of Ulster, built the first version of Dunluce Castle in the 13th century.
In the 16th century, the castle was then inhabited by the McQuillan family who built two large drum towers.
The McQuillans were known as the 'Lords of the Route', a territory that stretched between Coleraine and Ballycastle.
In the 16th century, the McQuillans lost many battles to the MacDonnells of Antrim led by the relentless Sorley Boy MacDonnell.
The MacDonnells then took over Dunluce Castle and made it their base of operations. They later became the new 'Lords of The Route'.
Sorley Boy swore allegiance to Queen Elizabeth I and his son Randall was made the 1st Earl of Antrim.
During this time, a ship from the Spanish Armada called the Girona wrecked on the shore near Dunluce Castle.
The MacDonnells helped save lives from the wreck. Sorley Boy also took the cannons from the ship and installed them in the gatehouse.
The Earls of Antrim lived at the castle until around 1690. After the Battle of the Boyne, the McDonnells fell into poverty. The castle was then abandoned to the elements.
A lot of the castle has naturally eroded over time but some of the materials were scavenged to build property in the local area.
Today, it's a romantic ruin on the coastline that thousands of people visit every year in Northern Ireland!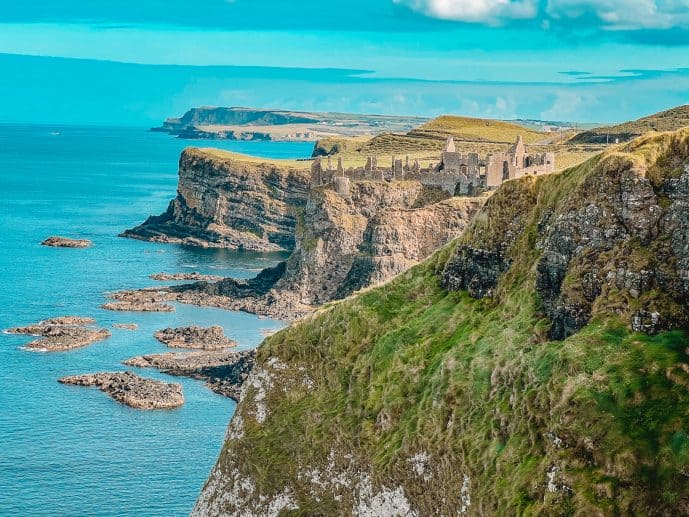 Dunluce Castle Banshee
There are many legends surrounding Dunluce Castle as well as ghost stories from those who met their deaths from the clifftops.
One of those is the Banshee of Dunluce Castle! If you're visiting the area later in the evening you may hear some high-pitched wailing noises and blood-curdling screams from the ruins.
The 'banshee' is thought to be the ghost of Maeve Roe, who was the only daughter of Lord MacQuillan.
Like most noble women throughout history, Maeve was forced by her father to marry Richard Oge. But, she refused his hand as she loved another man, Reginald O'Cahan.
Lord MacQuillan was less than happy about his daughter's stubbornness and so he locked her away in the North East Tower. She was to stay there until she changed her mind!
Like a knight in shining armour, Reginald came to break Maeve out of prison in the middle of the night and their plan was to escape on a small boat and head to Portrush.
However, a deadly storm made the tiny boat capsize and the two lovers drowned still in each other's arms. Unfortunately, their bodies were never recovered and they remain in their watery grave.
You can still hear Maeve's cries for her lover from the prison within Dunluce Castle!
Dunluce Castle Game of Thrones connection
A lot of people wonder what the Dunluce Castle Game of Thrones connection is and whether they filmed Game of Thrones at Dunluce Castle.
Well, the simple answer is yes, they did film Game of Thrones at Dunluce but they changed the castle ruins with a bit of CGI magic. So, you will hardly recognise it in the series!
Dunluce Castle was used as the inspiration for Castle Greyjoy in Game of Thrones series 2.
This is when Theon Greyjoy arrives at his ancestral home of Pyke to persuade his father, Balon, to help Robb Stark with the war. But, as we know, that went down like a led balloon…
In the series, they completely changed these ruins and made a series of toppling towers for the House of Pyke that are connected by terrifying rope bridges.
Fun fact: The nearby Carrick-a-Rede Rope Bridge was a filming location for Castle Greyjoy's Rope Bridge!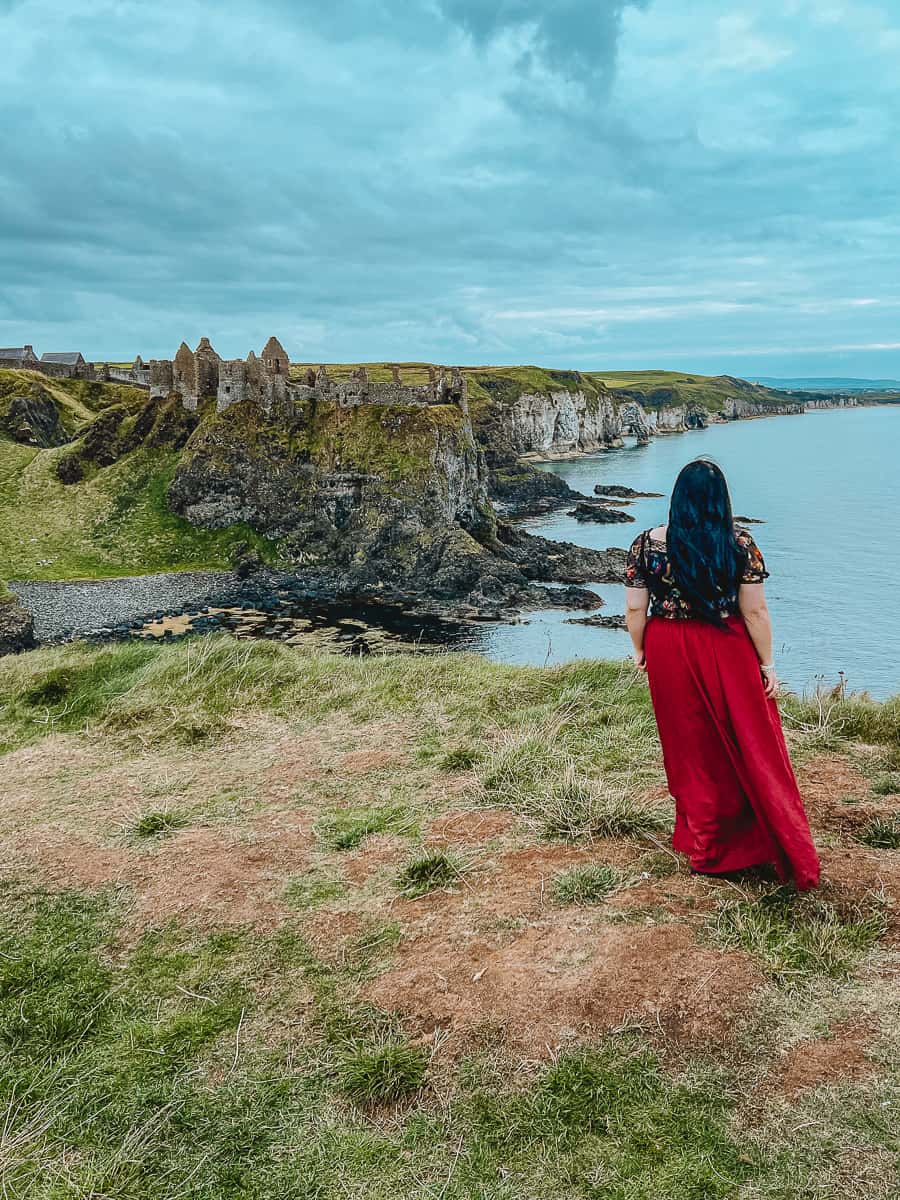 Where is Dunluce Castle aka Castle Greyjoy in Northern Ireland?
So, if you wanted to visit Castle Greyjoy for yourself in Northern Ireland then you only need to head to the Causeway Coast on a road trip. It's located on the Portrush side.
Dunluce Castle is 58 miles from Belfast which is just over a 1-hour drive along the motorway and country roads.
It's just 5 miles away from the Giant's Causeway which is 15 minutes by car. Also, it's 10 miles from Carrick-a-Rede Rope Bridge which is a 20-minute drive.
Dunluce Castle is one of the most visited castles in Northern Ireland. So, a bit of forward planning can go a long way to ensure you get the best experience.
Dunluce Castle address is 87 Dunluce Rd, Bushmills, BT57 8UY. Click here for a Google Pin!
How to visit Dunluce Castle Northern Ireland
It's easiest to drive to Dunluce Castle as part of a road trip along the Causeway Coast in Northern Ireland.
Dunluce Castle joins popular attractions along this route like the Giant's Causeway, Ballintoy, Carrick-a-Rede rope bridge, and Dunseverick Castle.
If you're not driving, it is possible to visit Dunluce Castle by bus from Coleraine, Bushmills and/or Ballycastle.
You can take the 402 bus service heading to Ballycastle from Coleraine Buscentre or Bushmills War Memorial and it will drop you off near the castle ruins.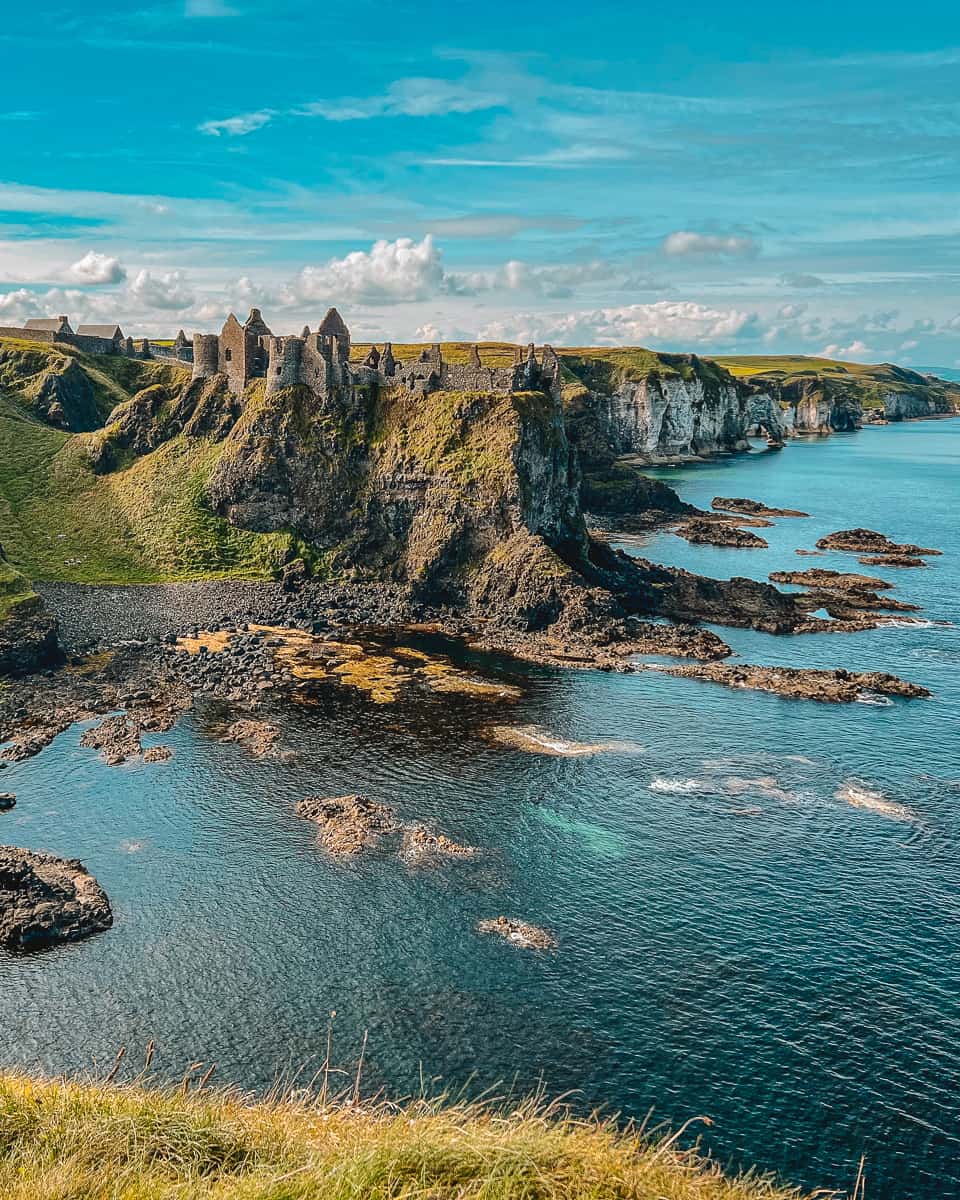 Dunluce Castle parking
There is a tiny car park beside Dunluce Castle that allows for around 6-8 cars. It really is small!
You'll turn off the main road on a narrow bend and then follow a single lane with passing places to the car parking area. So, proceed with caution as it does cause bottlenecks.
The lane definitely isn't suitable for big coaches and minibusses may also find it a struggle.
As this is a popular place, I would recommend visiting earlier in the day rather than later to make sure you can find a space!
Or, visit outside of the castle opening times. In the summer months, this castle can be heaving.
The Dunluce Castle car park is completely FREE and is open 24 hours a day. So, you could park up and head to the viewpoint at any time of the day.
Save time and book a tour!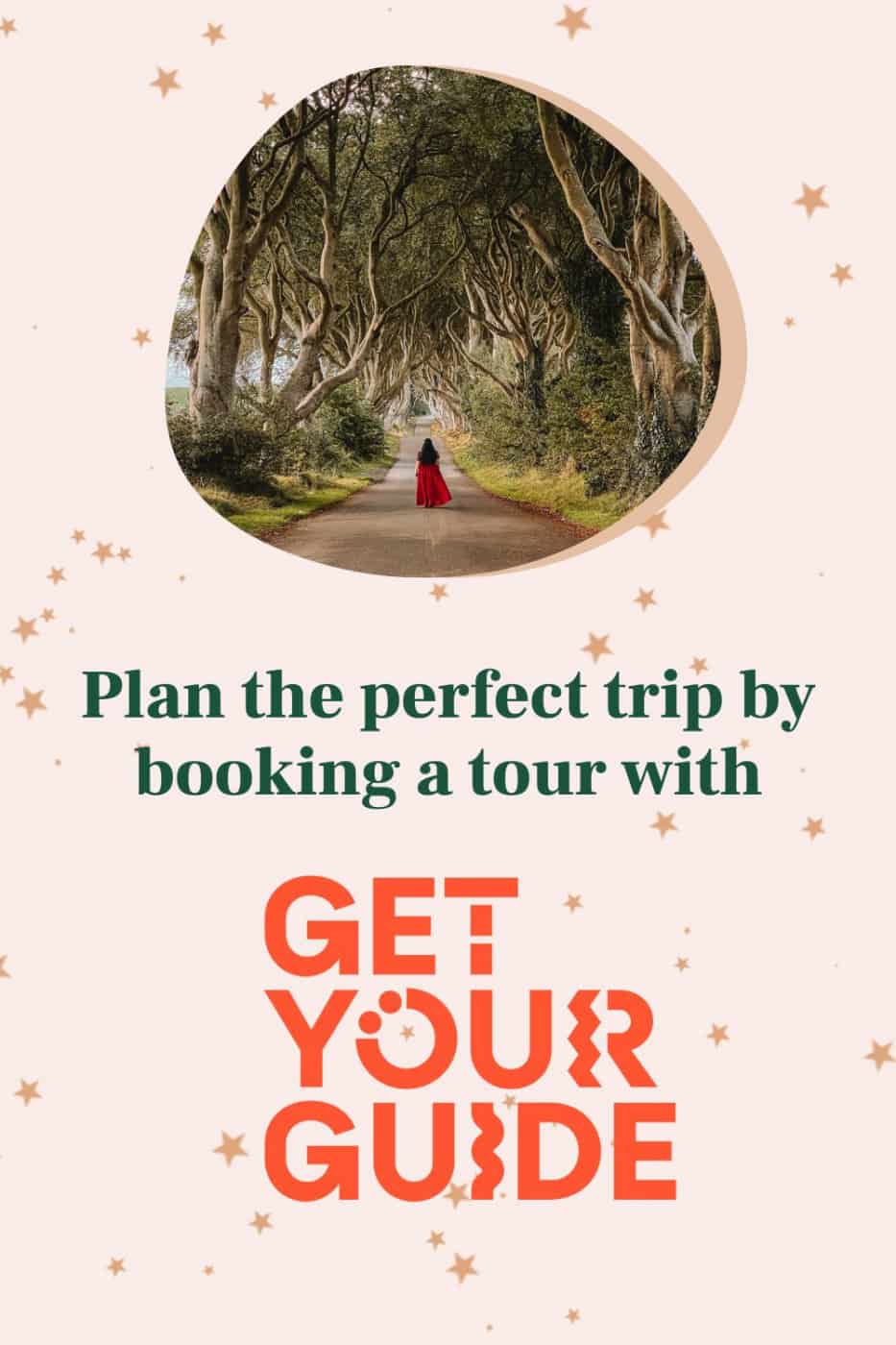 Book tours & tickets for Ireland!
The best views of Dunluce Castle
Before you plan your visit to Dunluce Castle, you may be interested to know that the best views of the ruins aren't actually in the ruins themselves!
The best views of Dunluce Castle can be found on the cliffside which is a short walk from the car park.
Once you're parked, you can leave the car park and walk back towards the main Causeway Coast road or the B17.
When you're on the main road, turn left and then follow this road around the bend to find an incredible view of the ruins! This is where all the coach/tour buses stop to let their guests take photos too.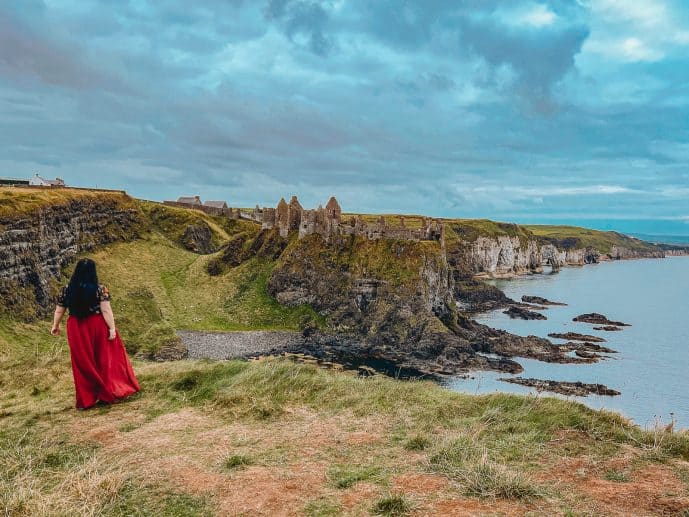 Dunluce Castle viewpoint
I saw many pictures of Dunluce Castle before my visit to Northern Ireland and most were taken from a viewpoint over the cliffs which can be accessed beside the main road.
But, it's good to note that this is on private land and you do have to ask for permission to take photos here.
There is a sign as you enter that has a phone number on there that you can contact, simply text/call the owner before you visit!
It's SO worth it as the photos you can get from here are breathtaking of the ruins and the cliffside over the coastline.
Note: this is a popular wedding photography location. My advice? Let the couple have their moment and come back later!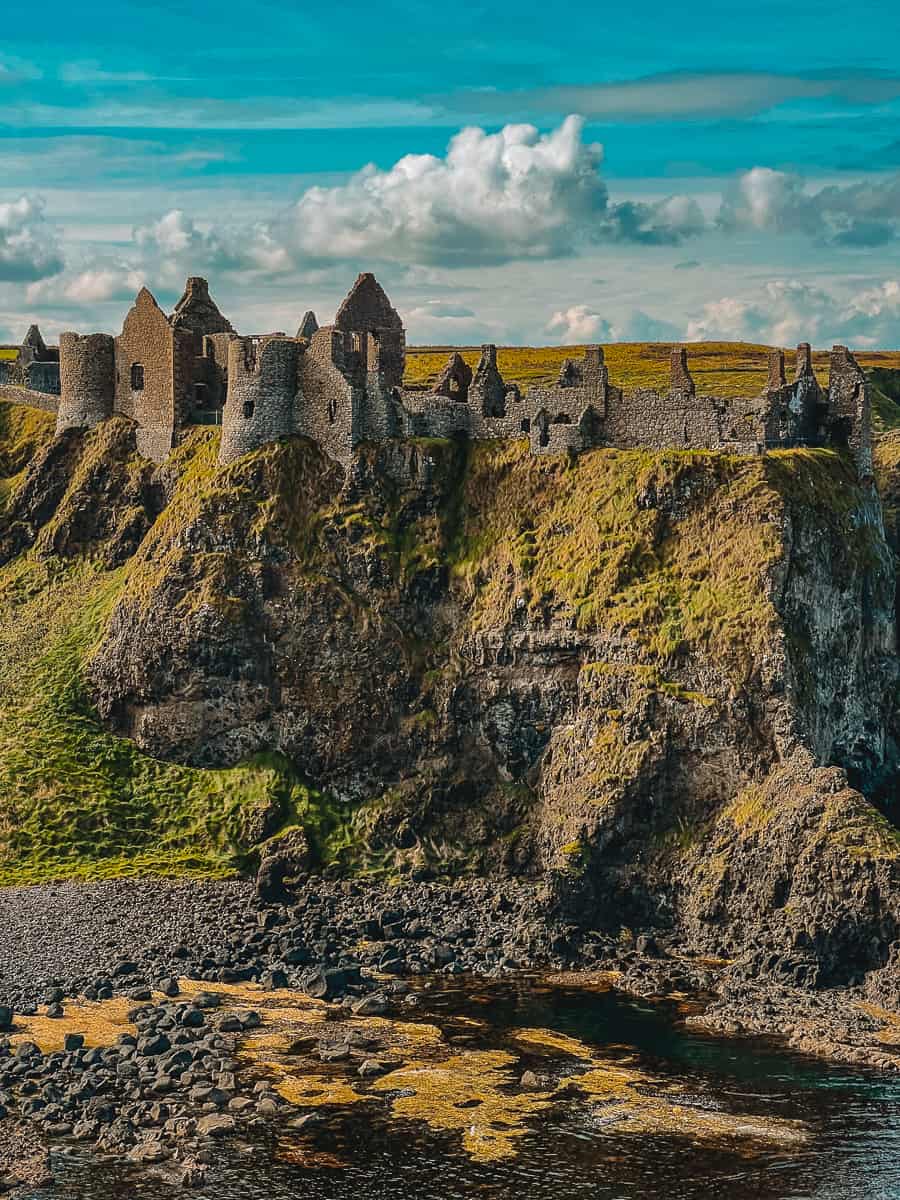 Dunluce Castle opening times and prices
If you still wanted to visit Dunluce Castle (which I would recommend doing!), you do have to pay and there are opening times.
The castle is open every day of the year except Christmas Day and New Year's Day.
Opening hours are seasonal. These are usually from February to November from 9.30 am – 5 pm and 9.30 am – 4 pm in December and January. The castle may be closed on bank holidays.
Dunluce Castle ticket prices are £6 for an adult and £4 for a child (4-17). There are family tickets available.
The ruins are positioned on a clifftop and so need constant care. Your entry fee helps preserve them for everyone to enjoy!
Exploring the Dunluce Castle ruins
Although the viewpoints are great, I would highly recommend visiting the atmospheric Dunluce Castle ruins as well.
Your ticket gains you full access to the ruins, village, and exhibition. It's an incredible place to explore!
Dunluce exhibition
I would start off your tour by visiting their exhibition that gives you an informative history of the castle and some context.
As the town and castle are ruined today, the exhibition should give you an idea of what it used to look like years ago and who used to live here.
You can watch a short and insightful video that easily explains how the castle was built, the feud between the MacDonnell and McQuillan clans, and how the castle fell into ruins.
There are many artifacts excavated from the site on display as well as a reconstruction model of what the castle and town used to look like in its heyday.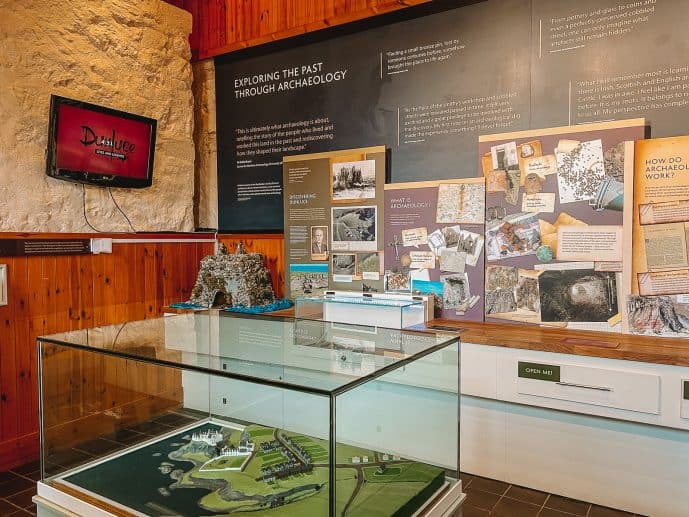 Dunluce town
I was surprised to find out that there used to be an entire town that was built around Dunluce Castle.
Randall MacDonnell, 1st Earl of Antrim, built Dunluce town in 1608 for the people working at the castle and it was revolutionary for its time.
Many houses had indoor toilets which were something completely new to Europe for the era! Also, he built the streets on a grid system which was pretty much unheard of back then.
It was burned to the ground by Irish rebels in 1642 and, unfortunately, you can barely see any of Dunluce town today.
95% of it has been lost to the chapters of time. There are only a few foundations visible.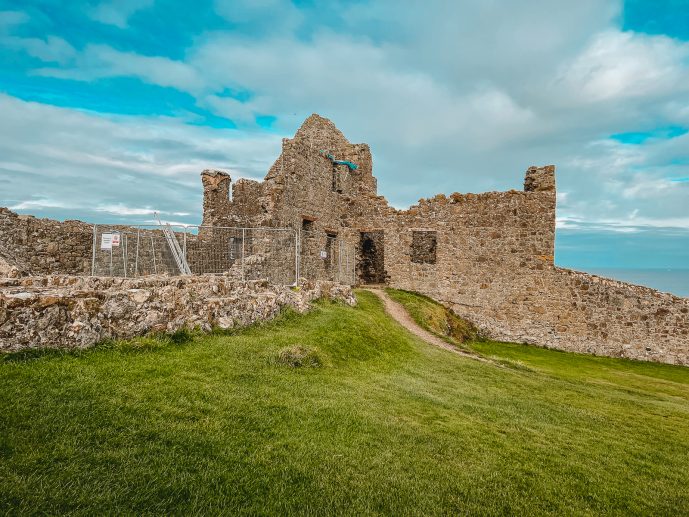 Dunluce Castle
It's hard to believe that these ruins used to be a grand medieval palace of the Earls of Antrim! You'll walk over a footbridge to reach the main part of the castle ruins.
Although it's a blustery keep today, years ago these rooms used to have four walls, windows, roaring fireplaces, and plush carpets to keep out the cold.
The Great Hall is where the Clan MacDonnell used to run their operations and feast with their clan members.
You can also explore the towers, where the legendary Maeve was held, what's left of the bedchambers, and the chapel ruins.
A notable part of the castle is the Kitchen. There is a local legend that part of the kitchen collapsed and fell into the sea! Only a kitchen boy survived to tell the sorry tale.
The views from all over the castle ruins are incredible. You can see for miles along the Causeway Coast. It's absolutely breathtaking!
You can then end your visit at the cute gift shop that sells all sorts of souvenirs to remember your visit.
Heading down the steps to the coastline
After you have left the castle, you can then head back out of the entrance and over to a series of steps that lead down the cliffside to the sea.
You'll walk down 115 steps and descend a total of 25 metres to a viewpoint that overlooks the coastline.
As you reach the end of the steps, you'll see the bridge that leads over to the castle above your head.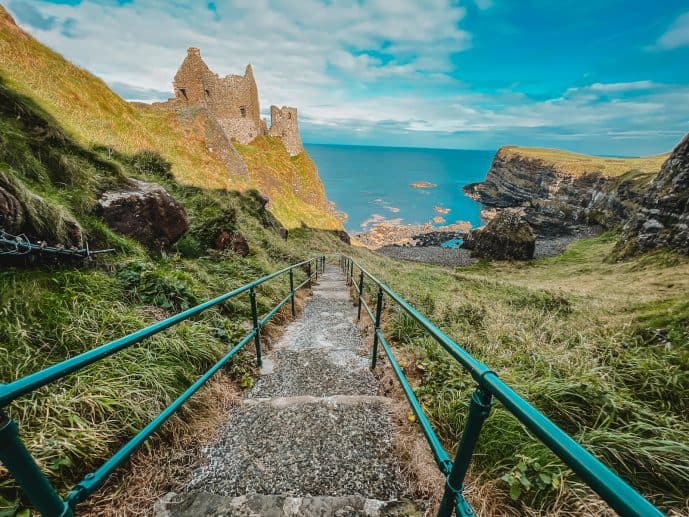 This is such a breathtaking perspective and you can see just how high the ruins are placed on the clifftop!
The views from this point are very impressive on the coastline. But, I'd say you get better views from the bridge in the castle ruins.
You can turn back here and head back to the car park. Or, you can extend your walk to the Mermaid Cave.
Dunluce Castle Cave
It's not easy to see the opening from any of the side-on viewpoints but Dunluce Castle has a hollow or sea cave directly underneath it called Mermaid Cave.
After the 115 steps, the path to the cave is a bit of a scramble and very rocky and slippy. You should also heed any warning signs about rockfall.
It may be obvious but accessing this sea cave on foot entirely depends on whether the tide is low enough! It would be dangerous to try visiting the cave at high tide.
Personally, I gave the cave a miss as it looked pretty dangerous to attempt it.
From what I've seen, the cave opening is huge and leads directly into the Atlantic Ocean.
Amazing Dunluce Castle facts
Dunluce literally translates to 'fort of the fort'
Dunluce Castle used to be owned by Winston Churchill
This ruined castle is thought to be the inspiration for the ruins of Cair Paravel in the Chronicles of Narnia by C. S. Lewis.
Dunluce Castle is featured on the album cover of Led Zeppelin's Houses of the Holy (1973)
Jackie Chan visited this castle whilst filming the action/comedy movie The Medallion (2003).
There is a type of potato called Dunluce! I had no idea you could 'breed' your own species of potato. Crazy stuff.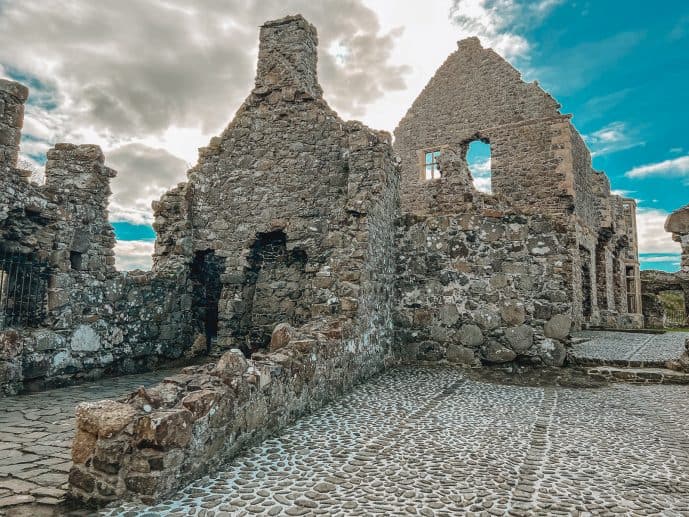 Visiting Dunluce Castle at sunset
Sunrise and sunset are both incredible times to visit these castle ruins but it usually closes before sunset.
The best place to see Dunluce Castle at sunset would be from the viewpoint that I mentioned above from the main road.
I came back at sunset for photography but unfortunately, it was a cloudy day and I actually thought it looked better in the sunshine around midday.
You may have more luck on your visit at sunset when the sky changes colours with orange, pink, and red hues!
Top tips for Dunluce Castle
Visit early in the morning for a quieter visit – the car park can get very full!
The viewpoint is lovely but I would definitely recommend visiting the castle ruins as well. Your fee helps to preserve them and you get to learn the history of the exhibition.
The best views of this castle for photography are from the cliffs to the side of it!
I would leave around 1 – 1.5 hours to explore the castle and surrounding area.
Bring snacks and a water bottle. There is no tearoom at the castle.
There are toilets inside the Dunluce Castle grounds for ticket holders.
Dunluce Castle FAQs
Was Dunluce Castle in Game of Thrones? Technically yes, they used the ruins to create Theon's Castle Greyjoy with CGI!
What was filmed at Dunluce Castle? Game of Thrones but also The Medallion.
What castle was House Greyjoy? Dunluce Castle on Northern Ireland's Causeway Coast!
Is there a cave under Dunluce Castle? Yes, it's called the Mermaid Cave.
Can you go inside Dunluce Castle? Yes, you can pay to go inside the ruins! It's wonderful.
Where to eat near Dunluce Castle
If you're on a Game of Thrones tour in Northern Ireland then I would highly recommend stopping at the Fullerton Arms in Ballintoy for some food or a drink.
It's one of the pubs that have a Game of Thrones door which is part of the Journey of Doors trail!
If you weren't in the know, the beech trees at the Dark Hedges were damaged some years ago due to over-tourism and some of them were sadly knocked down.
Some clever artists re-purposed the wood and made a series of Game of Thrones doors.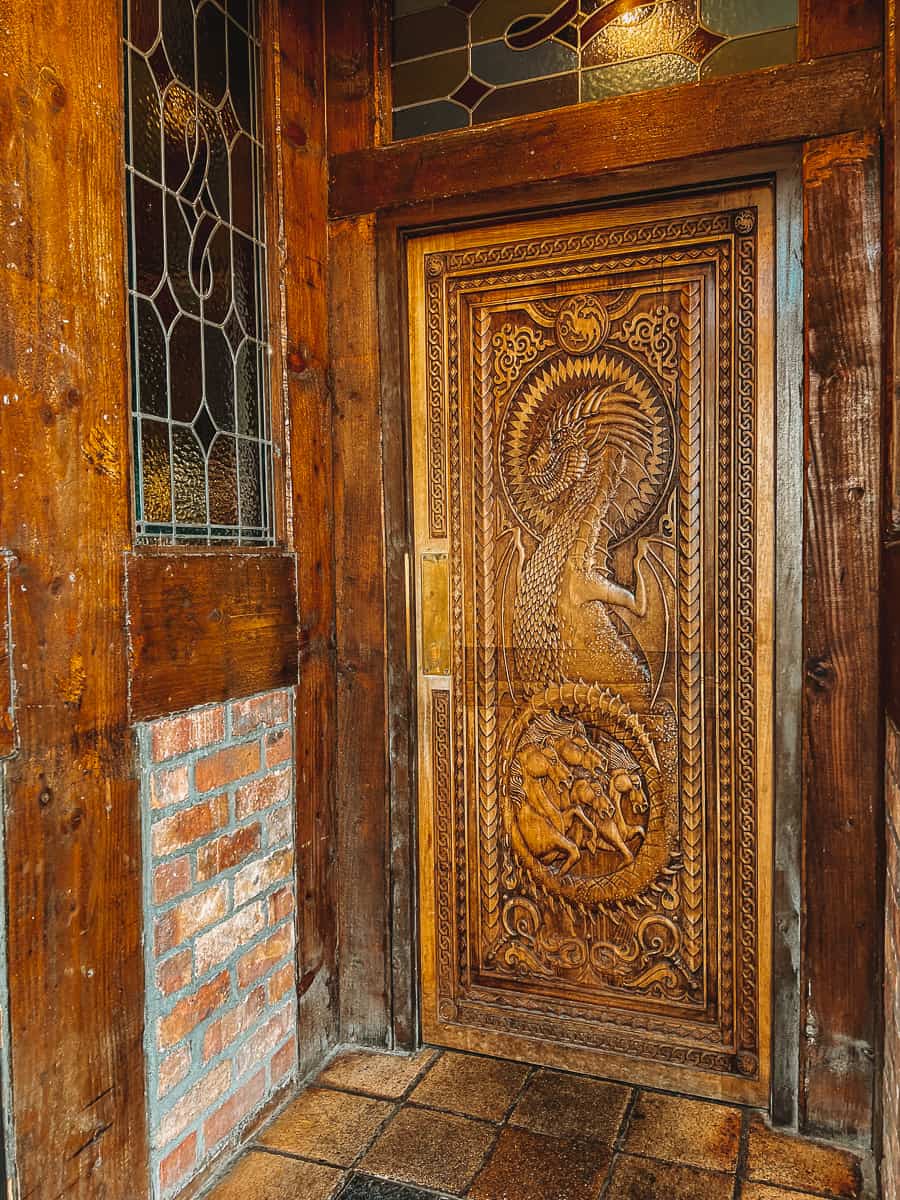 They were gifted to pubs dotted around Northern Ireland. Many of these pubs were places that the cast/crew used to eat, drink or sleep in after filming!
The Fullerton Arms has one of these carved doors so remember to pick up a Journey of Doors passport and stamp it here.
As well as the door, the pub has a warm setting to enjoy a traditional lunch or dinner. I ate here and would highly recommend their steak and ale pie.
Don't forget to take a photo with their iron throne in the back room, you can make your friends or family members bend the knee!
Click here to reserve a table on their website
Are you looking for more Game of Thrones filming locations nearby?
After Dunluce Castle, there are plenty more filming locations on the Causeway Coast route.
You can head over to Larrybane Quarry which was Renly Baratheon's Camp near Carrick-a-Rede Rope Bridge.
There is Ballintoy Harbour to see Lordsport, the main port of Pyke in the Iron Islands. You'll remember scenes from Theon Greyjoy's baptism to reaffirm his allegiance to the God of the Sea.
Don't forget to pop by the Dark Hedges or the King's Road and Downhill Beach doubled up as Dragonstone.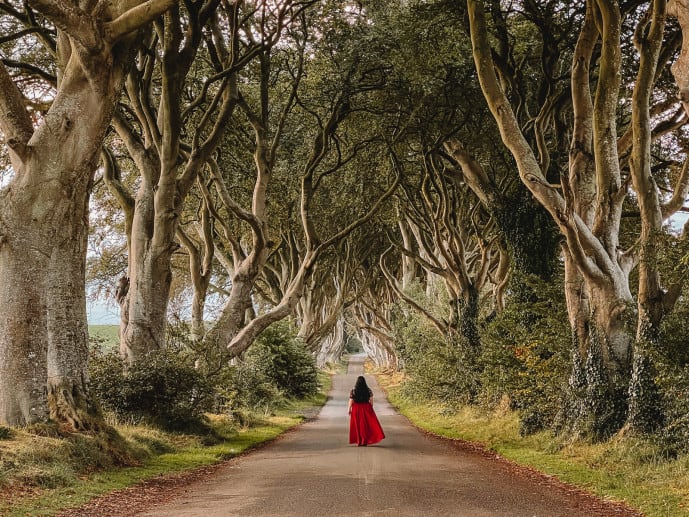 If you're heading down south towards Belfast, I would recommend stopping at Murlough Bay, and Fair Head where Jon Snow meets Daenerys' Dragons.
Also, you can make a stop at Cushendun Caves which were where Melisandre has her shadow baby!
There is Carnlough Harbour where Arya lands in Braavos or you can pop to Steenson's Jeweller's workshop that made lots of the props for the show. I even got to wear a prototype of Sansa's Queen of the North crown!
You can then head on down to Cairncastle to see where Ned Stark executed a deserter of the Night's Watch.
Explore more of Northern Ireland's Causeway Coast!
As well as Game of Thrones filming locations, there are plenty of beautiful places to visit on the Causeway Coast.
The Giant's Causeway has been on my bucket list for years and it's a magical ancient place that has over 40,000 columns that lead into the ocean.
You can book your tickets through the National Trust but this is just for the visitor centre. You can visit anytime if you're in the area!
Carrick-a-Rede rope bridge is also another favourite location of mine where you can cross over a 20 metre long rope bridge that hangs 30 metres over the sea to Carrick-a-Rede island.
Another hidden gem you can visit is Kinbane Castle. This was built by Colla MacDonell, the older brother of Sorley Boy! It's now a ruin on a headland that projects into the Atlantic Ocean.
You do have to walk down some very steep steps but it is SO worth it for the views!
Read more of my Ireland travel guides
How to visit the Pollnagollum Cave Game of Thrones location
How to visit Inch Abbey from Game of Thrones
Tollymore Forest Park Game of Thrones filming locations
How to see the Game of Thrones Tapestry in Belfast
Glass of Thrones walking trail in Belfast
How to visit Lough Tay aka Guinness Lake
How to find the Ballinastoe Boardwalk in Wicklow
Guinness Storehouse in Dublin review
Save this Dunluce Castle Game of Thrones guide for later!