Grand historic houses are everywhere in Scotland. But, not many are abandoned and better yet, presumed to be haunted!
Dunmore Park House is an abandoned ancestral home in Airth, Scotland that has fallen into ruin.
Although visitors mainly pop over to Dunmore Park for the Dunmore Pineapple (which is unusual in itself), a visit to the Dunmore Park House ruin is a surprisingly spooky affair!
I had never heard about it before until I watched the Outlander TV series and saw that it featured in the very first episode as a hospital during World War II.
I'm sure I've piqued your interest by now, so I'm going to give you detailed instructions on how to find the ruins but also some top tips about keeping you and the area safe too!
Here's a complete guide on how to find the Dunmore Park House Outlander location in Scotland.
Warning: Dunmore Park House ruins is an abandoned area with lots of glass, debris, thorns, and broken staircases. So, always be vigilant and don't go at night. If you have an active imagination or get creeped out easily, this may not be the adventure for you.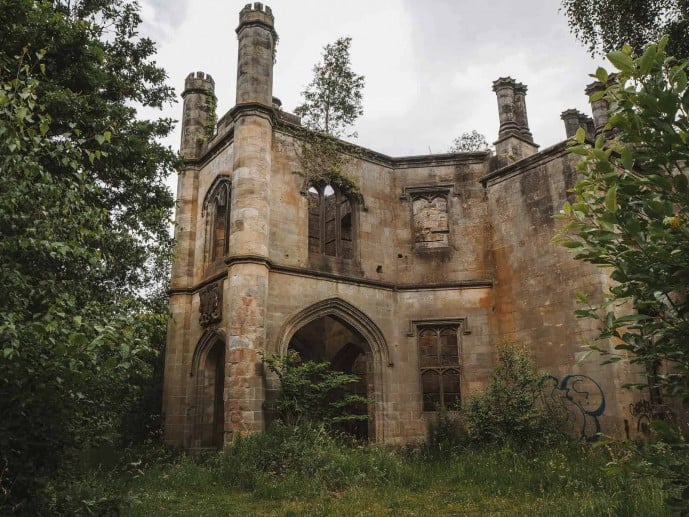 Dunmore House history – who used to own Dunmore House?
So, how did Dunmore House come to be and why was it abandoned? All these questions were whirring around my head as I made my way over to the house (heart thumping might I add).
Dunmore House or Dunmore Park House is the name given to the Dunmore Estate and the lands previously owned by the Earls of Dunmore.
In 1820, George Murray, the 5th Earl of Dunmore, commissioned William Wilkins to build Dunmore House on the estate and it was completed in 1825. The final result was a grand ancestral home and stables built to the west in Dunmore Village.
The 4th Earl of Dunmore, John Murray, was responsible for the Dunmore Pineapple that was built in 1761 as a summerhouse for his family to enjoy Dunmore Park. You can even stay in this today.
Their main house was located in Elphinstone Pans. But, I guess the 5th Earl wanted to build a Tudor-Gothic mansion on the lands instead.
The Murray family continued to use the house until 1911. After that, it was a private home until 1964.
Why was Dunmore house abandoned?
From 1964 to 1970 it was reutilised as a private school for girls. But, it fell into decline, and the estate was split up into sections as sold off at auction.
The Dunmore Pineapple was sold to the Countess of Perth. She then sold it to the National Trust for Scotland in 1974 who still look after it today. The Parsonage at Dunmore Estate is also a private residence and used as a wedding venue.
Dunmore House didn't fare as well and there were plans in the 1980s to completely demolish the building but they never carried it out.
Multiple bids have taken place to revamp the area including turning it into luxury resorts and housing estates. But, all of them have been unsuccessful in carrying the plans forward.
So, now we are left with a shell of what once was; home to a great family all those years ago.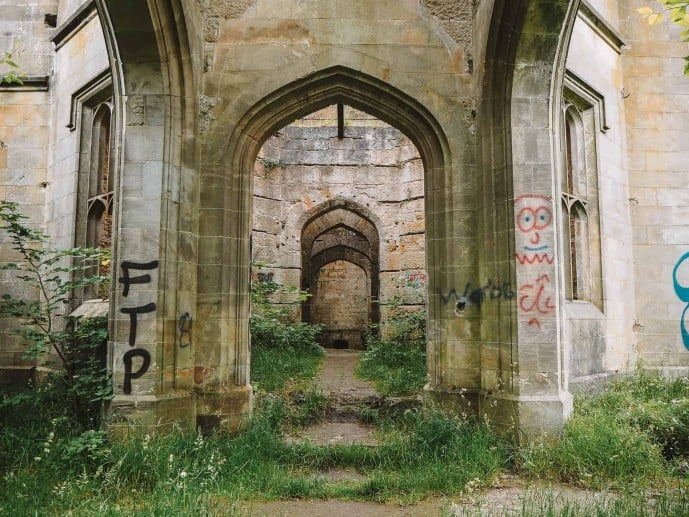 The abandoned Dunmore Park House Ruins
The Dunmore House ruin is quite sad to visit really. To think that this once beautiful home has fallen into decay is a great shame.
Although you can make out a lot of rooms that used to be inside, so much of the building has crumbled, or fallen apart it's hard to tell what is what while you're walking around.
I would have loved to explore further inside the building but I was actually a little concerned for safety.
There were lots of broken staircases, crumbling foundations, overgrow from thorny plants, broken glass everywhere. So, I admired it from the entrance, entered around the back, and just looked up from the bottom floor.
The whole time I was here, I was majorly creeped out though. I have an active imagination and my heart was thumping like mad! It was like a maze, so be careful as you wander about.
Is Dunmore House really haunted?
Although I do believe that the spirit world is among us, I don't believe that they mean to do us harm. I've always said that if I met a ghost, I would rather have a chat than jump out of my skin.
But, I was completely alone exploring and you could hear a pin drop. There were lots of birds too so I kept hearing a coo and when they went off to fly I swear I jumped a mile in the air haha!
I have looked at some ghost hunter-type videos to see if there have been any sightings or resident ghosts but I didn't see anything. I'm not sure if I'm disappointed by that or not.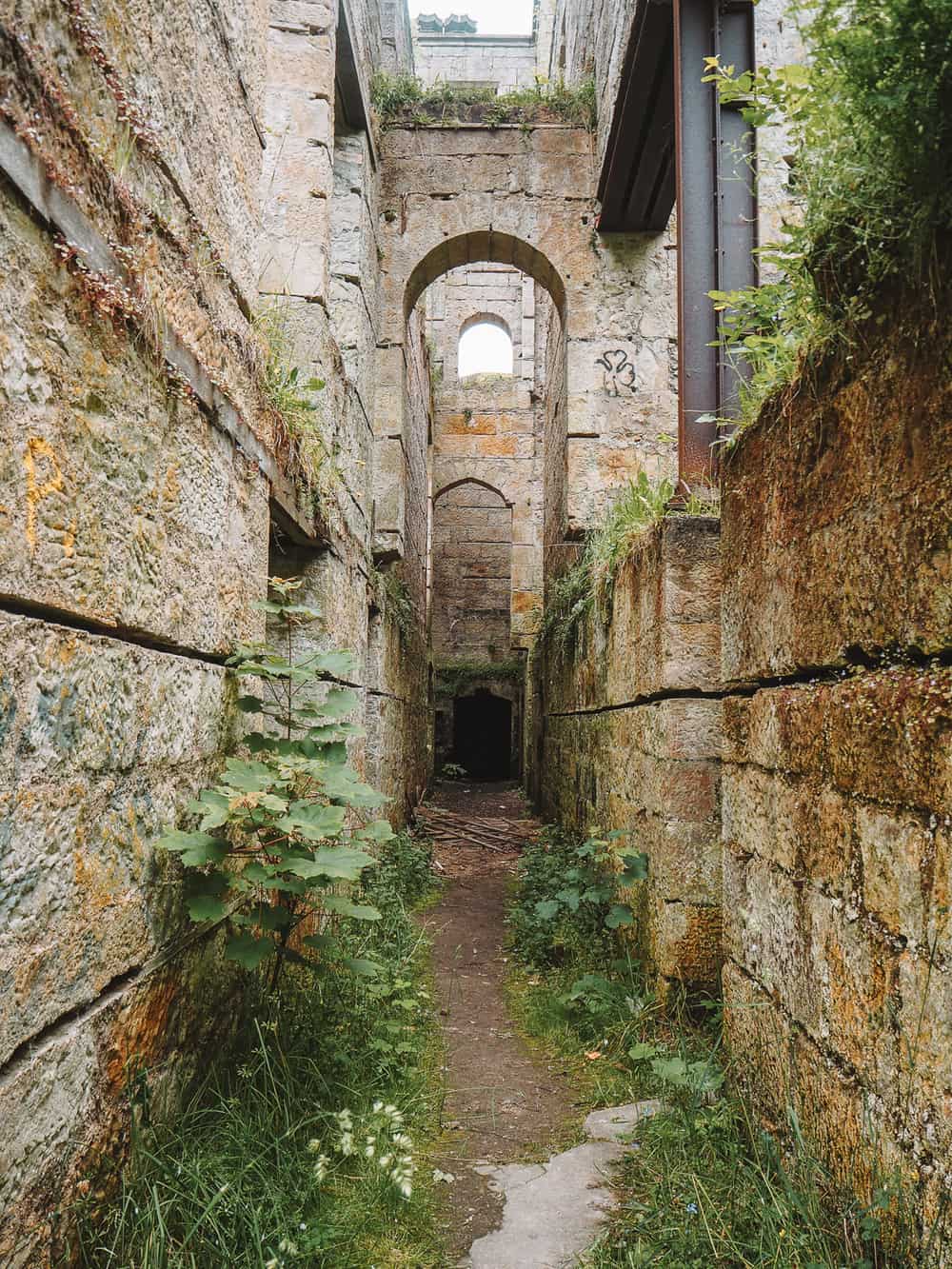 Dunmore Park House in Outlander
The odd thing that brought me to this ruination was Outlander. Of course, it's a textbook definition of the Outlander effect, but as I was in the area I thought I'd take a look for myself.
In the very first episode, 'Sassenach', we see a flashback of Claire as a nurse during World War II on the front lines. They are in a hospital for wounded soldiers and Claire is tending to patients.
All of a sudden a fellow veteran tells her that the war is over and hands her a bottle of champagne!
This beginning scene happens in Dunmore House, although there would have been a lot of props set up to make it look like a war hospital.
Is visiting Dunmore house illegal or unsafe?
No, it's actually the law that you can walk on private land in Scotland as long as you keep to the Scottish Outdoor Access Code. Click here to see access rights.
There are many things here to consider, but, the main things to be aware of when accessing private land is;
Respect the interests of other people;
Care for the environment;
Take responsibility for your own actions
In terms of safety, it is safe as long as you take care while walking around.
While I was walking towards the house ruins and around it, I saw lots of foxgloves which look pretty but can kill you as it's poisonous. So, don't touch that.
Around the house, there were lots of glass, thorns, debris, trees, and plants overgrowing and crumbling foundations. So, just keep an eye out.
Although it seems to be a 'thing' to go at night to look out for ghosts, you wouldn't get me in there for a million pounds.
It's not safe and as I saw lots' of makeshift beds, needles, and beer cans about. It may be that someone has made a home there at night, you really don't know what you'll find. So, I'd stay clear!
How to find the Dunmore Park House Ruins
As Google Maps was as useful as a chocolate teapot to try and find the place and the 'access road' or driveway has been fenced off now via the A905.
I'll give you some detailed instructions on how to get to the Dunmore Park House Ruins.
It should take around 15 minutes to get to the house from the Dunmore Pineapple car park.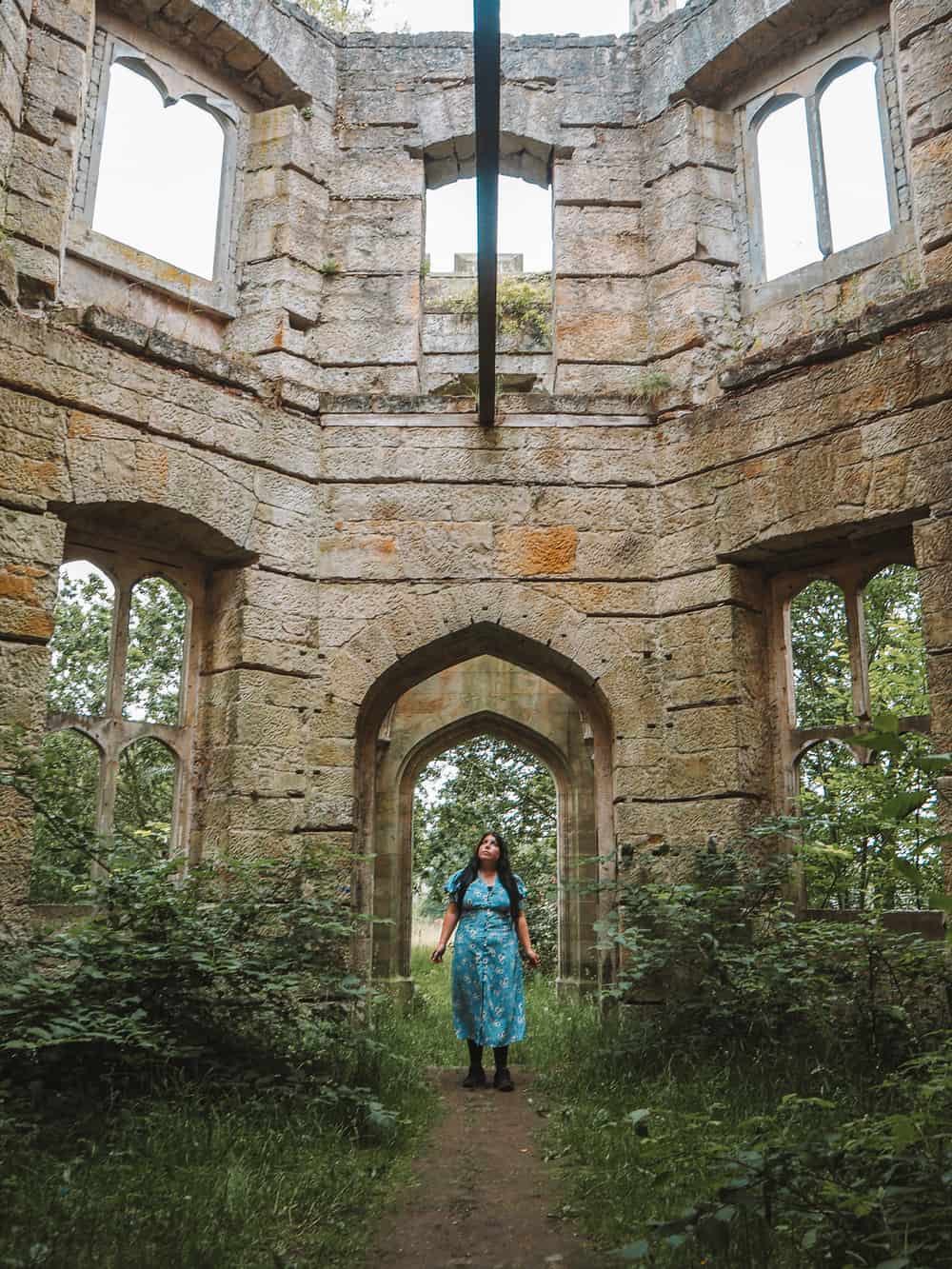 1. Firstly, locate the Dunmore Pineapple car park
The easiest way to access the estate is by locating the Dunmore Pineapple by car. By public transport, it's quite difficult to get to without walking a considerable amount along national speed limit roads.
I mistook the road entrance for a private road and so I didn't locate it the first time. I actually ended up calling the National Trust for Scotland for directions haha.
But, for next time, when you reach the Dunmore Pineapple sign, drive on the road to the right of that sign and keep driving down the one-way country road until you get there.
In summer, it gets quite busy and you may have trouble parking as there's limited space. But, eventually, someone will budge.
As it's managed by National Trust for Scotland there are some picnic benches and a well-manicured garden around the Dunmore Pineapple.
It's very scenic and worth spending some time here and learning about why on earth there is a pineapple in the middle of rural Scotland (I'll explain more below)!
2. When you reach the Pineapple folly, find a door in the wall to the left
After you've spent some time admiring the Pineapple folly, it's time to move onto the ruins.
If you look to the left of the Pineapple there should be a door in the wall that's slightly ajar.
I would have totally missed this if I hadn't seen a dog walker going through. It almost felt like Alice going down the rabbit hole a bit or entering a secret garden.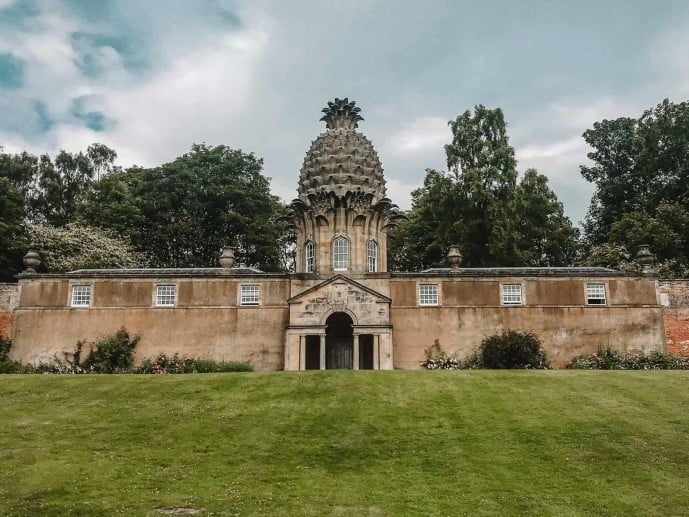 3. Walk through the door in the wall and carry on walking through the park
Once you're through the door, keep walking straight on via the path. Even though it was summer, the ground was extremely mucky – so make sure you have appropriate footwear!
Eventually, once you've hopped over various logs and the bushes, you should come to a fence. This will have a sign pointing towards the Pineapple and Dunmore Park.
This driveway is where you should head up towards the ruins.
4. You'll reach the long driveway, head up here
The driveway towards the house is well laid out, but this is where I saw lots of junk, foxglove, overgrown fields, and even abandoned counters. Maybe it was for entrance to Dunmore park years ago?
I couldn't find any information or details on what it was used for. So, I just moved on over to the ruins and carried on up the driveway.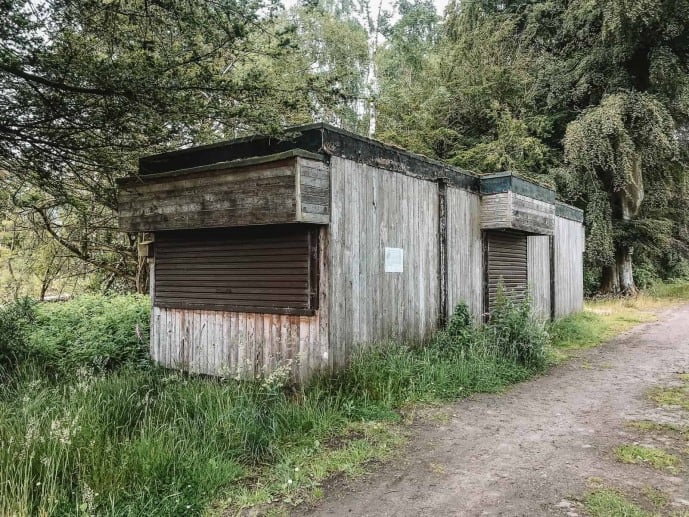 5. You'll find an abandoned stable block, walk beyond this
At first, I thought I had made it to the Dunmore House ruin when I got to the stables. But, alas it wasn't so.
I thought it was an abandoned church or hospital going from the large ornate door and crucifix window hanging above it.
Only after, did I find out that this was the stables to the west of the property and, although it was nice, I needed to carry on to find the house.
6. …Until you reach Dunmore House!
Keep walking ahead, past the stables until you reach a path and you can see glimpses of the house ruin ahead.
As I was here in Summer, there were lots of trees in bloom so I could barely see it from afar. But, it was there and I went straight for it.
You'll instantly know you're there from the grand tower entrance with arched doorways. If you walk in this way, you can see the part that was featured in Outlander and a room to the west side.
But, to explore down below (unless you like jumping from a distance) you will need to walk around towards the back of the house to access it via a slope to get to the bottom level. Better to be safe than sorry!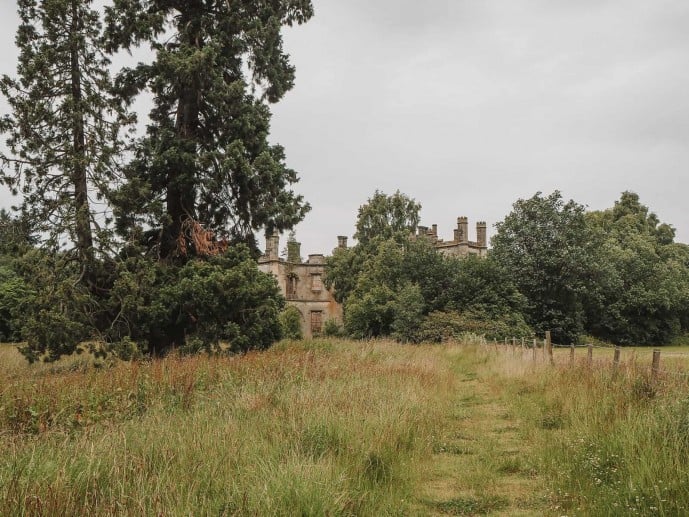 Safety Tips for visiting Dunmore Park House
As I've mentioned many times, this is not a tourist attraction. There has been no consideration for health and safety. It's an abandoned house in the middle of Dunmore Park. So, be careful as you go and watch your step
There was lot's of glass on the floor, thorns from branches, sticks everywhere, rubbish, bits of brick and mortar. So, wear appropriate footwear and mind your feet
The staircases here aren't to be trusted. One had half the stairs missing or crumbling off!
There is no phone signal around here and it's very remote.
Don't venture too far off the walking paths, as the park beyond the Dunmore Pineapple isn't actively managed it's overgrown with lots of fly-tipping.
There are lots of foxgloves growing in the area, not to be mistaken for lupins. Don't pick them or touch them, they are poisonous!
Don't go alone (I did but wouldn't recommend it), or go at night. It's dark and it's easy to hurt yourself if you're not able to see.
I probably don't have to tell you this but don't graffiti or damage the place. It's abandoned yes, but that's just disrespectful.
What to pack for a visit to Dunmore House ruin
Appropriate clothes – It gets awfully muddy around the park and rains in Scotland more often than not. Also, you may be walking through nettles and thorny bushes. So, keep yourself covered.
The right footwear – It was the middle of summer and the pathways were incredibly mucky. Also, as you're walking on broken glass, nails and wooden branches, you don't want to get any stuck in your foot. Wear decent walking boots.
A bottle of water – There are no facilities or running streams in the area. So, make sure you have supplies with you.
Torch – Your phone will do. If you were thinking of exploring the inside, a lot of the rooms are dark. Bring a torch to find your way. Also, you don't want to be here after dark but if you are, it's best to see something.
Camera – Pictures or it didn't happen!
Don't forget to explore Dunmore Park
Once I got tired of constantly being on edge exploring the area, I decided to get back to normality and explore the more managed areas of Dunmore park.
It's small, but a really lovely place to explore! In July, there were rose bushes and the flowers were out. So, the smell in the air was fantastic.
The Dunmore Pineapple
This is why most people visit Dunmore and I can see why. It is bizarre to have a Pineapple as a folly in the middle of Scotland!
Although Pineapples are common now and we can access them whenever we like. In the 18th century, only the rich were able to access and cultivate pineapples.
So, owning a pineapple was a symbol of wealth, status, and power.
Scotland first started growing pineapples in 1731 and used greenhouses with hot pipes to keep the temperature tropical!
The Dunmore Pineapple folly was built by the 4th Earl of Dunmore, John Murray, in 1761. He built it as a summerhouse for his family to enjoy Dunmore Park. You can even stay in this today.
You can't access inside the Pineapple unless you're a guest, but you can admire the grounds, walled garden, and the fruity statue from the outside.
Click here to read my complete Dunmore Pineapple folly guide
Staying in Dunmore Pineapple
The Dunmore Pineapple is a unique home that was built in the 18th century and, unlike Dunmore House, it has been lovingly restored.
I was pleased to know that you could actually stay inside the pineapple and it must be such a unique experience!
It's owned by the Landmark Trust and is quite reasonable starting from £250 for 4 nights and sleeps 4. So, it's £16 per person, per night!
Click here to book your stay at the Pineapple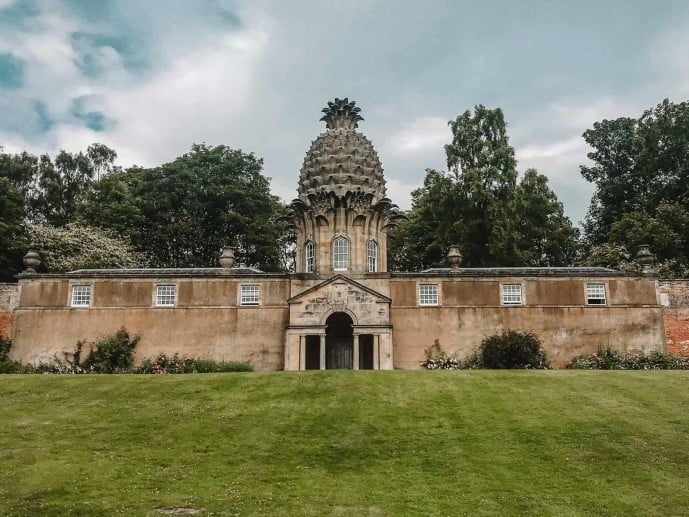 Prices and Opening times for the Dunmore Pineapple
The Dunmore Pineapple is FREE To visit, but the car park is only open from 9.30 am – sunset throughout the year.
So, if you did want to visit Dunmore House ruins during the day, you can park up during these times to head out on your adventure.
Elphinstone Tower
Another wonder of Dunmore Park that has fallen into ruin is the Elphinstone Tower or known as Dunmore Tower at Elphinstone Pans.
It was built by Sir John Elphinstone in the 16th century, who used to own the barony of Elphinstone Lands.
Then in 1754, John Murray, the 4th Earl of Dunmore (the guy who built the pineapple), bought the lands. In 1850, it was replaced by St Andrew's Episcopal Church.
Dunmore was abandoned by the Murray family in 1911 and the church was demolished in 1960.
Today it remains a ruin that you can explore like Dunmore Park House.
Looking for more Outlander locations in the area?
If you'd like to tick off a few Outlander locations in Falkirk there are plenty to visit in the area.
You can head off to Blackness Castle to see where Jamie was flayed at Fort William. This castle by the sea has often been nicknamed the ship that never sailed due to its shape.
Linlithgow Palace is where you can find prison cells from Wentworth Prison and you can explore the spiralling staircases in the birthplace of Mary Queen of Scots.
You can read my ULTIMATE list of Outlander locations in Scotland here, or read my Outlander in Edinburgh & Outlander in Glasgow guides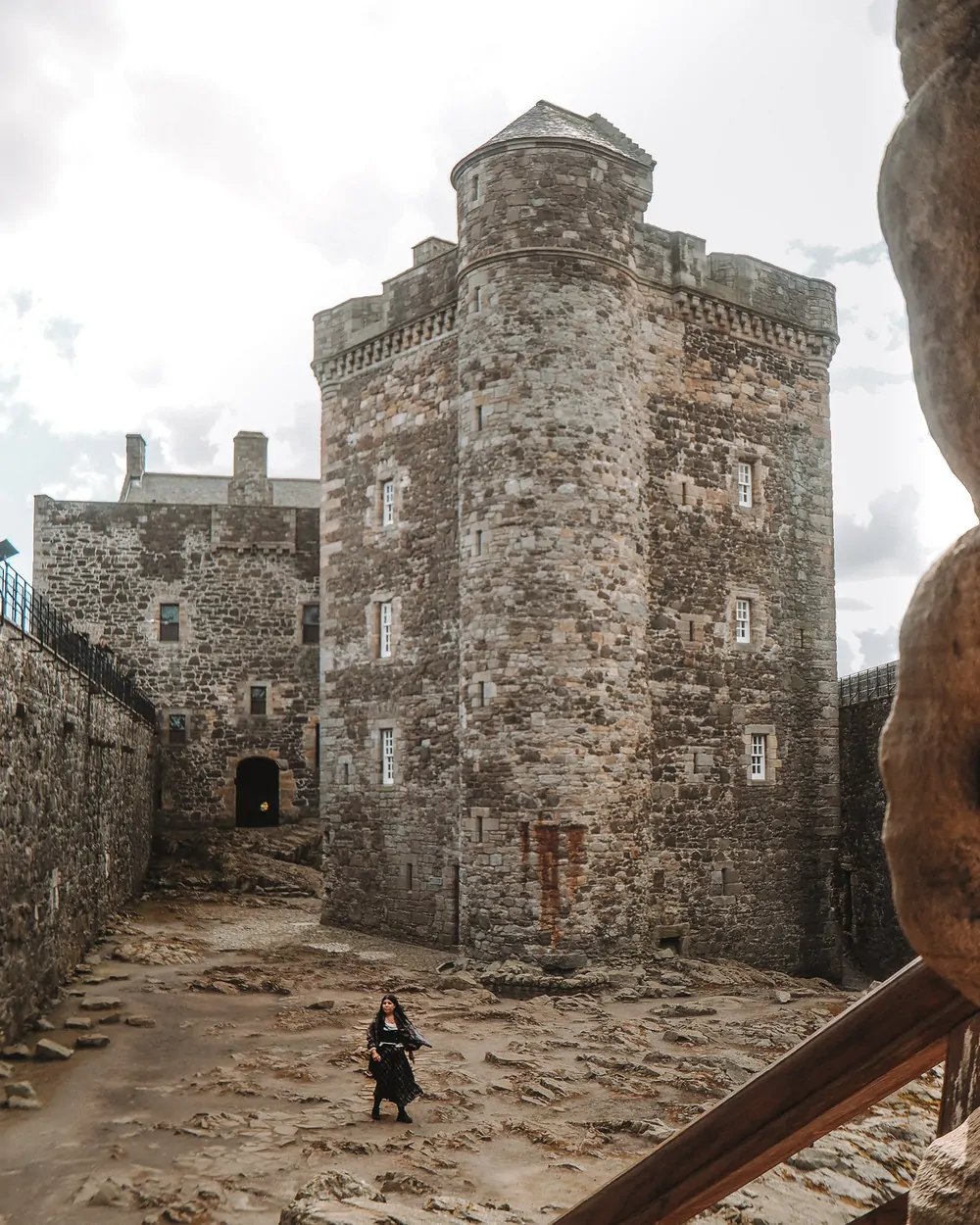 Callendar House has a Georgian Kitchen that featured in season 2 as the Duke of Sandringham's kitchen. You can even sample some 18th-century recipes from the Outlander Kitchen cookbook.
Bo'ness and Kinneil Railway is the station where Claire and Frank said their goodbyes. You can even ride on a steam railway to travel back in time!
Muiravonside Country Park was the backdrop for the battle of Preston Pans and Gray Buchannan Park is the backdrop for a graveyard in Season 4.
Or, you can visit drive a little further along to Hopetoun Estate which has over 17 Outlander locations.
This includes the house and grounds, Abercorn Church that featured in season 4, and every Outlander fan favourite ancestral home; Lallybroch at Midhope Castle!
Read more of my posts on Scotland
Where is the pink castle in Scotland?
Why you must visit the Kelpies
My ULTIMATE Edinburgh bucket list
Cove Beach on the Scottish Borders
How to find the Devil's Pulpit
Save this Dunmore Park House Ruin guide for later!