If you're on a Slea Head road trip around the Dingle Peninsula then you must make a stop at Dunquin Pier or Dhún Chaoin.
It's a serpentine walkway that leads down to the Atlantic Ocean through the craggy coves of the cliffs. In season, you can take a ferry over to the Blasket Islands from here.
Often referred to as Ireland's 'Sheep Highway', you'll most likely see this pier and the iconic views from above on social media. It does make an amazing photo opportunity.
But, it's also fun to walk down the pier, take in the beautiful views from the cliff tops and catch a ferry over to Great Blasket too.
Here is how to visit Dunquin Pier in Ireland and get that famous photo on the Slea Head Drive.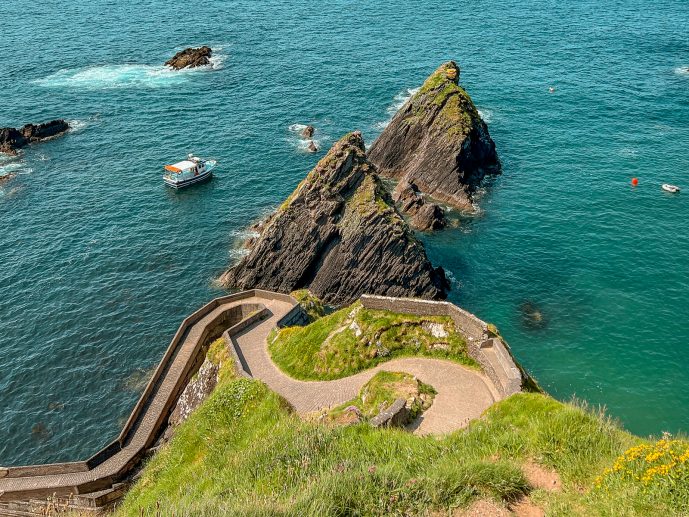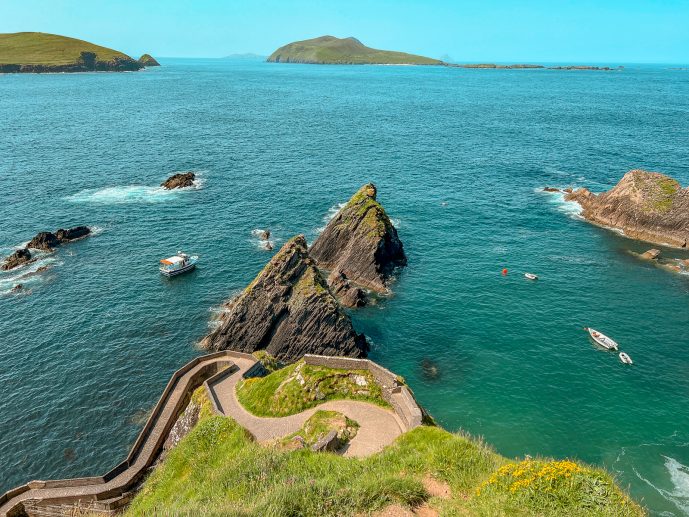 Introducing Dunquin Pier
Blasket Sound and the cliffs of Dhún Chaoin have attracted ships here for centuries in Ireland.
When the Spanish Armada ended in 1588, the British fleet made their way back to England via Ireland and sought shelter in Blasket Sound.
Due to terrible Atlantic Storms, many of the ships wrecked here on the cliffs and some of the soldiers lost their lives. There is now a memorial that commemorates them on the cliffs.
The pier was created to transport those living on Great Blasket Island to the mainland and vice versa.
During the Great Famine, many people used this pier to leave the country and start a new life elsewhere.
Ireland Sheep Highway
Although not very common nowadays, Dunquin Pier used to be known as Ireland's 'sheep highway'.
There is a famous image of sheep being herded down the pier towards a ferry heading over to the Blasket Islands.
There was a small community that lived on Great Blasket for centuries until they were evacuated in 1953.
Their cottages looked over to Dhún Chaoin and they would often travel to the mainland by ferry. But, they were sometimes cut off from the necessary services by Atlantic storms.
There were only 175 residents at its peak but they had lots of famous writers amongst them producing cultural works like Thomas O'Crohan's 'The Islander' and 'Peig' by Peig Sayers.
You'd often see farmers travelling with livestock on the pier. But, there was also a postman, doctors, teachers and tax collectors.
It was eventually deemed unsafe for people to live on Great Blasket Island and by the time they were evacuated there were only 22 residents left.
On evacuation day, it was not only people who had to be transported to the mainland but their sheep too. Hence, the Sheep Highway!
The ancient settlement is now a ruin that you can explore as part of a visit to Great Blasket Island.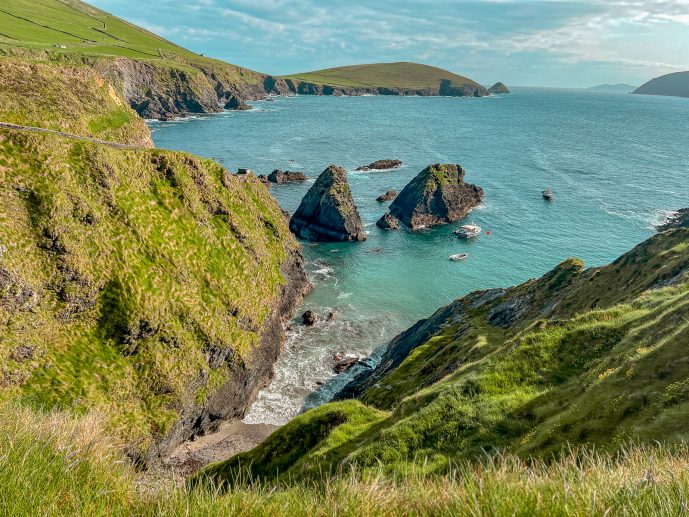 Dun Quin today
Nowadays, many people find out about Dun Quin Pier in two ways. Either from social media or the news.
The serpentine path of Dunquin Pier leading down to the turquoise ocean is an incredibly photogenic scene. Especially with the pyramid-shaped rock formations just beyond it.
Most people visit the Dingle Peninsula just to see this spot which features in many guidebooks and postcards.
But, on the other hand, this pier is often seen in the news due to motorists who ignore warning signs and attempt to drive down the Sheep's Highway.
It usually ends up with their car getting stuck, emergency services being called out, ferries being cancelled and a lot of embarrassment. Don't be one of those people.
Where is Dun Chaoin Pier in Ireland?
Dunquin Pier can be found on the Dingle Peninsula which is on the west coast of Ireland in County Kerry.
It's on The Wild Atlantic Way and is a popular stop on the Slea Head Drive that most people visit as part of the Ring of Kerry.
Slea Head is a 47 kilometres / 30-mile-long scenic drive and you can find Dun Quin around mid-way through the route from the town of Dingle. It's just over 16 kilometres from Ballydavid.
Click here for a Dun Quin Pier Google Pin!
How to visit Dunquin Pier
It's easiest to drive to Dunquin in County Kerry to access the pier and it's a popular stop on the Slea Head Drive.
As you make your way around the route, you will see brown tourist signs pointing towards 'Dún Chaoin' with a ferry symbol.
This is only around a mile away from the popular Coumeenoole Beach and Dunmore Head.
There is no 'official' car park at Dun Quin but there are plenty of off-road spaces found on the clifftops so you can park up and access the pier on foot.
Where do you park for Dunquin Pier?
It may seem obvious, but you cannot drive down Dunquin Pier. It's too narrow, steep and winding. The pier was made for people and sheep, not cars.
Cars have gotten stuck on the pier before and it makes headline news almost every year.
It blocks off pedestrians' access to ferry trips and those returning from The Blasket Islands. Emergency services will also need to be called out to rescue you and your vehicle.
There are huge warning signs that say do not enter and blockades. Please don't ignore them and make the same mistake even if your SatNav or Google Maps tells you otherwise.
You need to park up on the road near the cliff tops and then walk down the pier.
There is plenty of off-road parking near the boat ticket huts and these spaces are completely free.
Things to do in Dunquin
So, once you've parked up at Dunquin, what is it that you can do around here?
Well, although most people visit this place for that one photo. There is a surprising number of things that you can see around the area.
From spectacular views over the cliffs, grabbing a coffee and catching a ferry over to the Blasket Islands.
1. Walk down the serpentine pier
From the parking area, you can head towards the pier. Just before that, there is an information board about the history of the pier, the Blasket Ireland residents and Ireland's 'Sheep Highway'.
Then, you can follow the winding path of the pier down the cliffs. It's very steep so mind your step but you do get a great view of the triangular rock formations here.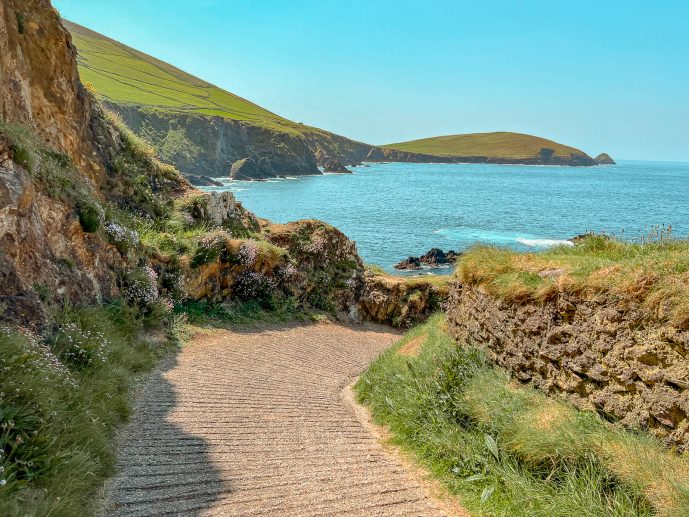 There are also views over the ocean towards the cliffs. On a sunny day, the water is so clear and appears a bright blue. At lower tides, you can see some sandy coves within the cliffs.
Now, although it is very fun to walk down the pier. You will eventually have to make your way back up again.
It's very steep and so you need to prepare for a workout. But, I still think it was worth the walk down. I ended up doing it twice.
2. See Dunquin Pier from the cliffs above and get THAT photo
Most people see Dunquin Pier from it going viral on Instagram, TikTok or social media.
It's usually the iconic image of the pier from above and it's a view that you can see from the clifftops.
When you look down below you can see the pier and two pyramid-shaped rocks jutting out behind it in the ocean.
It's an incredible photo and it is very easy to find this viewpoint when you reach Dunquin.
Instead of heading down the pier, you need to follow the well-beaten path beside the parking area on the cliffs.
If you stand towards the cliff edge, you'll see the pier below and you can capture this spectacular view.
Warning: it can be windy up here and the cliffs are not always stable. There's no barrier so mind for your dogs and children. Make sure to keep a safe distance and avoid standing or sitting too close to the edges. It's not worth getting seriously injured for a photo.
3. Explore Dunquin cliffs & see amazing views
Although the area around Dun Quin Pier is amazing, I actually found that the entire cliff area around here was very scenic.
If you head around the cliffs and follow the path beyond the coffee vans and ticket huts you can explore the other side on a beaten path.
As you make your way around the cliffs, you get great views of the pier, ferry and turquoise water.
I couldn't get over the views and loved seeing the sandy beaches and coves in the bay. Make sure to have your camera ready.
You can also find a Spanish Armada memorial and the local cemetery (Reilig Dhún Chaoin) just nearby the parking lot.
Dingle Sea Salt is also collected here and you can find their award-winning product in many boutiques across Ireland.
4. Grab a coffee or cold drink
There is a coffee van set up on Dunquin near the parking area that provides refreshments during the tourist season.
They serve up a range of coffee, teas, soft drinks and light snacks throughout the day. Plus, some awesome brownies.
There is limited outdoor seating but you have the entire cliff area to enjoy your drink with the panoramic views over the Atlantic Ocean.
5. Catch the Blasket Islands Ferry
There are ticket centres set up on the clifftops that sell tickets for boat trips that take off from Dun Quin every hour.
The Blasket Islands Ferry takes around 20 minutes to reach the most Westerly islands in Europe.
You can experience the unspoilt beauty and charm of this remote place. You also get the chance to see puffins, sea birds and a grey seal colony when in season.
The boat trips run from April – mid-September so make sure to plan your visit around these months if you were set on sailing over.
After your crossing, you get to enjoy a couple of hours on the island. There are now toilets but bring any food or drink with you as there are no facilities.
I would also book ahead to guarantee your place, especially in the summer months to avoid disappointment. Click here for more details.
Fun facts about Dunquin Pier
Dunquin Pier is often referred to as Ireland's Sheep Highway
Dun Chaoin is the most westerly settlement in Ireland
The Gaelic name for Dunquin is Cé Dhún Chaoin
The 1970s romantic movie Ryan's Daughter was filmed here
Cars often get stuck here every year when they try to drive down the pier
CAMRA aka the Campaign for Real Ale was founded in 1971 in Kruger's bar, Dunquin
What is the best time to visit Dunquin Pier?
I would always say it's best to visit on a clearer day for the best views. I went in June and there was a heat wave going on so I got very lucky with sunny weather.
Earlier in the morning is best for photos as the sun rises and shines on the pier. Or, you could visit at sunrise/sunset for a more atmospheric scene.
If you visit earlier or later in the day, you also benefit from there being more parking spaces available.
Many people visit Dunquin for ferries so the parking area can get very busy during the daytime.
Dunquin Pier opening times & prices
Dunquin Pier doesn't have any opening times and is open 24 hours a day, 7 days a week.
So, you can visit all year and any time you like but I wouldn't recommend visiting at night time.
It's also completely free to visit the pier. Even the parking on the clifftops is free. So, it makes a great budget activity on the Slea Head Drive.
My top tips for visiting Cé Dhún Chaoin
Visit on a clear day – the views are best on a clear day with the sun shining. If it's raining or misty you won't see very much!
Don't stand too close to the cliff edges – the viewpoint is incredible but please do not sit or stand too close to the edges for your safety.
Facilities – there aren't many facilities at Dunquin Pier. There's a coffee van, places to park, and a few huts selling boat tickets. But, no public toilets. The nearest on the mainland would be the Blasket Centre.
Wear sensible shoes – the cliffs are easy enough to explore but it's best to have sensible shoes on as the ground is uneven.
Is visiting Dun Quin Pier worth it?
YES! Although this pier is plastered all over social media, I do believe that it's a location that lives up to the hype.
Winding down the serpentine pier is fun as it is (although my legs did ache on the way back) but seeing the view from the cliffs is next level.
I loved the pointed rocks that you can see from above and as I had a sunny day the turquoise waters were the cherry on top.
It's one of the best places to visit on the Slea Head Drive so I would definitely add it to your itinerary!
Where to go next on the Slea Head Drive?
Slea Head Drive was one of my favourite experiences in Ireland. It may sound controversial but I actually preferred the Dingle Peninsula over the Ring of Kerry.
Don't get me wrong, the Ring of Kerry had its highlights but the Slea Head Drive is so much better.
Not only are the views incredible but it's also amazing because there are fewer crowds.
You won't find many coaches on Slea Head Drive due to the narrow roads. So, it's quieter and easier to visit the attractions.
Here are some of the places I would recommend visiting after Dunquin Pier.
Coumeenoole Beach & Dunmore Head
If you're heading anti-clockwise on Slea Head, you can head down to Coumeenoole Beach which is only around a mile from Dunquin.
On a sunny day, you'll see a golden sandy beach on the cliffs with the most incredible turquoise waters you have ever seen!
After that, you can walk from the parking area over to Dunmore Head which is around a 20-30 minute walk over the cliffs.
Star Wars fans will love the fact that they filmed scenes from The Last Jedi here. It featured in scenes from Luke Skywalker's Jedi retreat.
Click here to read my guide for the Dunmore Head Star Wars walk
Blasket Centre & Clogher Head
Heading clockwise on Slea Head, you can make your way down to the Blasket Centre to learn more about the history of the Dingle Peninsula and Blasket Islands.
It's a visitor centre and museum that gives you insights of the history, culture and people of this area. There's also a café and panoramic viewpoint.
Nearby, Star Wars fans will love visiting Clogher Head as you can see where they built some of the Jedi Huts for filming.
You can see it clearly from a viewpoint near a parking area for a quick photo stop. But, you are also free to explore the head and take a scenic walk over the cliffs for a closer look.
Gallarus Oratory
An unexpected find for me was visiting Gallarus Oratory. It's a historic chapel on the Dingle Peninsula that was built in the 7th or 8th century.
It looks like a stone hut and is one of the best-preserved early Christian churches in all of Ireland.
There is a legend that says if you can fit through the hole in the back of the church you will be granted eternal life. The only problem is that the hole is just a few inches wide.
There is a Gallarus Oratory visitor centre to learn more which charges a couple of euro. Or, you can park for free down the road and visit on the permissive pathway.
Dunquin Pier FAQs
How long do you need to visit Dun Chaoin Pier? I would say you need around 30 minutes to an hour to visit the pier. If you're just looking to visit the viewpoint you could visit in 20 minutes but the area is stunning and I would recommend exploring the cliffs for the spectacular views.
Did a car get stuck at Dun Chaoin pier? Yes, many people try to drive down here and get stuck. It makes headline news each year. Don't make the same mistake!
Read more of my Ireland guides
A magical guide to Torc Waterfall
Visit the magical Muckross Abbey ruins
How to capture Deck of Cards Cobh
How to find the Umbrella Street Dublin
Visit Trinity College Long Room Library in Dublin
Visit the Cliffs of Moher Harry Potter Cave
Marsh's Library – visit the oldest public library in Ireland
How to visit the Pollnagollum Cave Game of Thrones location
How to find the Umbrella Street Belfast
Guinness Storehouse in Dublin review
Save how to visit Dunquin Pier Ireland for later!