A hidden gem on the Isle of Skye has to be Duntulm Castle near the northernmost point of the Trotternish Peninsula.
It's a dramatic ruin of a 14th-century medieval castle on the cliffs by the sea and was once a battleground for feuding clans.
People believe that this place is haunted and home to restless spirits with tragic stories to tell.
Most visitors skip this ruined castle on Skye but I would highly recommend making time for it. It's only a short walk over the cliffs with some incredible views over Tulm Bay.
Here is a complete guide to Duntulm Castle with the history, how to visit, and the resident ghosts that haunt it!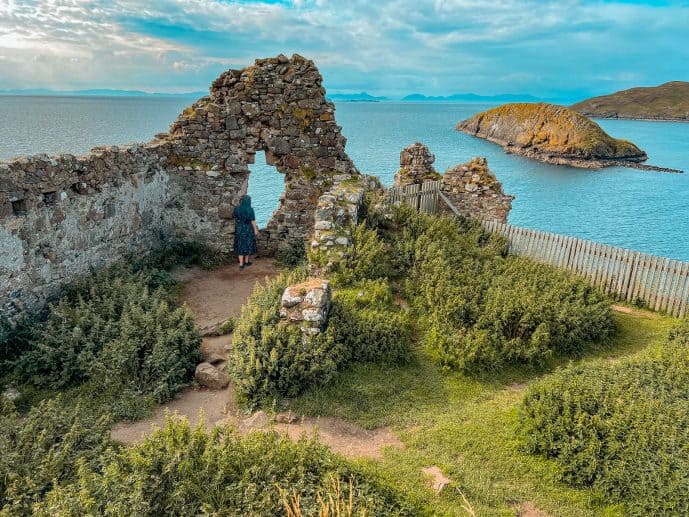 Duntulm Castle history
Many people believe that this castle lies on an ancient Iron Age hillfort but there is not much evidence to support this.
During the Viking invasions, there are records that mention 'David's Fort' or Dun Dhaibhidh. A broch that was named after a Norse war chief.
The ruins we see today are from a castle built in the 14th and 15th centuries that was constructed by the MacLeod clan of Dunvegan.
But, it was a constant battleground of the feuding MacLeod and MacDonald clans and often switched ownership.
However, by the 17th century, a royal charter decreed that the MacDonalds were the official owners.
They were then ordered to repair Duntulm and so the keep was expanded with several towers and a family home was built within.
What happened to Duntulm Castle?
In the 18th century, the castle was eventually abandoned in favour of a new residence.
Sir Alexander MacDonald built Monkstadt House in 1732 around 5 miles away from the site.
During the construction, he looted much of Duntulm Castle's stonework for building materials.
This castle was then left to the elements. It fell into ruin and many of the original towers fell into the sea.
Not much is left of the original fortress but some foundations on the clifftop. What is left over is now a scheduled monument.
Living clan members may not have a home here today but there are many ghosts that haunt these ruined halls.
Is Duntulm Castle haunted?
Duntulm Castle is one of the most haunted places on the Isle of Skye and is said to be rife with restless spirits.
One of those is Hugh MacDonald who tried to stage a coup and take over as chief of the MacDonalds of Sleat.
He failed miserably and then was placed in the Duntulm dungeons. He slowly died of dehydration after being given salted pork with no water to wash it down. His thirsty cries can still be heard today.
A tragic story is that of a nursemaid who dropped the baby of a MacDonald chief. She was nursing the child by a window ledge and she accidentally dropped him into the sea.
Despite it being a terrible accident, she was arrested and put to death. Her spirit is still tormented and she searches the cliffs for the child she lost.
Another ghost is that of Margaret MacLeod, who was the catalyst for the War of the One-Eyed Woman. This took place in an area known as the Fairy Pools today.
In an attempt for the two clans to have peace, the chief of the MacLeod clan sent his sister to wed the MacDonald chief.
But, as she only had one eye, the MacDonalds thought it was a grave insult (poor woman). So, he sent her back to her clan with a brutal message.
He tied her up and made her ride backward on a one-eyed horse. This was led by a one-eyed servant and followed by a one-eyed mongrel.
The MacLeods obviously were not impressed. They then waged war and the bloodiest battle in clan history took place, the Battle of Coire na Creiche. So many people died it caused the rivers to run red.
It was so bloody that news reached London and a royal charter was raised that forced them to settle the dispute. Margaret can now often be seen or heard weeping from her one eye.
And lastly, you may see the ghost of the rowdy Donald Gorm. He was a bloodthirsty warrior who loved battles and liked to pick fights with his clansmen. Make sure he doesn't challenge you!
Where is Duntulm Castle in Scotland
Duntulm Castle lies in the very far north of the Isle of Skye on the Trotternish Peninsula. In fact, it's only a few metres away from the northernmost point of Rubha Hunish.
As it's located on such an extreme promontory, you will feel like you're at the end of the world where this craggy point meets the sea in Tulm Bay.
It was the perfect location for a defense fortress as this area allows you to see for miles to look out for any encroaching enemies.
The Isle of Skye can be accessed from the mainland of Scotland by road via the Skye Bridge.
Duntulm Castle is 23 miles from the town of Portree which is a 45-minute drive. But, it's best to visit these ruins along with other attractions found on Trotternish.
Duntulm postcode for SatNavs is Portree IV51 9UF. Click here for a Google Pin.
How to visit Duntulm Castle
The most convenient way to visit Duntulm Castle would be to drive here on the Isle of Skye.
The roads on this northerly part of the Trotternish Peninsula are well laid but sometimes can be single-lane with passing places. So, take care.
If you're not driving, there is a 57 Stagecoach Bus service from Portree that makes a loop around the entire Trotternish Peninsula.
The bus will drop you off near the castle at the 'Hotel Road End' stop and then it's a short walk over to the ruins.
There are lots of walks to do around here beyond the castle. You could head over to Rubha Hunish or head along the bay to see ancient dinosaur footprints.
Duntulm Castle parking
There isn't an 'official' Duntulm Castle car park when you arrive here.
But, there are plenty of off-roading parking spaces to be found near the start of the walk. These spaces are completely free to park in.
Despite it being a bit of a hidden gem, this area does tend to get busy. So, spaces can fill up.
I would recommend visiting either early in the morning or later in the afternoon/evening for a more peaceful visit.
I went on a summer's evening on a weekend and pretty much had the place to myself.
How long is the Duntulm Castle walk?
Although you can't see the castle from the parking area, the Duntulm Castle walk over the cliffs is less than 5 minutes…my perfect kind of walk!
You will first walk down some steps, head through a gate, and then walk over a well-beaten flat pathway over the headland. You'll eventually reach another gate that allows you to explore the ruins.
It's not a tough walk at all so trainers are fine but it may get a little boggy on the ground if it's been raining. Also, keep in mind that sheep graze around these parts.
Things to do at Duntulm Castle
There is not much that remains of the original castle these days. But, the ruins that remain here are worth seeing due to their position next to the sea.
It sounds strange but I often prefer ruined castles as they are so romantic. They let you imagine what it would have once been like centuries ago.
Here are all the things to do in Duntulm;
Admire the ancient castle ruins
There is a path that loops around the ruins and what remains of this fortress.
Although it's quite easy to explore, there are many protruding rocks on the floor and steep drops. So, mind your step.
The views you get from the upper ruins are spectacular over Tulm Bay. You can see for miles if it's clear.
The bottom of the castle ruins are also worth a look around but mind out for all the stinging nettles. They aren't poisonous but if you brush the leaves you get some nasty itchy blotches.
Many of the original walls and towers have now crumbled and fallen into the sea. So, there is a wooden fence at the edges for safety.
Look out through the 'Sea Window'
One of my favourite parts of this castle was the 'sea window' that can be found at the far point of the ruins on the cliff.
The gap in the wall allows you to look out towards the ocean and Tulm island near Rubha Hunish. Beyond that, you can see the Isle of Harris in the distance on a clear day.
It not only makes a great viewpoint but also a nice photo opportunity. So, have your camera ready.
Birdwatchers will particularly love this spot as there are plenty of seabirds that make a home here on the cliffs. So, bring binoculars if you're keen.
MacArthur Memorial Cairn
Just outside the ruins, you will find the MacArthur Memorial Cairn who were the hereditary pipers to the MacDonald Clan.
During Highland battles, pipers were often on the front lines. They would play music for morale or celebrate victory. But, also use them to signal troops during battle and intimidate their enemies.
Charles MacArthur was the last of the pipers who fought for the MacDonalds. You can find his grave in Kilmuir Cemetery nearby.
It has a beautiful Gaelic message that reads "Thig crìoch air an t-saoghal ach mairidh gaol is ceòl". It translates as "The world will end but love and music endureth".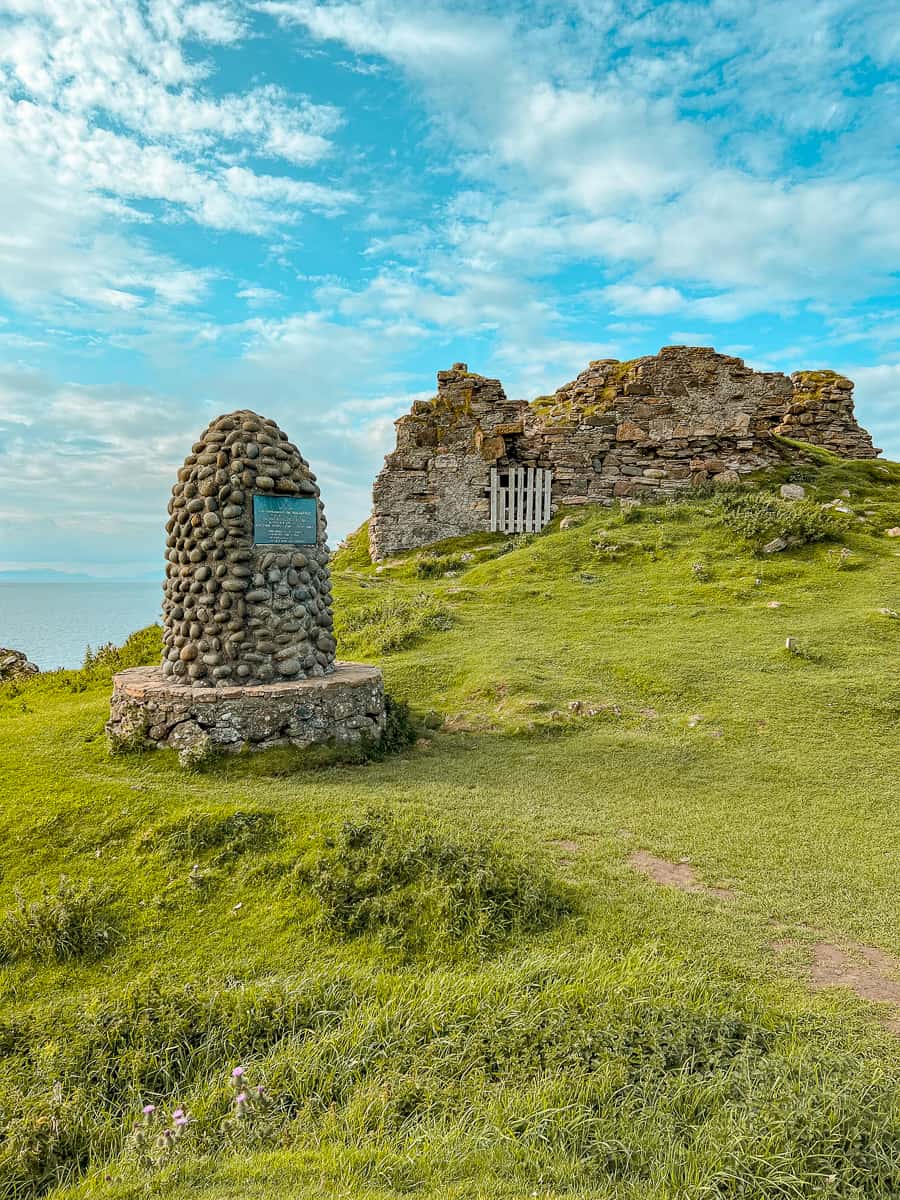 Duntulm Viewpoint – End of the world views
Once you've made your way back to the parking area, you can admire the views over the Trotternish Peninsula from Duntulm viewpoint.
There are a couple of benches set up on the headland and it's the perfect place to watch the sunset over the sea.
You will feel like you're standing (or sitting) at the edge of the world here as the headland is so extreme.
Duntulm Dinosaur Footprints
Did you know that the Trotternish Peninsula was once home to dinosaurs millions of years ago?!
There has been lots of pre-historic evidence excavated on the island and you can find out more in the Staffin Dinosaur Museum.
There are also lots of Dinosaur footprints to find in places like Brother's Point and An Corran Beach.
At low tide, if you take a short walk along Duntulm bay you can also find some Duntulm Dinosaur Footprints.
Is visiting Duntulm Castle worth it?
Yes, definitely. As it's in the far north of the Trotternish Peninsula many people skip this area on the Isle of Skye.
But, I would say Duntulm Castle is definitely worth your time. There's lots of history and secrets to uncover.
It makes a great pitstop as it's such a short walk to a romantic historic ruin with majestic views over the coast.
How long do you need at Duntulm Castle?
As the walk is so short to Duntulm Castle and the ruins are quite small, you only need around 30-45 minutes here on the Isle of Skye.
You could spend a bit longer if you wanted to but I found 45 minutes was just the right amount of time to see everything here without rushing.
Duntulm Castle opening times and prices
Duntulm Castle is open 24 hours a day, 7 days a week. So, you can visit anytime during your trip to Skye.
I wouldn't recommend visiting at night time though as you won't see a thing in the dark. There's no artificial lighting at all.
Duntulm Castle is also completely free to visit and even the parking is free. So, it makes a great budget activity.
My top tips for visiting
Layer up – as the castle ruins are on the cliffs, this area can get really windy. I would have a jacket prepared or a waterproof. Also, bring a hair tie for long hair.
Wear sensible shoes – it's not a long walk but it is on headland with some uneven ground so you will need some shoes with grip.
Mind your step – these are ruins and it's in poor condition. So, there are lots of steep drops and uneven surfaces. There are also lots of stingy nettles.
Take rubbish home – always remember to respect and protect beautiful places by not leaving any litter.
Things to do after Duntulm Castle
After you've explored the Duntulm Castle ruins, there are plenty of attractions to visit on the Trotternish Peninsula.
You'll find museums, ancient graveyards, incredible viewpoints, dramatic hikes, waterfalls, and dinosaur footprints.
Here are some of the attractions I would recommend on Trotternish.
Skye Museum of Highland Life
The Skye Museum of Highland Life is a great museum that gives you an insight into what living on this island was like a century ago.
You'll be transported into an old Highland Village and explore many different cottages in a settlement.
You'll learn about crofting, weaving and smithing. As well as entering a Ceilidh or an old gathering house where the villagers would meet.
The Highland Deli Takeaway just outside serves up some wonderful coffee, sandwiches, and ice cream. I loved their rainbow Highland Coo.
Flora MacDonald Memorial & Kilmuir Cemetery
After the museum, I wouldn't leave this area without a visit to the Flora MacDonald memorial. She is famous for helping Bonnie Prince Charlie escape Scotland after the Battle of Culloden.
It's located in the ancient Kilmuir Cemetery which has some really interesting gravestones and tombs to find.
A famous one is the burial site of Angus Martin also known as Aonghas na Geoithe ("Angus of the Wind"). It's said he would sail whatever the weather and his grave is an effigy of a knight.
There is a legend that says he stole this grave slab from a Celtic king's grave in Iona Abbey. But, it's very unlikely as that land is seen as beyond sacred.
To Celtic Christians, Iona was revered as a pathway to god and the heavens on earth. Desecrating a burial site there, especially a kings, would mean eternal damnation.
Quiraing
One of the most dramatic landscapes on the Isle of Skye has to be the Quairing which is just a few miles drive from Duntulm Castle.
Just be careful when driving up to it from here as it's a very steep incline and a single lane with passing places.
You can park up to see the extreme undulating peaks from a viewpoint near the car park.
Or, most people take a longer hike to see even more of this incredible area with features like the Needle.
Fairy Glen
The Fairy Glen was one of my favourite places on Skye. It's an emerald glade that looks like it's been plucked from the pages of a fairytale.
You can visit on a short walk from a car park and explore the bizarre landscape around the glade.
On your visit, you can hike up to Castle Ewan which is a ruin found here or you can make a wish in the fairy circle.
Click here to read my complete guide for the Fairy Glen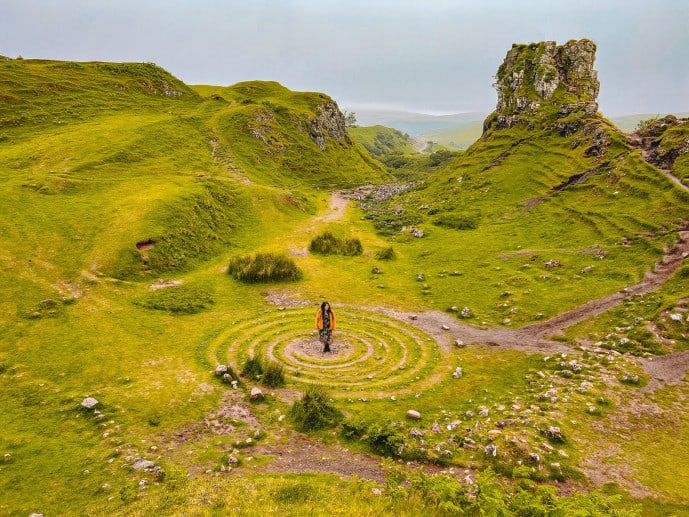 Other things to do on the Trotternish Peninsula
Old Man of Storr – One of my favourite hikes on the Isle of Skye is the Old Man of Storr walk. It's a tough hike but the views of the needles and peninsula are some of the best in Scotland.
Lealt Falls – Least Falls is an impressive series of waterfalls set within a dramatic gorge. There are lots of viewpoints from above but it's worth the steep trek down to see them up close.
Kilt Rock and Mealt Falls – this is a great quick pitstop. You can see the impressive Kilt Rock that gets its name from hundreds of vertical pillars that look like the pleats of a Highland Kilt. There is also a waterfall and it takes less than a minute to visit from the car park.
Staffin – Make sure to head to An Corran Beach at Staffin to search the bay for Dinosaur footprints! The Trotternish was a place of Dinosaurs millions of years ago. Go at low tide for the best chance.
Where to stay on the Isle of Skye
There are many places that you can base yourself on the Isle of Skye and most opt for the colourful harbour town of Portree.
If you have the budget, I would recommend the spectacular Cuillin Hills hotel. It has an incredible view of the Portree and looks like a dream with its panoramic restaurant!
There are a few holiday cottages found next to the ruins like Duntulm Coastguard Cottages if you would prefer a holiday let.
Accommodation on Skye is limited so it's best to reserve your stays around 3-6 months in advance for the best availability and rates.
Read more of my Isle of Skye travel guides
Visit the Fairy Pools on the Isle of Skye
Visit the Portree Colourful Houses viewpoint
The legend of the Fairy Bridge on Skye
How to visit Eilean Donan Castle for Free
The best view of Eilean Donan Castle
Save haunted Duntulm Castle Isle of Skye for later!