One of my favourite experiences in Snowdonia National Park was the Aber Falls Walk in Gwynedd.
It's a scenic walk near the Carneddau that takes you to a magical dramatic waterfall that is over 120 feet high or 37 metres!
This waterfall is very simple to access on the easy 'out and back route' via a flat gravel pathway and my guide will cover this experience and everything you need to know.
Here is a complete guide for the easy Aber Falls walk in Snowdonia National Park, Wales.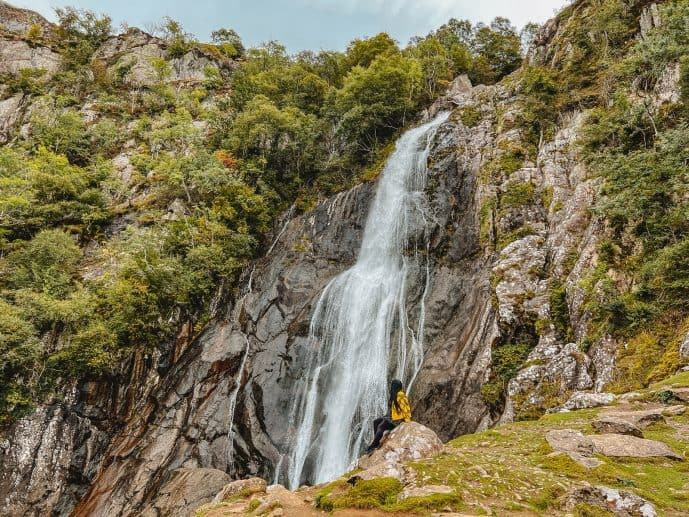 What is Aber Falls?
Aber Falls, also called Rhaeadr Fawr in Cymraeg, is a magical waterfall located in Snowdonia National Park.
It's one of the most dramatic waterfalls you can visit in North Wales on the foothills of the Carneddau mountain range.
You can see the waters of Afon Goch (Red River) plummet over a rocky cascade at 120 feet high!
It makes a mighty roar as it crashes into a small pool below which is truly an impressive sight to behold.
Luckily, it's one of the easiest waterfalls you can access in the national park on a short and flat walk.
Where is Aber Falls in Snowdonia National Park?
Aber Falls is located within the gorgeous Snowdonia National Park which is in North Wales.
You can access it via a short walk through the Coedydd Aber National Nature Reserve which is close to Abergwyngregyn village.
This is around a 30-minute drive from Bangor, a 30-minute drive from Conwy, and a 45-minute drive from Llanberis.
Aber Falls address is Abergwyngregyn, Llanfairfechan LL33 0LP. Click here for a Google Pin!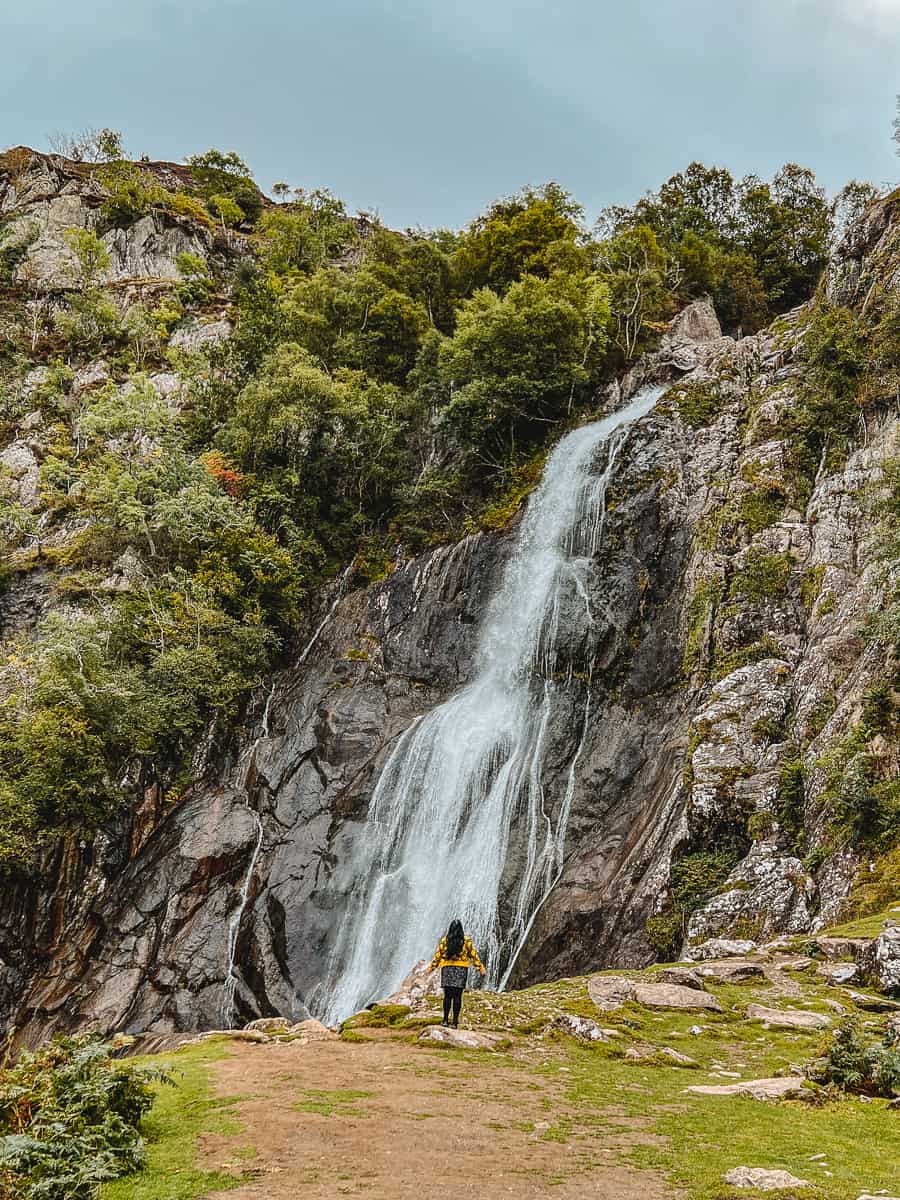 How to get to Aber Falls in Snowdonia?
There is no way to drive to Aber Falls directly, you will need to park up at the Coedydd Aber National Nature Reserve near Abergwyngregyn village and walk to the waterfall from there.
It's easiest to drive to the Abergwyngregyn village as public transport is limited.
The village is easily accessible from junction 13 on the A55 (North Wales Expressway). You'll see a brown tourist sign for Aber Falls.
The drive from Abergwyngregyn village to the Aber Falls car park is a very narrow single lane with passing places. So, make sure to take your time and drive carefully.
If you're not driving, you will be happy to know that you can access Aber Falls by public transport in Snowdonia.
Bus services run from Caernarfon and Llandudno to Abergwyngregyn village to access Aber Falls. I would recommend using Traveline to plan your journey.
Aber Falls car park
There are two Aber Falls car parks when you reach the parking area. The Lower Aber Falls car park and the Upper Aber Falls car park.
There is not much distance between the Lower Falls car park and Upper Falls car park – it's a 5 minute walk between them.
But, the Upper Aber Falls car park is bigger and is closest to the start of the out and back route so I would recommend parking here. It also has free public toilets I would recommend using.
There are around 40 spaces in total between the two small car parks. These are known to fill up by 10 am during the busy season and weekends. So, I would recommend visiting earlier to guarantee a space.
Aber Falls parking charge is £5 for the day but you will need to pay in cash with 5 x £1 coins. It's a very old machine and I tried a £2 coin but it didn't like it!
There is no card payment option and no pay-by-phone option either (not that there is much phone signal in Aber Valley anyway).
One of the staff did mention they are planning on putting card payment machines here in the future!
Alternatively, you can park up in Abergwyngregyn village for free but this will add on an additional 15-20 minutes to your walk.
How long is the Aber Falls walk?
The easy Aber Falls walk or the 'Out and Back Route' is around 2 kilometres one way or just over 4 kilometres for the round trip. This is 2 and 3/4 miles return journey.
It will take you around 30-45 minutes to walk to Aber Falls one way from the car park along a flat gravel pathway.
I would recommend at least two hours for this walk. This allows enough time to find parking, get to the waterfall, explore the beautiful waterfall area and then head back to the car park.
You could easily spend a few hours here as the waterfall and scenery are so magical.
It's the perfect place to bring a packed lunch and have a picnic at the falls. Just remember to take all rubbish home with you.
Is Aber Falls an easy walk?
Yes, the Aber Falls walk is very easy if you choose the 'out and back route' or the pushchair route.
You simply follow one flat gravel pathway through the valley the entire way to the waterfall and so there is no way you can get lost!
It does get a little steeper near the very end but as the walk is only 30 minutes one way it's very manageable.
I have hip problems which sometimes make long, steep, or complex walking routes difficult for me. But, I found the out-and-back Aber Falls walk really easy.
It's perfect for families with smaller children and when the weather is a bit wetter as the pathway is gravel and doesn't get very muddy!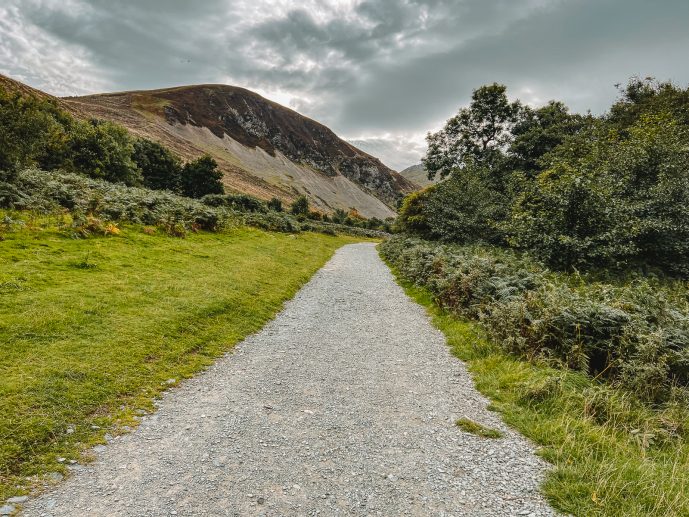 Aber Falls walk directions
As before, the easy Aber Falls walk is just one long path through the valley so you won't need any directions as there is only one way to go! But, I'll let you know what to expect on the way.
From either of the Aber Falls car park, you'll need to make your way to the start of the out-and-back route and you'll find it near a small hut with a kissing gate.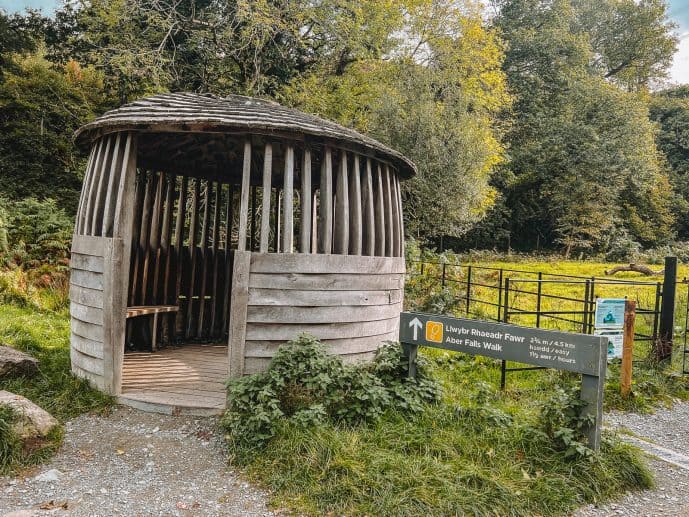 Pass through here and then make your way along the long pathway toward the waterfall.
The scenery is very green and hilly in the Coedydd Aber National Nature Reserve so it is very scenic.
You will pass a slate house around halfway through with a small exhibition in it. But, don't expect any toilets. This is a shelter with a picnic bench if you need a break.
In fact, there are plenty of benches along the route to take a perch if you aren't in any rush.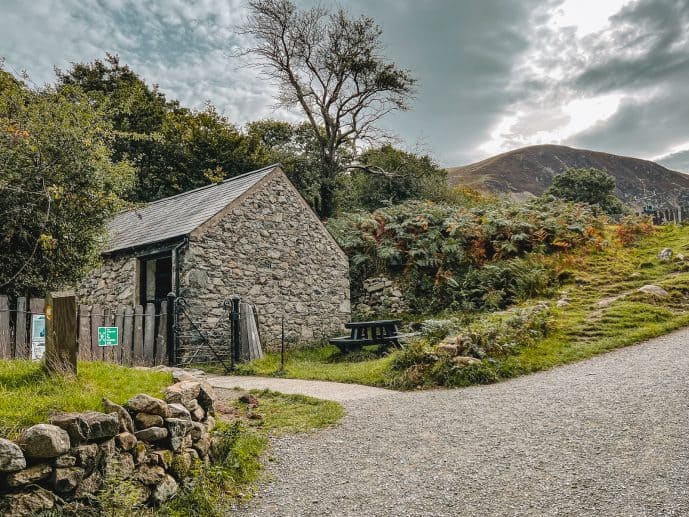 It's good to note that you will be walking for at least 20-25 minutes before you see even a hint of the waterfall.
The path feels endless. You'll start wondering whether there is even a waterfall at the end of the pathway at all. But, don't worry, it will be there and it's so worth the walk!
Eventually, you'll get your first look at Aber Falls in the distance which is really exciting.
You'll then pass through a series of kissing gates and trees to reach the Aber waterfall viewing area.
It's important to close these gates behind you to protect wildlife. You'll find lots of sheep grazing around here!
You'll eventually climb up to the Aber Falls viewpoint at the bottom of this magical waterfall and it will take your breath away.
Exploring Aber Falls
When you eventually arrive at Aber Falls, you'll find a small viewing area where you can enjoy the waterfall.
Depending on the season, this waterfall may be very powerful and so you should prepare to get wet with the spray.
If the weather is fine, there are some rocks to perch on so you can take a seat and enjoy a picnic with jaw-dropping views!
You can't swim here as it's dangerous with the force of the water and rocks below. There isn't any water to swim in really.
I saw many people jumping and climbing on the rocks at the base to get closer to Aber falls but I would always exercise caution with this as the rocks are slippy. It looked so dodgy!
Aber Falls photography tips
Aber Falls is a majestic waterfall in North Wales and is a beautiful place to capture from anywhere at the viewing point area.
However, I did find that the majority of the crowds would gather on the flatter area of the waterfall on the left-hand side which made it difficult to capture without people!
The biggest photography tip I have for visiting Aber Falls would be to head back on yourself from the viewpoint and cross the small footbridge over the river to the opposite side.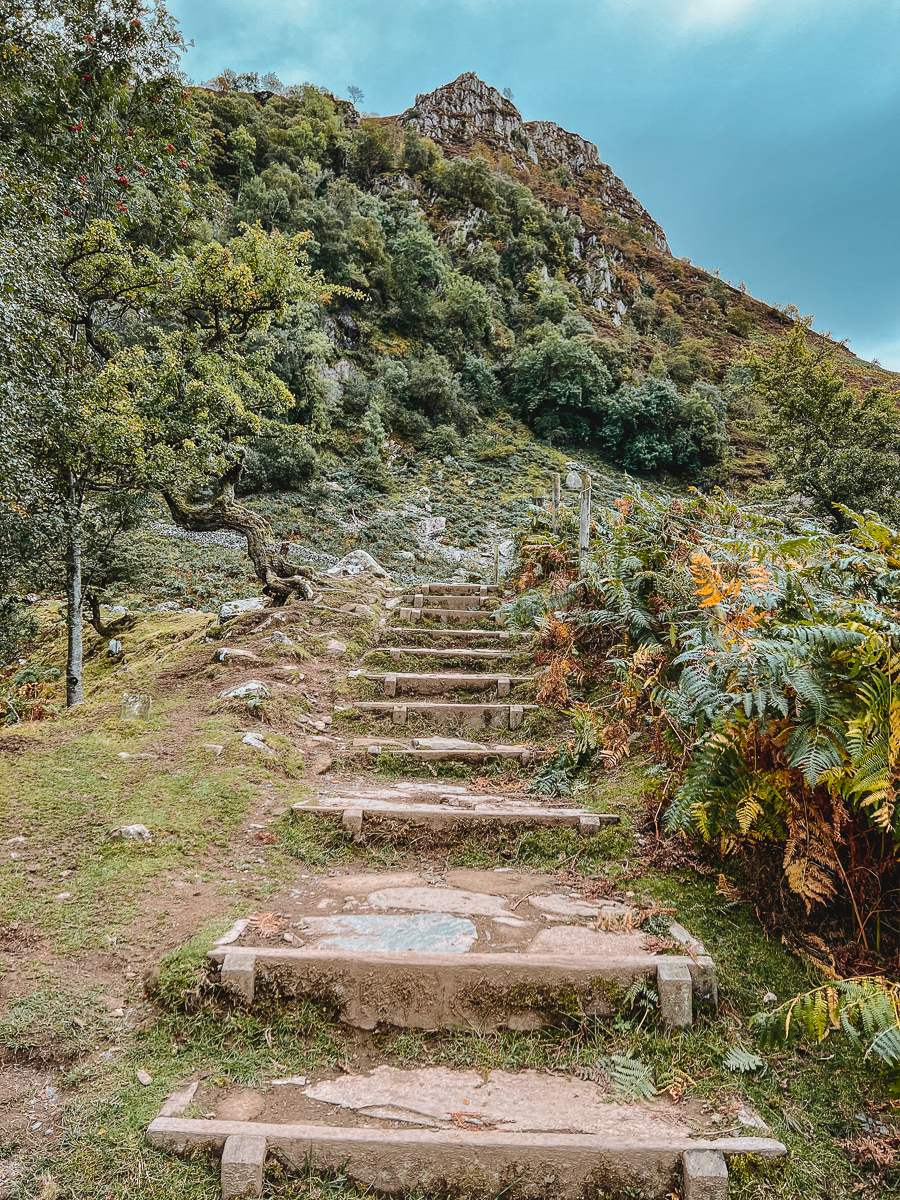 Head up the steps and walk upwards onto the small grassy knoll for a much better view where you can get even closer to the falls.
Not only are the photos much better from this area as they look more dramatic, but it also blocks out the majority of the crowds too!
Heading back
Once you're ready to leave you can easily follow the same path that you walked here on back to the car park. The out-and-back route is as easy as the name!
There is a way to extend this walk on the moderate route via the North Wales Path but I would allow a lot longer.
Although it has gorgeous views over the coastline, it has a steep zig-zag descent and isn't as accessible.
It also gets very muddy so you should come prepared with a pair of good walking boots or wellies!
My top tips for the Aber Falls walk
Bring 5 x £1 coins in cash – Bring five pounds in £1 coins for the parking machines (I tried a £2 coin and no joy). They don't accept cards and there is no pay-by-phone option.
Visit early in the morning – this will avoid crowds and makes sure you can get space in one of the Aber Falls car parks. Try to get here before 10 am (9 am is best).
Wear sensible shoes – The path is mainly gravel and so you can avoid mud easily. But, it's best to wear some comfortable shoes for when you reach the falls as the ground is uneven.
Wrap up warm – I actually found the valley very warm as there is limited wind. But, best to bring layers to wrap up if it gets chilly in North Wales.
Bring a waterproof layer – This is Wales and rain is likely. Bring a waterproof just in case.
Use the toilet before you go – No toilets are available on the walk. Use the loo before you set out on the Aber Falls walk. You can find public toilets in the car park.
Bring water and lunch/snacks – There is an Aber Falls Café in Abergwyngregyn village that's open seasonally also there is a bistro at Aber Falls distillery. But, there are no refreshments at the car park or falls so bring your water bottle. Also, the falls make a fabulous lunch spot!
Aber Falls opening times and prices
Aber Falls is open 24 hours a day and 7 days a week so you can visit any time in Snowdonia National Park. But, I wouldn't recommend visiting in the dark for obvious reasons!
It's also completely FREE to visit so it makes a great budget activity in North Wales.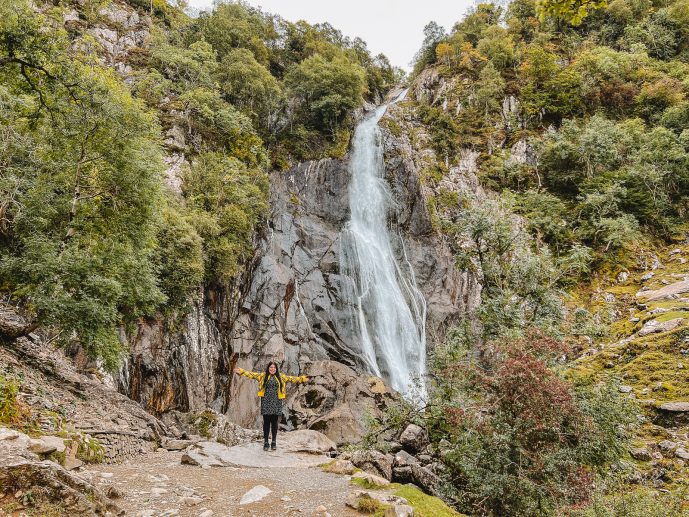 What is the best time to visit Aber Falls?
Aber Falls is a natural beauty spot that is open 24 hours a day and so you can visit any time of year.
But, in my opinion, the best time to visit would be after a few days of heavy rainfall.
The rain will make sure that this cascade is as heavy as it can be and makes a more dramatic waterfall.
Saying that it didn't rain on my visit and was sunny the whole weekend and it was still very dramatic and beautiful!
If you wanted to avoid crowds, I would recommend visiting early in the morning. Anytime before 10 am would ensure a quieter visit.
Is Aber Falls pushchair and/or wheelchair friendly?
Yes, the easiest Aber Falls walk, or the 'Out and Back' route is meant to be pushchair and wheelchair friendly as it's mainly a flat gravel path to the falls.
But, I would hate to tell you that it would be plain sailing as there are some hairy moments when you get nearer to the waterfall area.
The majority of the walk is on a flat and wide gravel pathway through the valley (made of small stones). So, it may be a struggle to push the wheels on this sort of pathway as the terrain already has resistance.
You will need an off-road pram instead of a normal one to protect your pram wheels!
You can certainly see the Aber Falls cascade in the distance from this flat pathway near the end of the valley.
But, as you get closer and you pass through the kissing gates, you will find the path gets steeper, is uneven, narrows further, and is full of tree roots and jagged stones etc.
When you get very close to the falls and the viewing area there are going to be steeper bits and uneven rocks to access the viewpoint. It can also get muddy.
I don't want to put you off, it is meant to be accessible and it completely depends on your circumstances.
But, I would certainly do some research before you set out on this walk with a pushchair or wheelchair to avoid disappointment.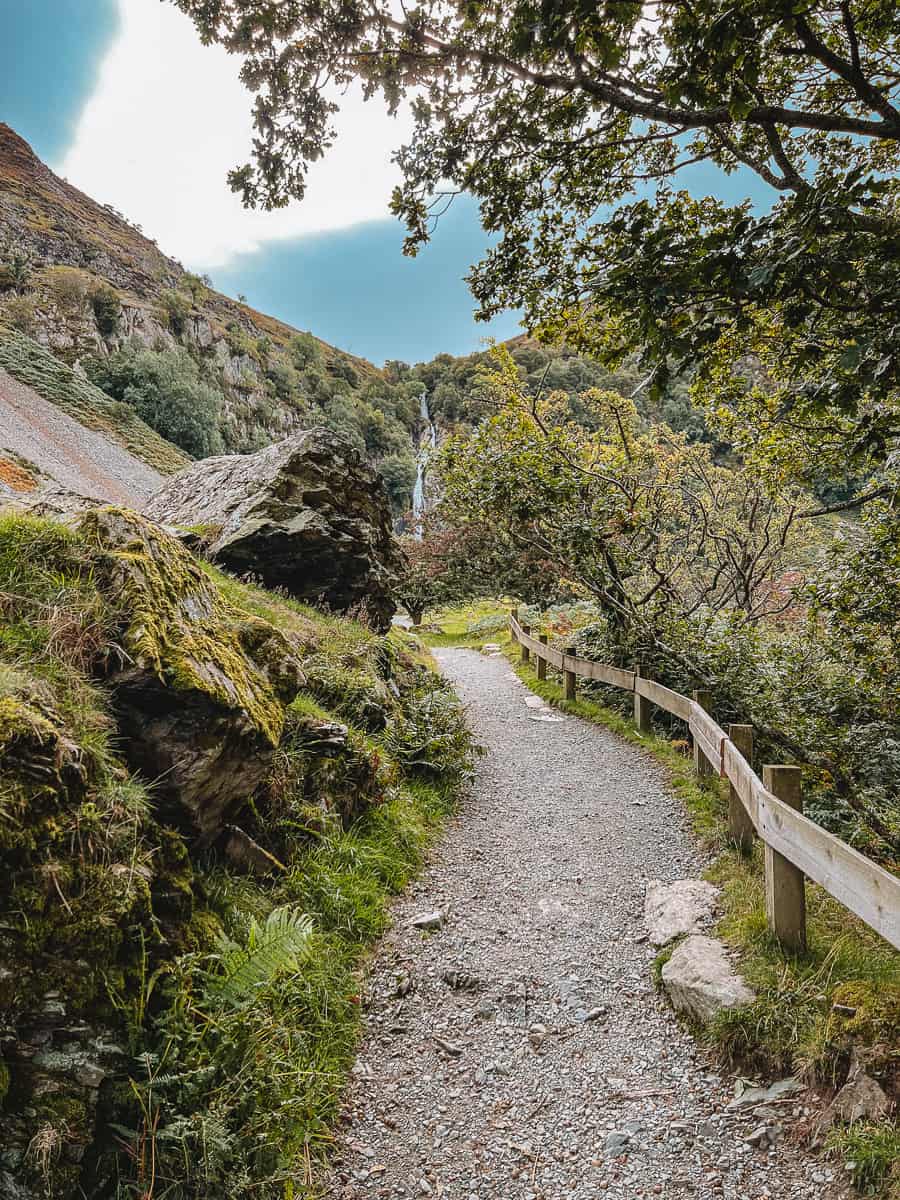 Check out Aber Falls distillery next
Did you know that Aber Falls distillery uses the water from this waterfall to distill their Welsh whisky & gin?!
Yep, you can take a guided tour of their distillery nearby and even make your own concoctions in their gin lab.
You'll find a small visitor centre in Abergwyngregyn as well as a restaurant bistro which would be perfect to visit along with Aber Falls.
Click here to find out more information on Aber Falls Distillery
Aber Falls FAQs
How tall is Aber Falls? 120 feet or 37 metres!
Can you swim at Aber Falls? I wouldn't recommend it as the force of the waterfall is quite strong. Plus, the 'pool' at the bottom is more of a puddle really not a lagoon.
Do you have to pay to see Aber Falls? No, visiting Aber Falls is free.
How far is the car park to Aber Falls? It's around 30-45 minutes to walk to Aber Falls from the car park one way on the easiest 'out and back route'.
Are there toilets at Aber Falls? No, and there aren't any loos along the route either. I would recommend using the public toilets at the Upper Aber Falls car park before you set out!
Is Aber Falls dog friendly? Yes, but you must keep them on a lead due to wildlife.
Read more of my Snowdonia National Park guides
How to visit Dinorwic Quarry Wales
Visit Anglesey Barracks – Snowdonia's Forgotten Street
How to see the Bodnant Garden Laburnum Arch
Look inside the Smallest House in Great Britain!
A complete guide for the Cwm Idwal walk
Penmachno Roman Bridge photography location
Why is the Ugly House called Ugly?
When does Tu Hwnt I'r Bont turn red?
The legend of Gelert & how to visit his grave
The top places to visit in Beddgelert
Visiting the Cauldron Waterfall of Pont-y-Pair
How to find Sappers Suspension Bridge
A complete Swallow Falls guide
Why you MUST visit the Fairy Glen Gorge
A complete Conwy Falls & cafe guide
A complete guide for the Dinas Emrys Walk & Dragon legend
How to visit Pistyll Rhaeadr Waterfall
Gladstone's Library – Stay in the UK's only residential library
Save this easy Aber Falls walk for later!