One of the more magical places that I explored in the Peak District was the mystical Lud's Church.
Despite the name, it's not actually a church but a chasm that was created via a landslide in Roaches Grit or millstone!
Once you step inside this emerald green gorge, you'll feel like you've been transported to another world of fantasy, myth, and legend.
Although popular, Lud's Church is not as easy to find as you would think! You will need to park up in Gradbach and then walk to Lud's Church through the scenic Black Forest.
The good news is that it's a short 30-minute walk through the woodlands and only around a mile. You don't have to walk miles around The Roaches to get to Lud's Church if you didn't want to.
Here's a short and easy Lud's Church Walk from Gradbach in the Peak District with where to park, walking directions, and what to expect on your visit!
What is Lud's Church?
You may be surprised to know that Lud's Church is not actually a church at all! It's a huge emerald green cavern that is hidden away in the Black Forest in Staffordshire.
Stepping into this cavern really feels like you've been transported into another world, it's a magical fairytale that looks like something out of The Hobbit or Lord Of The Rings.
It's 100-feet long and 18 metres deep which is just large enough to allow hikers to walk through it in the Peak District.
It gets the curious name from the fact that Christian Reformers called Lollards used to use this as a place of worship in the 15th-century.
But, it's not just its recorded history that attracts visitors to this magical place. It's the legends of knights, heroes, ghosts, and mystery too!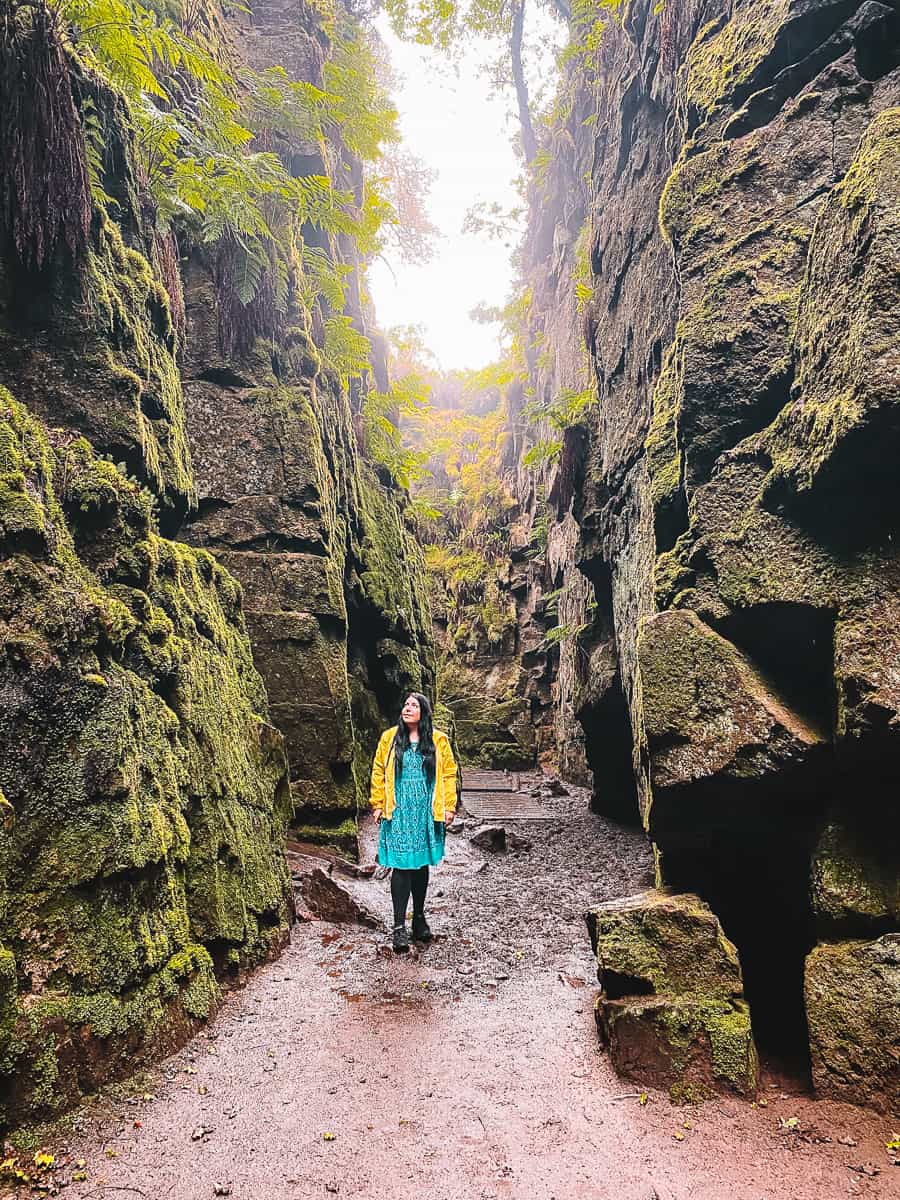 Legends of Lud's Church
As soon as you walk inside this magical gorge, you'll feel like you've just stepped into another world!
It's no wonder that Lud's Church is steeped in a wealth of myths and legends and makes this place sound like a fairytale.
These are some of the most popular Lud's Church legends.
Sir Gawain and the Green Knight
There are many scholars who debate a theory that Lud's Church is actually the location of the 'Greene Chapel' in the medieval poem "Sir Gawain and the Green Knight".
If you didn't know, Gawain was one of King Arthurs' knights of the round table in the legendary kingdom of Camelot.
There is an excerpt in the poem that reads:
"The knight takes pathways strange

To seek the Chapel Green;

His cheer full oft doth change

When no such Chapel is seen."

– From Simon Corble's translation of The Green Knight
The story goes that Sir Gawain was the nephew of King Arthur and was the youngest knight of King Arthur's Round Table.
A stranger arrives in Camelot called the Green Knight and challenges all of them. If they can strike him once with his axe, they can keep it. But, there is one condition, the Green Knight must be allowed to return the blow in one year and one day.
Sir Gawain boldly accepts the challenge first and then ends up beheading the Green Knight in a single blow.
But, to his surprise, the Green Knight stands up and picks up his head! While the head is in his hands, the knight reminds Gawain of the pact they made and that he'll be back to return the blow.
Gawain then spends a year being chivalrous, avoiding death and boastful in his abilities until he meets the Green Knight again at the Green Chapel.
It turns out that the Green Knight was a magical trick by Morgan Le Fay but he thankfully defeats him only suffering a minor wound.
There is a lot of symbolism in this poem. For example, the colour green in medieval England was associated with pride, youth, and ambition. Also, the poem explores romance, temptation, chivalry, and games.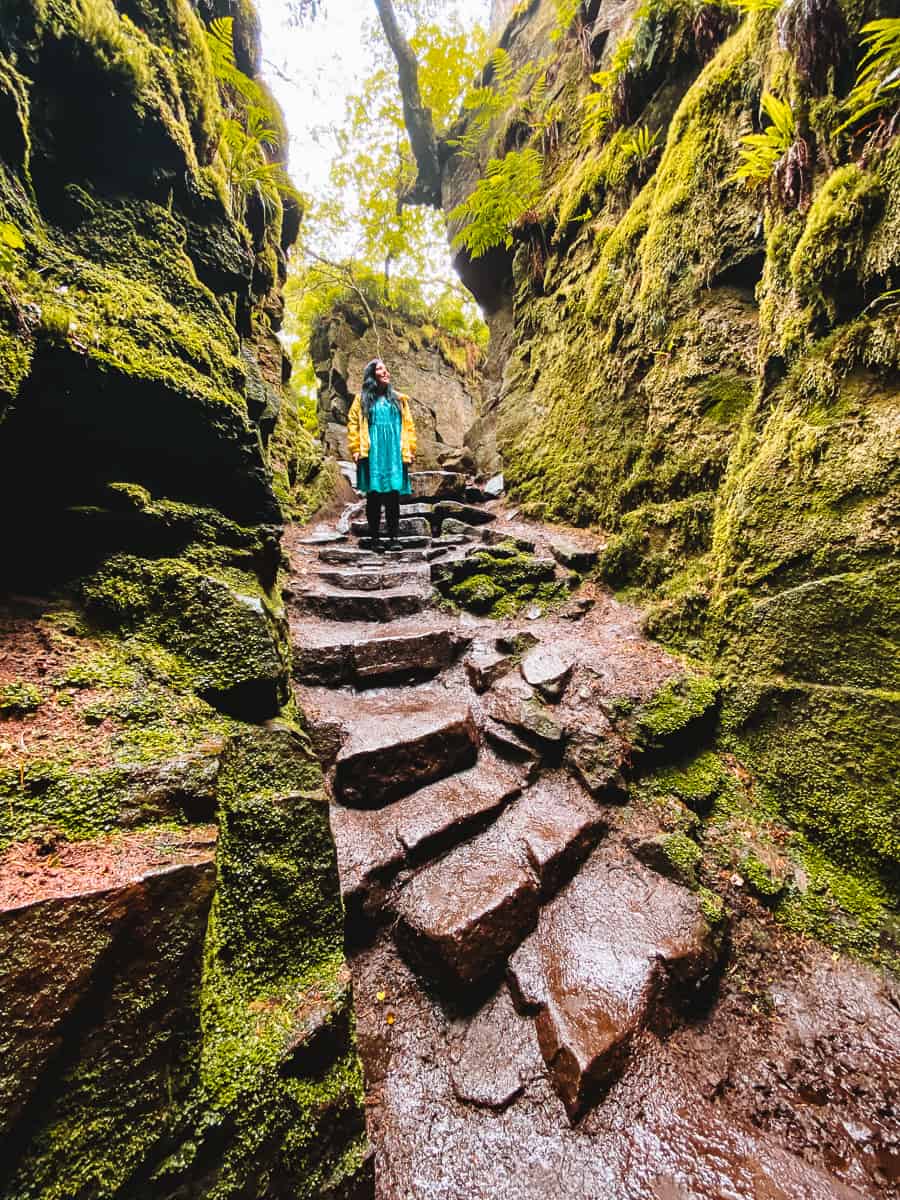 Lud's Church Robin Hood connection
Although Lud's Church is related to the Green Knight, it's highly unlikely that this is the location of the Green Chapel as the poem actually mentions a burial mound not a green gorge like this one.
But, there is another legend that says that the hero Robin Hood used this cave as a hideout with his Merry Men! Also, there is a legend that Friar Tuck hid out here at some point too.
If you didn't know, Robin Hood was a legendary outlaw who robbed from the rich and gave to the poor who had a band of merry men in his army.
Hollywood movies tend to fixate all of the Robin Hood stories being set in Nottingham and Sherwood Forest.
However, the early medieval ballads mention that Robin Hood is from Loxely in South Yorkshire. Also, that Little John's hometown was Hathersage in the Peak District!
Many years ago the boundary lines of Sherwood Forest were much larger than they are now and reached the likes of Derbyshire and Staffordshire. At Stanage Edge there is the famous Robin Hood's Cave.
So, Robin Hood and his Merry Men really could have hidden out here from encroaching enemies. What do you think?
Related post: How to visit Little John's Grave in Hathersage
Lud's Church history – why is Lud's Church called Lud's Church?
A lot of people ask why Lud's Church is called that? I mean, it's not actually a church so it's quite a funny name for a chasm in the wilderness.
Well, it's believed that this place was a religious site of early Pagans years ago. Later, it was a secret place of worship for Lollards in the 15th-century.
The Lollards were Christian Reformers that didn't agree with the practices of the Roman Catholic Church. The movement was led by John Wycliff who is known as the "Dawning Start of the Reformation".
Denouncing the Catholic Church was treason to the crown at the time. The reigning monarch in England was Catholic and was believed to be ordained by God.
The Holy Roman Emperor, the head of the Roman Catholic Church, was also thought to be a direct descendent of St Peter.
To disregard this was not only treason but blasphemy in the eyes of the crown which meant arrest, torture, and death if they were caught. So, the Lollards had to meet in secret and used this gorge as a church to worship and hold services.
Unfortunately, the Lollards were caught during one of their meetings, and a man called Walter de Lud Auk was captured at Lud's Church.
Many other Lollards were captured as well and even his granddaughter Alice was also mortally wounded in the scuffle.
Many people believe that the name Lud's Church came from this religious persecution and named it after Walter and his granddaughter Alice who were both martyrs for their faith.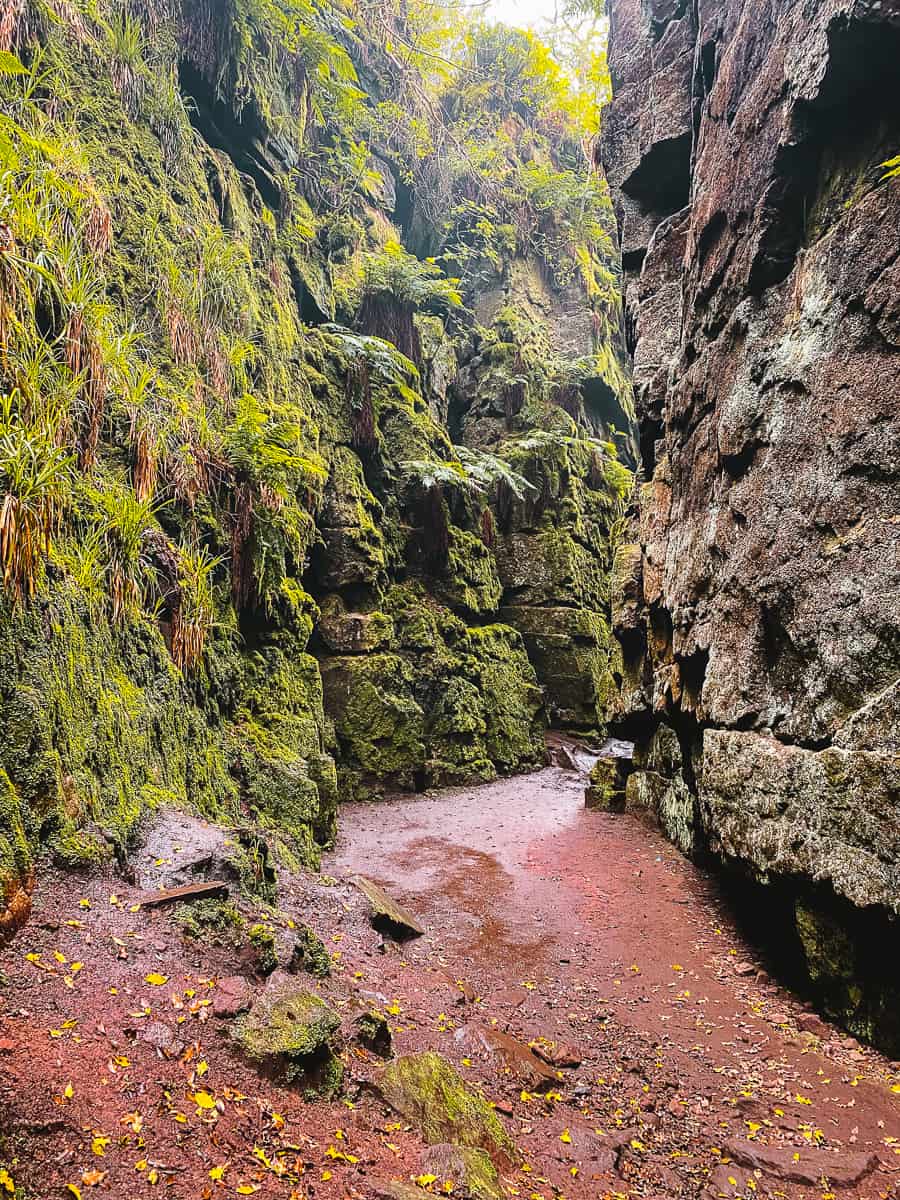 Lady Lud & Lud's Church ghosts
With the introduction of the railways, the Peak District became a popular place to visit with Victorian tourists.
In 1862 Philip Brocklehurst, the landowner of Lud's Church at the time placed a wooden figurehead from the Swythamley ship above the chasm!
It was called Lady Lud and was placed there to commemorate the death of Alice de Lud Auk who died in the scuffle with the Lollards years ago.
Tourists were charged a small fee to visit Lud's Church and then were told the story of the Lady of Lud by Philip Brocklehurst!
Even today, people still believe that Alice haunts Lud's church where she died and appears clad in all white. So, don't visit here after dark if you believe in ghosts…!
Amazing Lud's Church facts!
Lud's Church is not actually a church at all but is a chasm which was caused by a massive landslip in the gritstone
Lud's Church is over 100 metres long and 18 metres deep which is massive in height and makes you feel super small
Walkers can walk inside Lud's Church, some parts are only a few metres wide to pass through
The entire chasm is filled with green moss, ferns, lichens and plant life which give it a magical other-worldly feel
Many legends say that Lud's Church is the 'green chapel' mentioned in the Arthurian Legend of Sir Gawain and the Green Knight
Another myth is that Robin Hood, Friar Tuck and his Merry Men hid out here from their enemies!
It's also said to have been used by Lollards in the 15th-century as a secret place of worship. Lollards were reforming Christians who disagreed with the Roman Catholic Church.
There is another legend that Bonnie Prince Charlie hid here during the Jacobite rebellion.
Where is Lud's Church in the Peak District?
Lud's Church gorge is located in an elevated part of the Black Forest in Staffordshire in the Peak District.
This area is often known as the White Peak Area in the south of the Peak District National Park and is famous for its limestone rocky outcrops!
The closest major town near Lud's Church is Buxton and then you'll need to make your way to Gradbach village near a place called Flash to start your ascent to the gorge in the woodlands.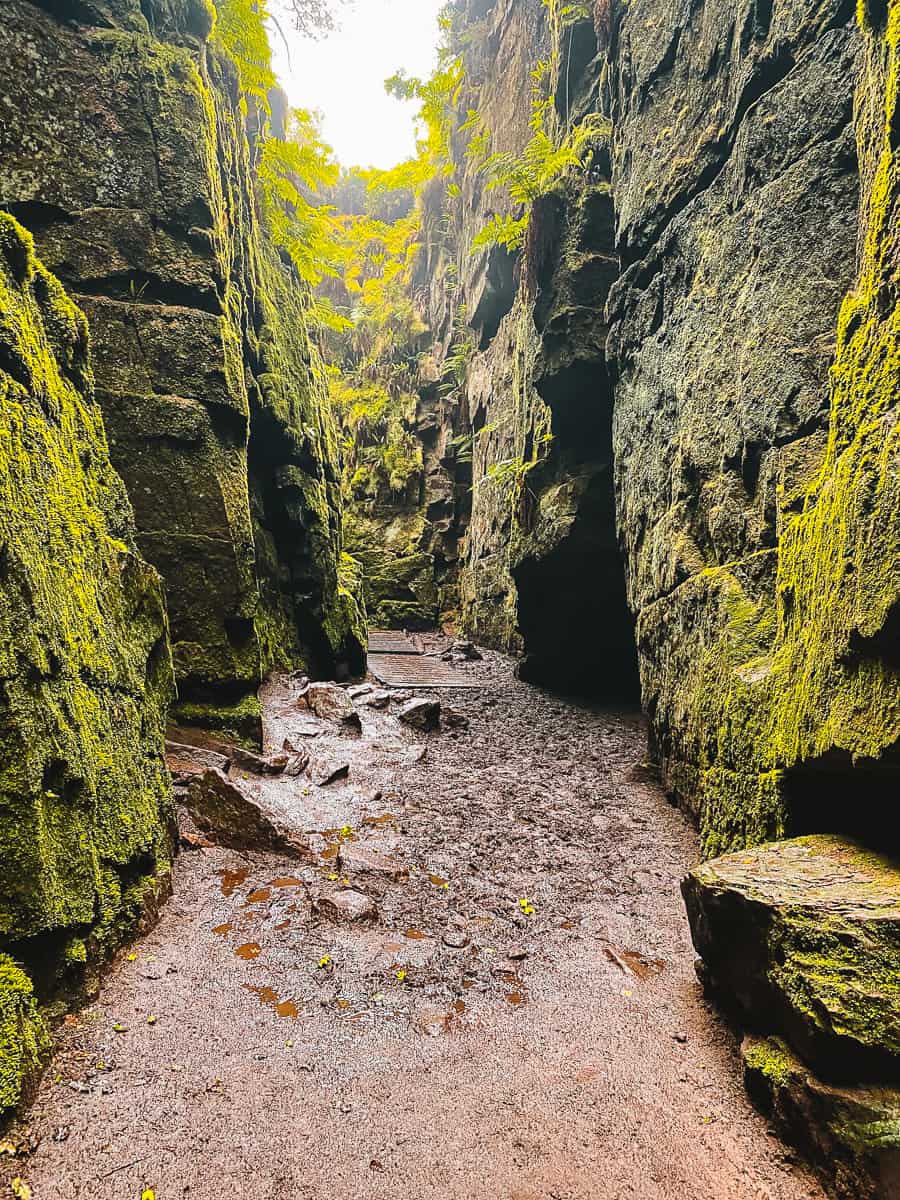 How to get to Lud's Church
As Lud's Church is located in an elevated part of the Black Forest in the Peak District, the only way to access this gorge is to firstly drive to Gradbach car park and then walk over to it.
The roads here are very narrow and remote. So, always be careful as you drive here. The country lanes are often single track with passing places.
The closest place to park for Lud's Church walk would be a place called Gradbach near Flash which is near Gradbach Mill hotel.
Then, you will need to walk from Gradbach, through the Black Forest to access Lud's Church gorge.
It will take you around 20-30 minutes one way. But, I would always allow extra time as it's easy to get lost around here despite there being some signage!
Phone signal is pretty much non-existent (as I found out) so don't rely on Google Maps! I struggled to navigate with my phone.
In the end, I was literally just following the general direction of Lud's Church and using my pin location to guide me.
If you're worried, always download an offline map from the likes of Maps.Me or bring an Ordinance Survey map and a compass for reference.
Is there a bus to Lud's Church or Gradbach?
Unfortunately, there are no buses that make a journey to Gradbach to start the Lud's Church walk.
It's a very remote part of the Peak District with narrow single-lane roads and the infrastructure is not made for buses or regular public transport.
The closest train station would be Buxton which is 7 miles away. So, you could organise a taxi from Buxton to take you to Gradbach Mill to start this walk.
Lud's Church car park
There is a small free car park in Gradbach which is the best place to park for the Lud's Church walk.
This can be accessed on the A53 road from Buxton and following signs towards Flash and Gradbach.
The Roaches Car Park Postcode is Gradbach, SK17 0SU. Or, use this Google Pin (but again, signal!).
Lud's Church parking charges are free but you will need to get here early to guarantee a parking space.
This car park only has around 20 spaces at a push and can get VERY busy, especially on weekends. So, I would aim to get here before 9 am if you can.
If it's full, there is a car park at Greensytch Farm which will cost you £10 for the whole day. It's a great alternative if you plan to spend a day hiking.
Important: There will be cones everywhere on the grass verges along the roads. Please don't park on these verges or in passing places as the roads are very narrow and you'll block access.
Top tips for the Lud's Church walk
Mud – there is lots of mud on this trail in the Black Forest but especially in Lud's Church gorge itself. Wear a good pair of shoes and clothes you don't mind getting dirty.
Get here early – The Gradbach Car Park is free but has a tendency to fill up by 9am on weekends. So, make sure to get here early to guarantee a space
Weather – You can check the weather for Flash here. I actually decided to do this walk in the rain and it was great! As you're under the Black Forest most of the time it's undercover. Plus, the gorge glistens with the rain and mist, it was magical!
Use designated car parks – Don't block road access by parking on the soft grassy verges. Make sure to park in designated parking areas.
Directions – the phone signal in this part of the Peak District is almost non-existent so I'd have a back up plan from your phone. Bring a SatNav for driving and an OS Map or Offline Maps.Me map for this walk.
Water and snacks – the Gradbach Mill & tearoom is only open occasionally and seasonally. I would ensure to bring a bottle of water and food with you. However, alway take rubbish home or to the nearest bin.
How long is the Lud's Church walk?
This depends on what you wanted to see. If you just wanted to see Lud's Church from Gradbach the walk will take around 30 minutes one way.
It's around 1.3 miles from The Roaches Gradbach car park to Lud's Church. The whole loop is 2.6 miles both ways.
If you wanted to extend your walk to the River Dane or to The Roaches it can be around 3-5 hours!
This easy Lud's Church walk I'm going to be explaining below is around an hour in total. Maybe less if you're a fast hiker.
I spent a lot of time taking photos here and exploring. So, I think it ended up taking me around two hours to do the whole thing.
It may also be longer if you have small children and if you wanted to explore Lud's Church in more detail while you're here.
Easy Lud's Church walk from Gradbach
So, if you just wanted an easy Lud's Church walk from Gradbach to see the cavern, this is going to be the post for you!
It's a short 30-minute hike through a scenic forest to get to the Gorge. It starts off from The Roaches car park in Gradbach.
The Roaches Car Park Postcode is Gradbach, SK17 0SU.
Gradbach car park to Lud's Church directions
1. Start off a Gradbach Car Park
Once you've secured a space in The Roaches Car Park, you can then get ready to head out on your walk.
This will first require you to walk on the road, so make sure to look out for traffic as you're heading up the hill.
You will pass Gradbach Mill to your right, remember this if it's open so that you can grab a coffee or pop to the loo later!
Note: there is an alternative route walking by Gradbach Mill if the gates are open. I've included this alternative route after these walking directions. But, you could also loop back past Gradbach Mill on your way back by walking through the gorge and through the Black Forest. There's no right or wrong way to reach Lud's Church!
2. Head up the road to the Scout Camp
I actually asked a fellow hiker for directions at this point as I quickly realised there was no signal at all. So, I was bound to get lost.
He pointed me towards the Scout Camp which is on the roadside. It's well signposted so after this carry on walking past the Scout Camp on your left.
Then you'll eventually head on a rocky trail until you head downstream. From here, you'll cross a footbridge and head into the Black Forest!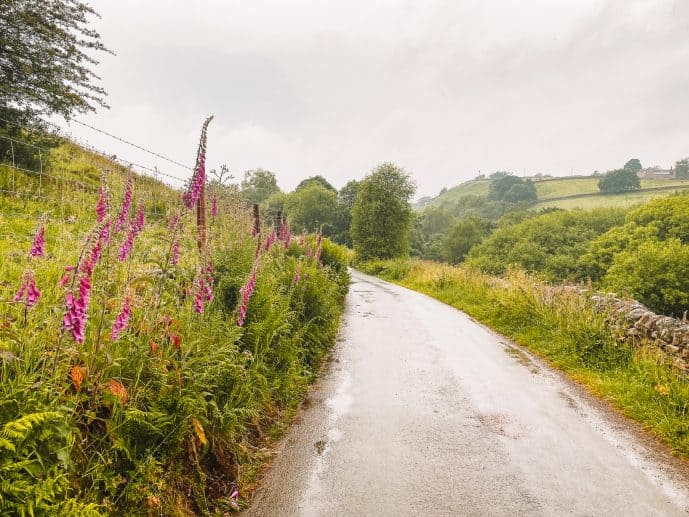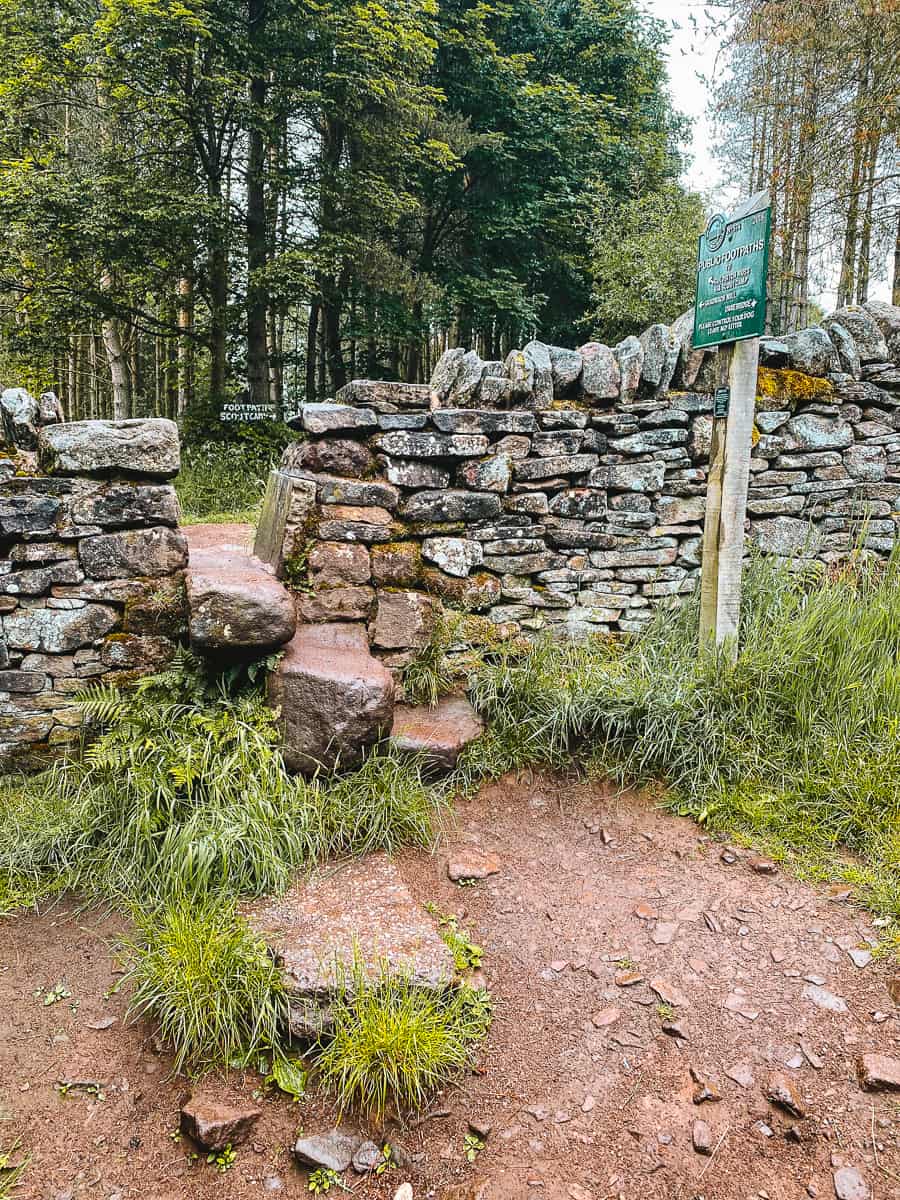 3. Walk into the Black Forest / Gradbach Wood
Once, you cross the bridge, you can use the public footpath which leads upwards into the Black Forest.
After that, there are signs which point you in the direction of Lud's Church and Swythamley.
Keep following the paths upwards through the forest until you reach a sign which directs you right up an incline towards Lud's Church.
4. Head on through the Black Forest until you reach a rocky outcrop
You'll eventually head up an incline through Gradbach Wood that will lead you to a rocky outcrop at the top of the ridge!
This rocky outcrop is important as it marks the spot of the turning point. You should see a sign in front of it which points towards Lud's Church.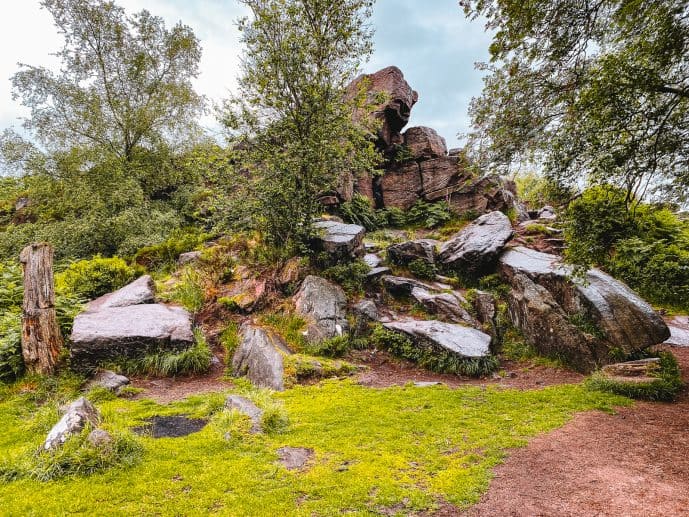 5. At the rocks, turn around and follow the path to Lud's Church
Once you reach the rocky outcrop, you should see a sign directly in front of it that points in the direction of Lud's Church.
You'll need essentially to turn back on yourself and follow this path which forks off to the right.
Once you're on this path, keep heading down here straight. This is the last part of the walk for Lud's Church.
6. Find the entrance of Lud's Church
Once, you've walked up the path leading away from the rocky formation in the Back Forest, keep going straight.
You'll see lots of green and gnarled trees here which are gorgeous but keep a lookout for an opening in the rocks to your right.
You'll eventually see a fence start and the entrance of Lud's Church is near here!
Once you find the entrance, head inside and this is where you'll find the start of Lud's Church.
7. You've made it to Lud's Church
Once you enter inside, it does look like there are two entrances, one on either side to the left and right of you.
But, you want to take the swooping steps leading down the gorge on the left. You'll see a wooden walkway on the floor below at the bottom of the stairs.
These stairs will lead you down into Lud's Church but make sure to take your time down these steps as they can get slippy and mucky.
Once you've got down the steps, keep walking going forwards over the wooden walkway and you'll now be in the magical and legendary emerald green gorge!
Alterative Lud's Church Walk past Gradbach Mill
Many people choose to walk past Gradbach Mill to access Lud's Church. This requires you to walk through Gradbach Mill gates.
Head by Gradbach Mill and then walk by the River Dane into the Black Forest via the Public Walking Path.
Follow the signs through the Black Forest to Lud's Church and walk over the wooden walkways until you reach the steps leading down to the gorge.
This route takes you to the back of Lud's Church chasm. It's quite narrow compared to the route above.
Then, you can head through the gorge and walk via the route above back to Gradbach car park. Or, head back the way you came!
What to expect when visiting Lud's Church
I wasn't sure what to expect from this Lud's Church walk, sometimes pictures make these places look better than they actually are in real life.
So, I was extremely pleased when I arrived and it actually looked better than in the photos! I was here by myself early morning and so it was just breathtaking to explore and everything felt…magical.
As the cavern was covered in green moss and the rain created some mist, the whole place had a mystical feel to it.
You can really imagine King Arthur and his knights of the round table here or Robin Hood's merry men.
I spent way longer than I planned just having a look around in awe of the place. Although not very long, the cavern gorge is huge in width and height.
I'm quite short so it's not hard for places to make me feel small, but this really did and it was highly impressive.
Of course, there are some parts that aren't as romantic like avoiding the huge puddles and muddy bogs. As the cavern doesn't get much sunlight the floor can get very wet and mucky due to footfall.
There are some wooden walkways provided and places where you have to balance over narrow planks to avoid falling in the muck which can be pretty grim.
But, I was truly mesmerised on my visit. It's not overly large but I would make sure to leave lots of time to explore and take it all in!
Making your way back
If you wanted to carry on your walk, you can easily loop round to The Roaches over Leek on a circular walk. Or, you can head to the River Dane.
But, if you want to head back to Gradbach, you can easily head back the way you came.
Alternatively, walk through the gorge and follow the steps leading upwards, exit the gorge and then follow the route over the wooden walkways back to Gradbach Mill.
I actually ended up following signs for Gradbach Dene and followed my way back to the Scout Camp. I ended up walking over this footpath below back to Gradbach Mill.
What to pack for the Lud's Church walk
A coat / spare layer – As we're in the North of England and the Peak District, it's important to prepare for adverse weather even in summer. Always bring a spare layer like a waterproof coat if it starts raining.
Ankle supporting shoes – Although the walk is not extensive the ground is muddy and uneven, especially in the gorge. Wear good shoes that support your ankles!
Water and snacks – There are no facilities in Lud's Church or in the Black Forest. So, make sure to come prepared with hydration and food!
OS Map – Optional but recommended. There is signage but it's easy to get lost like I did many times. Don't rely on Google Maps as signal is non-existent.
Camera – This cavern and green gorge is MAGICAL and looks like something akin to Middle Earth. Make sure to capture your visit on your phone or camera.
Where to eat near Gradbach & Lud's Church
The Black Forest, Lud's Church, and The Roaches are quite remote. So, it can be difficult to plan places to eat.
Gradbach Mill does have a Riverside Café which is open from Easter to October which would be a great choice as it's close to the Gradbach Car Park.
However, it's only open on weekends & bank holidays from 10 am – 4 pm normally. During the summer holidays in July and August, it opens from 11 am – 3 pm throughout the week too.
They have a seasonal menu of light bites, coffees, afternoon tea, and a selection of ice-creams too!
However, if you're visiting in the off-season, I would opt to bring your own food with you on your walk.
Where to stay in Gradbach
As well as visiting the tearoom, Gradbach Mill is a great hotel that has luxurious en-suite rooms in their heritage site!
They have 16 rooms on offer along with a restaurant on-site. As it's so remote, it makes the perfect place for a countryside retreat in Staffordshire.
Although they are a property that is steeped in industrial history, it's just recently had a refurbish so all the rooms are beautifully presented.
It's the perfect base to visit Lud's Church or enjoy some of the countryside walks that this gorgeous area in the Peak District has to offer.
Where to next in The Roaches?
These directions are just an easy walk from Gradbach to Lud's Church. But, many people do like to make their journey here much longer on a scenic walk from The Roaches.
You can easily head through the gorge and loop back towards Hen Cloud and The Roaches rocks. Then, back again to Gradbach if you so choose. You can see this walk on AllTrails.
However, this would be a considerably longer walk and no longer as easy as a short 30-minute hike through the forest!
Many people start out at The Roaches, head through over Leek and Leek Tittesworth Reservoir to Lud's Church, and then back to The Roaches on a loop circuit.
It takes around 3-4 hours and is 6 miles in total. You can start this walk from The Roaches UKC parking or Roaches Road. See the AllTrails Route here.
If you wanted to, you're only a 30-minute drive from the incredible Thor's Cave which is here. It's an incredible place which is also magical and you can walk to it from Manifold Valley. Click here for my Thor's Cave walking guide.
Lud's Church FAQs
Is Lud's Church Dog Friendly? Yes, Dogs are allowed on this walk. But, keep them on a lead to protect wildlife in places.
Can you have BBQs at Lud's Church? You are allowed picnics but BBQs are a fire hazard and are strictly forbidden.
Where do you park for Lud's Church? The closest place is The Roaches Car Park in Gradbach near to Gradbach Mill
Read more of my Peak District guides
How to Visit Mr. Darcy's Pemberley aka Chatsworth House
An easy Solomon's Temple walk in Buxton
The best things to do in Milldale
How to get to the incredible Bamford Edge
How to find and cross Dovedale Stepping Stones
How to find Robin Hood's Cave in Stanage Edge
Why you need to visit Peakshole Water in Castleton
How to visit Little John's Grave in Hathersage
Visiting Malfoy Manor in real life!
Why you must visit Monsal Head Viewpoint
Longnor Pride and Prejudice Location
An easy way to find & visit Thor's Cave
Best things to do in Ashford in the Water
Chee Dale Stepping Stones walk
Why you must visit Scrivener's Books in Buxton
Things to do in Eyam Plague Village
How to visit Ramshaw Rocks from Pride and Prejudice
Save this easy Lud's Church walk from Gradbach for later!