Oh, I know what it's like eating out alone at restaurants when travelling solo. You walk into a restaurant on your own and you get the looks.
You know, those looks. The ones where you think that the people looking are;
A) Feeling sorry for you as you have no friends/boyfriend
B) Think you've been stood up
C) They look confused as how could you possibly be seen to be eating alone
D) Thinking you're cool because you're a bad ass chick who doesn't need anyone (lol, this is highly unlikely but I like to imagine)
When I go travelling this is one of the things that plagues me. Do I sit and eat alone in front of people or just get room service? And, every time I think f**k it – I want to go out!
I didn't come here to hide away. I've eaten at some pretty weird places on my own. I think my all-time favourite was the most romantic place on earth – the Eiffel Tower!
Yeah, it was my finest moment sticking up a middle finger at society. I don't need a boyfriend to go on holiday and I don't need one to eat out at nice places.
In fact, while I'm writing this very article I'm sitting alone at a restaurant in Pondicherry, India.
Eating a lovely steak dinner with the best company I know…me!! (Jokes, but seriously)
All you need is a little courage, confidence (even if it's fake it til' you make it) and thick skin.
If you're still worried about eating out alone while travelling solo, here are some tips to help you own it!
My top tips for eating out alone with travelling solo
1. Be confident or act like it!
I always stick to the rule of fake it til' you make it! What better attitude to have than to act so confident that people will want to join you?
You're not alone because you were abandoned, you're alone out of choice.
Own it, you're eating out alone. You are braver than you think.
Although I was joking above, you're thinking and thoughts can have a massive impact on the way you are and the way you hold yourself while travelling.
If you think that all those people staring are envious and think you're awesome for eating out alone.
You'll start to feel awesome. Trust me, it works.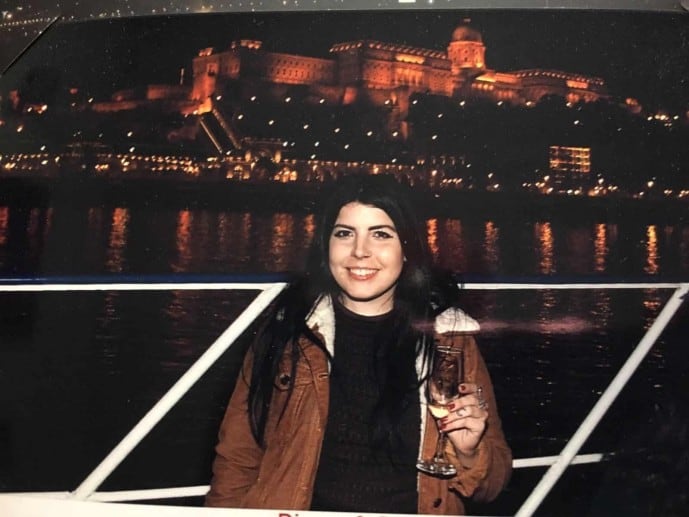 2. Bring distractions
Obviously, it helps to have some distractions. Your phone, a book, a notepad – bring all those things with you.
Make the most of your time. If the restaurant has wifi even better!
That means you can stare at your phone and not think about any looks you're getting.
Just enjoy and appreciate having the time to cover off any emails, edit photos, reply to friends or catch up with the world outside your travel bubble.
3. Make conversation
This may be a little awkward for some but actually, when you're travelling alone people are more likely to start conversations with you, not the other way around.
The amount of times people have asked me to join them is untrue and I don't let those moments pass me by.
Unless you're in a bad mood and really want alone time, it's a great opportunity to meet new people.
One of the reasons you probably travelled is to meet other people in the first place, so go for it!
4. Order booze
Okay, so not a necessity but if you're going to drown your sorrows – why not with a local alcoholic beverage?!
A lot of the time booze is part of the culture of the country you're visiting and it would help to support the local breweries, wineries or distilleries in the area.
Plus, it gives you a little dutch courage for that meal alone!
5. Give no f**ks
Again, this relates to the confidence rule but I must stress it when eating out alone. Who cares.
If you're travelling from place to place, you're most likely NEVER going to see these people again! So why not just enjoy it?
Ignore the haters. Get that sharing platter for one, toast yourself (or a friend on Skype), eat that dessert!
You only have one life, may as well live it to the fullest.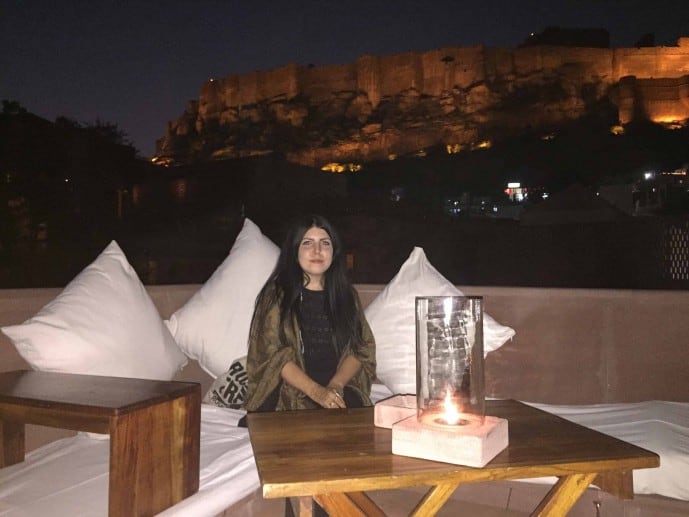 6. Take pictures of your victory
I've left the best purposely until last. My favourite. The ultimate revenge.
A picture of your bravery and efforts. You made it here, you may as well smile while doing it!
Get the waiter to take a picture of you, or take a selfie, post it to Facebook or add to your Instagram stories and show the world you're confident.
There's no shame in eating alone. What. So. Ever. You're the only one you've got, for better or worse.
Or better yet, why not take your own travel photos? Read my guide on how here!
7. Just remember this when eating out alone
You rock. You can do this. Never forget that.
You deserve to have the best things in life if you're in a relationship, with friends or not. So, why not do these things alone?
Don't miss out. Who cares what anyone else thinks, life is just too short!
Learn to love your own company and you'll love yourself all the more for it. Enjoy your eating out alone; you deserve it!
Read some of my amazing articles to help you travel solo like a boss!
75 Inspiring solo travel quotes
9 awesome reasons to try travelling solo
6 problems which come with travelling solo and how to avoid them!
An honest solo female travel guide to Varanasi